Philly Cheesesteak is an American classic sandwich that everyone knows and loves! It's a mouthwatering combination of flavorful thinly shaved steak, seared green bell peppers and onions, and melted provolone cheese on a deli fresh hoagie.
Don't forget to add more classic sandwiches to your menu, like Meatball Sub, Cuban Sandwich, and making the best Burgers.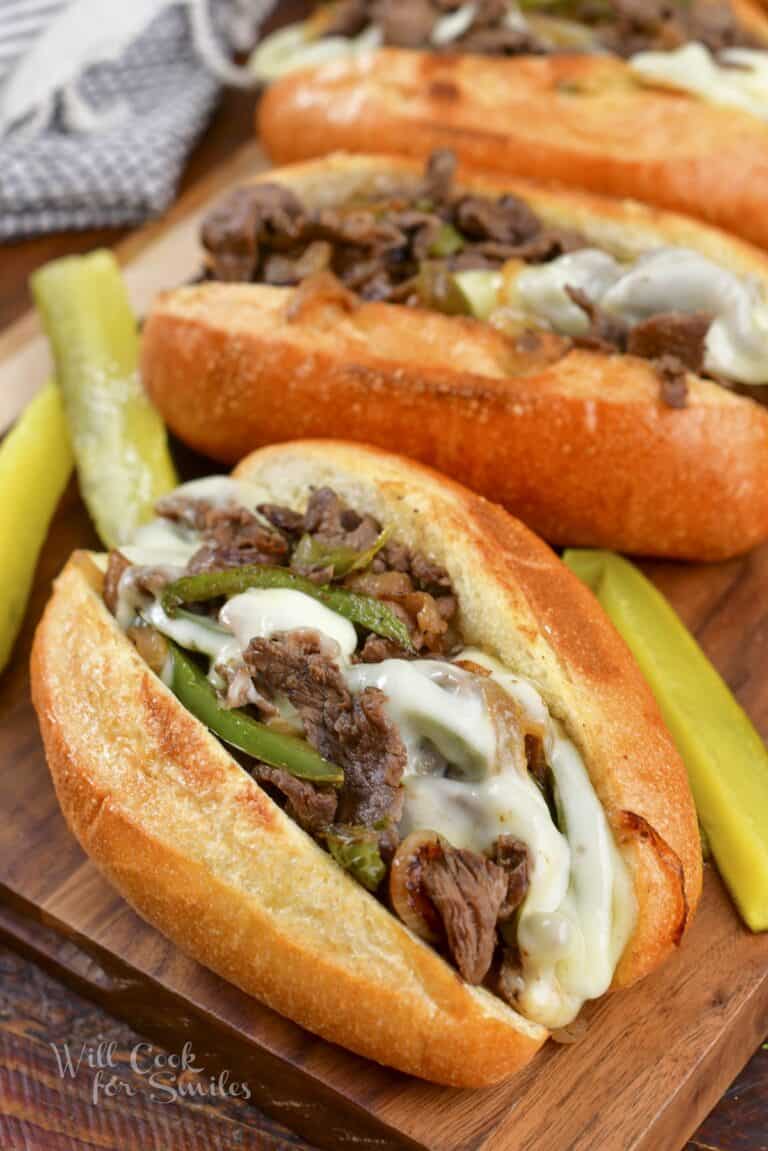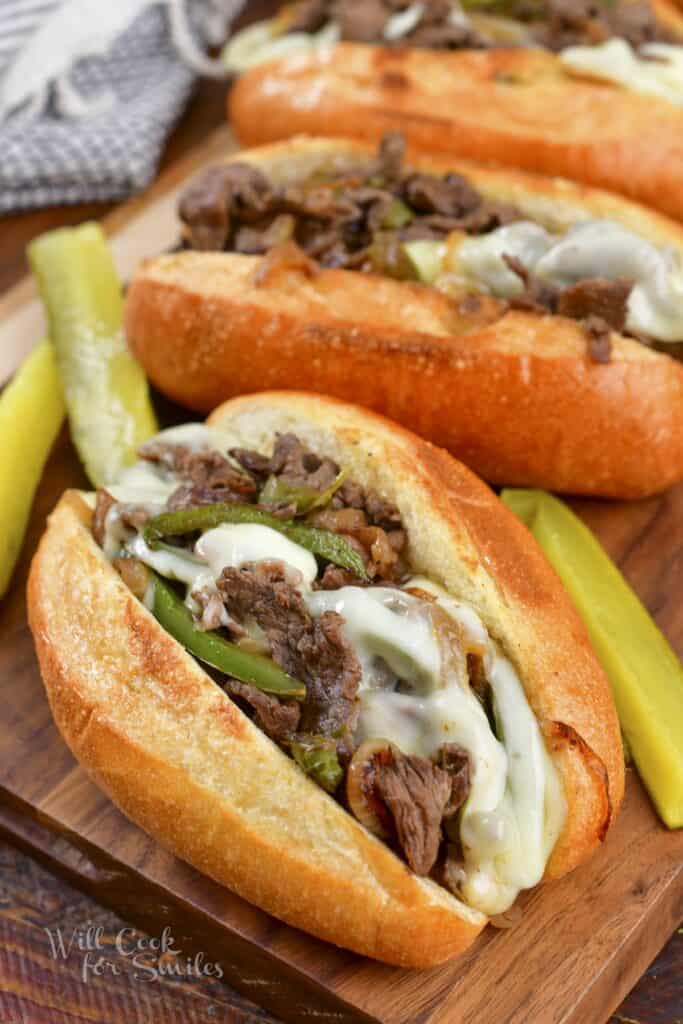 Craving something hearty, cheesy, and served on a hoagie roll? Look no further than a homemade Philly Cheesesteak! These cheesy, meaty sandwiches have withstood the tests of time. They were first made in the year 1930 and have only grown in popularity in the almost 100 years since then.
While I love a good Philly Cheesesteak from a restaurant or food truck, making one in my kitchen is always so much more satisfying. There's something so rewarding over having total control over the ingredients that go into your sandwich.
When you want to treat family or friends to a classic homemade meal you know they'll love, this is the sandwich recipe to turn to. It's perfect for keeping things casual but still downright delicious. Make a batch of Philly Cheesesteaks for when you're watching the big game, attending a block party, or any other time you want to impress and keep it classic!
What is a Philly Cheesesteak Sandwich?
This is a famous Philadelphia sandwich that combines steak, onions, peppers, and cheese on a crusty hoagie roll. The steak is a flavorful, thinly sliced rib eye (or another tender steak of choice) that gets quickly seared on a grill or a griddle. The original Philly Cheesesteak was a simple combination of steak and onion on a hoagie. Overtime, cheese came into the picture and other veggie additions like bell peppers, mushrooms, and/or chili peppers.
The Origin Story:
The original Philly Cheesesteak came from, you guessed it, Philadelphia! The legend has it that Pat Olivieri created this sandwich in 1930 at his hot dog stand when he threw some thinly shaved beef on the grill, sautéed it with onions, and put it inside a hoagie roll.
A passing by cab smelled this concoction and asked for one as well. It wasn't long before he had quite a following! Later on, Pat opened a Pat's King of Steaks shop. At some point, he decided to start adding Cheese Whiz to his steak sandwich.
With time and regional interpretation, people started using provolone cheese rather than Cheese Whiz and started adding veggies like bell peppers, mushrooms, and even spicy chili peppers. All these years later, Pat's is still one of the best places to get a great Philly Cheesesteak. You can also check out their rival right across the street, Geno's.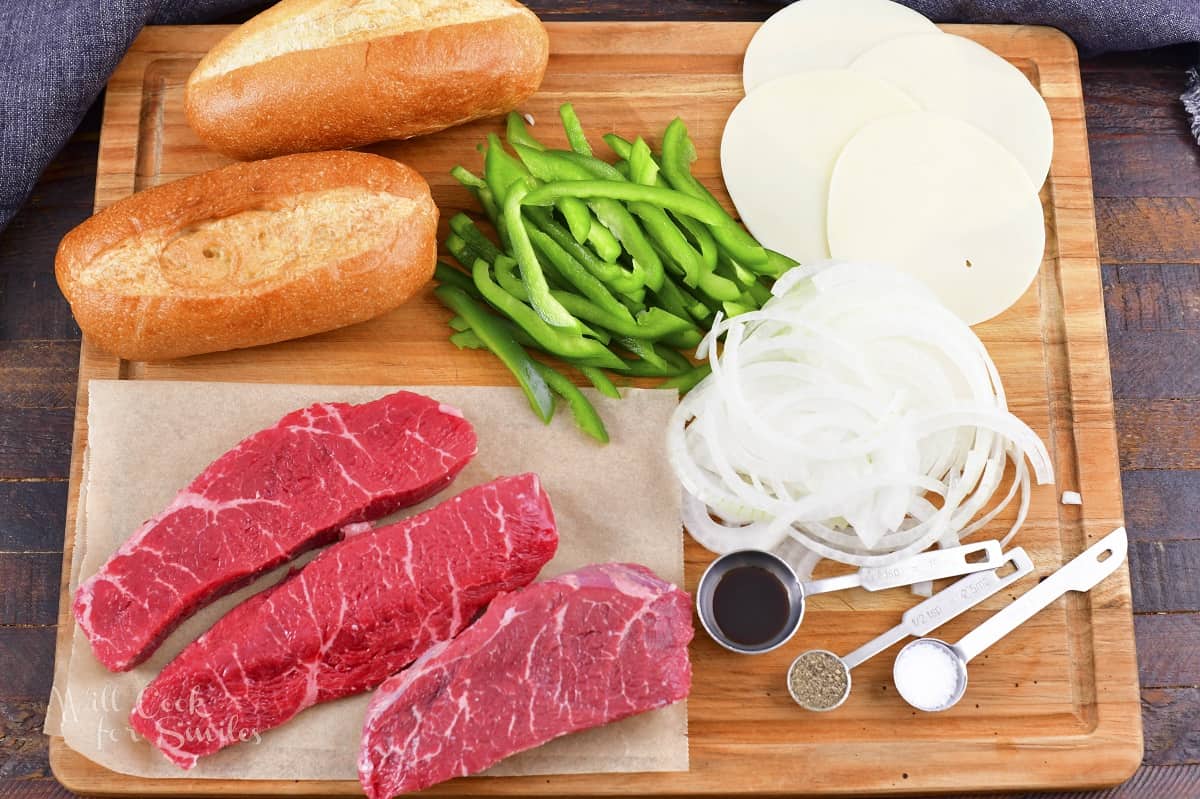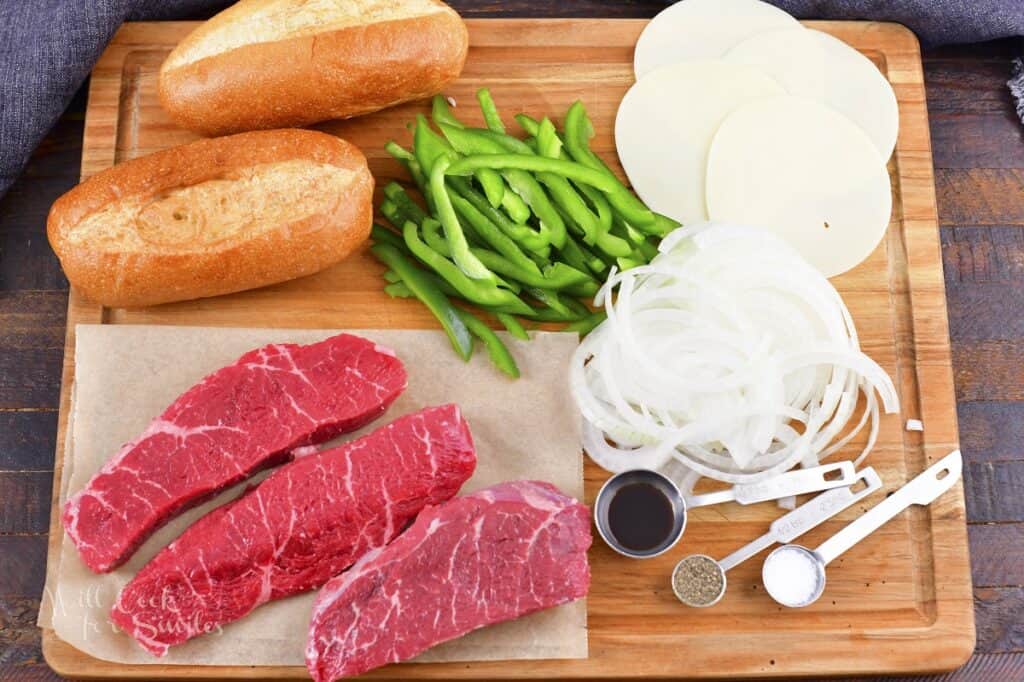 Ingredients You'll Need:
Hoagie Rolls – I prefer to grab mine from the bakery section of my local grocery store rather than using the ones from the bread aisle. Bakery fresh hoagies are always crusty on the outside and soft on the inside.
Onions – A large yellow onion lends a natural sweetness to the sandwich.
Bell Pepper – Green bell pepper slices are optional, but highly recommended.
Oil – Use a neutral cooking oil to cook the veggies and steak in.
Butter – To avoid a salty sandwich, use unsalted butter.
Provolone Cheese – Classic provolone is always the safest choice. If you feel a little adventurous, consider using smoked provolone.
Steak – Use a ribeye if you have one available with great marbling and no large chunks of fat. If you need to find another steak, go with top round, sirloin, or another good quality steak with nice fat marbling throughout.
Salt, Pepper, Worcestershire Sauce – This is all meant to flavor the steak for the best bite every time.
Cooking Instructions: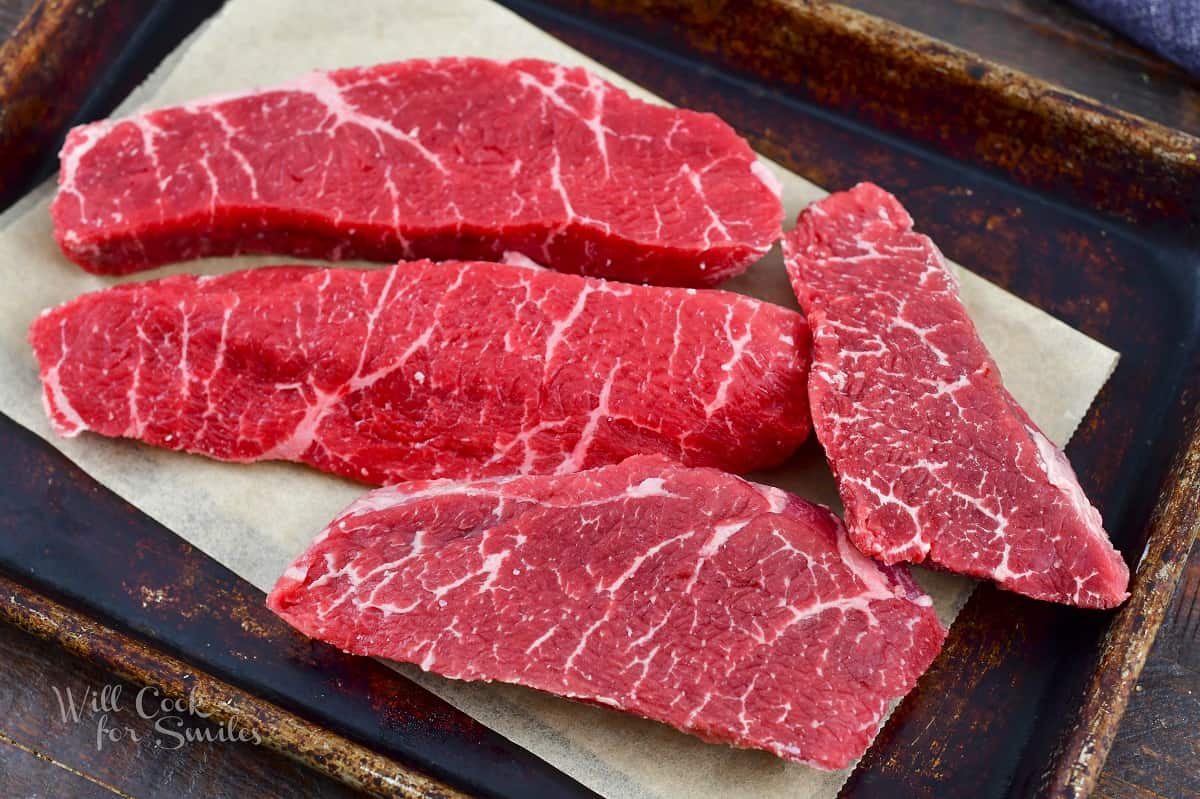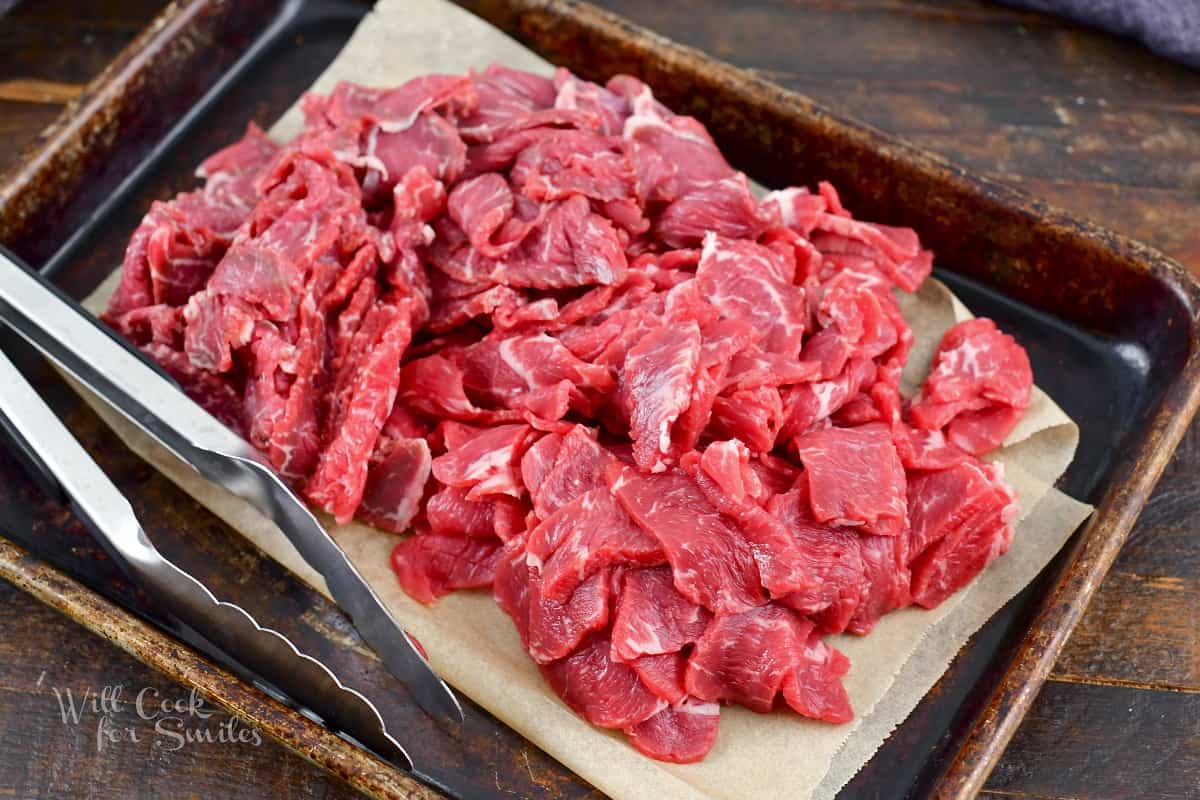 Par-freeze the steaks.
This will greatly simplify things for you! Before you start cooking, par-freeze the steaks so they're easy to slice thinly. Do this about 30-45 minutes prior to cooking.
Remove the steaks from the package. Place them on a cutting board covered in parchment paper, then transfer the cutting board to the freezer.
Prepare the ingredients.
Once your steaks are partially frozen, slice them as thinly as you can. Use a sharp knife and go against the grain.
Slice the onions and bell peppers thinly as well. Slice the hoagie rolls about half way through the top.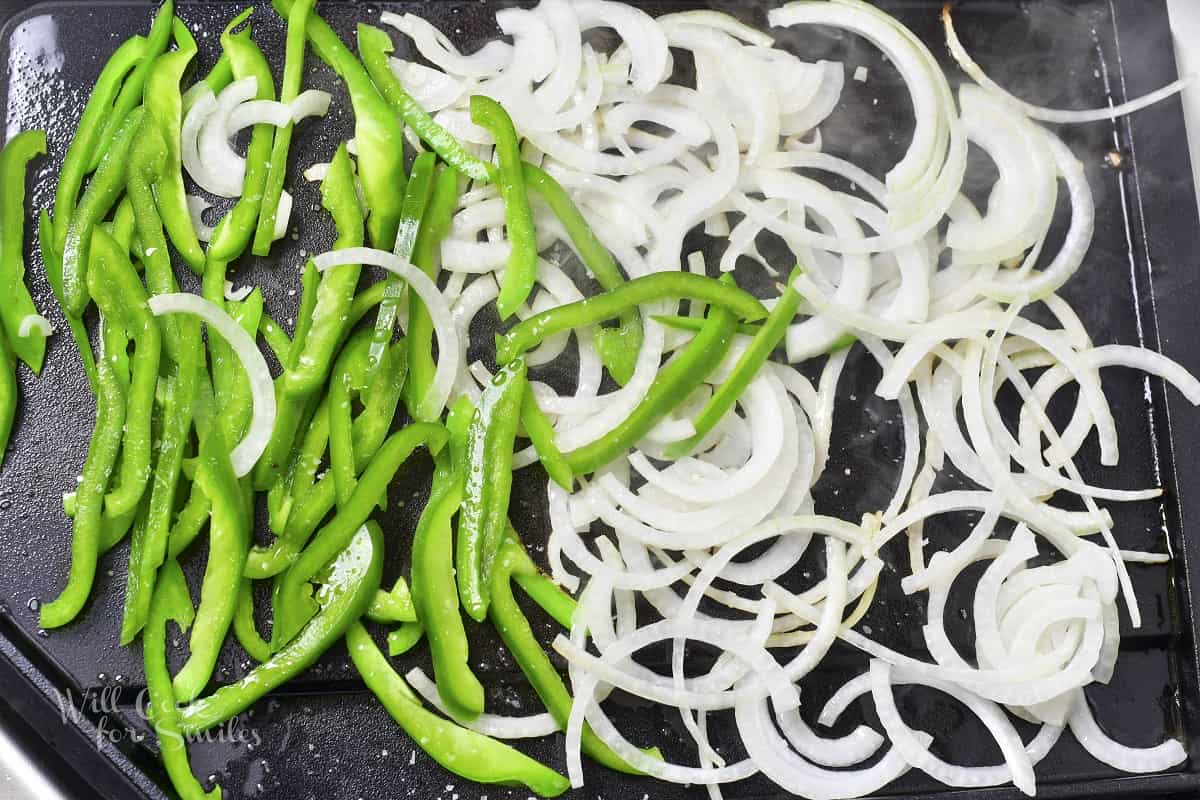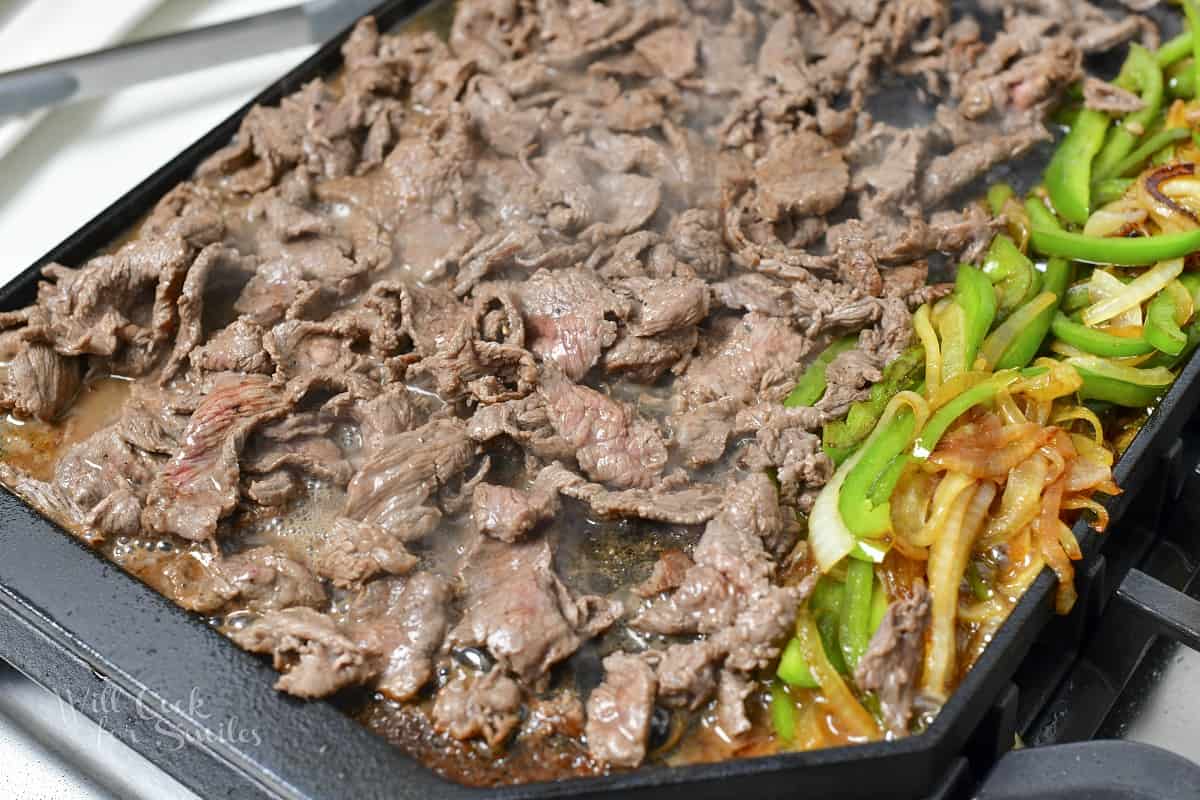 Cook the ingredients.
Combine the sliced steak, salt, pepper, and Worcestershire sauce in a bowl.
Preheat a griddle or pan with oil over medium high heat.
Sauté the onions and peppers until softened and golden brown. Set them aside.
Warm the hoagie rolls on the griddle or another pan.
Add a little more oil and sear the steak. Toss it occasionally to cook through. Stir in the onions and peppers.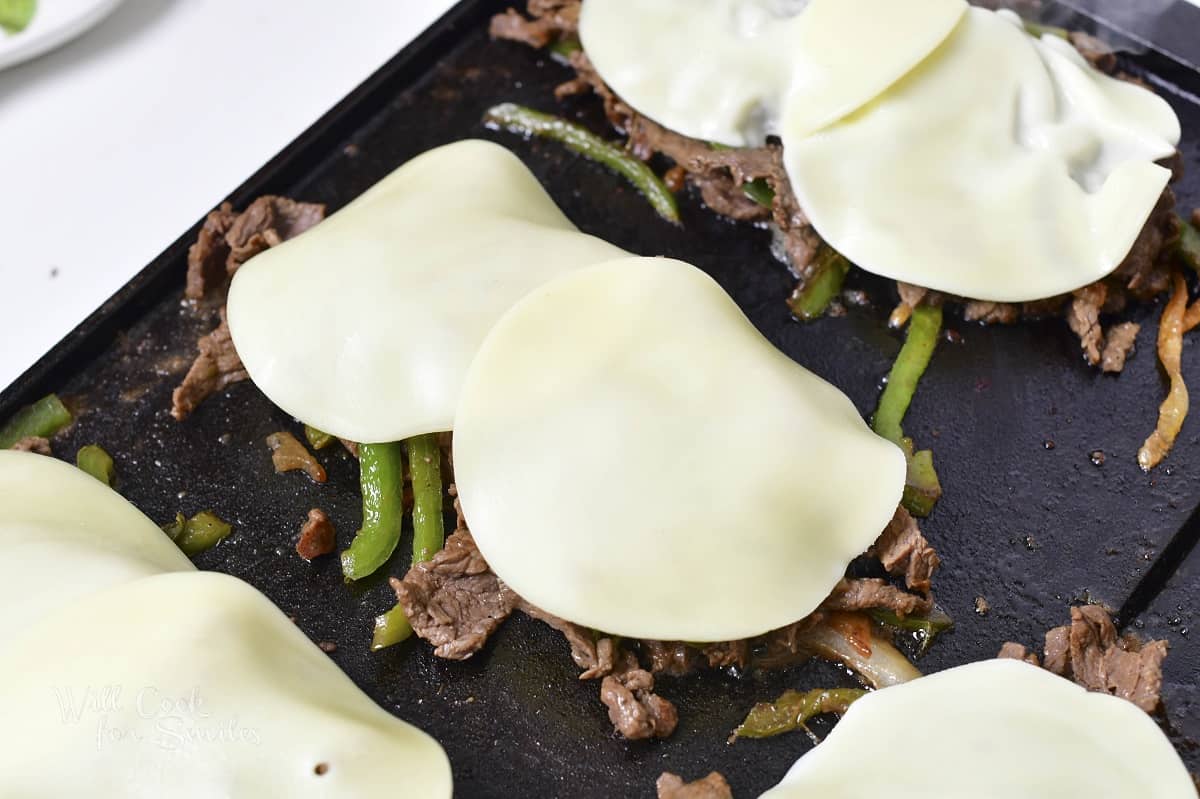 Assemble the sandwiches.
Separate the steak and veggies mixture into 4 mounds. Top each mound with cheese. Let the cheese melt, then transfer the mound onto the sliced and warmed hoagie roll. Enjoy!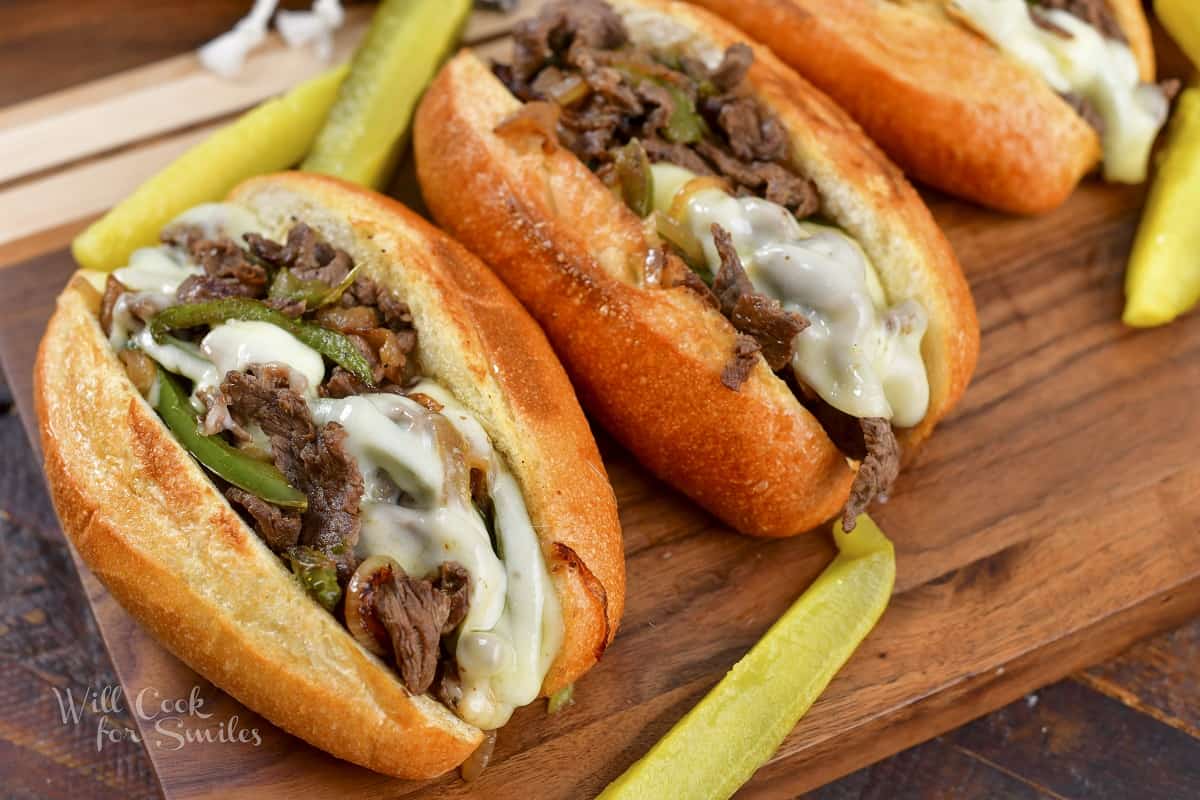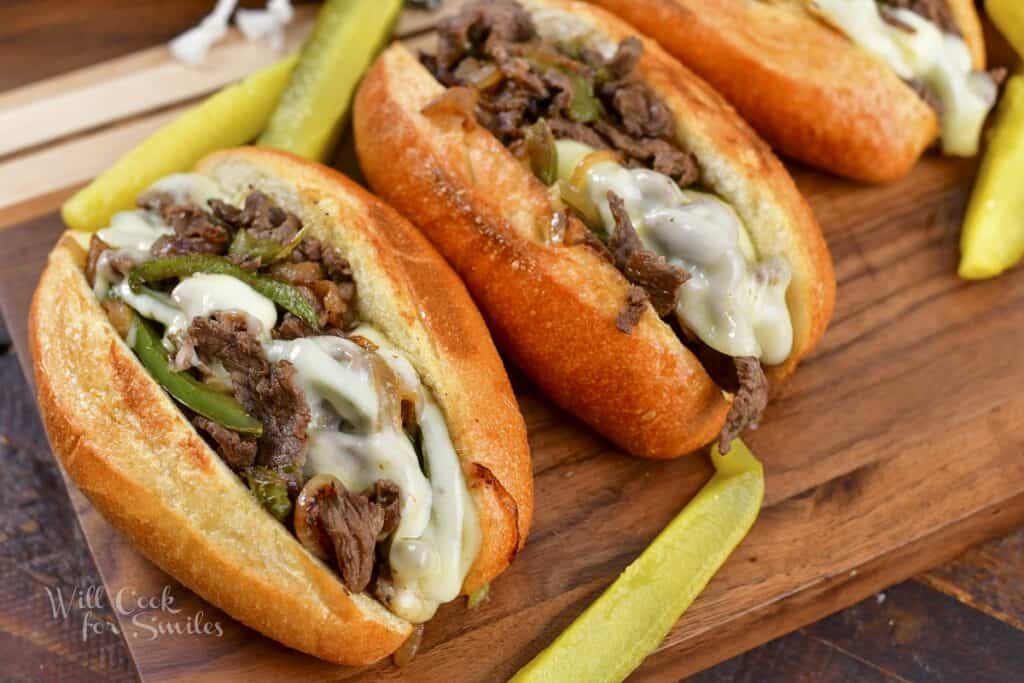 Frequently Asked Questions:
What is the best meat to use?
Like I mentioned above, if you can find rib eye steaks with a good marbling of fat throughout the meat, that's your top choice. You don't want to have lots of fat chunks throughout the steak, or it's just a waste of your money. Your next choice is top round or a sirloin. Try to get steaks that have nice marbling of fat because that will give you the tender and juicy results you want.
So… Cheese Whiz?!
If you didn't already know it, before there was provolone, a Philly Cheesesteak actually had Cheese Whiz on top! It's still a little bit of an argument as to who came up with putting Cheese Whiz on top of the steak sandwich, since both Pat Olivieri and his rival, Joe Vento, claim that they came up with the idea. I don't know about you, but I'm team provolone all the way!
How to Slice the Beef Thinly:
If you're able, you can always ask the butcher in your local grocery store to shave the steak for you. With that in mind, you can also easily do it at home! It's an easy process where you would par-freeze the steak and then slice it as thin as possible with a sharp knife.
Simply take the steaks out of the package and place them onto a parchment paper covered cutting board. Pop it into the freezer for 30-45 minutes (depending on the freezer and the steaks). You want the steaks to be partially frozen but not completely frozen solid. Once partially frozen, take the cutting board out of the freezer and use a sharp knife to cut the steaks across the grain as thinly as possible.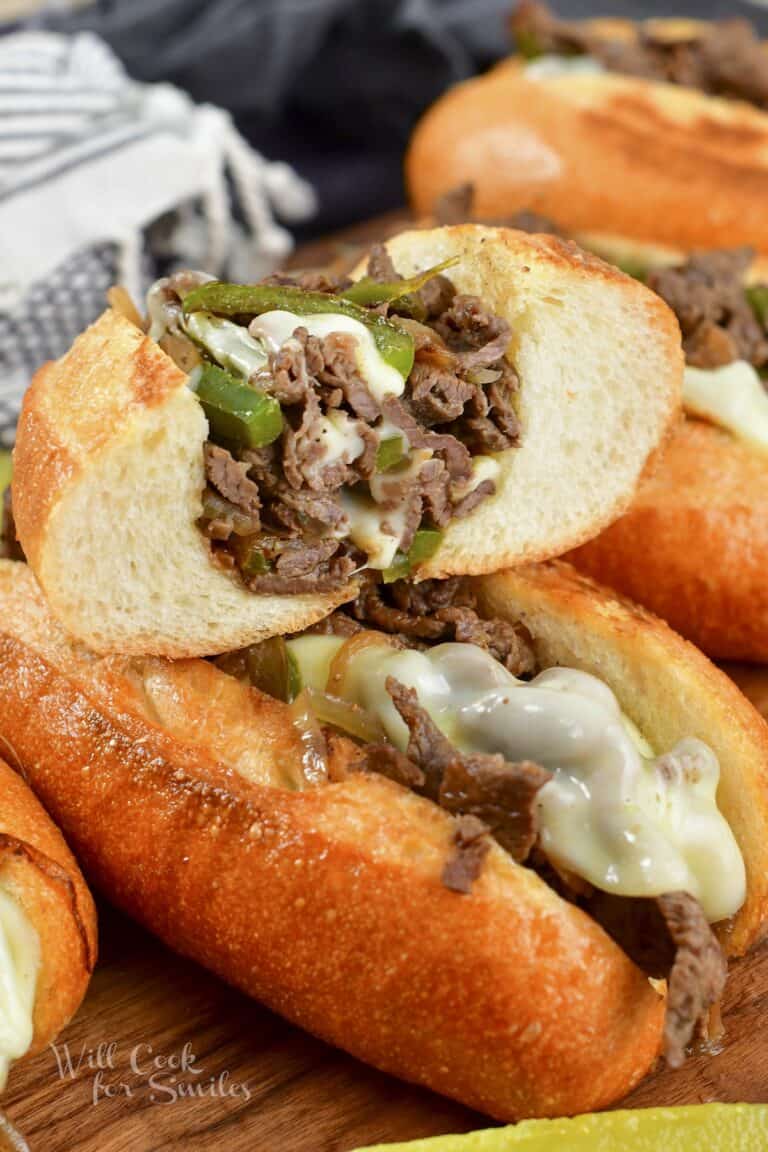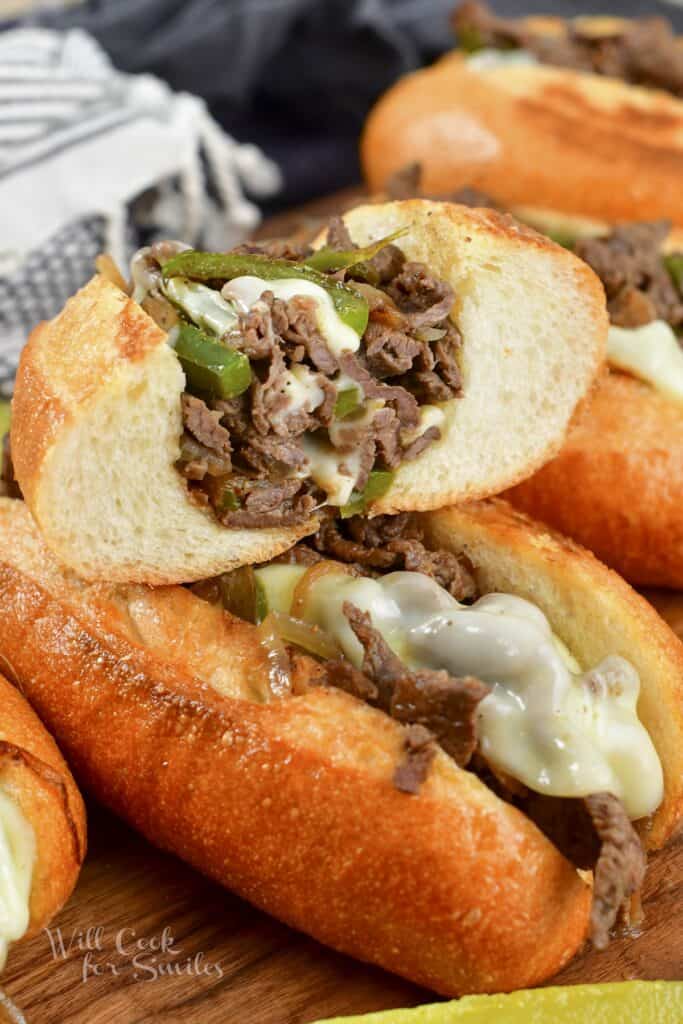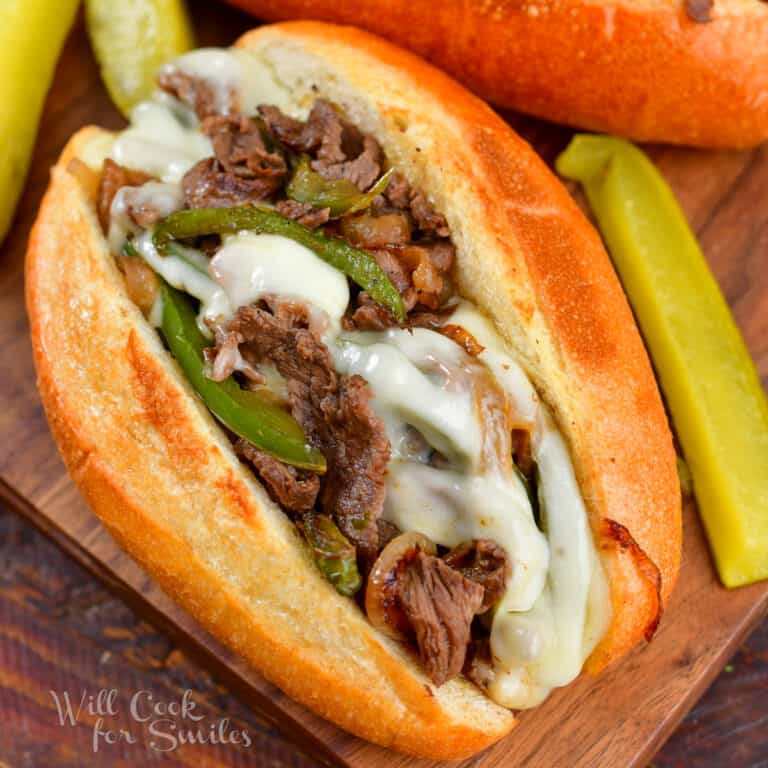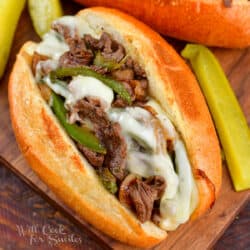 Philly Cheesesteak Sandwich
Philly Cheesesteak is an American classic that combines thinly shaved steak, bell peppers and onions, and melted provolone cheese on a deli fresh hoagie.
Print
Pin
Save
Saved!
Rate
Ingredients
4

hoagie rolls

about 6 inches in length each

1

yellow onion

1

large green bell pepper

2

tbsp

oil

for cooking

2

tbsp

unsalted butter

softened

8

sliced provolone cheese

1.25-1.5

lb

steak

ribeye, top round, or serloin

3

tsp

Worcestershire sauce

1/2-1

tsp

coarse or sea salt

to taste

1/4-1/2

tsp

black pepper

to taste
Instructions
Before starting to cook, you need to par-freeze the steaks to make it easy to slice them thinly. Start this process 30-45 minutes before you're ready to make the sandwiches.
Prepare the ingredients:
Take the steaks out of the package and place them onto the parchment paper covered cutting board. Place the cutting board with steaks into the freezer and set the timer. Let them partially freeze for 30-45 minutes.

When the steaks are partially frozen, use a sharp knife to slice the steaks against the grain, as thinly as you can.

Slice onion and bell peppers thinly as well and slice the hoagie rolls through the top but not all the way through.

Spread some butter inside each hoagie roll and set aside.
Cooking the steak sandwich:
You can use a flat top gill, a griddle, or a couple of large cast iron cooking pans.

In a mixing bowl, combine shaved steak, salt, pepper, and Worcestershire sauce. Mix well.

Preheat the griddle or the cooking pans over medium to medium-high heat. Great it with some oil.

Start sautéing onions and peppers until completely softened and start to get golden brown. You can set them aside to the cooler side or set them aside off the heat completely.

On the side of the griddle/grill (or in a separate pan) place the hoagie rolls to warm up.

Add a little more oil if needed and spread steaks into one even layer. Sear the steak, tossing it from time to time until just cooked through.

Stir in the onions and peppers. Turn off heat.

Separate the mixture into 4 even mounds and top each mound with two slices of cheese. Let the cheese melt and transfer each cheesy steak mixture into each hoagie roll.
Nutrition
Calories:
736
kcal
|
Carbohydrates:
39
g
|
Protein:
44
g
|
Fat:
45
g
|
Saturated Fat:
20
g
|
Polyunsaturated Fat:
4
g
|
Monounsaturated Fat:
18
g
|
Trans Fat:
0.3
g
|
Cholesterol:
128
mg
|
Sodium:
995
mg
|
Potassium:
575
mg
|
Fiber:
2
g
|
Sugar:
7
g
|
Vitamin A:
1467
IU
|
Vitamin C:
41
mg
|
Calcium:
319
mg
|
Iron:
14
mg
Tried this recipe?
Mention @willcookforsmiles and tag #willcookforsmiles