With this amazing Shrimp Fried Rice recipe, don't even bother trying to order take out. Each bite of this shrimp fried rice is loaded with a homemade savory sauce, perfectly cooked rice, fresh vegetables, and flavorful pan seared shrimp. This fried rice recipe is incredibly easy to make at home, and adding the shrimp to it only takes an extra 5 minutes.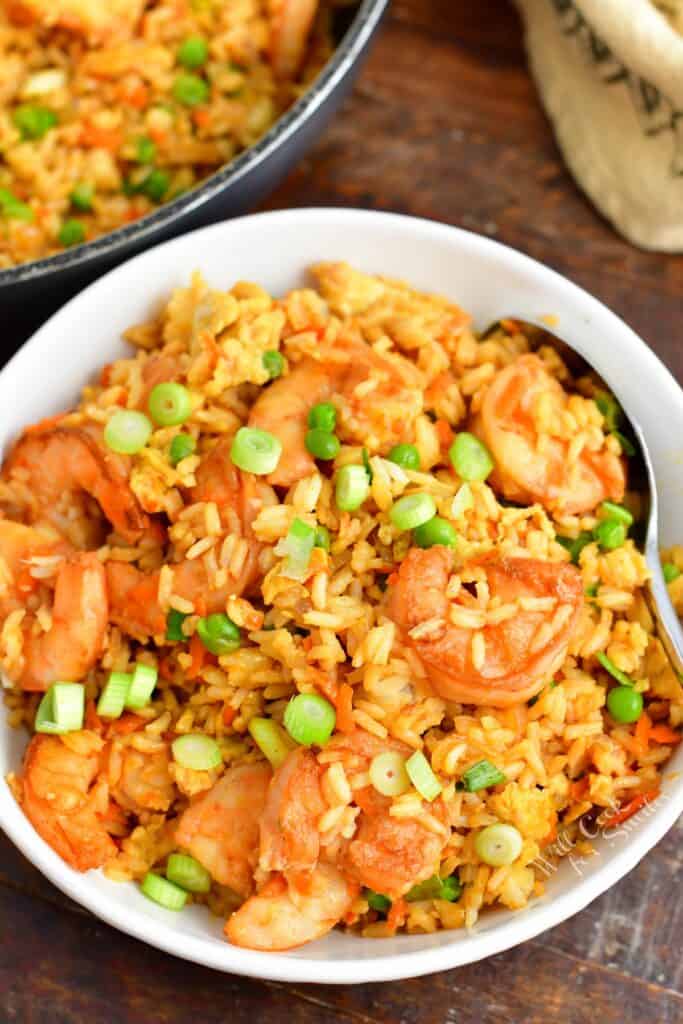 Shrimp Fried Rice
Shrimp fried rice is always one of my favorite dishes to order when I'm getting Chinese take out! It's got all the flavors that I love in a fried rice, with one of my favorite proteins. However, ever since I've started making it myself, I never got the desire to order it for take out again.
This shrimp fried rice is so much better than anything that will arrive in a little white box on your doorstep. For starters, you have full control over the ingredients, so use what's best and best for you. If you need to make it gluten free or eliminate something, you are free to do that!
Too often, take out rice is flavored only with soy sauce, whereas the sauce in this recipe is made with a plethora of flavorful ingredients. The shrimp and vegetables are also much fresher than what you'll get with take out too. You can really taste the difference in the homemade dish not only in flavor, but in texture, too.
Ingredients for Shrimp Fried Rice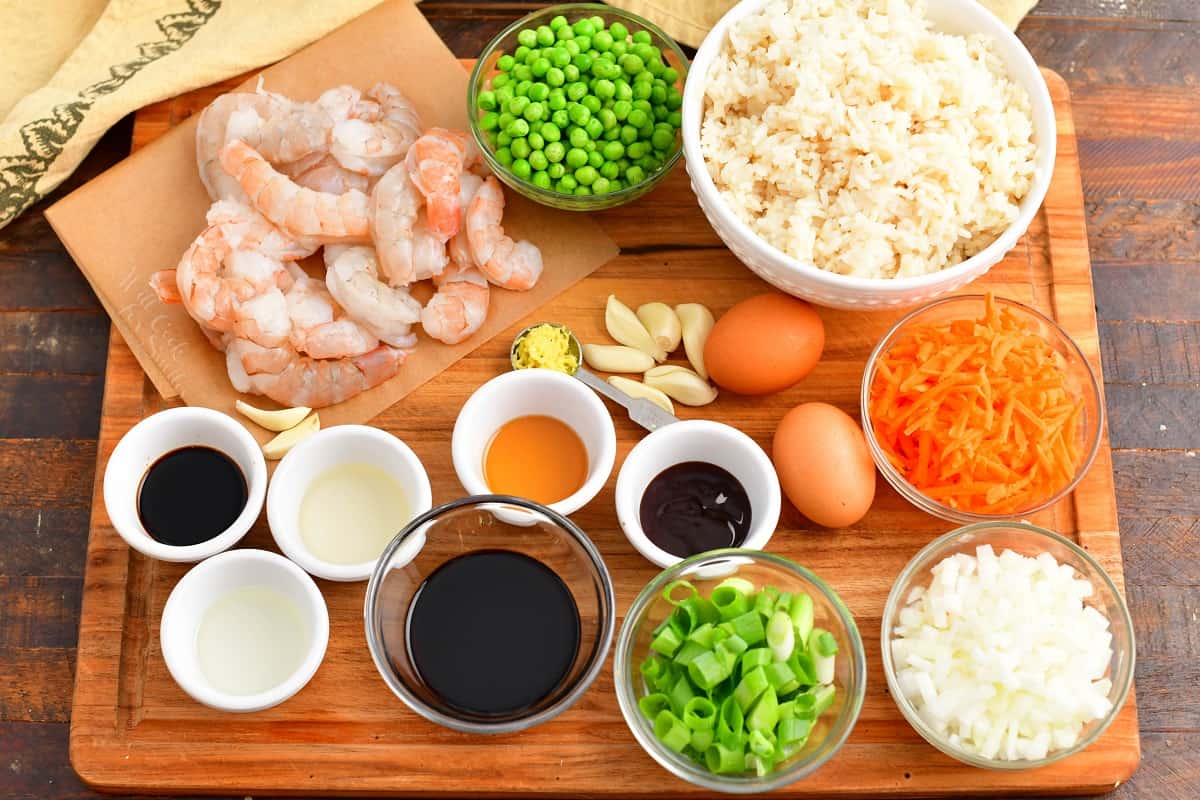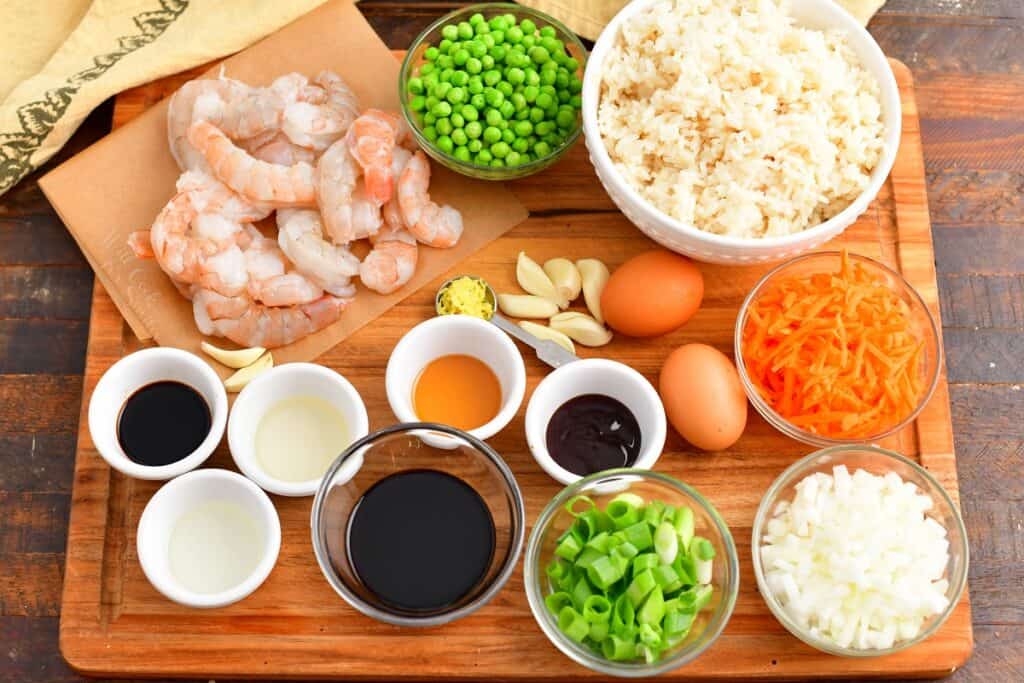 For pan seared shrimp:
Shrimp – for best results, use fresh shrimp when possible. If you have to use frozen shrimp, make sure it's thawed and drain off extra water. To save time, buy the shrimp already cleaned and deveined.
Soy Sauce – I prefer using a low sodium soy sauce and feel free to use gluten free soy sauce if you need to.
Chicken Broth – Store-bought broth will be easy to use, and preferably a low sodium option. However, if you're feeling fancy, try using Homemade Chicken Stock instead.
Garlic – Fresh garlic will yield the most flavorful results. Don't use pre-minced garlic from the store, as the flavor is very different.
Peanut Oil – This is needed for cooking the shrimp and vegetables. If you're unable to get your hands on any peanut oil, use canola or vegetable oil instead.
For vegetables and eggs:
Peanut Oil
Yellow Onion – While yellow onions work best in terms of balancing sweet and savory flavors, a white onion will also get the job done. Don't use a red onion, as the strong onion flavor will not balance well with the rest of this dish.
Peas – Use frozen peas, but allow them to thaw before cooking. Any brand should work just fine.
Carrot – I usually recommend a medium carrot but if you want more, feel free to use a large one.
Garlic
Ginger – Use fresh grated ginger for the best flavor, not dried ginger.
Soy Sauce
Eggs – large eggs work well.
Soy Sauce
The savory sauce requires:
Rice Vinegar – In a pinch, apple cider vinegar will also work well in this sauce, but rice vinegar is preferred for the most authentic flavor.
Sesame Seed Oil – This oil has a very potent nutty flavor that blends perfectly with the other ingredients. Just don't overdo it or the flavor will take over.
Soy Sauce
Oyster Sauce – If you have a shellfish allergy, use hoisin sauce instead. If you have a gluten allergy, use gluten free oyster sauce.
Wonder what rice to use in fried rice dishes?
Long Grain White Rice – long grain rice in always recommended for fried rice dishes and leftover cold rice is the best option. You can always make rice the day before and then store it in the fridge until ready to use.
How to Make Shrimp Fried Rice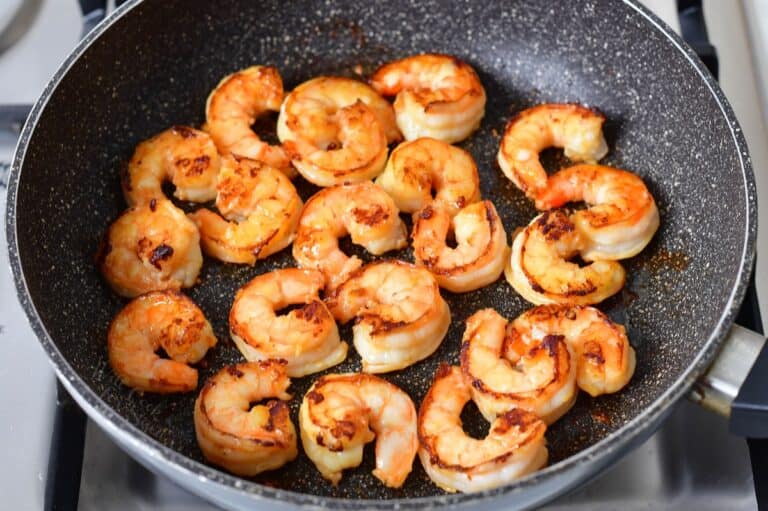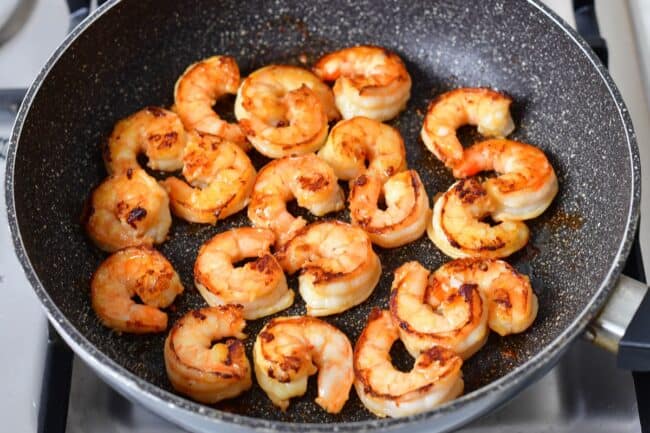 Start by cooking the shrimp! Add oil to a warm pan and sear the shrimp for about 2 minutes on each side before removing them from the pan.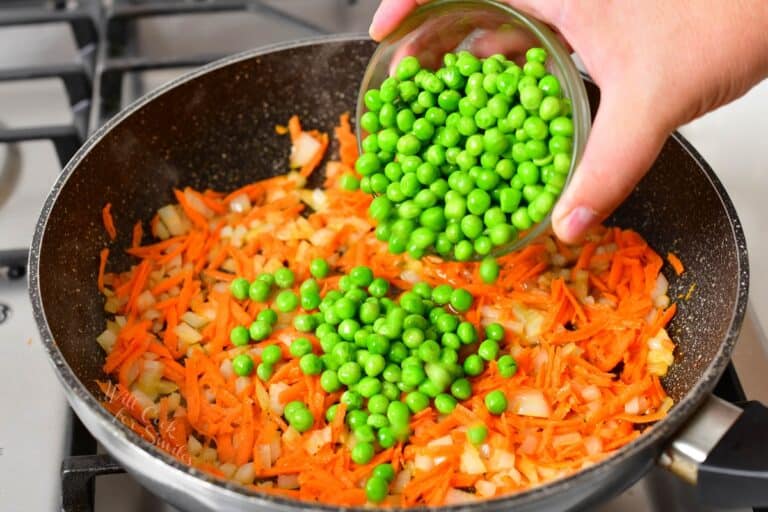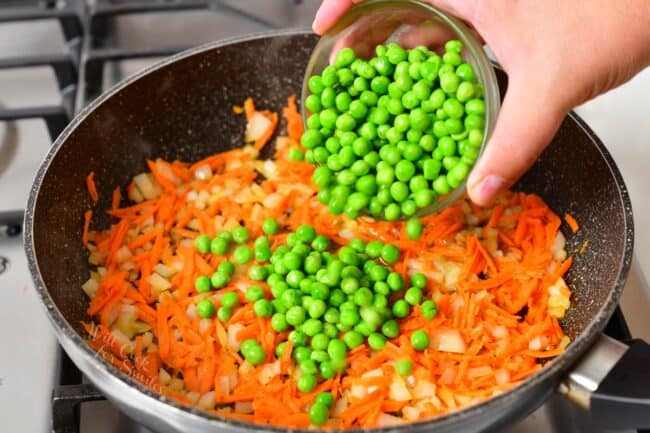 Lower the heat, add more oil, then toss the onions and carrots into the pan. Sauté them for a few minutes, then add the peas and soy sauce to the pan.
Create a spot in the middle of the pan and add the garlic and ginger to it. Sauté until fragrant, then mix it in with the other vegetables.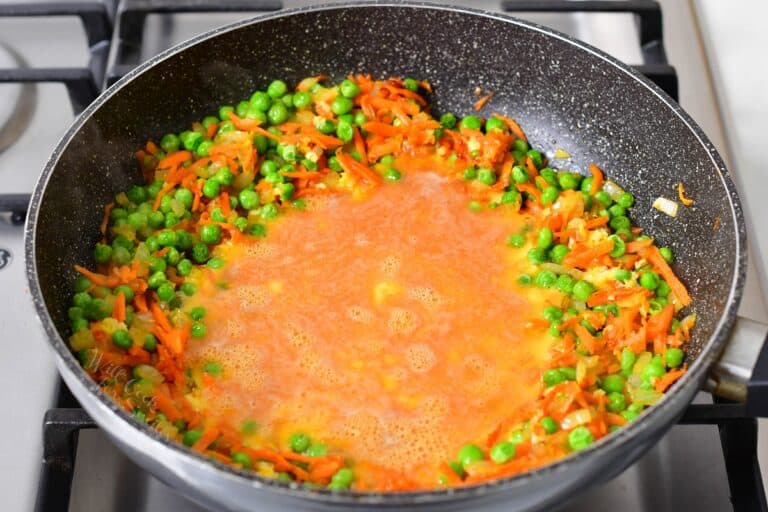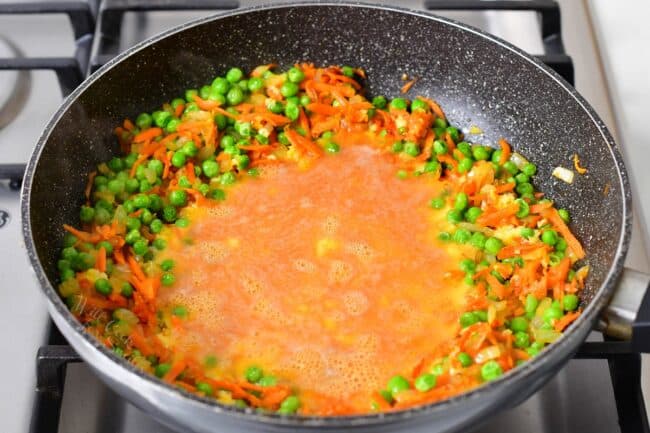 Create a spot in the middle of the pan again, but this time for the egg mixture. Cover the pan and cook for about a minute. Then, scramble the eggs and mix them in with the vegetables.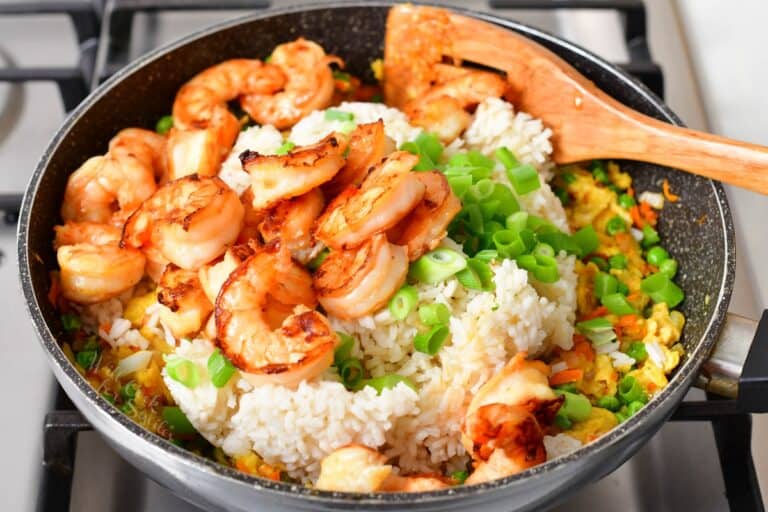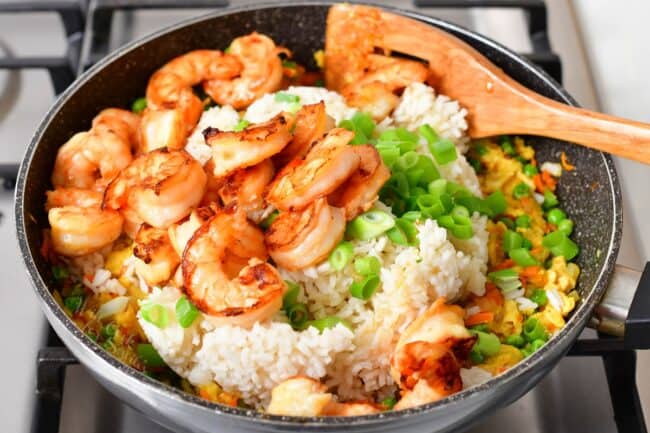 Add the cooked, fluffed rice and shrimp into the pan. Gently incorporate all of the ingredients together.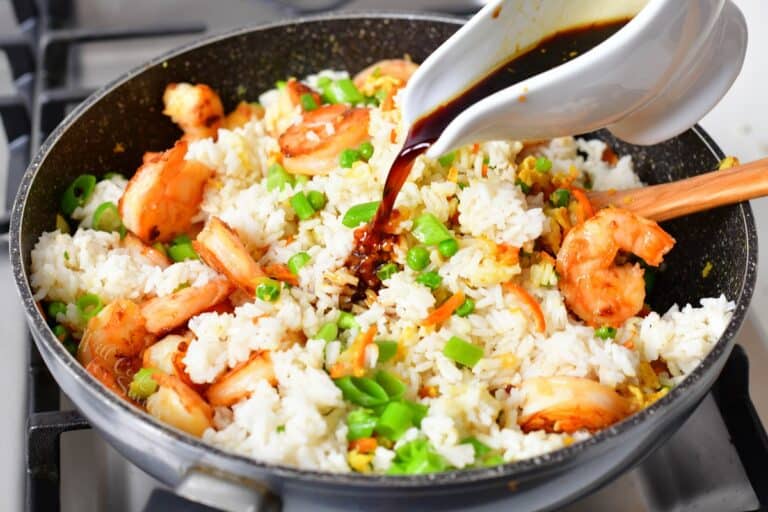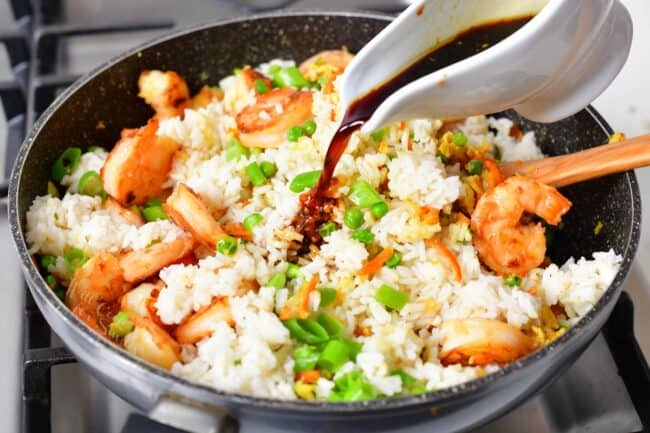 As you incorporate the ingredients together, pour the sauce into the mixture.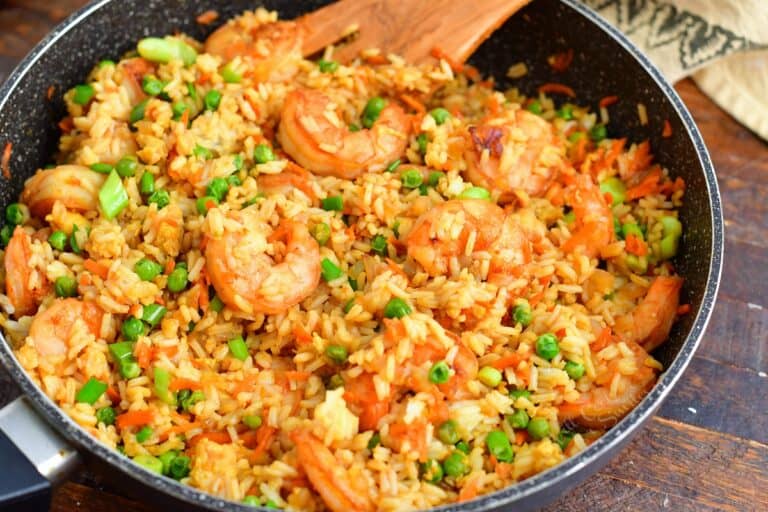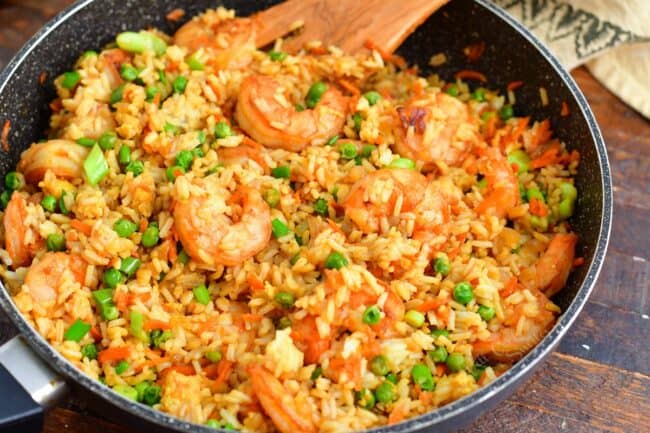 Sauté the fried rice for just a few more minutes, then serve, and enjoy!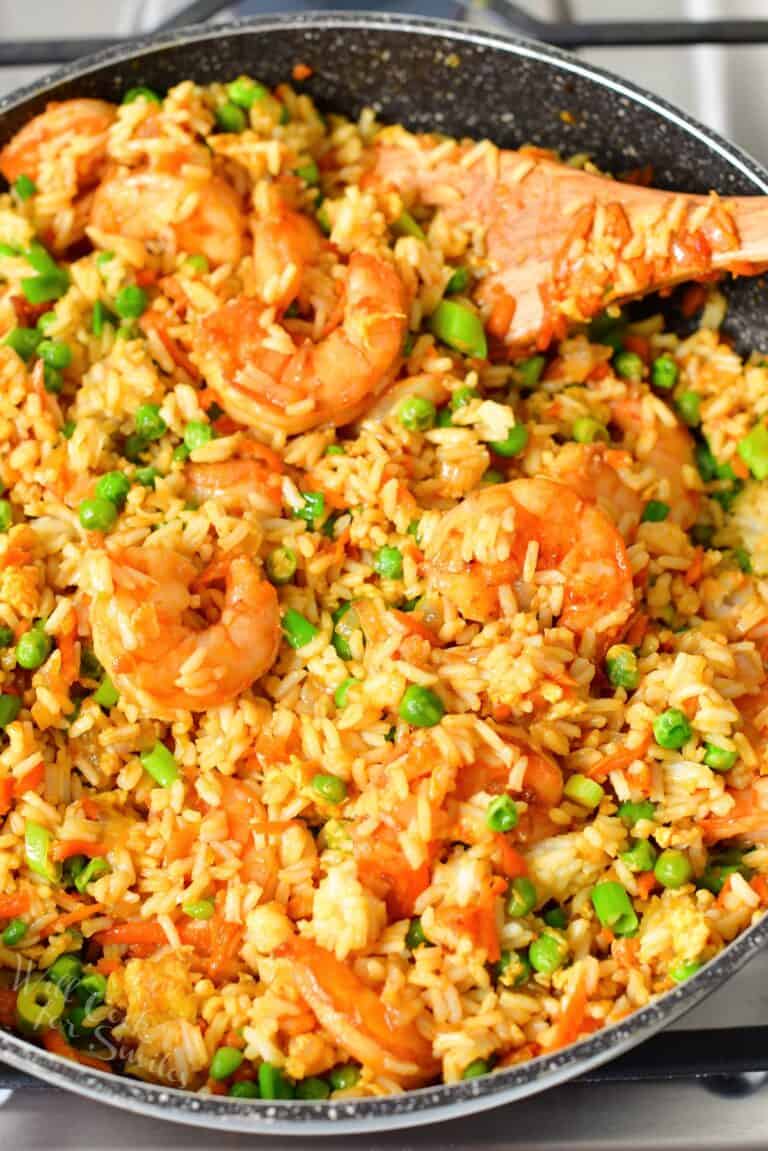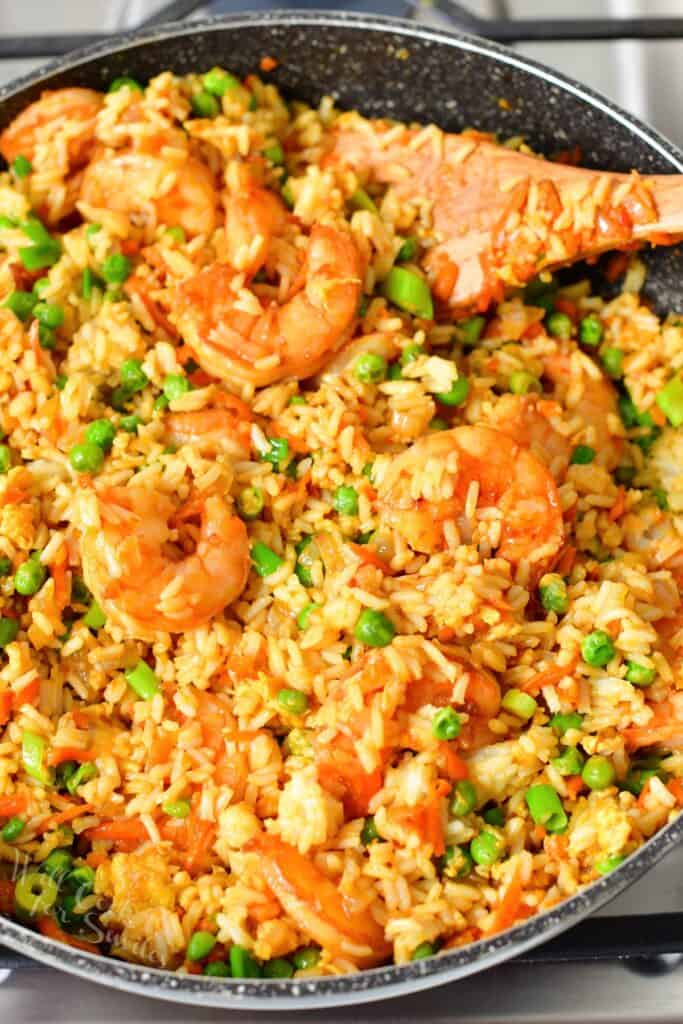 Reheating Fried Rice
First and foremost, I don't recommend reheating this dish in the microwave since it has shrimp. Seafood isn't it's best after being reheated in the microwave. Instead, reheat your leftovers in a pan or wok over medium-low heat until it's heated through.
Also, be sure to add a little moisture to the leftovers. I typically make a little mixture of chicken broth and a splash of soy sauce and mix it into the fried rice as it reheats.
Is shrimp fried rice gluten free?
Yes, but you HAVE TO make sure that you use gluten free soy sauce and gluten free oyster sauce! If you cannot find oyster sauce that is gluten free, you can omit it or use gluten free hoisin sauce. More and more stores do carry gluten free sauces so make sure to ask at your store.
What other vegetables can I use?
While the vegetables I use are the most traditional to enjoy in fried rice, there are plenty of others that can also be tossed in there! Any finely chopped asparagus, green beans, broccoli, corn, and cauliflower are delicious in fried rice.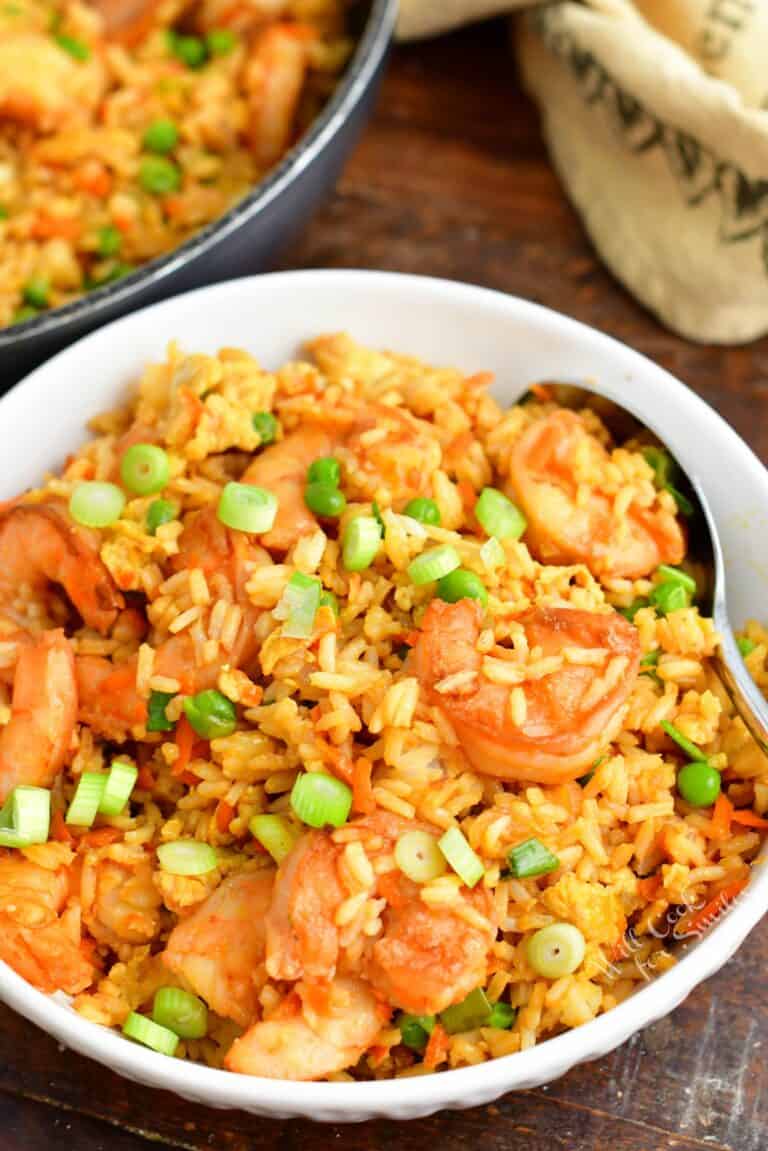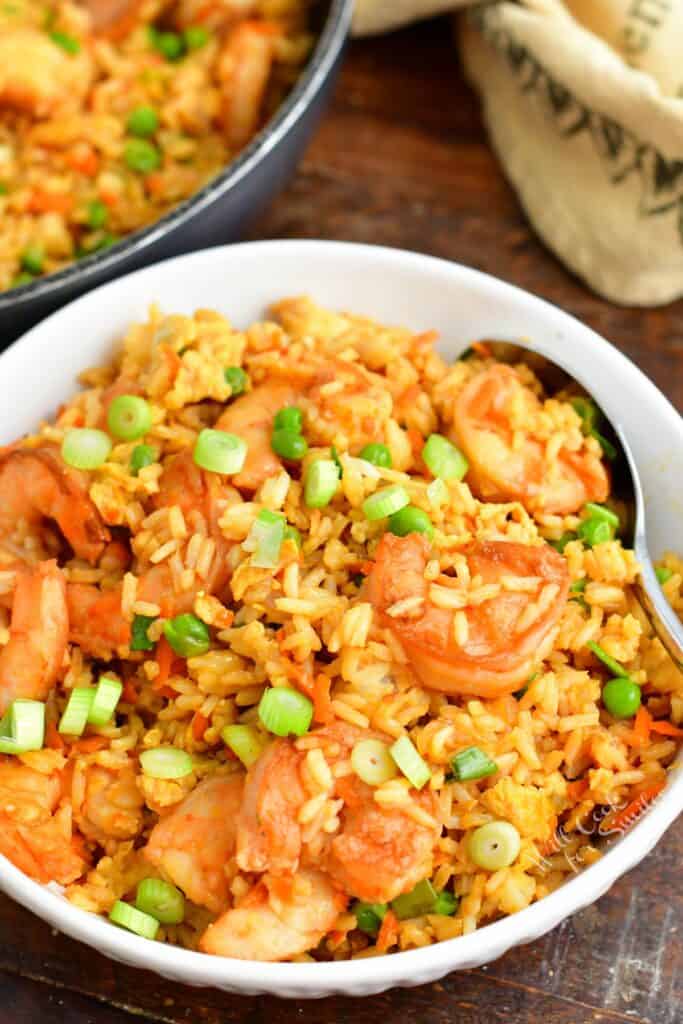 Some More Fried Rice Dishes To Try:
Thai Fried Rice – Khao Pad – an amazing fried rice dish made with chicken, jasmine rice, vegetables, and egg, and it's richly flavored with garlic, fresh ginger, fish sauce and oyster sauce.
Chicken Fried Rice – a classic fried rice dish that brings you everything you love about Chinese take out in the comfort of your own kitchen.
Cauliflower Fried Rice – a low carb alternative made with all the classic fried rice ingredients like onions, carrots, peas, garlic, eggs, and soy sauce.
Crab Fried Rice – an easy weeknight dinner that can be ready in under 30 minutes. Fried rice made with lump crab meat and many delicious Thai flavors.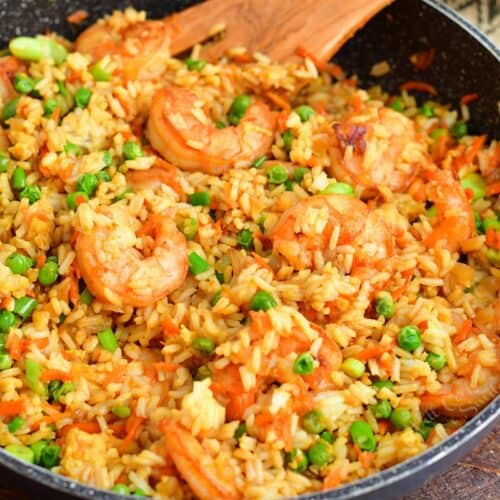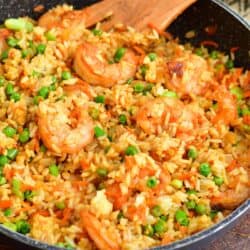 Shrimp Fried Rice
Each bite of this shrimp fried rice is loaded with a homemade savory sauce, perfectly cooked rice, fresh vegetables, and flavorful pan seared shrimp.
Print
Save
Saved!
Rate
Ingredients
For Shrimp:
1

lb

cleaned and deveined shrimp

1

tbsp

low-sodium soy sauce

1

tbsp

chicken broth

2-3

cloves of garlic

pressed

2

tbsp

peanut oil

for cooking
Vegetables:
1-2

tbsp

peanut oil

for cooking

1/2

yellow onion

diced

1

cup

frozen peas

thawed

1

medium carrot

diced

3-4

garlic cloves

pressed

1

tsp

fresh grated ginger

1

tbsp

low-sodium soy sauce
Eggs:
2

eggs

2

tsp

low sodium soy sauce
Sauce:
1 1/2

tbsp

rice vinegar

2

tsp

sesame seed oil

1/3

cup

soy sauce

2

tbsp

oyster sauce
Rice:
4

cups

cooked long grain white rice

leftover rice works great

1/3

cup

chopped scallions
Instructions
Before cooking:
Prepare your ingredients first because this is a fast recipe. So dice vegetables, whisk eggs with a splash of soy sauce, and whisk together soy sauce, oyster sauce, rice vinegar, and sesame seed oil. Measure remaining ingredients.

Make sure to peel, clean, and devein shrimp. (You can check out how to clean shrimp here.) In a bowl, mix shrimp with a tablespoon of soy sauce, pressed garlic, and a tablespoon of chicken broth.
To Cook:
Preheat a large wok or a large non-stick cooking pan with tall sides over medium-high heat. Add oil and sear shrimp for about 2 minutes on each side. Take them out of the pan and set it aside.

Add some more oil, lower the heat to medium, and add diced onions and carrots, stir and sauté for a few minutes.

Stir in peas and soy sauce and cook until vegetables softened.

Move them over to the side of the pan and add garlic and ginger to the center. Let it sauté until just fragrant and mix in with the vegetables.

Set vegetables to the sides of the pan and pour the whisked egg mixture into the center. Cover and let it cook for a minute or so. Start to scramble the eggs and mix it with the vegetables.

Fluff the rice and add it to the pan and mix.

Add shrimp back into the pan and add scallions. Gently stir everything to incorporate and as you stir, pour the sauce mixture all over and stir to coat everything evenly with sauce. 

Sauté for a couple of minutes and serve.
Nutrition
Calories:
531
kcal
|
Carbohydrates:
58
g
|
Protein:
36
g
|
Fat:
17
g
|
Saturated Fat:
3
g
|
Polyunsaturated Fat:
6
g
|
Monounsaturated Fat:
7
g
|
Trans Fat:
1
g
|
Cholesterol:
368
mg
|
Sodium:
2619
mg
|
Potassium:
442
mg
|
Fiber:
4
g
|
Sugar:
4
g
|
Vitamin A:
3028
IU
|
Vitamin C:
24
mg
|
Calcium:
232
mg
|
Iron:
5
mg
Tried this recipe?
Mention @willcookforsmiles and tag #willcookforsmiles