Roasted green beans are easy to make, delicious, and healthy! Throw in some mushrooms for a compliment of flavor and texture and it will be a great light side dish. It's an easy healthy side dish for weeknight dinners and holidays.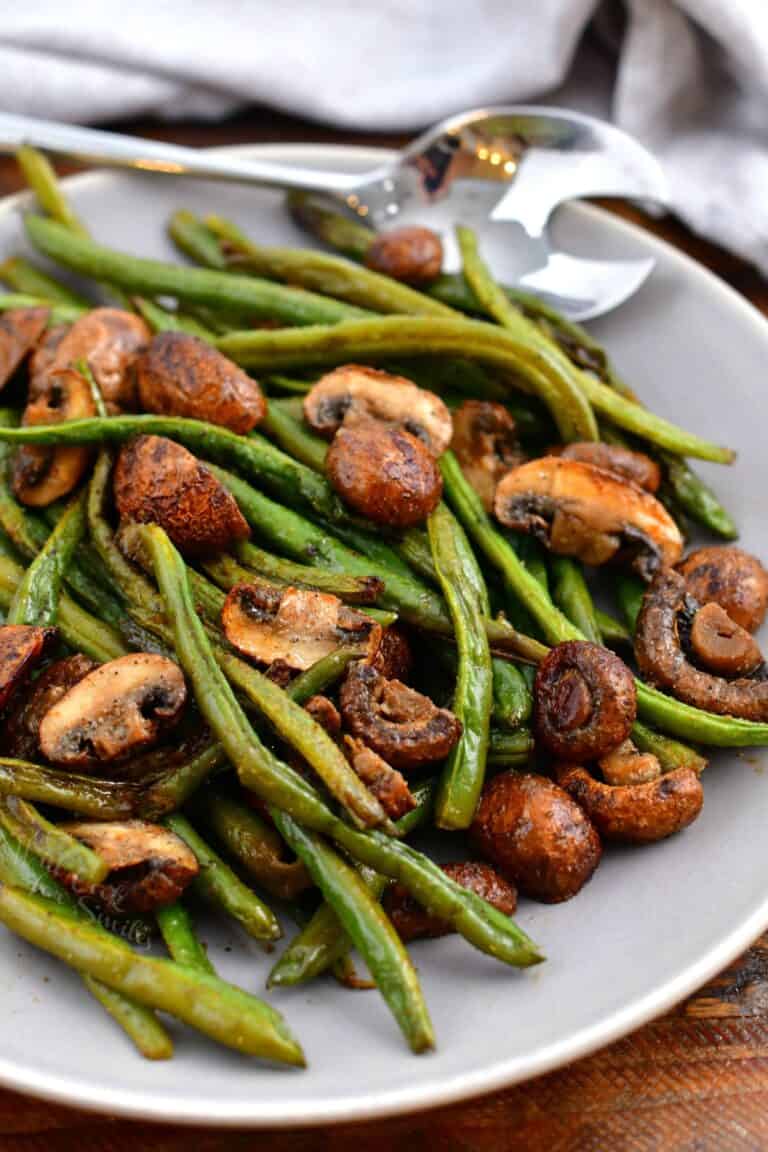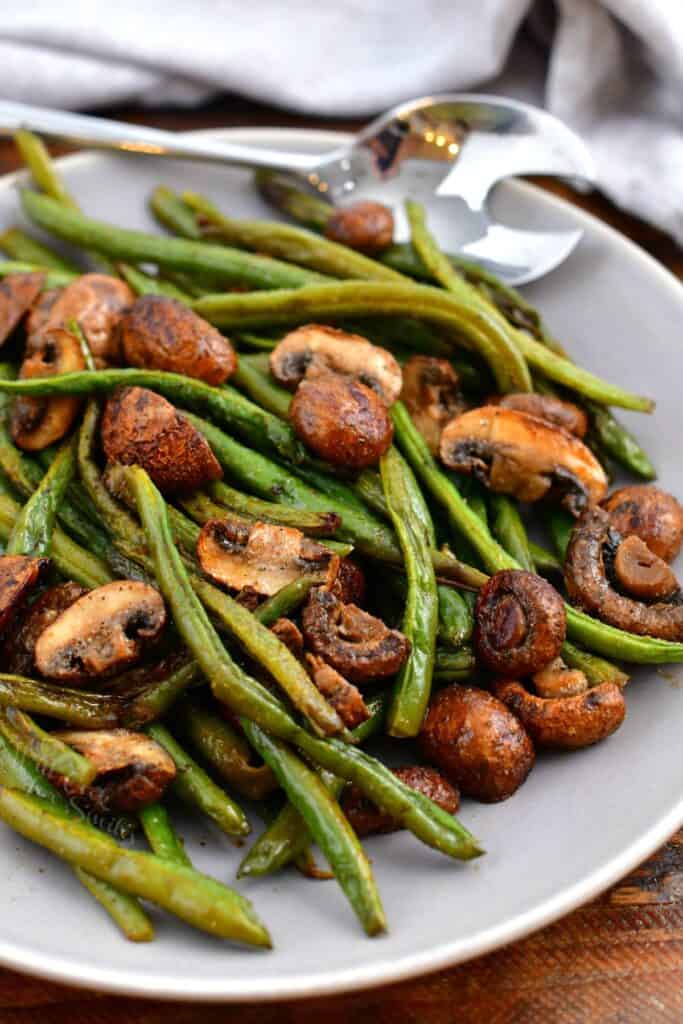 Roasting is one of the best ways to highlight the flavor of fresh vegetables. High heat from the oven breaks down the natural sugars, causing them to caramelize.
It's also very easy considering all you need to do is toss the vegetables in oil and seasoning and baking on the baking sheet. It's a great way to make a healthy side dish in 25 minutes.
You can roast just about any vegetable and with that slightly sweet caramelized flavor, you can please even the pickiest eaters.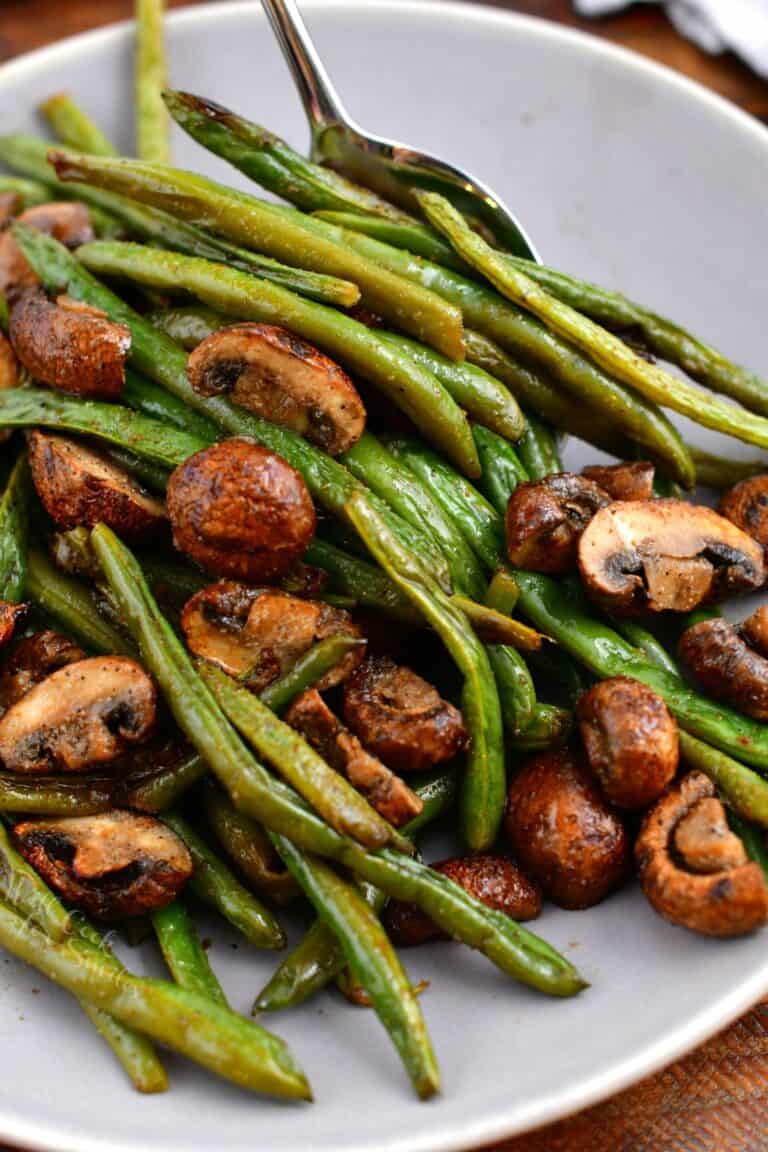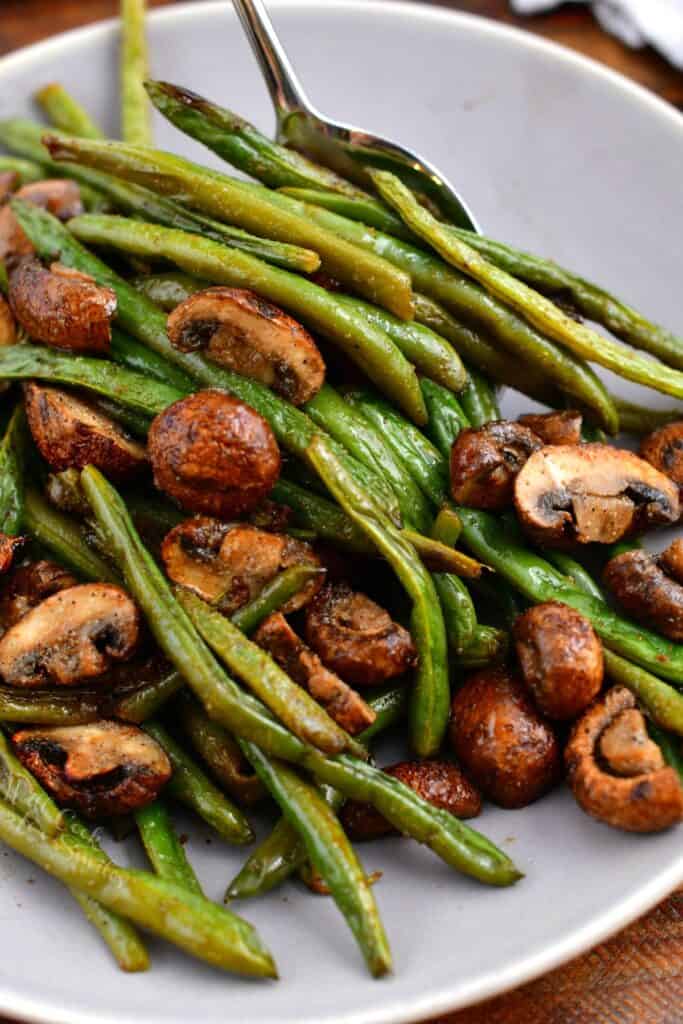 Making Roasted Green Beans and Mushrooms
Because the vegetables should be the star of the show, there are just a few ingredients in this side dish. The green beans and mushrooms have a light seasoning of olive oil, salt, pepper, onion powder, and garlic powder. 
How To Store and Clean Fresh Green Beans
Shelf life of fresh vegetables is pretty short; green beans will start to turn brown just a few days after picking. There are a couple of things you can do to help them last longer.
Don't wash them. Keep your green beans unwashed, and as dry as possible. Use paper towels to remove any moisture from the produce sprinklers, etc.
Refrigerate as soon as possible. Keep them in the crisper drawer or in an airtight container. Be sure to refrigerate them as soon as possible after you get home from the grocery store.
When you're ready to use them, place them in a strainer under cold tap water to remove any dirt or debris.
To easily trim green beans:
Place a handful of beans side by side on a cutting board. Line them up to the stems are next to each other.
Hold a chef's knife in one hand and the palm of your other hand to hold the beans flat against the board.
Carefully slice the tips off of one end. Then, use your hand to turn the bunch 180 degrees and cut the tips from the other end. (NOTE: trimming the tips off is optional. Stems should be trimmed off but tips are not necessary.)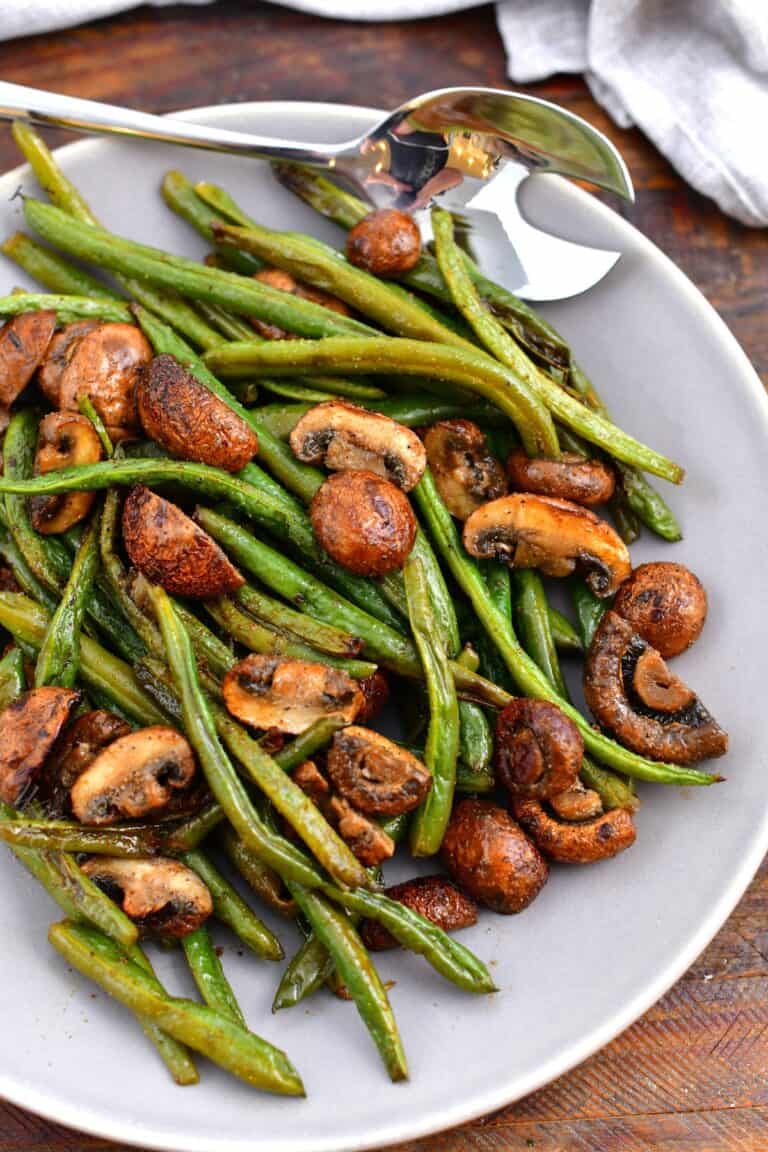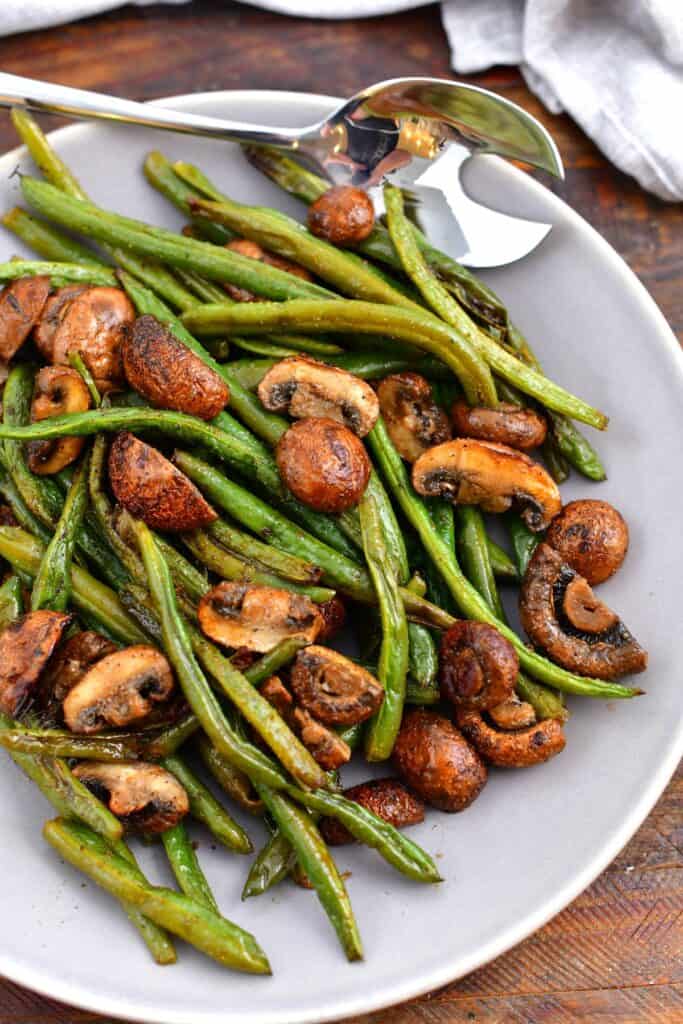 How To Clean Mushrooms
Mushrooms grow in very humid environments, primarily in wooded and marshy areas. Because of this, they usually have a good amount of dirt and debris on them. So, it's important to clean them before you use them
The problem is, mushrooms are like sponges and can absorb a lot of moisture. If they have too much moisture, they can be difficult to roast without becoming soggy.
There are two options for cleaning mushrooms, and you can use either method.
Rinse and dry quickly. Place whole mushrooms into a strainer and quickly rinse under cool tap water. Then, immediately use a clean kitchen towel or paper toweling to dry them off.
DO NOT CUT mushrooms before washing. Mushrooms absorb most moisture when cut.
Hand wash with paper toweling. Although this way is more tedious, using a moist paper towel to clean mushrooms does work too. Plus, it prevents them from absorbing any moisture at all.
After rinsing and drying them, place the mushrooms onto a cutting board. Then, use a sharp knife to trim off any woody ends from the stems. Keep small mushrooms whole and cut larger ones in half.
How To Roast Green Beans and Mushrooms
Preheat your oven to 425°F.
Place clean, dry mushrooms and green beans into a large mixing bowl.
Drizzle oil and sprinkle seasoning to the bowl and toss to evenly coat the vegetables.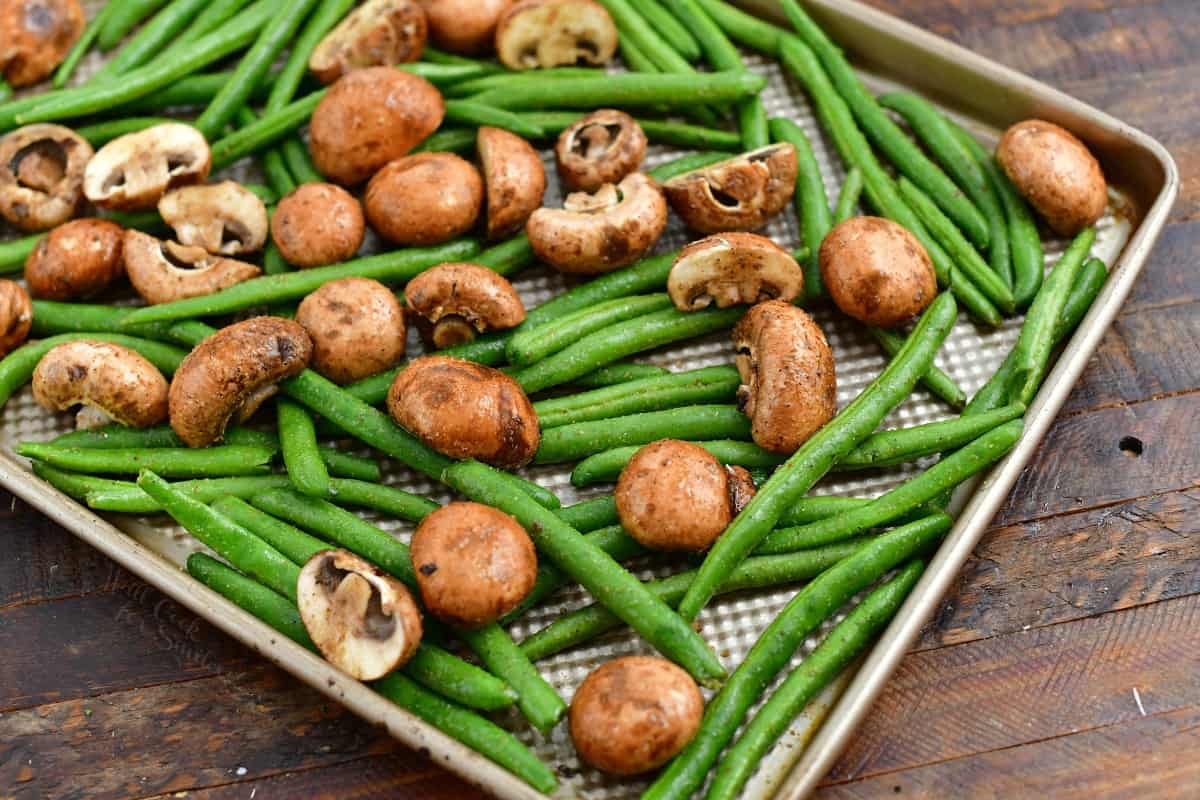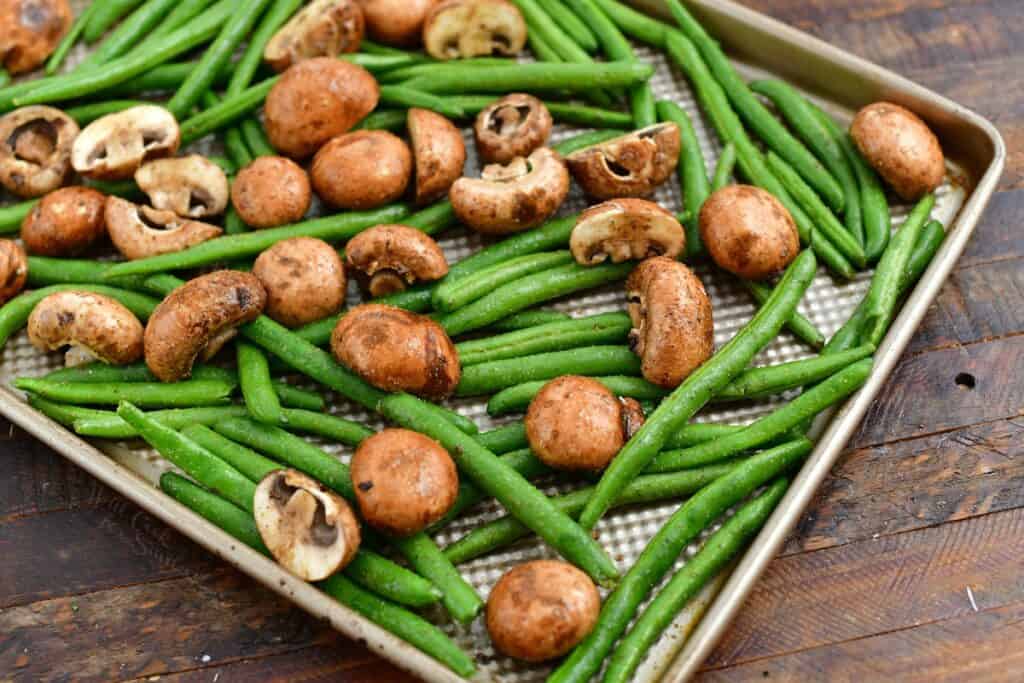 Spray a large baking sheet (or two smaller sheets) with non-stick cooking spray. If your baking sheets are older, you can line them with parchment paper to prevent anything from sticking.
Spread the vegetables evenly onto the prepared baking sheet, being careful not to overcrowd them.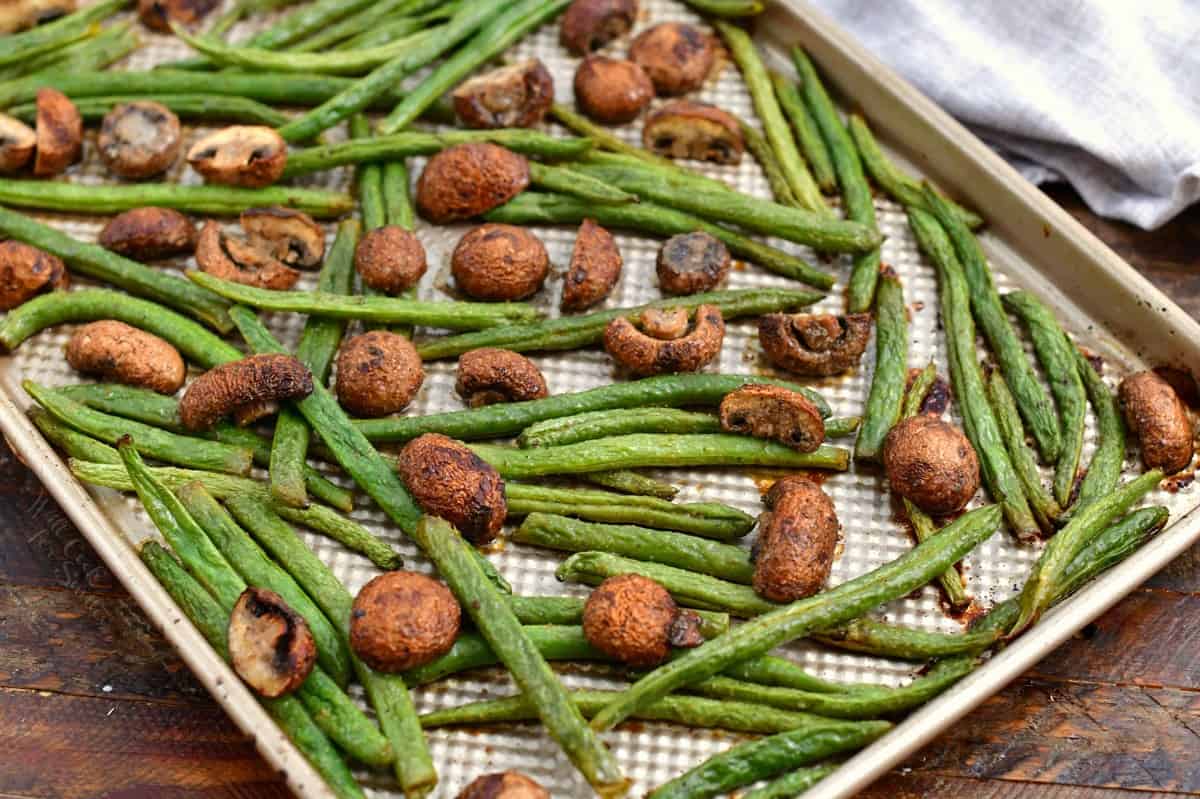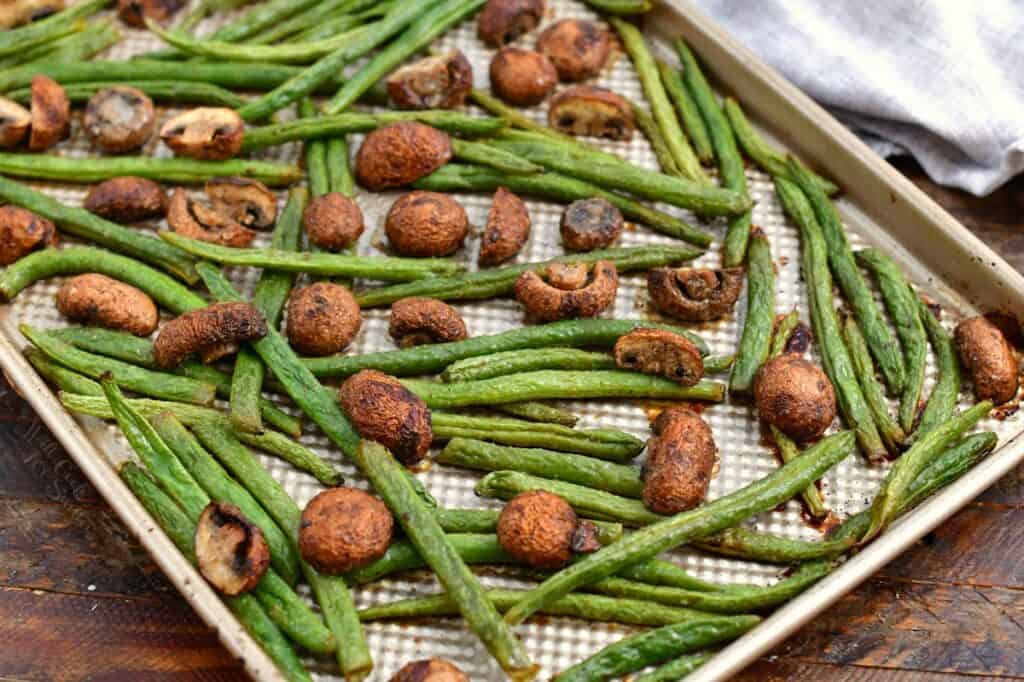 Roast the vegetables until they're tender and golden brown. This usually takes 18 to 20 minutes. Roast them a few minutes longer if you like them softer, or a couple of minutes less if you like them crunchier.
Remove pan from the oven, transfer the veggies into a bowl, and serve while they're still warm.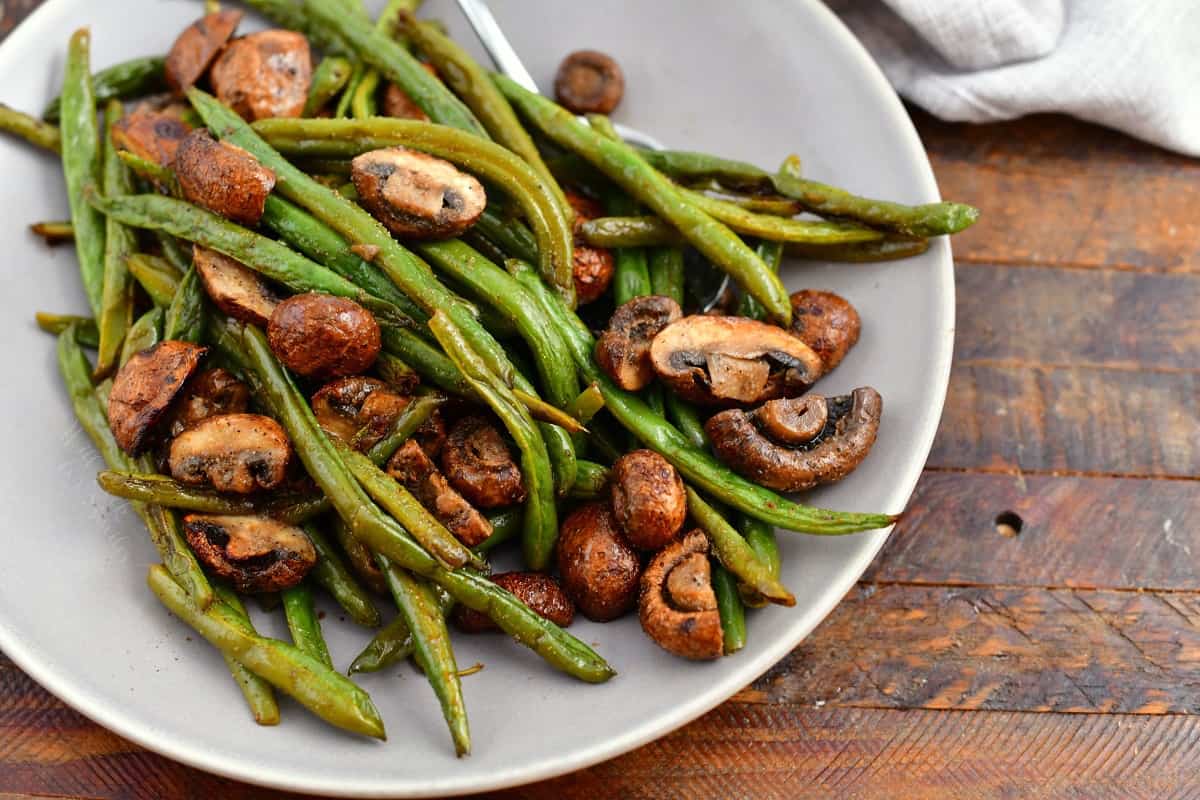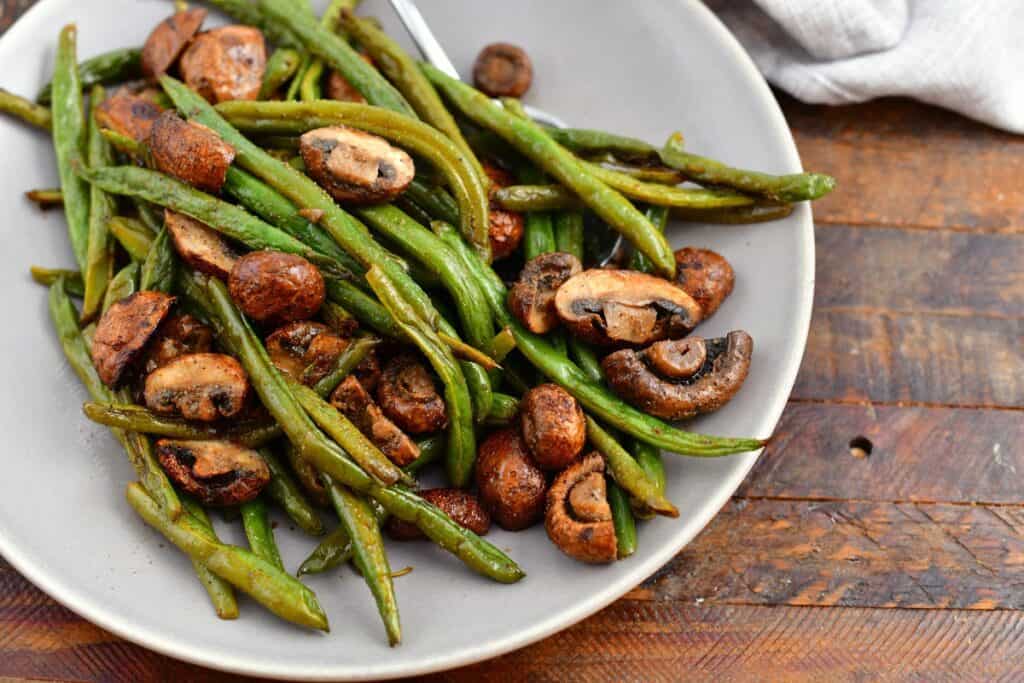 STORING INSTRUCTIONS
Store any leftovers in an airtight container in the refrigerator, and use them up within 5 days.
To reheat, you can use a skillet and do it on stovetop or place the vegetables on a baking sheet and warm them through in a 350° F. oven.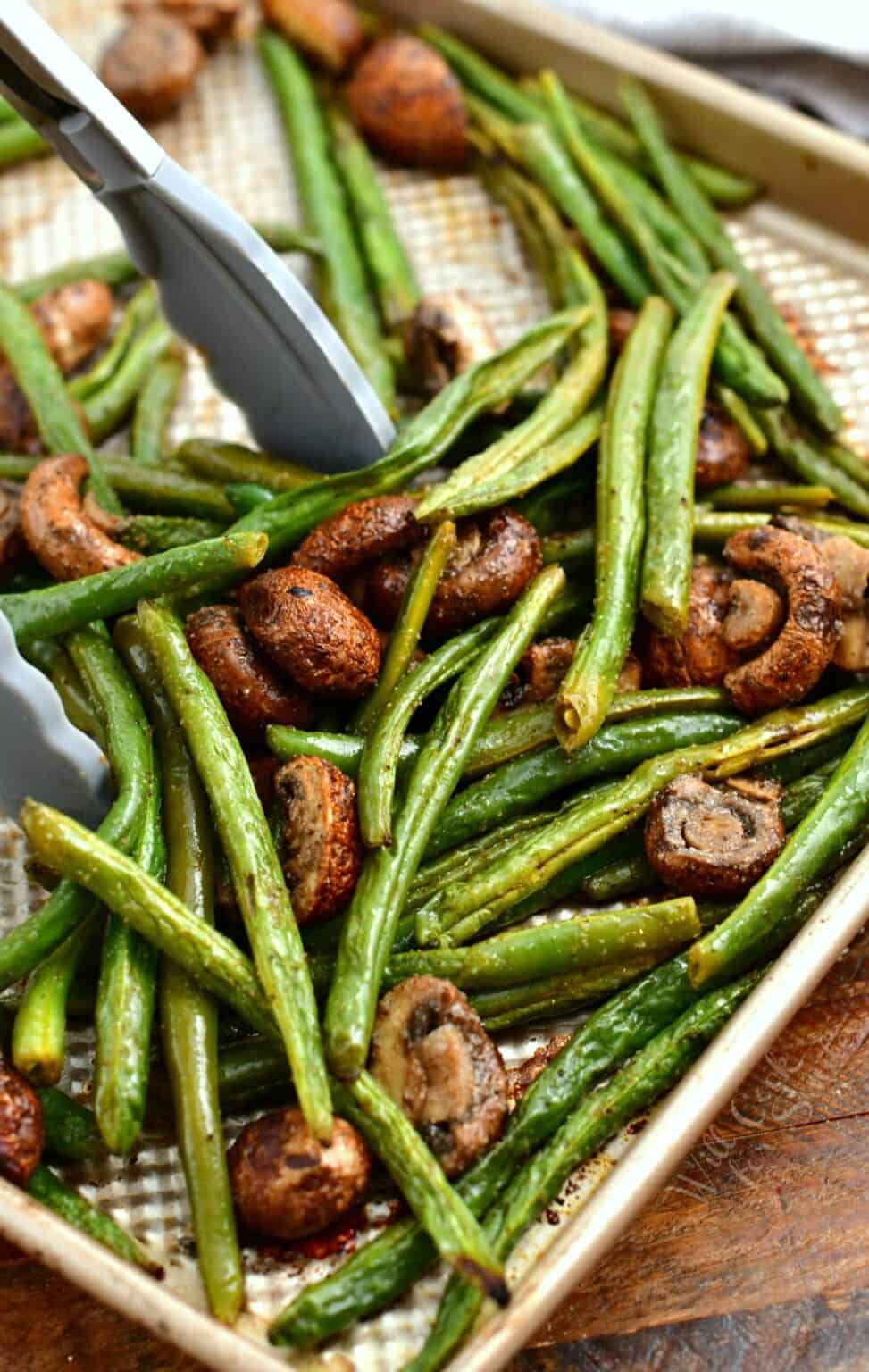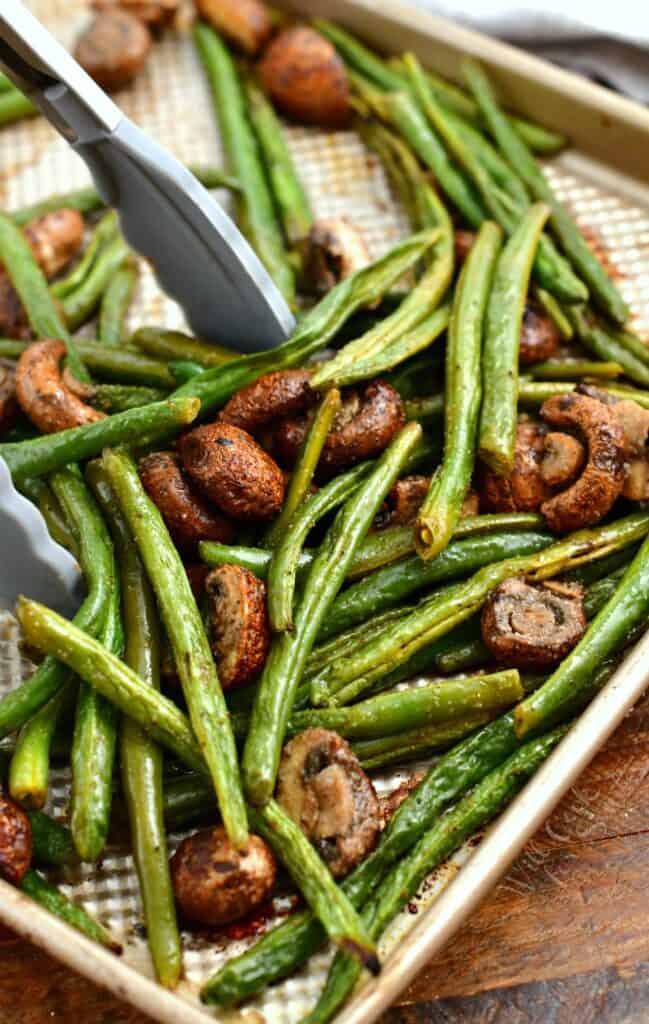 More Roasted Vegetable Recipes to Try
We love healthy roasted vegetables like roasted mushrooms or roasted cauliflower! It's easy and lets the natural vegetable flavors shine.
When I want to add a little something extra, make it cheesy with Parmesan roasted Brussels sprouts and Italian roasted asparagus.
Of course, when you want to make comforting vegetable side dishes in the oven, you can't forget about the green bean casserole and creamy Italian asparagus!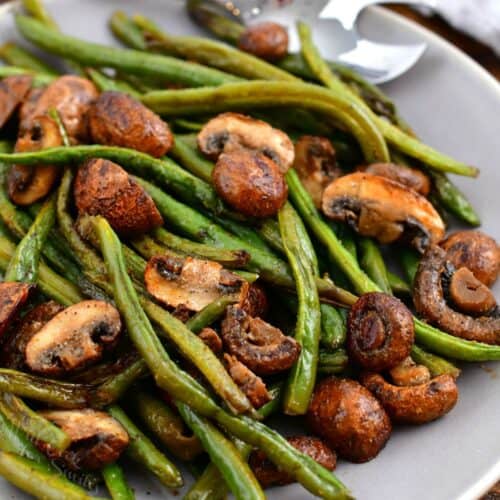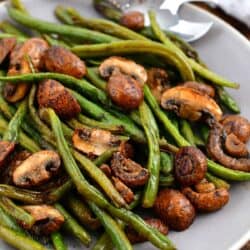 Roasted Green Beans and Mushrooms
Roasted green beans and mushrooms are easy to make, delicious, and healthy! Make this recipe to for weeknight dinner or holidays.
Print
Pin
Save
Saved!
Rate
Ingredients
3

tbsp

mild flavor olive oil or canola oil

16

oz

green beans

8

oz

baby bella mushrooms

1 1/2

tsp

garlic powder

1/2

tsp

onion powder

salt

black pepper
Instructions
Preheat the oven to 425° and lightly grease a large baking sheet if needed. (If you have an older baking sheet, you can cover it with parchment paper to prevent sticking.)

Snip the stems off green bean pods, if any, and add them into a large mixing bowl.

Quickly rinse mushrooms under cold running water and pat them dry right away. Cut larger mushrooms in half and add them to the mixing bowl as well.

Add oil and seasoning to the bowl and toss green beans and mushrooms to coat them evenly.

Spread the vegetables in the prepared baking sheet and try not to overcrowd them. If needed, use two medium baking sheets.

Roast the vegetables for about 18-20 minutes. Roast them a few minutes more if you like them softer or a couple minutes less if you like them crunchier.
Nutrition
Calories:
145
kcal
|
Carbohydrates:
11
g
|
Protein:
4
g
|
Fat:
11
g
|
Saturated Fat:
1
g
|
Sodium:
11
mg
|
Potassium:
433
mg
|
Fiber:
4
g
|
Sugar:
5
g
|
Vitamin A:
782
IU
|
Vitamin C:
15
mg
|
Calcium:
42
mg
|
Iron:
2
mg
Tried this recipe?
Mention @willcookforsmiles and tag #willcookforsmiles