Single Serving Banana Pancakes are so perfect for the times you're craving some homemade pancakes, but don't want to make a whole family sized batch. This easy recipe yields three deliciously soft, fluffy, and sweet banana pancakes. The best part is that it'll only take about 10 minutes out of your morning to whip them up!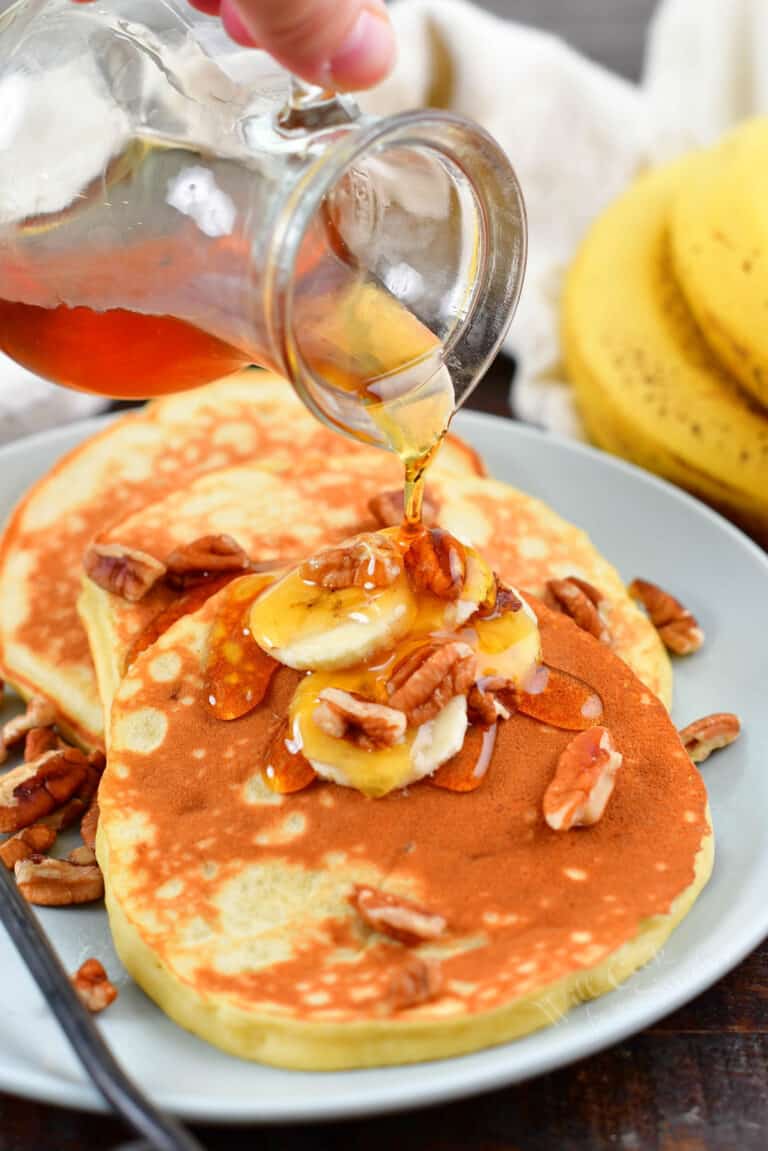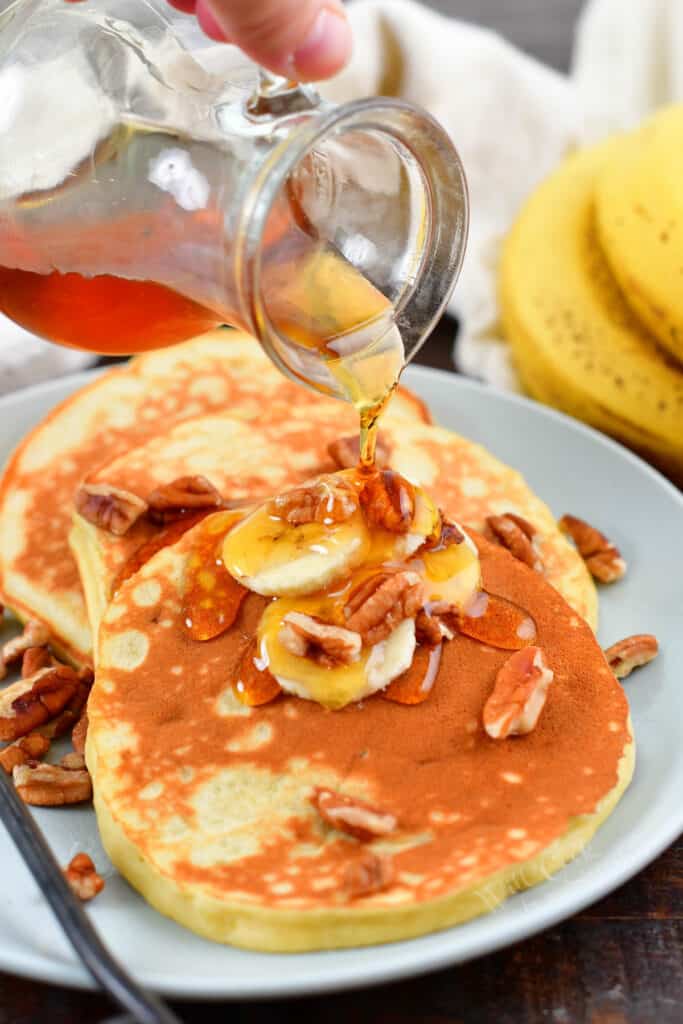 Single Serving Banana Pancakes
Pancakes are a wonderful, comforting, and soul-warming breakfast. There aren't a lot of people out there who don't love pancakes. But most people thing of pancakes as a weekend breakfast for the whole family. That is partially true, it does make great weekend breakfast.
It also can be a great breakfast for one or two people if you have 10-15 minutes in the morning! No need to make a whole big batch and freeze or refrigerate the rest. Pancakes are never as good reheated as when they are freshly made
I have a family favorite recipe for single serving banana pancakes for you right here. My single serving blueberry pancakes are very popular with one half of my family and banana pancakes are popular with the other half. Some of them love bananas and others prefer blueberries. So for my banana loving family, I have my trustee banana pancakes!
Next time you get a craving for banana pancakes, whether it's Saturday morning or late at night on a Tuesday (no judgement here!), this is the recipe for you. The list of ingredients is short and simple – you likely already have the majority of them in your kitchen. It's a quick, easy, and delicious way to treat yourself to the pancakes you deserve, without making way too many!
How to Make Single Serving Banana Pancakes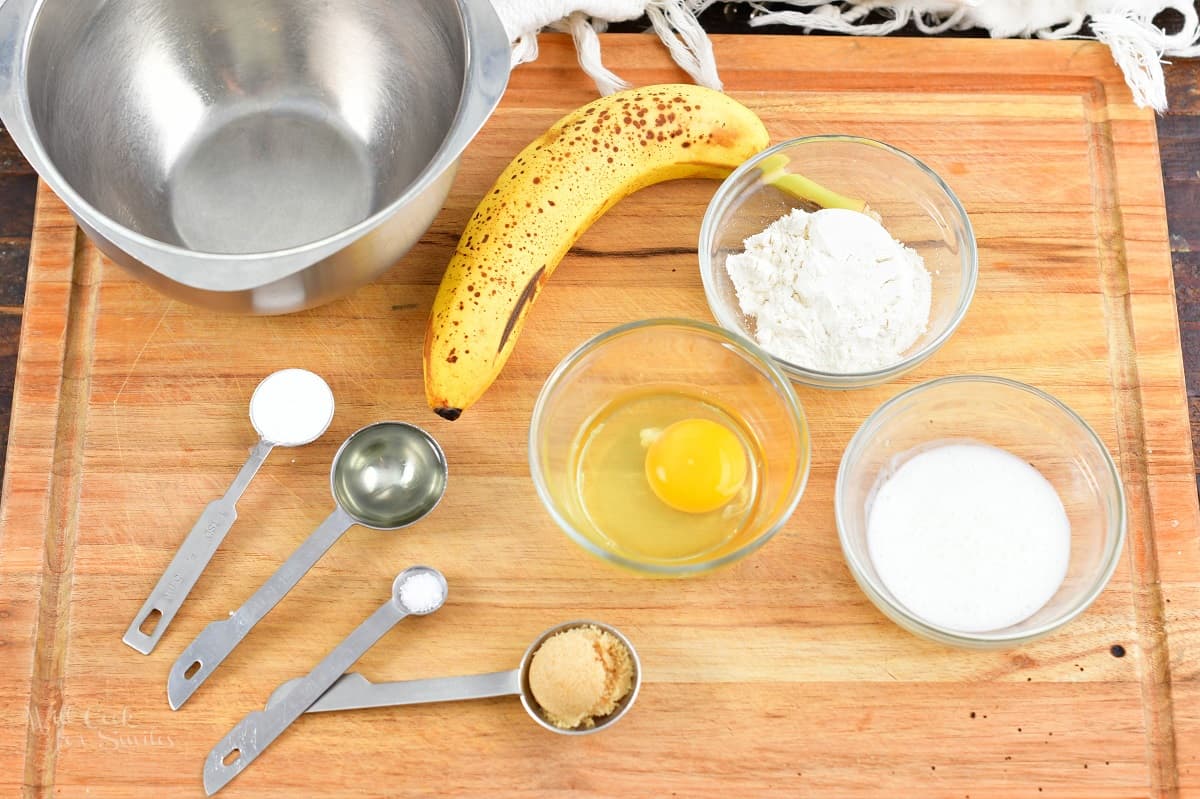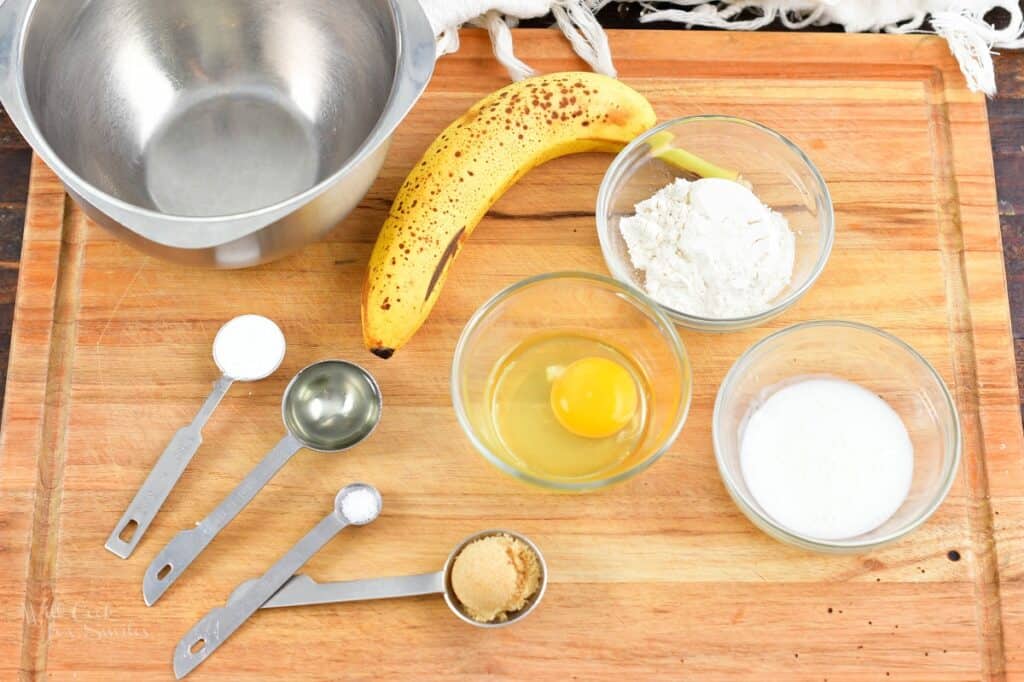 Ingredients You Need
Banana – You'll need a single ripe banana for this recipe.
Egg – large eggs will work but no bigger.
Low Fat Buttermilk – This ingredient will help make the pancakes nice and fluffy!
Olive Oil – Olive oil adds moisture to the pancakes and a little faster than melting butter.
Brown Sugar – light or dark will work well.
Flour – Plain all-purpose flour is what gives these pancakes the best structure.
Baking Powder – Along with the buttermilk, baking powder assists in making the pancakes perfectly fluffy.
Baking Soda – Just a little bit to help them rise (too much and taste will overpower)! You don't want more than 1/8 tsp.
Salt – A pinch of salt will do the trick to balance out flavors.
Additional Flavors:
There's definitely room for creativity with this simple recipe! Here are a few ingredients you can toss into the batter to make it your own:
Nuts, like walnuts or pecans
Chocolate chips
Cinnamon (1/4-1//2 tsp should be enough)
Citrus like lemon or orange zest
Pineapple chunks and coconut flakes for a tropical twist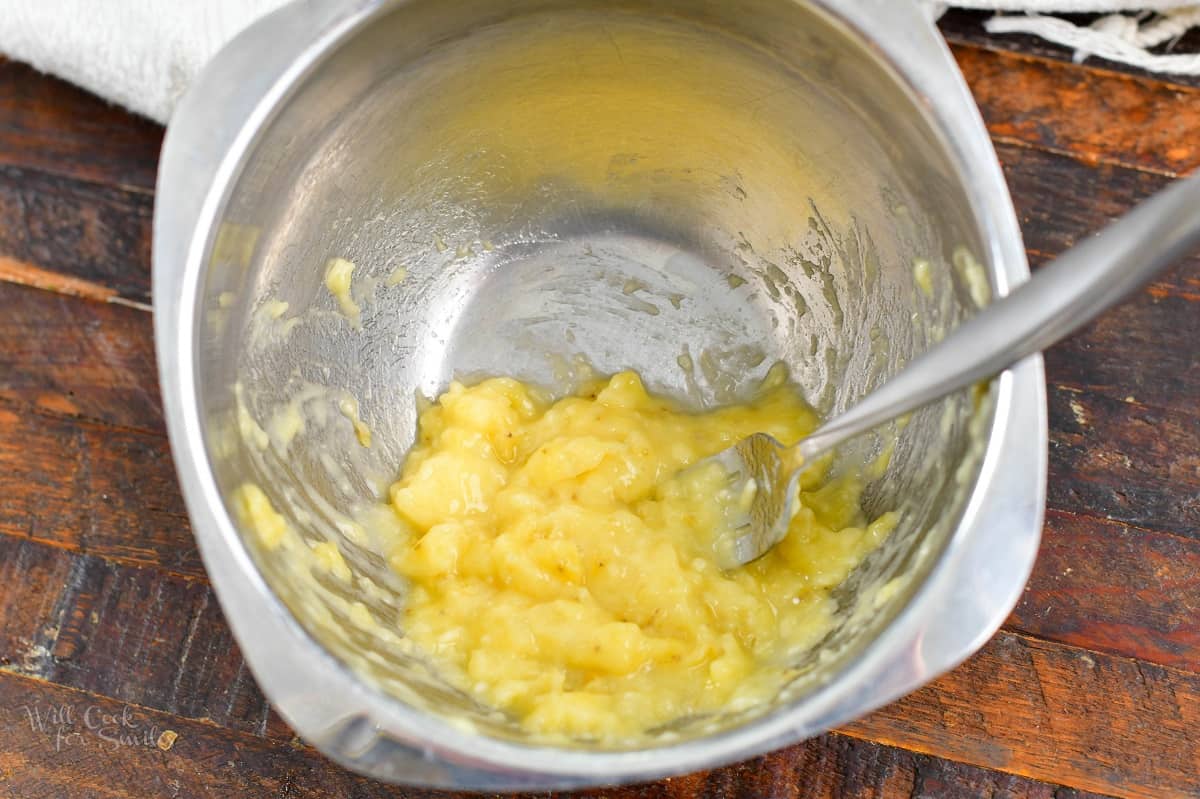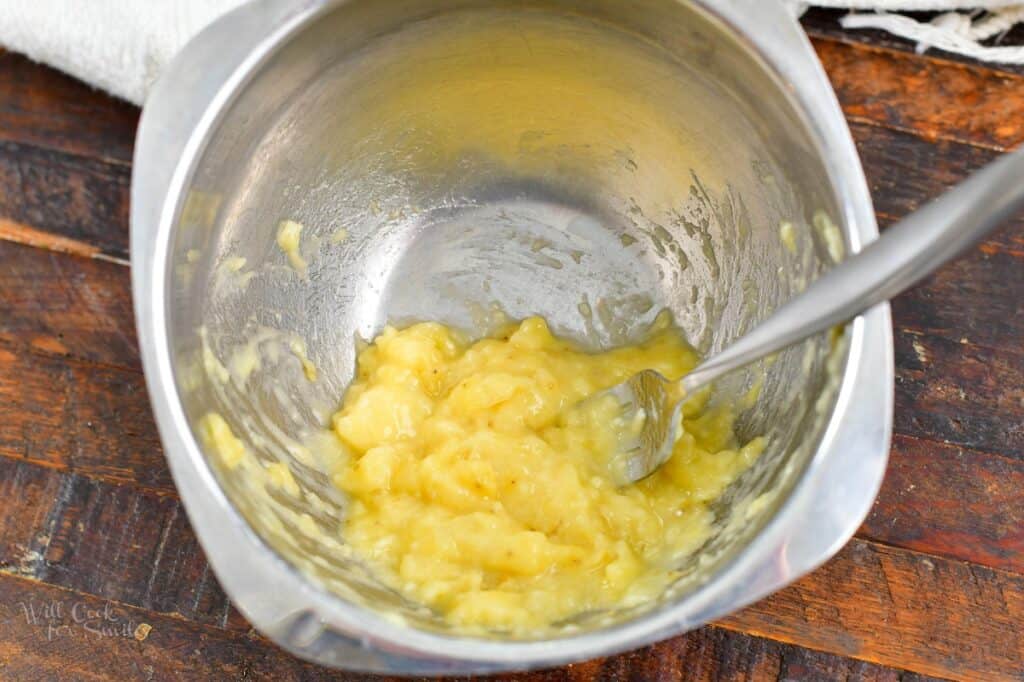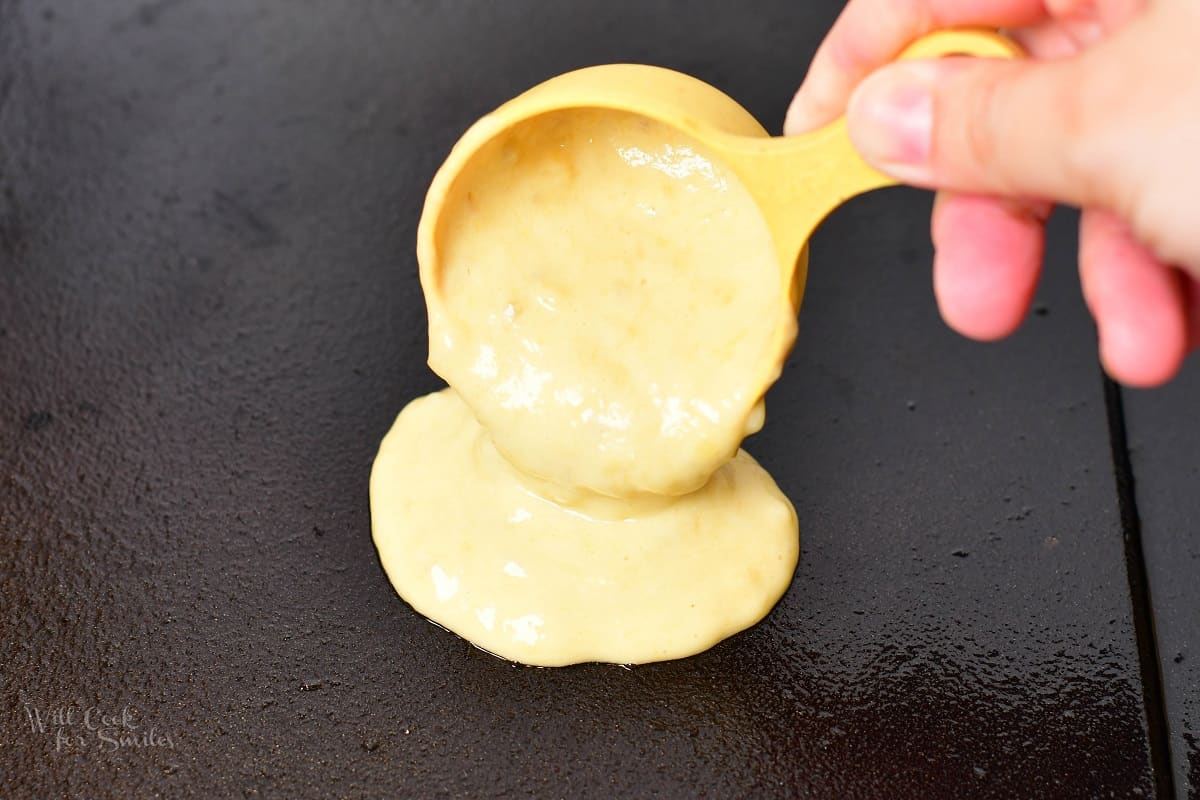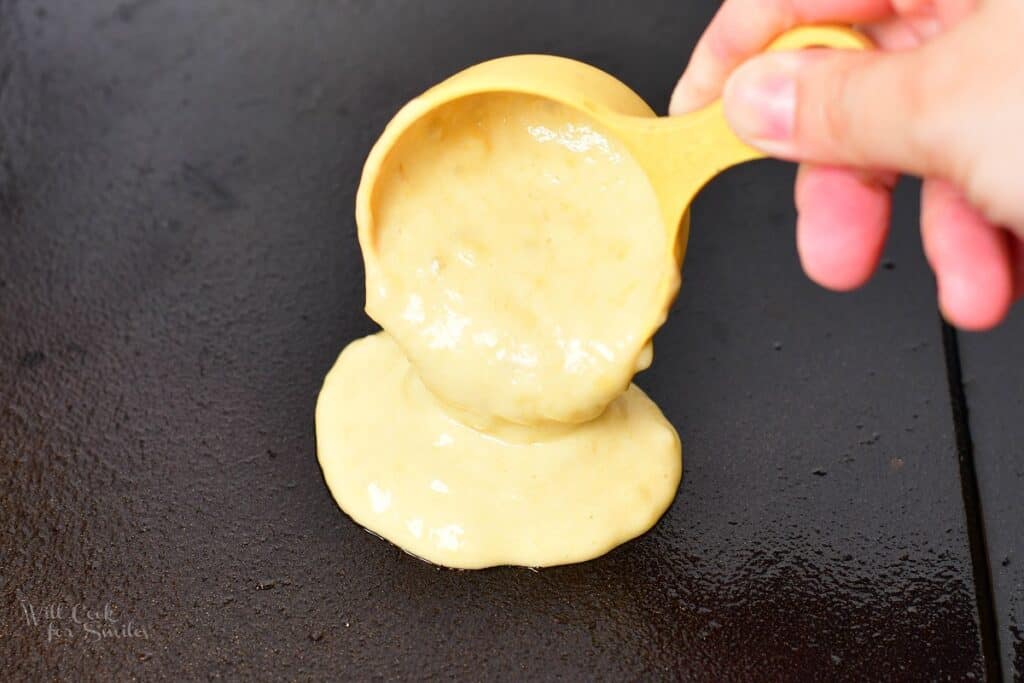 Cooking Directions:
Make the batter.
Start by mashing up your banana with a fork. Then, whisk in the first few ingredients – the egg, buttermilk, and sugar.
Whisk in the flour, baking powder, baking soda, and salt until smooth.
Prepare your pan.
Before you start cooking, you'll need to prepare your griddle or pan! Preheat it over medium heat, then lower it a little bit before adding the pancake batter.
Once it's warm, grease the pan or griddle a little bit.
Cook the pancakes!
Use a 1/3 measuring cup to measure out the three pancakes. You can make them any size you want, but a 1/3 measuring cup will yield three nicely portioned pancakes.
Pour the batter onto the heated pan (or griddle) and let it cook without touching it.
Once you see bubbles rising to the top of the batter, that's the visual indicator you need to know that the pancake is ready to flip. Slide your trusty spatula under the pancake, lift it from the pan, and use your wrist to quickly flip it.
Tip – Keep in mind that on average, pancakes this size take approximately 4-6 minutes to cook. This time varies depending on the size of the pancake and how hot your pan/griddle is. If you make silver dollar pancakes, they'll cook much faster, so be sure to keep a close eye on them.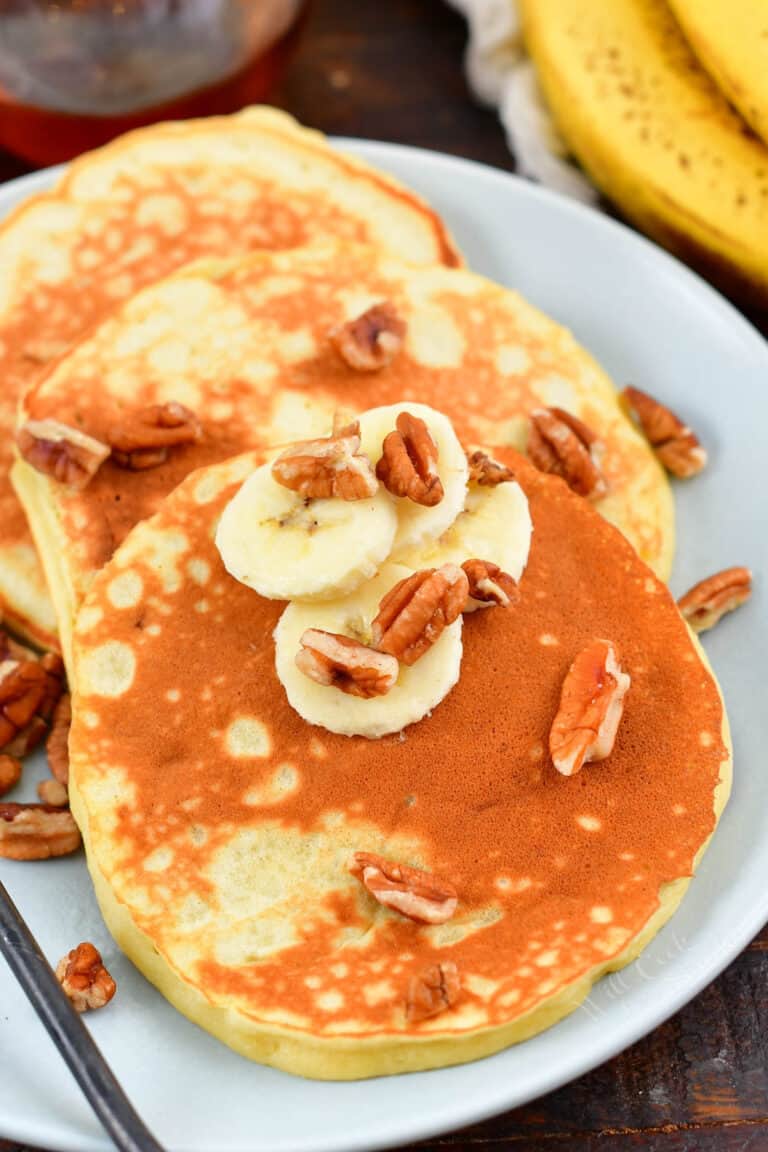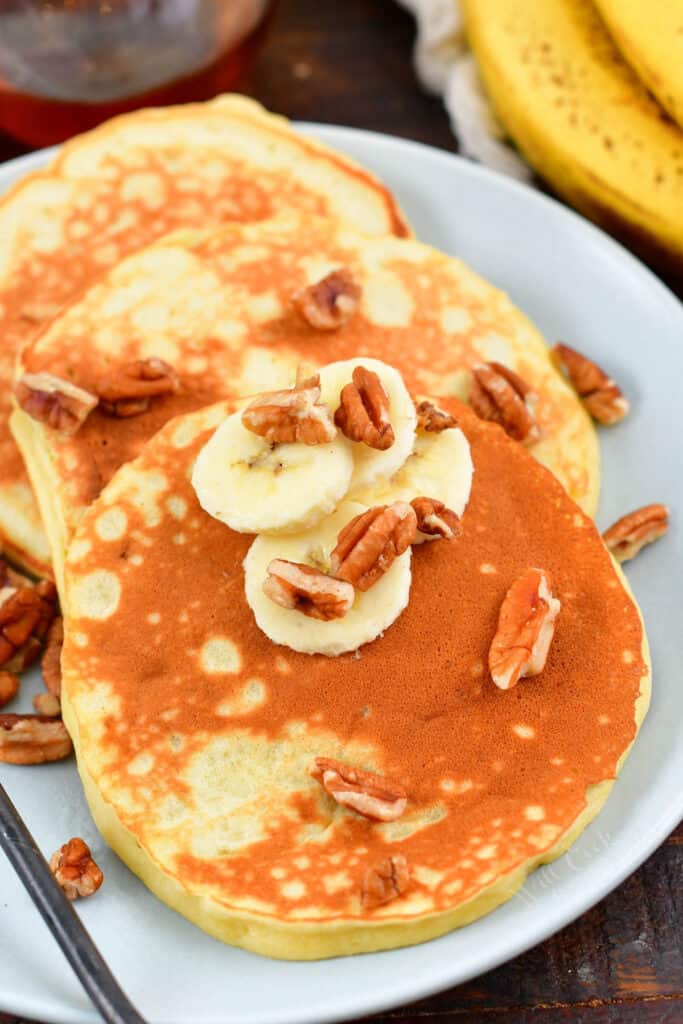 Frequently Asked Questions:
How should I serve these banana pancakes?
In my opinion, it's a crime to serve banana pancakes without some good maple syrup! With that being said, you could dress them up even further with a dollop of whipped cream, some soft butter, or a sprinkle of cinnamon on top. If you love the flavor combination of bananas and strawberries, feel free to drizzle some Homemade Strawberry Sauce on top of your three pancakes!
How long will banana pancakes stay fresh?
Here's the deal – when you make just three pancakes for a single serving, the point is to eat them while they're fresh! However, you can always store these pancakes in an airtight food storage container in the refrigerator for up to 3 days. When you're ready to enjoy them, reheat the pancakes in a warm skillet over medium-low heat (make sure to preheat the pan first).
Heat them up just until they're warmed through. I do NOT usually recommend microwaving pancakes, the texture can get completely wonky if they're overheated.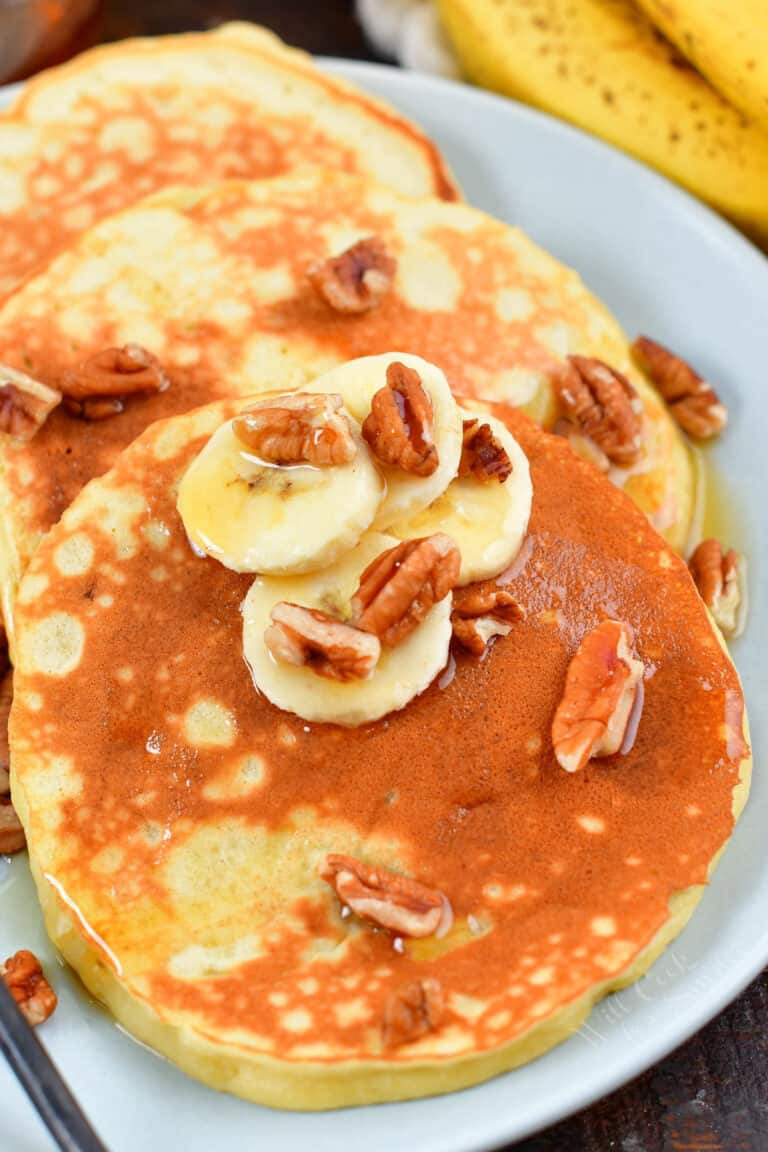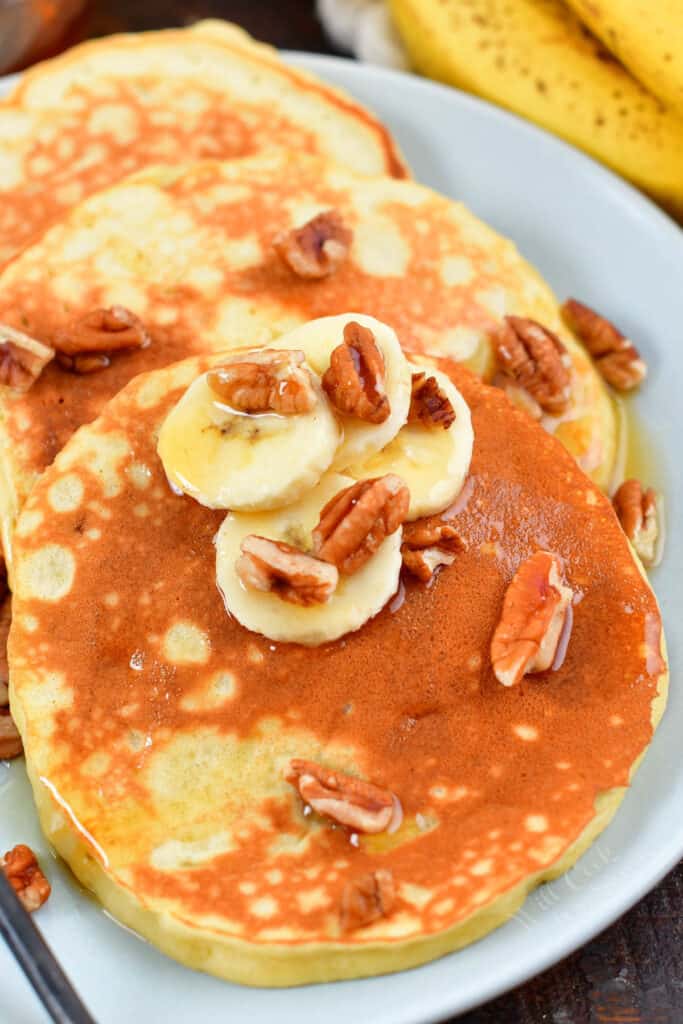 Single Serving Banana Pancakes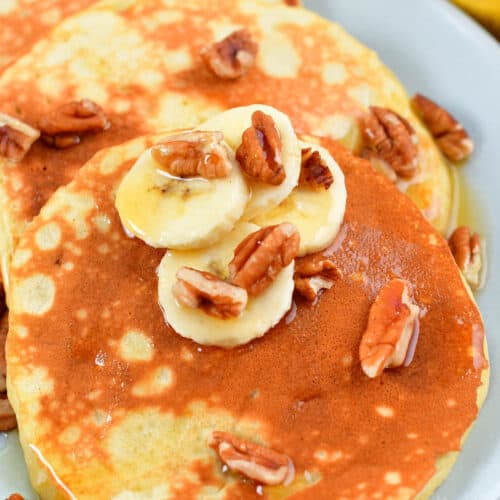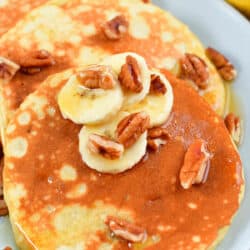 Single Serving Banana Pancakes
This easy single serving banana pancakes recipe yields three deliciously soft and fluffy banana pancakes. It will only take about 10 minutes.
Print
Pin
Save
Saved!
Rate
Ingredients
1

ripe banana

1

egg

2

tbsp

low fat buttermilk

1

tbsp

olive oil

2

tsp

brown sugar

1/3

cup

+2 tbsp. all purpose flour

1

tsp

baking powder

1/8

tsp

baking soda

pinch

salt
Instructions
In a small bowl, mash a ripe banana with a fork until nicely mashed.

Whisk in egg, buttermilk, oil, and sugar.

Whisk in flour, baking powder, baking soda, and salt. Whisk until smooth.

It's important to preheat the pan or the griddle first, before cooking the pancakes. Preheat it over medium heat and then lower it a little bit before adding pancake batter.

Grease the pan or the griddle a little bit.

Use 1/3 cup measuring cup to make thee pancakes. (Or, you can make any size pancakes if you wish, even silver dollar pancakes will be great.)

Add the batter to the heated pan and let it cook without touching it.

Wait for the bubbles to appear all over the top, that is your indication that pancakes are ready to flip. Use a spatula to slide all the way under the pancake, lift it off, and use your wrist to quickly flip.

(It will take about 4-6 minutes for each pancake to cook. Time will slightly vary for different sized pancakes and how hot your pan it. Silver dollar pancakes cook even faster.)
Nutrition
Calories:
490
kcal
|
Carbohydrates:
70
g
|
Protein:
12
g
|
Fat:
19
g
|
Saturated Fat:
4
g
|
Polyunsaturated Fat:
3
g
|
Monounsaturated Fat:
12
g
|
Trans Fat:
1
g
|
Cholesterol:
165
mg
|
Sodium:
239
mg
|
Potassium:
988
mg
|
Fiber:
4
g
|
Sugar:
24
g
|
Vitamin A:
327
IU
|
Vitamin C:
11
mg
|
Calcium:
252
mg
|
Iron:
4
mg
Tried this recipe?
Mention @willcookforsmiles and tag #willcookforsmiles