Buttermilk Pancakes are super soft and fluffy pancakes that are our family favorite! They're so easy to make for a perfect weekend breakfast. Enjoy a stack of these incredible pancakes anytime – they're the most delicious way to start your day!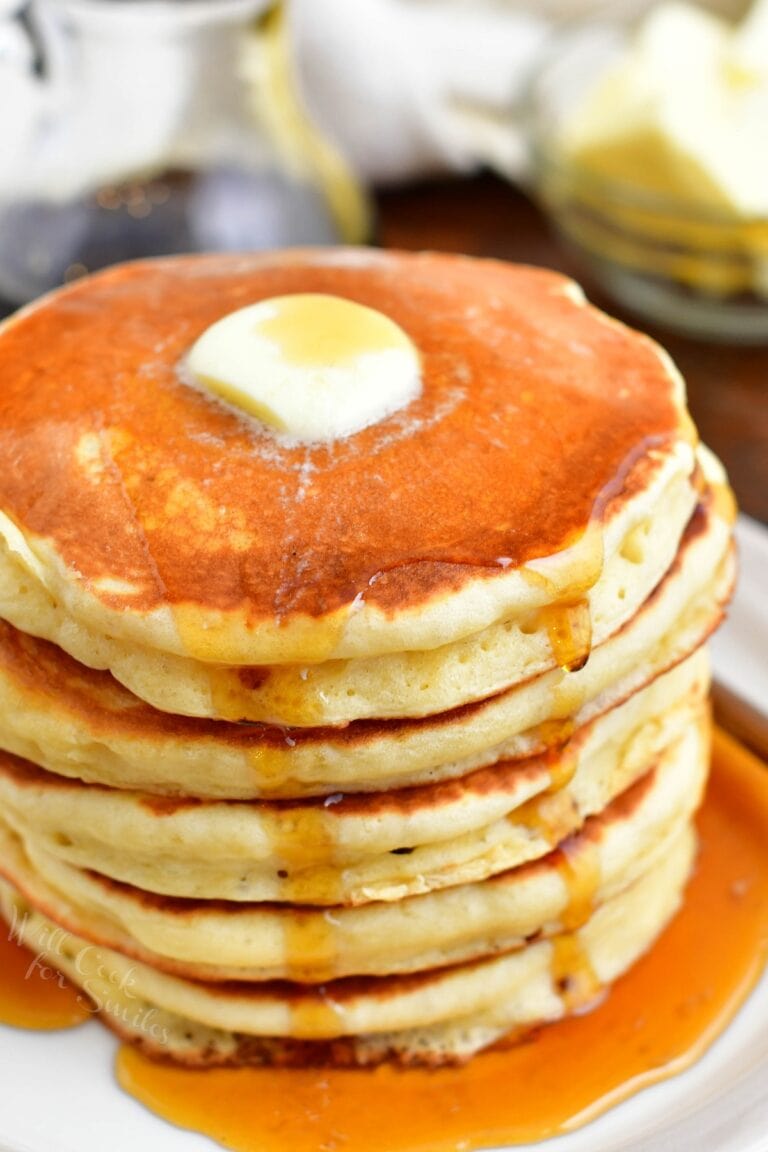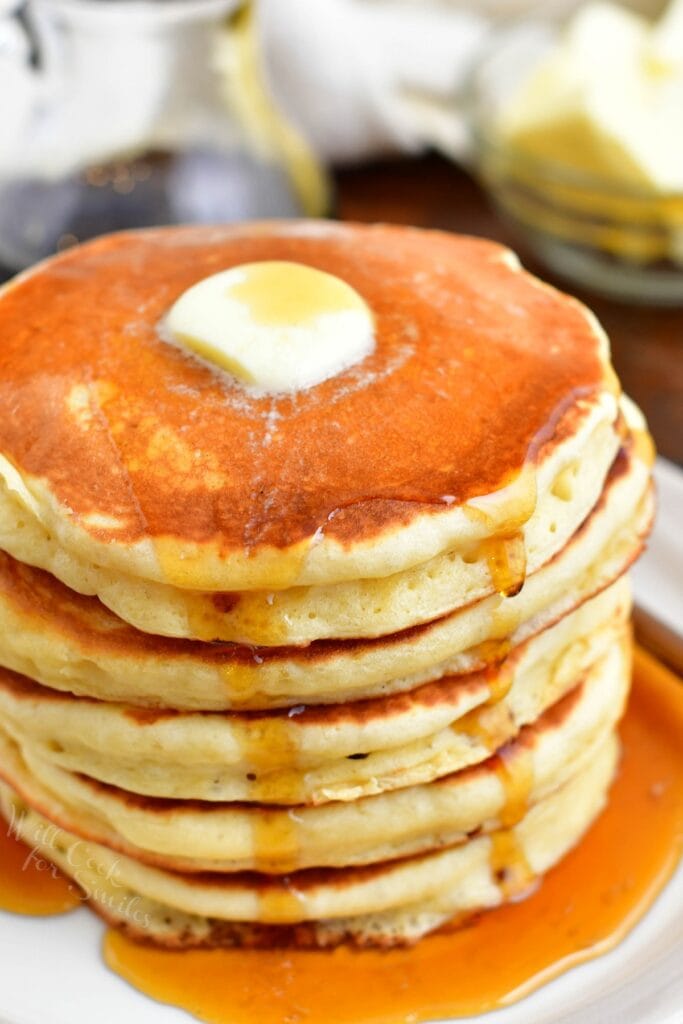 Life is really all about the simple joys, and there's not anything quite like waking up on a Saturday morning to the smell of fresh pancakes! I love making these pancakes on the weekend because I know my whole family will wake up with a smile.
Buttermilk Pancakes Vs. Classic Pancakes
As much as I truly adore Classic Pancakes, I might just like these buttermilk pancakes even more! They're pretty similar breakfast treats, but also wholly different in texture.
Buttermilk always makes pancakes so much softer and fluffier than regular pancakes, which is why they're a favorite in my house. However, if you prefer denser and thicker pancakes, certainly stick with the classic recipe.
So, why are these pancakes fluffier? Buttermilk has an acidic ingredient that helps tenderize gluten, which gives the pancakes a softer texture, as well as more body. Plus, it helps the batter raise better when cooking!
Buttermilk has similar effects to baked goods, too. If you're looking for perfectly baked, fluffy buttermilk recipes, you must make Buttermilk Cornbread and Buttermilk Biscuits!
Ingredients in Buttermilk Pancakes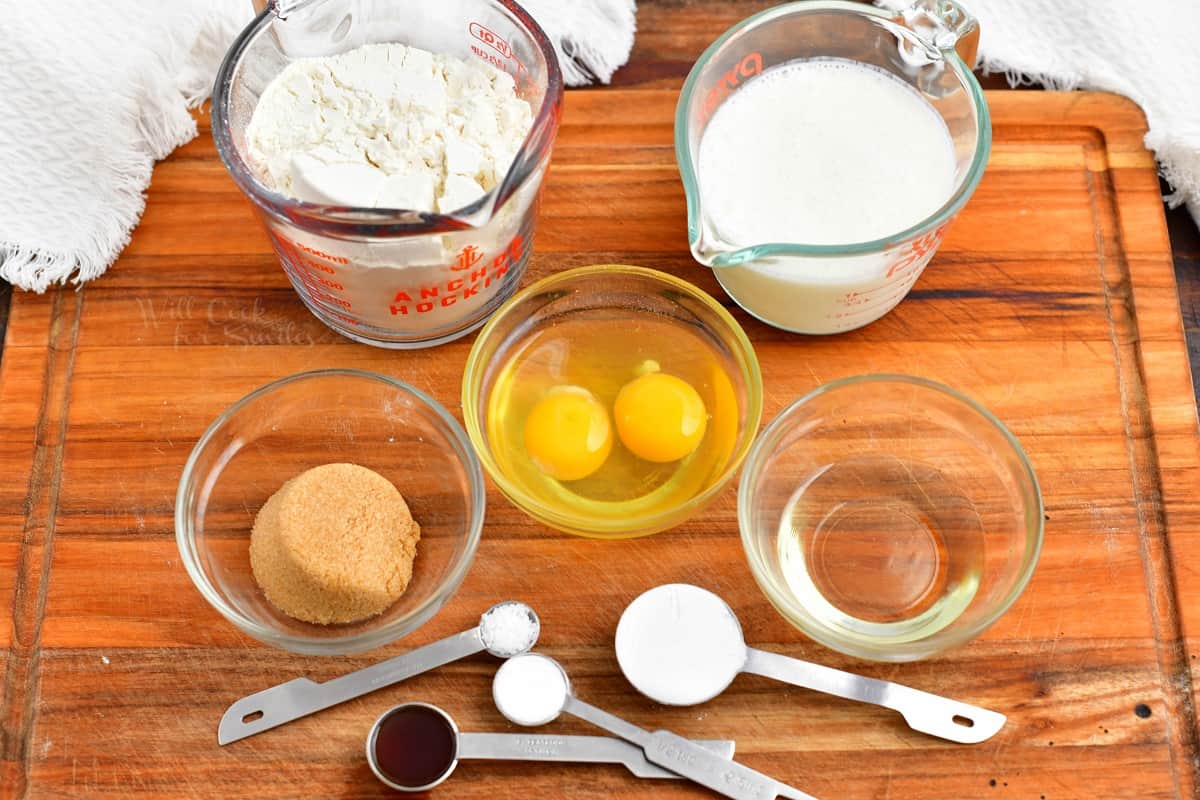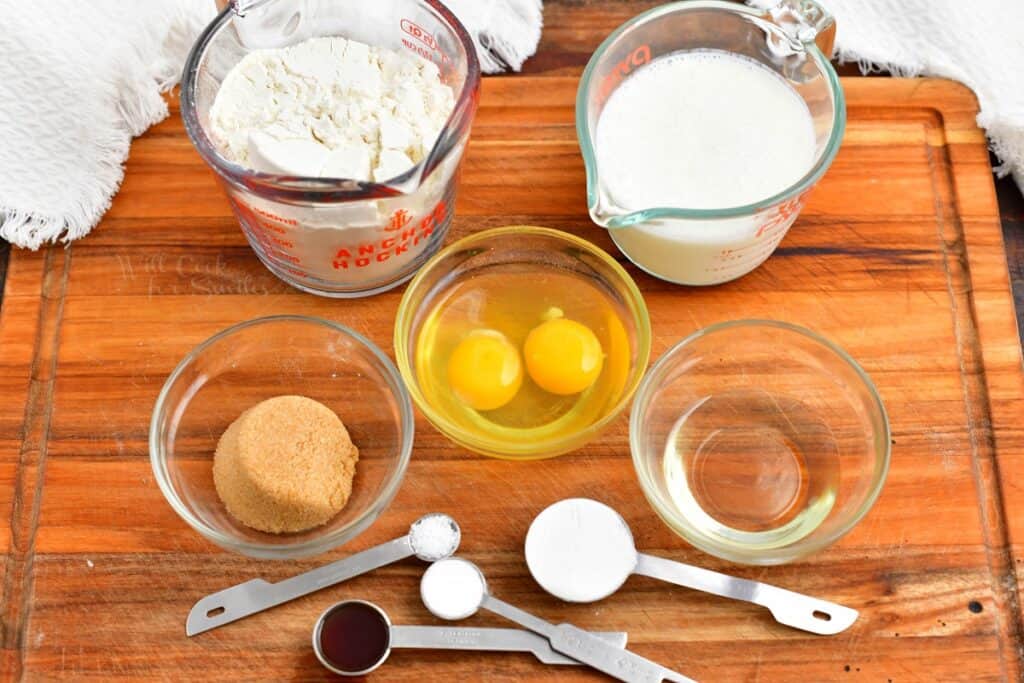 Buttermilk – I always use a low-fat buttermilk, as I've found it provides both the best texture and flavor for the pancakes.
Cooking Oil – As long as the oil is neutral flavored, it will work for this recipe. Try using canola, vegetable, or even light tasting olive oil.
Eggs – for best results, let them warm up to room temperature for about 30 minutes.
Brown Sugar – If you don't have any brown sugar on hand, you can make your own by combining 1 cup of granulated white sugar with 1 tablespoon of molasses.
Vanilla Extract – Just a dash of this extract is needed to provide a delicate hint of vanilla flavor.
Flour – all-purpose flour is best to use here.
Baking Powder – Check the expiration date on your baking powder! Believe it or not, it does expire and loose it's effectiveness after 6 months.
Baking Soda – This is a key ingredient, because baking soda helps the buttermilk make light and fluffy pancakes.
Salt – Just a small pinch of salt is needed to help bring out the other flavors even more.
How to Make Homemade Buttermilk Pancakes
Once you realize how easy it is to whip up a batch of buttermilk pancakes, you'll never buy that boxed stuff from the store again!
With just a little effort, you're going to have the most delicious breakfast. Oh, and it's worth mentioning that your kitchen is going to smell so good! Everyone in my house practically jumps out of bed when they start smelling these pancakes.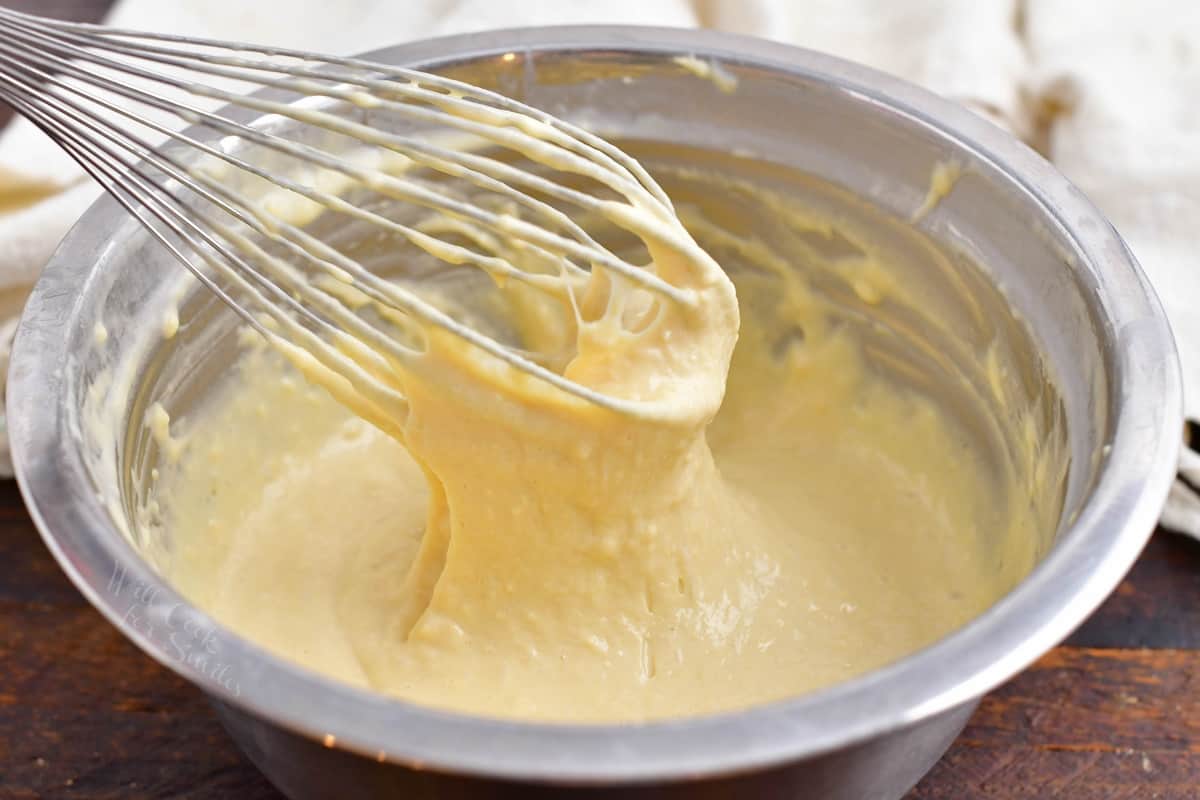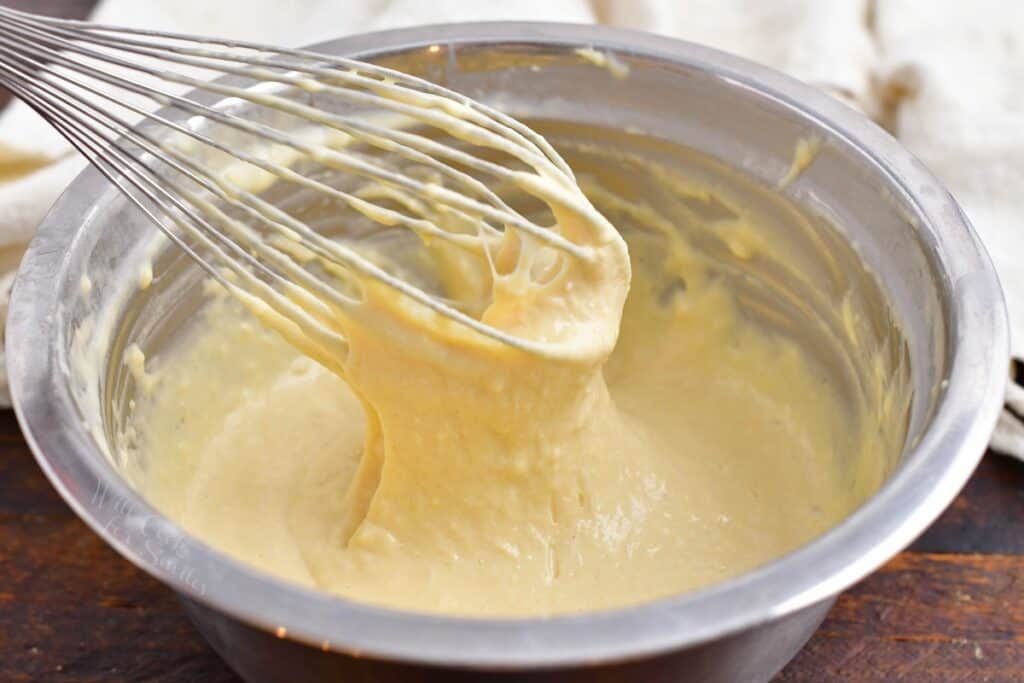 First, start off by combining buttermilk, oil, eggs, vanilla extract, sugar and salt in a mixing bowl. Mix everything together until fully combined.
Once combined, add the flour, baking powder, and baking soda. Mix everything together until just combined – do NOT over mix!
While you preheat a skillet or griddle, let the batter sit. Preheat the skillet or griddle over medium heat, then lower it just a bit before adding the pancake batter.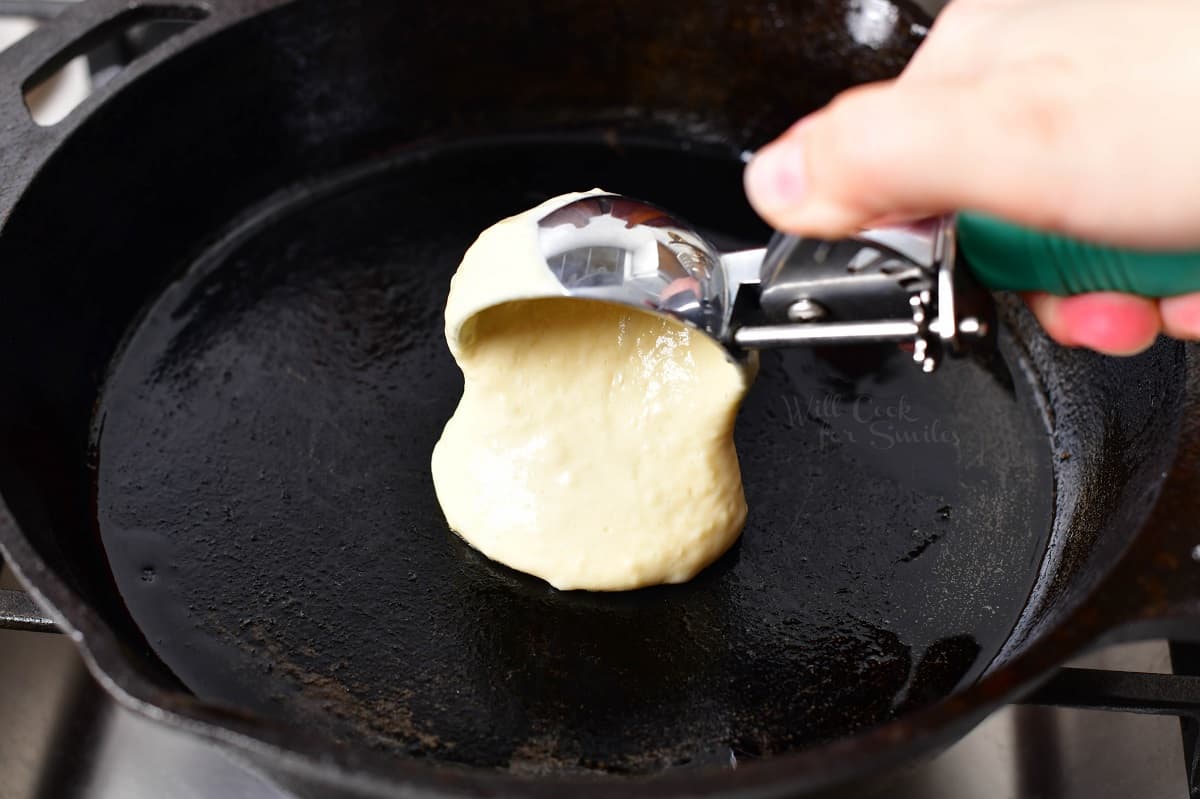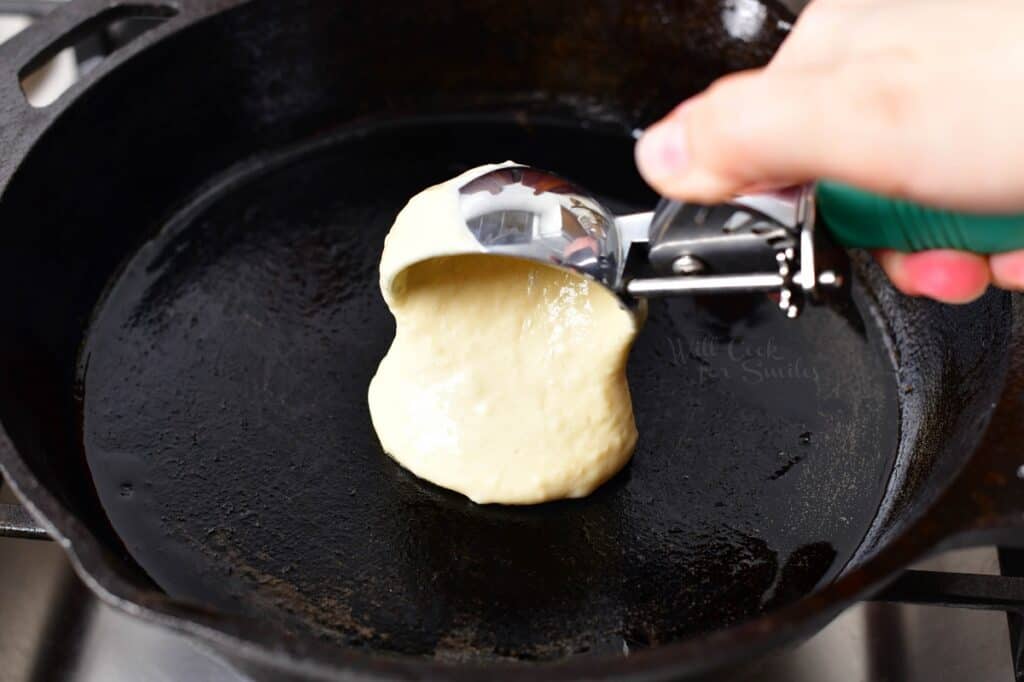 Add some of the cooking oil to the pan and spread it around to grease. Don't skip this step – you do NOT want your pancakes to stick to the pan!
Use a 1/3-cup measuring cup or ice cream scoop to add the batter to the pan. That way, all of your pancakes will be exactly the same size.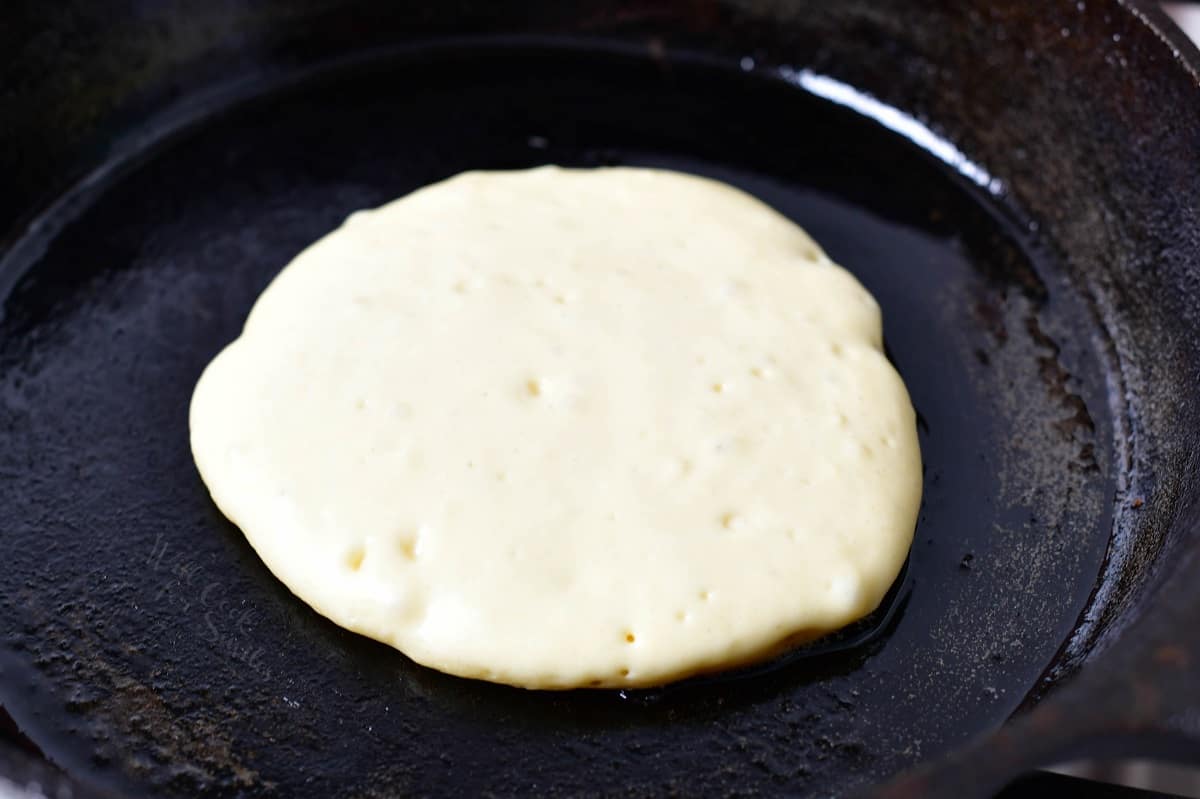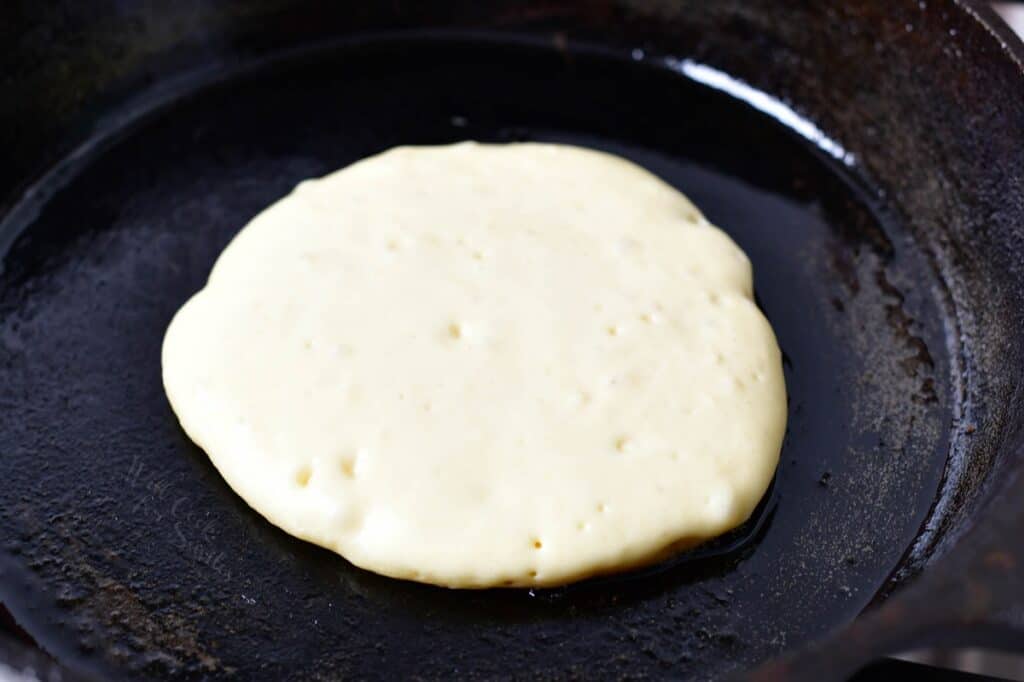 You'll know your pancake is ready to flip when bubbles start appearing in the batter.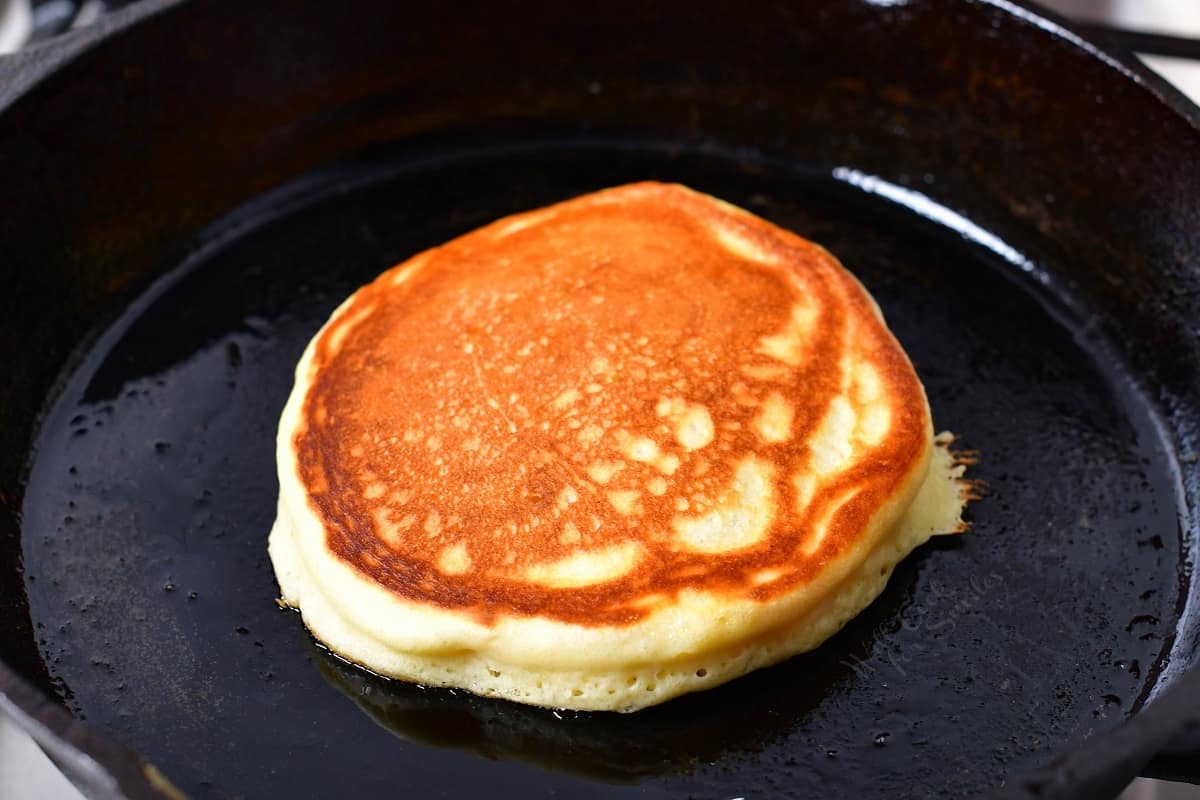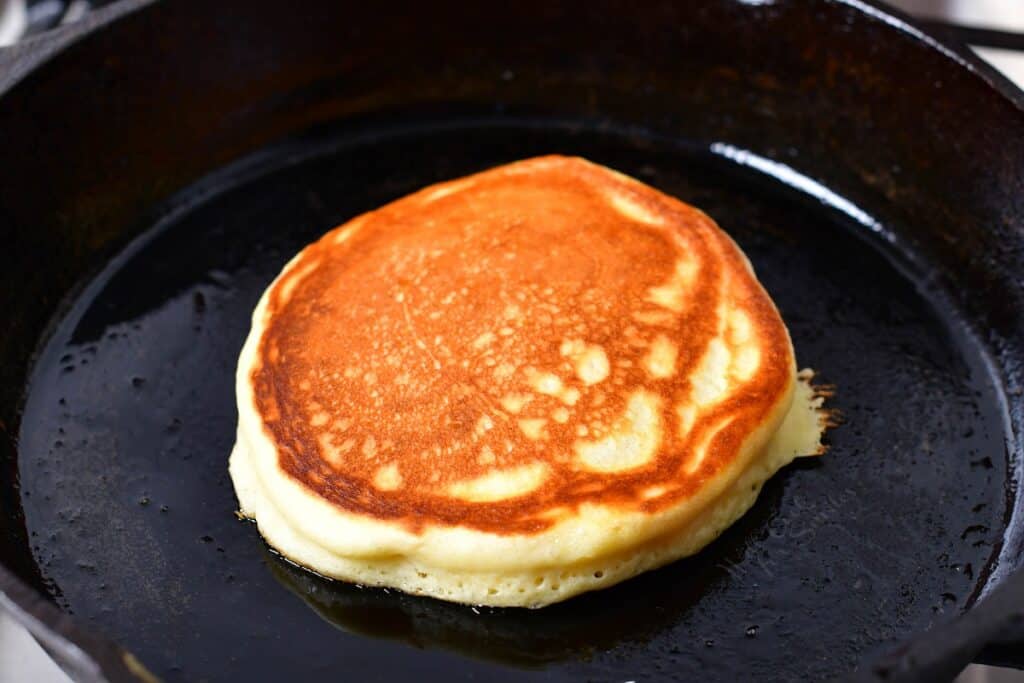 Use a spatula to slide all the way under the pancake, lift it off, and use your wrist to flip it.
Each pancake should just take about 4-6 minutes to cook.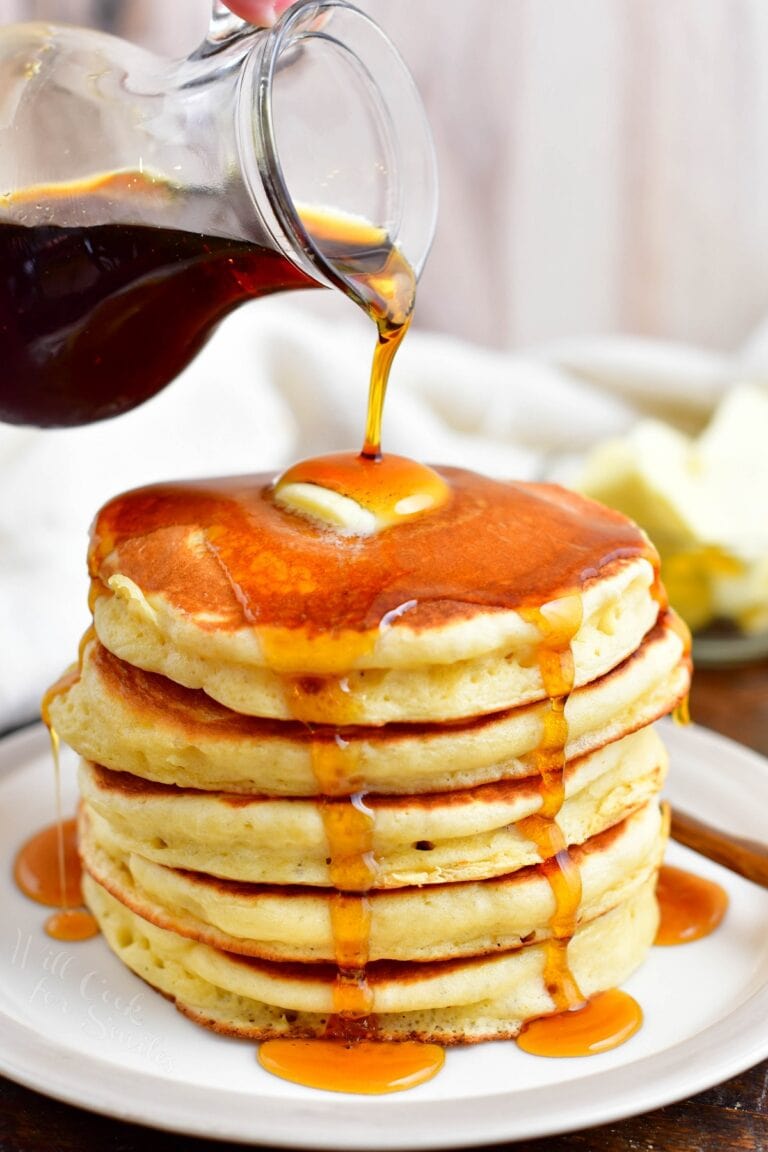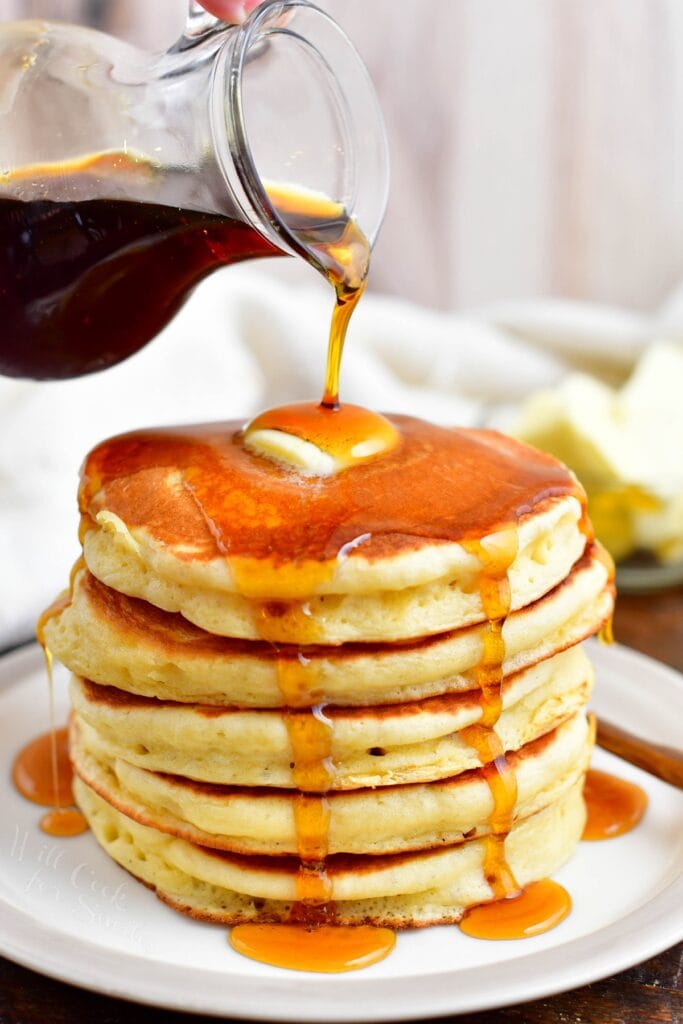 Tips for Making Fluffy Buttermilk Pancakes
Let the batter sit – Once you mix the buttermilk pancake batter, let it sit for approximately 10 minutes while the pan heats up. That way, the baking powder has time to activate.
Don't touch the pancake before flipping – To make sure the pancake cooks perfectly and efficiently, do not move it around or peak at the other side while it cooks.
Keep the pan greased – If you notice the cooking oil is starting to disperse after your first few pancakes, don't be afraid to add more!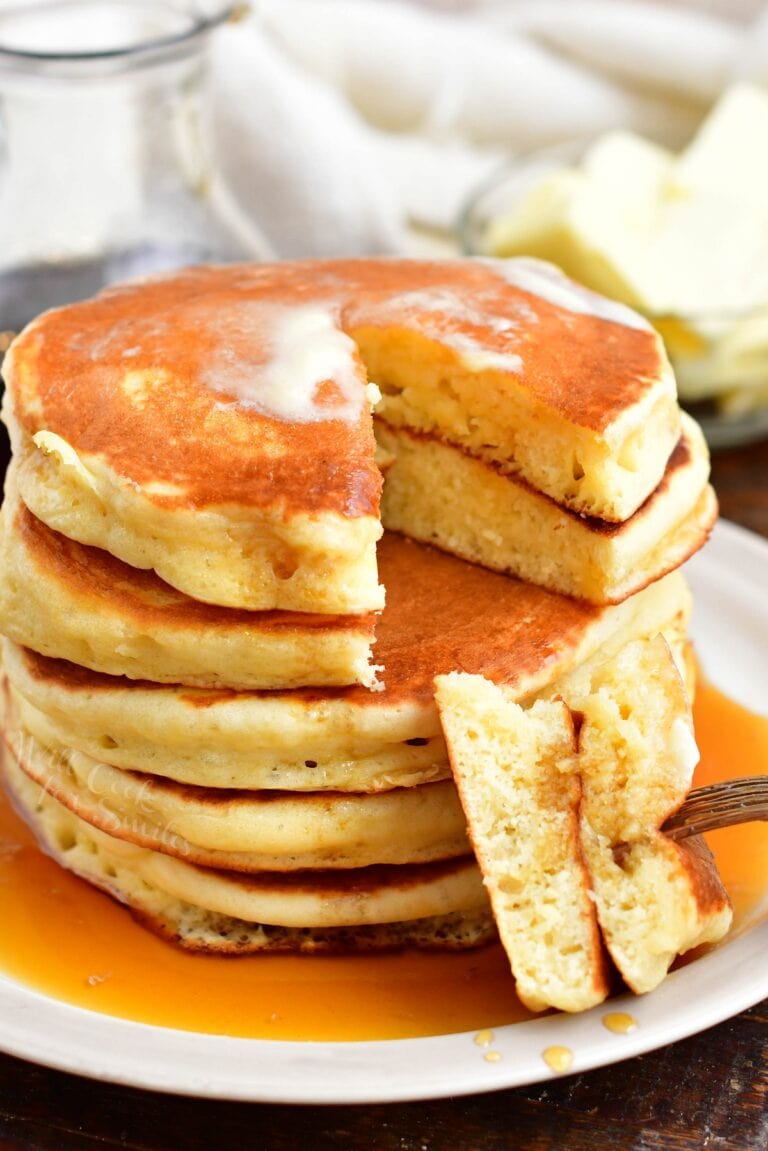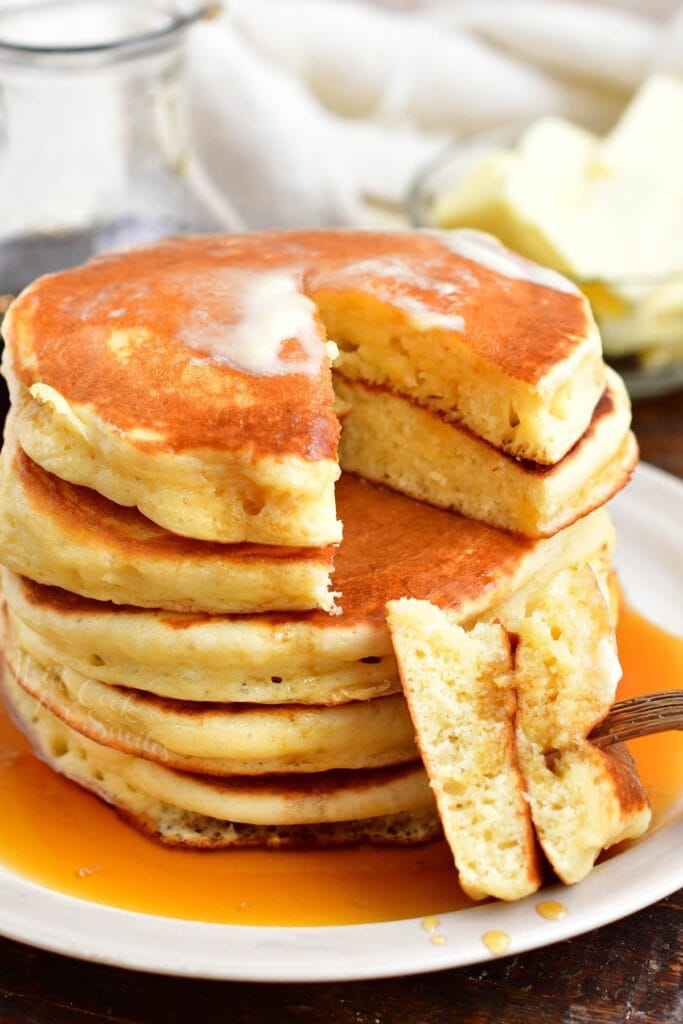 Storing and Reheating
It's best to serve these pancakes when they're fresh and hot. If you need though, you can store leftovers and serve at a later time, keep them in an airtight container in the refrigerator. Pancakes should stay good for up to 3 days.
When you're ready to serve them, reheat the pancakes by giving them a few flips in a warm skillet until they're just heated through. (You can also reheat in the microwave for a few seconds.)
How to Freeze Buttermilk Pancakes
This is a wonderful make-ahead recipe! Sometimes, I'll make a batch of these pancakes at the start of the week and keep them in the freezer. That way, my family can enjoy them all week long!
Make sure the pancakes are room temperature before freezing. Then, freeze them in a single layer on a tray for about an hour. Once they're frozen, you can stack them together with a square of parchment paper between each pancake. This will help prevent them from sticking together.
Place them in batches in a large freezer zip-top bag and seal. In an airtight container, these homemade pancakes will stay fresh for up to 3 months. When you're ready to enjoy them again, simply reheat them in the microwave for 20-30 seconds each! If they are small enough, you can even pop them in a toaster.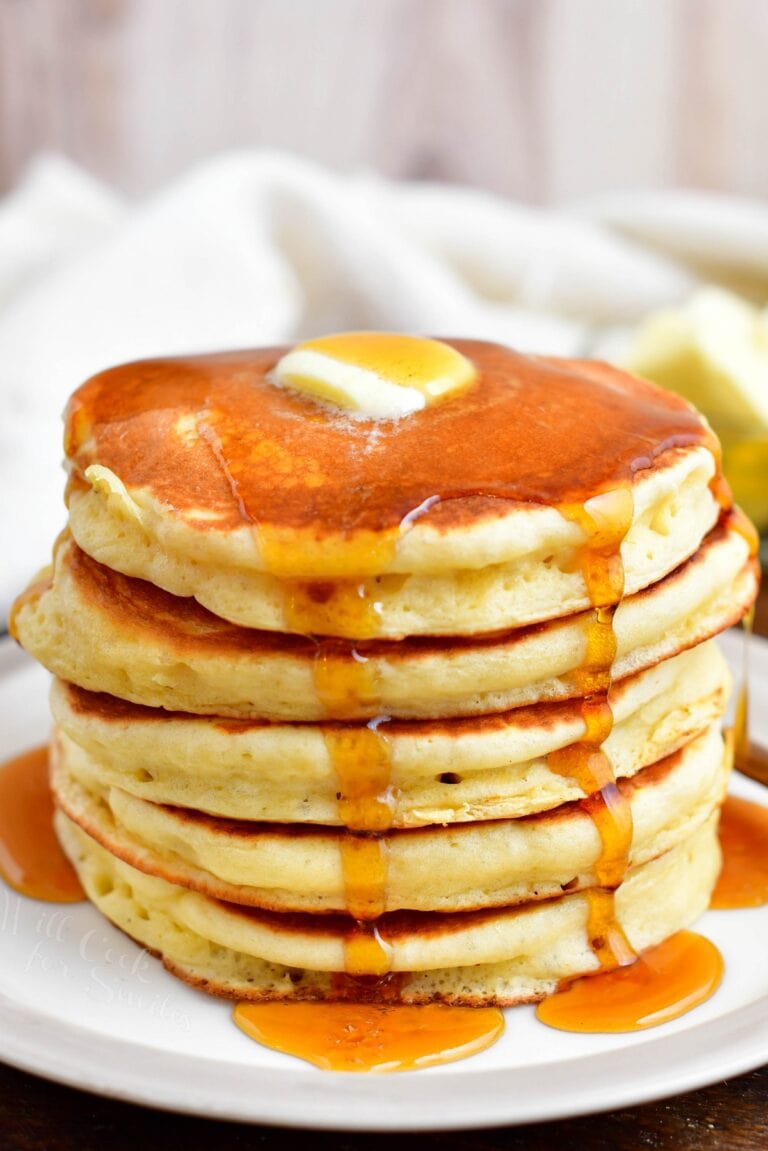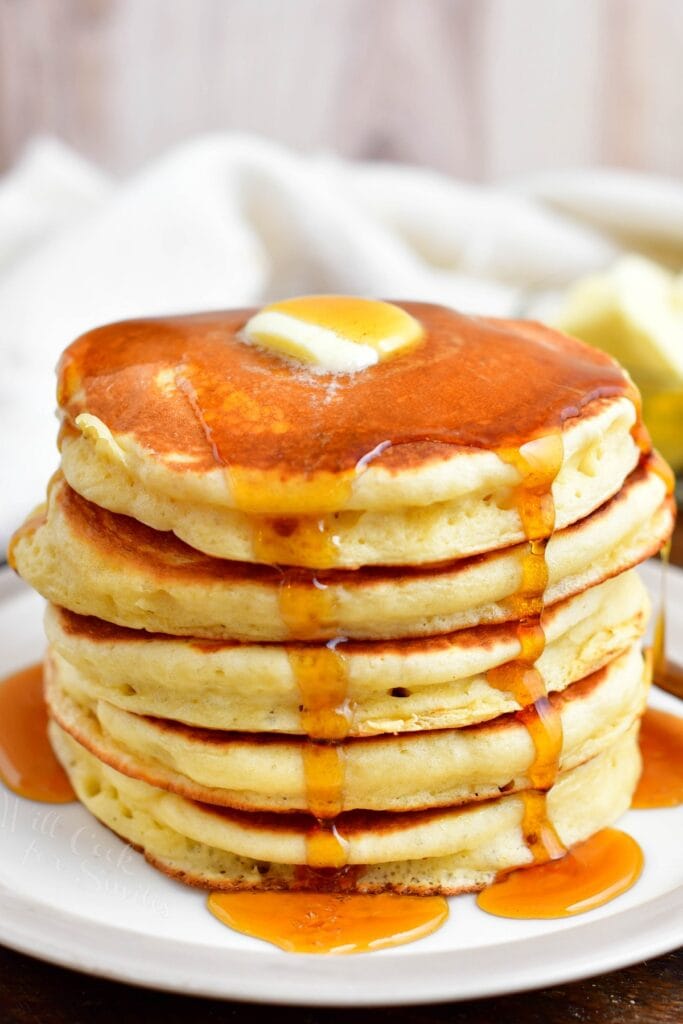 More Sweet Breakfast Recipes to Make this Weekend:
Apple Pie Pancakes – a comforting breakfast topped with warm, homemade apple pie topping.
Chocolate Banana Muffins – a soft and moist batch of muffins with deep rich chocolate flavor.
The Best French Toast – a breakfast treat made with sweet egg-soaked Brioche bread simply cooked in a pan and served with your favorite toppings.
Crepes – A classic breakfast item that's delicately soft with a little crunch on the ends.
PIN THIS PANCAKES RECIPE FOR LATER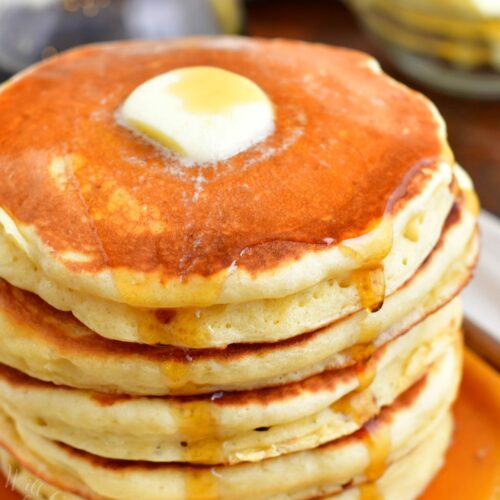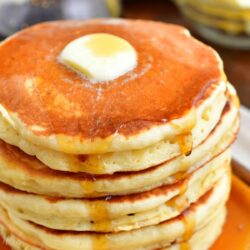 Soft and Fluffy Buttermilk Pancakes
Buttermilk Pancakes are super soft and fluffy pancakes that are our family favorite! They're so easy to make for a perfect weekend breakfast.
Print
Pin
Save
Saved!
Rate
Ingredients
1 3/4

cups

low fat buttermilk

2

tbsp

canola, vegetables, or light tasting olive oil

2

eggs

1/4

cup

light brown sugar

1

tsp

vanilla extract

2

cups

all purpose flour

1

tbsp

baking powder

1/2

tsp

baking soda

1/4

tsp

salt
Instructions
Combine buttermilk, oil, eggs, vanilla extract, sugar, and salt in a mixing bowl and whisk well.

Add flour, baking powder, and baking soda and mix just until smooth and combined. Don't overmix.

Let the batter sit while you preheat a skillet or a griddle (cast iron is the best choice for both).

It's important to preheat the pan or the griddle first, before cooking the pancakes. Preheat it over medium heat and then lower it a little bit before adding pancake batter.

Add a little oil to the pan and spread it around to grease.

Use a 1/3 cup scoop or an ice cream scoop to get the same amount of batter for each pancake. Add the batter to the hot pan and let it cook without touching it.

Wait for the bubbles to appear all over the top, that is your indication that pancakes are ready to flip. Use a spatula to slide all the way under the pancake, lift it off, and use your wrist to quickly flip. (It will take 4-6 minutes for each pancake to cook.)
How to keep pancakes warm:
Whether you're using a pan or a griddle to cook, making several batches will give cooked pancakes time to cool. To keep them warm while cooking the rest is easy. Preheat the oven to 200° and keep cooked pancakes on a baking sheet in the oven.
Nutrition
Calories:
417
kcal
|
Carbohydrates:
67
g
|
Protein:
13
g
|
Fat:
11
g
|
Saturated Fat:
2
g
|
Trans Fat:
1
g
|
Cholesterol:
86
mg
|
Sodium:
448
mg
|
Potassium:
561
mg
|
Fiber:
2
g
|
Sugar:
18
g
|
Vitamin A:
168
IU
|
Vitamin C:
1
mg
|
Calcium:
274
mg
|
Iron:
4
mg
Tried this recipe?
Mention @willcookforsmiles and tag #willcookforsmiles