Yes, you are seeing this! These are Black & White Glazed Donuts, inspired by the ever-so-delicious black and white cookies. Donuts that are half chocolate and half vanilla topped with chocolate glaze and vanilla glaze. Amazing!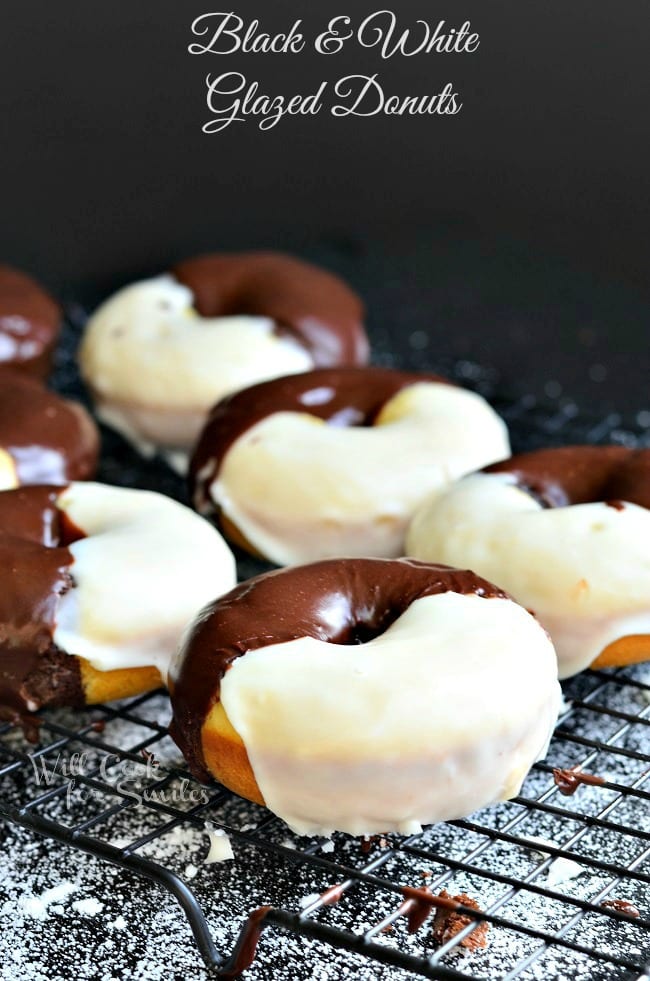 I'm a huge fan of Black and White Cookies. (I'm sure you know the ones I'm talking about.) They have soft, cakey cookie bottom and a generous amount of chocolate and vanilla glaze on top, each covering half a cookie. I love them and I am still trying to find courage to make them at home.
I was really craving one last weekend and an idea popped in my head, "why not make a baked donuts version of those cookies?" These soft, cakey donuts are half chocolate and half vanilla and covered in chocolate icing on one half and vanilla icing on the other. They are so tasty!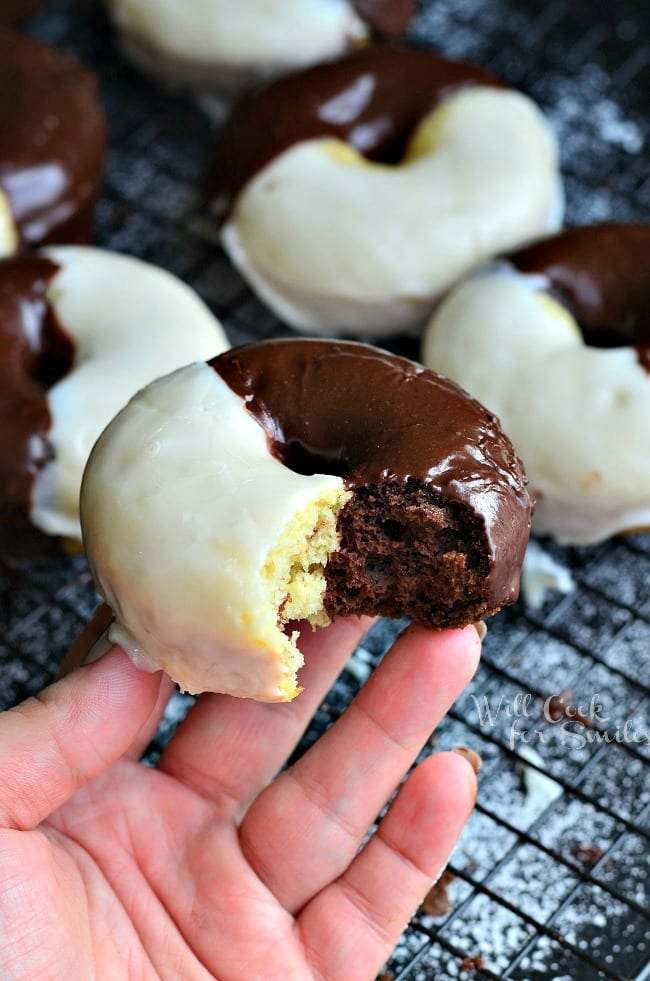 I gotta tell ya, this was one messy project while I was trying to figure out the glaze and the best way to coat them. (But it was SO worth it int he end!) I wanted to try ganache on the chocolate half of the donut at first but it was too heavy for the result I was looking for. So I decided to just make chocolate icing and it was just perfect.
As far as coating them, you can do it two different ways. You can either carefully dip the donut in the icing, covering only one half or you can use a spoon and carefully pour icing over the donut half. I actually found it a little hard to dip donuts into icing to cover the second half, so pouring icing with a spoon will be a much easier way to go. Easier but a messier way since the icing will drip down. So spread a paper towel under the cooling rack.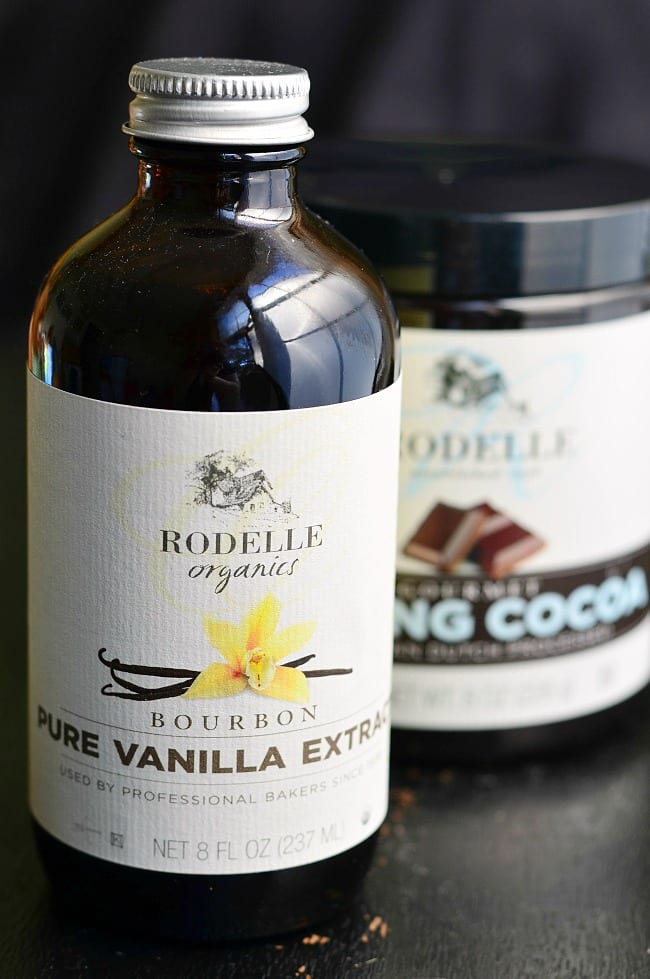 For this recipe (and any other baking that I do), I used my trusty Rodelle Pure Vanilla Extract and Baking Cocoa Powder for the chocolate half of donuts. I'm sure that all of you who love to bake know that quality vanilla will make the recipe! I always use my Rodelle vanilla in baking and I am not giving it up. If you want a quality result, you know it's important to have quality ingredients. You might spend a little bit more on a good pure vanilla extract or good bourbon vanilla beans but it is so worth it! I haven't been able to touch another vanilla product since "meeting" Rodelle.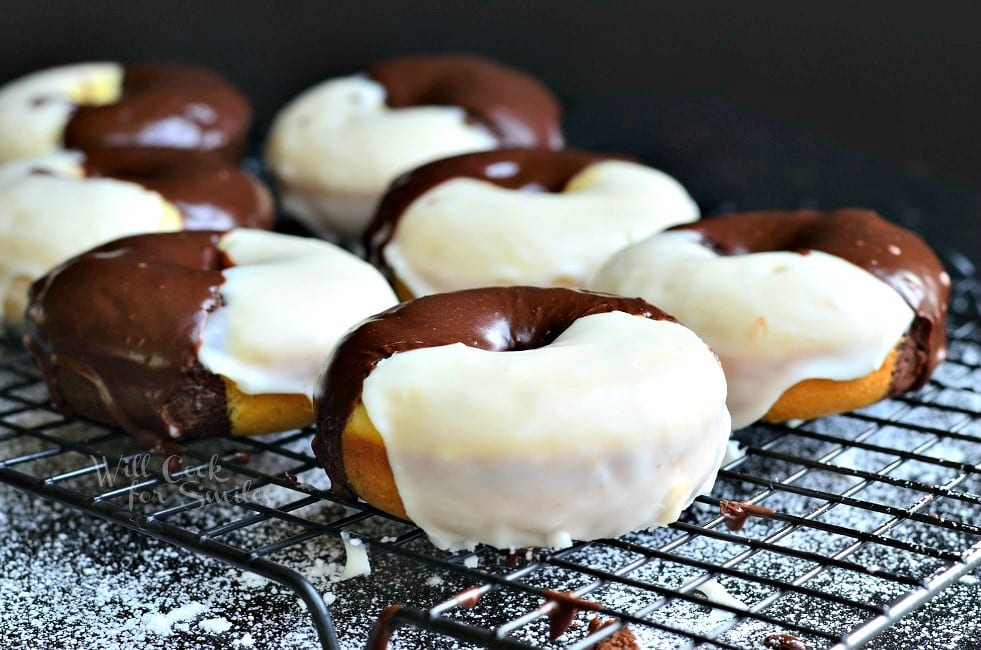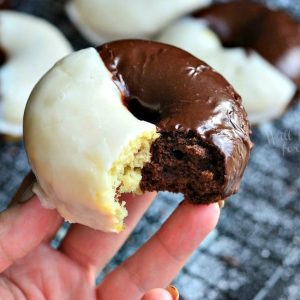 Black & White Glazed Donuts
Donuts that are half chocolate and half vanilla topped with chocolate glaze and vanilla glaze. Amazing!
Ingredients
Donuts:

1

cup

flour

1

tsp

baking powder

1/2

tsp

baking soda

1/8

tsp

salt

2/3

cup

white granulated sugar

1

egg

1/2

cup

buttermilk

2

Tbsp

melted butter

2

tsp

vanilla

__

1

oz

baking chocolate

melted

2

Tbsp

cocoa powder

1

Tbsp

buttermilk

Icing:

1

cup

powder sugar

3

Tbsp

heavy cream

1

tsp

vanilla

Chocolate Icing:

3/4

cup

powder sugar

2

Tbsp

cocoa powder

4

Tbsp

heavy cream
Instructions
Preheat oven to 350 and grease a donut pan.

In a large mixing bowl, whisk egg, sugar, buttermilk, melted butter and vanilla together until smooth.

Sift in all dry ingredients and whisk until all incorporated.

Take out half the batter and pour it into a piping bag. Set aside.

Whisk in cocoa powder, melted chocolate and 1 Tbsp buttermilk into remaining batter. Whisk until smooth. Pour chocolate batter into another piping bag.

Cut the tips off both piping bags, leaving only about ½ inch opening.

Squeeze batter into the donut cups of the pan, using both bags at the same time (one in each hand), in the half-circle motion, making sure that half the donut is chocolate and the other half vanilla. Make sure there is an even amount of batter all around.

Bake for 10-11 minutes and let donuts cool on the wire rack, just until the donuts cooled enough to be handled.Spread paper towel under the cooling rack to catch icing drippings.

While donuts are cooling, prepare the icing.

Heat up all heavy cream and vanilla until hot but not boiling. Combine cocoa powder and 3/4 cup powder sugar in one bowl and place 1 cup of powder sugar in another bowl. Whisk in 4 Tbsp of hot heavy cream into chocolate mixture until all smooth. Whisk in 3 Tbsp of hot heavy cream into powder sugar in another bowl until all smooth.

You can either carefully dip top halves of donuts into icing or you can pour each icing over the donut halves with a spoon. I found it much easier to pour some icing over the donuts.

Let donuts sit for 5-10 minutes and enjoy!
Recipe Notes
Recipe from Lyuba @ willcookforsmiles.com All images and content are copyright protected. Please do not use my images without prior permission. If you want to share this recipe, please simply link back to this post for the recipe. Thank you.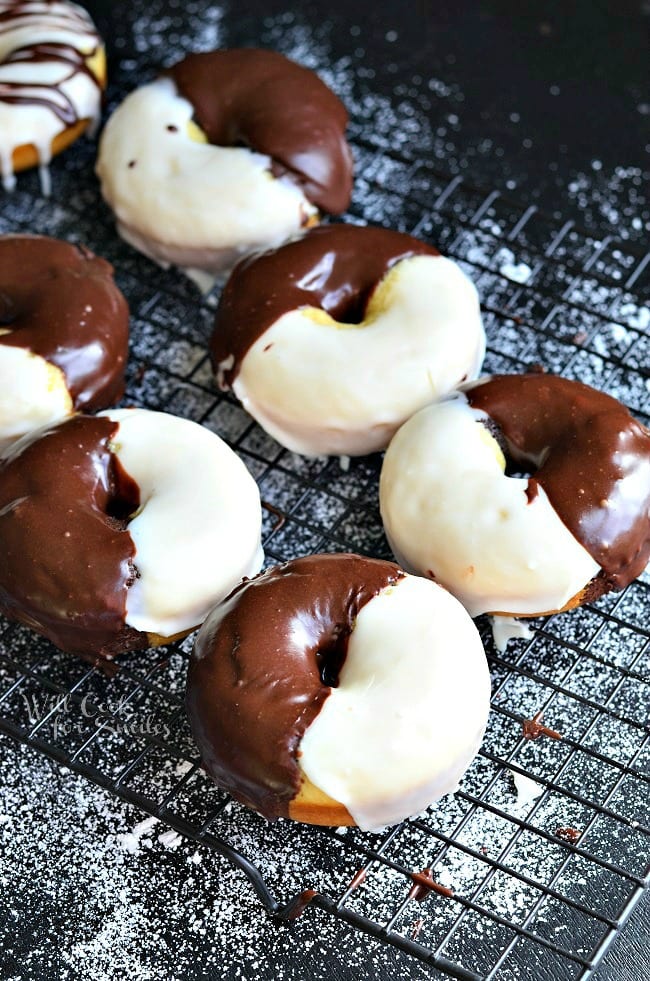 Check out these great recipes from other bloggers:
Boston Cream Donuts from Shugary Sweets
Oreo Overload Donuts from The First Year Blog
Baked Vanilla Bean Doughnuts from Cooking Classy
Cherry Jam Filled Sour Cream Doughnuts from Jo Cooks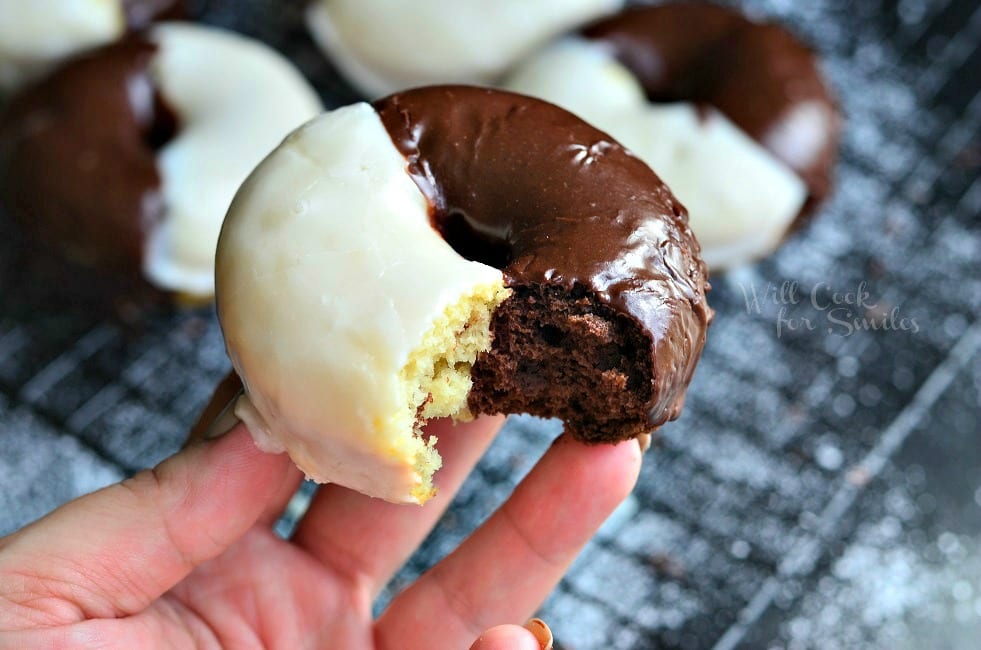 _________________________________________________________
Make sure you follow me through your favorite blog reader (bloglovin or other), subscribe to e-mail or follow me through social media of your choice to keep up with the recipes!

_______________________________________________________
More Recipes From Me: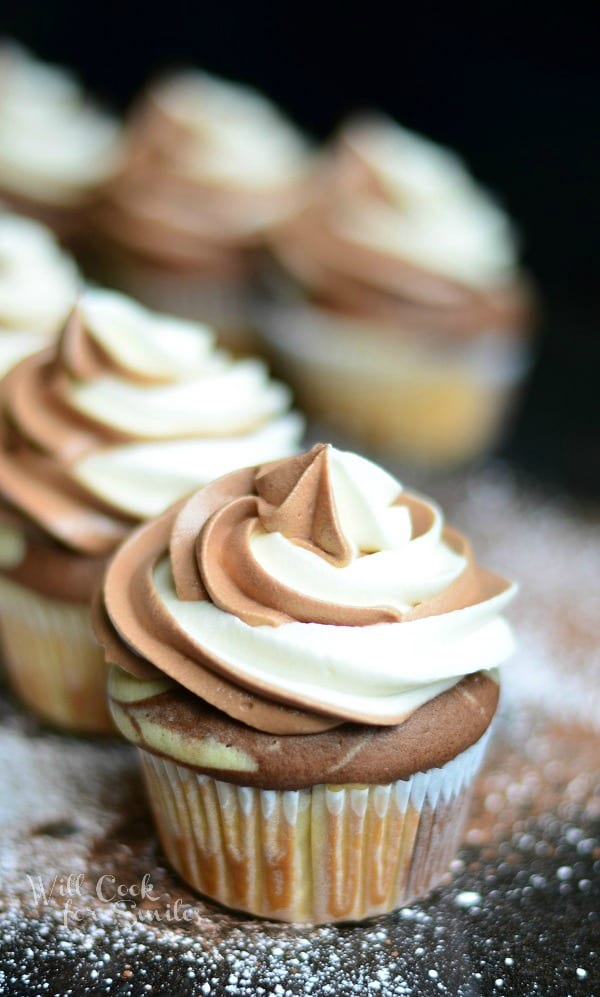 Marble Cupcakes with Marble Cream Cheese Frosting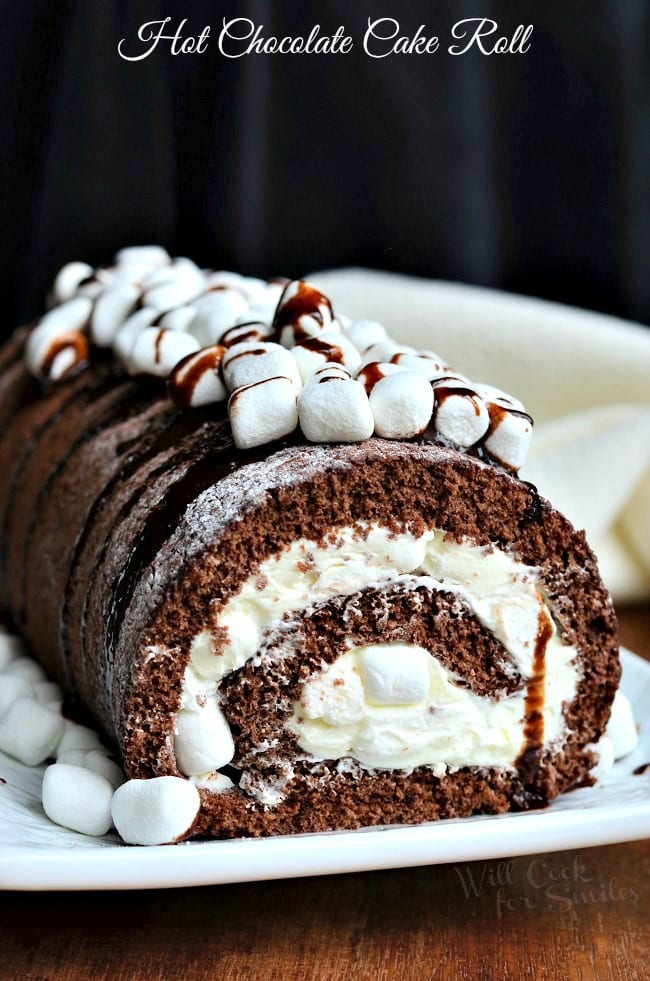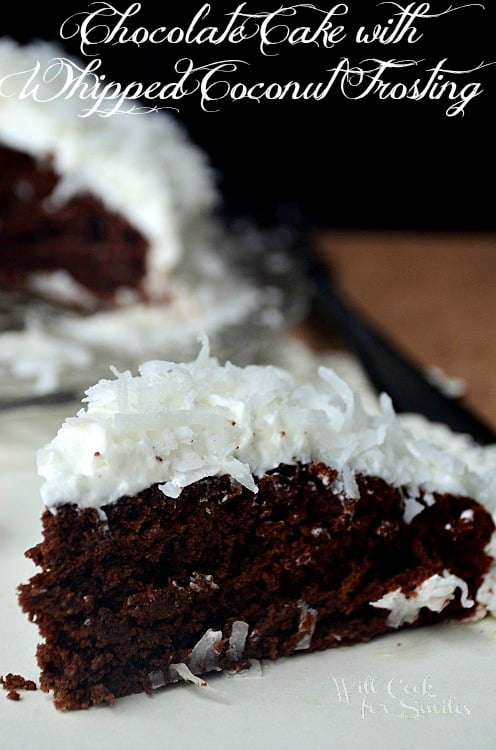 Chocolate Cake with Whipped Coconut Frosting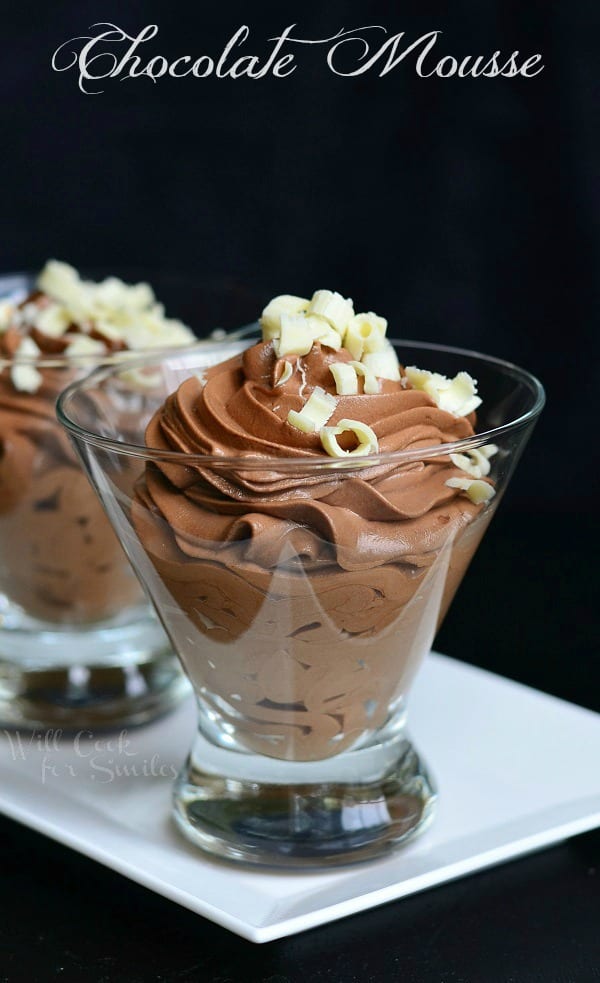 **Disclosure: I am an ambassador for Rodelle Kitchen. I have been provided free product but I have not received any other compensation. All opinions and photographs are 100% my own!