Amazing cauliflower snack that kids and adult will love. These Cauliflower Parmesan Crisps are made with a few easy ingredients that many people will already have at home. All you need is a head of cauliflower, block of Parmesan cheese, dry parsley flakes, and some garlic powder.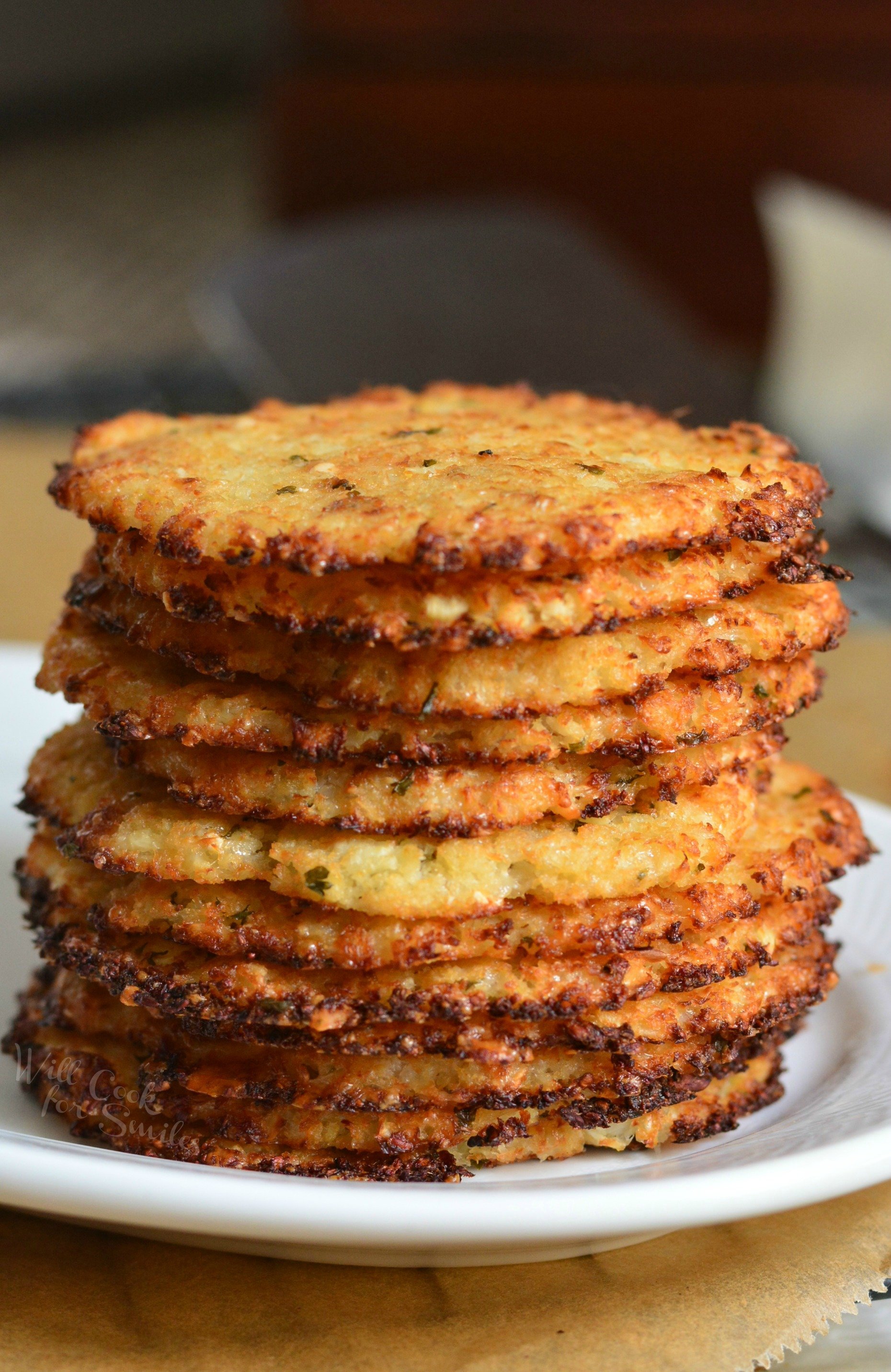 Cauliflower Parmesan Crisps
Raise your hand if you're addicted to cauliflower!
I have both my hands raised because I LOVE cauliflower. There is always a head of cauliflower in my fridge. If I don't have anything prepared for myself for lunch, I quickly make some roasted cauliflower in the oven.
Roasted cauliflower if often my choice for a fast side dish or a quick lunch. It's very easy to make and all I need is a head of cauliflower, olive oil, salt, pepper, and garlic powder.
I preheat the oven to 425, cut cauliflower florets off the stem, and mix it with some olive oil, salt, black pepper, and garlic powder. After that, I just spread it evenly in a rimmed baking sheet and bake for about 20-25 minutes.
No joke, it's the simplest form of cooking cauliflower and the most delicious.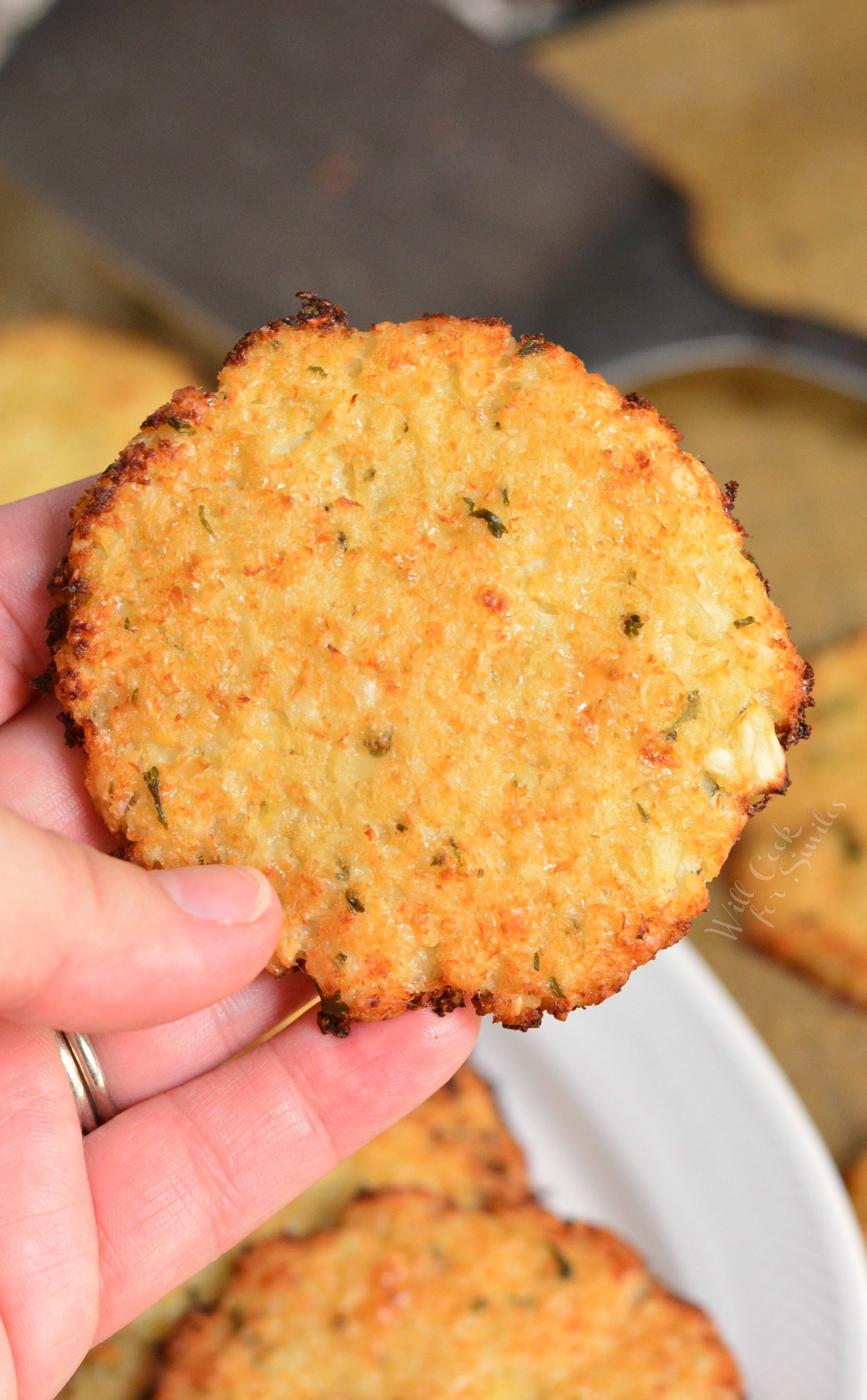 That is not the only way I use cauliflower, of course. I add it to stir fry, casseroles, make rice out of it, and even pizza crust.
Last time I was making cauliflower pizza, I got an idea for a snack made out of cauliflower and cheese. I wanted to make little bites of cauliflower that would be cheesy and crispy on the outside.
Starting out as if I was making cauliflower pizza crust, I made a few modifications to make these little cauliflower Parmesan crisps. They made a tasty snack and I bet kids will love these. My 1-year old sure did!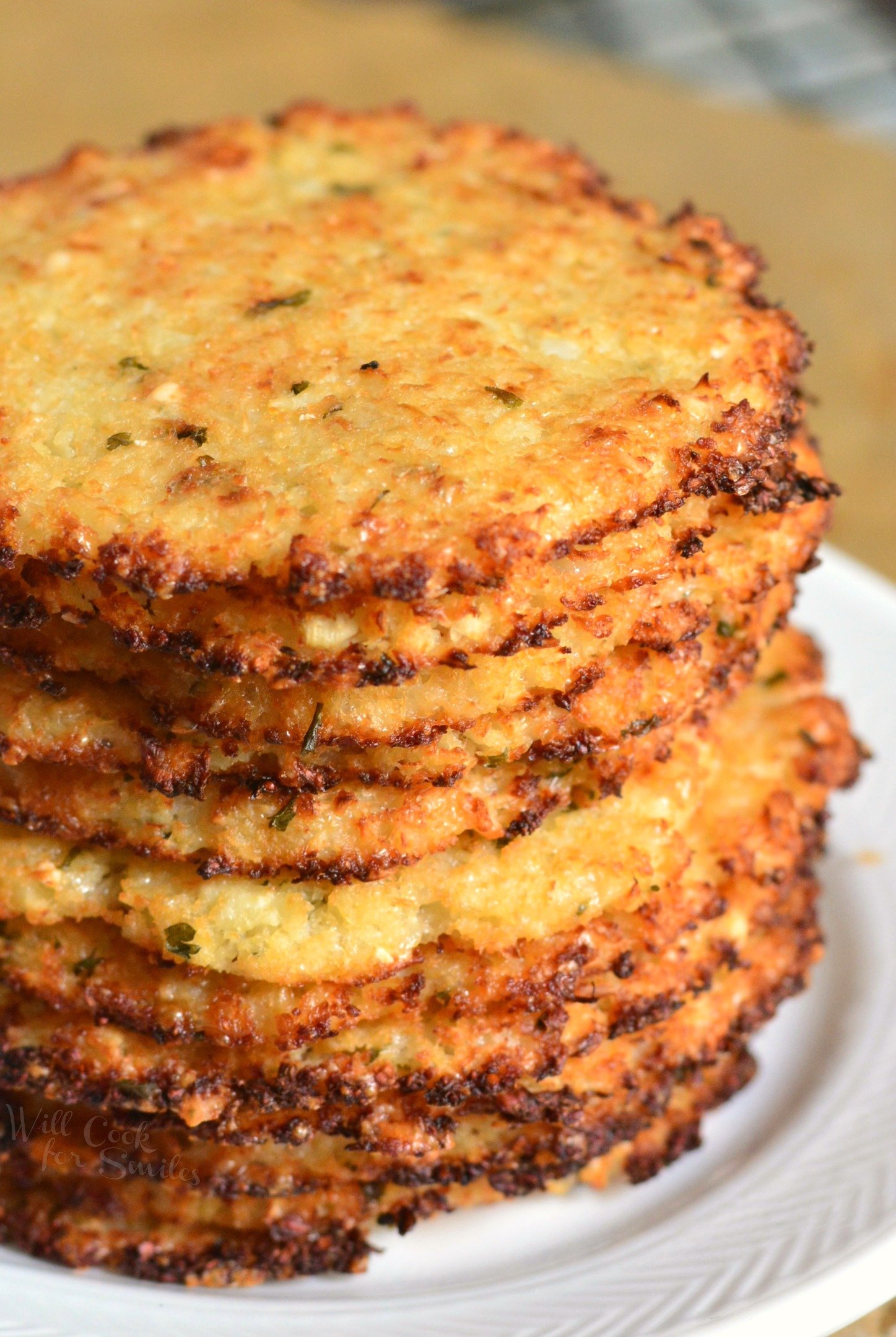 TIPS FOR MAKING THESE CAULIFLOWER PARMESAN CRISPS:
Use block Parmesan cheese and grate it freshly yourself. This will ensure that the cheese melts better. Don't use dry grated Parmesan cheese because it will not melt. (Some grocery stores do have freshly grated Parmesan off the block in the deli section.)
Much like cauliflower pizza crust, make sure to squeeze all liquid out of the steamed, ground cauliflower.
To make cauliflower crisps the same size, I used a cookie scoop to measure the "dough." I used #40 cookies scoop but you can choose to use a different one.
Once cauliflower crisps are baked, let them cool before taking them off or they might break.
When making the crisps, pat the "dough" down and fix the edges as you flatten it. The edges will crack as it spreads but they are easily fixed.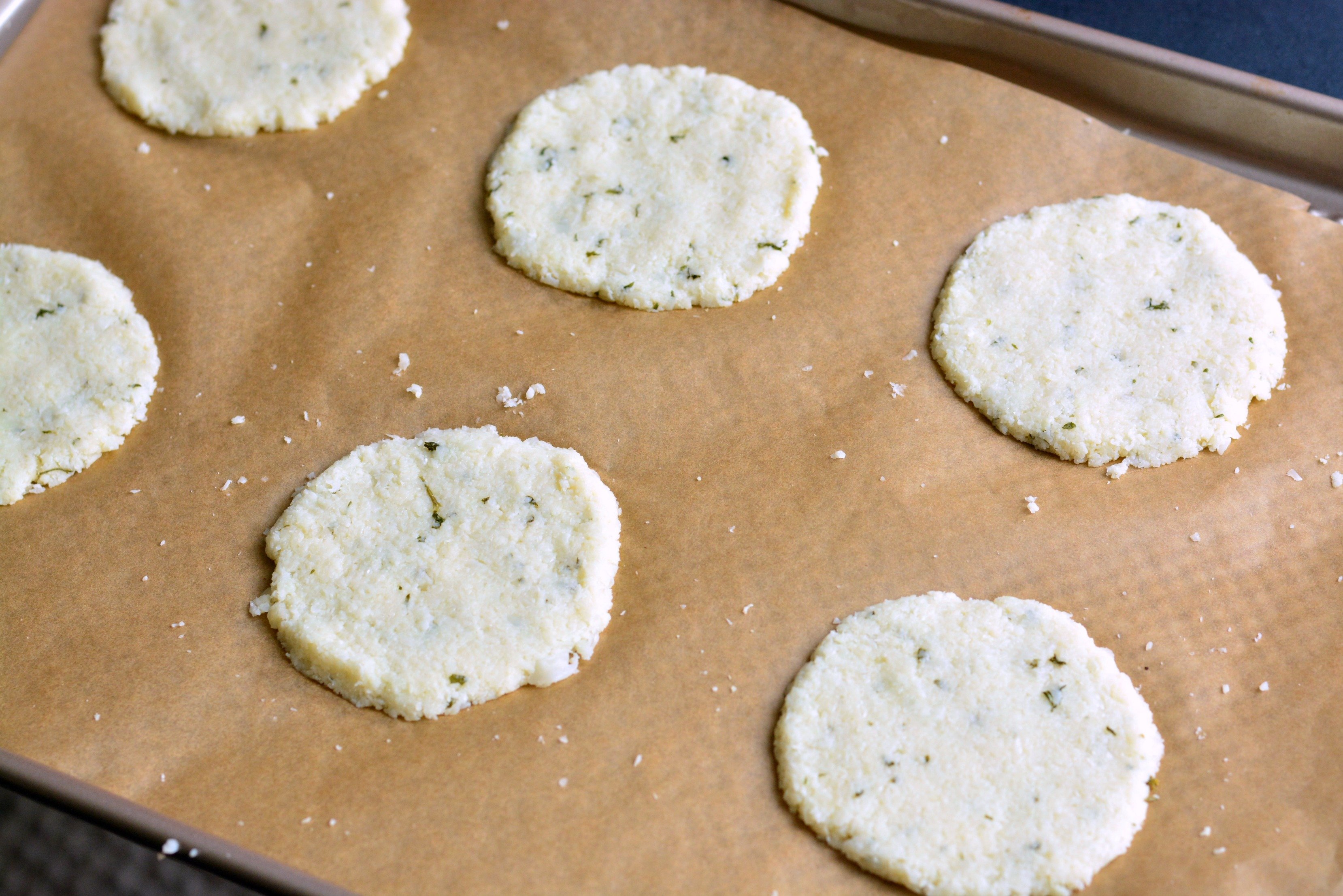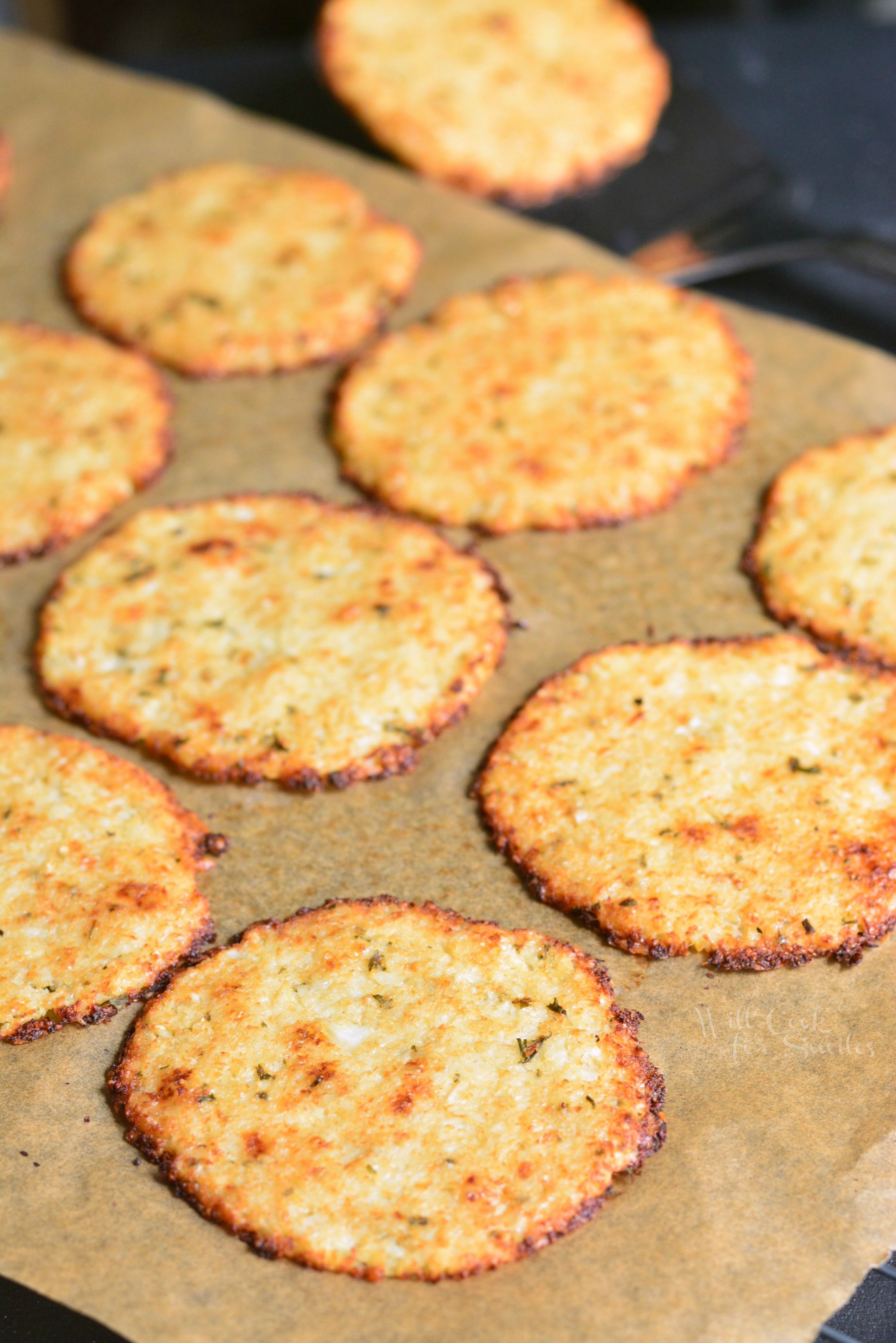 What is the best way to squeeze liquid from the cauliflower?
The best thing to use when you need to squeeze the liquid from cauliflower is cheese cloth. I like to fold cheese cloth in two (sometimes even more) to make finer mesh.
What if I don't have a cheese cloth?
What you are looking for is fine mesh to squeeze out the liquid without squeezing part of cauliflower through the holes. There were a few times when I ran out of cheese cloth, then I used clean veggie saving bags. They are made from fine mash material and worked perfectly. So look around your kitchen, you might just have something you can use. Make sure it's clean and it's fine mesh material.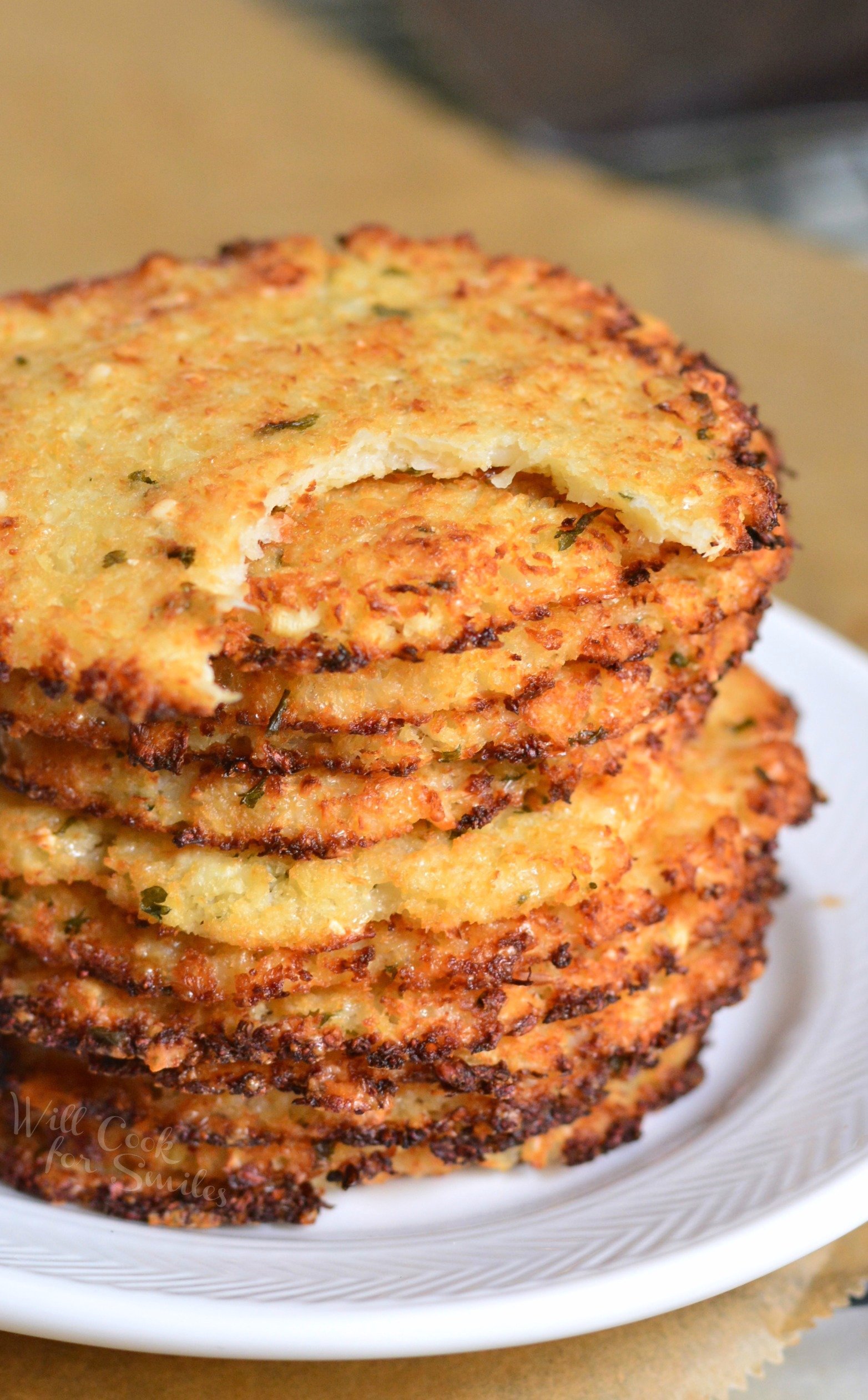 Can I prep these Cauliflower Parmesan Crisps ahead of time?
Yes, you absolutely can.
You can prepare the cauliflower "dough" and refrigerate it in an air-tight container. (Up to step 5.)
You can prepare it the night before and bake the next day or prepare in the morning and bake in the afternoon or evening.
How can I reheat these crisps?
Just like so many other things, this snack is best eaten fresh from the oven but, it CAN be reheated.
The best way to reheat it is in the oven. Heat oven to 425 and pop them in on a baking sheet for just about a minute or two, until hot.
You can also reheat them in a dry cooking pan, on stove-top. Preheat a cooking pan over medium-high heat and re-heat the cauliflower crisps for about a minute on each side.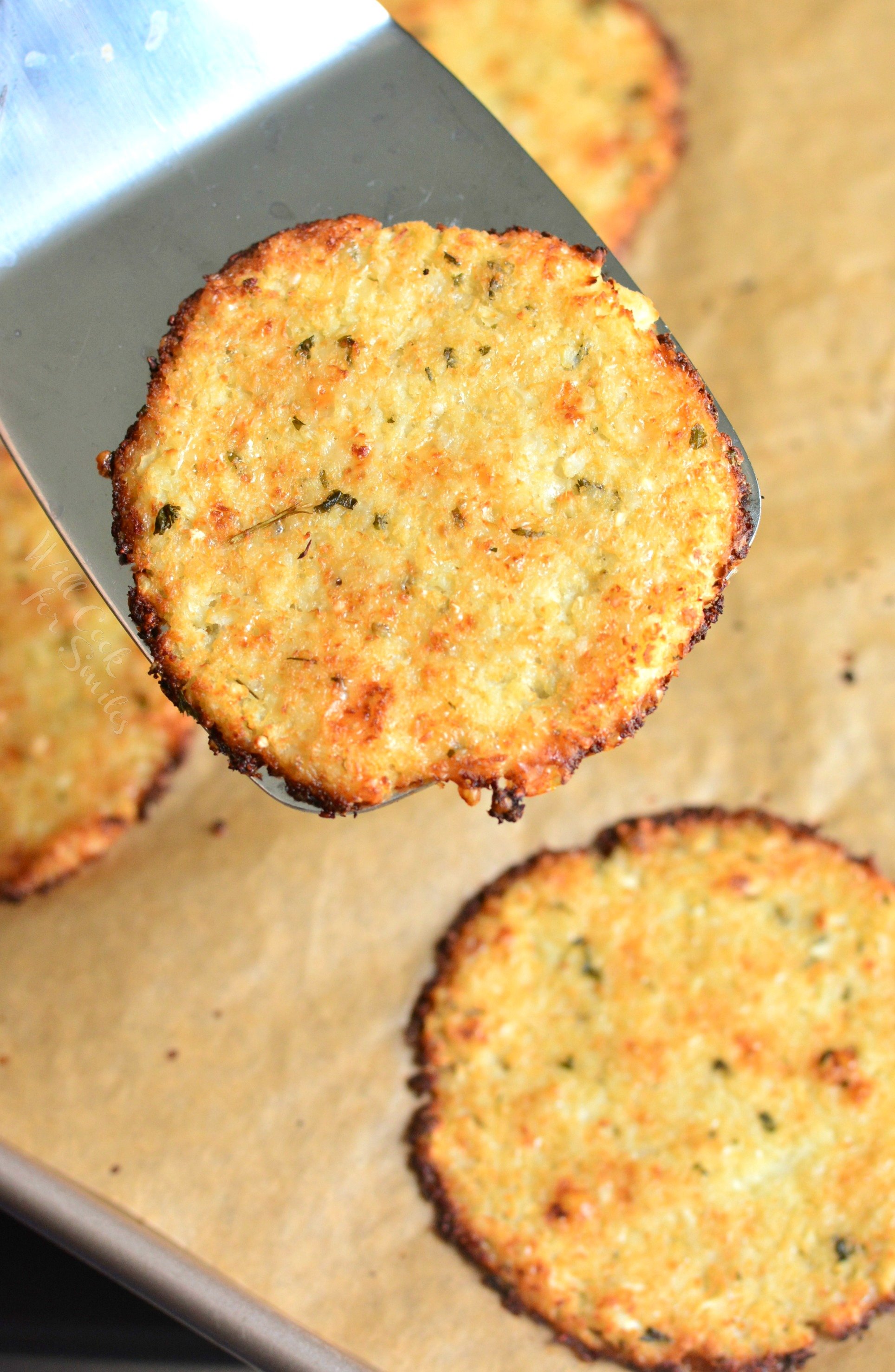 _________________________________________________________
Make sure you follow me through your favorite blog reader (bloglovin or other), subscribe to e-mail or follow me through social media of your choice to keep up with the recipes!

Don't forget to sign up for email, so you won't miss any new recipes.
_______________________________________________________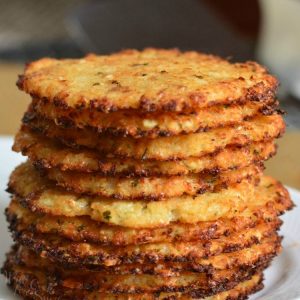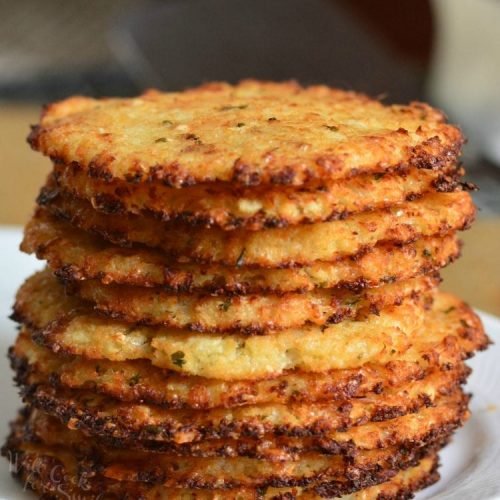 Cauliflower Parmesan Crisps
Amazing cauliflower snack that kids and adult will love. All you need is a head of cauliflower, block of Parmesan cheese, dry parsley flakes, and some garlic powder.
Ingredients
3

lb

head of cauliflower

1 average head of cauliflower

3/4

cup

fresh grated Parmesan cheese

1

tsp

garlic powder

1

tbsp

dry parsley

salt

optional
Instructions
Cut cauliflower florets off the stem.

Steam cauliflower florets until tender. (10-15 minutes)

Place steamed cauliflower florets in a food processor and pulse a few times until it looks like fine crumbs. (Make sure there are no chunks left.)

Transfer cauliflower crumbs in a doubled cheese cloth and squeeze out all the liquid. (You may have to let it cool a bit or it will be too hot for you to squeeze.)

Place cauliflower in a mixing bowl and add Parmesan cheese, dry parsley, and garlic powder. Mix well, until all evenly incorporated. (Taste to see if you want to add salt. Parmesan cheese is quite salty and you may feel like it's enough salt.)

Preheat the oven to 425 and line a large baking sheet with parchment paper.

Use a cookie scoop to scoop out cauliflower "dough." Press it into a ball with your hands and place it on the baking sheet. (I used #40 scoop.)

Press down to flatten the "dough" into a thin disk, fixing the broken edges. The goal is for the disks to be only about 3 millimeters thin.

Repeat with all the "dough." You will get about 12 pieces.

Bake for 15-17 minutes, until deep golden brown.

Let the cauliflower crisps cool before taking them off the baking sheet. Use a spatula to gently scoop them up.
Recipe Notes
All images and text ©Lyubov Brooke for ©Will Cook For Smiles. Please do not use my images without prior permission. If using my posts in collections and features, please link back to this post for the recipe. Disclaimer: Nutrition information shown is not guaranteed to be 100% accurate as most ingredients and brands have a slight variation.
Nutrition Facts
Cauliflower Parmesan Crisps
Amount Per Serving
Calories 162
Calories from Fat 45
% Daily Value*
Fat 5g8%
Cholesterol 12mg4%
Sodium 404mg18%
Potassium 1054mg30%
Carbohydrates 18g6%
Protein 13g26%
Vitamin A 145IU3%
Vitamin C 164.5mg199%
Calcium 301mg30%
Iron 1.7mg9%
* Percent Daily Values are based on a 2000 calorie diet.