Today, you can learn how to make this great classic dish at home! Gnocchi is one of the best comfort dishes. Soft, fluffy pasta made with potatoes and you can make an endless variety of dishes with it.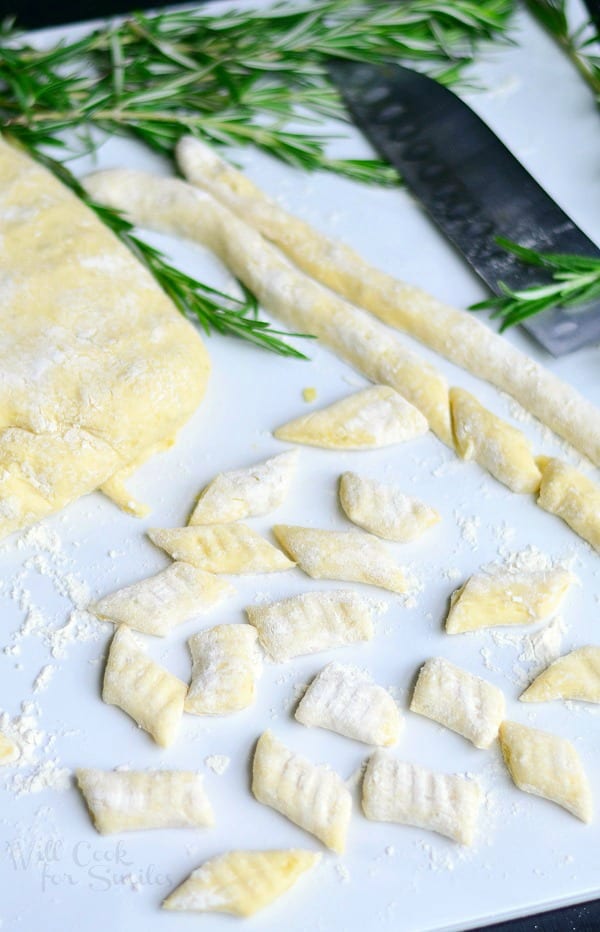 Italy really knows how to make you feel good with food, don't they?
My long-time readers already know that I like to make a crazy variety of food and I want to learn how to cook dishes from every ethnic cuisine. I love all kinds of different foods and I want to be able to have the knowledge of global cuisine in my arsenal. My ultimate goal is to write a cookbook, showcasing best dishes from every country. This is a long term goal, since I have to learn so many flavor pallets and different dishes first, and since I am already working on another cookbook. (More info to come!)
Well, I would have to say that I want to learn almost every ethnic cuisine. I may have to draw a line at grasshoppers, worms and other exotic delicacies. I'm reminded of the Indiana Jones Temple of Doom movie, where they dine at the Pankot Palace…those are not types of dishes that I would want ever try or learn. (If you are not familiar, don't Google it if you are eating, just ate, or about to eat! If you are familiar with the movie, so sorry for the reminder and feast your eyes of this instead!)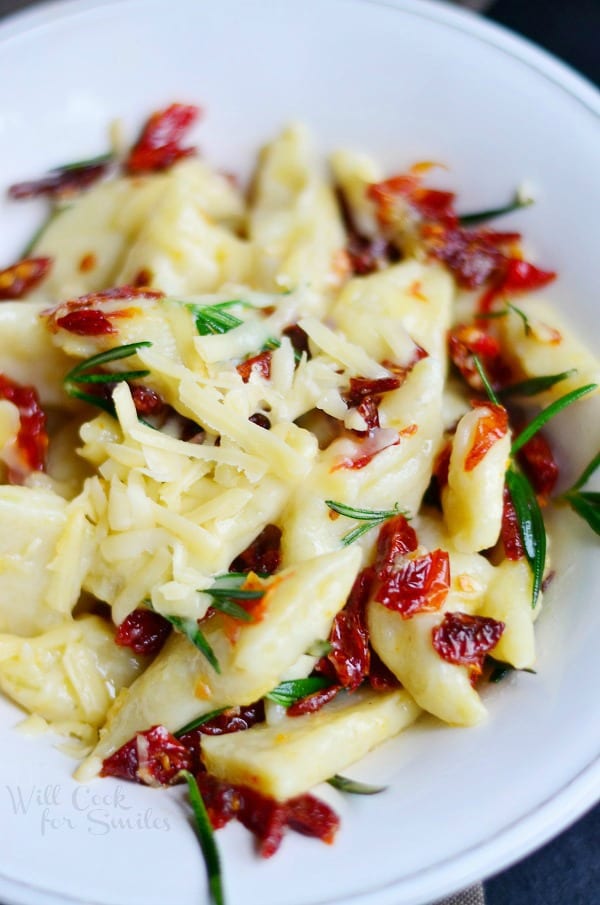 But Italy…oh Italy… I want to eat my way through Italy and try every dish ever created there. It is my dream place and on my bucket list to visit (or live). I do love many different cuisines, like French, German, Russian (of course), Thai and many more, but Italian would have to be my favorite. I'm tiny-bit in love with Italy.
Gnocchi is one of my favorite classic Italian dishes. This pasta is so soft and light in texture with rich, yet delicate, flavor and makes for one filling dish at the same time. It is perfect with a wide variety of sauces, perfect in soups and baked dishes. It's also great in appetizers or as a side dish. Gnocchi is a great thing to have in a freezer for any occasion.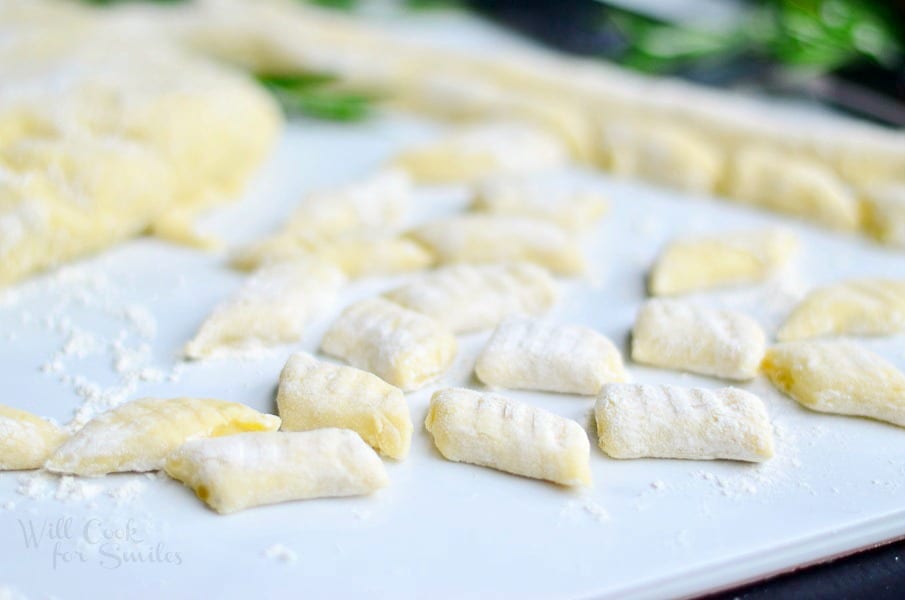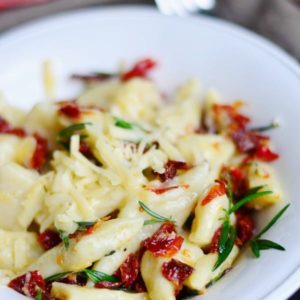 Homemade Gnocchi
Gnocchi is one of the best comfort dishes. Soft, fluffy pasta made with potatoes and you can make an endless variety of dishes with it.
Ingredients
2

lbs

potatoes

2

cups

flour

plus about 1/2 cup more for kneading and surface

1

egg

salt

pepper
Instructions
You will need plenty of work surface so clear out a counter!

Peel potatoes and cut out all the dark spots. Boil potatoes until completely done and easily mashed. Mash each potato with a fork util it looks like small coarse crumbs. (Don't over-mash it.)

When potatoes are cooled enough to be handled, place them in a mount on your work surface.

Add flour, salt and pepper over the top.

Make a well in the potato/flour mount and crack the egg in the middle.

Use a pastry scraper, or a metal spatula (or even a knife, carefully) to work flour, potatoes and egg together, until incorporated enough to knead.

Knead the dough, adding a little more flour if the dough is too tacky, until smooth. Don't add too much flour, the dough should be moist but not sticky.

Split the dough into several, workable pieces and roll each into about 1/2 inch - thick, long rope-like logs. Cut each into about 1-inch pieces. (You can use a fork to create a little design on each piece.)

Gnocchi should be cooked right away or frozen.

Cook: bring a pot of salted water to boil. Drop desired amount of gnocchi in it and once they float to the top, cook for about 2 more minutes.

Freeze: Line large cutting boards with parchment paper. Spread out raw gnocchi on the paper (don't crowd them) and freeze for about an hour. Once completely frozen, place them into a freezer friendly, zip lock bag.
Recipe Notes
Recipe from Lyuba @ willcookforsmiles.com All images and content are copyright protected. Please do not use my images without prior permission. If you want to share this recipe, please simply link back to this post for the recipe. Thank you.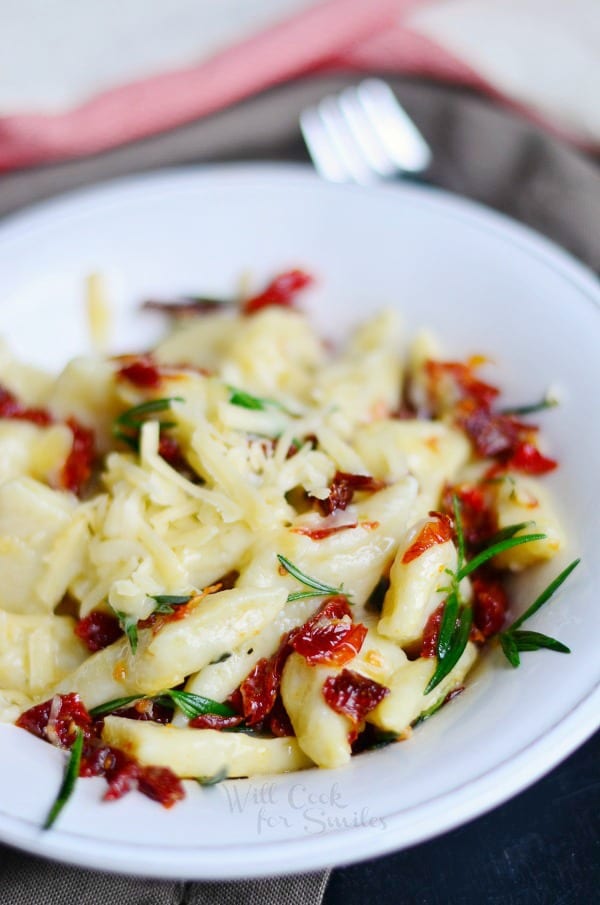 Rosemary Sun-Dried Tomato Gnocchi
After making a fresh batch of gnocchi, I froze most of it but make myself a quick dinner with some of it. This is very easy but it hold so much flavor, you will just sit there making yummy noise the entire time!
Simply cook 15-20 pieces of gnocchi, take them out of water with a slotted spoon and set aside.
In a small saute pan, heat up 2 tbsp of olive oil on medium heat. Add a clove of garlic (grated or minced), some fresh rosemary (about 1/2 Tbsp) and 2 Tbsp minced sun-dried tomatoes. Saute for about a minute, until fragrant and add gnocchi. Add a little salt if needed. Mix and saute for about a minute or two and plate. Top off with some freshly shredded smoked Gouda cheese and serve!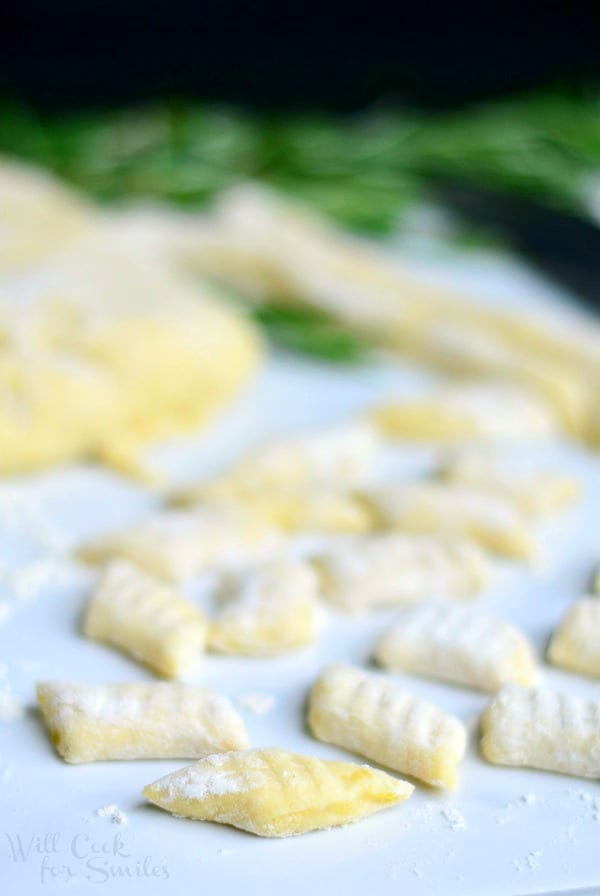 Check out these great recipes from other bloggers:
Baked Gnocchi With Bacon Tomato and Mozzarella from Simply Delicious
Loaded Chicken Alfredo Gnocchi Bake from Inside BruCrew Life
Ham and Cheese Gnocchi from Kevin & Amanda
More Pasta Recipes From Me!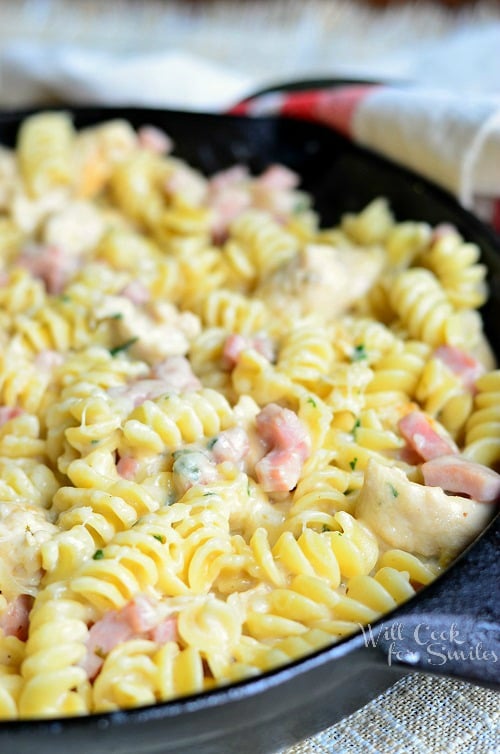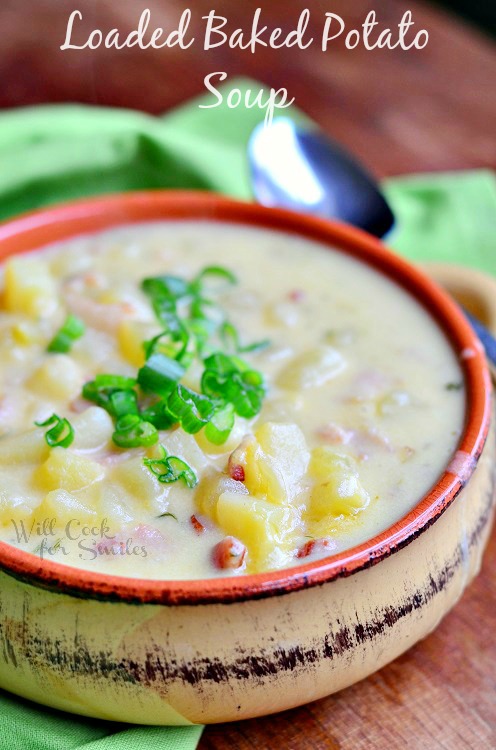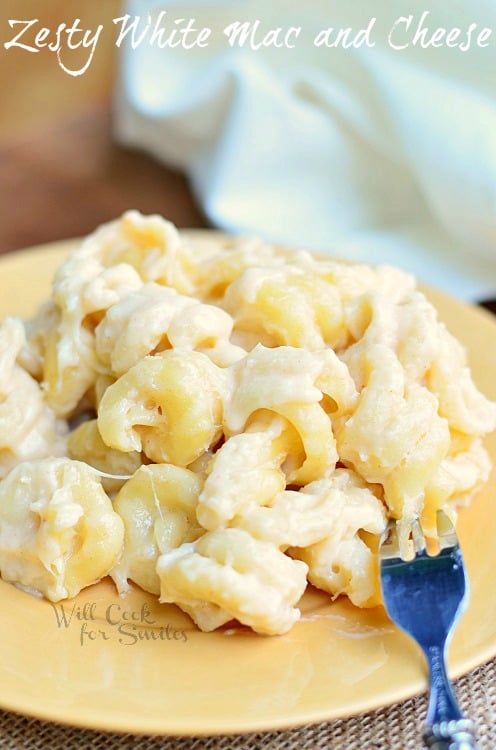 _________________________________________________________
Make sure you follow me through your favorite blog reader (bloglovin or other), subscribe to e-mail or follow me through social media of your choice to keep up with the recipes!

_______________________________________________________