If you're looking to seriously up your margarita game, do so with a Cadillac Margarita! It's a top shelf version of the classic you already know and love, made with top shelf reposado tequila, the best orange liqueur, sweet agave nectar, and freshly squeezed lime juice. Of course, you can't forget the signature salted rim!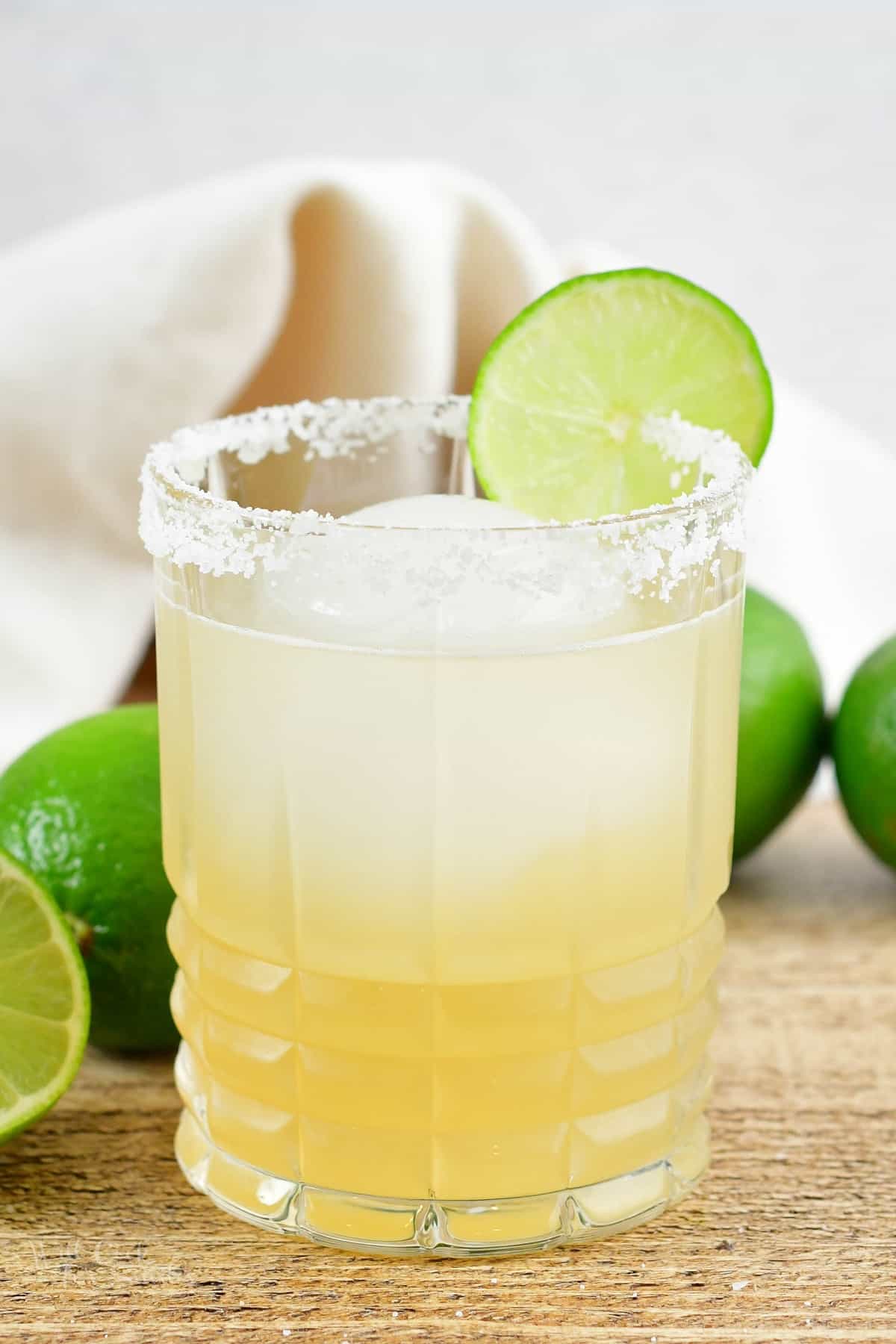 When it comes to margaritas, I'm always first in line! I actually have my own Margarita Mix and a Classic Margarita Recipe that I stand by 100%. I love combining lemon and lime flavors and adding a little fresh orange in the mix.
When it comes to a Cadillac Margarita though, I take the classic route and use just the fresh squeezed lime juice. I do so because you want to let the top shelf liquors shine, and with just a little lime juice and simple syrup, you taste the best of reposado and orange liqueur.
This isn't the only cocktail recipe of mine that calls for freshly squeezed lime juice, that's for sure! When shaking or mixing up a cocktail at home, it's imperative to always use fresh lemon and lime juices. The store-bought citrus juices taste quite different from the freshly squeezed, and they always lend a weird taste to an otherwise delicious drinks.
There's never a bad time to enjoy a Cadillac Margarita, but there is a best time – and we're quickly approaching it! Summertime is margarita season, and there's no better way to celebrate the beginning of the sunny months than with a classic margarita made with all of the best ingredients.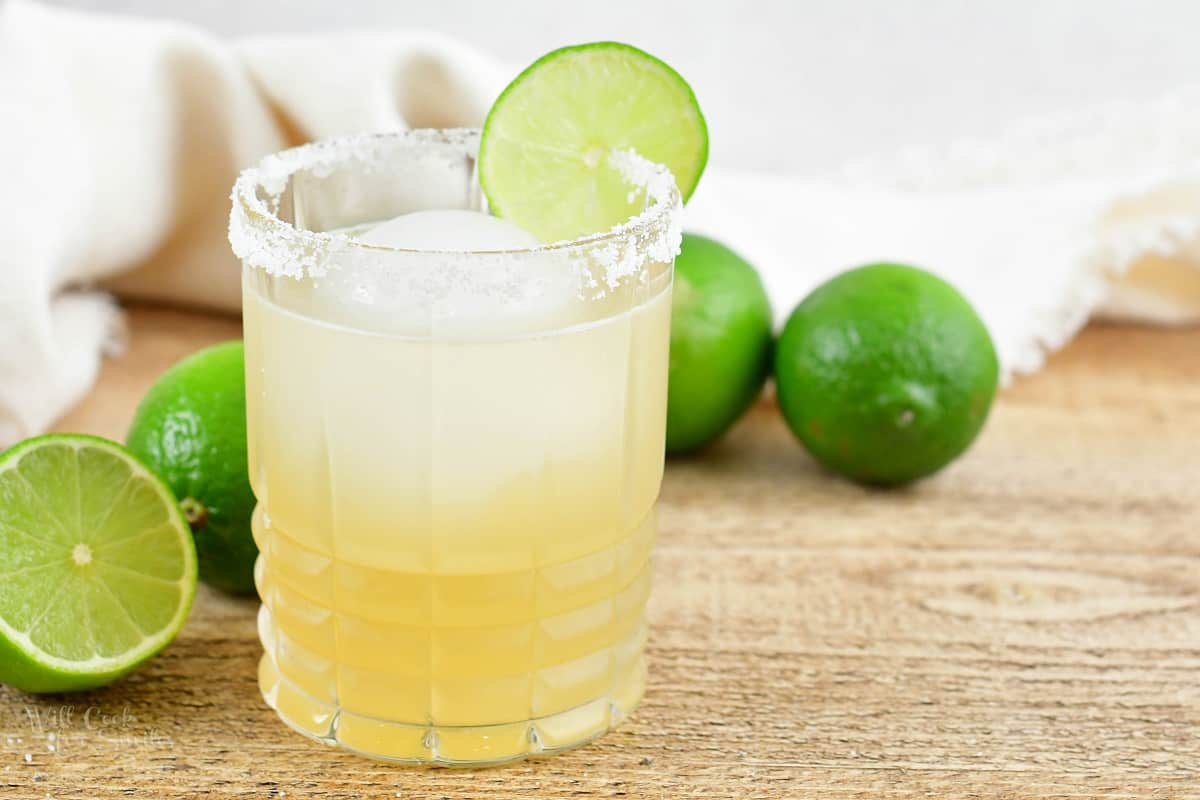 What is a Cadillac Margarita?
It's essentially a classic margarita that's made with top shelf ingredients. The key ingredient here is reposado tequila, which you'll want to use instead of silver. It has a richer, deeper, and smoother flavor, as it has aged for much longer. Top shelf reposado is usually aged (rested) longer and has a golden color to it.
When it comes to orange liqueur, personally I prefer to use Cointreau because it has a bright orange flavor, but it's much less sweet than Grand Marnier. This can be a personal preference though – if you prefer Grand Marnier, feel free to use it…or use both!
Ingredient Notes: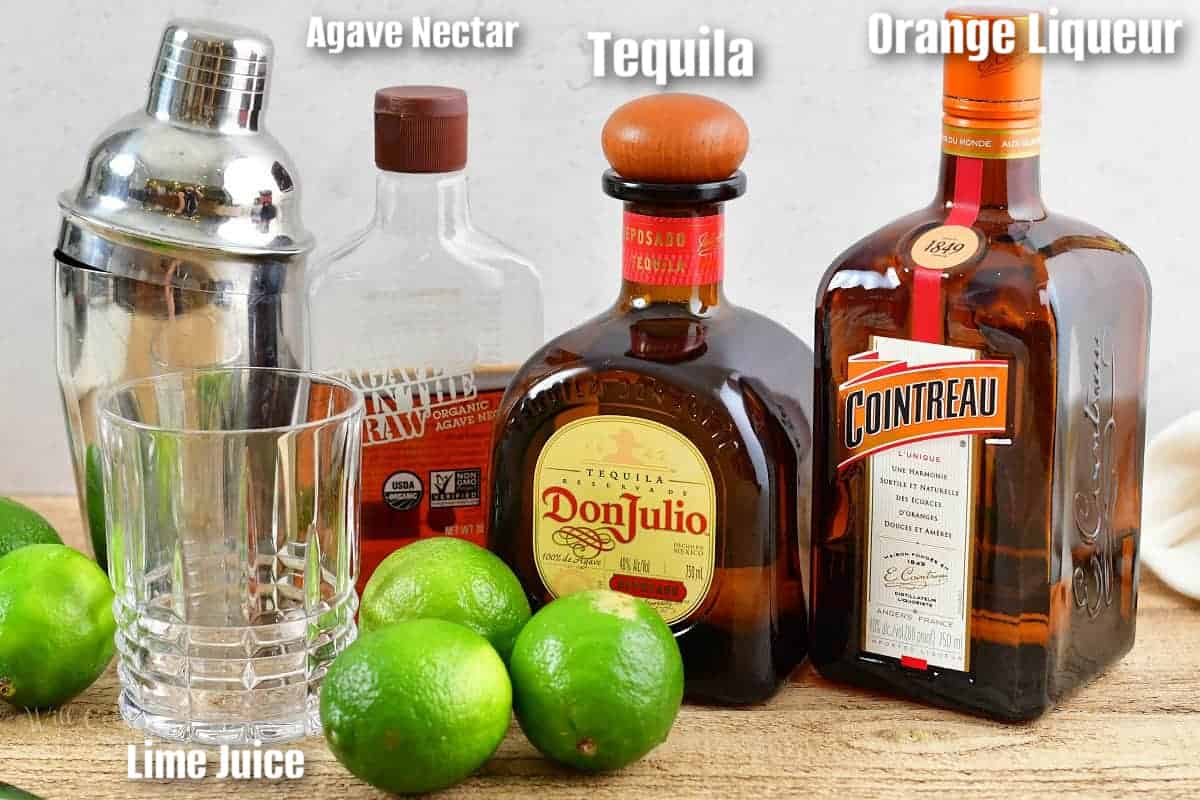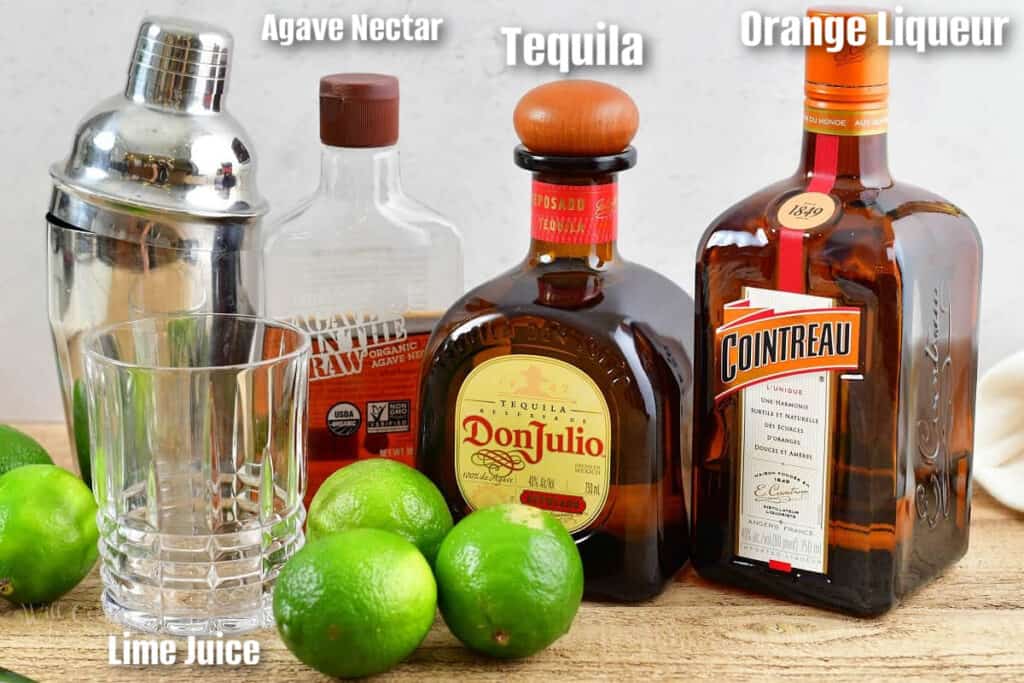 Reposado Tequila – This top shelf tequila is very much worth the price tag! You cannot make a Cadillac Margarita without it. If you substitute this tequila with another, you'll still have a great cocktail, but it won't be a Cadillac Margarita.
Orange Liqueur – To keep things on the less sweet side, consider using Cointreau over Grand Marnier.
Lime Juice – As always, use FRESH lime juice instead of the bottled alternative that's loaded with artificial flavors and preservatives.
Agave Nectar – agave is a desert plant that is used to make tequila. This sweet syrup goes wonderfully in a margarita because it compliments tequila and sweetens the drink at the same time.
Salt – Coarse or flaky sea salt are both fine, but never use iodized table salt for your rim.
Instructions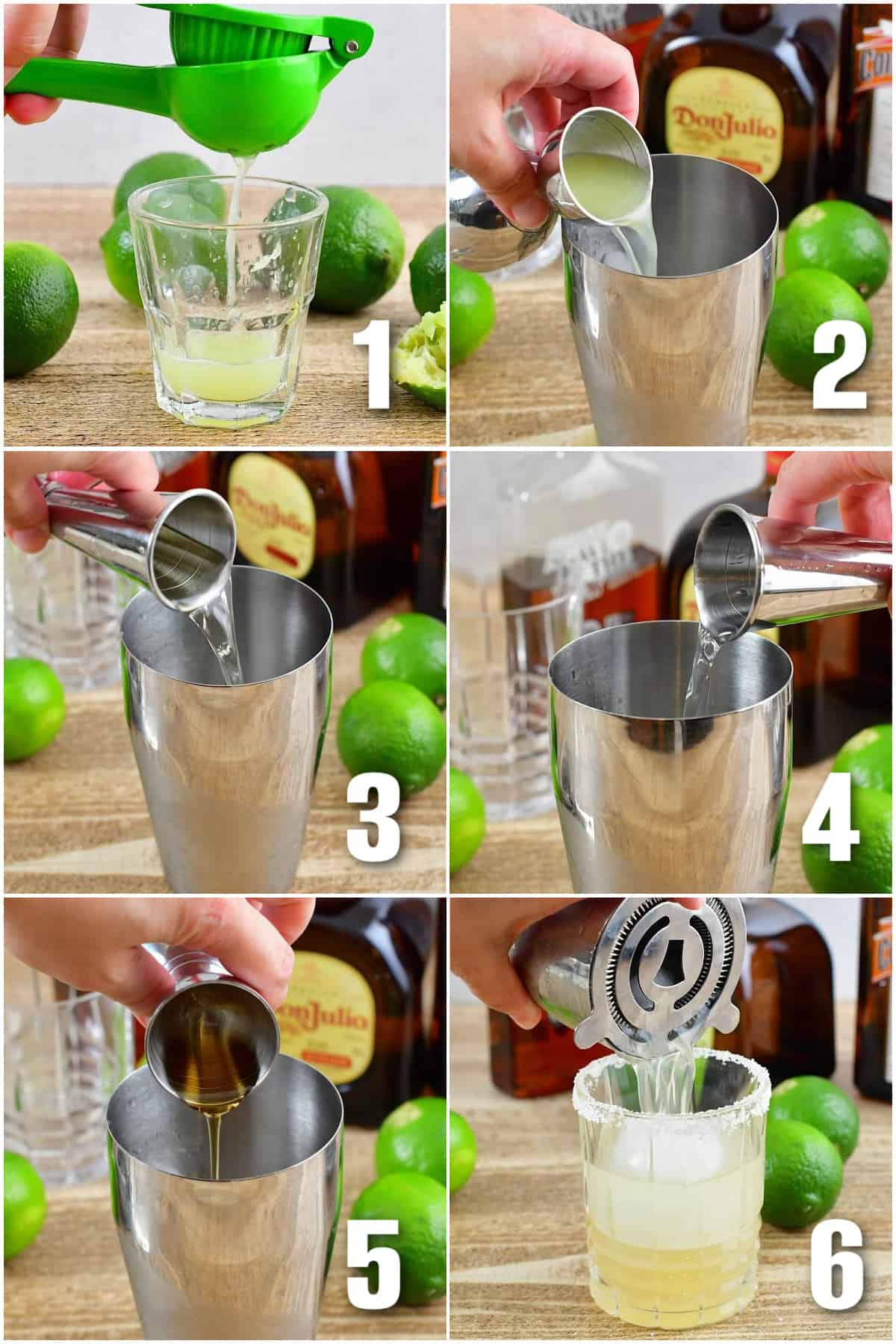 Salt rim: Rub the rim of your glass with a lime wedge, then dip it into some salt to create your salt rim. Set aside.
Shake the margarita: Cut your lime in half and use a lemon juicer to squeeze it to get the fresh juice out (1). Add some ice, freshly squeezed lime juice (2), reposado tequila (3), Cointreau (4), and agave nectar (5) to a cocktail shaker.
Shake the mixture vigorously for approximately 20 seconds.
Pour the margarita.
Carefully add a few ice cubes to your prepared glass, and try not to disturb the salted rim as you do so. Then, pour the shaken margarita through a strainer into the glass (6), and enjoy!
Recipe FAQs
What is reposado tequila?
"Reposado" means "rested" in Spanish, which indicates that this type of tequila is rested anywhere from two months to a year before being bottled. The golden color of this tequila comes from the barrels where it's rested, and it also takes in that flavor.

With reposado tequila, you get a smoother finish, hints of vanilla, and toasty, earthy notes from the barrel itself. Reposado tequila gives you the best of both worlds: the complexity of aged tequila, and the yummy flavor of young silver tequila! Like I said, it's well worth the price tag.
Is a Cadillac Margarita gluten free?
Yes! Typically, all margaritas are gluten free, as tequila is made with agave, therefor making it a gluten free liquor. All of the other ingredients listed here are also gluten free, so it's a safe cocktail to drink if you're on a strict no-gluten diet. As always, do check labels of the liquors you choose to be safe!
How to Serve Margaritas?
The most common way you will find a margarita is on the rocks, with a salt rim, and garnished with a lime wedge. Salt is a personal preference but it goes beautifully with the flavor of margarita.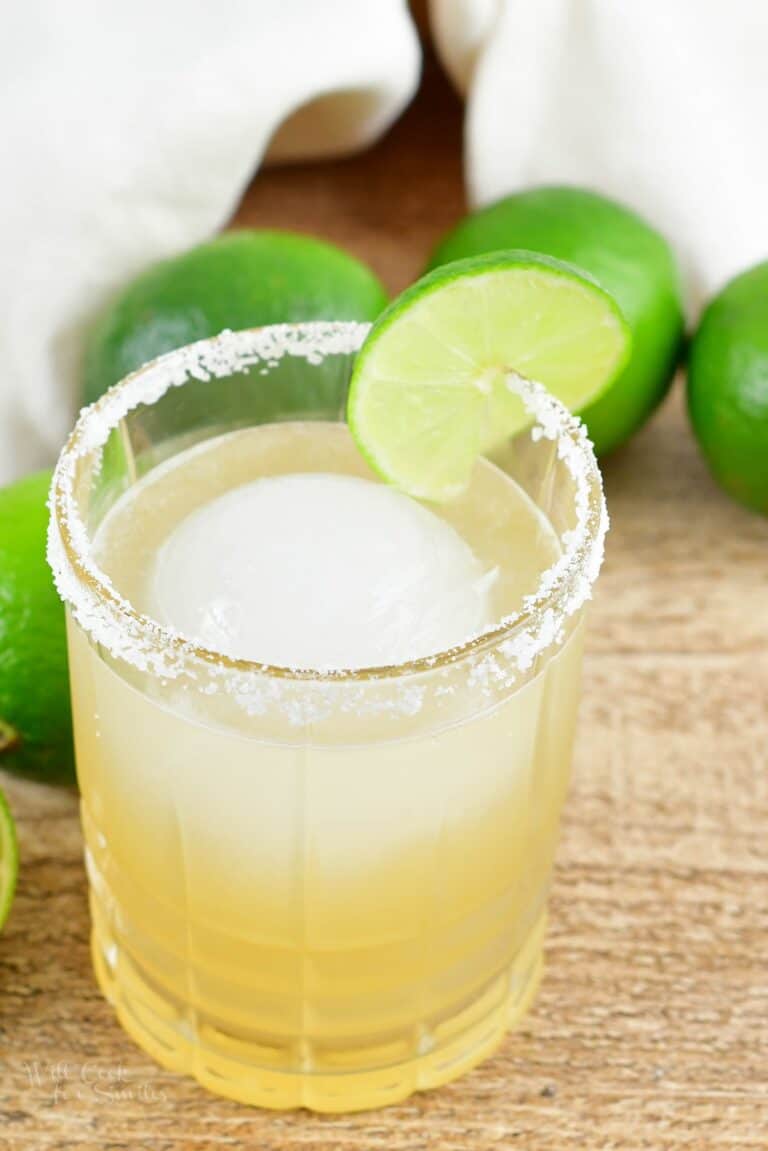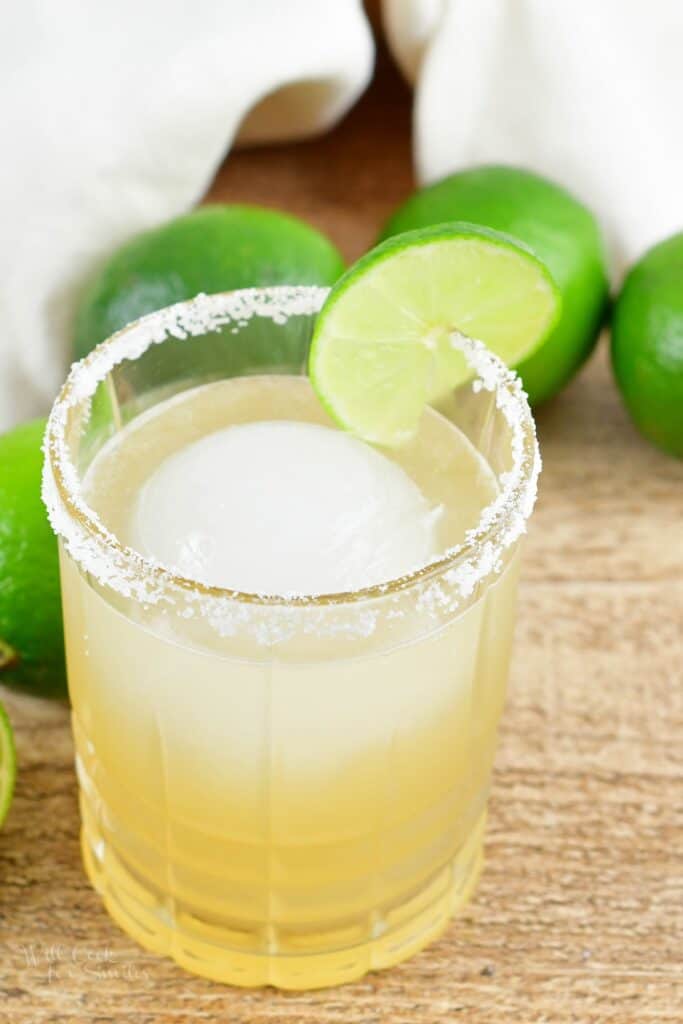 Some More Cocktails To Try
PIN THIS RECIPE FOR LATER
If you've made my margarita recipe and found a lot of good information here, PLEASE leave a 🌟 star rating! Let me know how you liked it by leaving the 📝 comment below as well. Don't forget to subscribe to my newsletter!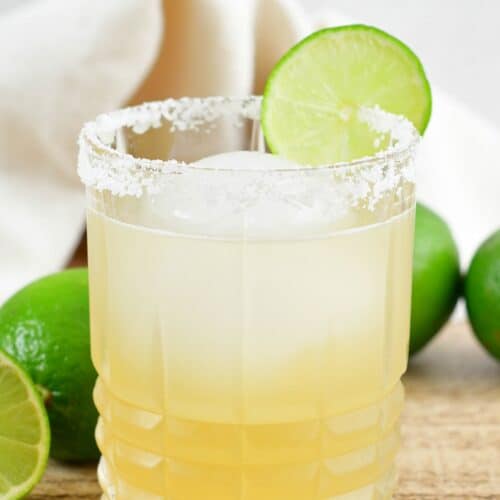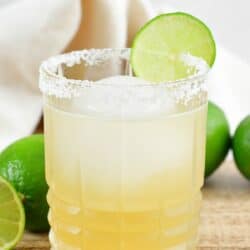 Cadillac Margarita
A top shelf version of the classic you already know and love, made with top shelf reposado tequila, the best orange liqueur, sweet agave nectar, and freshly squeezed lime juice. 
Print
Pin
Save
Saved!
Rate
Equipment
Lime press/juicer

Jiggers

Cocktail Shaker
Ingredients
2

oz

top shelf reposado tequila

1

oz

Cointreau or Grand Marnier

1

oz

fresh lime juice

3/4

oz

agave nectar

coarse or sea salt for the rim
Instructions
Rub a rim of the glass with a lime wedge to get some juice onto it and dip it into the salt. Set aside.

Cut the lime in half and use a lime press to squeeze fresh juice out.

Add some ice to the cocktail shaker and add reposado tequila, Cointreau, fresh lime juice, and agave nectar.

Close the shaker and vigorously shake for about 20 seconds.

Add some ice to the glass, carefully so not to knock off the salt off the rim.

Pour in the margarita into the glass through the strainer.
Alternate method:
If you like to keep the "dirty ice" (i.e. the ice that is in the shaker when shaking the cocktail), you can pour in the entire content of the cocktail shaker into the glass instead of using fresh ice in the glass.

Make sure to use just enough ice to shake the cocktail that will fit in the glass.
Notes
Remember, the best ingredients make the best margaritas. Try to get the best tequila and orange liqueur and squeeze fresh lime.
Based on personal preference, you can serve margarita over ice or neat. 
Nutrition
Calories:
291
kcal
|
Carbohydrates:
28
g
|
Protein:
1
g
|
Fat:
1
g
|
Saturated Fat:
1
g
|
Polyunsaturated Fat:
1
g
|
Monounsaturated Fat:
1
g
|
Sodium:
4
mg
|
Potassium:
44
mg
|
Fiber:
1
g
|
Sugar:
24
g
|
Vitamin A:
14
IU
|
Vitamin C:
12
mg
|
Calcium:
4
mg
|
Iron:
1
mg
Tried this recipe?
Mention @willcookforsmiles and tag #willcookforsmiles