Margarita is a wonderful classic cocktail that satisfies sweet, sour, and salty flavor cravings at once. It's a simple mixture of homemade margarita mix, tequila, and orange liqueur. What makes this Margarita recipe the best is the homemade margarita mix and method of preparation. Combination of limes, lemon, simple syrup, and a touch or orange makes this margarita mix sweet and aromatic.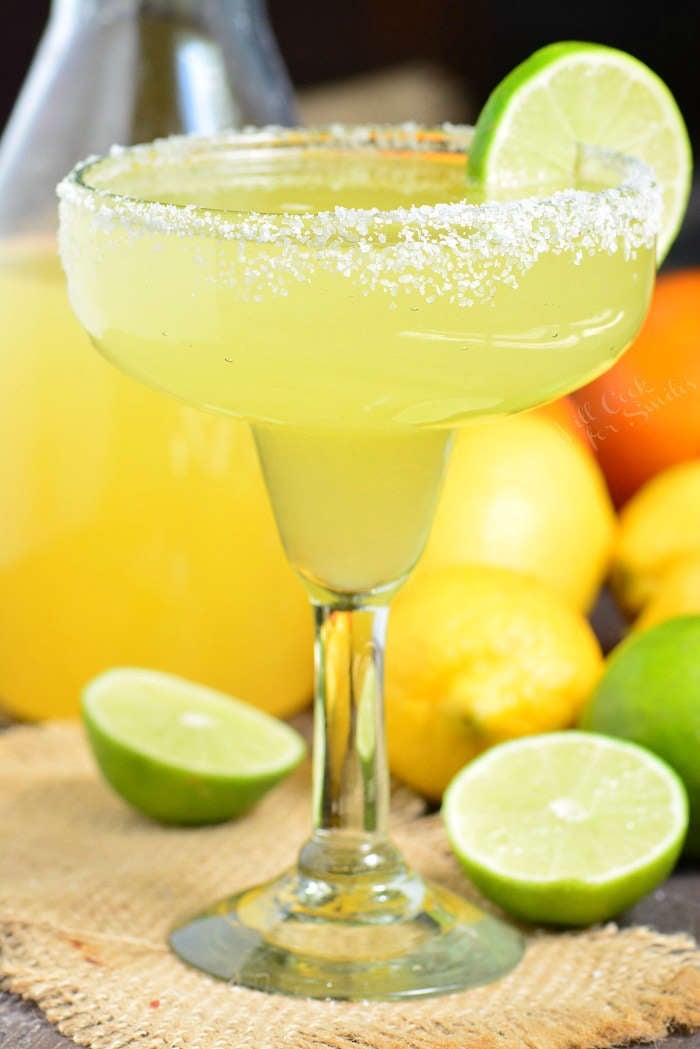 MARGARITA RECIPE
To say that Margarita is my favorite cocktail would be an understatement. It must be the perfect combination of sweet, salty, and sour flavors that makes this cocktail so satisfying.
There are so many legends about who was the genius behind invention of margarita cocktail, it's hard to know which is the true one. I don't think we will ever truly know who it was but as long as we all get to enjoy this creation, that's all that matters.
Classic Margarita is a simple combination of lime juice, tequila, orange liqueur, and simple syrup served in a salted rim glass. Other citrus flavors like lemon and orange are often added to enhance the flavors of citrus and add aroma. I love the addition of orange because it give the cocktail another layer of flavor.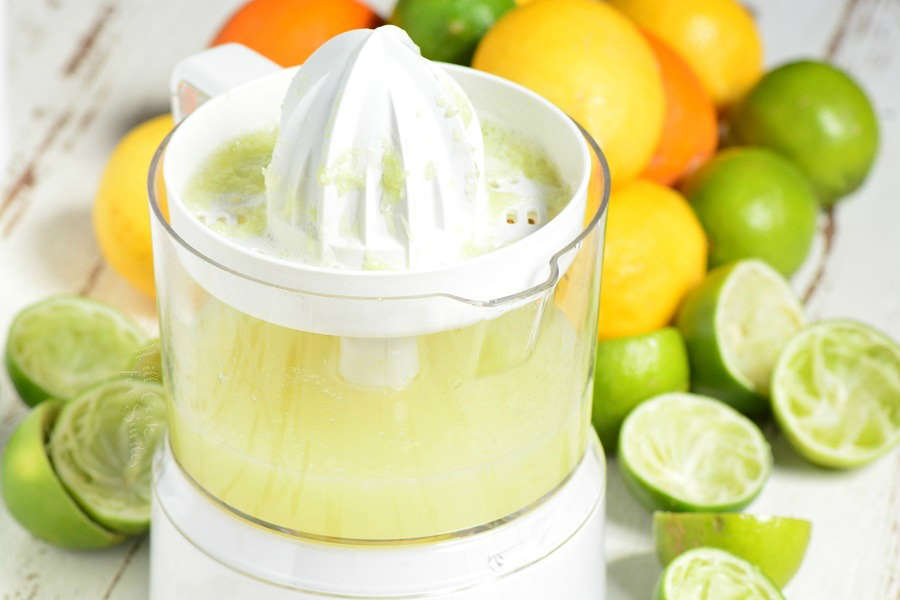 WHAT LIQUORS GO INTO MARGARITA
Tequila
Orange liqueur
There are a few things that can affect the taste of a margarita, like ingredients you use and method of preparation. Much like with everything you make, ingredients are very important. So if you opt for a lower grade of tequila and orange liqueur, it will taste accordingly. Try to get top shelf tequila and orange liqueur for the best tasting cocktail.
I prefer to use silver tequila in a margarita because it is mixed with several other ingredients. Gold tequila is typically better for straight taking shots because of the smooth taste. But if you like the taste of gold tequila, feel free to use it instead.
When it comes to orange liqueur, I prefer to use Grand Marnier. There are three most known orange liqueurs – Triple Sec, Cointreau, and Grand Marnier. Personally, I prefer to use Grand Marnier because it has the strongest, full bodied orange flavor. Out of hundreds of margaritas I've made at the bar, majority of my guests preferred margaritas made with Grand Marnier.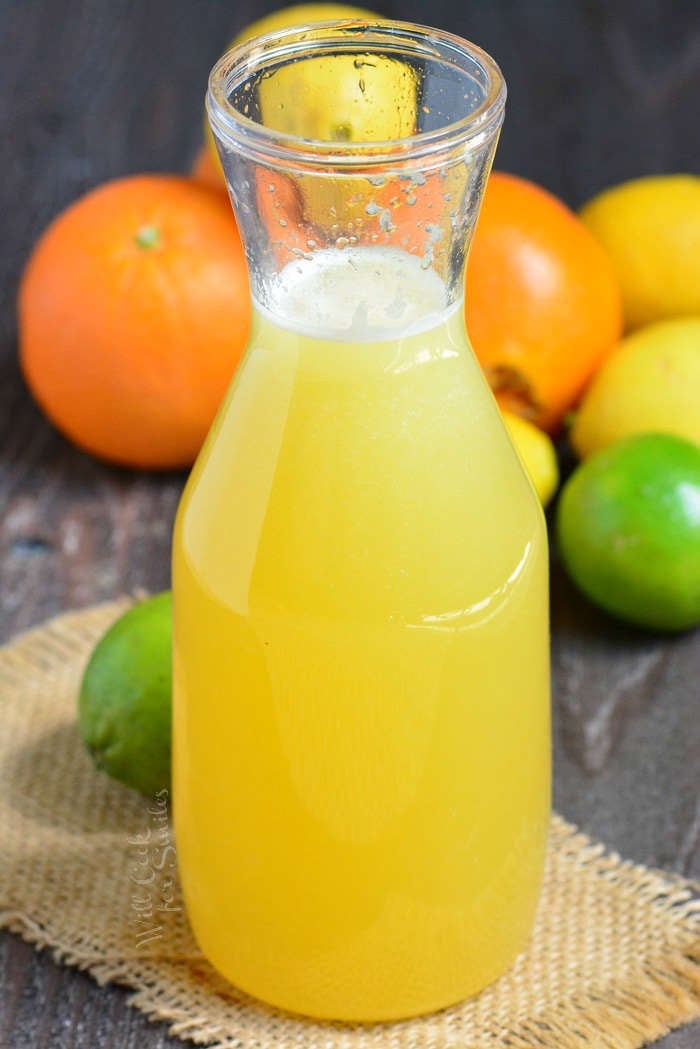 WHAT IS IN MARGARITA MIX
"Homemade is always the best." We know it to be true about most foods and it's just as true about a margarita mix.
Homemade margarita mix is very easy to make and can be made 1 or 2 days ahead of time. Only 4 simple ingredients go into a margarita mix:
lime juice
lemon juice
orange juice
simple syrup
Freshly squeezed lime juice, lemon, juice and orange juice are the best, of course. I use a simple little juicer and it's done in about 15 minutes. Once the juices are squeezed, combine it with simple syrup and refrigerate in a container with a lid.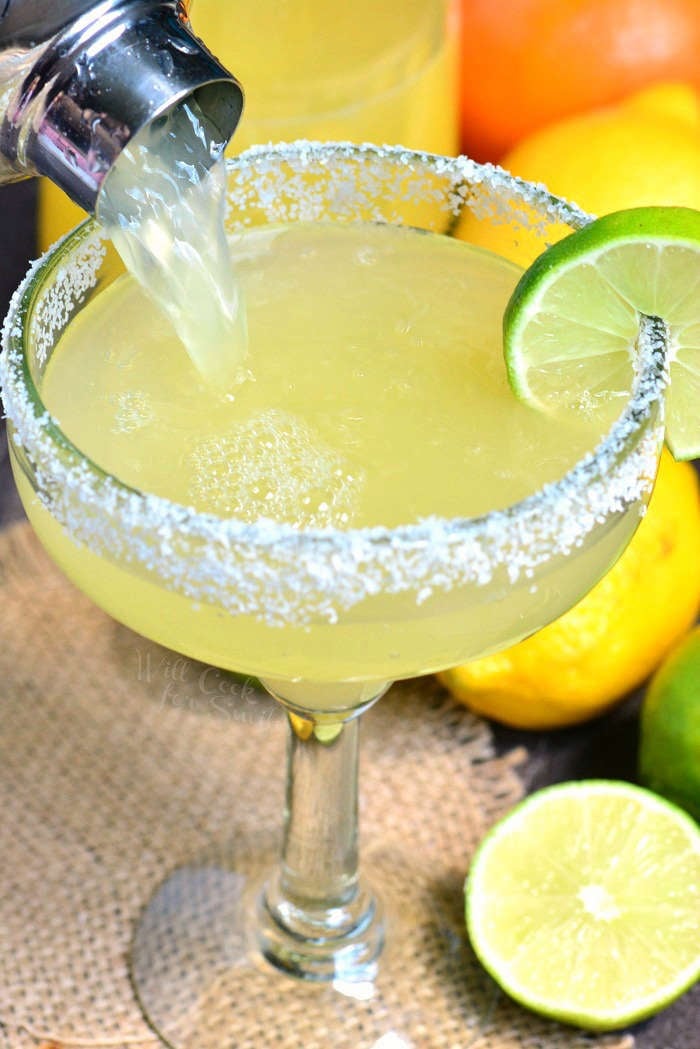 TIPS FOR THE BEST MARGARITA
As I mentioned above, the best ingredients make the best margaritas. Try to get the best tequila and orange liqueur and make your own margarita mix.
When making margaritas, integrating of ingredients also plays a big role in how it will taste. When I was bartering we, always took an extra step of mixing the ingredients with the milkshake blender. NOT blending them with ice, but just blending liquid ingredients together to thoroughly mix them.
At home, I pop the liquid ingredients together in a blender and pulse a few times to blend (no ice). If you don't have a blender or just do not feel like taking that extra step, then just combine liquid ingredients in a cocktail shaker with a few ice cubes and vigorously shake a few times.
Pour well blended margarita over ice and don't forget the salted rim!
IS MARGARITA GLUTEN FREE?
Yes, margarita is typically a gluten free cocktail. Tequila is made out of agave and therefore is a gluten free alcohol. Luckily, Triple Sec, Grand Marnier, and Cointreau are gluten free liqueurs so they are also safe to be added to your margarita.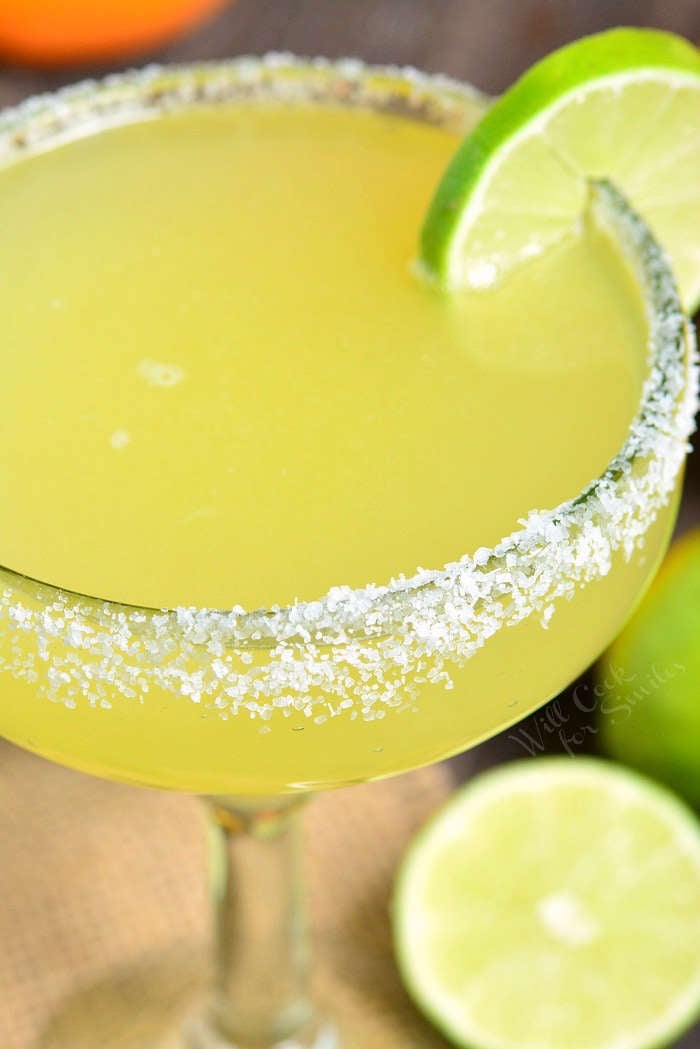 SOME MORE RECIPES TO TRY
Strawberries and Cream Daiquiri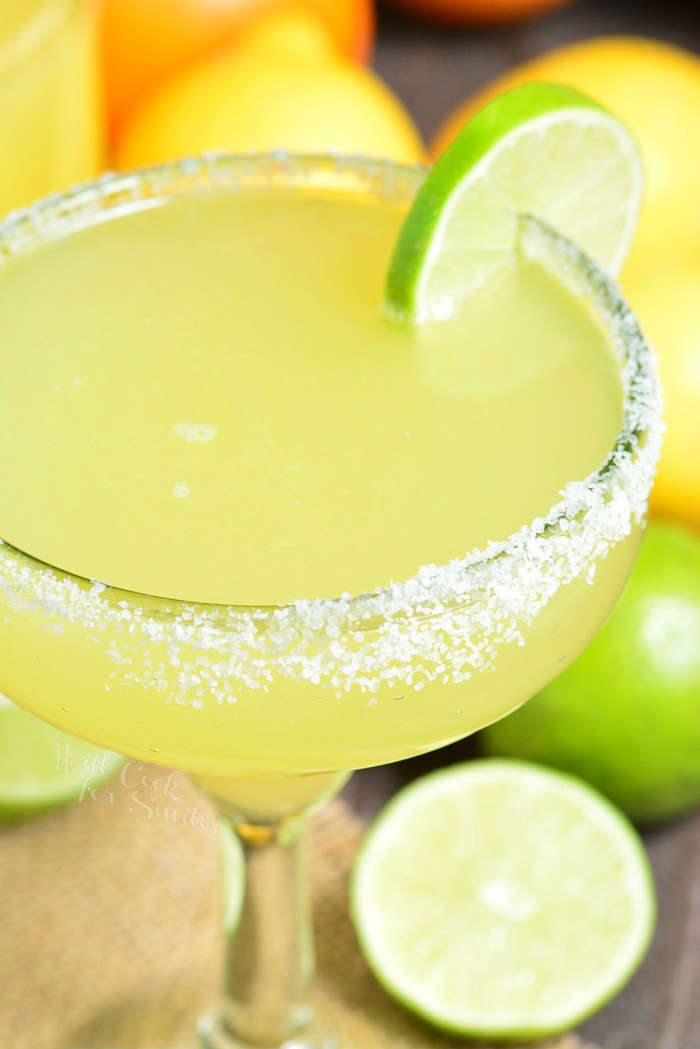 If you made any of my recipes and shared them on Instagram, make sure to tag me @willcookforsmiles and #willcookforsmiles so I can see all the things you tried!
Connect with Will Cook For Smiles!
Be sure to click below and follow me on my social media, so you never miss a recipe.
Don't forget to sign up for email, so you won't miss any new recipes.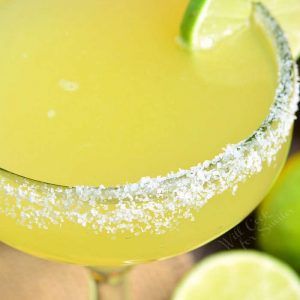 Margarita Recipe
It's a simple mixture of homemade sweet and sour mix, tequila, and orange liqueur. What makes this Margarita recipe the best is the homemade margarita mix and method of preparation.
Ingredients
Margarita Mix:
16

oz

lime juice

(about 8 limes)

8

oz

lemon juice

(about 4 lemons)

4

oz

orange juice

(about 1 large orange)

8

oz

simple syrup

1 cup of hot water mixed with 1 cup of sugar
Margarita:
16

oz

silver tequila

8

oz

Grand Marnier orange liqueur

margarita mix from above

Coarse salt

Limes to garnish

Ice cubes
Instructions
Margarita mix:
TIP: When picking out lemons and limes, make sure to choose ripe fruit that are soft. If fruit is not ripe enough, it won't yield much juice.

Squeeze juice from lemons, limes, and oranges. (If you use a juicer, you will get more juice out of each fruit.)

Heat up a cup of water and stir in sugar until dissolved to get simple syrup.

Combine simple syrup and juices and mix well. Pour into a jar with a lid and refrigerate for about 2 hours to cool down.
Margarita:
Combine margarita mix, tequila, and Grand Marnier in a blender and pulse a few times. (You can also combine margarita mix and liquors in a cocktail shaker and shake vigorously.)

Spread some coarse salt in a shallow, wide bowl.

Rub each glass rim with a lime and dip the rim into coarse salt.

Add some ice to each glass and pour margarita mixture over it. Garnish with a lime and enjoy!
Recipe Notes
All images and text ©Lyubov Brooke for ©Will Cook For Smiles. Please do not use my images without prior permission. If using my posts in collections and features, please link back to this post for the recipe. Disclaimer: Nutrition information shown is not guaranteed to be 100% accurate as most ingredients and brands have a slight variation.
Nutrition Facts
Margarita Recipe
Amount Per Serving
Calories 324
% Daily Value*
Sodium 20mg1%
Potassium 141mg4%
Carbohydrates 39g13%
Vitamin A 55IU1%
Vitamin C 34.6mg42%
Calcium 26mg3%
Iron 1.4mg8%
* Percent Daily Values are based on a 2000 calorie diet.