Paloma is a delightfully refreshing tequila cocktail that's made with only 4 simple ingredients. Grapefruit soda, tequila, fresh lime juice, and a little agave nectar come together to create an unforgettably delicious drink. This summer, refresh yourself with a Paloma cocktail!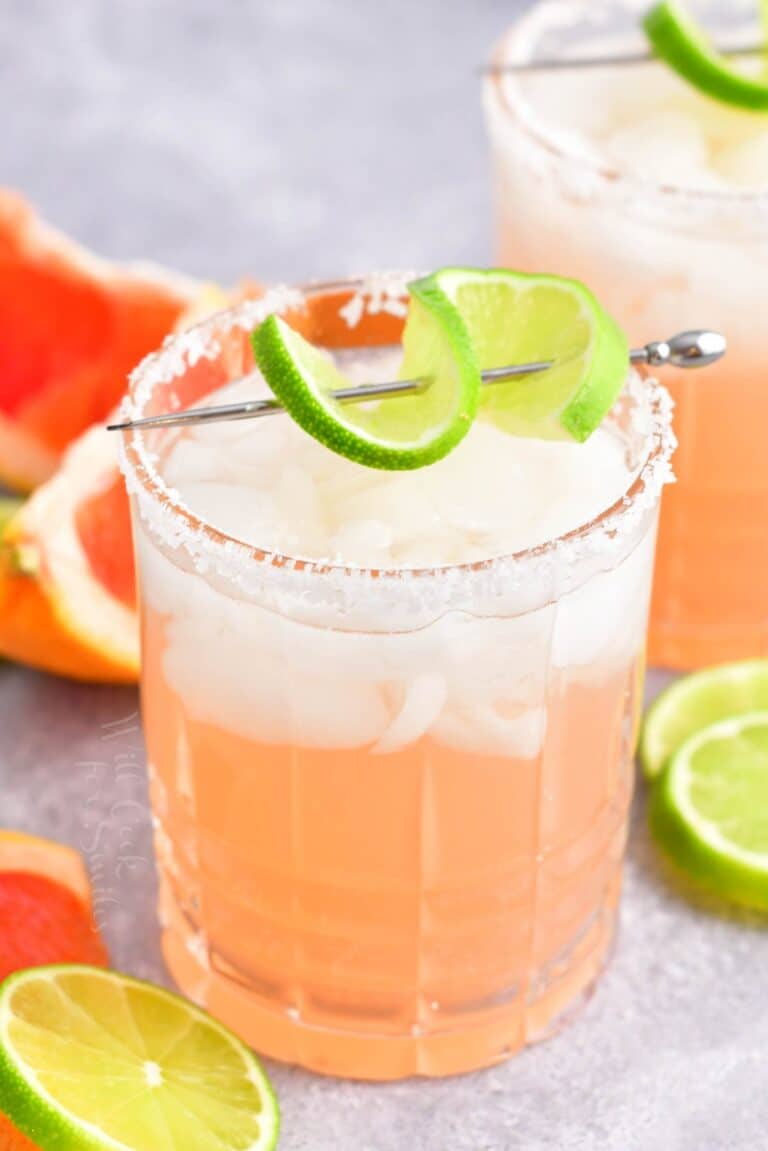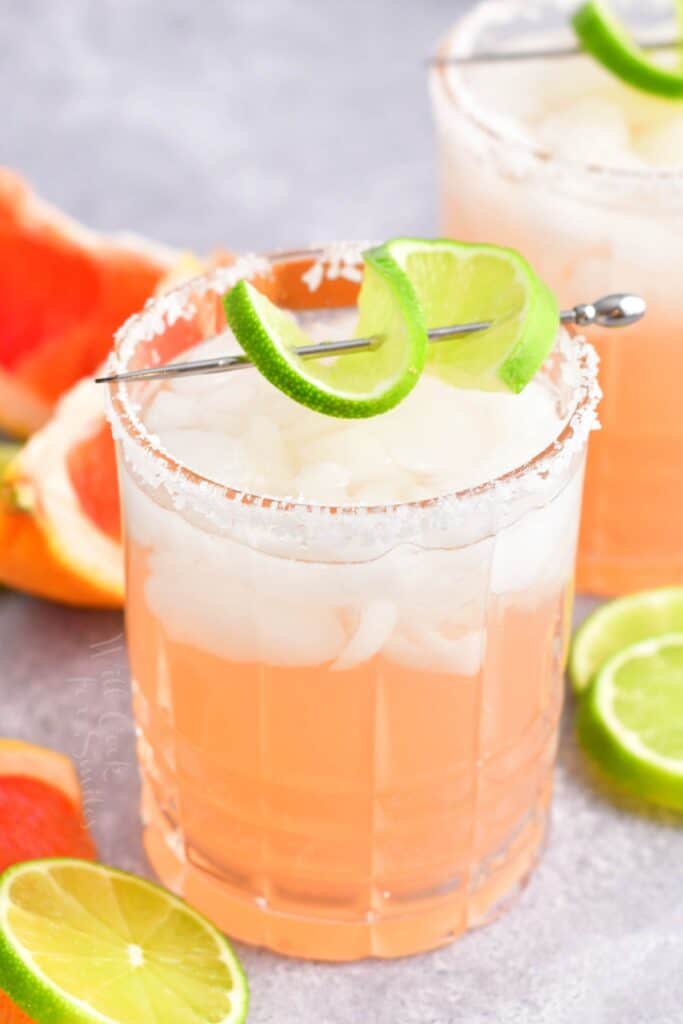 Paloma Cocktail
The Paloma is the most popular cocktail in all of Mexico, and after just one sip, it's not hard to see why. While not much is known about the specifics of the origin of the cocktail, it's widely recognized as being first created by Don Javier Delgado Corona, a very well known and highly respected bartender.
Ordering a Paloma on a beach in Mexico sounds like a dream right about now! It's an equal parts bitter and sweet cocktail that is delightfully fruity and packs a punch with 2 oz of tequila… It's a true summertime treat. However, if you're not headed to Mexico anytime soon, no worries! This is a simple recipe that will give you all the pleasures of a Mexican Paloma in the comfort of your own home.
So whether you're planning a pool party, a backyard barbecue, or any other type of fun summertime festivity, consider serving Palomas to your guests! While some may prefer a cold cerveza, there are always party guests who'd much rather have a refreshing cocktail like this one. They're delicious, freshly flavored, perfectly boozy, and vibrantly picturesque!
Ingredients in a Paloma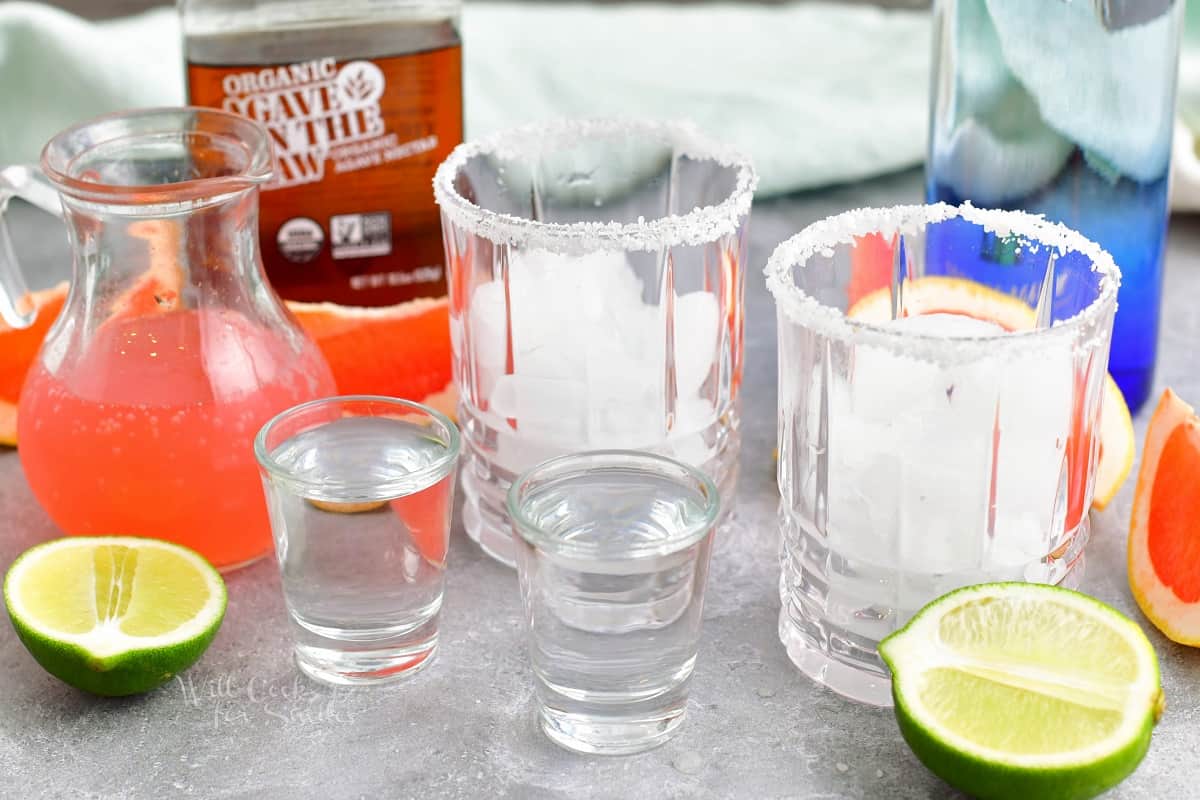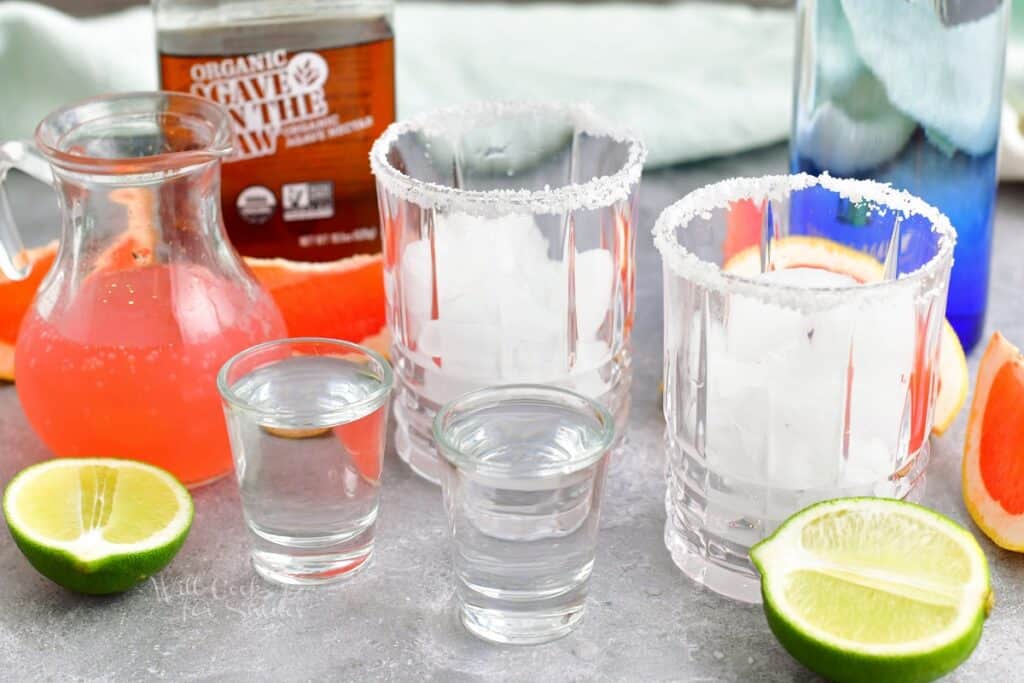 You only need 4 simple and inexpensive ingredients to create this classic Mexican cocktail. Oh, and don't forget the salt for the rim!
Tequila Blanco – The rule of thumb for all cocktails is this – your cocktail will only be as good as the liquor you use! Luckily, when it comes to tequila blanco, there are so many good brands you can use. Try to avoid using anything from the bottom shelf, and you should be in the clear!
Grapefruit Soda – Grapefruit soda is really the best of both worlds. It has the carbonation and slight sweetness of a regular soda, while also having the bitterness and bite of a real grapefruit.
Lime Juice – Use fresh lime juice, not anything from concentrate at the grocery store. Fresh lime juice really does wonders to the Paloma! It's a deliciously natural way to enhance the acidic taste of the grapefruit soda.
Agave Nectar – Agave adds a nice balance to the bitterness of the grapefruit soda, but if your soda is already sweet, you don't need to add it. Taste your soda first, before deciding to add agave nectar.
Salt – There's nothing better than a combination of tequila and a little salt! Coarse kosher salt or flaky sea salt is always the best way to go. If you're a fan of salt rimmed tequila drinks, then you definitely need to also make a Margarita, too.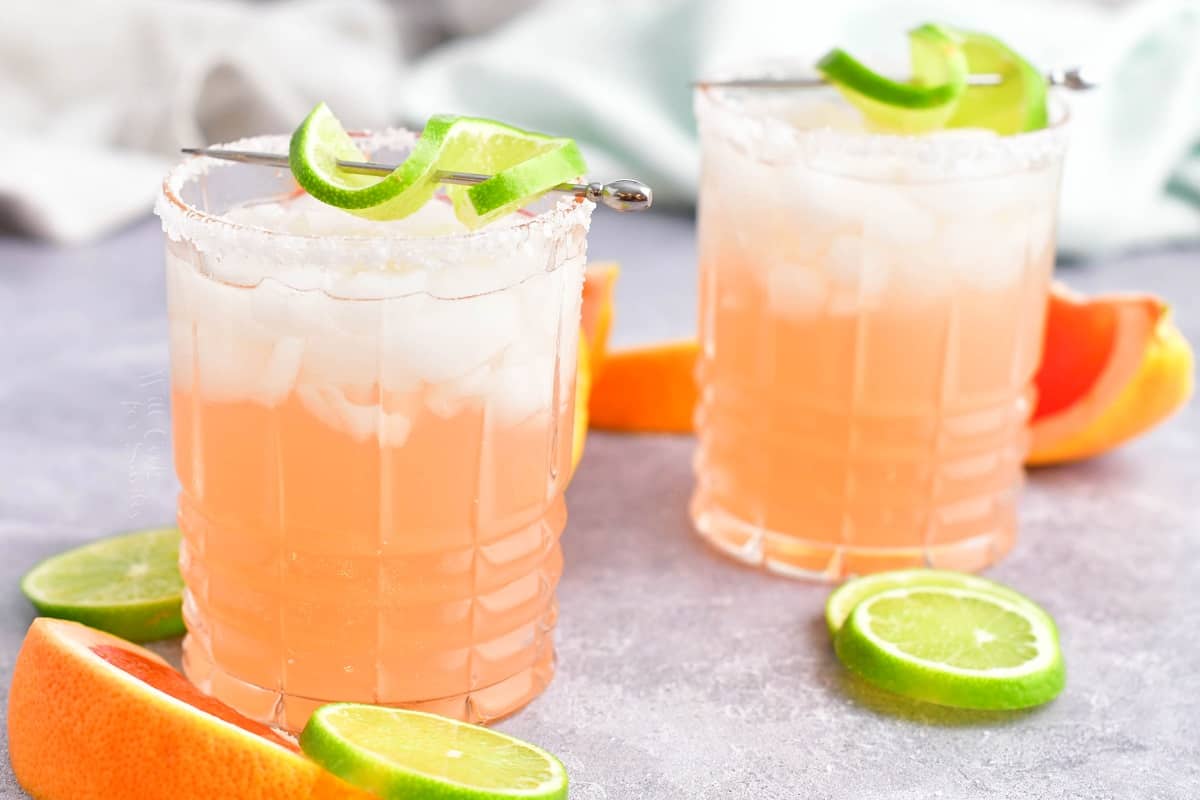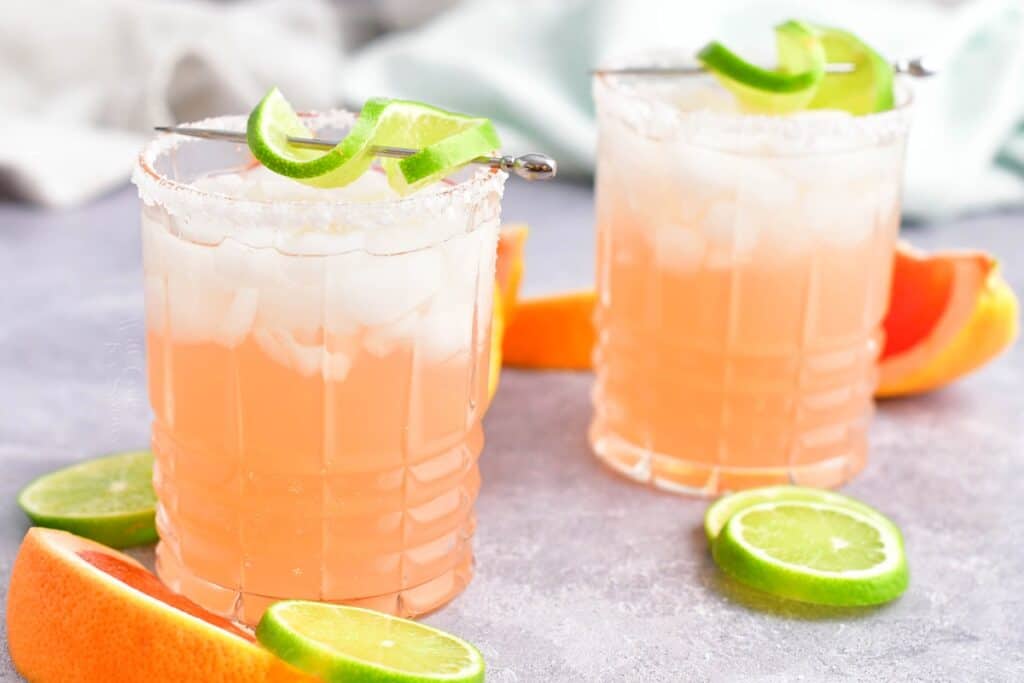 What tequila should be used in a Paloma?
You should use tequila blanco because it's young and fruity. It's also works best because the flavor of tequila will not mast the natural flavor of the grapefruit.
What grapefruit soda should be used?
There are lots of grapefruit sodas to choose from on the market, but if you want to stay a little more authentic, use Jarritos grapefruit soda. It's a Mexican soda brand that produces some seriously delicious sodas! I love using their grapefruit soda in my Palomas but it is not always available at all grocery stores.
Can I use grapefruit juice instead of grapefruit soda?
Absolutely! If you love fresh grapefruit, use freshly squeezed grapefruit juice and club soda instead of grapefruit soda. You will need about 2 oz of fresh grapefruit juice and about 2 ounces of club soda. Make sure to mix all the ingredients together before adding the soda, then top the cocktail off with club soda and very gently stir.
How to Make a Paloma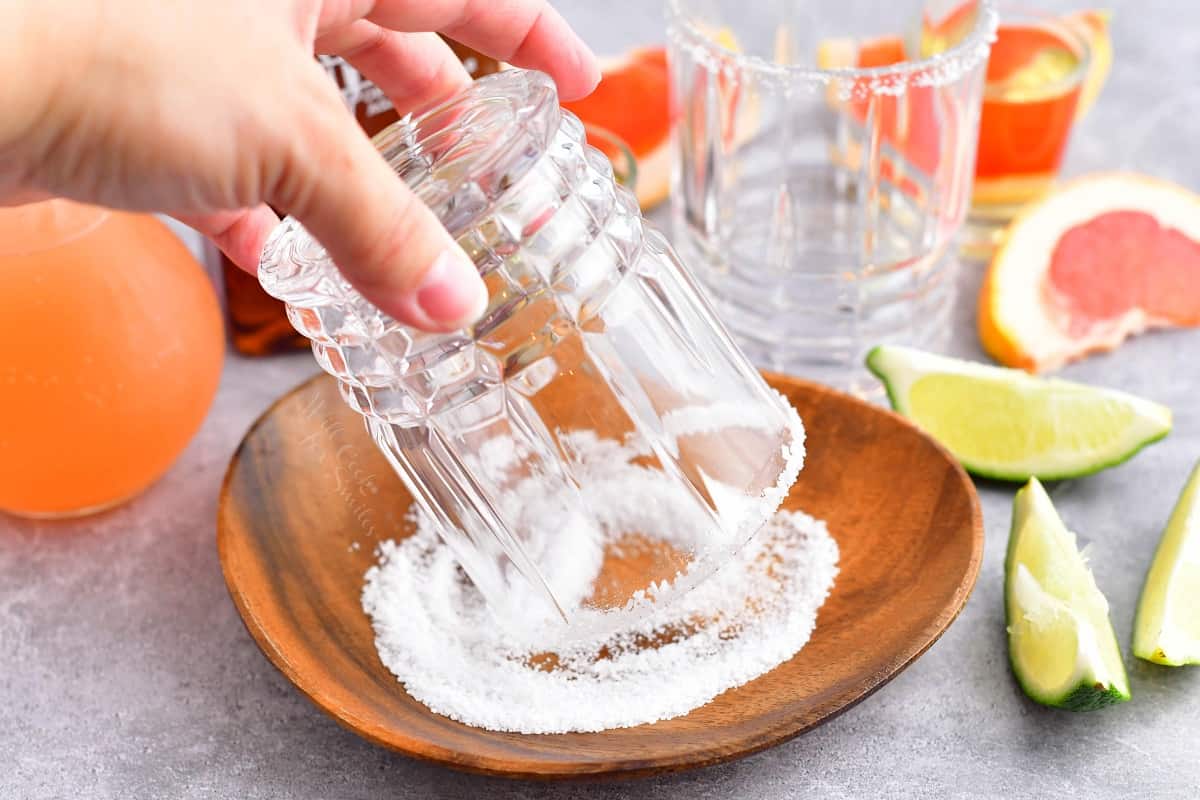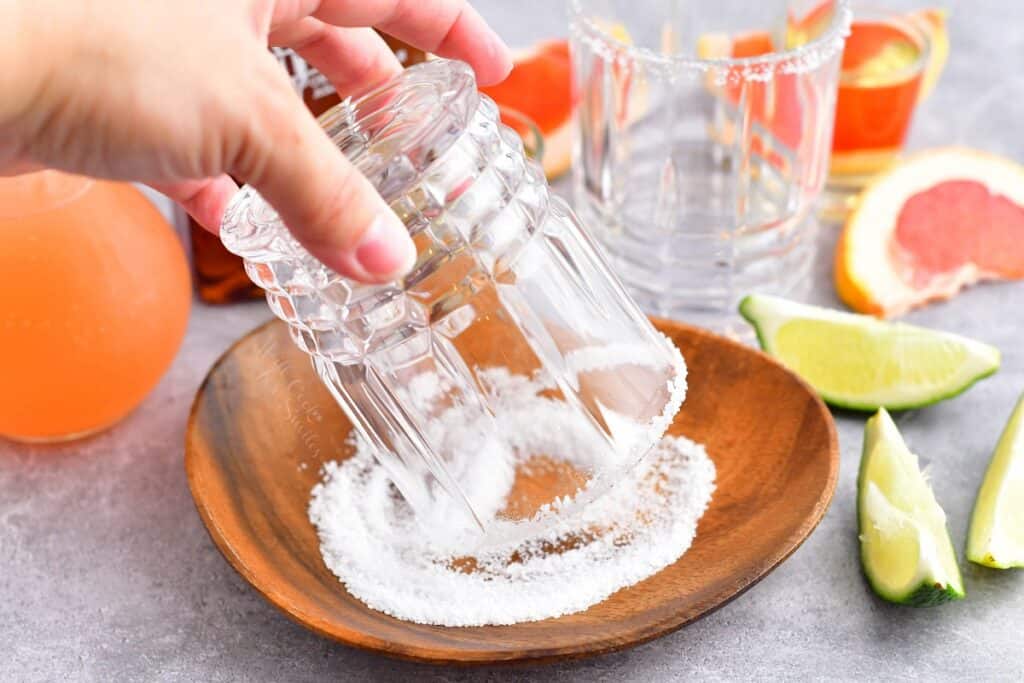 Start off by rimming the glasses, that way they're prepared for pouring. It's always annoying to pour a drink into your glass, only to realize you forgot to rim it!
Simply rub a lime wedge along the rim of the glass, coating it with fresh lime juice. Then, dip the rim of the glass into the salt.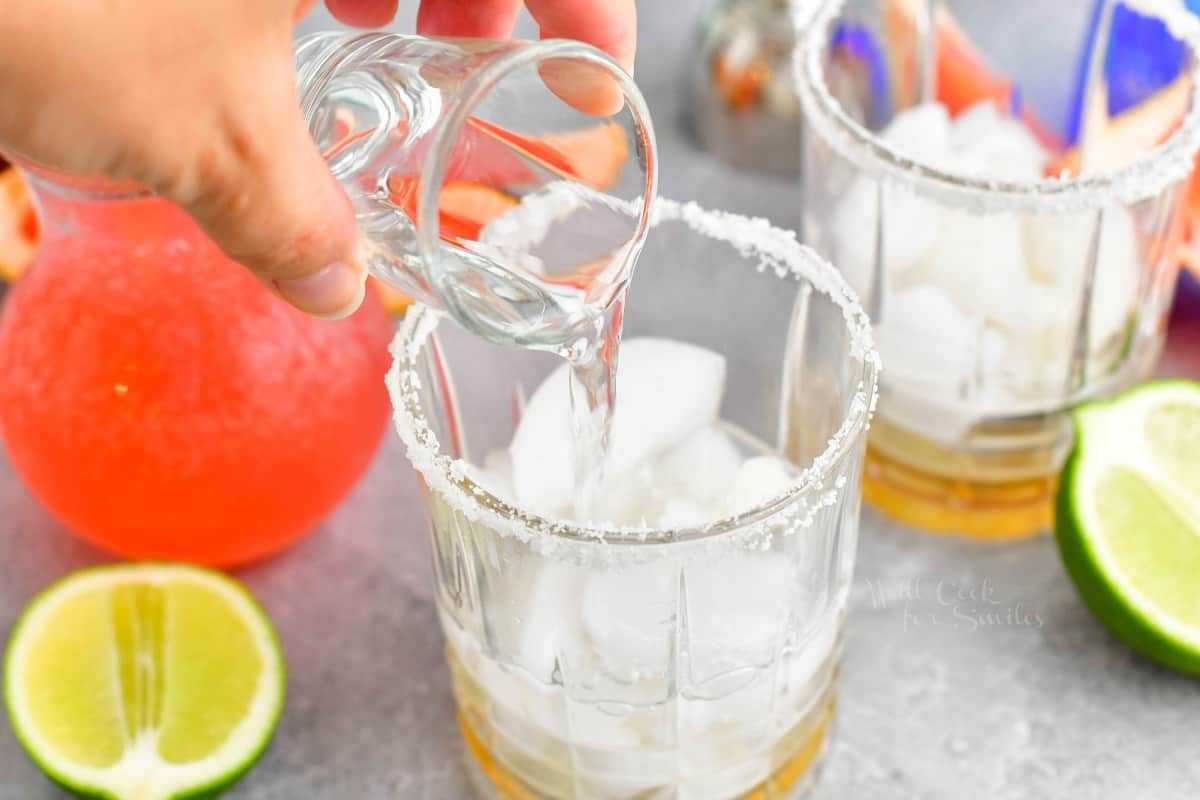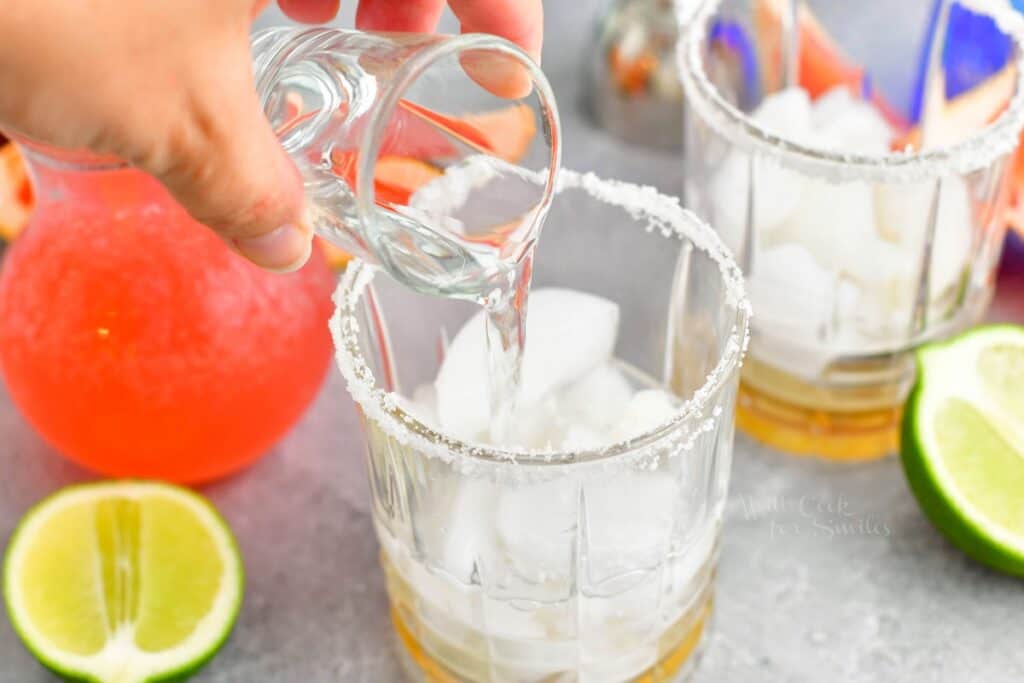 You can make this cocktail in a shaker, or right in the glass!
To make it in the glass, just pour the tequila blanco, lime juice, and agave nectar into a glass and give it a stir to fully combine everything.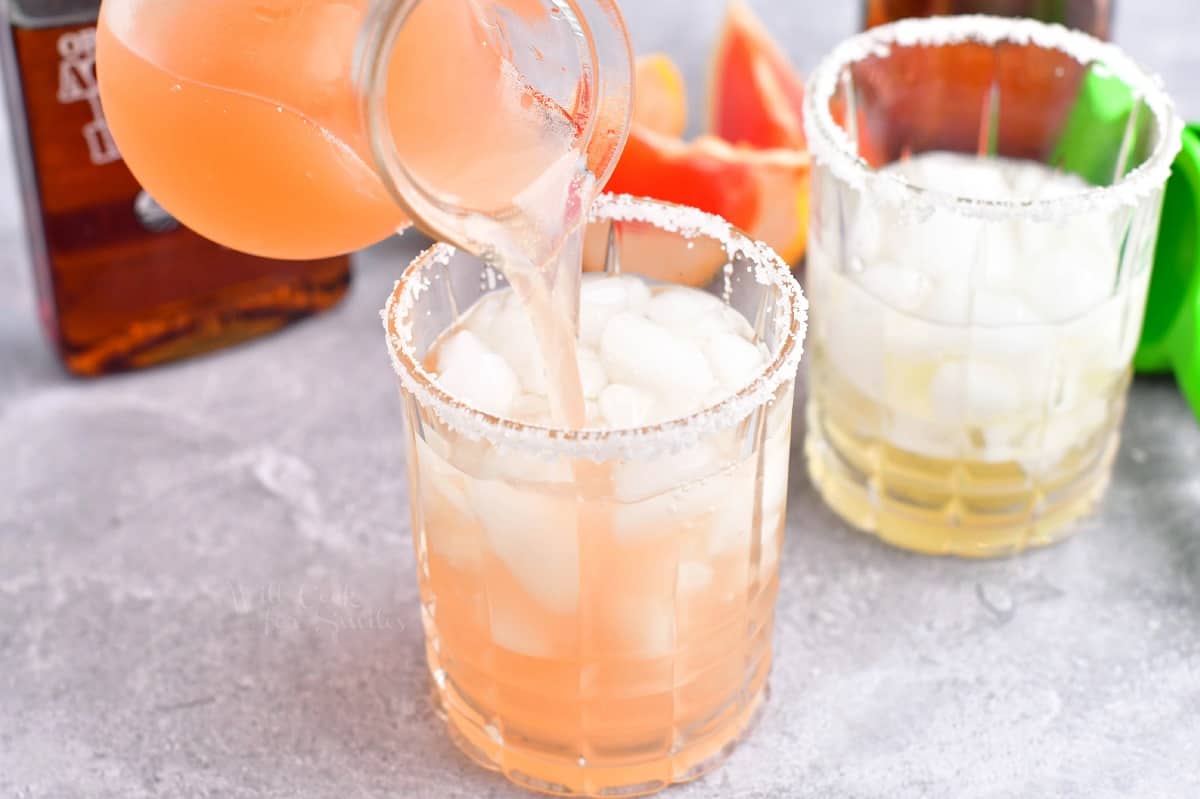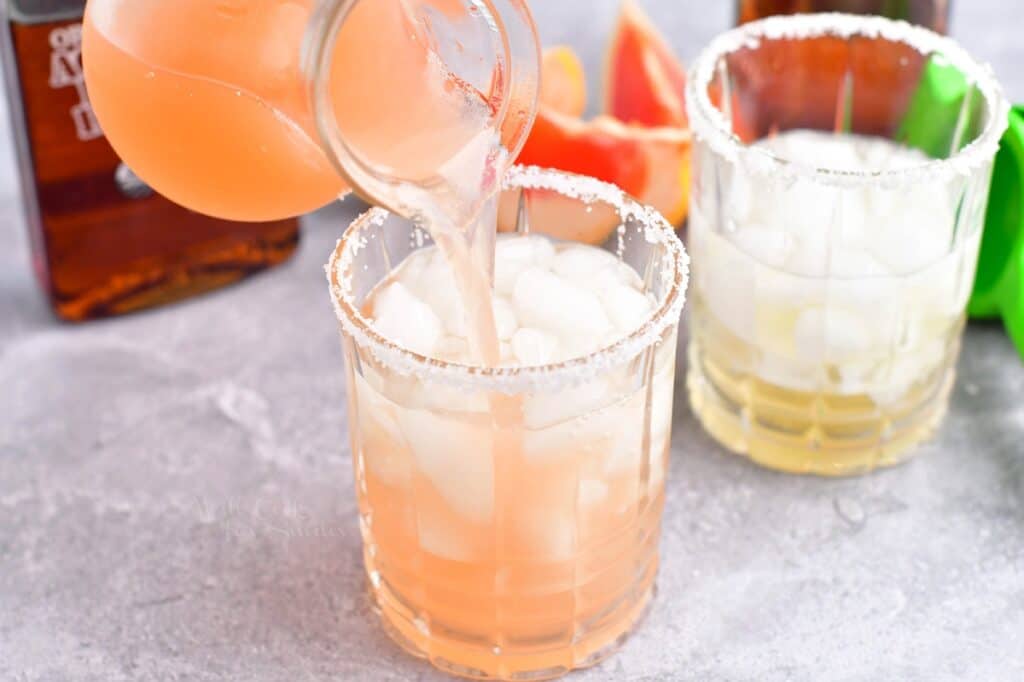 To make this cocktail in a shaker, pour the tequila blanco, lime juice, and agave nectar into a shaker with a few ice cubes and give it a shake. Then, pour it directly into the glass.
No matter which method you prefer, shaken or stirred, you're going to have a delicious drink. Once the three ingredients are combined, top the glass off with grapefruit soda and give it a final gentle stir.
You don't want to pour the grapefruit soda into the shaker, as it will ruin the carbonation of the drink.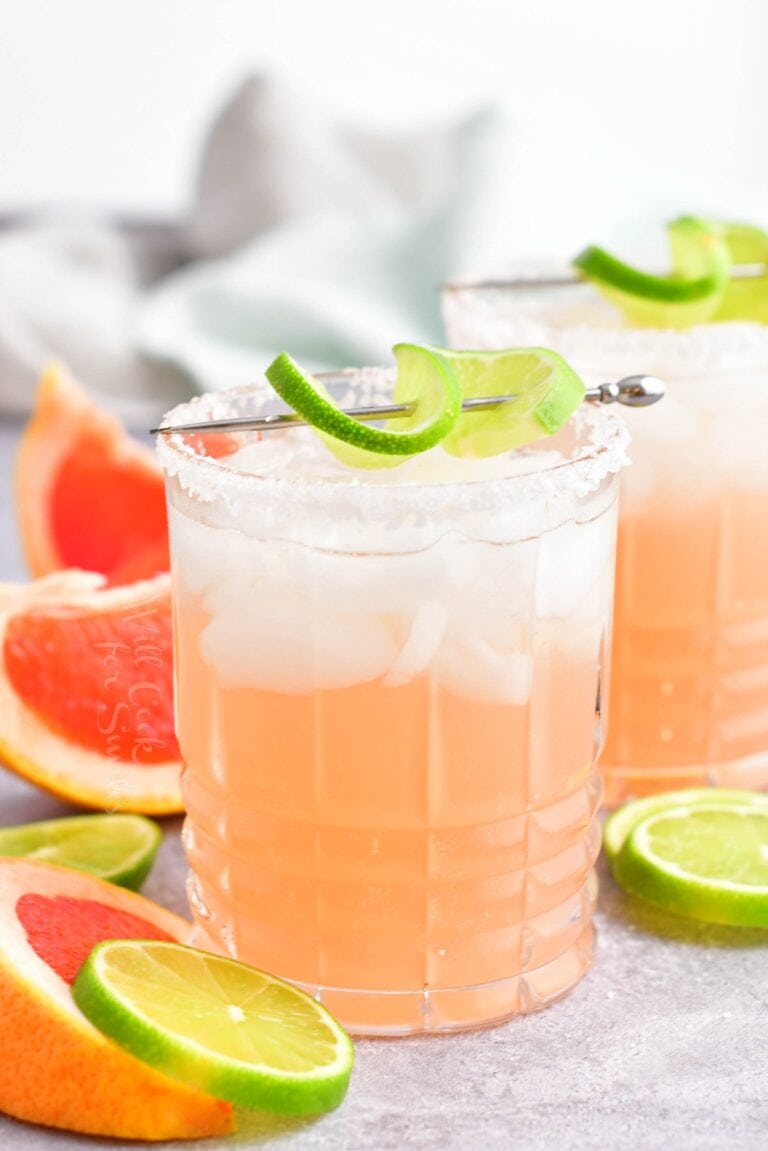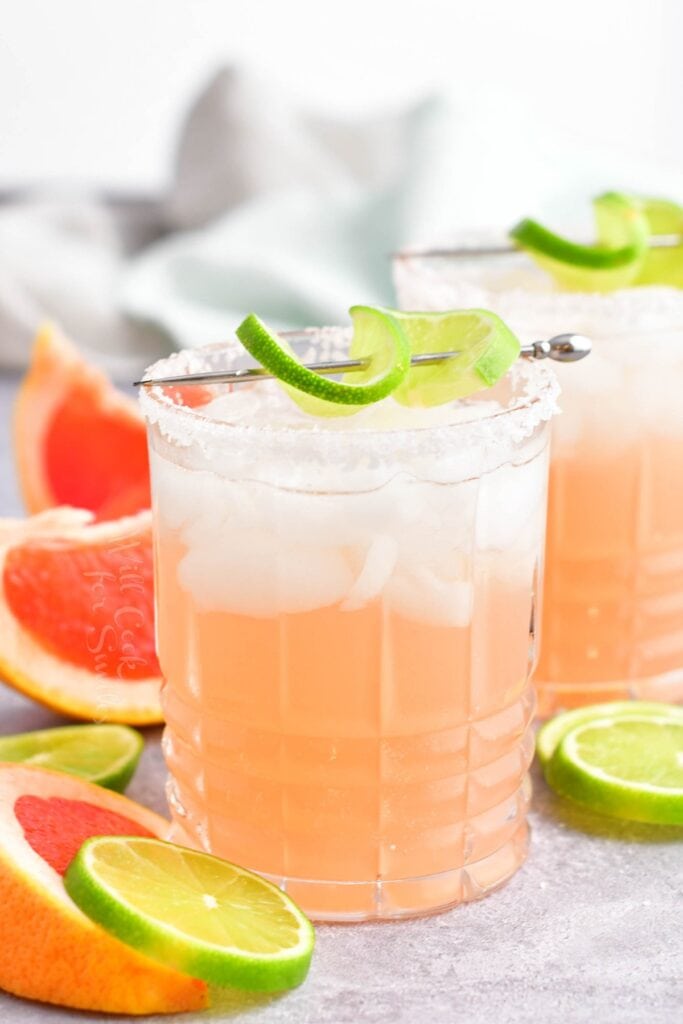 How should I garnish a Paloma?
Besides a twist of lime and a salt rim, there are a few other tasty ways to garnish your Paloma! Garnishes aren't only fun to play around with for flavor purposes, either. They also look wonderful in pictures, and you're definitely going to want to share photos of your cocktail!
Other great garnishes for Paloma include grapefruit wedges to amplify the grapefruit flavor, strawberries to add a touch of fresh sweetness, or citrus salt instead of regular coarse cocktail salt to further enhance the acidity of the cocktail.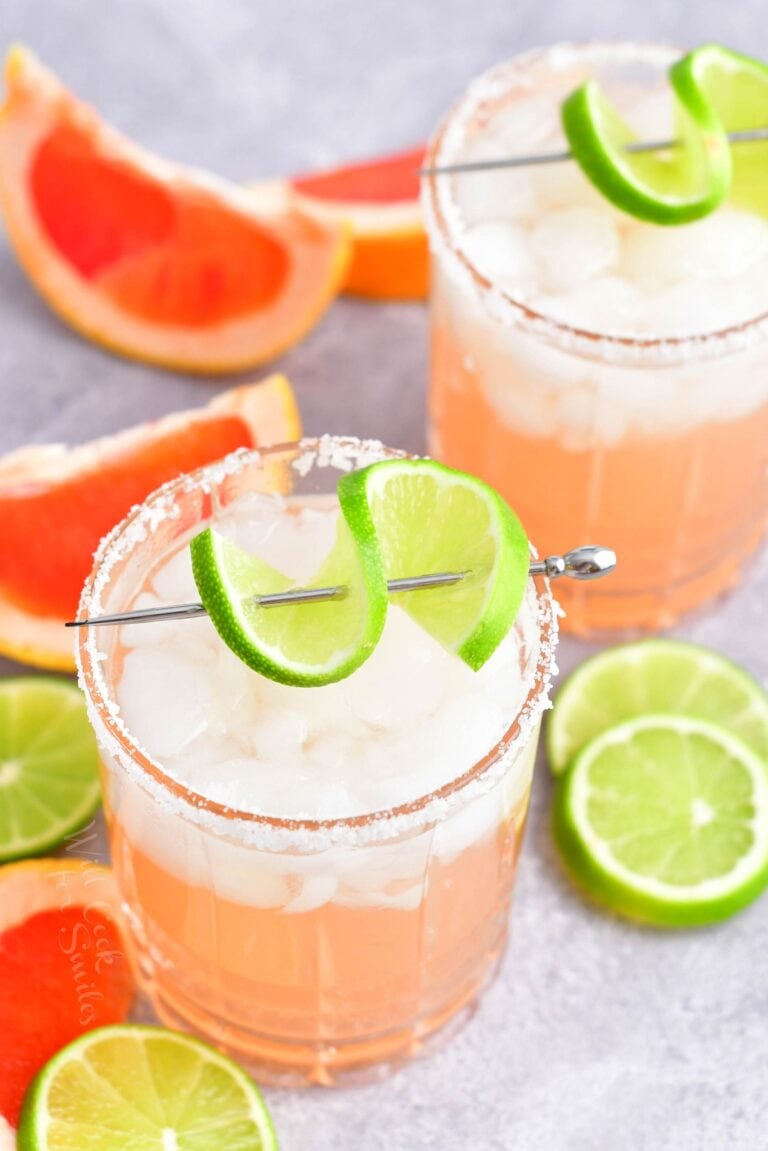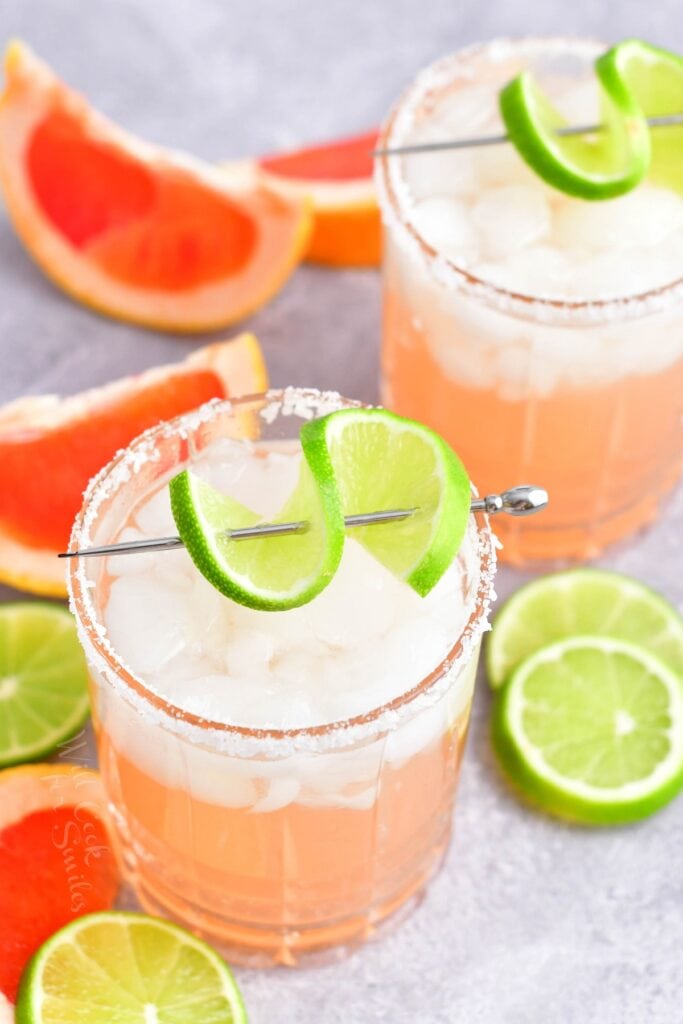 More bright, summery cocktails!
White Sangria – a fruity, sweet wine cocktail that's bursting with fresh flavors of citrus, apples, strawberries, and mango.
Strawberry Margarita – this sweet margarita combines fresh berries, aromatic reposado tequila, orange liqueur, fresh lime juice, and agave nectar for a touch of sweetness.
Rum Punch – a Jamaican-style cocktail that has a base of orange and pineapples juices and both, light and dark rums.
Lemon Drop Martini – this classic cocktail has only four ingredients – good quality vodka, fresh lemon juice, orange liqueur, and sweetener.
PIN THIS RECIPE FOR LATER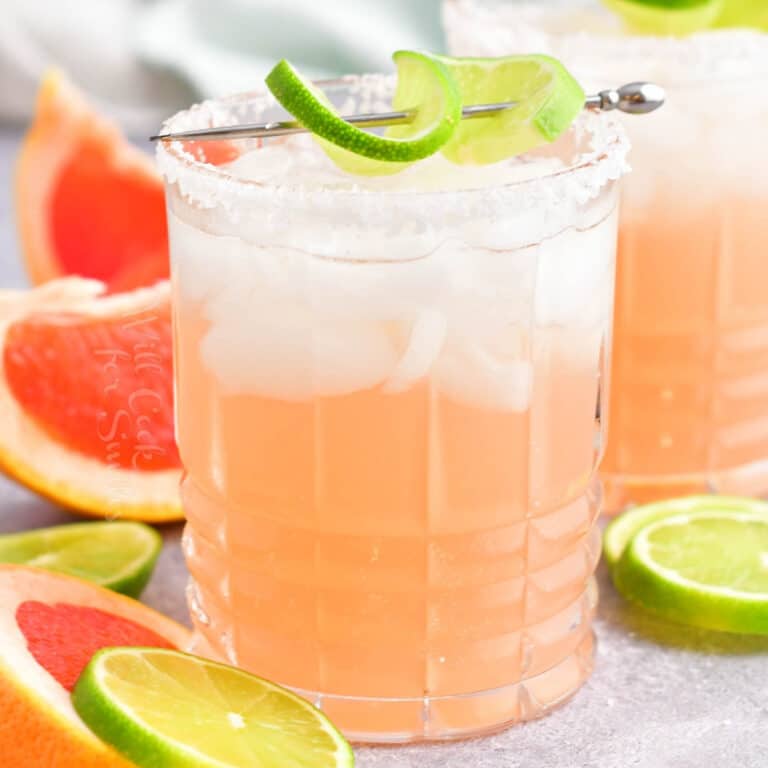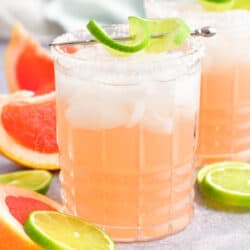 Paloma
Paloma is a delightfully refreshing tequila cocktail that's made with only 4 simple ingredients.
Print
Pin
Save
Saved!
Rate
Ingredients
2

oz

tequila blanco

4

oz

grapefruit soda

1/2

oz

fresh lime juice

1/4-1/2

oz

agave nectar

if needed

salt

for the rim
Instructions
Rub each glass rim with a lime wedge and dip the rim into coarse salt.

You can shake the cocktail in a shaker or stir it right in the glass. Combine tequila, lime juice, and agave nectar in the glass with ice and stir to combine. (Or, you can shake it it a cocktail shaker with ice and then pour into the glass.)

Top it off with grapefruit soda, give it a gentle stir and enjoy!
Notes
Nutritional note: each type of soda you will choose will have different nutritional value.
Nutrition
Calories:
203
kcal
|
Carbohydrates:
18
g
|
Protein:
1
g
|
Fat:
1
g
|
Sodium:
12
mg
|
Potassium:
19
mg
|
Fiber:
1
g
|
Sugar:
17
g
|
Vitamin A:
7
IU
|
Vitamin C:
4
mg
|
Calcium:
4
mg
|
Iron:
1
mg
Tried this recipe?
Mention @willcookforsmiles and tag #willcookforsmiles