Watermelon Margaritas are easy to make, slightly sweet, and oh so summery! All you need to make this fruity margarita is fresh watermelon juice, tequila, Cointreau, freshly squeezed lime juice, and just a touch of agave. If you're a fan of salty and sweet in a perfectly balanced sip, top your glass off with a salt rim and thank me later.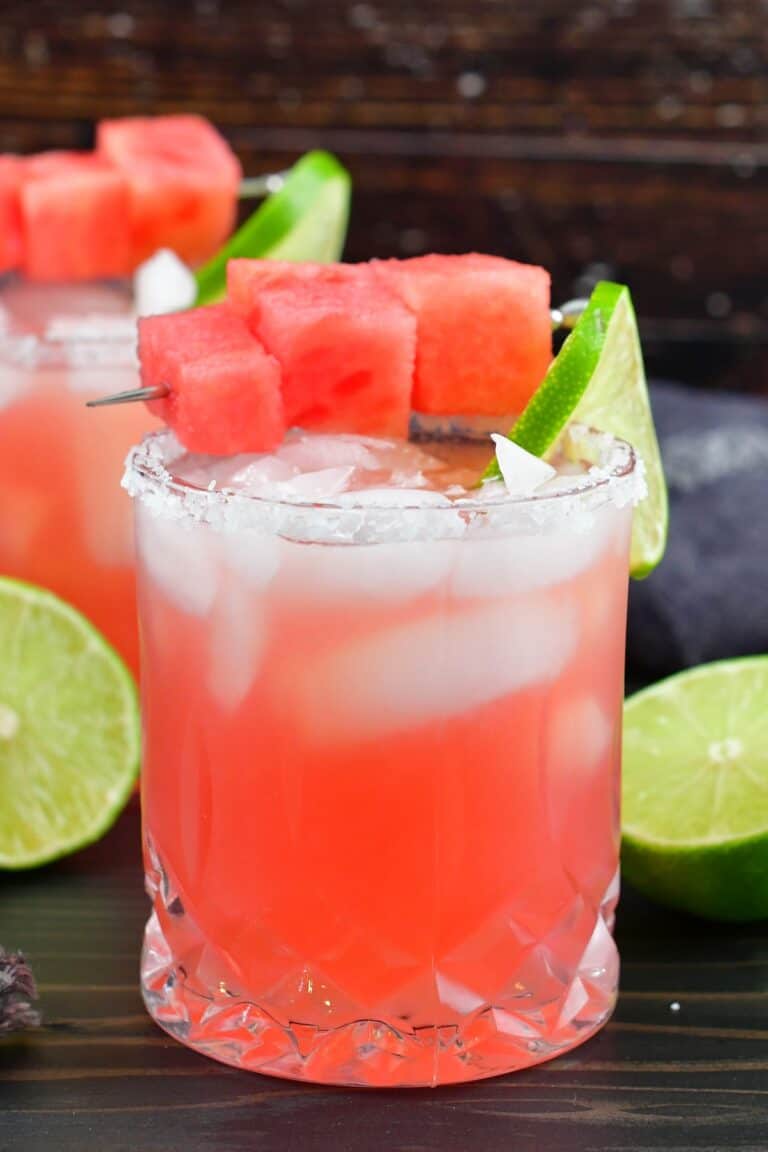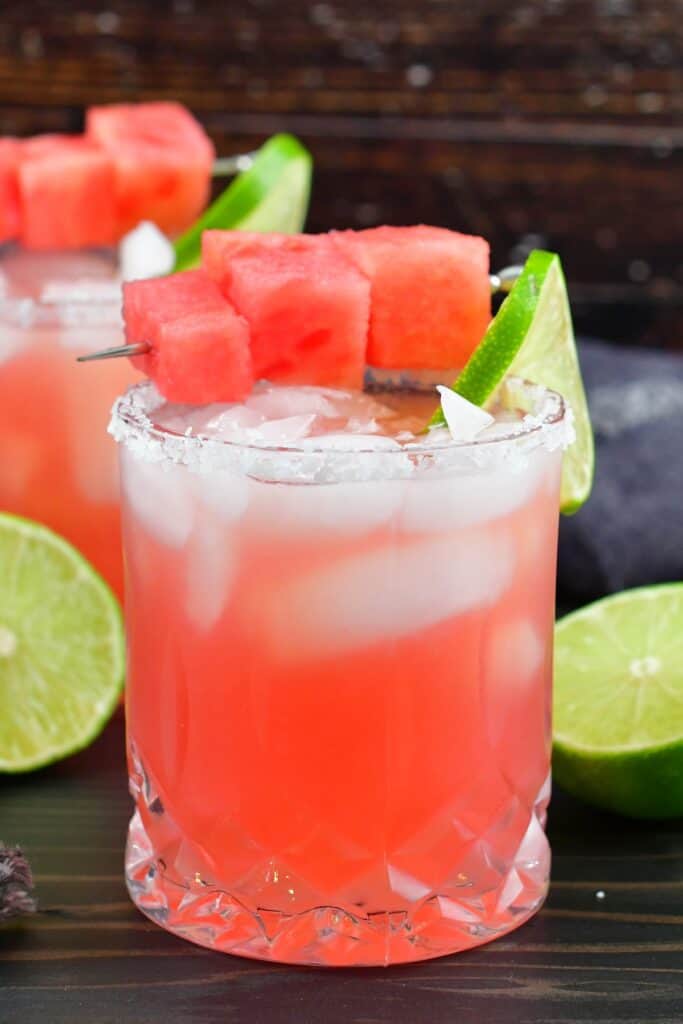 Watermelon Margarita
There's something especially delicious about margaritas with a fruity finish! Think the Peach Margarita, Strawberry Margarita, and Mango Pineapple Margarita. These easy Watermelon Margaritas are no exception! Serve them at your next party, because this cocktail is the ultimate crowd pleaser.
The key to a perfect Watermelon Margarita lies within the fresh juice. Trust me, watermelon flavored syrups will NOT yield the same results that the real deal! Fresh watermelon juice not only creates the best watermelon flavor in the cocktail, but it also mixes with the agave to create a natural sweetness that's sure to hit the spot.
If you're not a fan of overly sweet drinks, you'll love this margarita. It's got a subtle sweetness that you can easily control with the amount of agave you add.
Even if you're not making margaritas for the crowd, go ahead and make the batch of watermelon juice! You can easily store it in the fridge or freezer and pull it out when you need it. If you want to enjoy it through the weekend, store it in the fridge. For longer storing, pop it into the freezer.
How to Make a Watermelon Margarita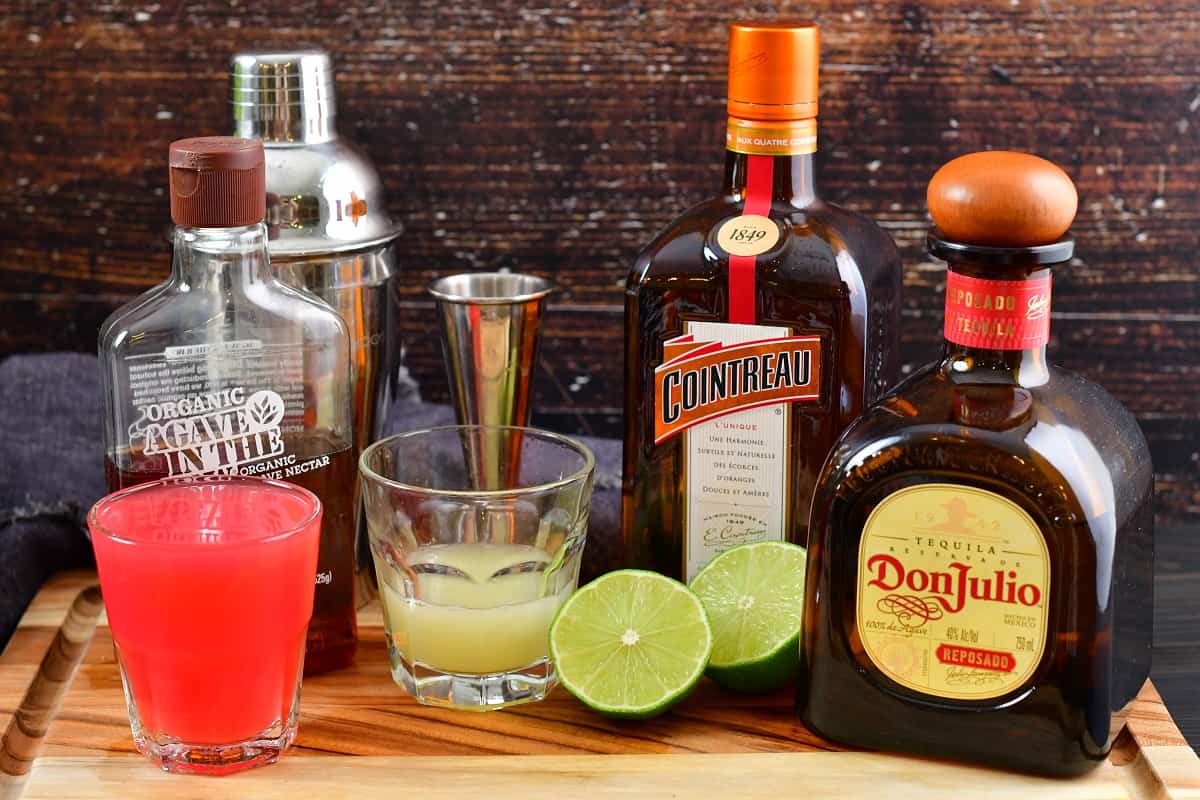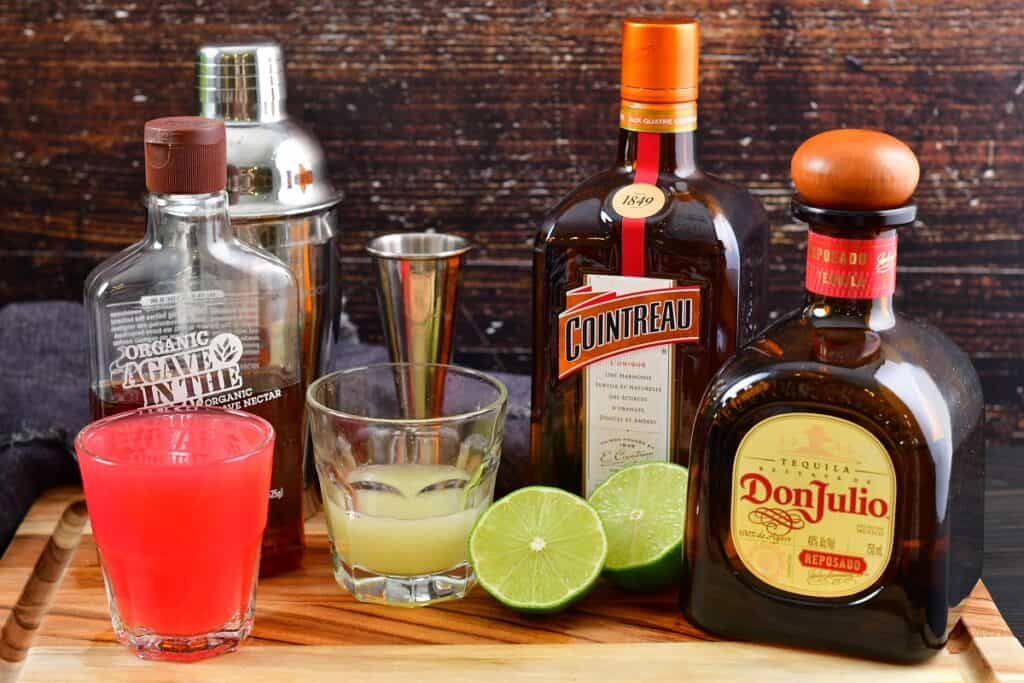 Ingredients You'll Need:
Watermelon Juice – To make this fresh juice, you'll need to cube fresh watermelon and make sure there's no rind left.
Resposado Tequila – great, aromatic, and flavorful tequila to use, try it!
Cointreau – This orange flavored liqueur adds a little more alcohol content to the drink and a delicious extra note of smooth, fruity flavor.
Lime Juice – For the BEST flavor, make sure you're only using freshly squeezed lime juice. Bottled lime juice will not taste the same.
Agave Nectar – You can add more or less agave to control the sweetness of the drink. Keep in mind that the watermelon juice is already sweet, so you may not want to be too heavy handed with this sweetener.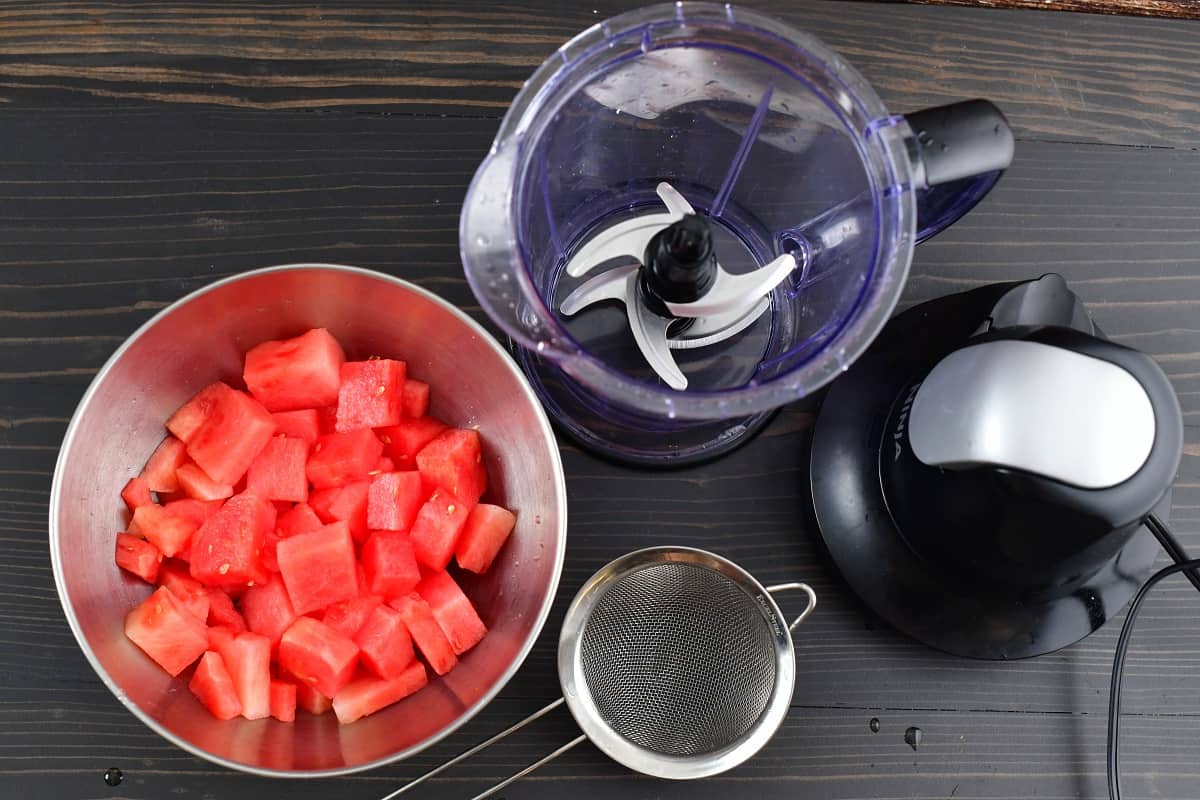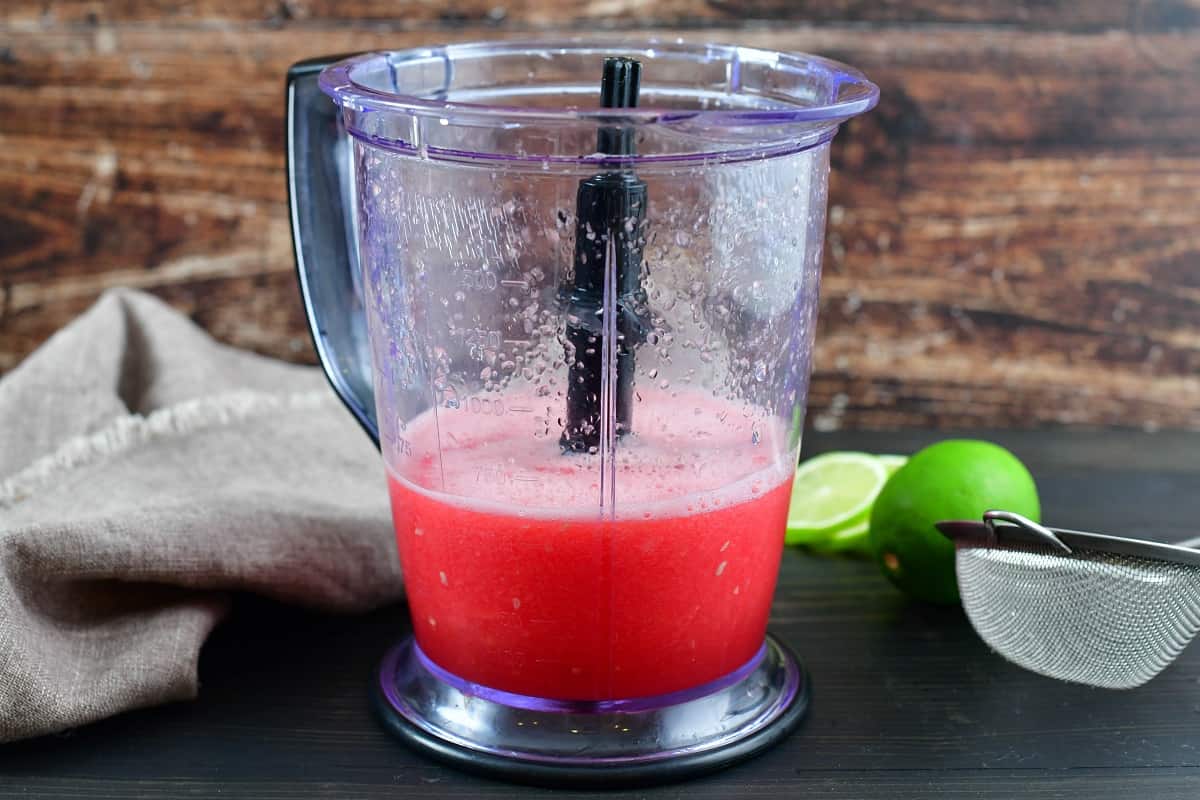 How to make the watermelon juice:
Cut the watermelon into cubes and discard the rinds. You need a little over 1 lb. of watermelon chunks (without the rinds) for this cocktail recipe.
Blend the watermelon cubes until you have a totally smooth puree with no chunks.
Strain the puree through a fine mesh strainer. You can use a spoon to help push the juices through the strainer.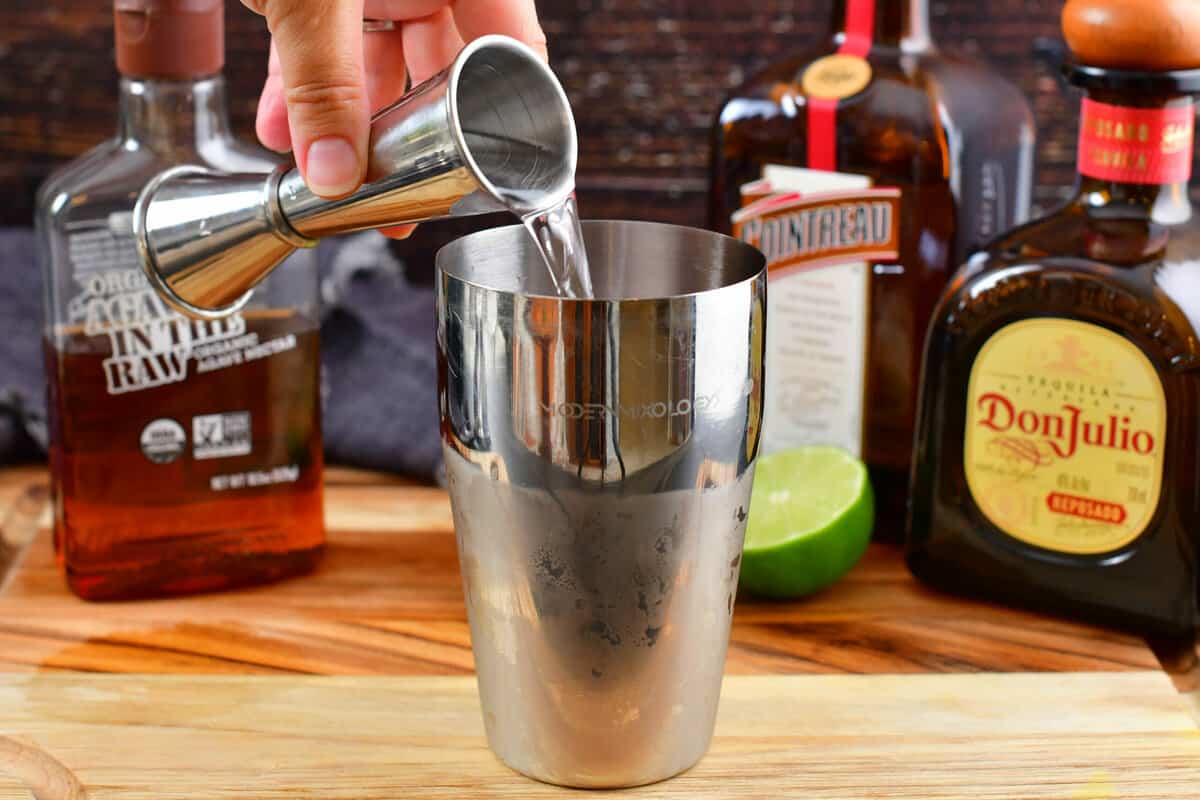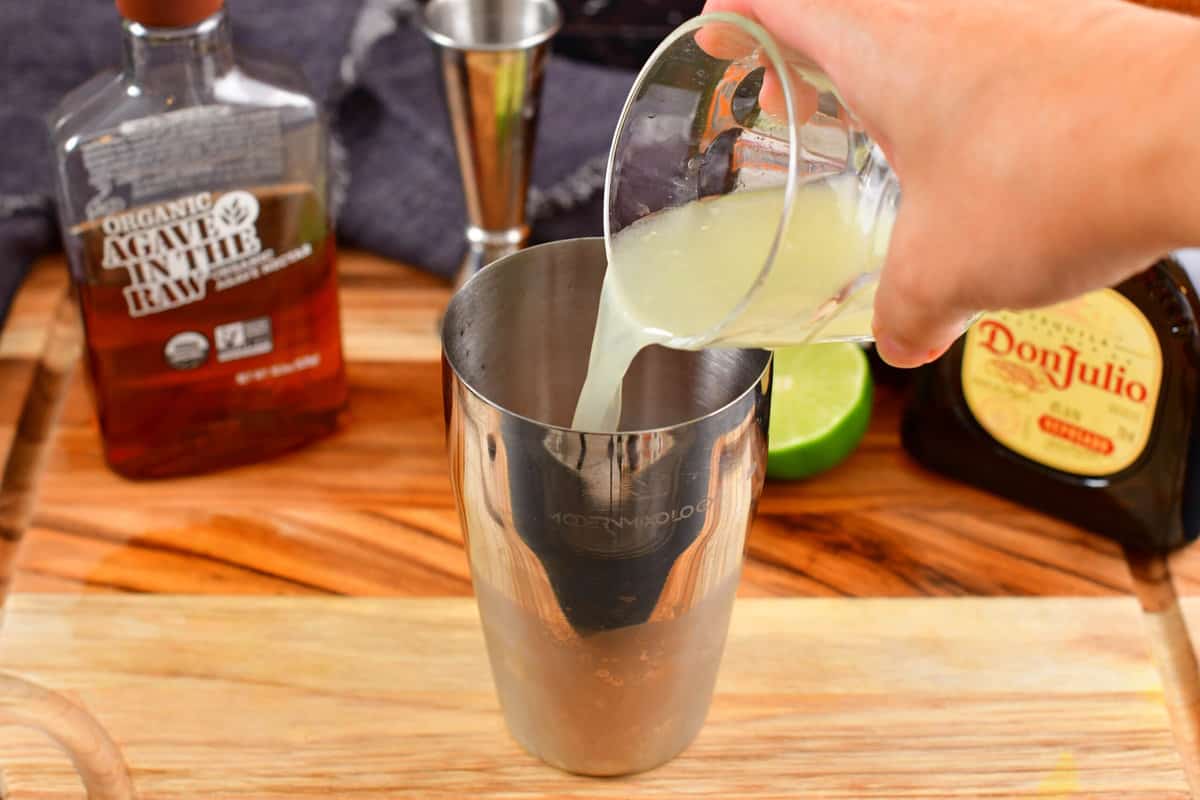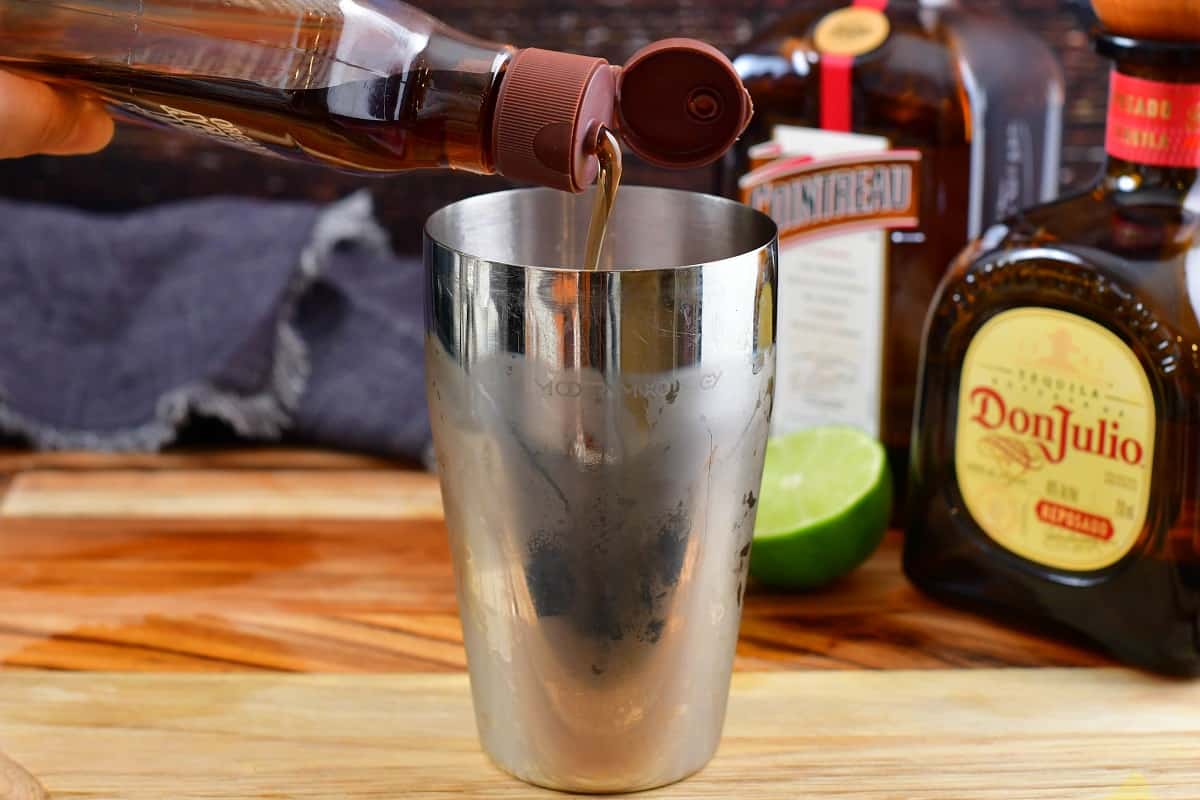 Make the margaritas:
This step is optional, but highly recommended – rim your glass! Rub a lime along the edge of your glass and dip it in salt. You can use sugar if you'd prefer a sweeter sip, but I love the contrast of the salty and sweet watermelon flavors.
Add ice, reposado tequila, Cointreau, watermelon juice, lime juice, and agave nectar to your cocktail shaker.
Shake vigorously for about 20 seconds.
Add some ice to your glass. Pour the margarita through a strainer into the glass. You can choose to use the dirty ice (ice from the strainer) instead if preferred.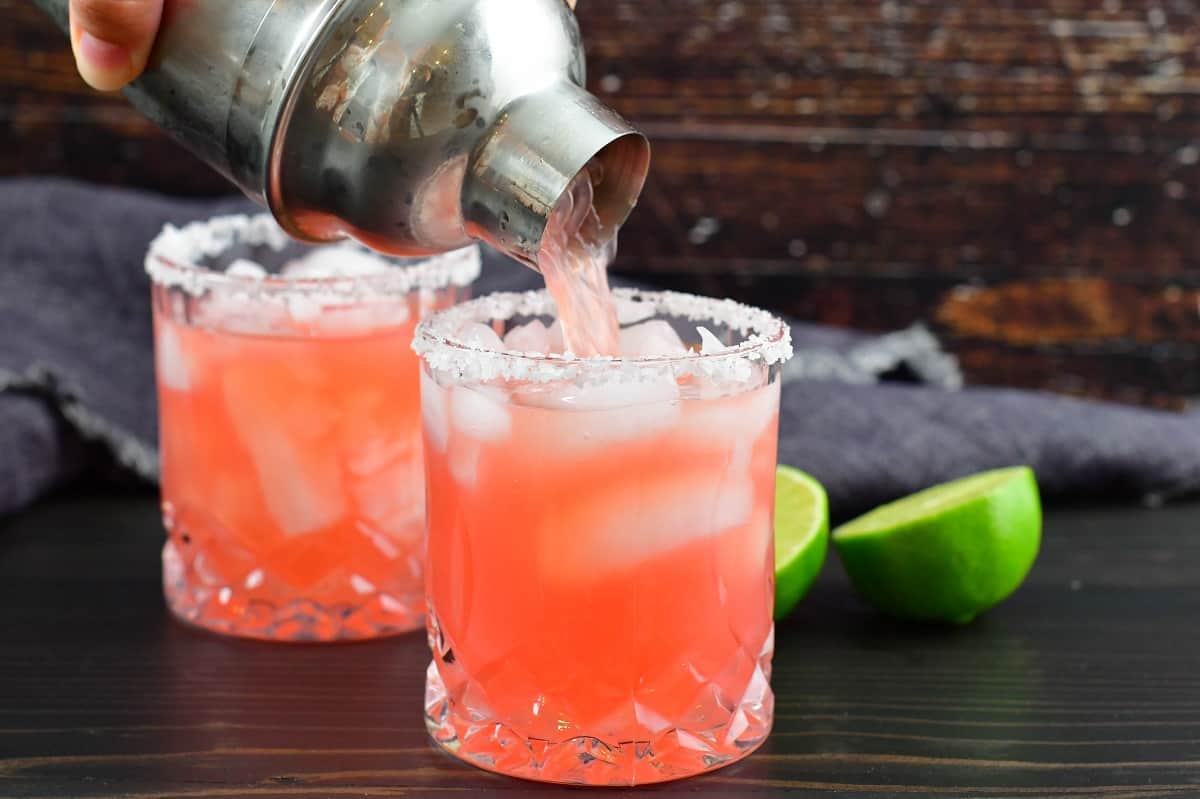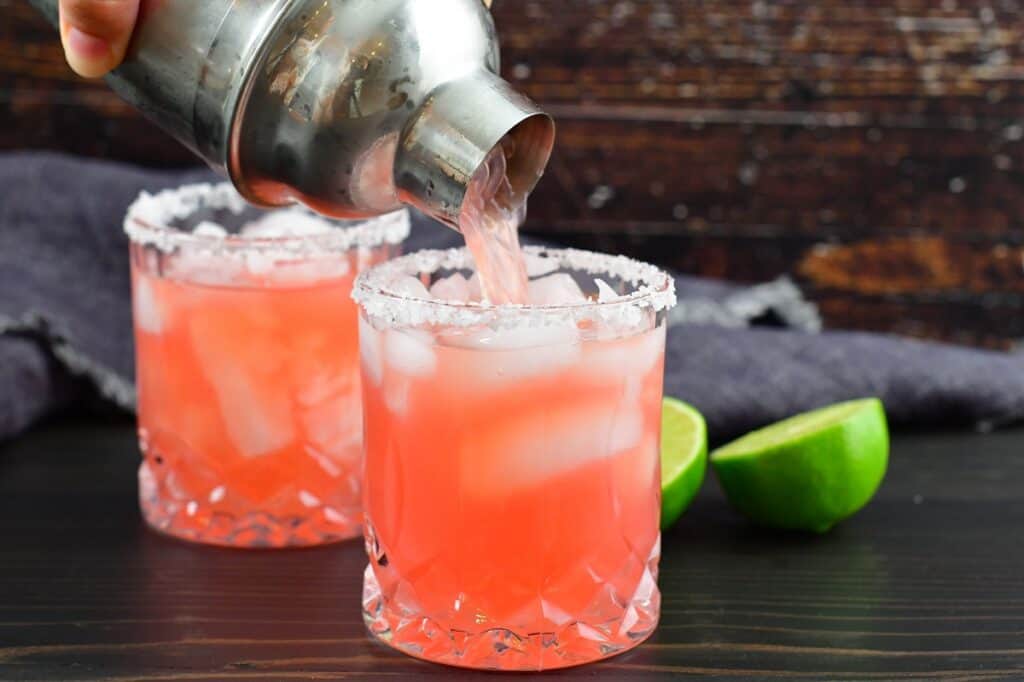 Frequently Asked Questions
What is reposado tequila?
"Reposado" means "rested" in Spanish, which basically means that this type of tequila is rested anywhere from two months to a year before it's bottled. The golden color of this tequila comes from the barrels where it's rested, and it also really takes in that flavor.
With reposado tequila, you get a smoother finish, hints of vanilla, and toasty, earthy notes from the barrel itself. Reposado tequila gives you the best of both worlds: the complexity of aged tequila, and the yummy flavor of young silver tequila!
How much juice does a watermelon yield?
Watermelons are about 90% liquid, so it's easy to tell how much you'll be getting. Weight the watermelon chunks without the rind to measure how much liquid you'll be getting. When I'm picking the size of the watermelon to purchase, I estimate that a 6-8 lb watermelon will provide me with 5-7 cups of fresh watermelon juice.
Can I store watermelon juice?
Yes, and it's easy to do! When storing watermelon juice in the fridge, I recommend using a glass jar with a lid that's not made of metal. Metal tends to react badly when stored with foods that have acidic elements. These are the jars that I use at home (this is not an affiliate link): with coated lids and with hinged lids.
When properly stored in an airtight container in the fridge, watermelon juice will stay fresh for anywhere between 5-7 days. Want to keep it fresh for even longer? Freeze it! Simply pour the watermelon juice into a freezer safe zip-top bag. Date and label it, then pop it in the freezer where it'll stay fresh for up to 4 months.
If you prefer, you can portion it into smaller batches, that way you can reach for it when you want to make individual cocktails instead of a whole batch.
How do I tell if the watermelon juice went bad?
Believe me, you'll know! Expired watermelon juice has a pretty awful aroma to it that you'll smell once you open the container. Along with the foul smell is an equally as sour tasting flavor. If you notice an off smell or flavor to your juice, that means it likely went bad and you should discard it. Keep an eye out for mold or discolorations as well.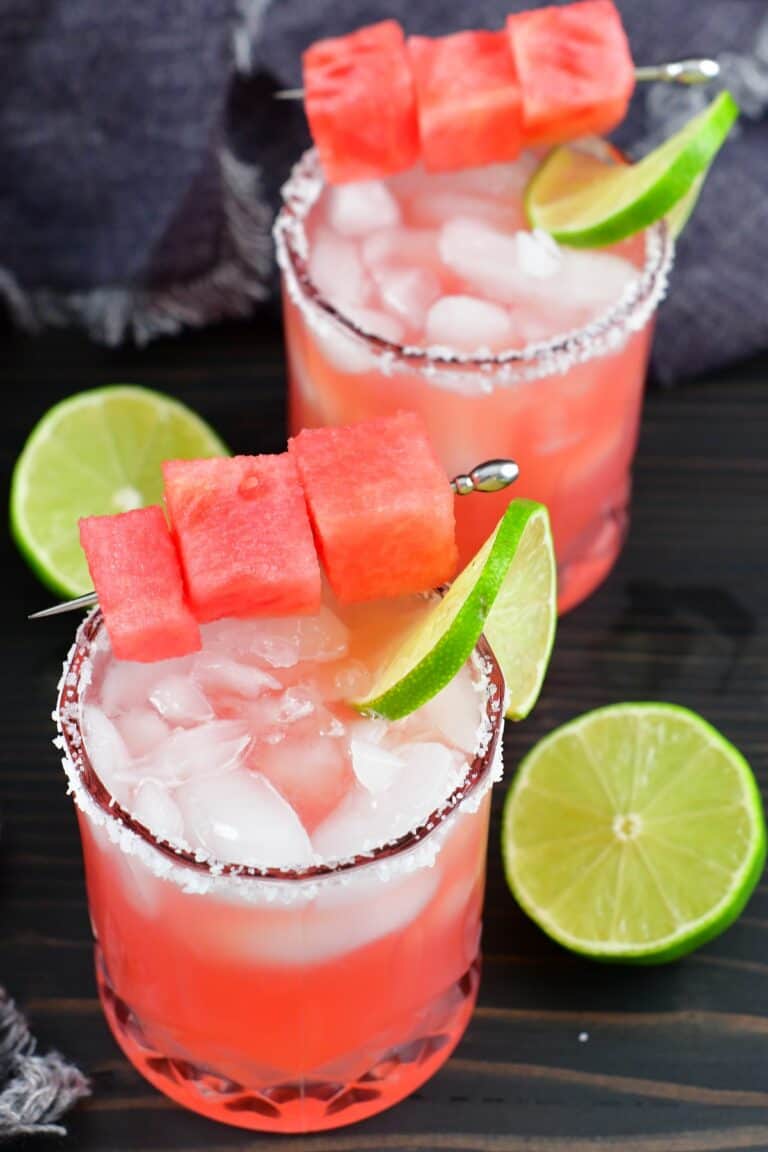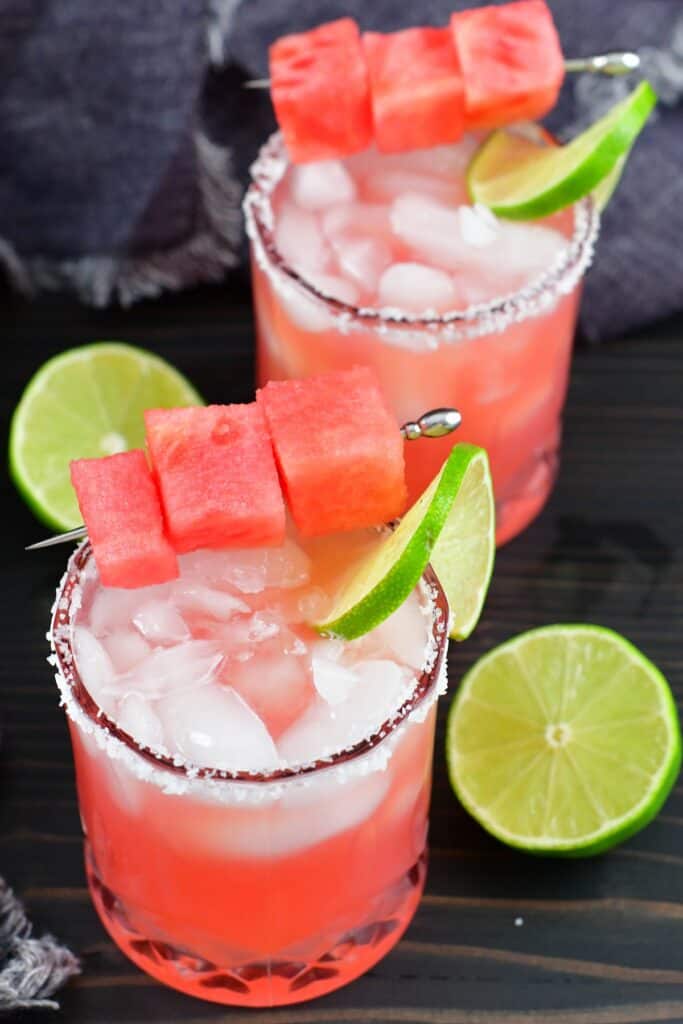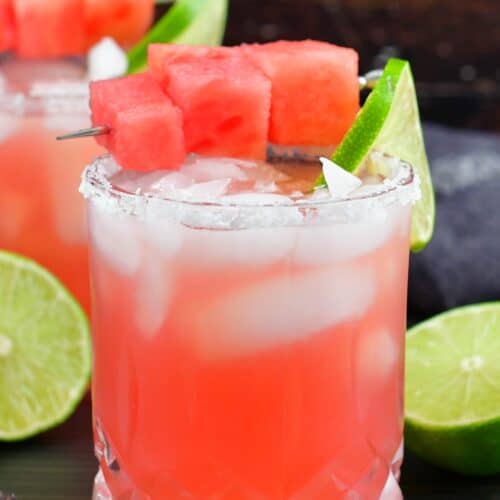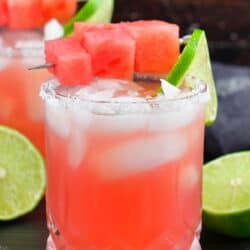 Watermelon Margarita
Watermelon Margarita is slightly sweet and fruity margarita made with fresh watermelon juice, tequila, Cointreau, freshly squeezed lime juice, and just a touch of agave.
Print
Pin
Save
Saved!
Rate
Ingredients
3-4

oz

fresh watermelon juice*

2

oz

reposado tequila

1

oz

Cointreau

1

oz

fresh lime juice

1/2

oz

agave nectar
Instructions
A pound of watermelon chunks will give you about 16 oz. of watermelon juice. Use as much as you need and store the rest in a glass jar with a lid, in the refrigerator. Use within 4-5 days.
To Make Watermelon Juice:
Cut watermelon into cubes and make sure to cut the rind off. Weight out slightly over a pound of watermelon chunks.

Place watermelon chunks into the blender and puree until completely smooth, no little chunks remain.

Strain the watermelon puree through a fine mesh strainer. (Stir the puree in the strainer with a spoon if it needs more help straining.)

At this point, you can make the cocktails right away or store the watermelon juice in the refrigerator for later.
Watermelon Margarita:
Optional: Rub a rim of the glass with a lime wedge to get some juice onto it and dip it into the salt. Set aside. (You can also make a sugar rim the same way if you wish.)

Add some ice to the cocktail shaker and add reposado tequila, Cointreau, watermelon juice, fresh lime juice, and agave nectar.

Close the shaker and vigorously shake for about 20 seconds.

Add some ice to the glass, carefully so not to knock off the salt off the rim. Pour in the margarita into the glass through the strainer.

OR, you can use the "dirty ice" that you used to shake the cocktail in the shaker, instead of pouring the cocktail over fresh ice.
Nutrition
Calories:
295
kcal
|
Carbohydrates:
29
g
|
Protein:
1
g
|
Fat:
0.3
g
|
Saturated Fat:
0.04
g
|
Polyunsaturated Fat:
0.1
g
|
Monounsaturated Fat:
0.04
g
|
Sodium:
5
mg
|
Potassium:
139
mg
|
Fiber:
0.5
g
|
Sugar:
25
g
|
Vitamin A:
498
IU
|
Vitamin C:
18
mg
|
Calcium:
10
mg
|
Iron:
0.3
mg
Tried this recipe?
Mention @willcookforsmiles and tag #willcookforsmiles