Coquito (pronounced coh-kee-toe) is a traditional Puerto Rican holiday drink that is smooth, thick, and creamy. It's sweet and has a pronounced coconut flavor. Make this coquito recipe for a delicious Christmas drink that feels like a tropical dessert and cocktail all in one!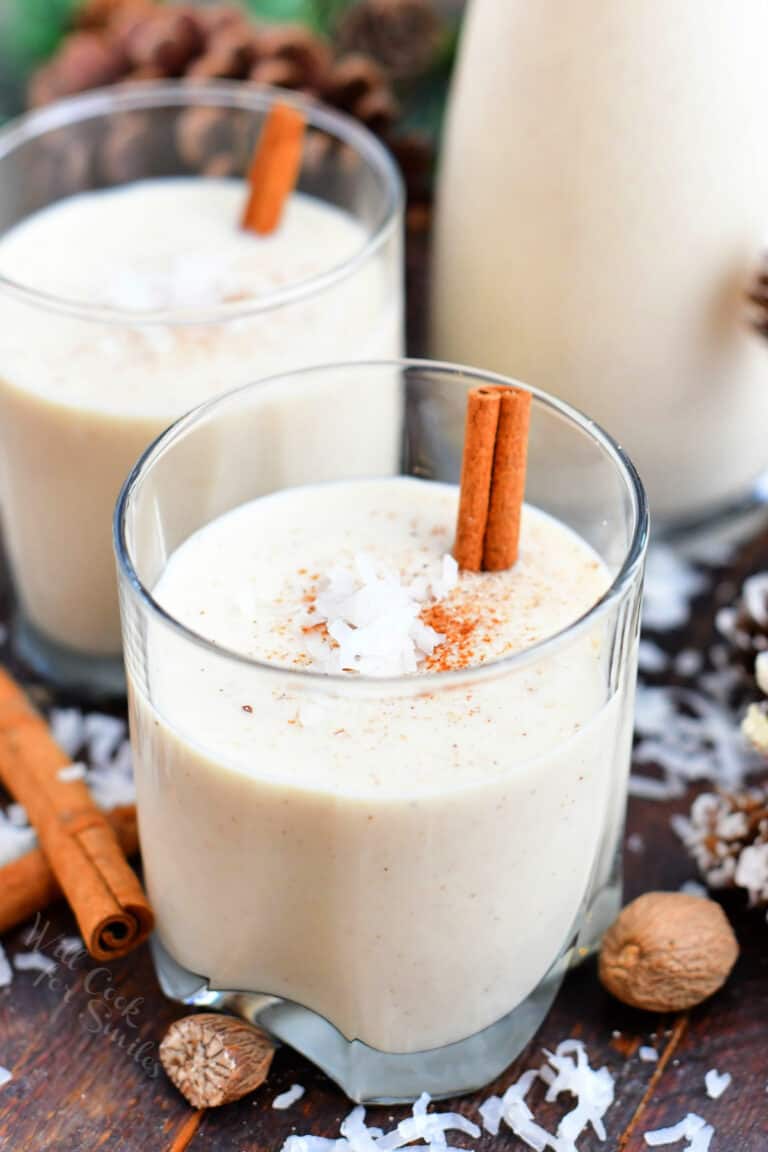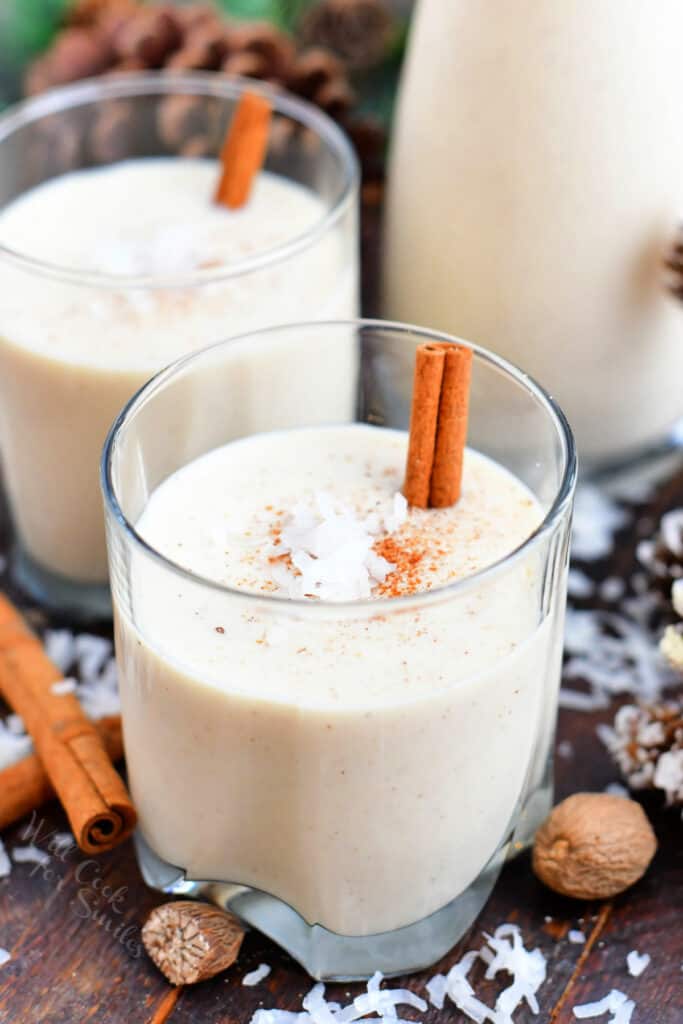 This cocktail is made with cream of coconut, sweetened condensed milk, evaporated milk, spices, and rum. It is a beautiful thick, rich, creamy, and oh, so smooth cocktail that's is about to become your new holiday favorite.
If you enjoy having an eggnog around holiday times, you will love this drink, whether you enjoy it boozy or alcohol-free.
This cocktail is served chilled but when you want something hot and comforting, make my mulled wine or red wine hot chocolate. For a kid-friendly drink, make some fruity Christmas punch or my family favorite hot chocolate.
If you happen to drink all of your coquito (or give it away), a hot toddy or adult hot chocolate will keep you in the holiday spirit!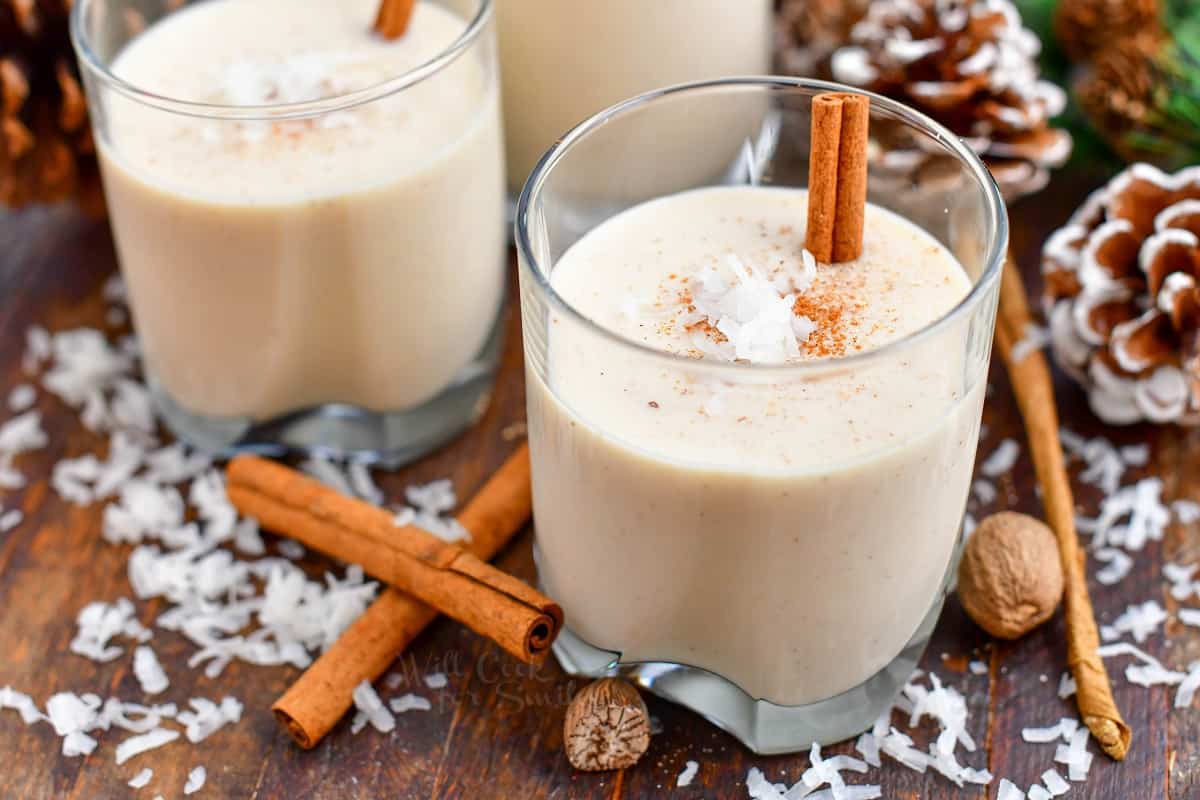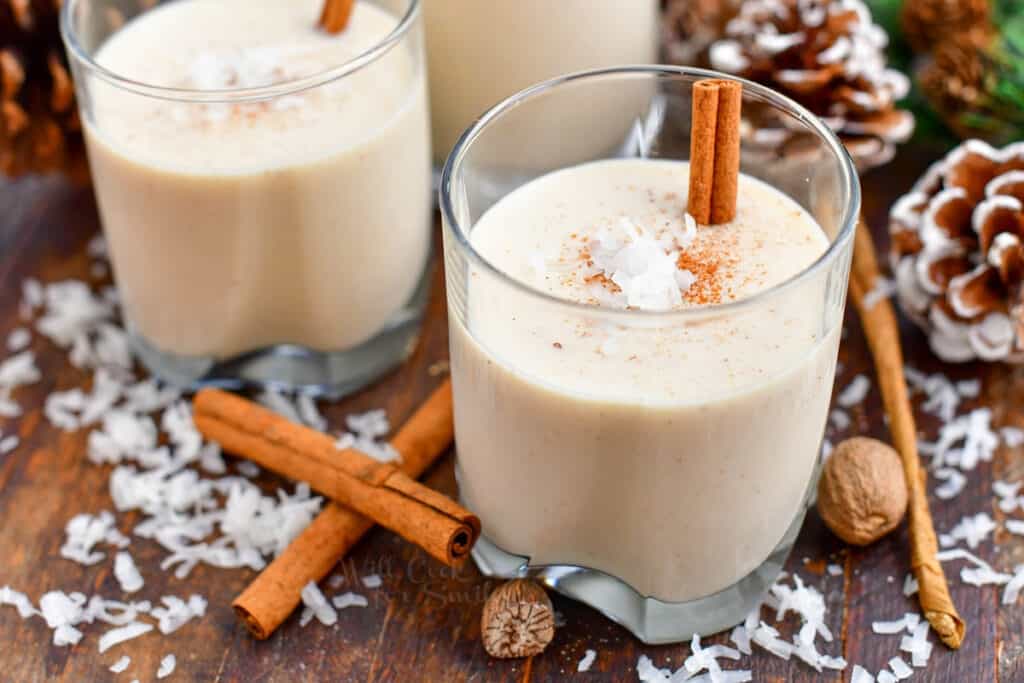 Coquito
Coquito, which translates into "little coconut" in English, is a traditional Puerto Rican Christmas drink, served during the winter holidays. It will definitely help friends and family get into the spirit of the season.
It is thought to have originated sometime around the 1900's. And like many traditional recipes, every family has their own recipe. These days, the drink is so popular that it even has its own holiday, December 21st.
Because this recipe is simple and relatively inexpensive to make, it is a great gift to give to friends and family.
Coquito vs. eggnog
Though people sometimes describe coquito as "Puerto Rican eggnog," the differences between the two are quite big.
Traditionally, coquito is made without eggs, and many would argue that it is the only way to make it.
Adding eggs to the cocktail is actually an Americanized version, to closer resemble eggnog. In fact, adding eggs to any drink in Puerto Rico turns it into a ponche.
The other difference is that there is no sugar added to coquito. All of its sweetness comes from the sweetened condensed milk and cream of coconut.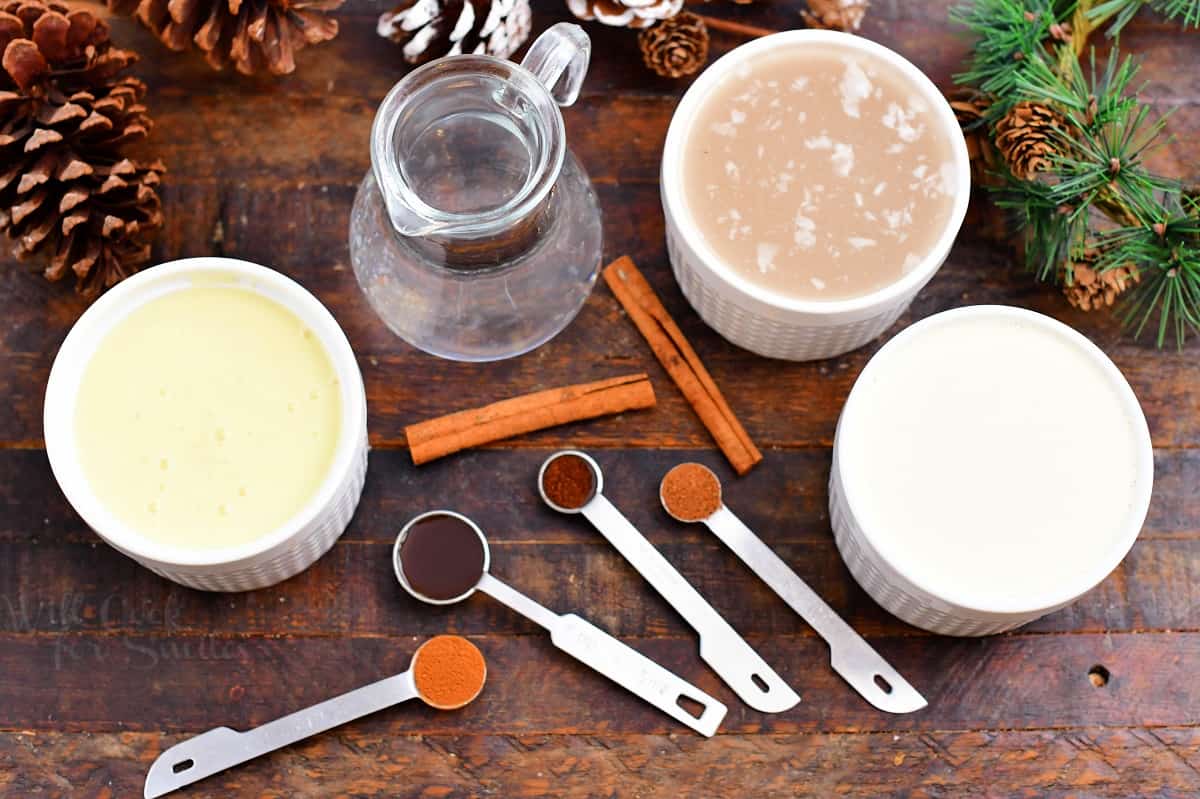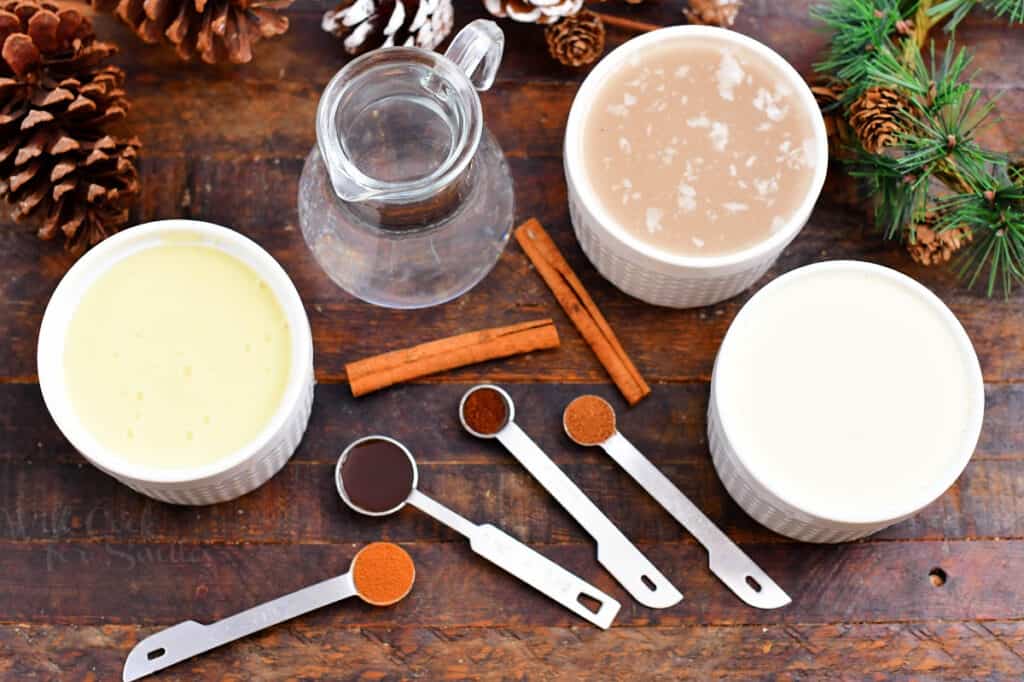 Ingredients
There are only a few basic ingredients for any coquito recipe.
Use the best rum you can find. In this case, a Puerto Rican rum like Don Q is perfect. If you can't find that, Bacardi or Captain Morgan silver rum will work just fine.
If you want a spicier kick, use spiced rum. You can also combine different types of rum to suit your taste.
Cream of coconut is sweetened, pureed coconut and comes in a can. It is different from coconut cream which is just solid coconut and doesn't have any other ingredients listed on the label.
Coco Lopez is the best tasting cream of coconut.
Be sure to break up the solidified fat you will find at the top of the can with spatula or spoon when adding it to the blender.
Sweetened condensed milk-This is the key to making an extra creamy drink.
Evaporated milk-You can use fat-free evaporated milk if you want to trim this down a little bit, but it really isn't going to make a big difference in the end.
Cinnamon, nutmeg, cloves, and vanilla make this drink the warming, seasonal favorite it is. Use freshly ground spices for the best flavor.
A cinnamon stick also makes an attractive garnish. If you don't have the separate spices on hand, you can substitute an equal amount of pumpkin pie spice. The ginger in it adds even more zing.
Want to make it virgin?
If you want to make a batch for the kids or make it non-alcoholic for yourself, don't worry. Simply skip the rum and add skim milk, your favorite plant-based milk, or coconut milk instead.
Need it lactose free?
There is good news if you want to make this lactose free! There are lactose free evaporated milk and sweetened condensed milk options on the market!
Tools and Barware Needed
Even the list of necessary equipment is short and easy to find.
Blender – It doesn't have to be a high-powered, top-line blender.
Container with a lid – A standard Mason jar, glass container or any bottle with a lid will work to chill and store the coquito after you mix it.
Glassware– Use rocks (old fashioned) glasses for a traditional toast or to sip it slowly.
How To Make Coquito Recipe
This is one of the simplest cocktails you will ever make, and it will only take you about 10 minutes to put together. (Just don't forget to chill it before serving.)
Combine all of the ingredients in a blender and pulse until smooth and frothy.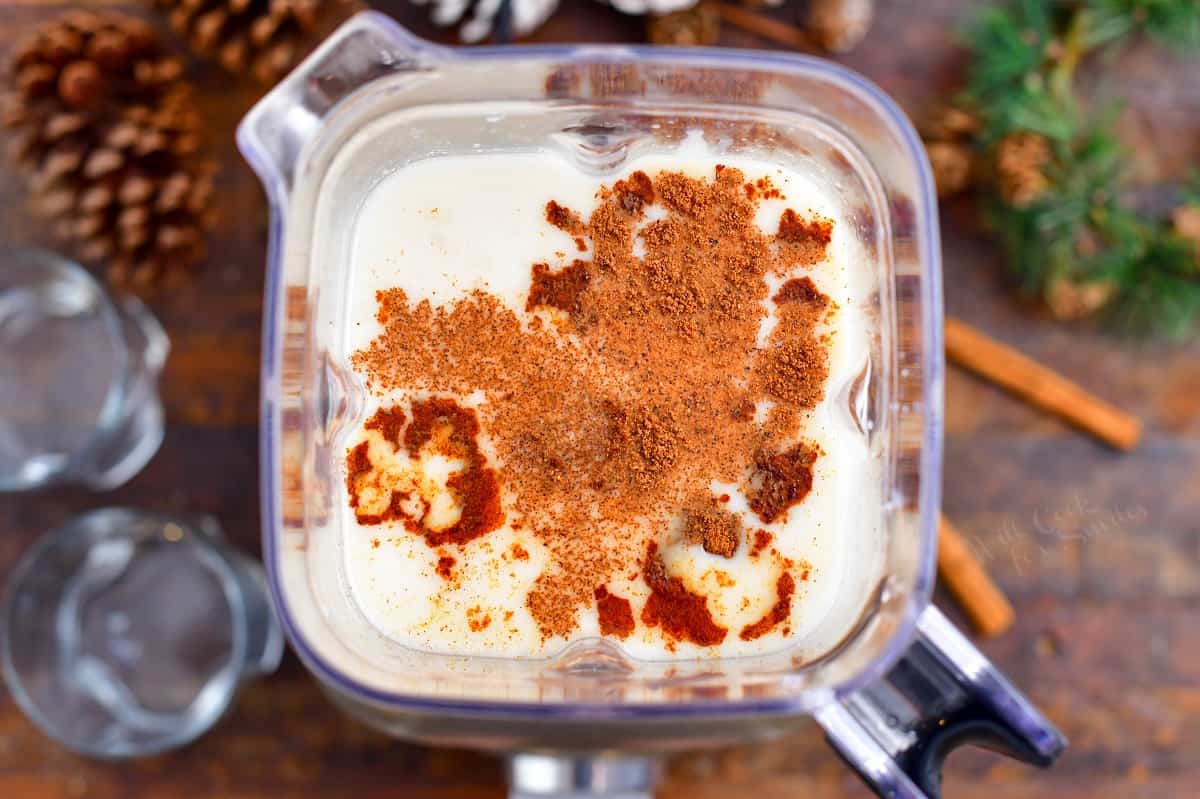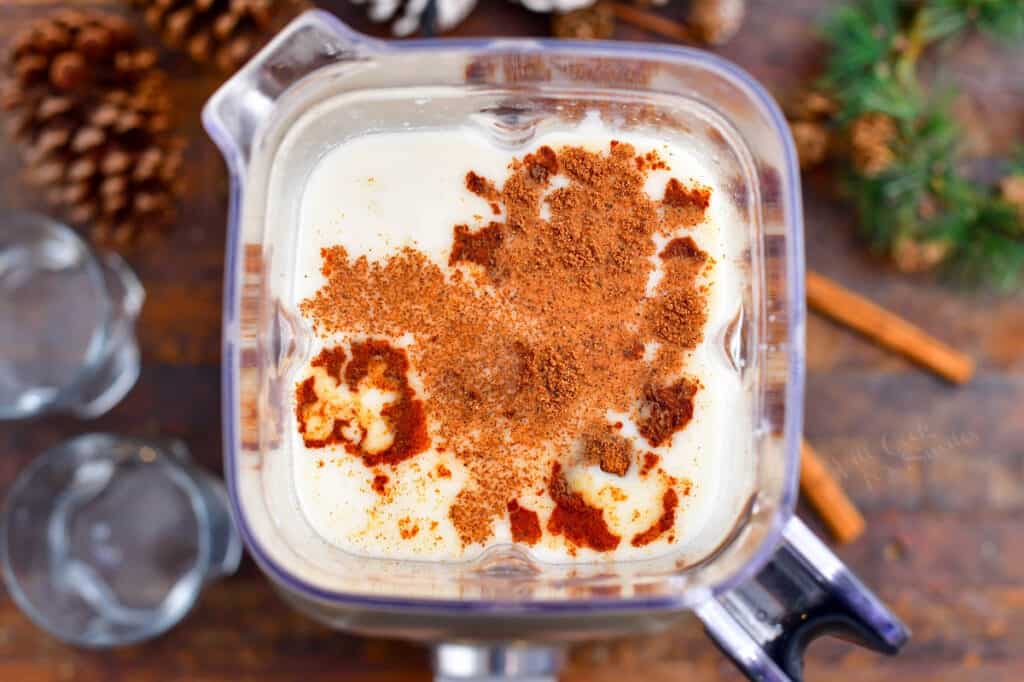 Pour into a glass container with a lid.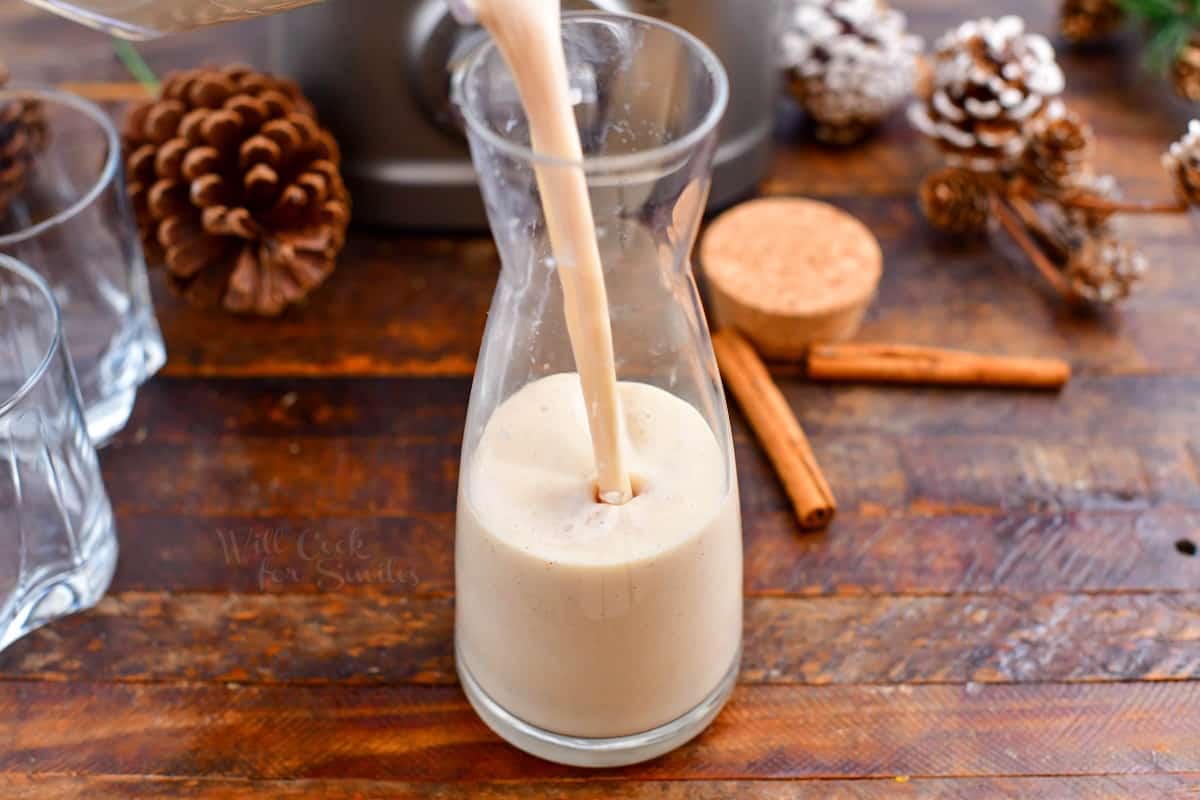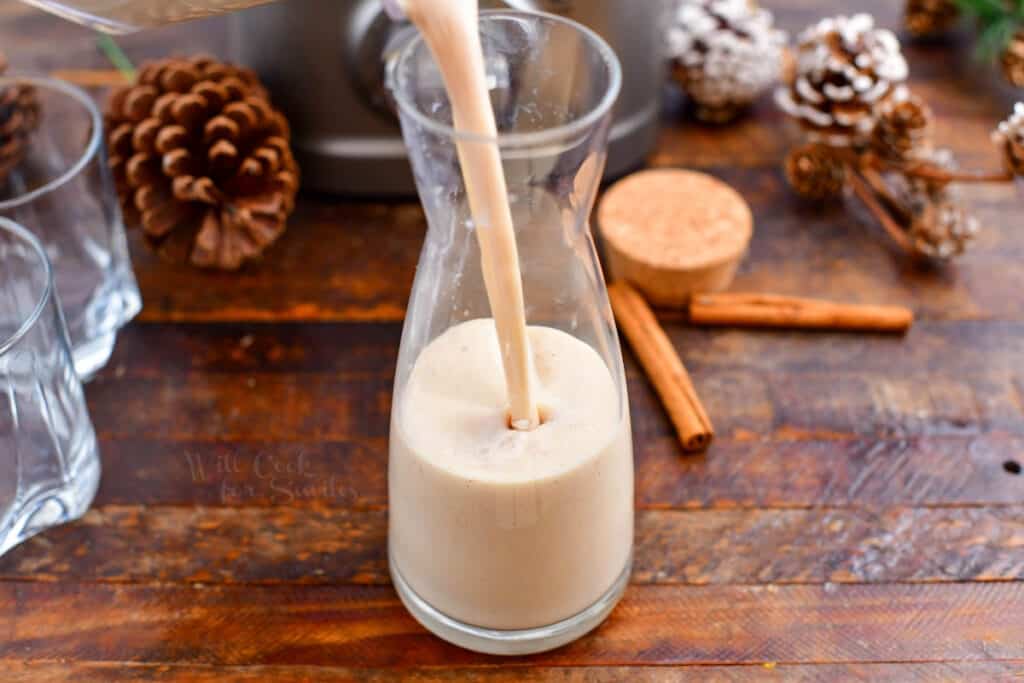 Now comes the hard part. Let it chill for 4 hours in the refrigerator before serving.
Shake and serve in shot glasses or old fashioned glasses.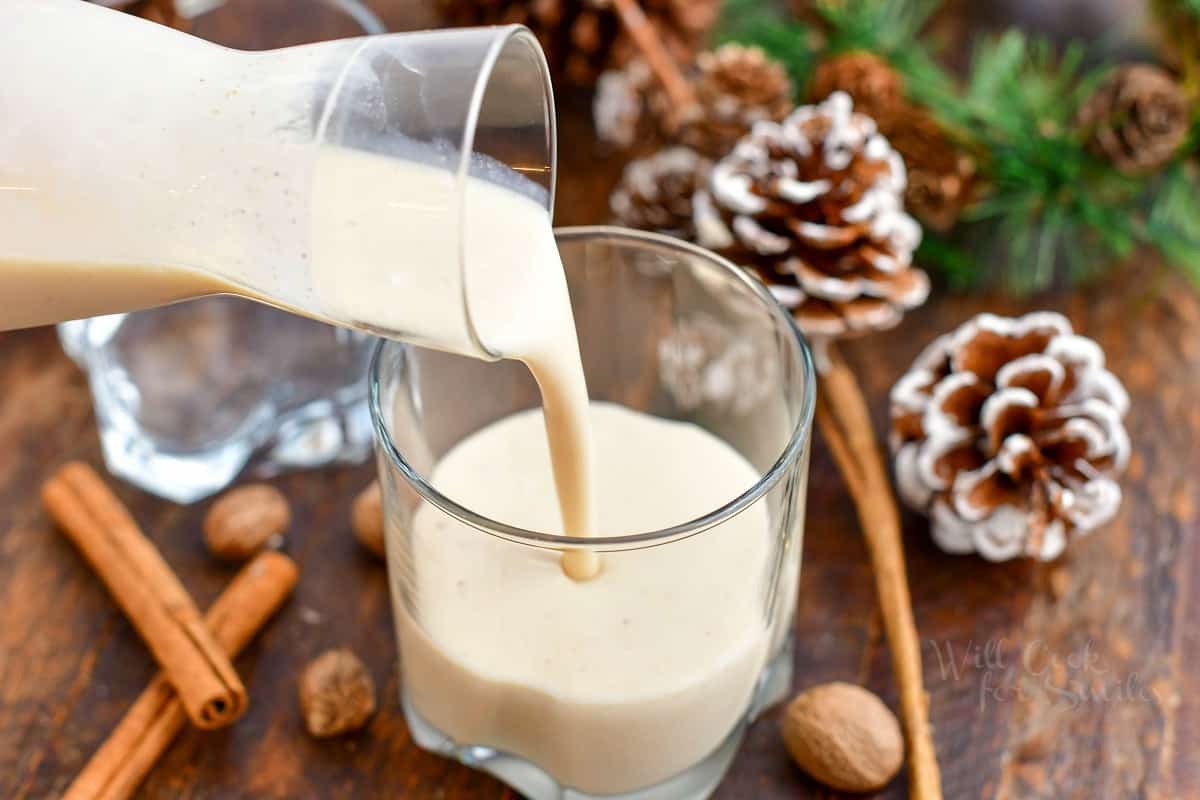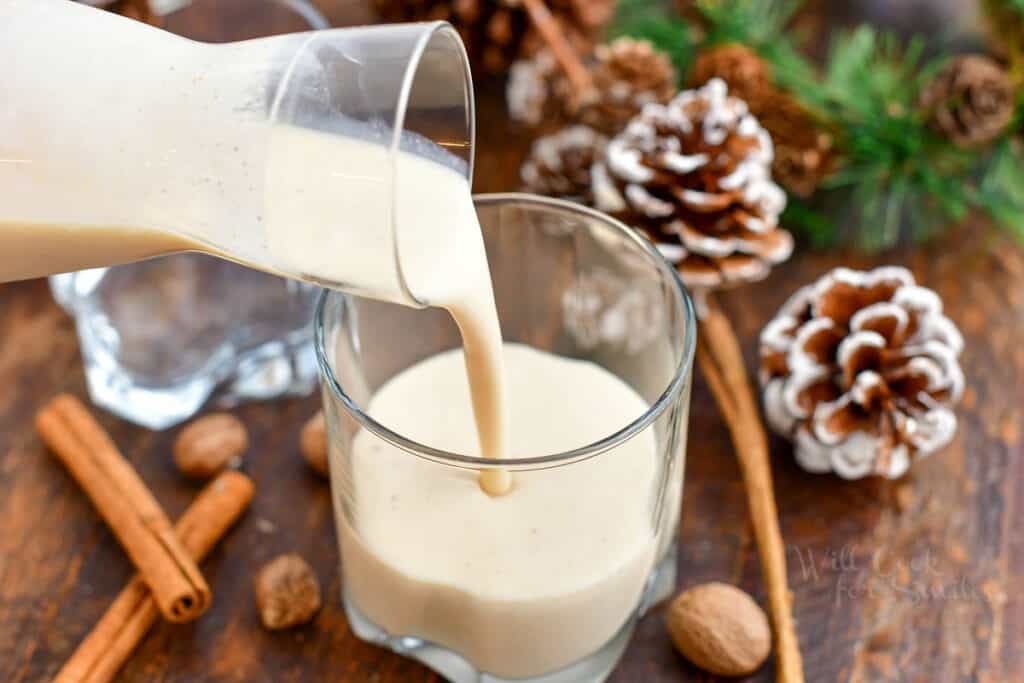 Coquito Recipe Notes
This drink needs to chill! Because all of the ingredients will come at room temperature, the drink will be warm at first. You need to chill it for about 4 hours before serving.
Refrigerating coquito for at least 4 hours also allows all the flavors to cure or blend together. It gets better the longer it sits.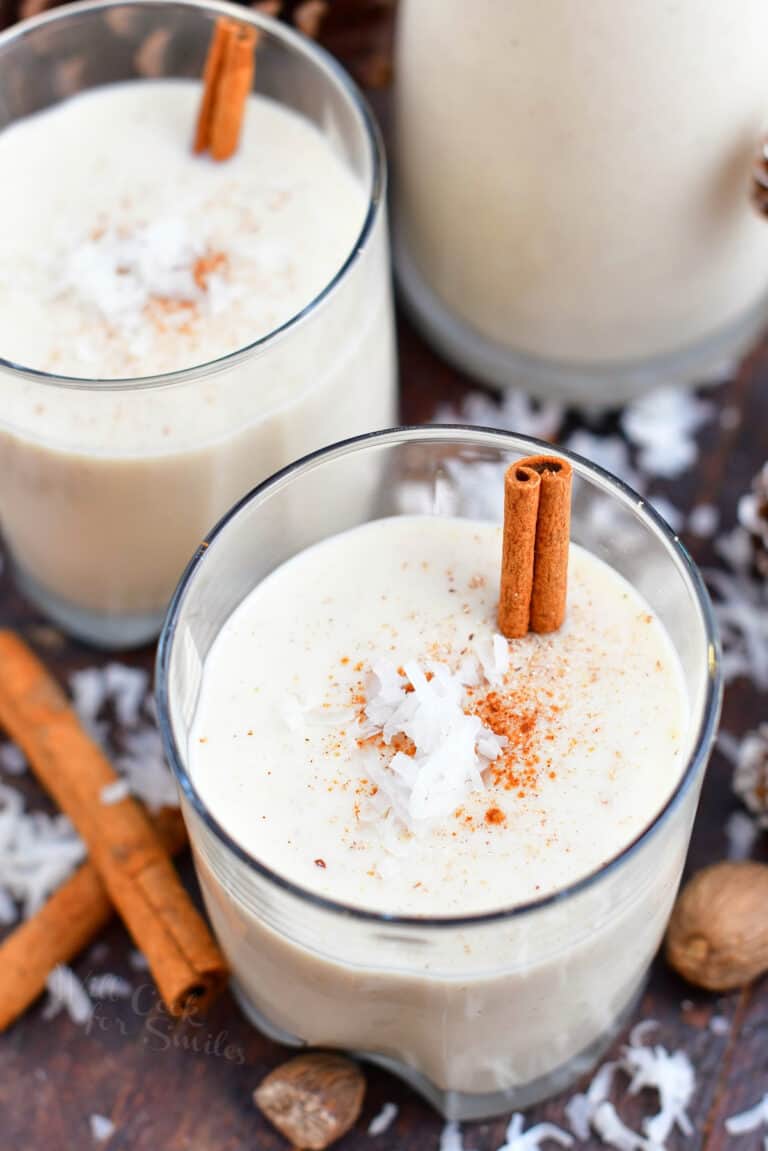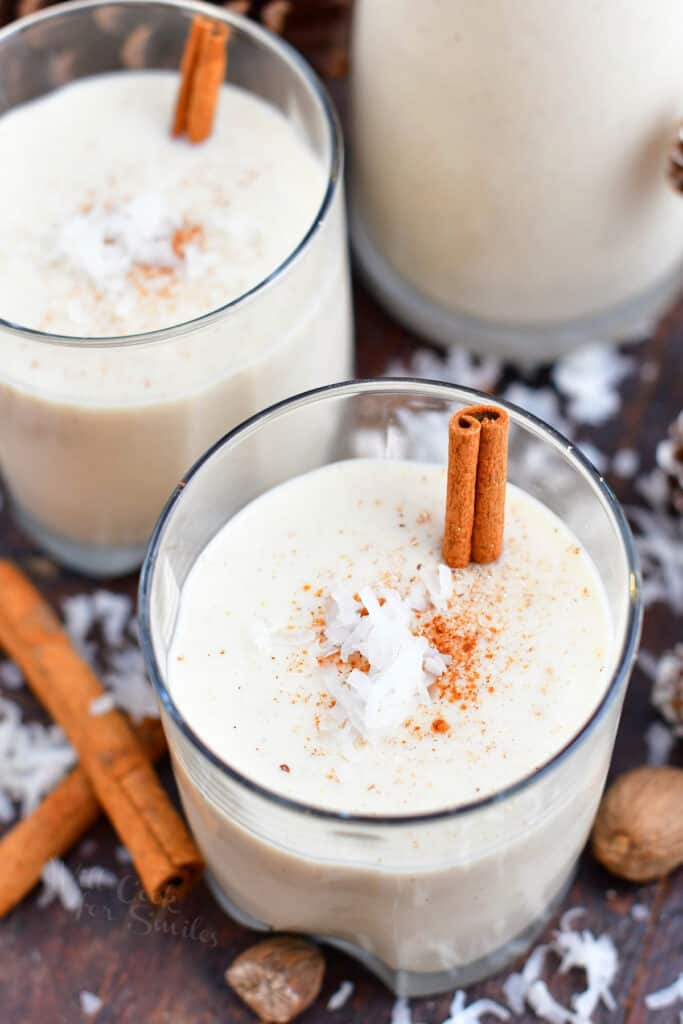 Storage and Shelf life
With only the rum in it, the drink should keep for up to a month or more in the refrigerator. That is, if you can keep from drinking it!
Because of the milk products in it, make sure to store this Christmas drink in the refrigerator.
Be sure to store it in a jar or a bottle with a lid as you will need to shake it up when you serve it because the fat in the cream of coconut coagulates and will separate from the rest of the cocktail while it chills.
You can make several batches and keep in the refrigerator too.
Note: If you do add eggs to it, be sure to drink it within a week.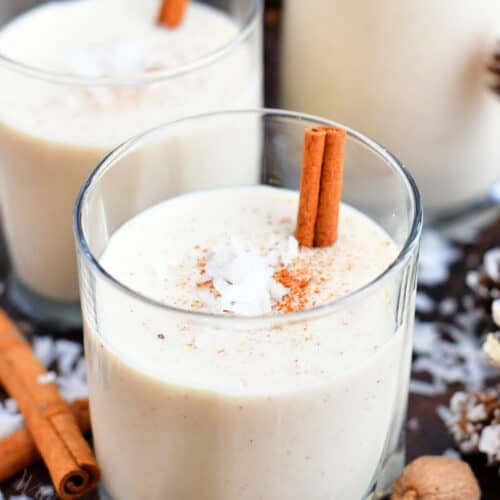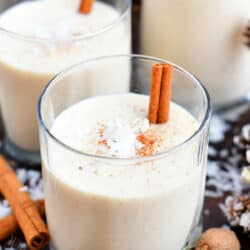 Coquito – Puerto Rican Coconut Eggnog (No Egg)
Coquito (pronounced coh-kee-toe) is a traditional Puerto Rican holiday drink that is smooth, thick, and creamy. It's sweet and has a pronounced coconut flavor.
Print
Pin
Save
Saved!
Rate
Ingredients
14

oz

sweetened condensed milk

12

oz

evaporated milk

15

oz

cream of coconut

1

tsp

vanilla extract

1/2

tsp

ground cinnamon

1/4

tsp

ground nutmeg

1/8

tsp

ground cloves

12

oz

Puerto Rican or another white rum
Instructions
Combine all of the ingredients in the blender and pulse for few seconds until completely comes together and smooth.

Transfer the mixture into a glass jar with a lid, bottle, or a pitcher. It will need to have a lid to keep air-tight and also to be able to shake it up before serving.

Refrigerate for up to 4 hours, until completely chilled throughout.

Shake it up before servings.

Pour into glasses and garnish with a sprinkle of cinnamon, nutmeg, cinnamon stick, or even sweetened coconut flakes.
Storing:
Keep it in a glass jar or a bottle with a lid in the refrigerator. Properly refrigerated, it should keep for up to 5 days.
Want it virgin?
If you want to make a batch for kids or make it non-alcoholic for yourself, not to worry. Simply skip the rum and add either skim milk or coconut milk instead.
Nutrition
Calories:
547
kcal
|
Carbohydrates:
69
g
|
Protein:
7
g
|
Fat:
16
g
|
Saturated Fat:
13
g
|
Cholesterol:
29
mg
|
Sodium:
135
mg
|
Potassium:
313
mg
|
Fiber:
2
g
|
Sugar:
67
g
|
Vitamin A:
234
IU
|
Vitamin C:
2
mg
|
Calcium:
254
mg
|
Iron:
1
mg
Tried this recipe?
Mention @willcookforsmiles and tag #willcookforsmiles