A Painkiller is a delightful, bright, and fruity tropical cocktail that's great for rum lovers… But with a hidden kick! This classic adult beverage combines the flavors of Pusser's Rum, pineapple juice, orange juice, cream of coconut, and a dash of nutmeg. It's a summer cocktail that perfectly blends rich dark rum with vibrant juices and coconut to create the smoothest sip.
If you love rum cocktails, make sure to go over and try our Bahama Mama, Rum Runner, and Mai Tai (personal favorite)!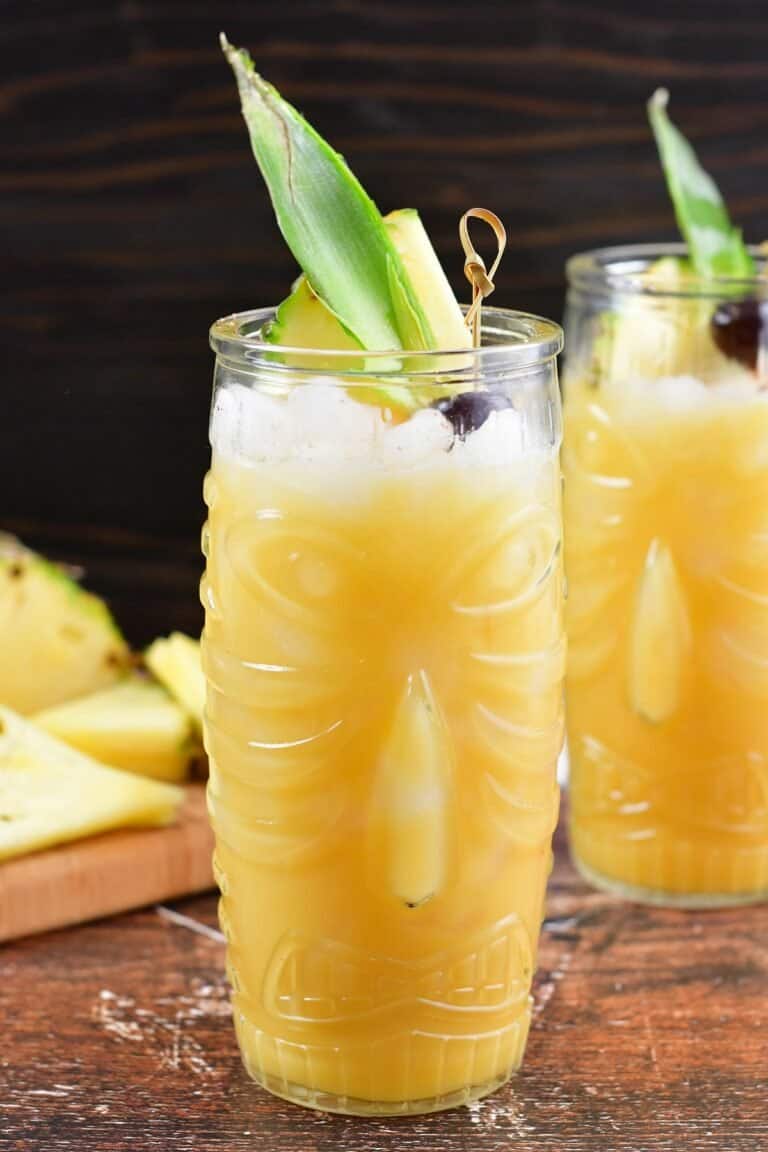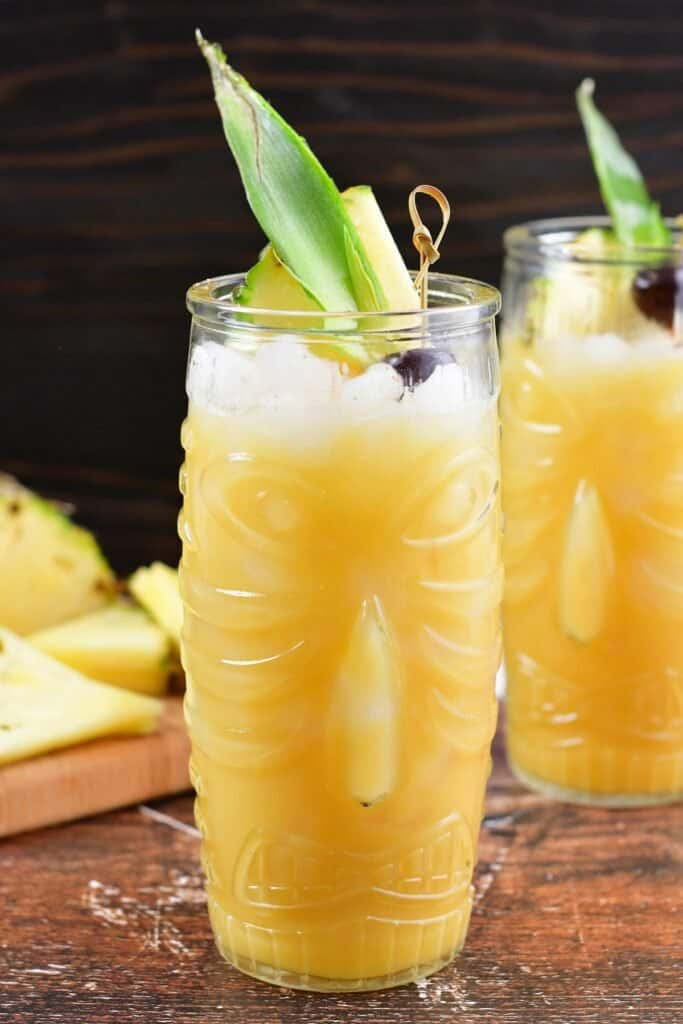 Painkiller
When I think of summer cocktails, rum is always what comes to mind first. Sure, I love a good vodka cocktail in the heat of July, but there's something so tropical and beachy about rum that always screams "summer" to me. I feel like the Painkiller cocktail doesn't get nearly enough love anymore, and that's a shame. It's essentially a love letter to all rum drinkers! If you love the actual flavor and aroma of rum, you'll love the way that it's enhanced in this timeless recipe.
I bet you didn't realize that nutmeg, of all things, pairs perfectly with rum! This warm spice is ideal to enhance the flavors and aroma of rum. Adding nutmeg to cocktails is actually used quite often in the Caribbean cocktails, like the popular Rum Punch.
This summer, dig the nutmeg out from the back of your spice cabinet, where it's likely sitting with your other fall spices. Nutmeg isn't just for apple pies anymore, friends. With this Painkiller recipe, it's sure to be your new summertime go to spice!
This classic cocktail also features vibrant tropical juices and cream of coconut. When shaken up with just the right measurements, a Painkiller should be smooth, balanced, and have just the right amount of that signature rum flavor. Enjoy this tropical drink at your next block party, backyard BBQ, pool party, or any other hot and sunny festivity.
Origin of the Painkiller
Even though this cocktail was trademarked by Pusser's rum, it was actually created a decade before that in the British Virgin Islands. The owner of the Soggy Dollar bar in the British Virgin Islands created this beach vacation cocktail in the 1970s. It was the most popular drink at this unusual bar, where the patrons had to swim to it!
The owner kept the recipe a secret for a long time, but Pusser's recreated it and trademarked it in the 1980s. It was a marketing move on their part, to ensure that the restaurants would use their rum if the cocktail makes it to the restaurant's menu. While you can use any dark rum you wish at home, do try to make it navy rum, as the cocktail creator intended it to be.
How to Make a Painkiller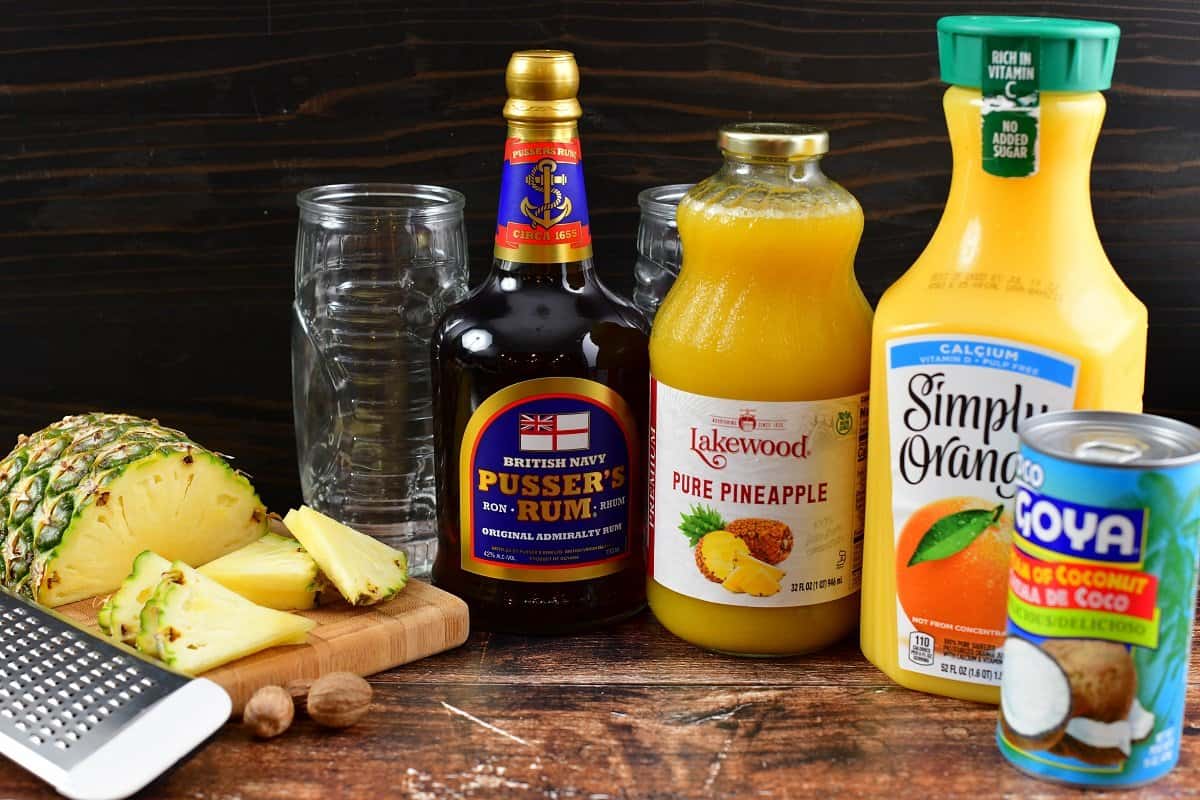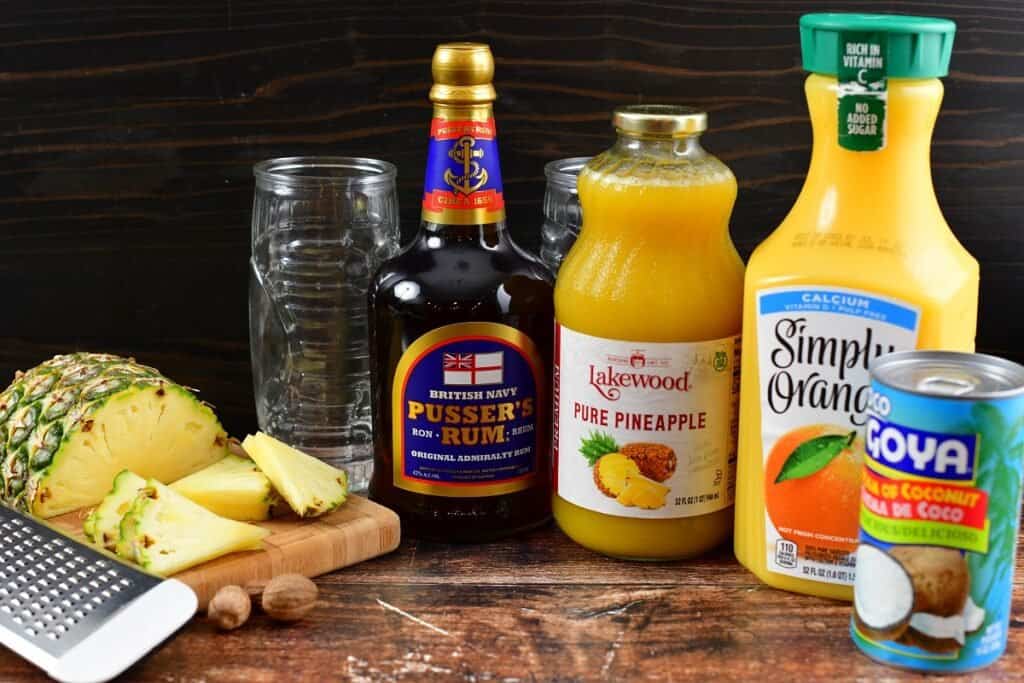 Ingredients You'll Need:
Pusser's Rum – If you can't get your hands on a bottle of Pusser's rum, you can use another type of navy rum.
Pineapple Juice – This is what gives the drink its signature fruity, tropical flavor.
Orange Juice – it's a good balance with pineapple juice and adds another layer of tropical flavor.
Cream of Coconut – Keep in mind that this is NOT the same thing as coconut cream and that the two are not interchangeable. Cream of coconut is sweet and intended for cocktails, while coconut cream is unsweetened and intended for cooking.
Nutmeg – If possible, use freshly grated nutmeg. If you don't have access to that, then already grated nutmeg is fine, but be careful because it's stronger.
Pineapple Wedge – This is the best garnish for a tropical cocktails! It really sells the tropical vibe.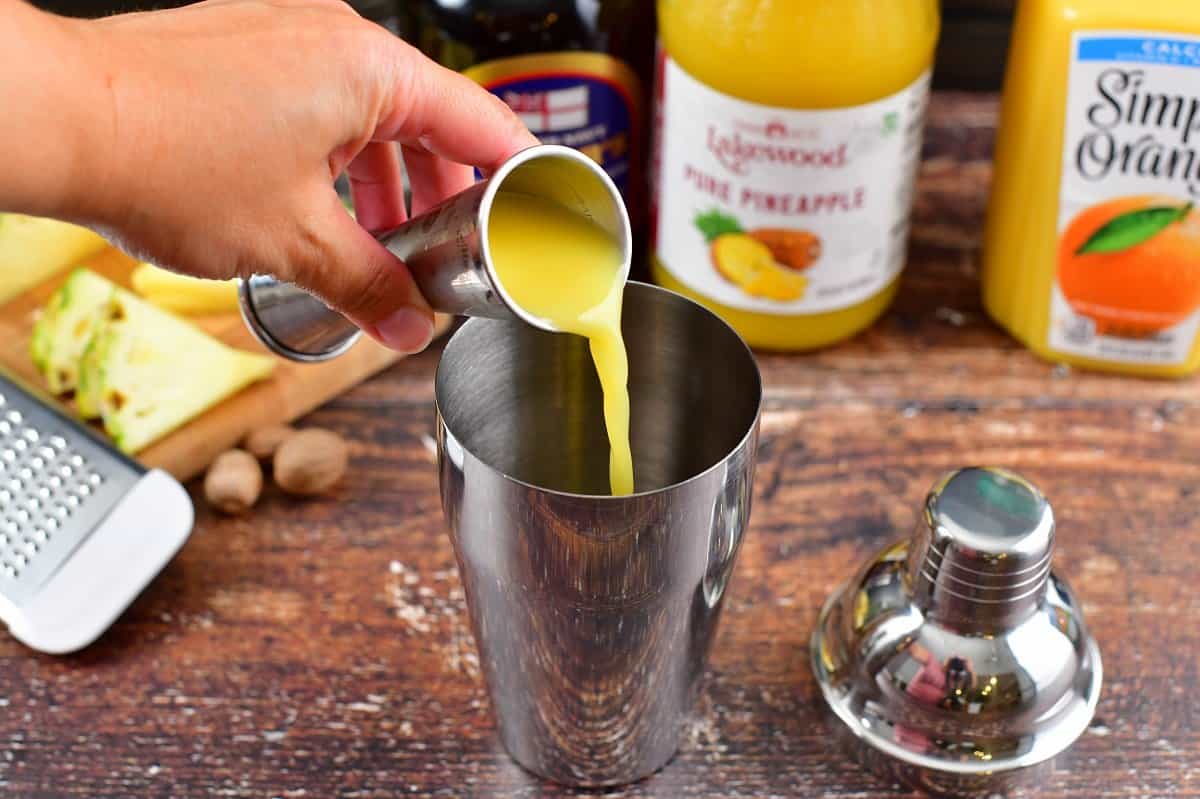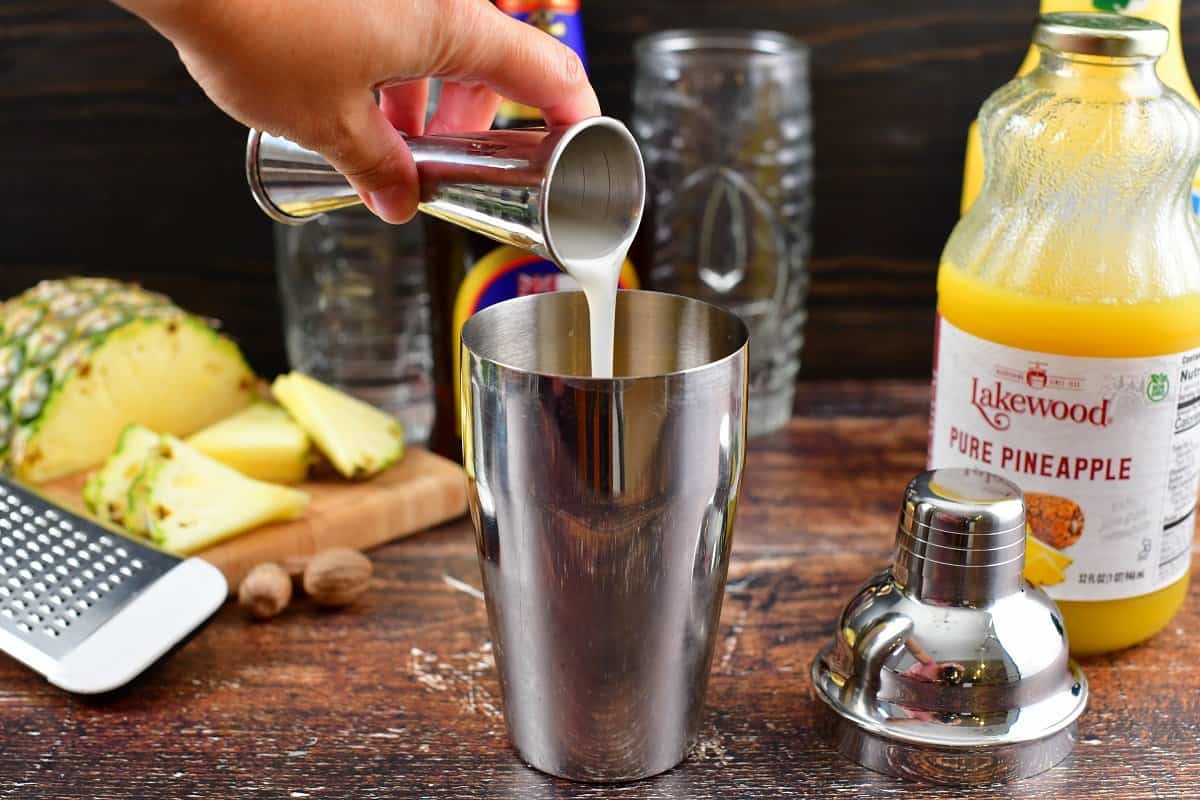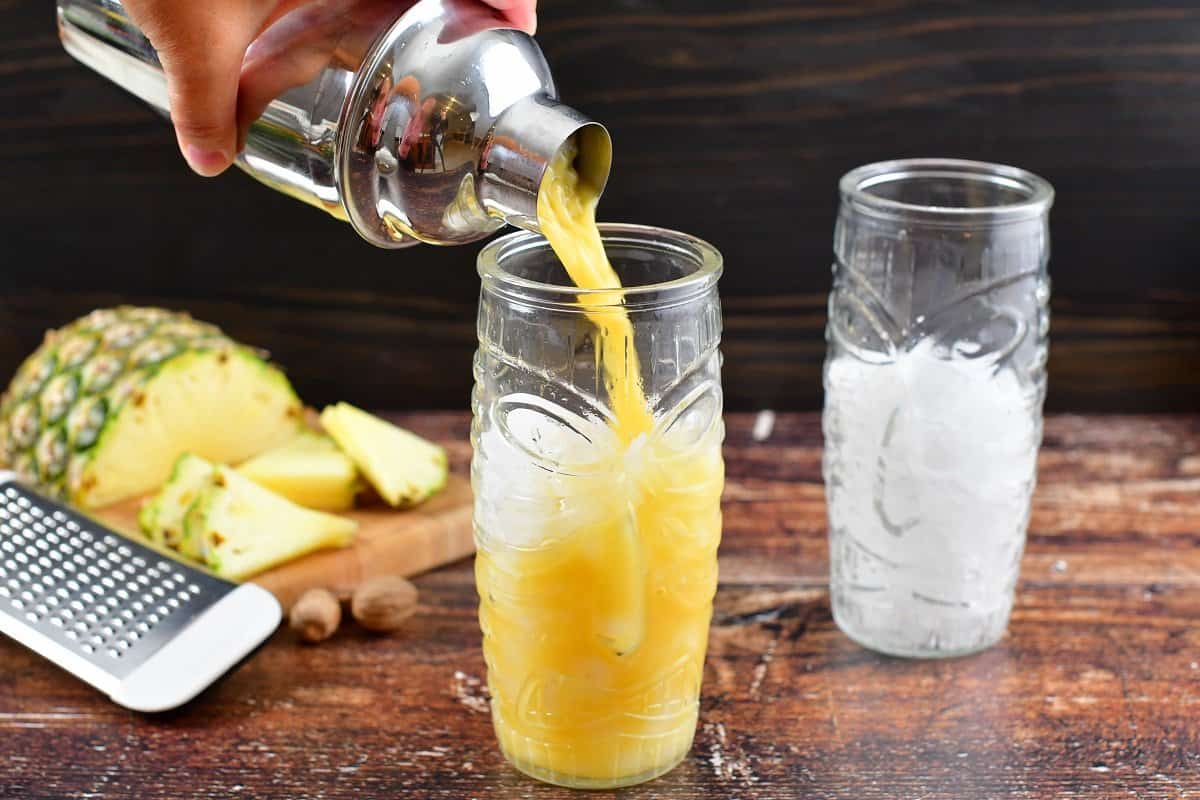 Directions:
Shake it up.
Measure the ingredients with care, then add them all to your cocktail shaker. Close the lid tightly and shake vigorously for about 15-20 seconds.
Pour and enjoy!
Add ice to a tall glass, then use a strainer on your shaker to pour the cocktail. Or, if you'd prefer, you can just pour the contents of the shaker directly into your glass.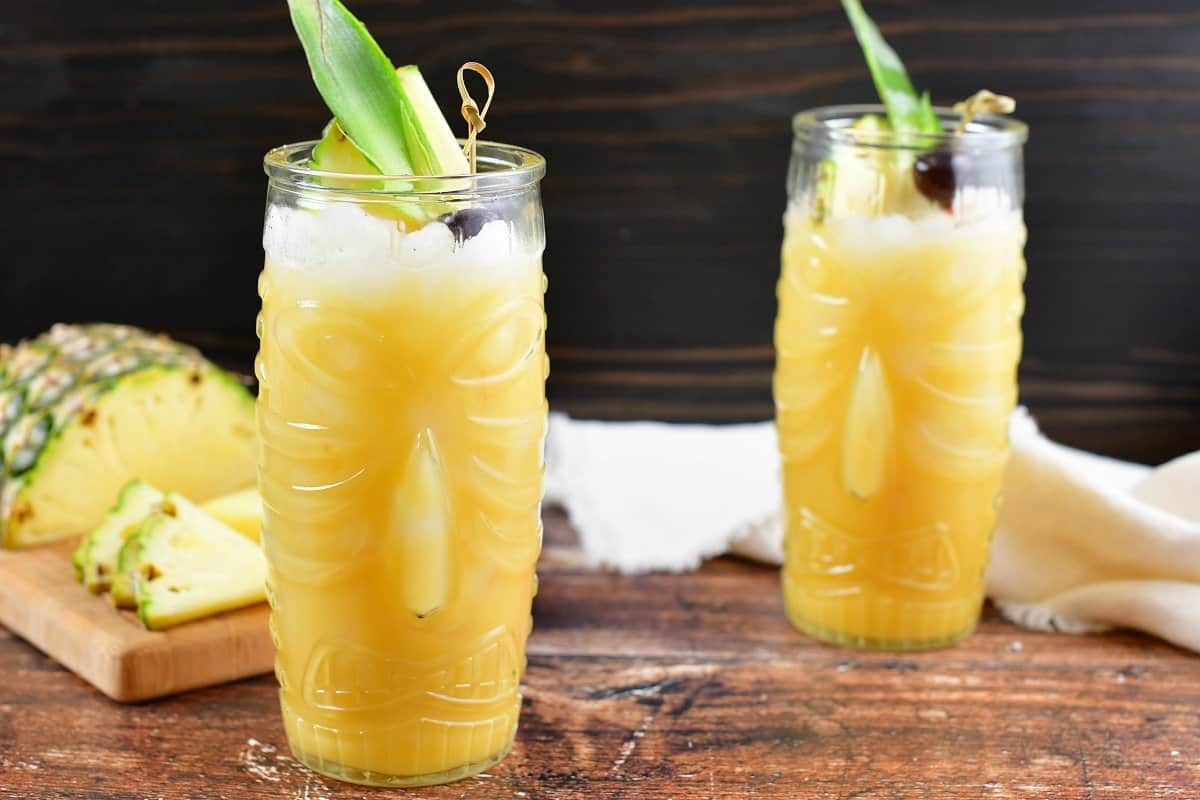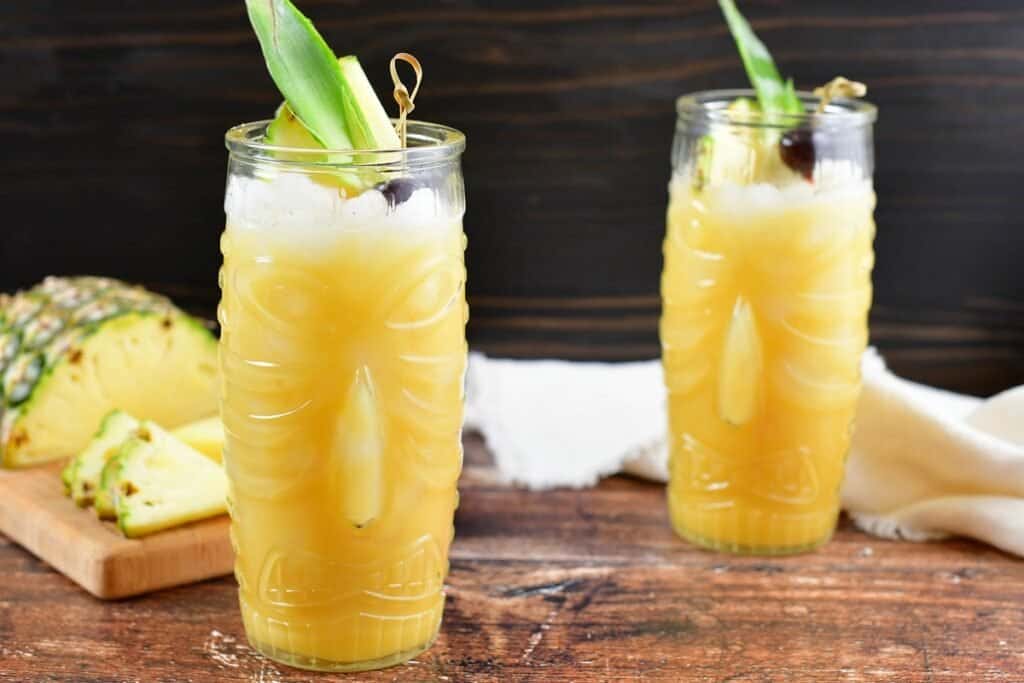 Frequently Asked Questions
What is navy rum?
The term "navy rum" comes from the rum that the Royal Navy ships kept on hand and rationed to sailors in the 1800s and 1900s. Navy rum is typically higher proof and a blend of aged rums from the Caribbean islands of Trinidad, Barbados, Jamaica, and Guyana.
Fun fact – some pirates actually started off in the British Navy before starting a life of piracy, and developed their taste for the rum on those ships. That's one of the reasons why pirates are famous for drinking rum! Well, that, and the fact that they'd often take over Royal Navy ships and indulge in their rum.
Why do different drinks call for different cocktails?
Rum is an incredibly diverse spirit, unlike most others. The only other spirit that has such wide variations is whiskey. Because each type of rum has its own flavor profile, many drinks are created with that flavor profile in mind. While you can always play around with brands, it's important to try to stick to the style of rum that the recipe recommends.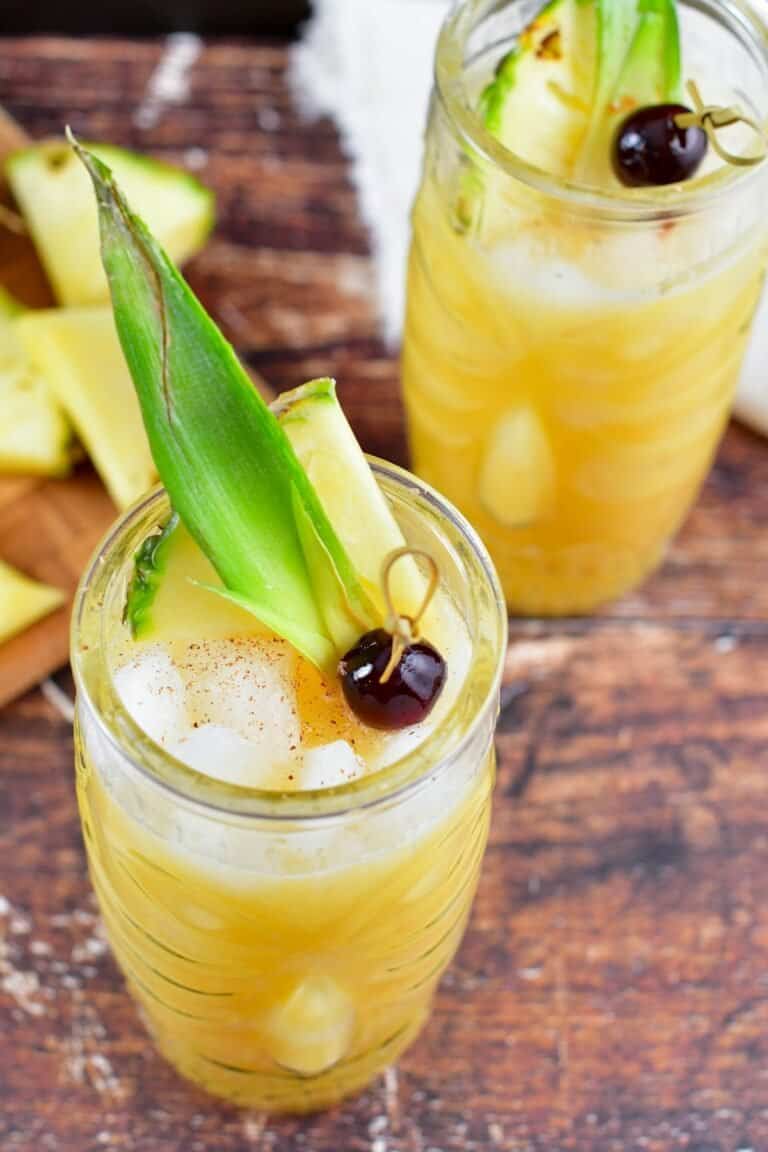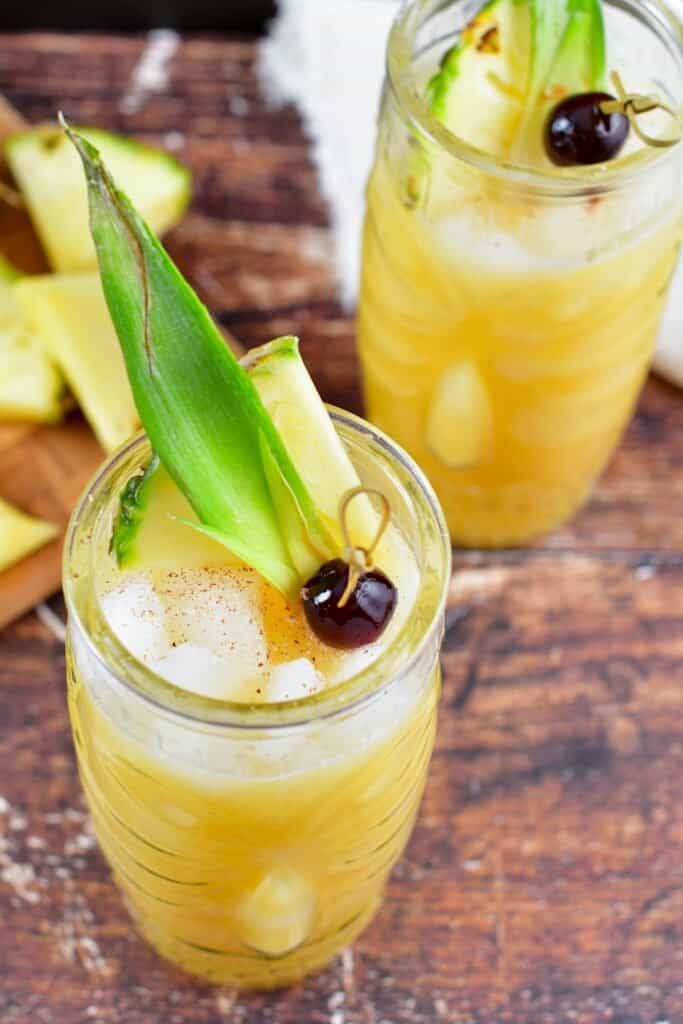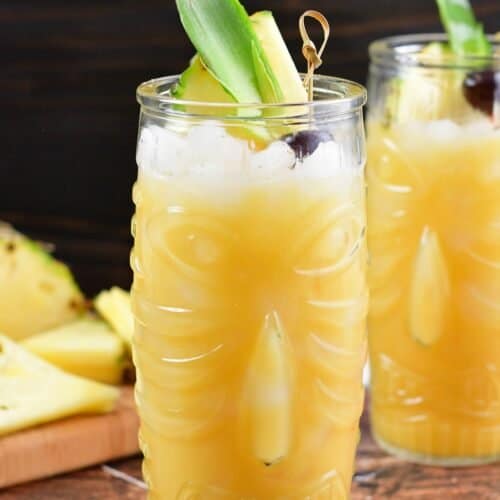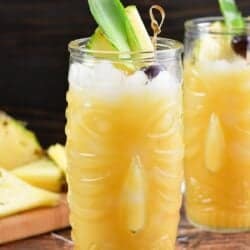 Painkiller Cocktail
A Painkiller is a delightful, bright, and fruity tropical cocktail that combines the flavors of Pusser's Rum, pineapple juice, orange juice, cream of coconut, and a dash of nutmeg.
Print
Pin
Save
Saved!
Rate
Ingredients
2

oz

Pusser's rum

or another navy rum

4

oz

pineapple juice

1

oz

orange juice

1

oz

cream of coconut

nutmeg

fresh grated if possible

pineapple wedge
Instructions
Combine rum, pineapple juice, orange juice, cream of coconut and some ice in a cocktail shaker, close it tight, and shake vigorously for 15-20 seconds.

Add ice to a tall glass and strain the cocktail into the glass. (Or, you can keep the "dirty ice.")

Garnish with some freshly grated nutmeg, stir, and add a pineapple wedge garnish on the glass. Enjoy!
Nutrition
Calories:
327
kcal
|
Carbohydrates:
37
g
|
Protein:
1
g
|
Fat:
5
g
|
Saturated Fat:
4
g
|
Polyunsaturated Fat:
0.1
g
|
Monounsaturated Fat:
0.03
g
|
Sodium:
17
mg
|
Potassium:
205
mg
|
Fiber:
1
g
|
Sugar:
33
g
|
Vitamin A:
62
IU
|
Vitamin C:
26
mg
|
Calcium:
18
mg
|
Iron:
0.4
mg
Tried this recipe?
Mention @willcookforsmiles and tag #willcookforsmiles