Coconut Rice is rich, soft, and creamy. It's a wonderful rice side dish to serve with many entrées, especially those with tropical flavors and fruit. This rich and sticky rice is made with jasmine rice, unsweetened coconut cream, coconut water, and a hint of fresh lime juice.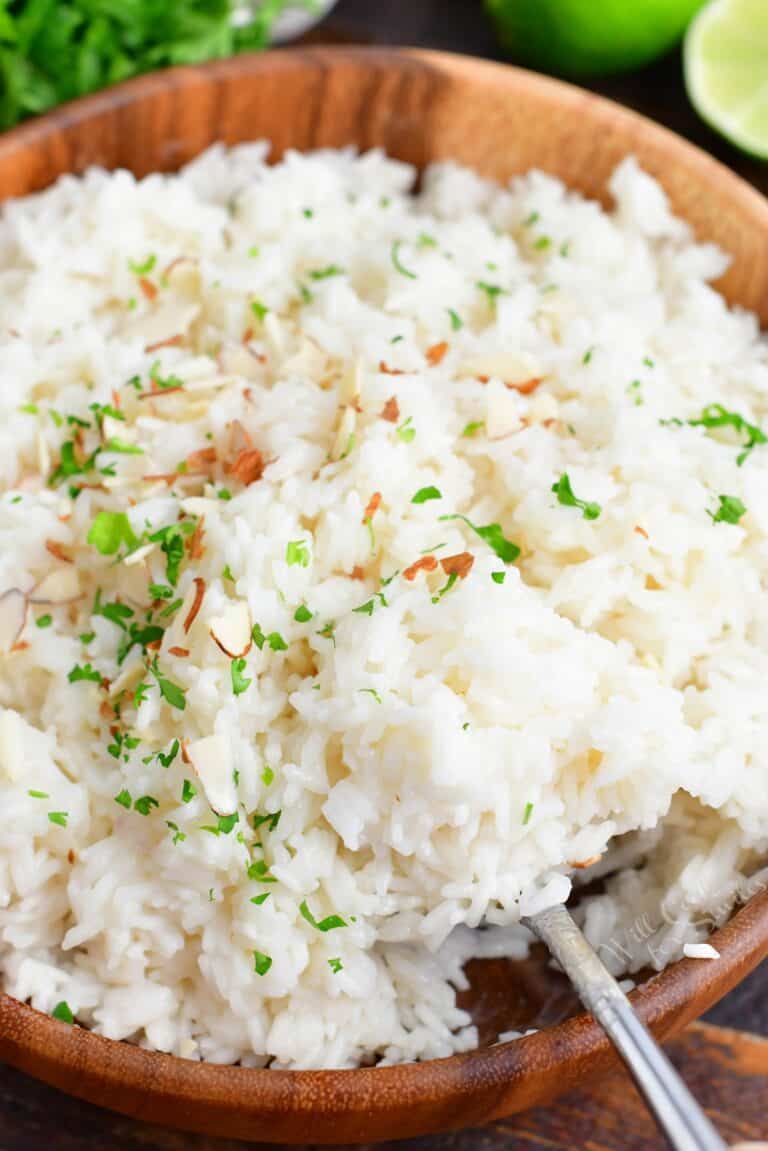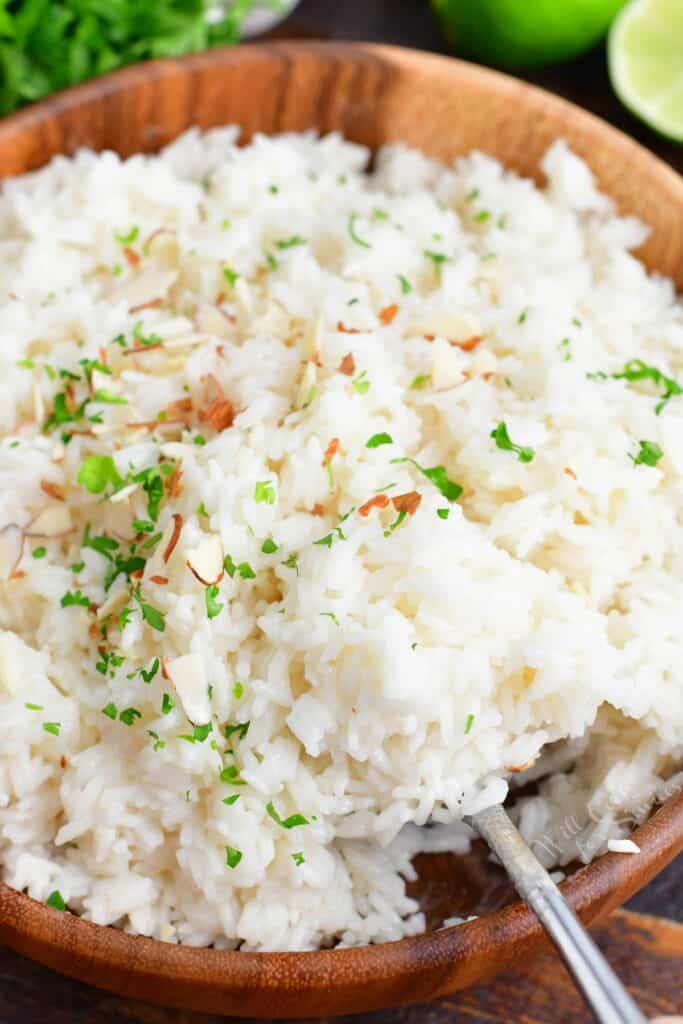 Coconut Rice
Sometimes, rice can be a lackluster side dish. If it's just plain white rice, there's nothing special about it unless it's topped with something delicious. However, that's not the case with this tropical coconut rice. Honestly, when I serve this rice as a side dish, I ALWAYS receive an abundance of compliments… usually even more than the main course.
There's no better time to make this coconut rice than right now during the summer. I live in Florida, meaning that I get to enjoy this tropical side dish in an actual tropical climate, which I love. However, even if you're in a landlocked state, you're going to love this coconut rice just as much as I do this summer. It's bright, flavorful, and makes you feel like you're at the beach!
Besides being summery and delicious, this rice is also one of my favorite go-to side dishes because of how easy it is to whip up! In just about 20 minutes, I can make my family's favorite summer side dish. It's perfect to plate next to a serving of Pineapple Grilled Chicken Kebabs before being washed down with a beachy Rum Runner. I love celebrating summer with delicious food, and that always includes this easy coconut rice recipe!
Ingredients for Coconut Rice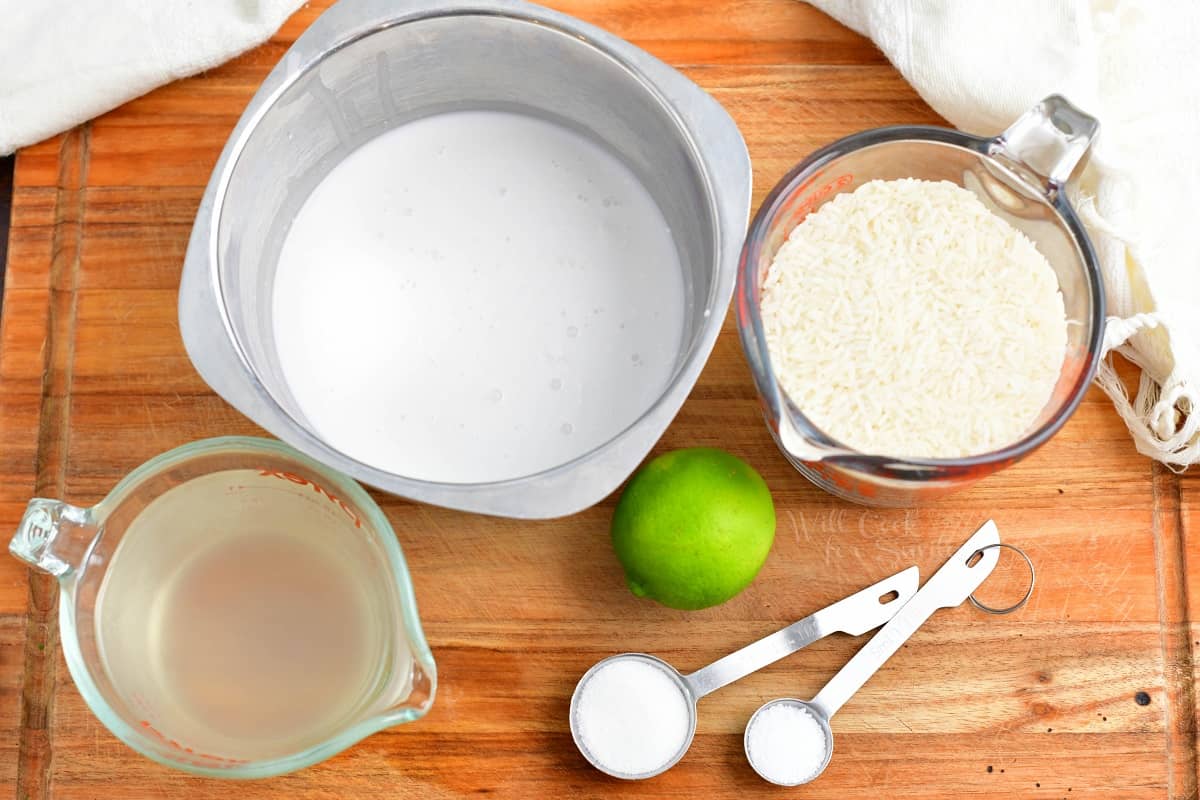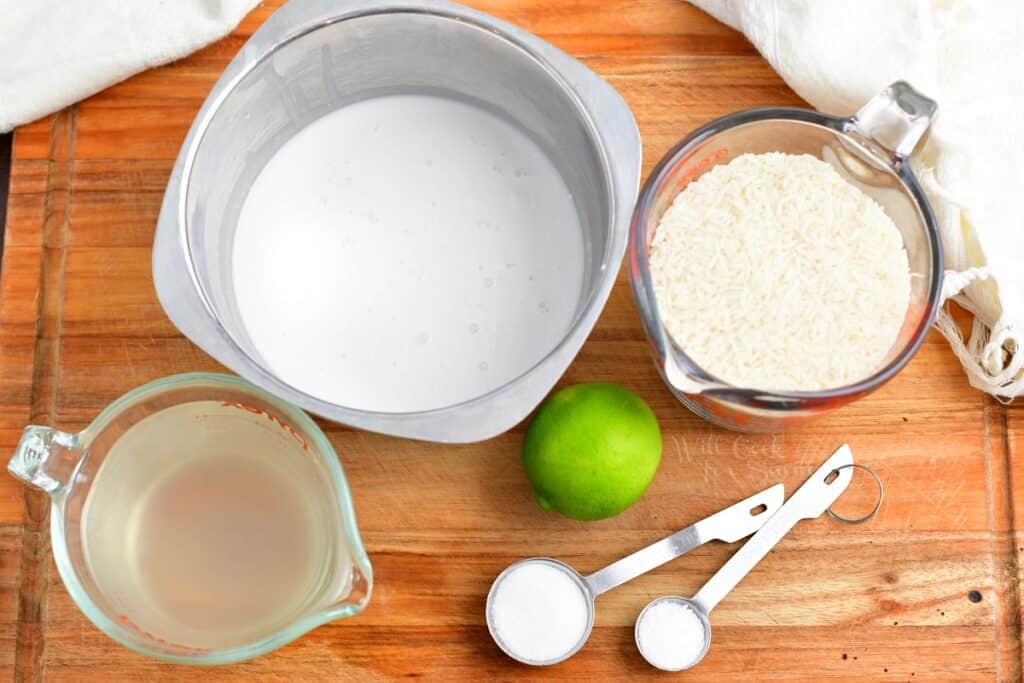 Jasmine Rice – Jasmine rice is really the best rice to use for this recipe! It's delightfully fragrant, slightly sweet, and perfectly fluffy. All of those elements pair just right with the coconut ingredients. I do not recommend that you substitute this with any other kind of rice.
Coconut Cream – Be sure to use unsweetened coconut cream. Unsweetened coconut cream is meant for cooking, while sweetened one is meant for blended cocktails.
Coconut Water – Using coconut water to boil the rice in instead of regular water really helps to enhance that coconut flavor that's present in every bite. I've used several different brands of coconut water, and each of them has gotten the job done. Just make sure to use one that is not sweetened and does not have any additional flavors in it.
Lime Juice – For best results, use fresh lime juice, not the bottled from the store. Lime juice from concentrate does have a noticeable difference in taste.
Sugar – If you want to keep this rice on the less sweet side, only use 2 teaspoons of white granulated sugar. On the other hand, if you want to enhance the sweetness just a bit more, use 3 teaspoons of sugar.
Salt – Just toss in a dash of flaky sea salt to taste.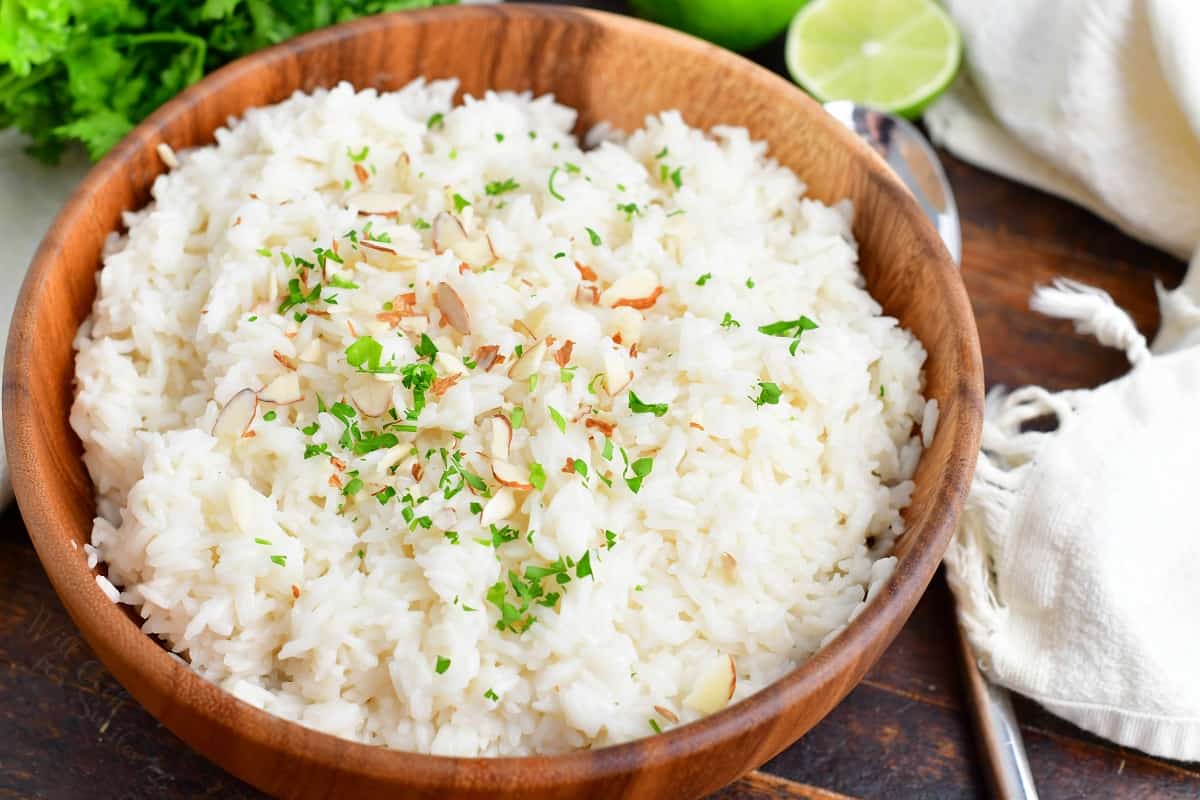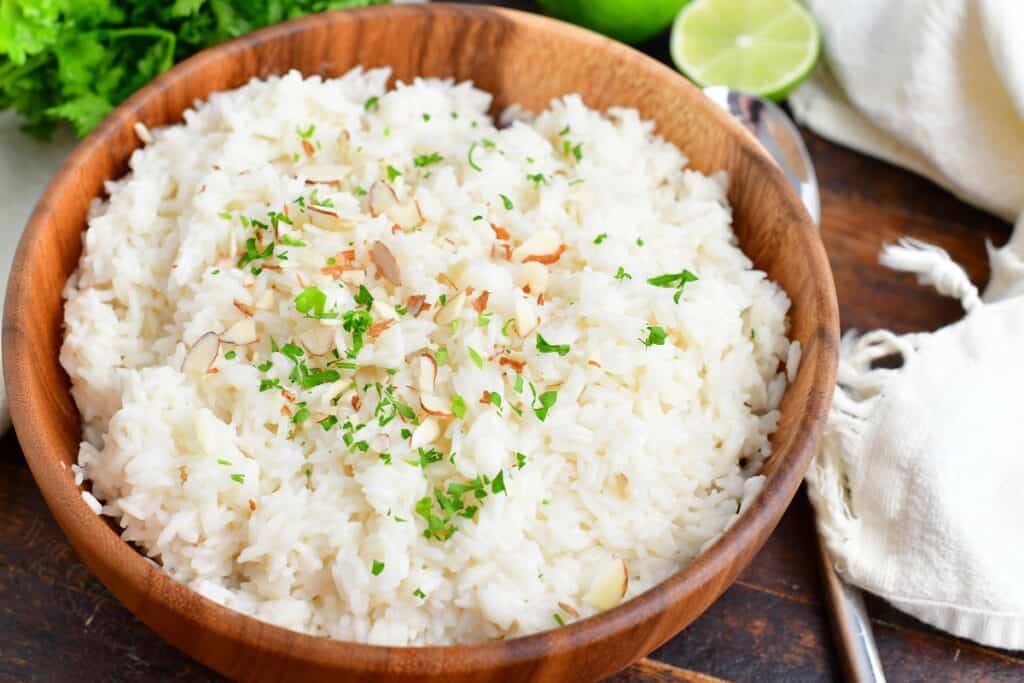 Should I rinse the rice first?
This is not a question with a clear cut "yes or no" answer – it just depends on the rice dish and the results that you're looking for. If you need to see more individual rice grains and not have stickiness, then you'll want to rinse the rice first under cold water.
However, if you are looking for a sticky rice dish, you will not want to rinse it. Rinsing rice will wash away the starches that coat the rice grains and will give you fluffy rice, where individual rice grains are clear. With that in mind, there are many instances where you do not want to rinse away the starches. For example, risotto, rice pudding, congee, and a few others are dishes where the rice is meant to be sticky.
Different types of rice also do or don't have to be rinsed. Long grain white rice should pretty much always be rinsed, but with rice like basmati and jasmine, it's not as necessary. Personally, for my coconut rice, I do not like to rinse it because I like the sticky quality. But, if you feel like you want it less sticky, feel free to rise it.
How to Make Coconut Rice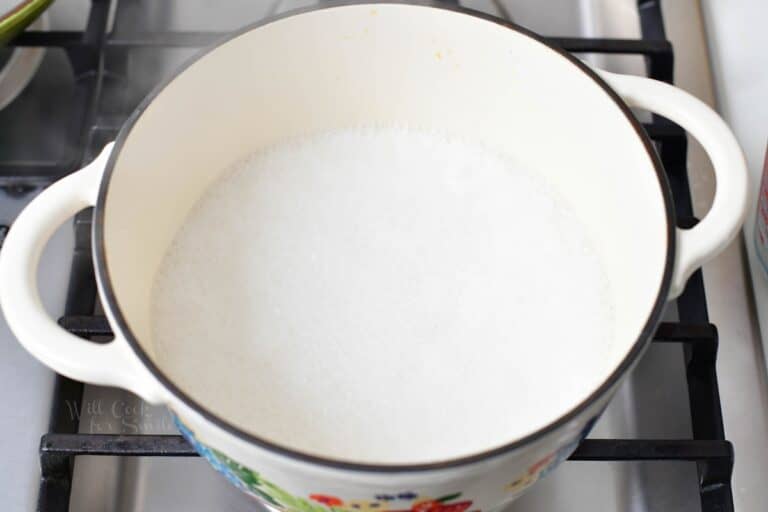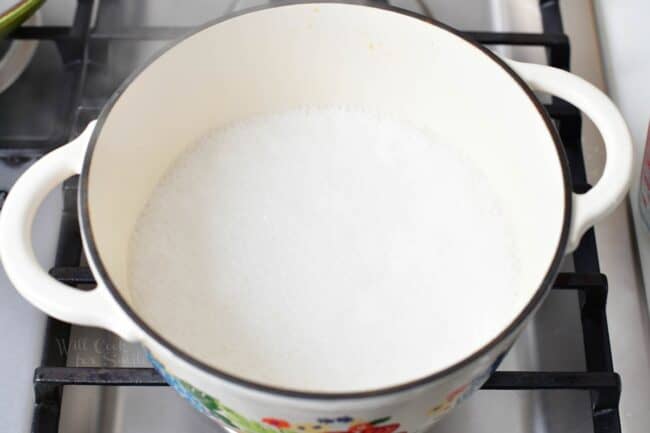 Combine the coconut cream, coconut water, lime juice, sugar, and salt over medium heat in a cooking pot. Whisk it and bring it to a boil.
You will need to stir it a few times while it's heating up so that coconut cream melts.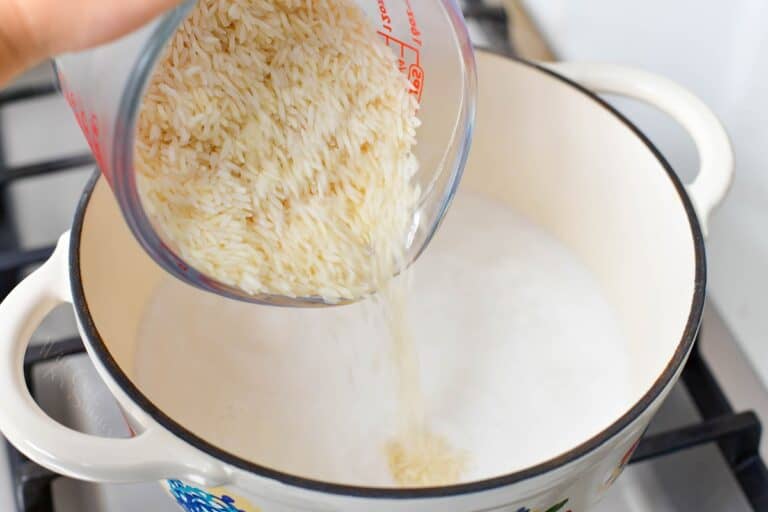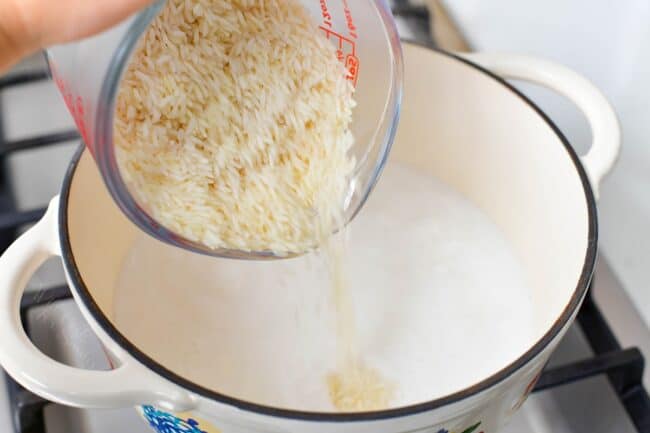 Carefully add the jasmine rice to the boiling mixture, giving it just a quick stir before covering the pot and lowering the heat.
Do NOT open the lid while the rice is cooking – you don't want any of the heat to escape!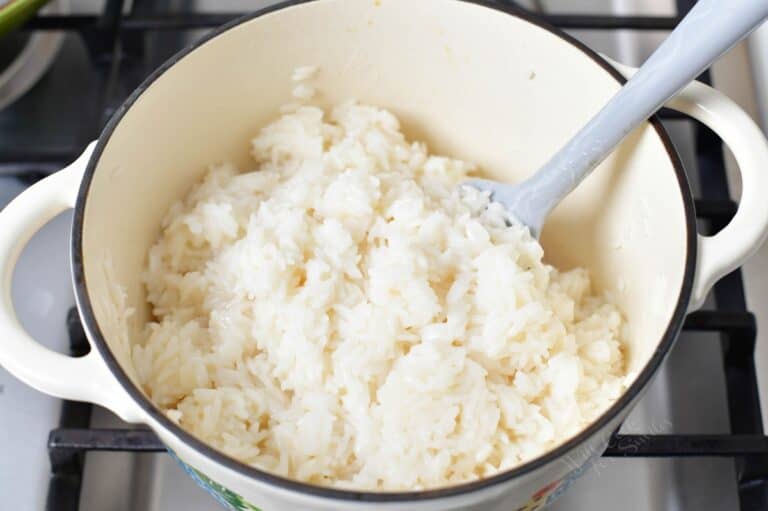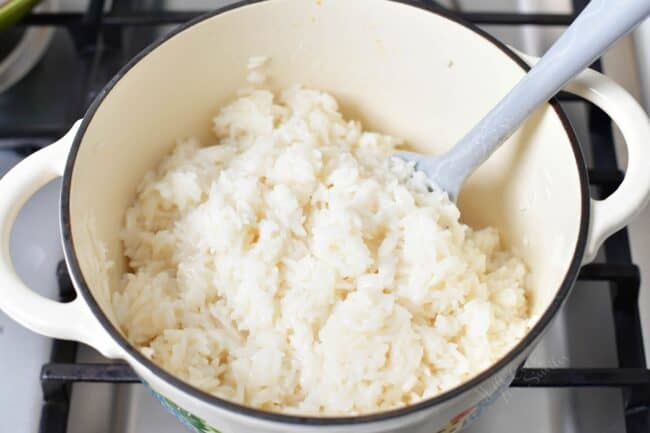 Cook the rice for approximately 20 minutes. The best way to make sure your rice cooks for the correct amount of time is to follow the package instructions. Each rice does have slightly difference cooking time.
Once cooked, fluff the rice and garnish it however you'd like!
My favorite toppings are fresh minced cilantro and toasted almonds. Fruit like diced mango and pineapple are also delicious!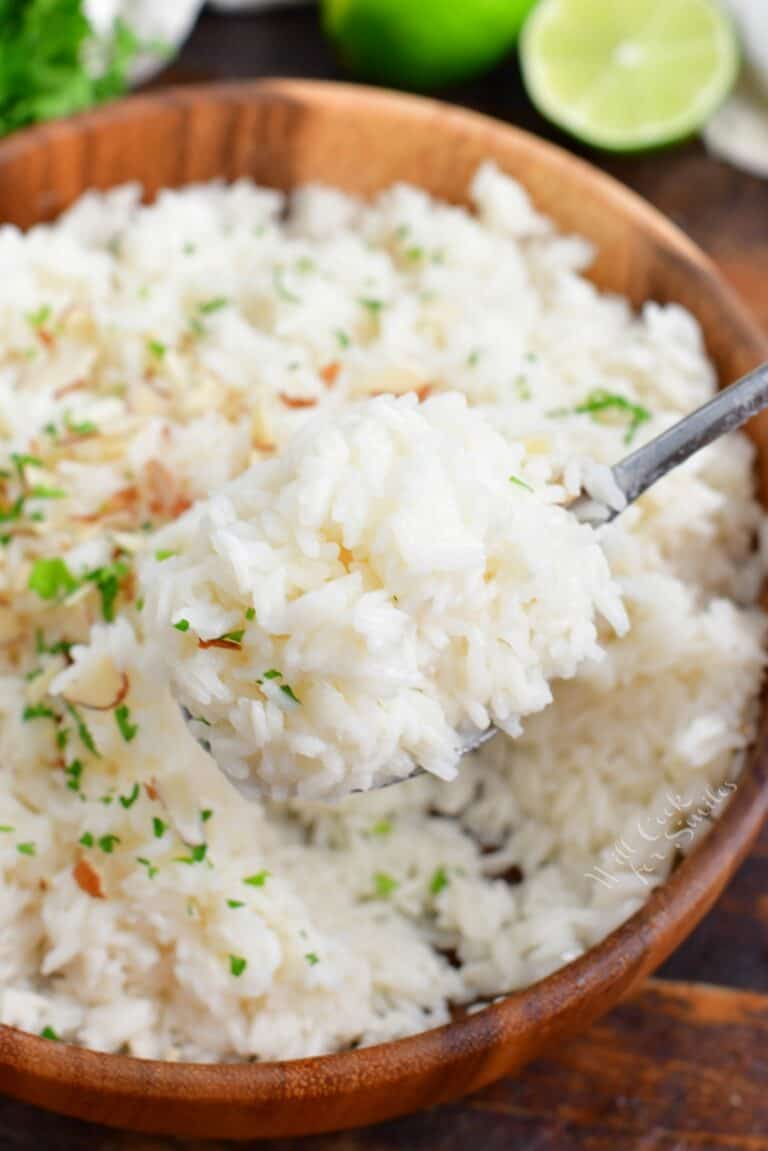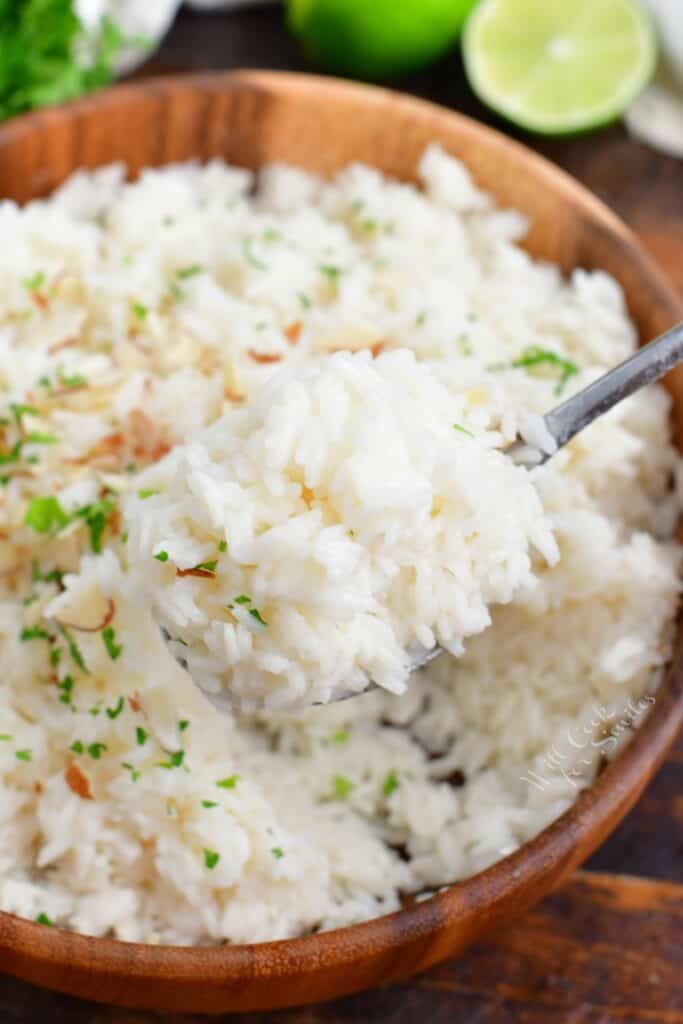 Tips for the Best Rice:
Use full fat unsweetened coconut cream for the richest flavor and texture.
Bring the liquids to boil first before adding the rice.
After adding the rice, stir it once, cover, and then do not touch it again until it's done.
Check the cook time recommendation on the package of the rice. Some brands will have their own recommended cook time.
How to Serve Coconut Rice
As mentioned previously, this is a tropical dish that pairs well with other beachy, fruity flavors. It's great with Thai dishes, and main courses that feature fruit. Mango Chicken and Ginger Peach Baked Chicken Thighs are perfect when served with this rice! I also love using it as the base for Key Lime Coconut Shrimp, Thai Fried Rice, and Tropical Shrimp Rice Bowls.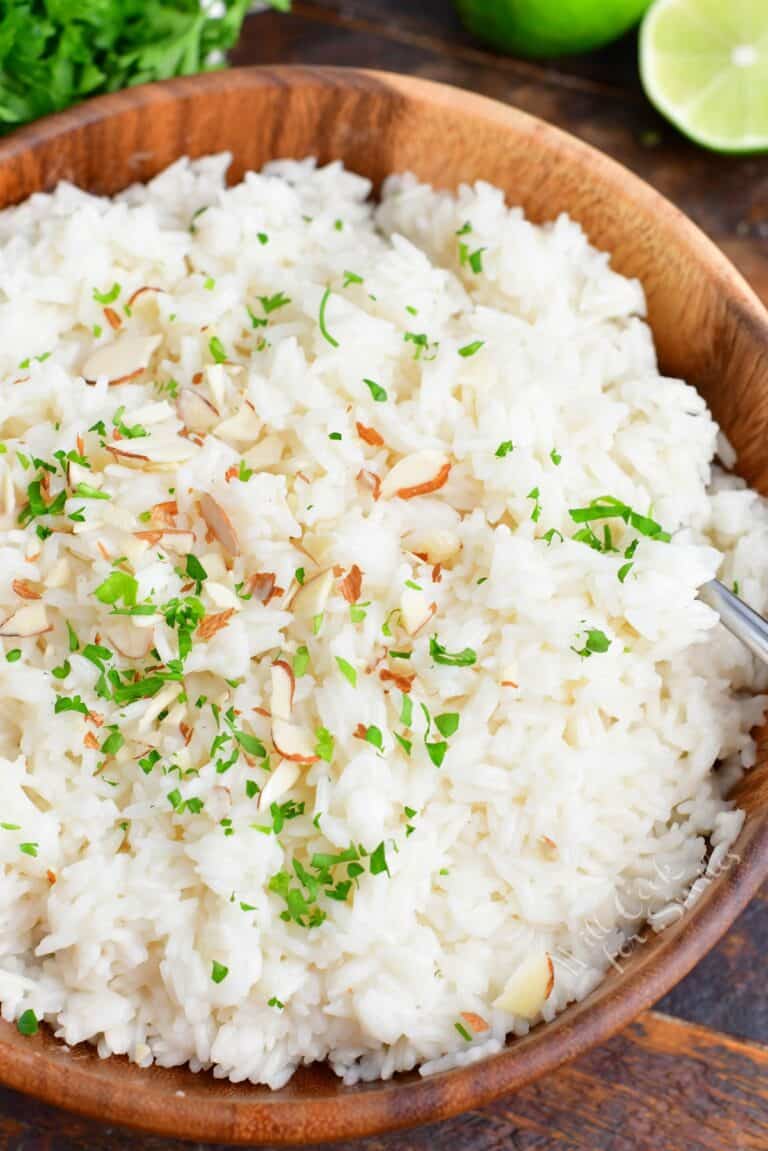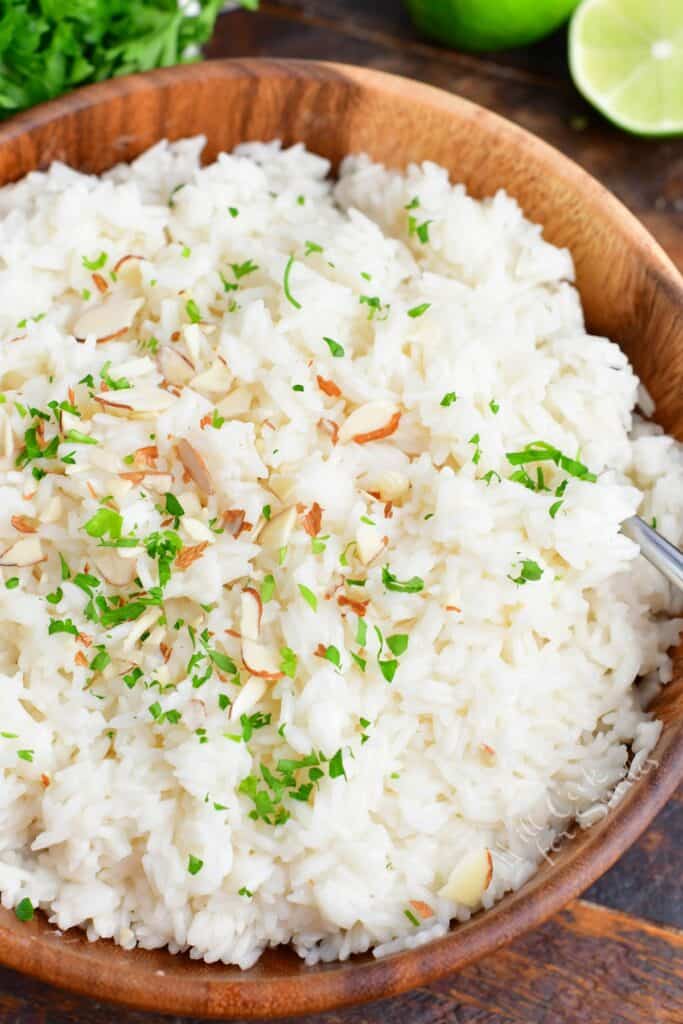 Some More Coconut Recipes
Coconut Lime Chicken Drumsticks – juicy, flavorful chicken drumsticks made with coconut milk, fresh lime juice, cilantro, and chili powder
Easy Thai Coconut Curry Chicken and Vegetables – a one pan dinner, made with great flavors from Thai coconut curry sauce cooked into chicken, eggplant, peppers and onions with addition of fresh ginger and garlic
Coconut Banana Bread – soft, moist, and has a delightful hint of tropical coconut flavor
Coconut Donuts – soft, baked donuts have a cake-like texture and infused with coconut flavors inside, glazed in coconut icing, and dipped into sweetened coconut flakes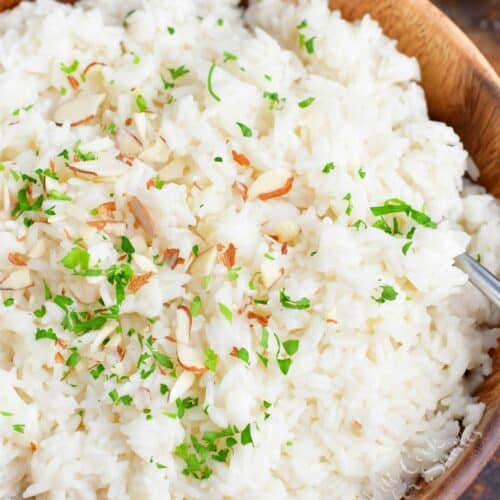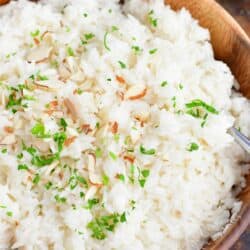 Coconut Rice
Coconut Rice is rich, soft, and sticky made with jasmine rice, unsweetened coconut cream, coconut water, and a hint of fresh lime juice.
Print
Pin
Save
Saved!
Rate
Ingredients
2

cup

jasmine rice

13.6

oz

unsweetened coconut cream

2

cups

coconut water

1

tbsp

fresh lime juice

2-3

tsp

white granulated sugar

to taste

salt

to taste
Instructions
In a cooking pot, over medium-high, combine coconut cream, coconut water, lime juice, sugar, and salt. Whisk it together and bring the mixture to boil. (You will need to stir from time to time and coconut cream melts.)

Add rice, stir just once, lower the heat to the lowest setting and close the pot with a lid.

Do not open the lid of disturb rice while it's cooking.

Cook rice for about 18-20 minutes but check the packaging of your rice for cook time recommendation.

Once done, take rice off heat and gently stir and fluff the rice a couple of times.

Add any mix-ins if you wish and serve.
Nutrition
Calories:
458
kcal
|
Carbohydrates:
58
g
|
Protein:
7
g
|
Fat:
23
g
|
Saturated Fat:
20
g
|
Sodium:
90
mg
|
Potassium:
483
mg
|
Fiber:
3
g
|
Sugar:
4
g
|
Vitamin A:
1
IU
|
Vitamin C:
4
mg
|
Calcium:
44
mg
|
Iron:
2
mg
Tried this recipe?
Mention @willcookforsmiles and tag #willcookforsmiles