Mango Chicken and Rice is an amazing Asian inspired dinner made with tender chicken thigh meat and an easy to make flavorful mango sauce. The most present flavors include the fresh mango itself, along with soy sauce, lime juice, ginger, honey, and a touch of spice from red pepper flakes.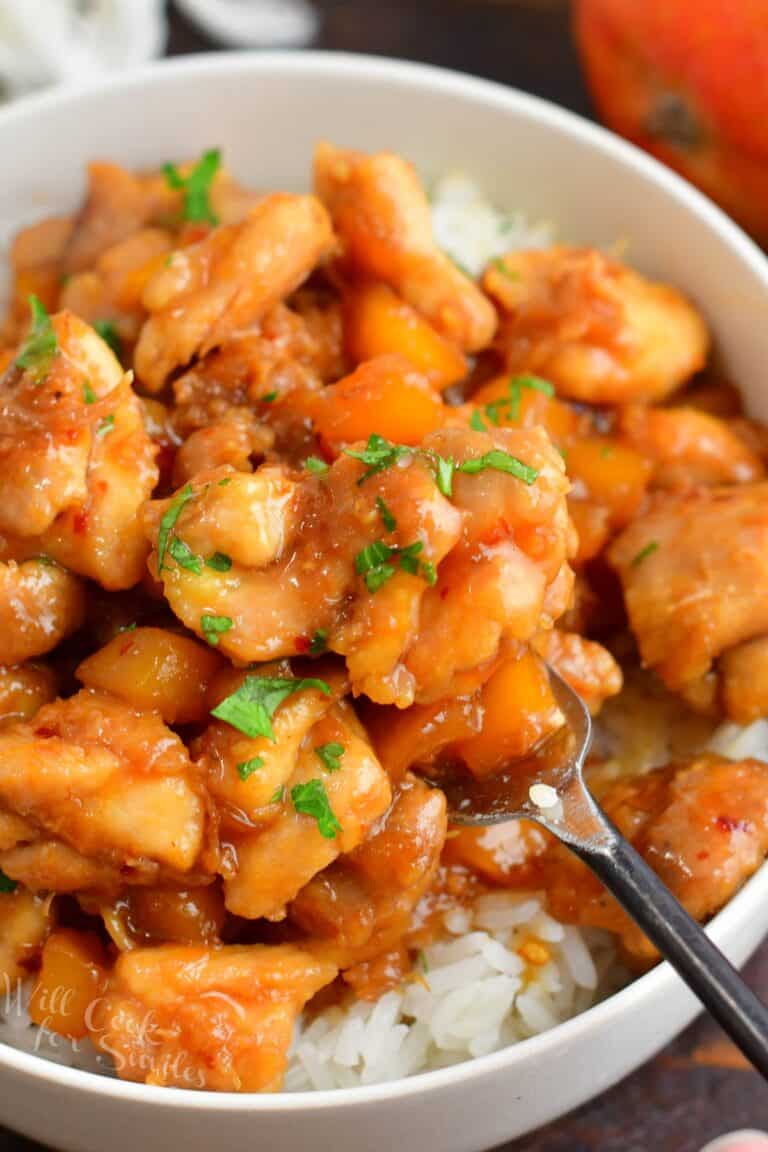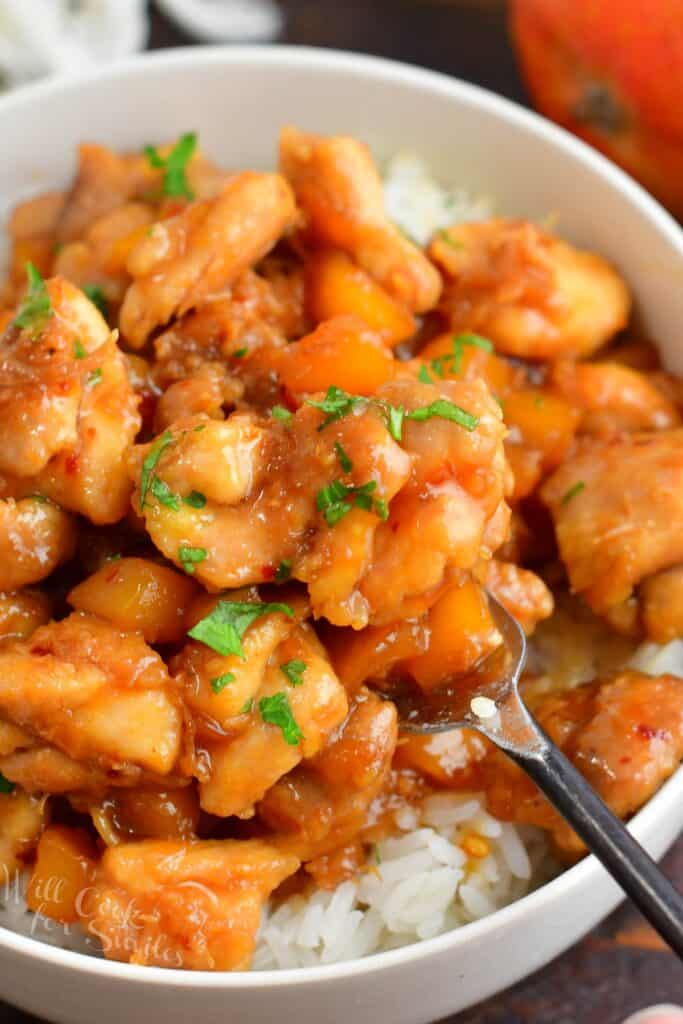 Mango Chicken and Rice
Mango chicken and rice is a great easy weeknight chicken dinner that will be ready in about 30 minutes! It's also a unique dish that your family most likely won't expect, which is always fun to serve up on your average Tuesday evening. With summer slipping by us faster than we can keep up, be sure to make this bright and juicy mango chicken dinner before fall is upon us!
I highly recommend serving this summery chicken dish with Coconut Rice. Coconut rice is perfectly fluffy and flavored with just a delicate hint of coconut, and that touch of coconut couldn't pair better with the mango sauce on this chicken. If you're craving a truly tropical meal to wrap up the summer with, this is certainly the recipe to turn to. Between the fresh, sweet mango and the island-inspired coconut rice, everything about this dish will make you feel like you're in a cabana.
It bears repeating that this chicken dinner takes only half an hour to whip up. While it makes a perfect weeknight dinner for that reason, it's also nice to make a double batch of this mango chicken just before a party! I love making low-stress recipes before hosting a get together, that way I can also focus on other things I need to get done. So whether you're treating your family to this tropical dinner or hosting a dinner party with it, you'll be so very glad you found this hassle free recipe!
Ingredients for Mango Chicken and Rice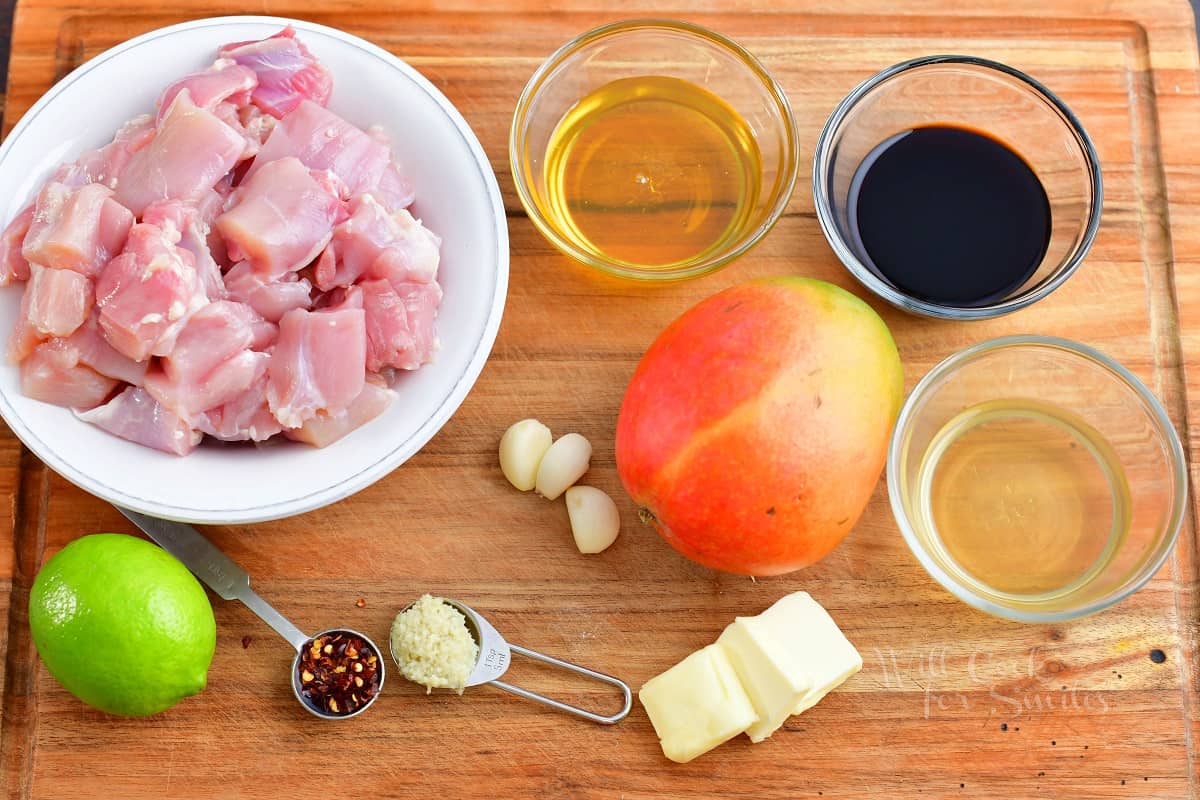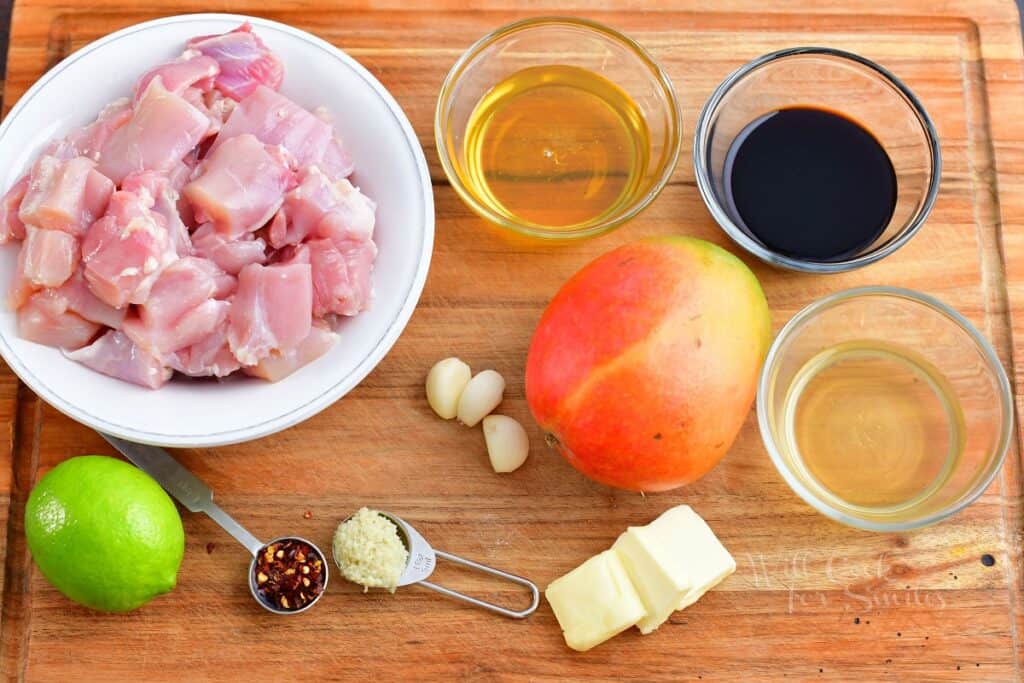 Chicken:
Chicken Thighs – use boneless, skinless chicken thigh meat.
Cornstarch – This is the thickening agent that will serve as the dredge for the chicken meat and it will also help keep chicken crispier on the outside.
Canola Oil – Vegetable oil will also get the job done.
Mango Sauce:
Butter – You can use salted or unsalted, it's just dependent on of you'd like a more or less salty taste. I like to use unsalted.
Mango – Use a fresh and ripe mango. You can use frozen if needed just make sure to thaw it first. Note that frozen mango will be softer than fresh and may not be as flavorful.
Honey – A dark, richly flavored organic honey will provide much more depth in flavor than a sugary factory-made honey.
Soy Sauce – Use a low-sodium soy sauce.
Chicken Stock – Make sure you're using stock when possible, as stock has a richer flavor. Also, it's so easy to make your own Chicken Stock that's so much better than store-bought and you can keep it portioned in a freezer.
Garlic – Use freshly pressed garlic cloves, not the pre-minced garlic from the store.
Lime – You just need the freshly squeezed juice of one lime.
Ginger – You can use freshly grated or shaved ginger.
Red Pepper Flakes – Measure this ingredient to your personal taste.
Jasmine Rice – The aromatic experience alone of enjoying jasmine rice is enough to choose it! It's also slightly sweet, which pairs perfectly with the coconut flavor.
Chicken Stock
Coconut Milk – I use canned coconut milk, and it works like a charm every time.
Sugar – You'll just need a dash of granulated white sugar.
Salt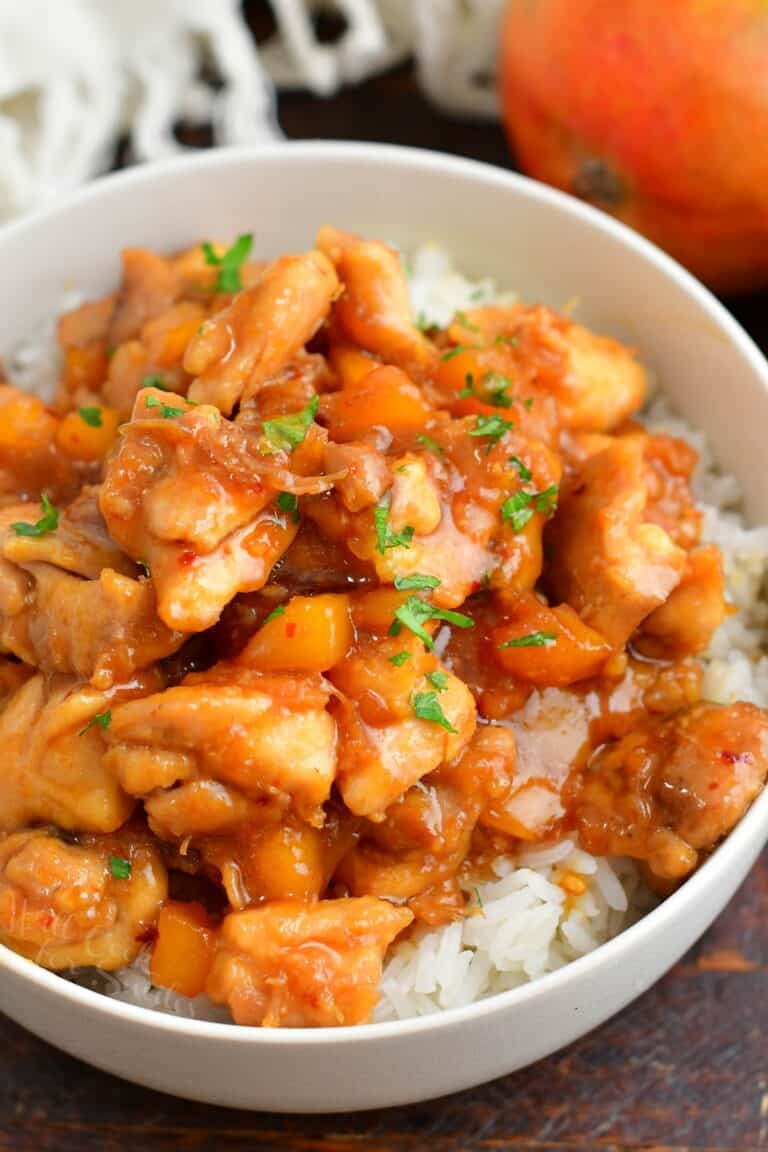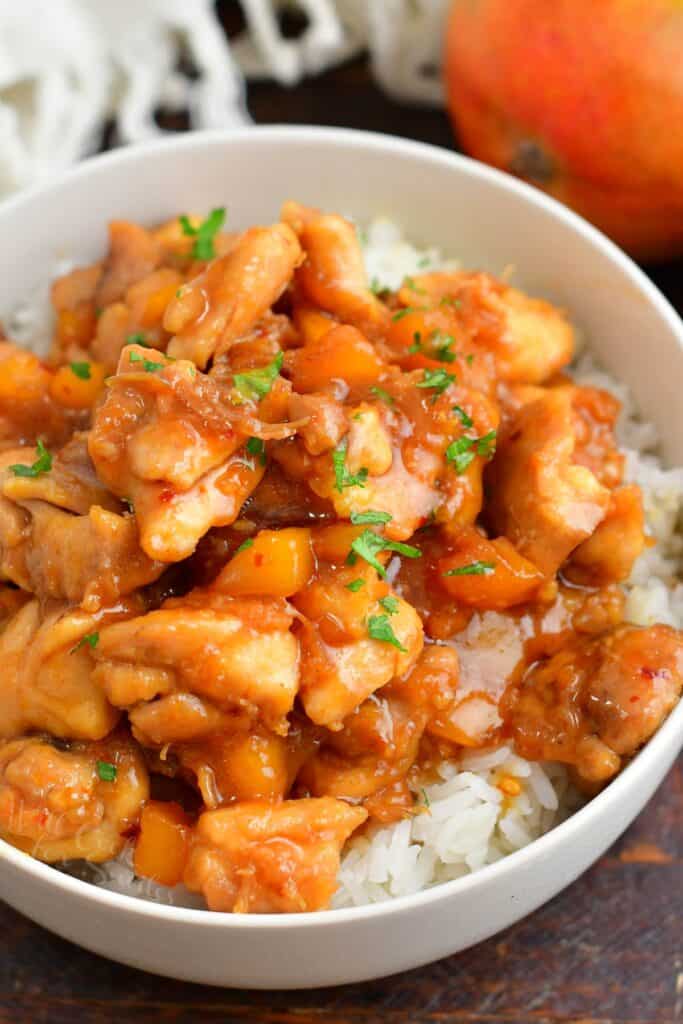 How to Cut a Mango
Check out a demo in a video on Mango Salsa!
Locate the stem and stand mango on the cutting board, stem up. The stem will be your guide to the center of the seed.
The seed inside the mango is long and flat, so you will be cutting along the seed. Slice side of the mango, along the seed, about 1/4 inch to the right and 1/4 inch to the left of the stem.
Lay both halves onto the cutting board, cut side up, and slice mango flesh length-wise and then width-wise. Do not cut through the skin!
Use a spoon to scoop out the diced flesh out of the mango skin.
How to Make Mango Chicken and Rice
Start off by making the coconut rice! That way, it's ready to go as soon as the chicken is done.
To make the coconut rice, simply cook the rice and water over low heat with the lid on the pot. Do NOT disturb the rice while it's cooking!
When it's done, fluff it with a fork and keep it warm until the chicken is ready.
Time to make the real star of the show, the mango chicken!
To start, mix all of the ingredients for the sauce in a small bowl. Also, cut the mango and set it aside.
Cut the chicken thighs and remove the fat in the process. Then, mix the cut chicken pieces with cornstarch.
Add oil to a pan and heat it over medium-high heat. Sear the dredged chicken on all sides, then set it aside.
Lower the heat and add butter to the pan. Cook the mango in the warm butter for a few minutes.
Pour the sauce into the pan with the softened mango. Stir the ingredients together and allow everything to simmer.
Add the chicken back into the pan. Then, continue cooking for an additional few minutes. You'll know it's done when the chicken is fully cooked and the sauce has thickened a bit.
Serve the mango chicken over the fluffed coconut rice, and enjoy your plated tropical getaway!
Serve the mango chicken over the fluffed coconut rice, and enjoy your plated tropical getaway!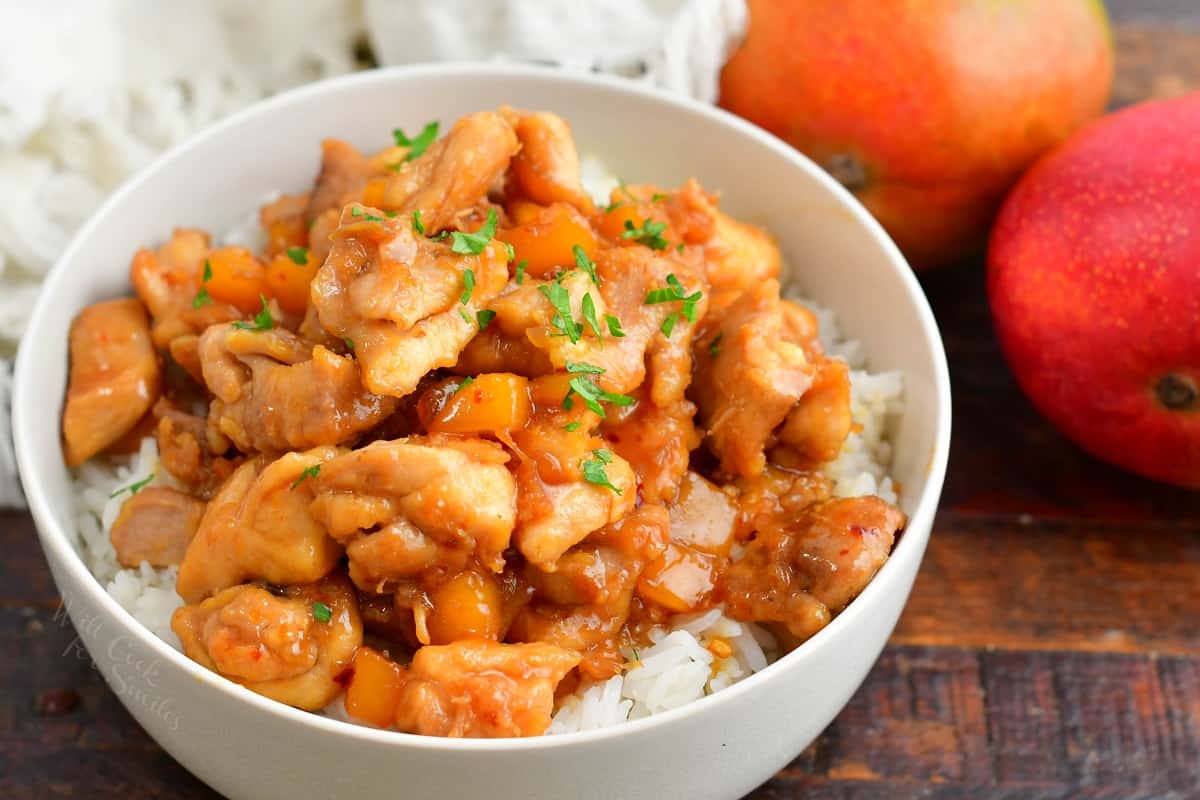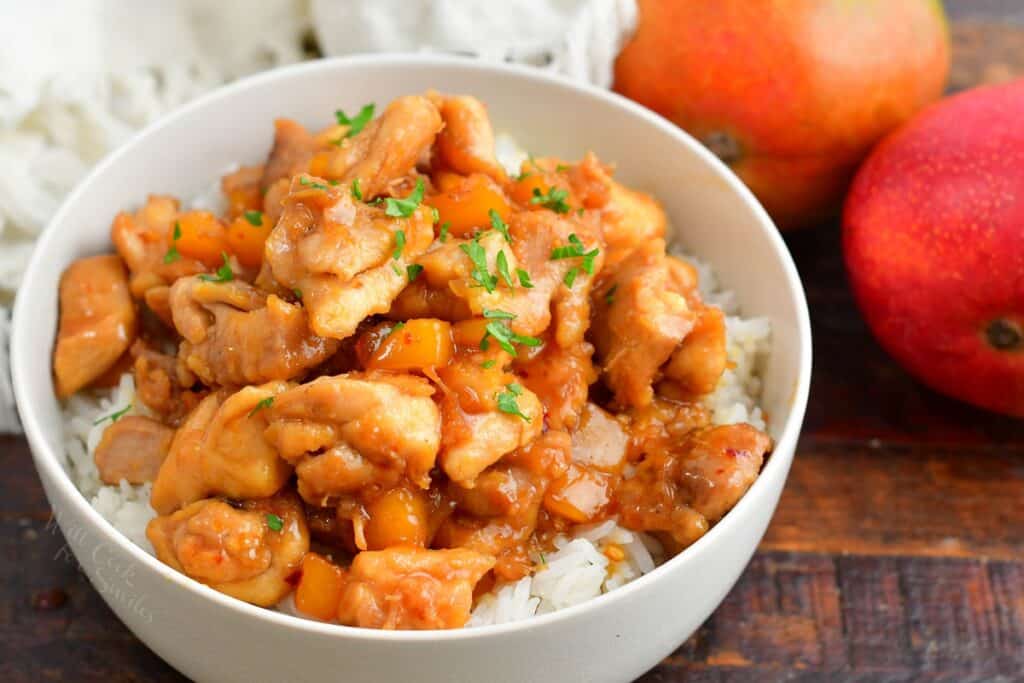 Other Serving Options
The coconut rice might not be everyone's favorite go-to rice. While I adore it, some people prefer their base of this recipe to not be so sweet.
If the coconut rice isn't for you, you can swap it for brown rice, Cauliflower Rice, quinoa, farro, couscous, rice pilaf, or even your favorite mix of vegetables.
More Delicious Summery Dishes!
Panzanella – a mix of juicy ripe tomatoes, a toasted hearty bread, fruity olive oil, red wine vinegar, fresh aromatic basil, and fresh cucumbers and onion create the best panzanella
Shrimp Roll – a wonderful summer sandwich made with buttery warm rolls packed with flavorful shrimp salad
Grilled Salmon Burgers – homemade salmon patties made with mouthwatering grilled salmon and mixed with onion, red bell pepper, and fresh herbs
Pineapple Grilled Chicken Kebobs – a delicious sweet and salty combination of marinated chicken and fresh pineapple chunks cooked on a grill.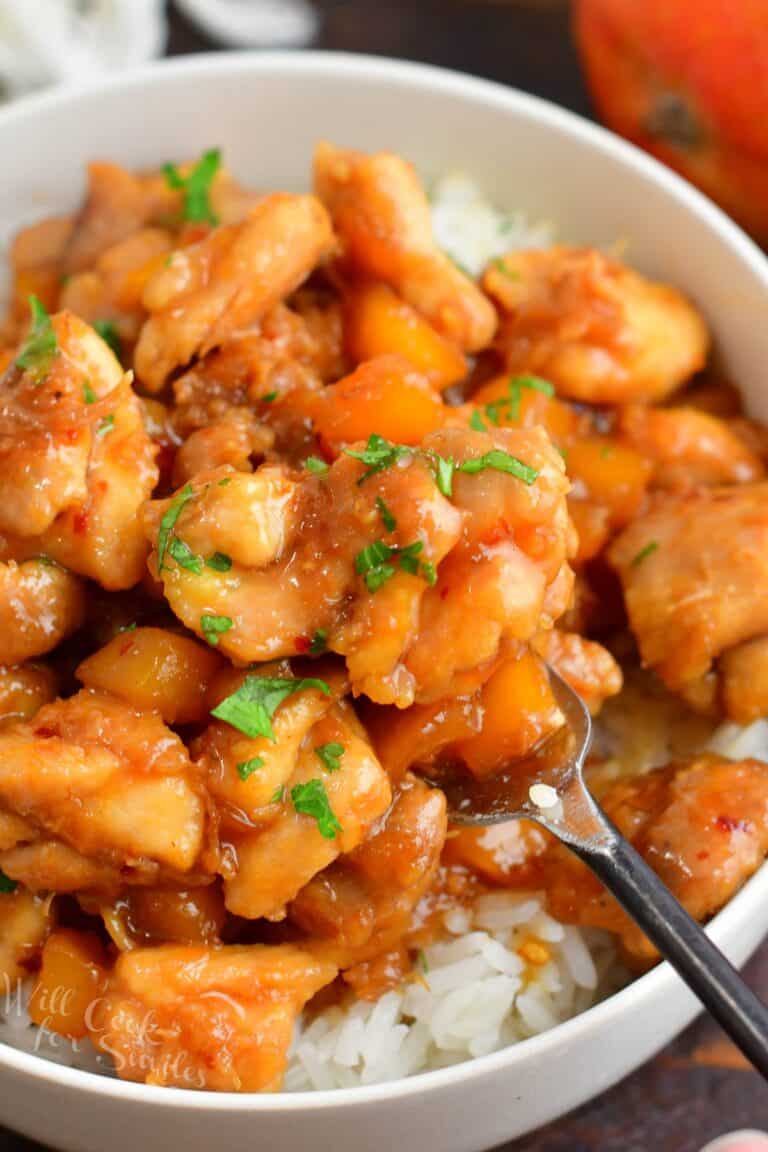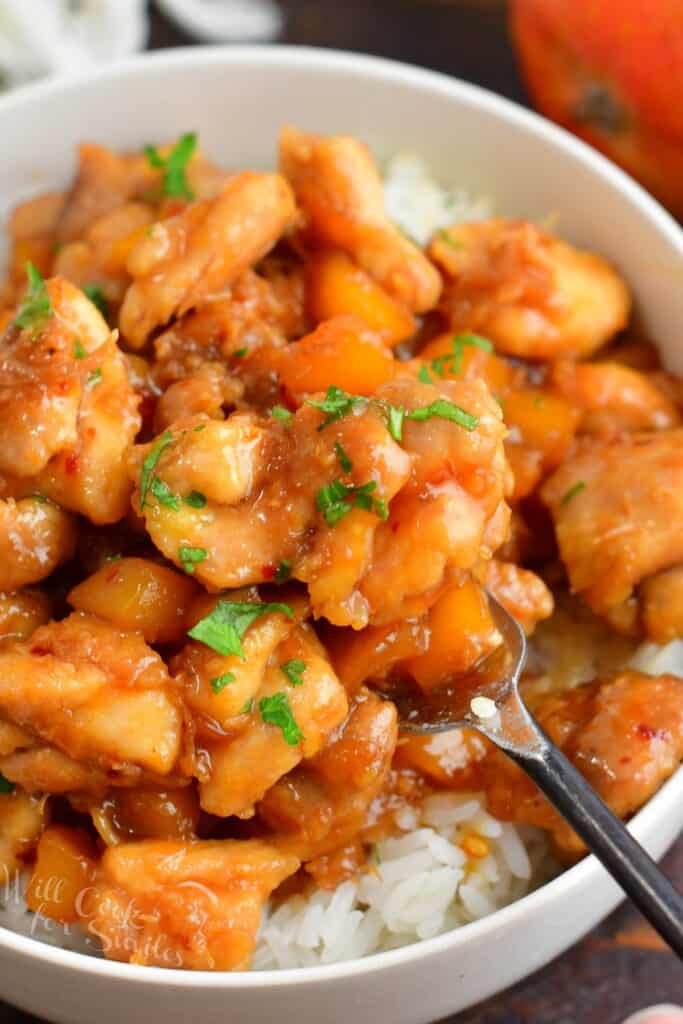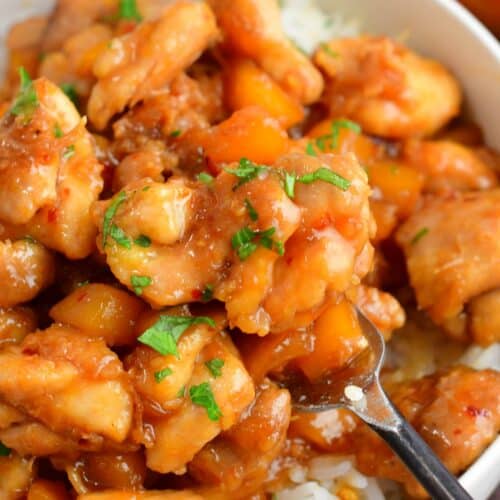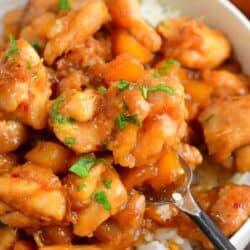 Mango Chicken
Mango Chicken and Rice is an amazing Asian inspired dinner made with tender chicken thigh meat and flavorful fresh mango sauce.
Print
Pin
Save
Saved!
Rate
Ingredients
2

lbs

boneless, skinless chicken thigh meat

2

tbsp

cornstarch

2-3

tbsp

canola oil

for cooking
Mango Sauce:
2

tbsp

butter

1

ripe mango

1/3

cup

honey

1/4

cup

low sodium soy sauce

1/4

cup

chicken stock

3

garlic cloves

pressed

1

lime – juice only

1

tsp

fresh ginger

grated of shaved

1/2-1

tsp

red pepper flakes

to taste
Coconut Rice:
1

cup

jasmine

1

cup

chicken stock

5.46

oz

can coconut milk

1/2

tsp

white granulated sugar

salt

to taste
Instructions
Rice:
Set up rice to cook while you are cooking the chicken.

In a cooking pot, over medium-high heat, combine coconut milk, chicken stock, sugar, and salt. Whisk it together and bring the mixture to boil.

Add rice, stir just once, lower the heat to the lowest setting and close the pot with a lid. Do not open the lid of disturb rice while it's cooking. Cook rice for about 18-20 minutes but check the packaging of your rice for cook time recommendation.

When rice is done, fluff it up with a fork and set aside until chicken is ready.
Mango Chicken:
Dice mango flesh into small pieces and set aside. In a small bowl, whisk together honey, soy sauce, chicken stock, lime juice, ginger, garlic, and red pepper flakes. Set it aside as well.

Cut chicken thighs into small pieces and cut off as much excess fat as possible in the process.

Put cut chicken into a mixing bowl and add cornstarch. Mix chicken well until evenly coated with cornstarch.

Preheat a large cooking pan first, over medium to medium-high heat, and add oil. Add dredged chicken and sear it on all the sides until almost done. Take chicken out and set is aside.

Lower the heat to medium. Melt butter in the pan where you cooked the chicken and diced mango. Stir and cook mango for a couple of minutes, until softened.

Whisk the sauce again and pour it into the pan with mango. Gently stir and let it simmer for a couple of minutes.

Add chicken back, stir, and let it cook another 2-3 minutes, until chicken is completely done and sauce is a little bit thicker.

Serve mango chicken with sauce over rice.
Nutrition
Calories:
804
kcal
|
Carbohydrates:
79
g
|
Protein:
51
g
|
Fat:
32
g
|
Saturated Fat:
15
g
|
Polyunsaturated Fat:
5
g
|
Monounsaturated Fat:
10
g
|
Trans Fat:
1
g
|
Cholesterol:
231
mg
|
Sodium:
820
mg
|
Potassium:
939
mg
|
Fiber:
3
g
|
Sugar:
33
g
|
Vitamin A:
872
IU
|
Vitamin C:
26
mg
|
Calcium:
65
mg
|
Iron:
4
mg
Tried this recipe?
Mention @willcookforsmiles and tag #willcookforsmiles