Panzanella salad may seem like an basic dish with a simple combination of bread, tomatoes, cucumber, and vinaigrette, but it's really a magical showcase of summer's most beautiful flavors! It's all about the balance of textures and flavors to get the most out of the few simple ingredients. Make sure to use a mix of juicy ripe tomatoes, a toasted hearty bread, fruity olive oil, red wine vinegar, fresh aromatic basil, and fresh cucumbers and onion for the best panzanella!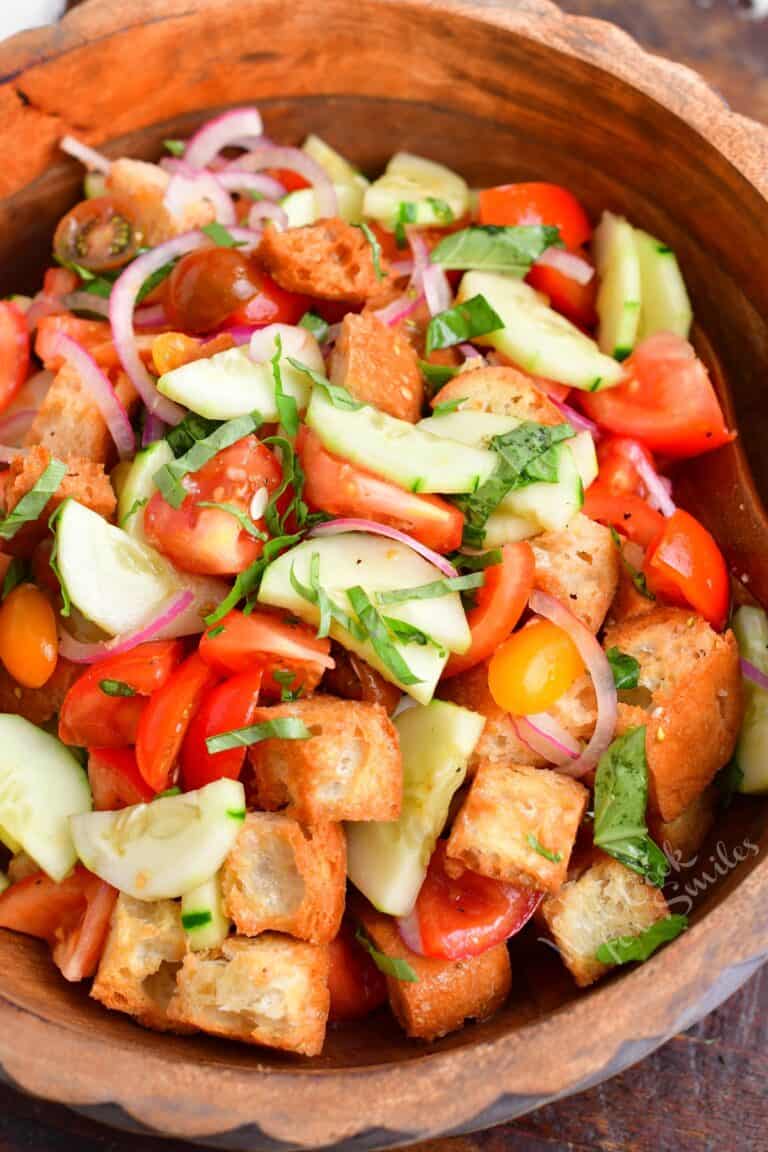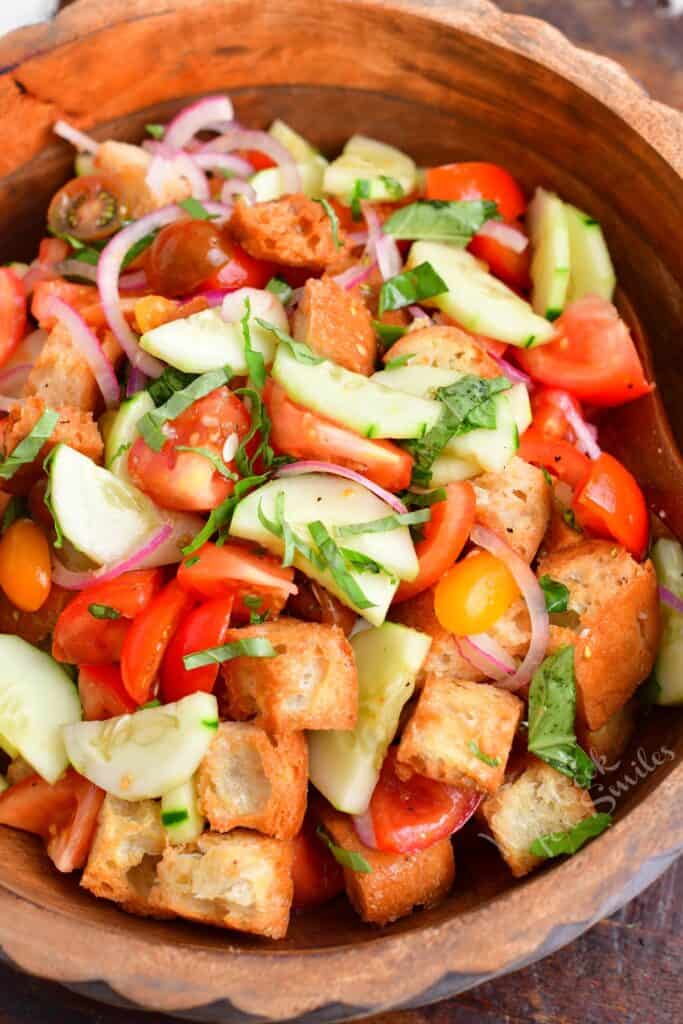 Panzanella Recipe
Hot weather calls for only one thing – salad for dinner! This panzanella is one of the all time best summer salads, as it's one that combines the most beautiful ingredients and it requires so little time.
Plus, all of those gorgeous fresh tomatoes need a dish to highlight them. If you have a garden full of tomatoes, this is the perfect recipe for you. I love putting fresh, juicy tomatoes to good use!
So, what exactly is a penzanella salad?
It's a Tuscan bread and tomato salad made with ripe garden tomatoes and slate hearty bread. It was once considered peasant food, so the ingredients are simple and wonderfully inexpensive. Nothing about this recipe is overly rich or complicated. In the hot summer, it's a dish that's often made for dinner and enjoyed outside with the family.
Traditional panzanella is made with stale, dried bread that's soaked in the olive and vinegar dressing to rehydrate it. And of course, it features flavors of sweet tomato juices, vinegar, and plenty of olive oil.
It's a make ahead dish because you need flavors to marinate together and give the bread time to really soak in the dressing. So, it's often made 30 minutes to 4 hours ahead of time. But you have to decide how long ahead you want to make it based on your bread. One thing you don't want, it overly soggy bread. There is a delicate balance of soaked but still firm in the middle and just mushy.
Ingredients for Panzanella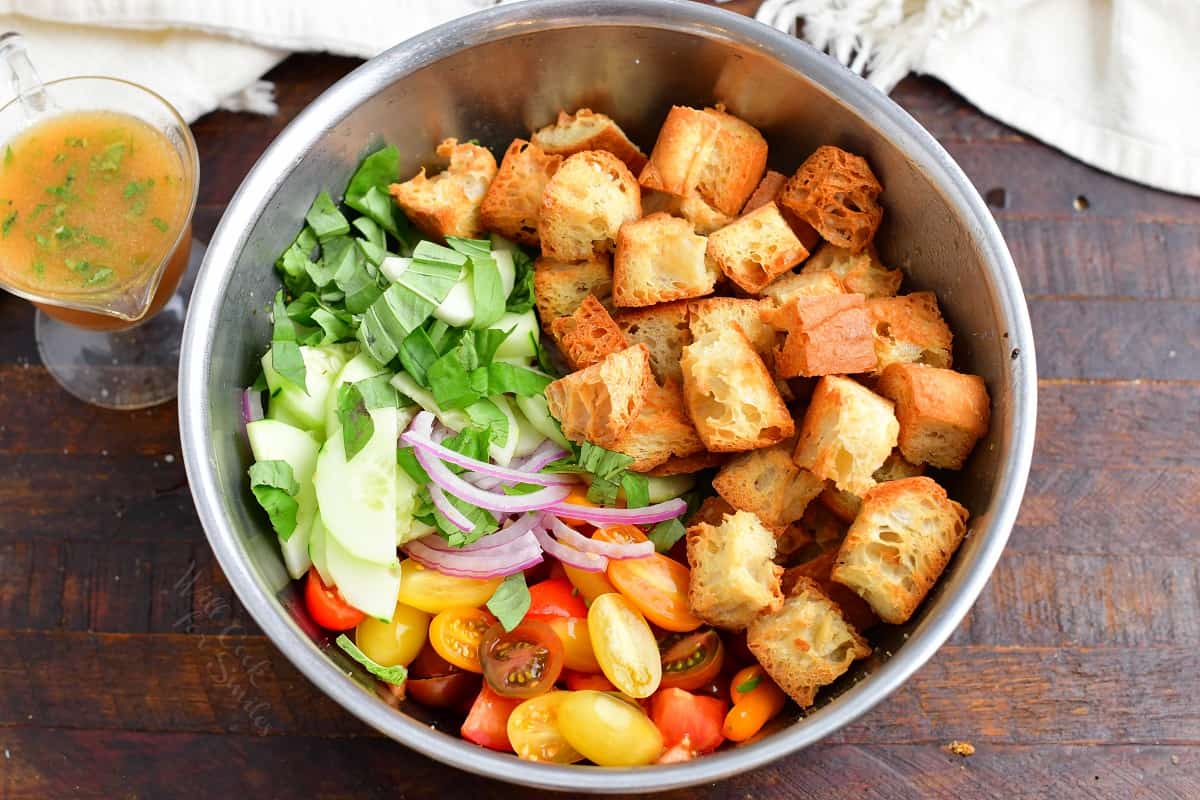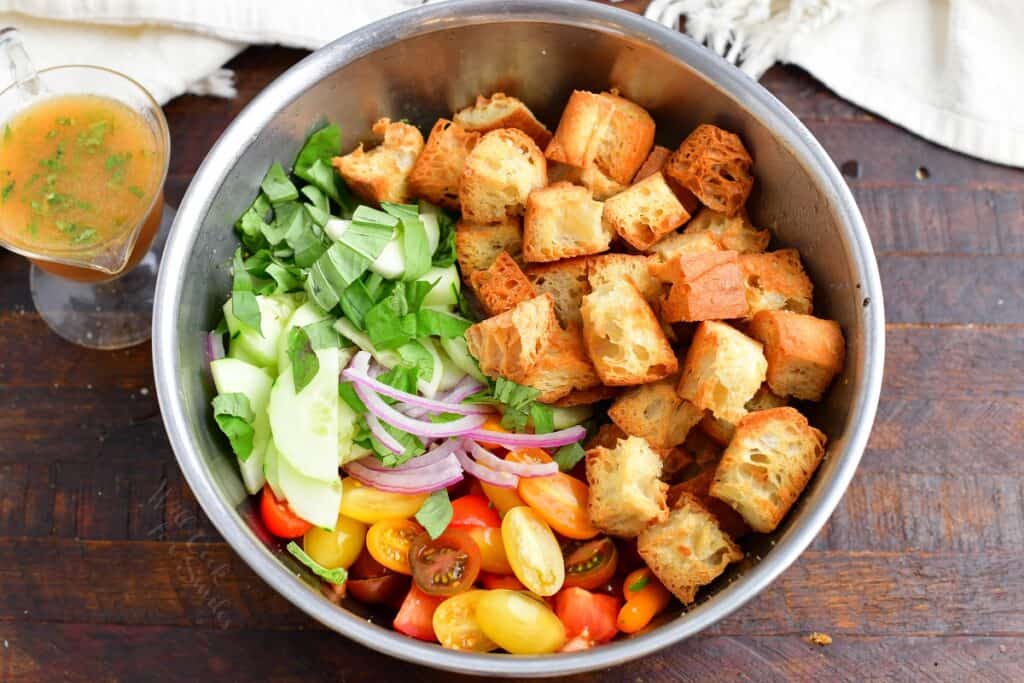 For Homemade Croutons:
Ciabatta Bread – this is the best bread option for panzanella but in a pinch, sourdough can also be used. If the bread is a day old, even better!
Olive Oil – For the most authentic Italian flavor, avoid using any other type of cooking oil.
Salt – With these croutons, I highly recommend using coarse sea salt for the best flavor.
For Tomato Salad:
Cherry Tomatoes – Grape tomatoes will also work here. Just make sure your tomatoes are as vibrantly red, ripe, and as juicy as possible! The quality of the tomatoes will make or break the salad.
Roma Tomatoes – Tomatoes on the vine or heirloom tomatoes will work as well. As previously mentioned, make sure these are also ripe and fresh!
Red Onion – Red onions have the most potent flavor of all the onions, which make them perfect for this salad.
Cucumber – Thin or thick slices are both delicious when tossed in this Italian medley, so slice it however you'd prefer.
Basil – Use fresh, not dried basil! Fresh basil gives this salad the most incredible summer flavor.
Salt – The coarse sea salt here will be used for the tomatoes to help enhance their natural juices even more.
For Tomato Vinaigrette:
Tomato Juice – No need to purchase this ingredient! You just need to use the juices that naturally drain off of the tomatoes in the salad.
Olive Oil – A mild and fruity olive oil will taste best in this vinaigrette, but extra virgin is also delicious.
Red Wine Vinegar – Sherry vinegar may be used in place of red wine vinegar in a pinch.
Garlic – Only one clove is needed to provide a delicious garlicky flavor.
Basil – Remember, fresh, not dried basil is called for in this recipe, as it provides the most bold basil flavor.
Dijon Mustard – This ingredient provides a sweet, yet tangy element to the vinaigrette and help emulsify vinegar and oil together.
Salt – Be very conservative with the amount of salt you use. This vinaigrette can get too salty very quickly.
Black Pepper – Freshly ground black pepper will yield the most flavorful results.
Can Panzanella Be Gluten Free?
Absolutely! You will need to use a dense, white gluten free bread. Preferably not one made with rice flour as that one will be lighter. Since most gluten free bread comes pre-sliced, you will just have smaller croutons and will need to adjust the baking time. Try cutting bake time for croutons in half and check on your bread.
Most vinegars are gluten free but double check the vinegar you plan to use.
How to Make Panzanella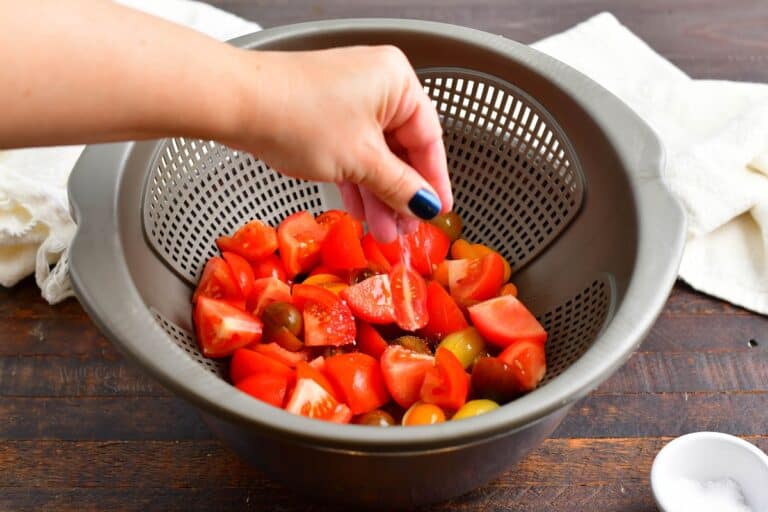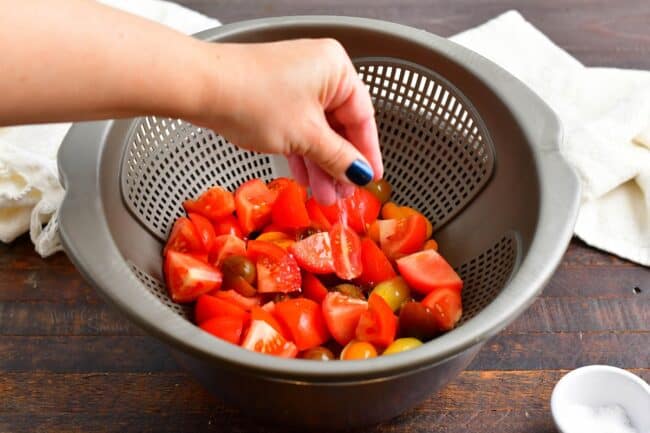 Prepare the Tomatoes
First thing you will want to do, before starting the croutons and the salad, is to salt your tomatoes. This will give them a good amount of time to give out juices.
Slice the cherry tomatoes into halves and larger tomatoes into chunks. Place them in a strainer. You will need to place the strainer into a large bowl to catch the tomato juice.
Sprinkle tomatoes with salt and mix them well. let them sit while you prepare the rest of the salad.
How to Make Homemade Croutons
Start by preheating your oven to 350°F and preparing a baking sheet. Then, cut the bread into one inch cubes. Try to make them as even as possible – presentation is important, after all!
Toss the cubes with olive oil and salt. Once coated, spread the bread cubes onto the prepared baking sheet in an even layer. They should not be touching each other.
Bake the croutons for 16 minutes, flipping them half way through baking. They will be beautifully golden brown once they're fully cooked. blow them to cool on a wire rack before using.
Mix Vegetables and Croutons
To prepare the salad itself, you just need to gently mix all of the ingredients together. This includes the cooled croutons, the salted tomatoes, and remaining fresh ingredients.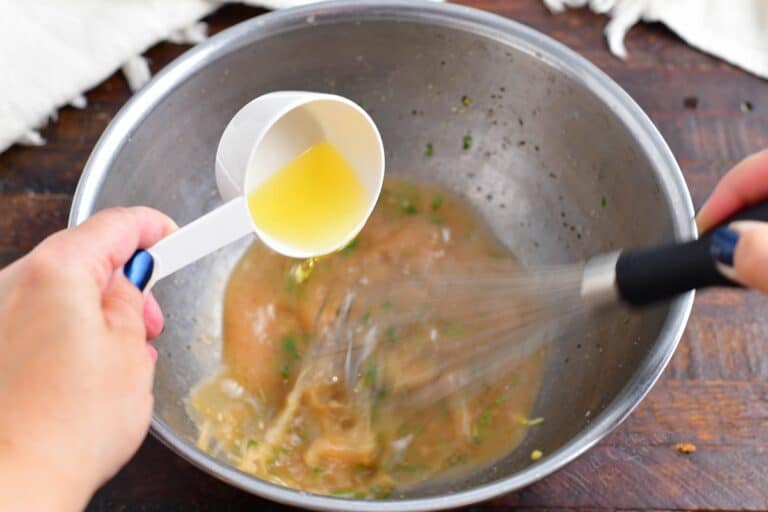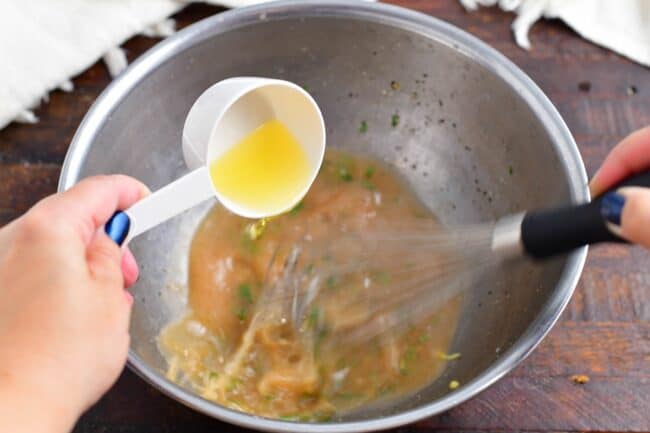 How To Make Tomato Vinaigrette
Combine Dijon, red wine vinegar, garlic, basil, salt, and pepper to the bowl with the tomato juices.
Vigorously whisk all of the ingredients while slowly drizzling in the olive oil. This will help the olive oil and vinegar emulsify.
Finally, toss the salad with the homemade vinaigrette until everything is fully coated. Allow the freshly tossed salad to sit for at least a half hour before serving.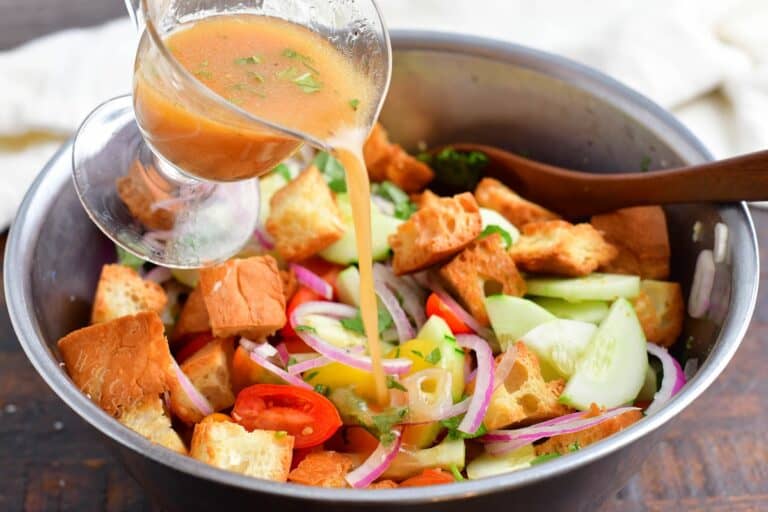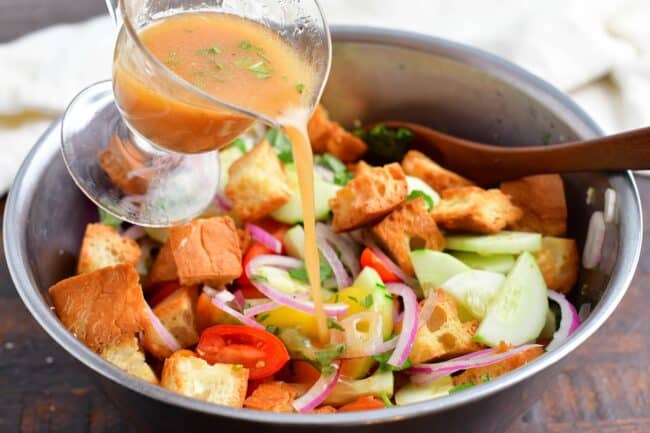 Tips for the Perfect Panzanella
Start by salting the tomatoes and letting the juices drain out. This is a great way to draw out tomatoes rich flavor and those beautiful tomato juices will be so delicious in the dressing!
Allow the salad sit for 30 minutes to 2 hours before serving it for dinner. Since we're not using stale bread but toasted instead, do keep an eye on the bread so it doesn't turn into mush. There is a fine line between beautifully soft, yet toasty bread, and mushy bread.
This salad is not good to have as leftovers, but you can make some parts of it ahead of time. You can save yourself some time by baking the bread and dressing ahead of time. But you'll need to mix in the tomato juices into the dressing before making the salad.
Is this recipe for panzanella traditional?
Since even the most traditional dishes undergo modification with time and migration to other countries, this is a unique take of the traditional panzanella. After all, recipes are always based on availability and personal tastes. I do like to keep things traditional, but I also can't pass up a chance for more flavor!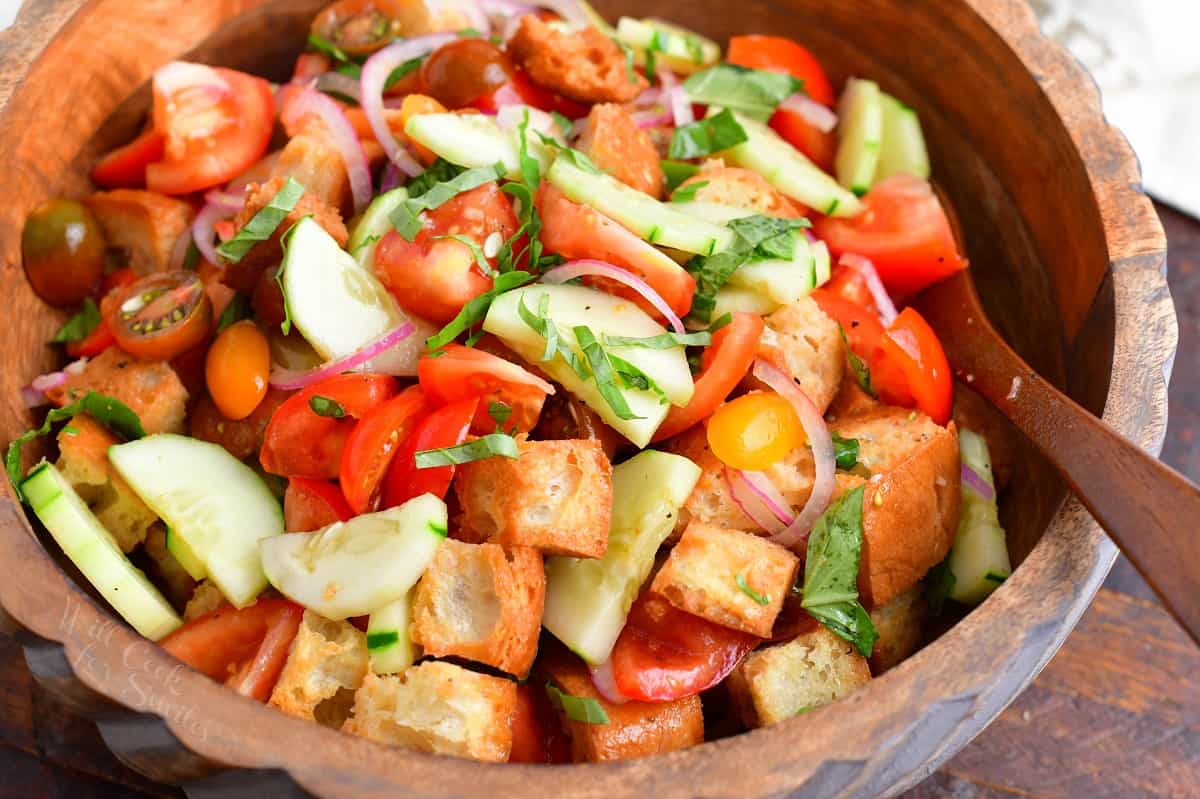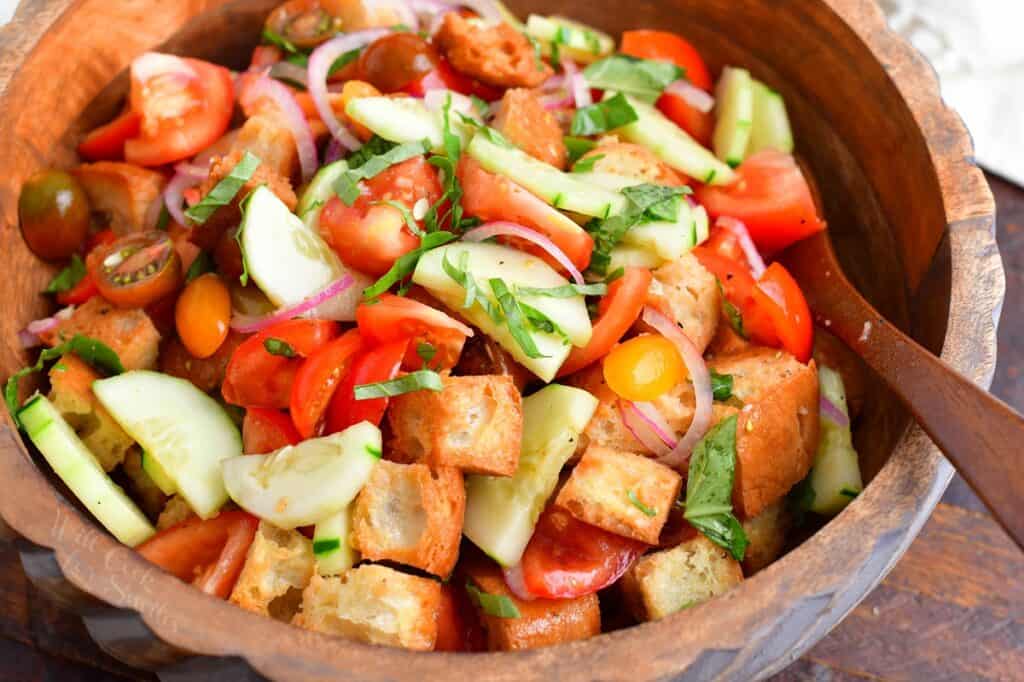 Can I make it ahead of time?
You can prepare the croutons up to 2 days before. Store the croutons in an airtight container on the counter. To give them a little crispy refresh, spread them on a baking sheet and bake at 400°F for about 4 minutes.
You can also prepare the dressing ahead of time, but you'll need to mix in the tomato juices when preparing the salad. Store the dressing in an airtight container in the refrigerator for 2-3 days. Be sure to give it a good shake before using as well.
What else can I add to this panzanella?
There are plenty of ingredients you can add! Try adding pine nuts, fresh mozzarella cheese, olives, or baby arugula to this summery salad. You can also add protein like grilled chicken or shrimp.
Some More Great Salad Recipes:
Greek Salad – a refreshing, light, and flavorful salad with bright flavors of cucumbers, tomatoes, lettuce, olives, onion, bell peppers, feta cheese, and homemade Greek dressing.
Kale Salad with Mustard Dressing – this healthy salad is packed with fresh kale, red onions, avocado, cranberries, nuts, and feta cheese.
Caesar Salad – this salad recipe has homemade croutons and a creamy Caesar dressing that your whole family will love.
Creamy Cucumber Tomato Salad – all you need is fresh tomatoes, juicy cucumbers, aromatic dill weed, and tangy sour cream to make this delicious fresh salad.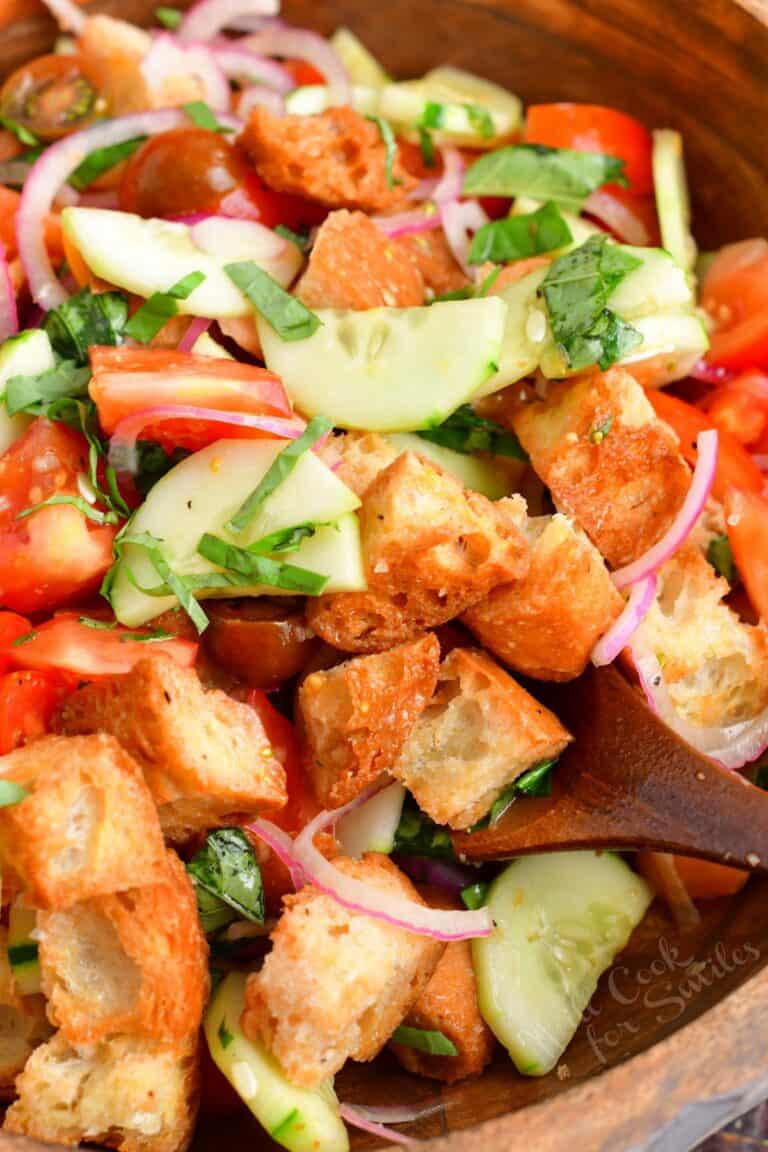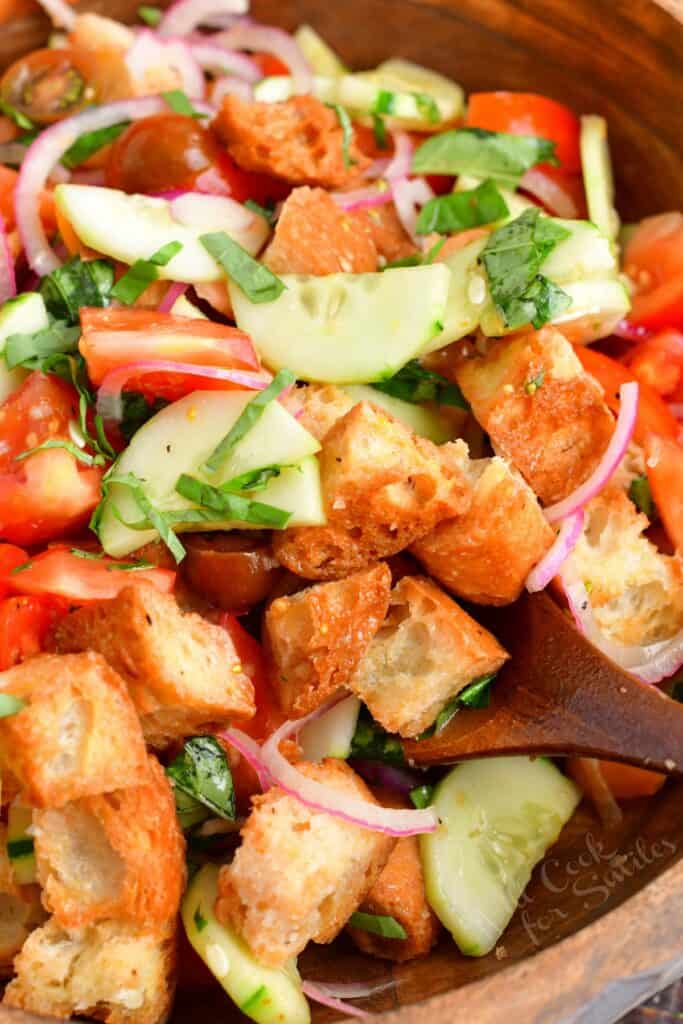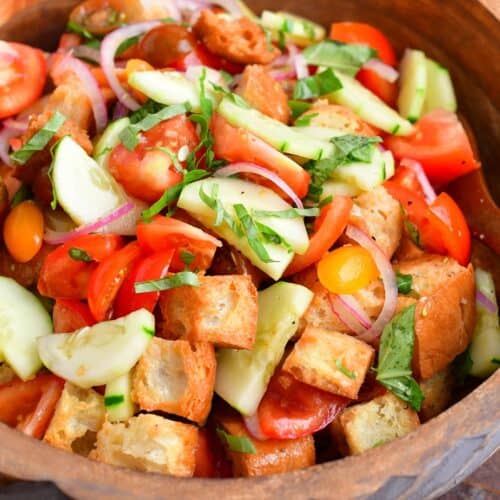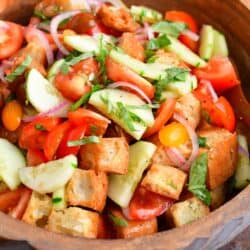 Panzanella Salad
Panzanella salad is a bright and beautiful combination of toasted bread, ripe tomatoes, cucumber, onion, and homemade tomato vinaigrette.
Print
Pin
Save
Saved!
Rate
Ingredients
Croutons:
6-7

oz

ciabatta bread

(can also use sourdough)

1/4

cup

olive oil

1

tsp

coarse sea salt

more or less to taste
Salad:
10

oz

cherry tomatoes

12

oz

Roma tomatoes or tomatoes on a vine

1/2

small red onion

thinly sliced

1

medium cucumber

about 8 oz., sliced

1/4

cup

minced fresh basil

1-2

tsp

coarse sea salt

for tomatoes
Vinaigrette:
juices that drained off the tomatoes

1/3

cup

olive oil

2

tbsp

red wine vinegar

can add more to taste

1

garlic clove

pressed

1

tbsp

fresh minced basil

1

tsp

Dijon mustard

1/2

tsp

coarse sea salt*

to taste

1/4

tsp

black pepper
Instructions
Tomatoes:
Cut cherry tomatoes in half and cut other tomatoes into about 1/2 inch chunks. Place tomatoes into a strainer and place the strainer inside a wide bowl to catch the juices. Sprinkle tomatoes with salt, mix, and let them stand while you prepare the rest of the salad.
Croutons:
Preheat the oven to 350° and lightly grease a large rimmed baking sheet.

Cut ciabatta loaf onto 1-inch cubes and make them as even as you can.

Toss cubed bread with olive oil and salt and spread into a rimmed baking sheet in one even. layer. Spread them so they are not touching each other and if you need to, use two baking sheets.

Bake croutons for about 8 minutes, take the out of the oven and flip them, and then bake another 8-10 minutes. You want to make the croutons until they are golden brown. Take them out and let them cool on a wire rack.
Salad:
Transfer tomatoes into a mixing bowl and add sliced cucumber, thinly sliced onion, minced basil, and cooled croutons. Give it a gentle mix and prepare the dressing.
Dressing:
Use the bowl with the tomato juices to make the dressing. Add Dijon mustard, red wine vinegar, pressed garlic, minced basil, salt*, and pepper.

Start whisking vigorously until combined and then, slowly drizzling in olive oil. (Drizzling in the oil slowly while whisking will help emulsify the oil and vinegar together.)

Once it's all incorporated, pour over the salad ingredients and mix everything well.

Let the salad sit for about 30 minutes before serving!
Notes
*Additional salt in the dressing is optional since the tomatoes will be salted and so as the juices that drain off of them. 
Nutrition
Calories:
423
kcal
|
Carbohydrates:
29
g
|
Protein:
6
g
|
Fat:
32
g
|
Saturated Fat:
5
g
|
Polyunsaturated Fat:
3
g
|
Monounsaturated Fat:
23
g
|
Sodium:
1692
mg
|
Potassium:
494
mg
|
Fiber:
3
g
|
Sugar:
6
g
|
Vitamin A:
1216
IU
|
Vitamin C:
32
mg
|
Calcium:
38
mg
|
Iron:
1
mg
Tried this recipe?
Mention @willcookforsmiles and tag #willcookforsmiles