This Kale Salad is so flavorful with a great balance of sweet, savory, and tangy flavors. This healthy salad is packed with fresh kale, red onions, avocado, cranberries, nuts, and feta cheese. What makes it the best is the mustard dressing. It's a sweet and tangy mustard vinaigrette that makes this salad outstanding!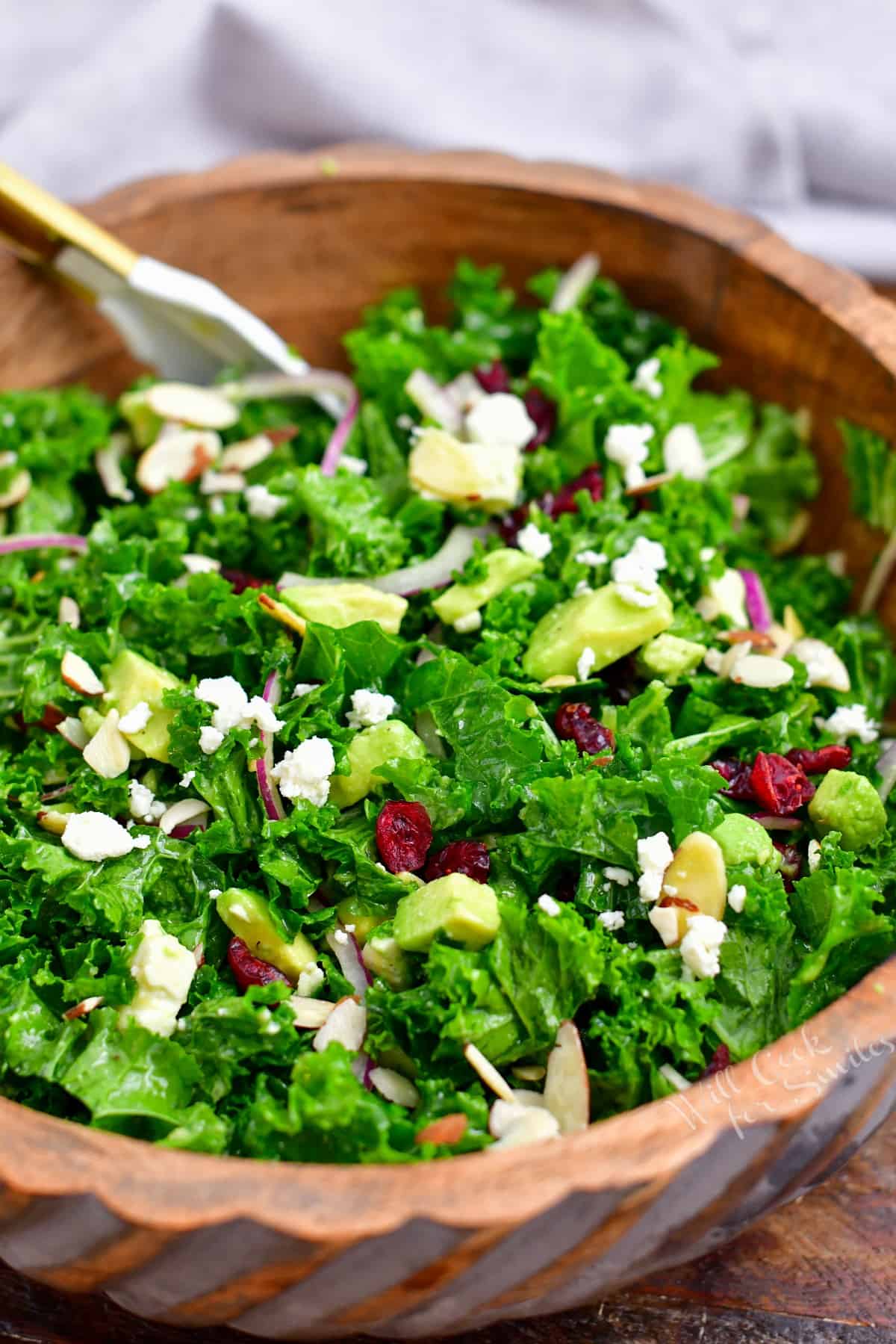 With a crazy amount of health benefits, kale is one of my favorite superfoods. However, it has a very strong flavor, and sometimes it's tricky to create dishes with a good flavor balance.
This green salad recipe has totally changed the game for me. It's made with a simple mustard dressing and is full of nutritious and flavorful ingredients like nuts, avocado, and dried cranberries. This dish has quickly become my new favorite way to get all my vitamins for the day!
There is a great flavor combination here between the onions, nuts, cranberries and feta cheese. I also love the combination of soft and crunchy textures that you get from the kale and nuts mixed with avocado and feta cheese.
Kale Salad Ingredients
For the salad itself, you will need:
Kale – When searching for the perfect kale, make sure the bunch is a rich, firm, dark green color. You can tell the kale is expired or close to expiring when it begins to lose that dark color, soften, and turns yellow.
Olive Oil – The flavor of olive oil is delicious in this recipe! However, avocado oil works as well if that better fits your dietary needs.
Dried Cranberries – I love this ingredient! It's like mixing tangy, chewy candy right into your salad. Plus, these sweet treats are full of antioxidants.
Red Onion – Be sure to slice the onion into very thin slices! You don't want chunks of strong onion on your fork. Slicing the onion thinly is the best way to get subtle bitter notes of onion that don't overpower the other ingredients.
Sliced Almonds – Besides adding a great crunchy texture, almonds are so good for you, too! They're loaded with vitamin E and magnesium, making them one of my favorite ingredients to toss on my salad.
Avocado – How do you know if your avocado is ready to cut into? This can be tricky! If it's mushy when lightly squeezed, it's too ripe. If it's rock solid when squeezed, it's definitely not ripe yet. Choose one that would slightly yield when gently squeezed.
Crumbled Feta Cheese – Feta cheese is the ultimate kale salad topper! If you're more of a goat cheese fan, that works as well. Just make sure it's crumbled for the perfect texture!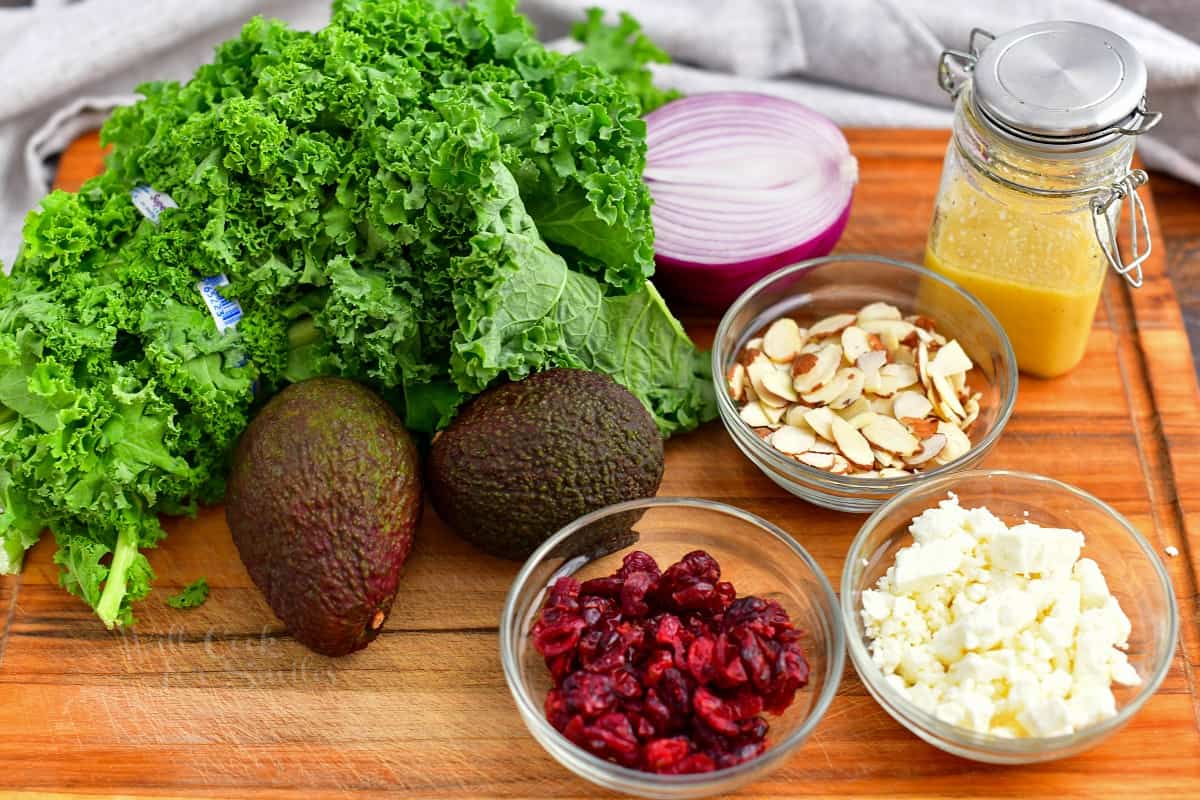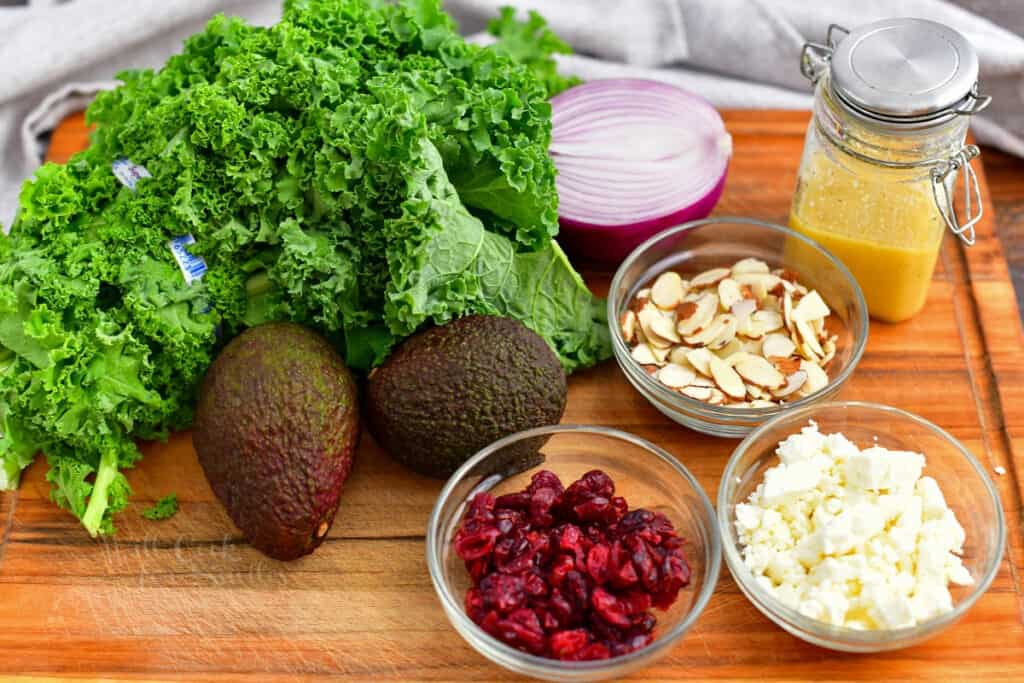 Mustard Dressing
For the salad dressing (which is SO divine!), you'll need:
Olive Oil – I love olive oil for its flavor, and of course, the numerous health benefits it has! However, if you need to substitute this oil, choose a healthy option like avocado oil instead.
Maple Syrup – This ingredient provides the perfect amount of natural sweetness to the dressing that balances fantastically with the bitter kale leaves.
Apple Cider Vinegar – Did you know that apple cider vinegar helps with digestion and blood sugar levels?
Dijon Mustard – Make sure you're using Dijon mustard, not plain yellow mustard. The Dijon flavor is important for the dressing.
Lemon Juice and zest– Use 1 ripe lemon for the best flavor of fresh juice and zest.
Seasonings: Garlic, sea salt, and cracked black pepper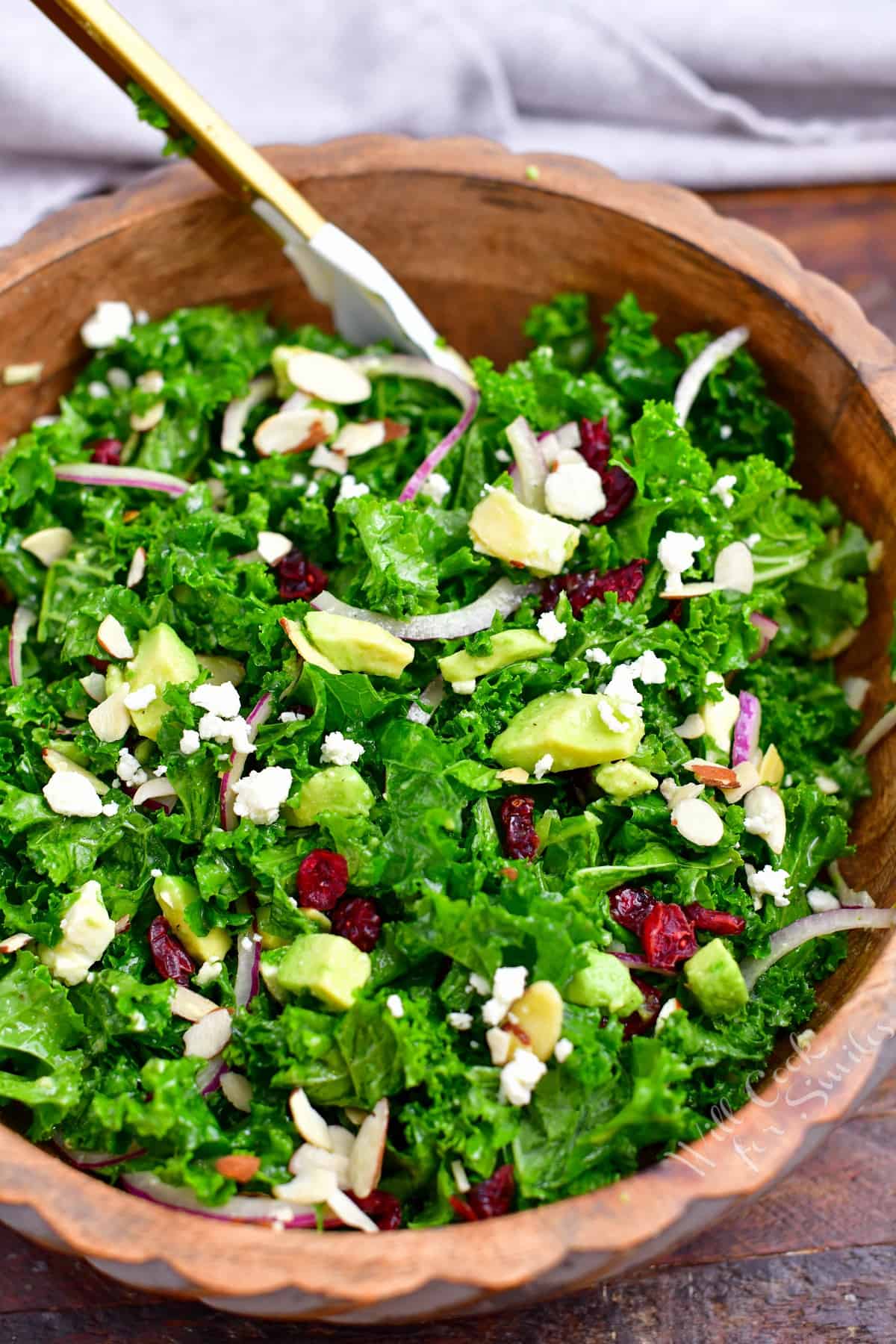 How to Make This Salad Recipe
Make the dressing.
Who says making homemade salad dressing has to be a challenge? Simply combine all of the ingredients in a small jar, shake until combined, and set aside. It's that easy!
Prepare the greens.
Start by rinsing the bunch under cold water, then let it dry. Next, cut it up, and don't forget to remove and discard the thick, fibrous stem.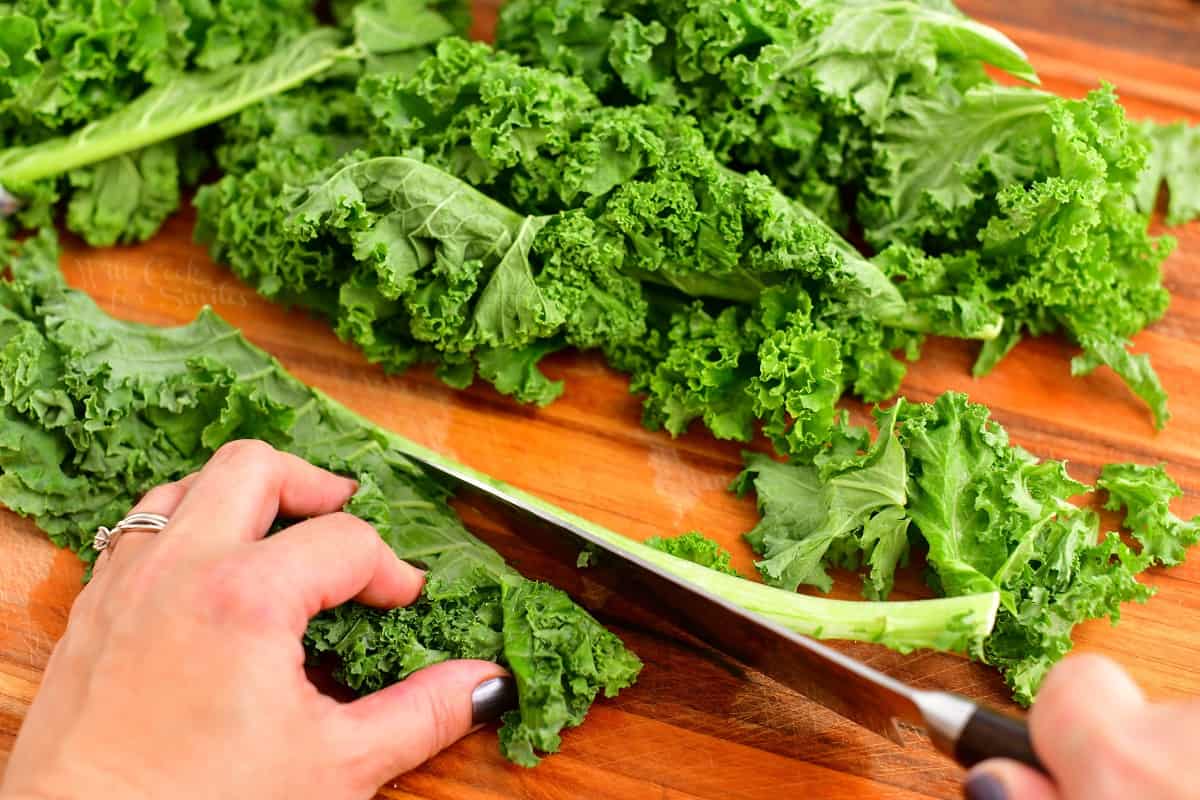 Massage the kale.
Toss the leaves into a clean mixing bowl. Then, add a tablespoon of olive oil over the chopped greens, and toss to coat them evenly. Massage the oil into the greens for just a few seconds.
Massaging the kale before making the salad helps to soften the tough fibers, making them easier to chew and digest.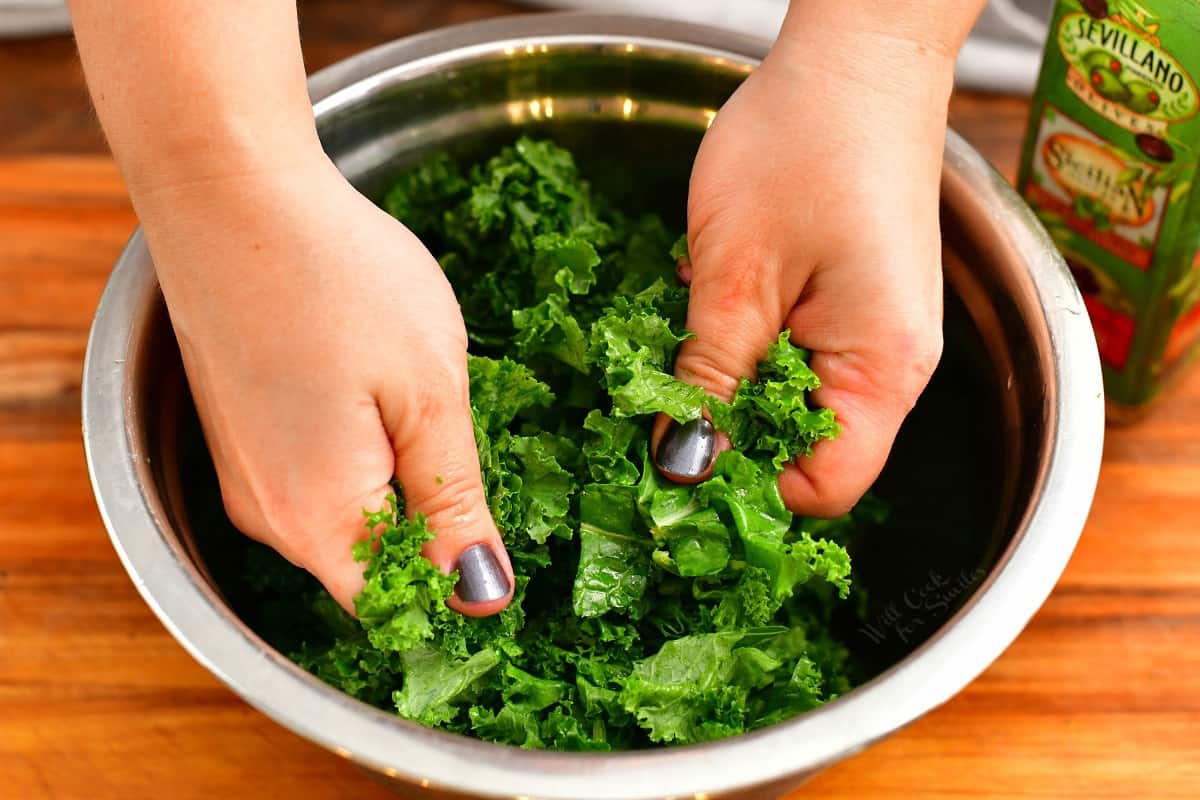 Add the other ingredients.
Place the greens into a salad bowl and top them with the other ingredients. For a prettier presentation, you can line the ingredients up on the top.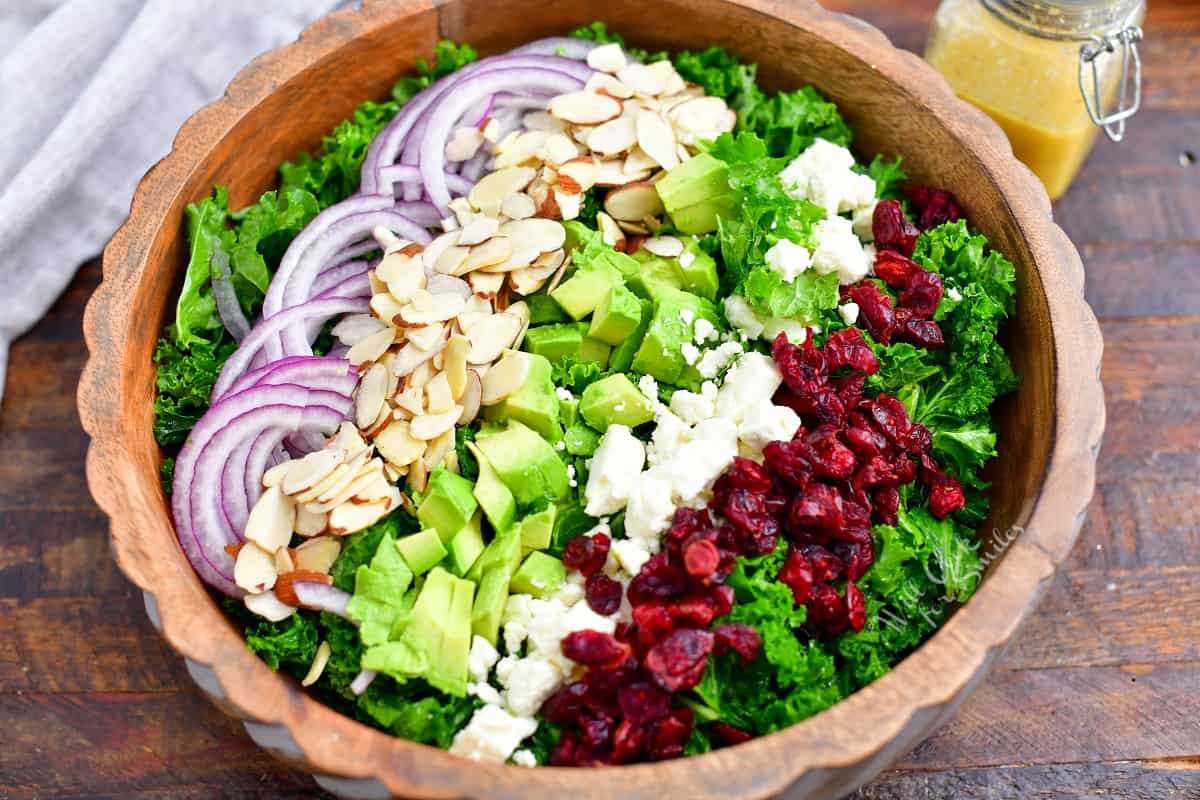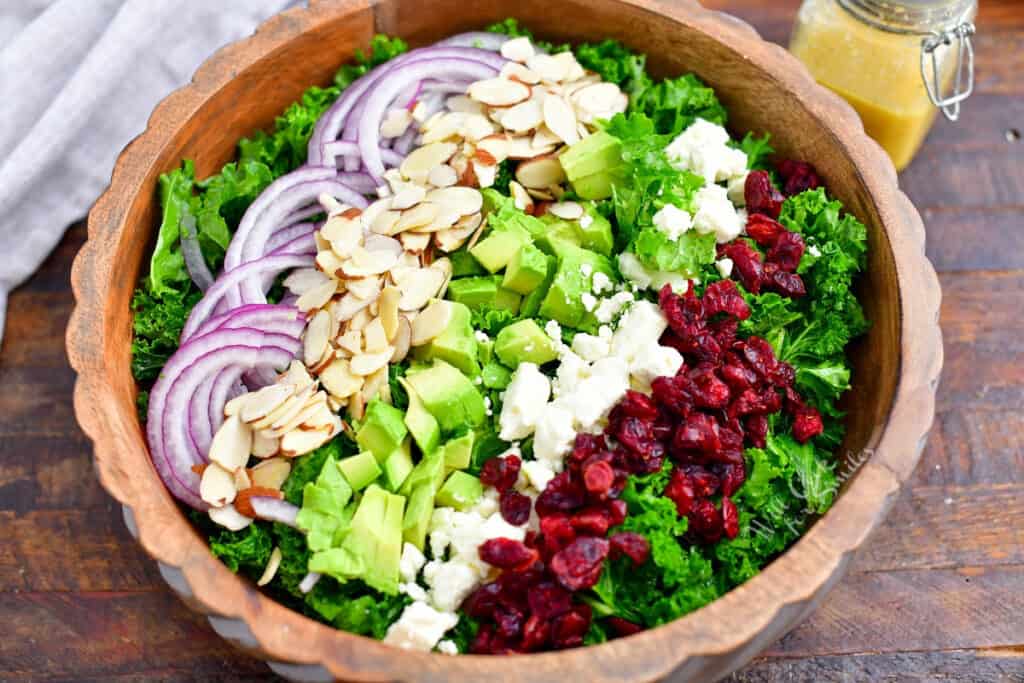 Toss and serve!
This is definitely the fun part of making the kale salad! Add all of the remaining ingredients and toss it until you're satisfied. Serve, and enjoy!
Add as much or as little dressing as you prefer. Leftover dressing should be stored in the refrigerator, in a glass container with a lid.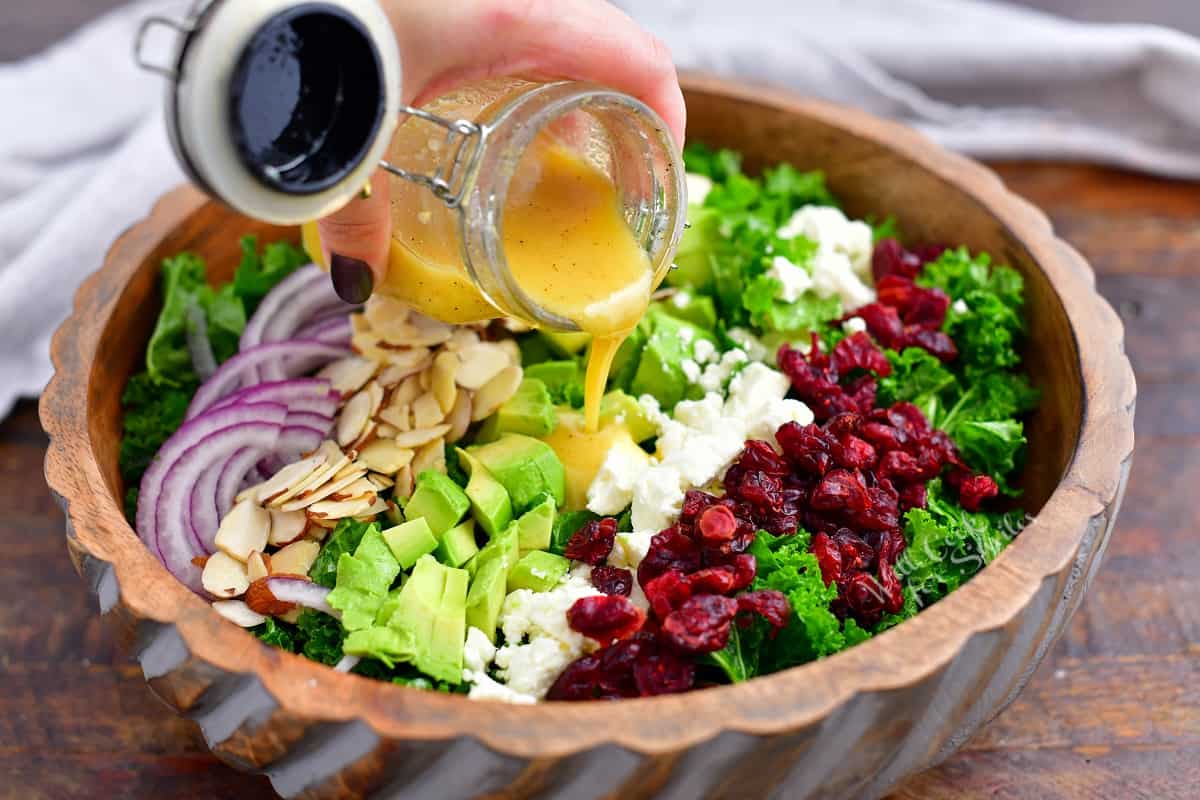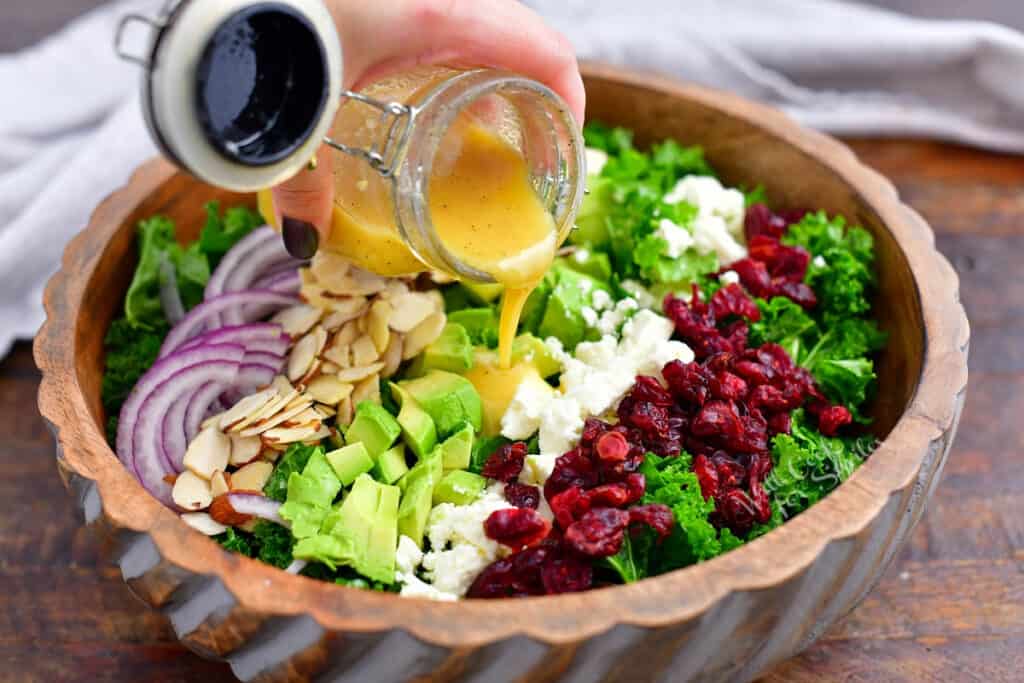 Q&A
What makes kale a superfood?
This vegetable has a crazy amount of vitamins and minerals that are wonderful for your body!
Most notably, it has high levels of vitamins A, K, B6, and C, as well as calcium, potassium, magnesium, manganese, and iron. It is loaded with powerful antioxidants. Kale is also very low in calories, fat, and cholesterol.
Why is massaging kale important?
Giving the kale a loving massage serves a couple of purposes. First of all, it helps to soften the tough fibers, making them easier to chew and digest.
Additionally, it helps to break down the natural chemicals that cause the bitter flavor. As a result, the kale will taste better, and it will be better for your digestive system as well!
How long will it stay fresh?
In an airtight container, kale salad will stay fresh for about 2 days in the refrigerator. Just make sure to not mix it with the dressing if you are planning to make it ahead of time. Mix in dressing right before eating.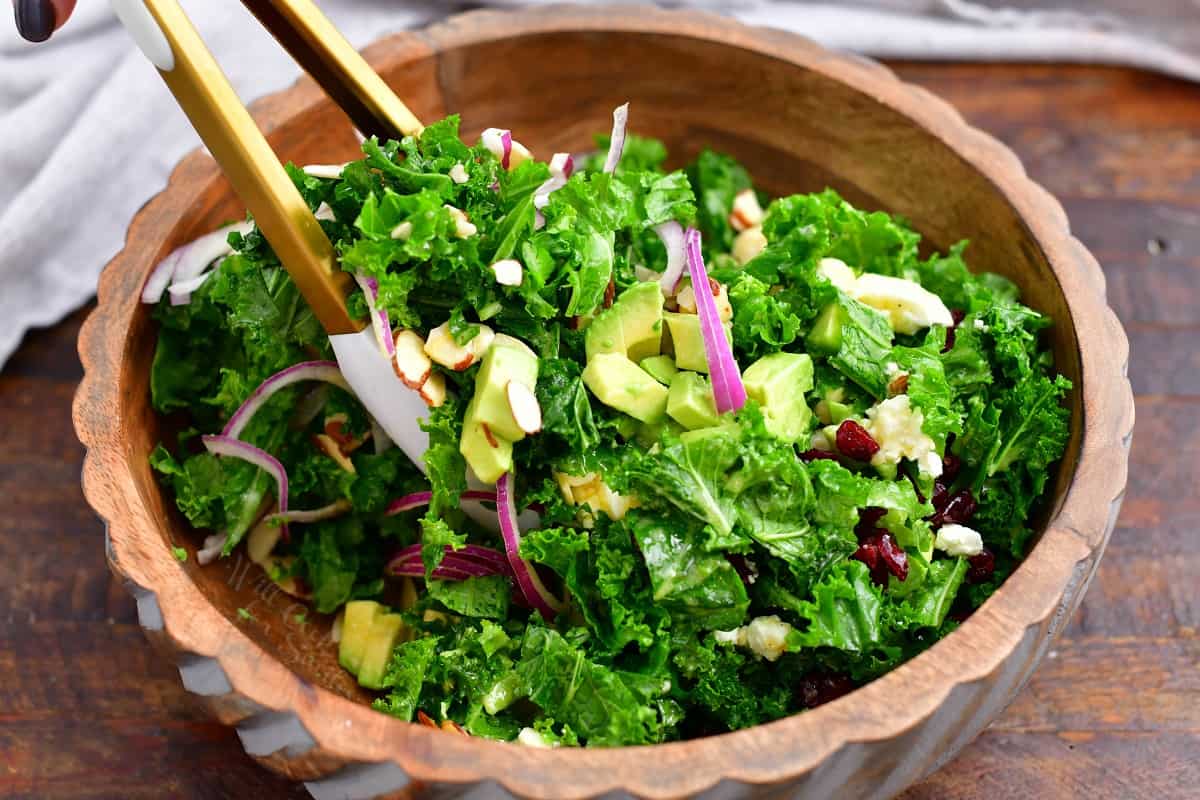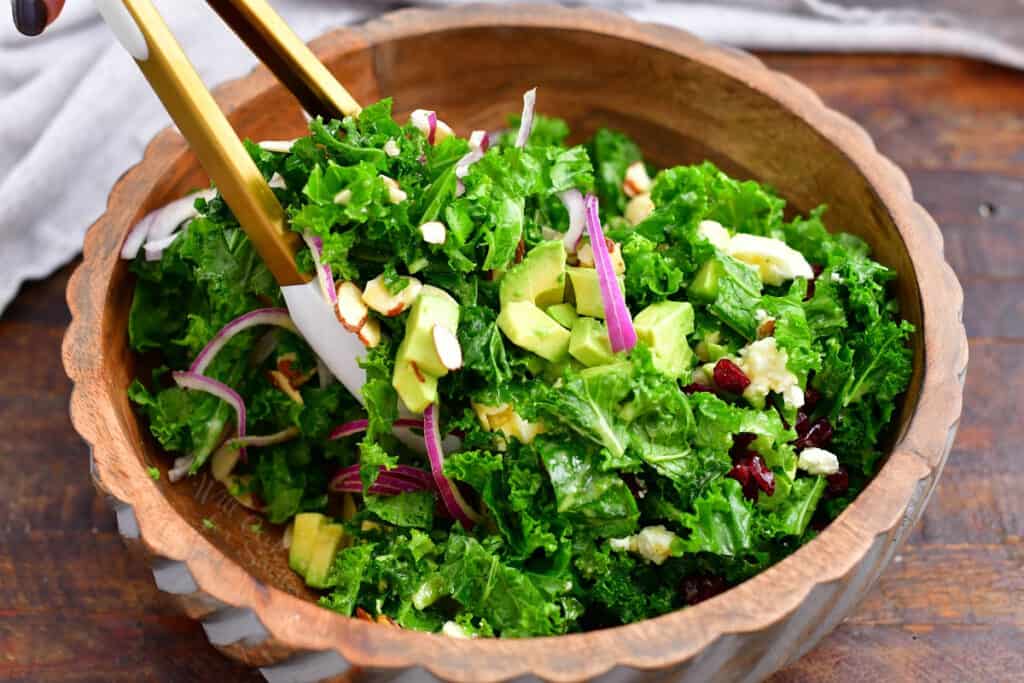 MORE RECIPES TO TRY
Are you a salad skeptic? Trust me, I've had plenty of lackluster salads before, too. There's nothing worse than eating a boring salad and still being hungry after! Do yourself a favor and make this one- you'll love it!
If you want a protein packed kale salad, try my chicken and chick pea kale salad.
Or, if you prefer a different type of lettuce, you can't go wrong with a classic caesar salad and any salad with my recipe for ranch dressing.
Greek chicken salad is one of my favorite light salad recipes.
If you made any of my recipes and shared them on Instagram, make sure to tag me @willcookforsmiles and #willcookforsmiles so I can see all the things you tried!
Don't forget to sign up for email, so you won't miss any new recipes.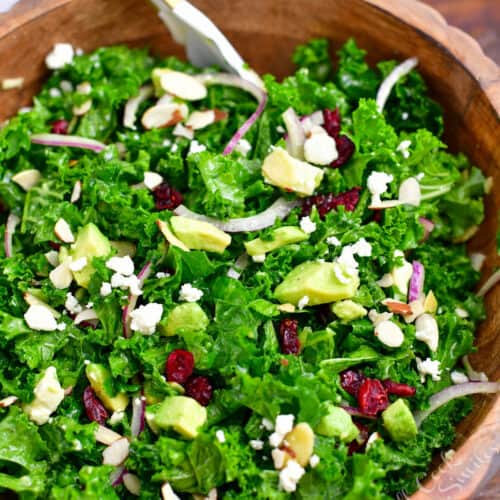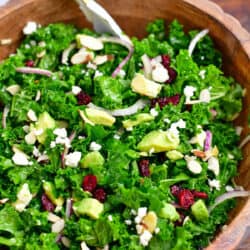 Kale Salad with Mustard Dressing
This kale salad has a great balance of sweet, savory, tangy and salty flavors. Make this healthy salad recipe to serve with dinner tonight!
Print
Pin
Save
Saved!
Rate
Ingredients
Dressing:
1/4

cup

olive oil

2

tbsp

maple syrup

2

tbsp

apple cider vinegar

2

tbsp

Dijon mustard

1

tbsp

lemon juice

1

tsp

lemon zest

1

garlic clove

1/2

tsp

salt

more or less to taste

1/4

tsp

cracked black pepper
Kale Salad:
8

oz.

bunch of kale (average bunch is 7-8 oz.)

1

tbsp

olive oil – to message the kale

1/2

cup

dried cranberries

1/4-1/2

thinly sliced red onion

1/2

cup

sliced almonds

1

large ripe avocado

1/2

cup

crumbled feta cheese
Instructions
Combine all the ingredients for the dressing in a small jar or a dressing shaker. Shake vigorously for a few seconds and set aside.

Rinse kale under cold running water and dry.

To cut the kale: fold the kale leaf in half, lengthwise, that way the leaves are on one side and thick stem that runs along the middle is on the other side. Use a sharp knife to slice off the stem and discard.

Cut the kale leaves and add them into a mixing bowl.

Drizzle about a tablespoon of olive oil over kale and toss them to coat with oil evenly. Gently message kale leaves with clean hands for a few seconds. This will soften then kale and make it easier to chew.

Add remaining salad ingredients and toss with the dressing.

Divide among the serving dishes and enjoy!
Nutrition
Calories:
564
kcal
|
Carbohydrates:
37
g
|
Protein:
13
g
|
Fat:
44
g
|
Saturated Fat:
7
g
|
Cholesterol:
17
mg
|
Sodium:
613
mg
|
Potassium:
785
mg
|
Fiber:
8
g
|
Sugar:
19
g
|
Vitamin A:
5817
IU
|
Vitamin C:
76
mg
|
Calcium:
277
mg
|
Iron:
3
mg
Tried this recipe?
Mention @willcookforsmiles and tag #willcookforsmiles