Italian dressing is fantastic on salads, roasted vegetables, and as a flavorful meat marinade. Don't buy another one at the store because homemade will always be so much better! You can use the best quality ingredients and adjust the flavor to your personal taste.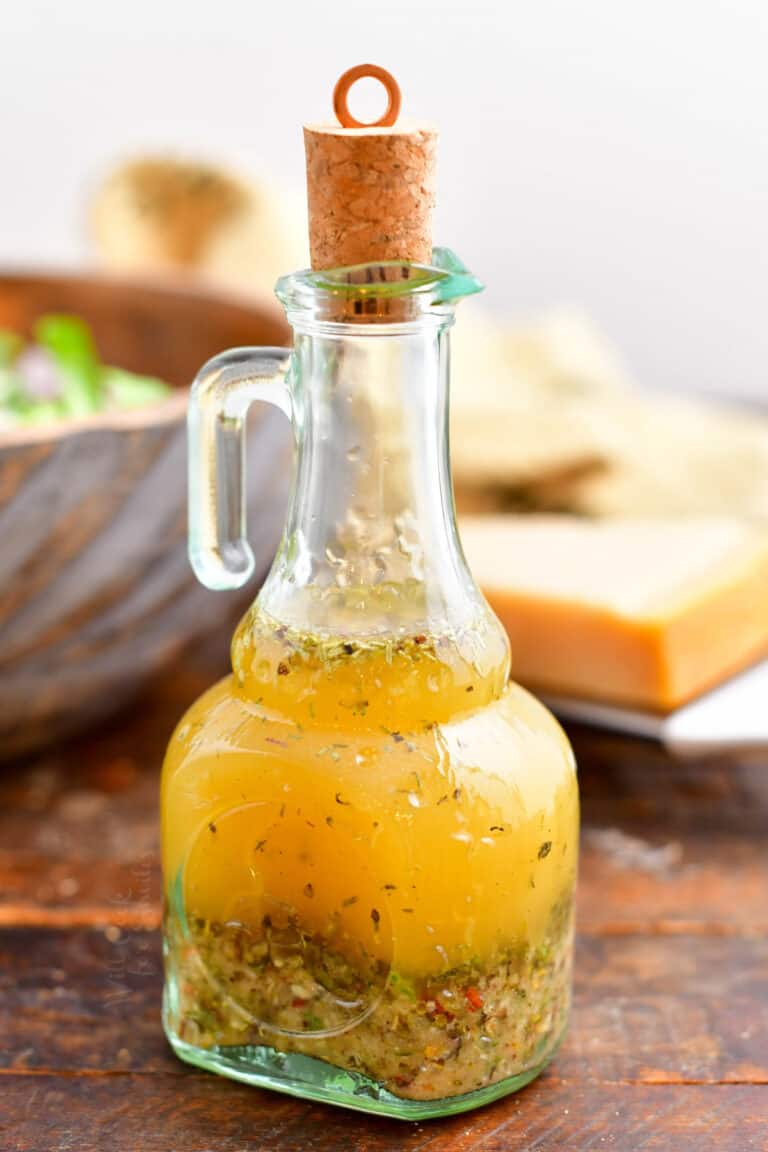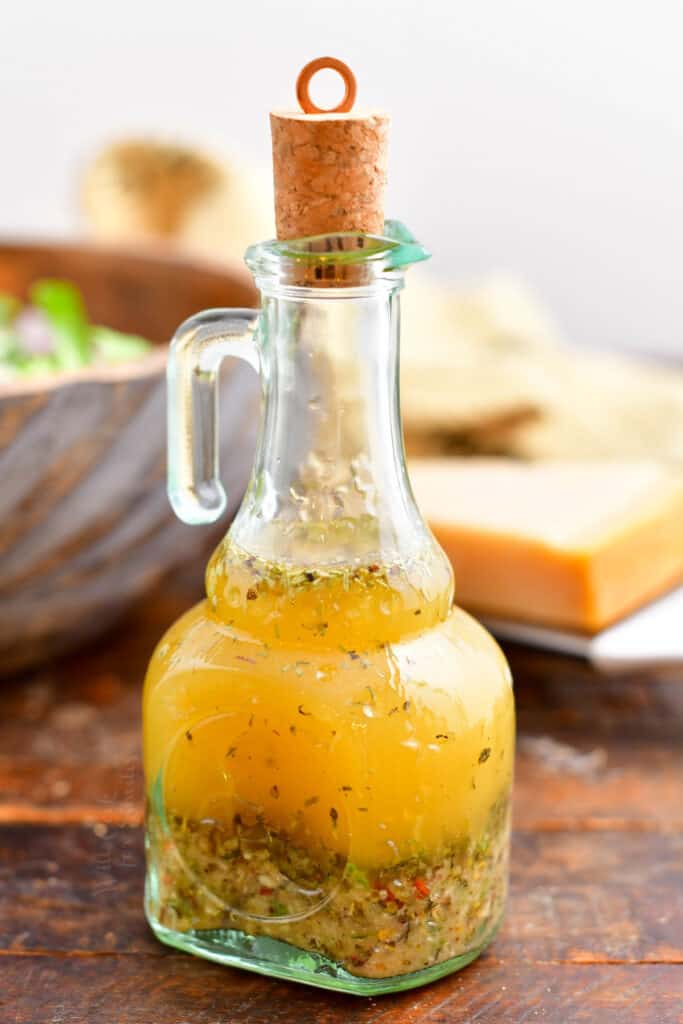 In the world of salad dressings, nothing tastes better than homemade ones. Sure, there are perks of convenience when buying bottled dressing, but the taste and quality just doesn't compare. With store-bought, you also never know exactly what chemical preservatives and other unnecessary ingredients are lurking inside.
So, rather than paying good money for what could be an awful tasting dressing, my preference is to make them from scratch. This way, I can use the best tasting ingredients and know exactly what is in the dressing.
Besides, homemade dressings are incredibly to make! You can also adjust it just to your taste and even diet preference.
Italian dressing is a light dressing that is olive oil based without any cream. I do love to add fresh grated Parmesan cheese to make it taste the best and spice it up with some crushed red pepper flakes. This recipe is also gluten free, just make sure to check the label on the vinegar and cheese. You can also make it keto by omitting sugar or use sugar alternative.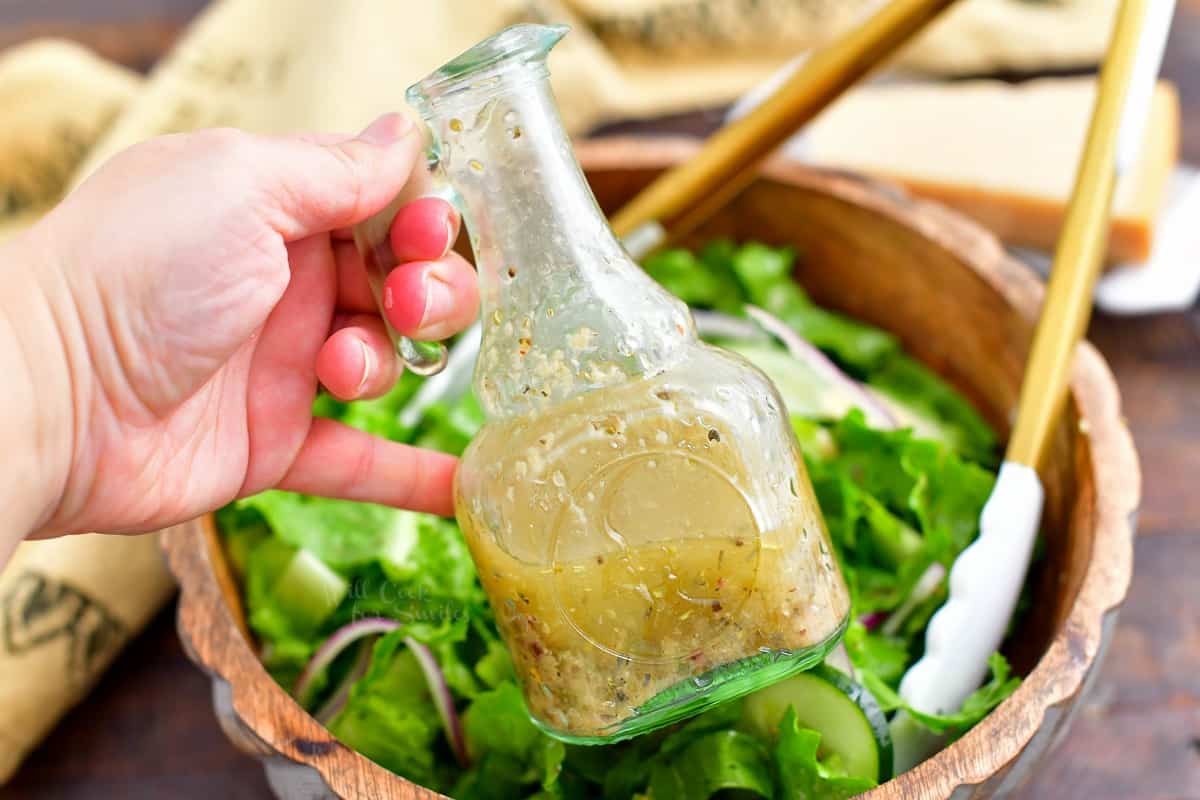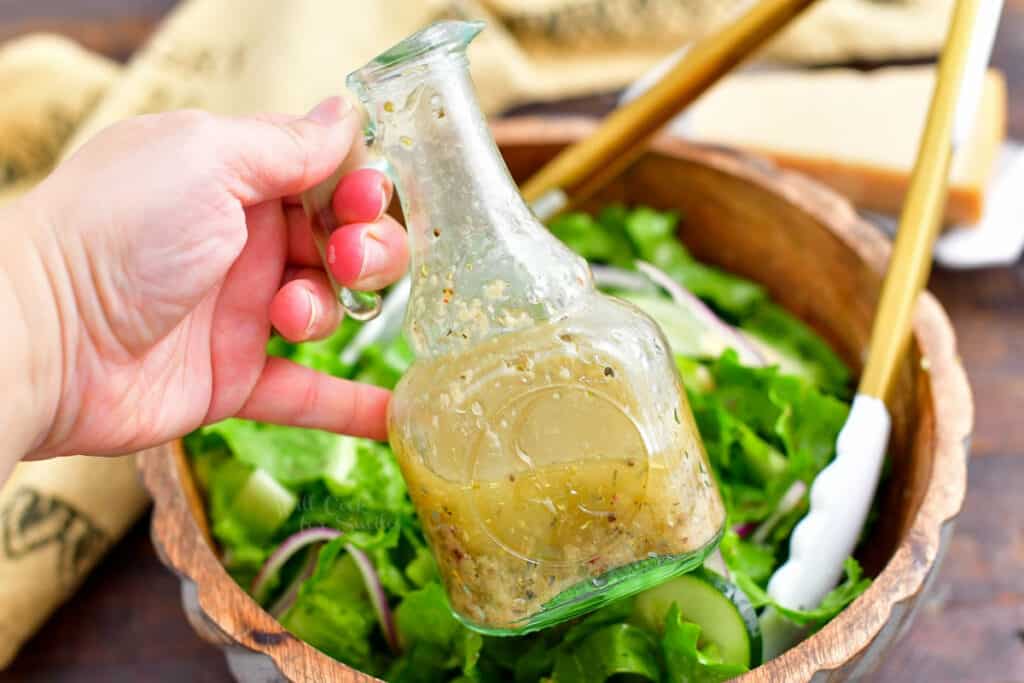 Difference Between Italian Dressing and Vinaigrette
Honestly, there isn't any difference at all between these two condiments. In fact, Italian dressing is really just one variation of a vinaigrette!
This recipe calls for oil and vinegar, along with herbs and spices, just like a basic vinaigrette.
Additionally, it uses the same technique of incorporating the ingredients; making an emulsion of oil and vinegar.
Recipe Ingredients and Notes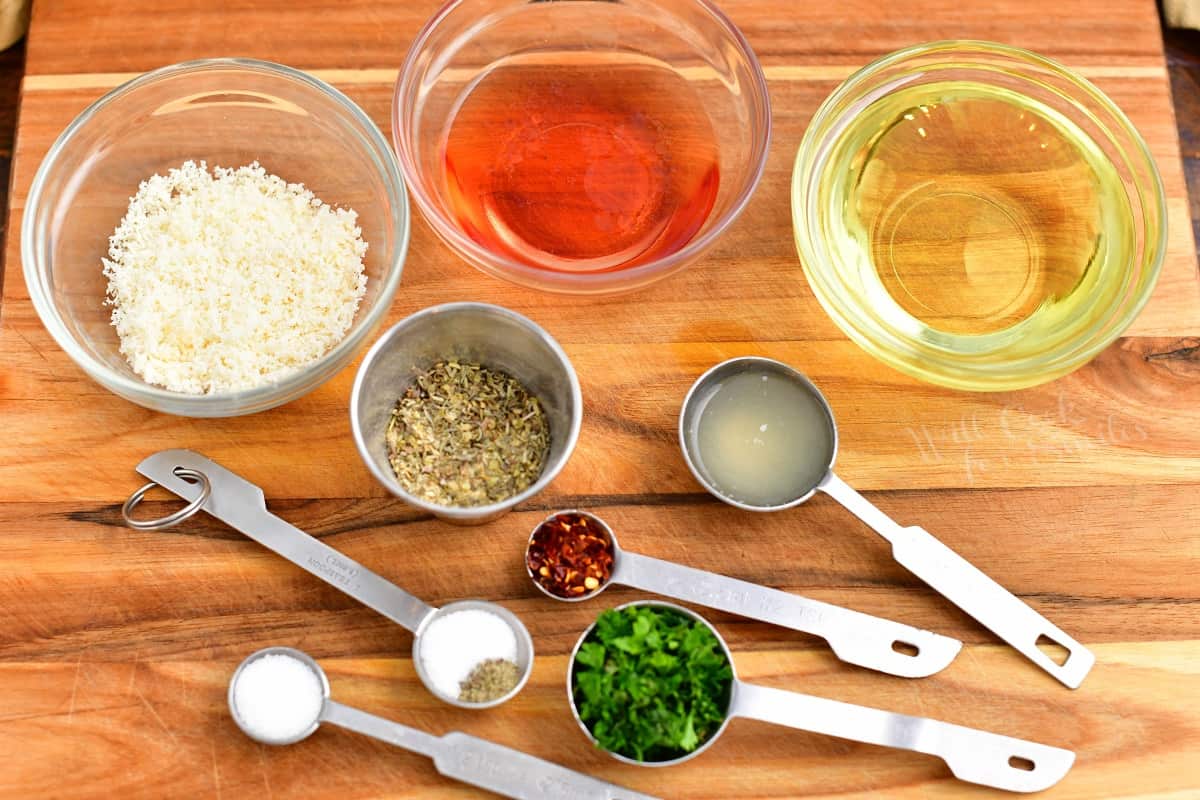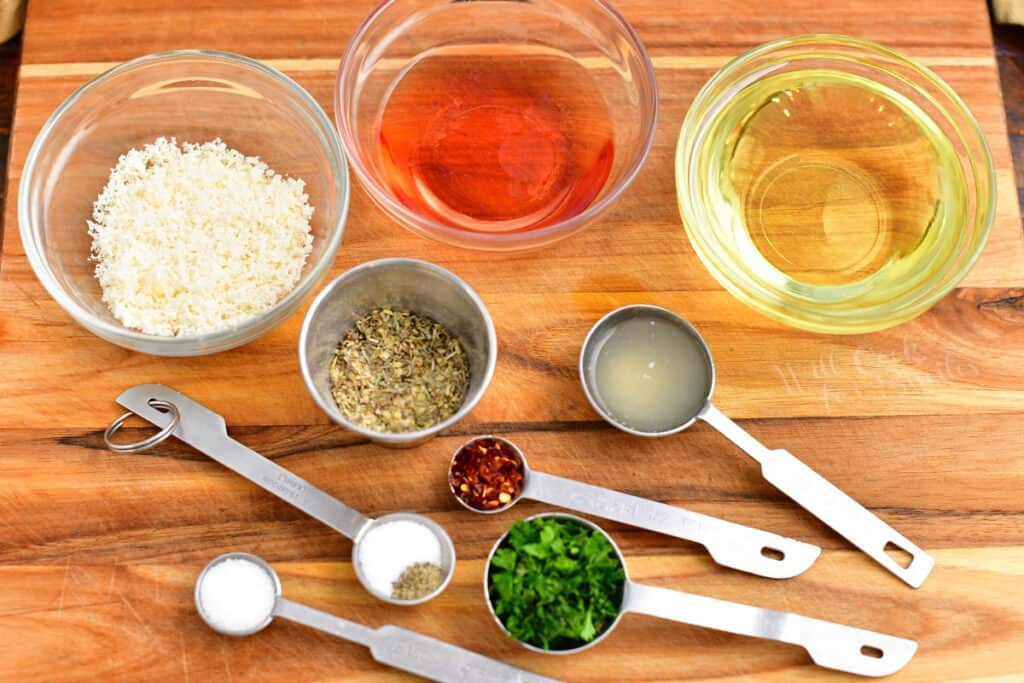 Now, here is what is in Italian dressing:
Olive oil– Use a high quality extra virgin olive oil for the best flavor. It's a little more expensive, but you will definitely notice the difference. Make sure the oil flavor is not bitter!
Red wine vinegar– You can certainly substitute a different flavor of vinegar but honestly, this variety is what gives the classic tangy flavor you expect in a good Italian dressing.
Lemon juice– I recommend using freshly squeezed lemon rather than a concentrate.
Italian seasoning blend– This blend usually includes dried herbs like basil, parsley, oregano, rosemary, thyme, garlic powder, and/or sage. Check to see if your blends includes salt to know how much salt to add to the dressing.
Fresh Parsley – this will add a nice fresh herb flavor to the dressing.
Sugar: Just a tiny bit of sugar balances the vinegar and lemon juice. If you want or need to, feel free to substitute this for your favorite sugar alternative.
Other seasonings: In addition to the Italian seasoning blend, I also use a little bit of garlic powder to enhance the flavor, salt and pepper, and a tiny bit of crushed red pepper for some heat.
Fresh grated Parmesan cheese– This is a great ingredient to add into the dressing for more flavor and especially if you will use it in more than just salads.
How To Make Italian Dressing From Scratch:
There are just three steps to preparing this recipe.
Prep the recipe ingredients.
This step is pretty self-explanatory.
Quick tip: if you have extra lemon juice, add it to a silicone ice cube tray. Then, place the frozen cubes into a freezer storage bag.
This makes it really convenient to have fresh juice on hand whenever you need it for sauces or dressings!
Add everything to a mason jar or shaker bottle.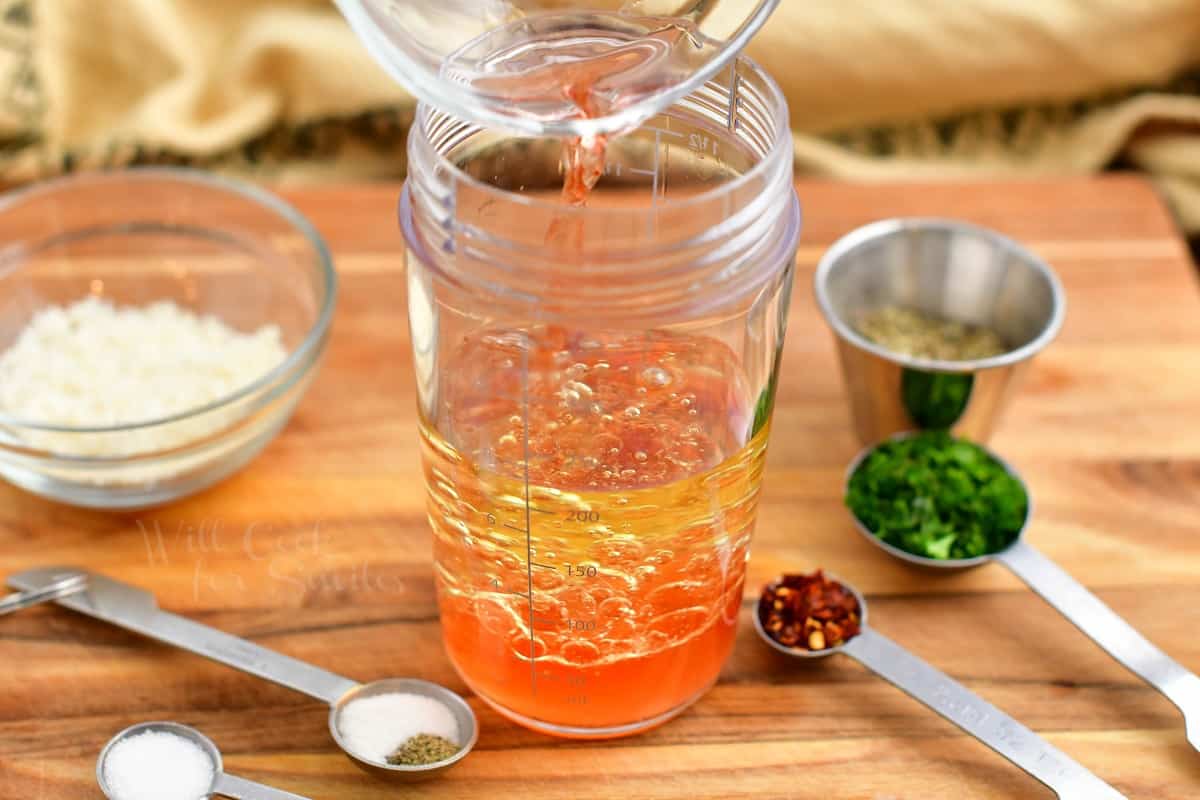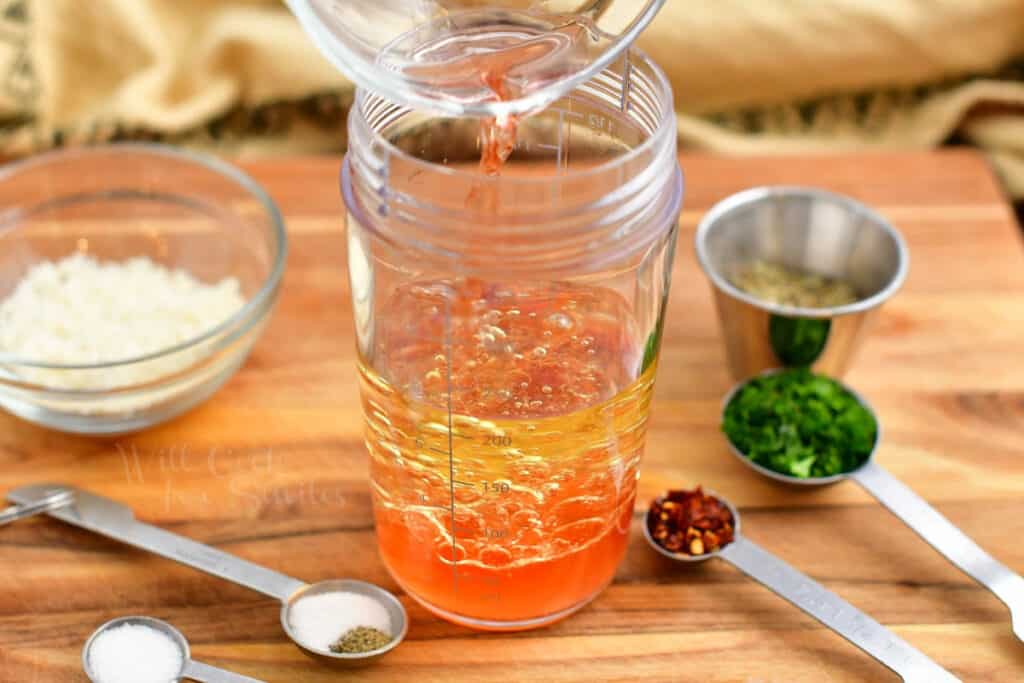 Shake well to combine and form an emulsion of the oil and vinegar.
By the way, if you are curious to learn more about the science involved with creating emulsions, I recommend reading, What Is an Emulsion, by food scientist and blogger, Jessica Gavin. It's very interesting, and she explains the difference between temporary and permanent emulsions.
Chill, then use as desired.
Although you can use it at room temperature, refrigerating homemade salad dressing allows more time for the flavors to combine. As a result, it will taste even better.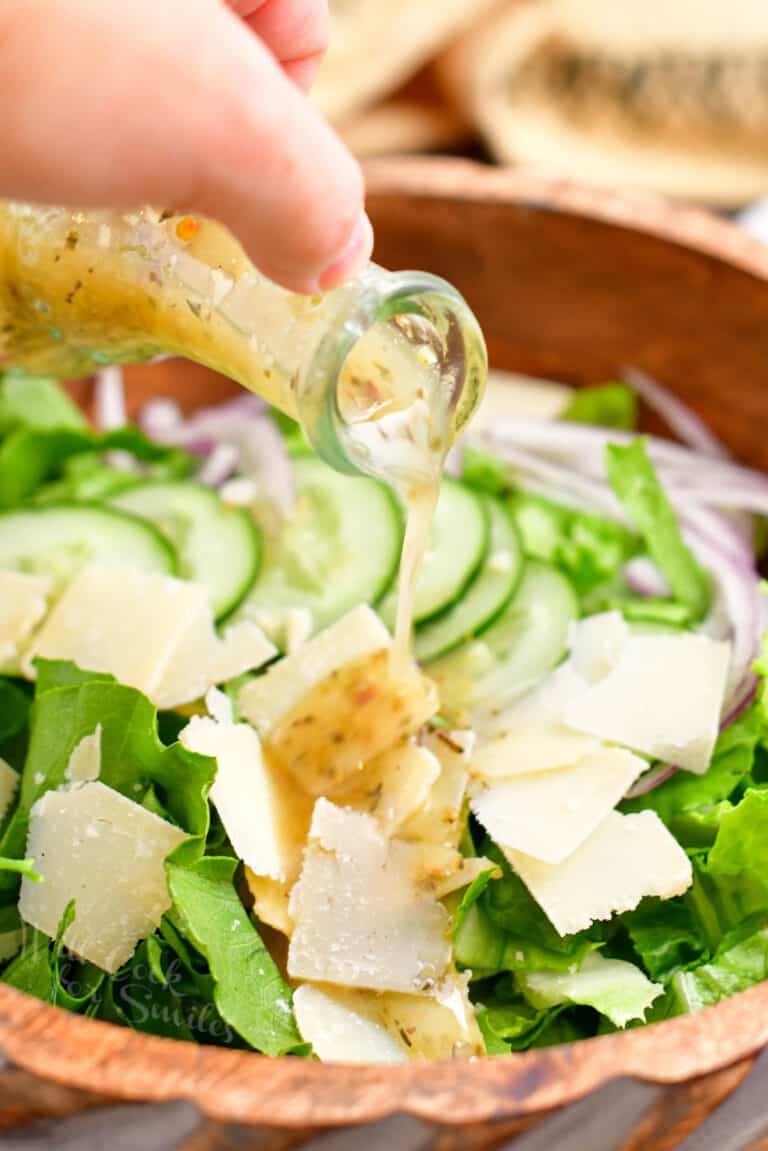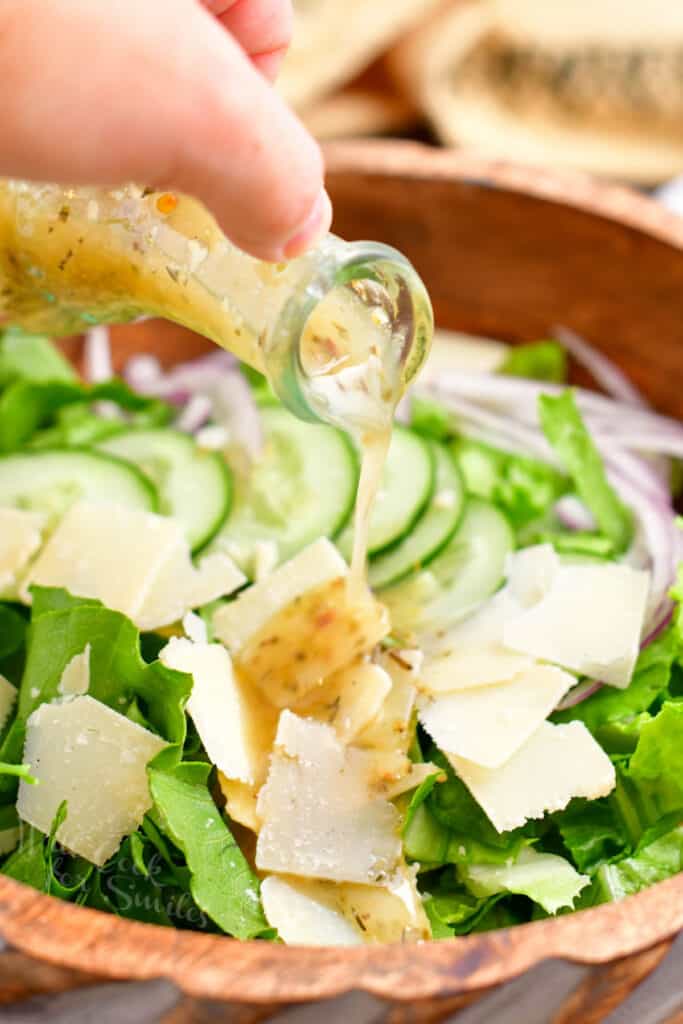 Recipe Tips
Depending on the ingredients, the dressing can get thicker or partially solidify while refrigerated. That is not a big deal at all! Just pull the dressing out of the refrigerator about 30 minutes before making the dressing.
When it comes to olive oil, I prefer to use the lighter tasting ones. Some extra virgin olive oil could have a bitter flavor to them so make sure to taste your olive oil first! Bitter oil will ruin the whole dressing flavor.
You can adjust the heat level by adding more or less crushed red pepper flakes.
You can easily make this recipe keto if you use sugar alternative or omit it altogether.
USES FOR THIS RECIPE
Aside from dressing your salads with it, use Italian dressing as a marinade for chicken, turkey, beef, and pork. It adds a zippy, lemony flavor. Plus, the acid from the lemon juice helps to tenderize the meat.
Use it as a dipping sauce for breadsticks or any other bread.
Other Dressing Recipes:
Some of my favorites are creamy salad dressings like buttermilk ranch and this light Caesar dressing. 
But, there are days when I want a vinaigrette like raspberry vinaigrette or this apple vinaigrette recipe.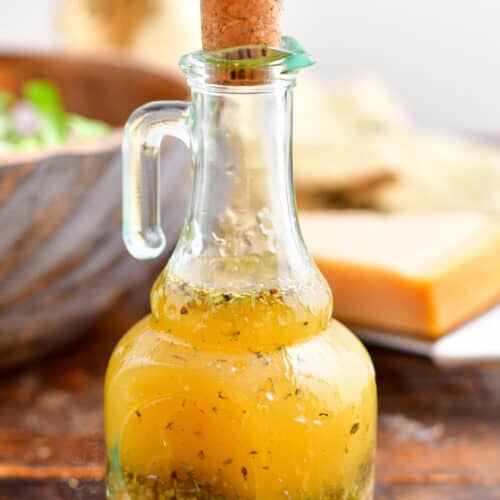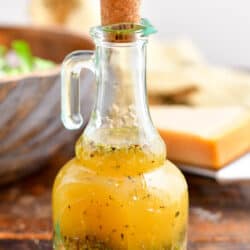 Italian Dressing
Italian dressing is fantastic on salads, roasted vegetables, and as a flavorful meat marinade. It's light, zesty, and slightly cheesy.
Print
Pin
Save
Saved!
Rate
Ingredients
3/4

cup

olive oil

1/4

cup

red wine vinegar

2

tsp

lemon juice

1 1/2

tbsp

Italian seasoning

1

tsp

garlic powder

1/2

tsp

crushed red pepper flakes

1/2

tsp

salt

to taste

1/8

tsp

cracked black pepper

1/2

tsp

white granulated sugar

1

tbsp

fresh minced parsley

2

tbsp

freshly grated Parmesan cheese
Instructions
Combine all the ingredients in a dressing shaker or in a mason jar with a lid.

Close the lid right and shake vigorously for a few seconds.

For best results, let the dressing sit in the refrigerator for a few hours before using. (You can also use it right away if needed.)
Storing;
Store dressing in the glass jar with a lid, in the refrigerator.

This Italian Dressing should last up to 2 weeks when stored properly.

Shake it well before adding to the salad.
Nutrition
Calories:
191
kcal
|
Carbohydrates:
1
g
|
Protein:
1
g
|
Fat:
21
g
|
Saturated Fat:
3
g
|
Cholesterol:
1
mg
|
Sodium:
168
mg
|
Potassium:
16
mg
|
Fiber:
1
g
|
Sugar:
1
g
|
Vitamin A:
104
IU
|
Vitamin C:
1
mg
|
Calcium:
29
mg
|
Iron:
1
mg
Tried this recipe?
Mention @willcookforsmiles and tag #willcookforsmiles