Cioppino is a delicious seafood stew with a rich tomato base and loaded with all your favorite seafood like white fish, clams, mussels, and shrimp. It's got a wonderfully rich and bright flavor and it's sure to satisfy everyone at the dinner table. This is an easy Italian-American soup to make right at home!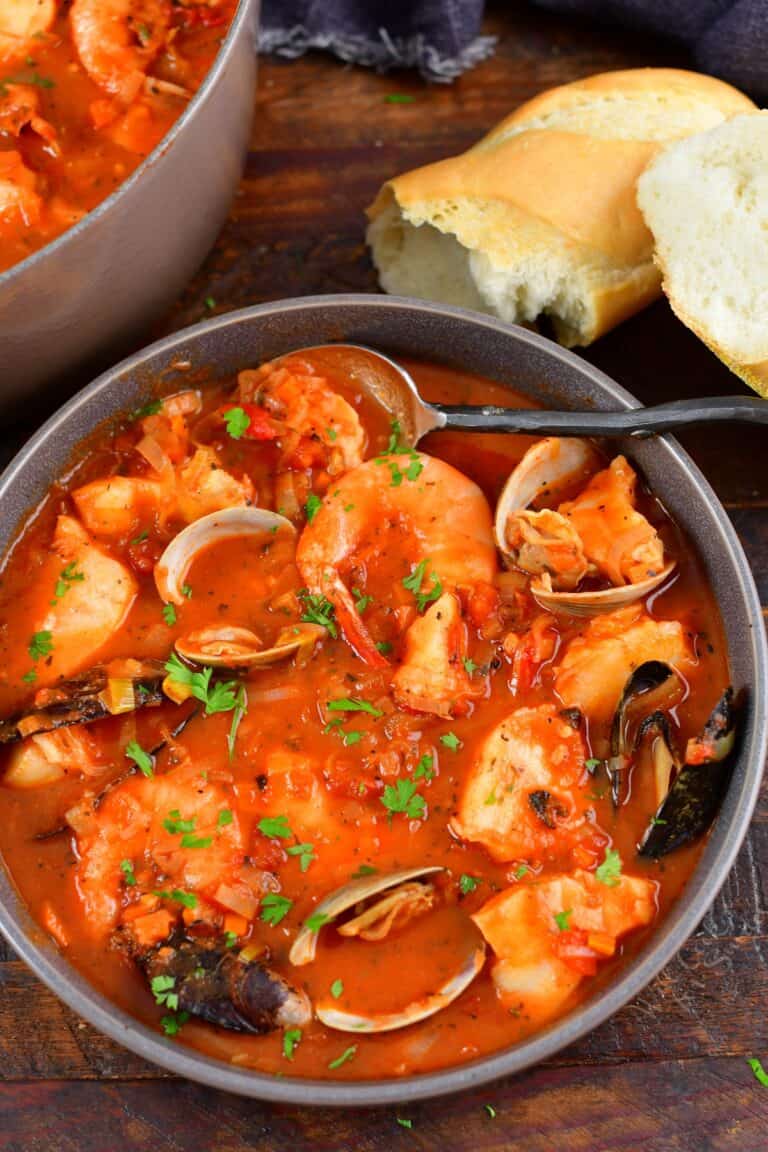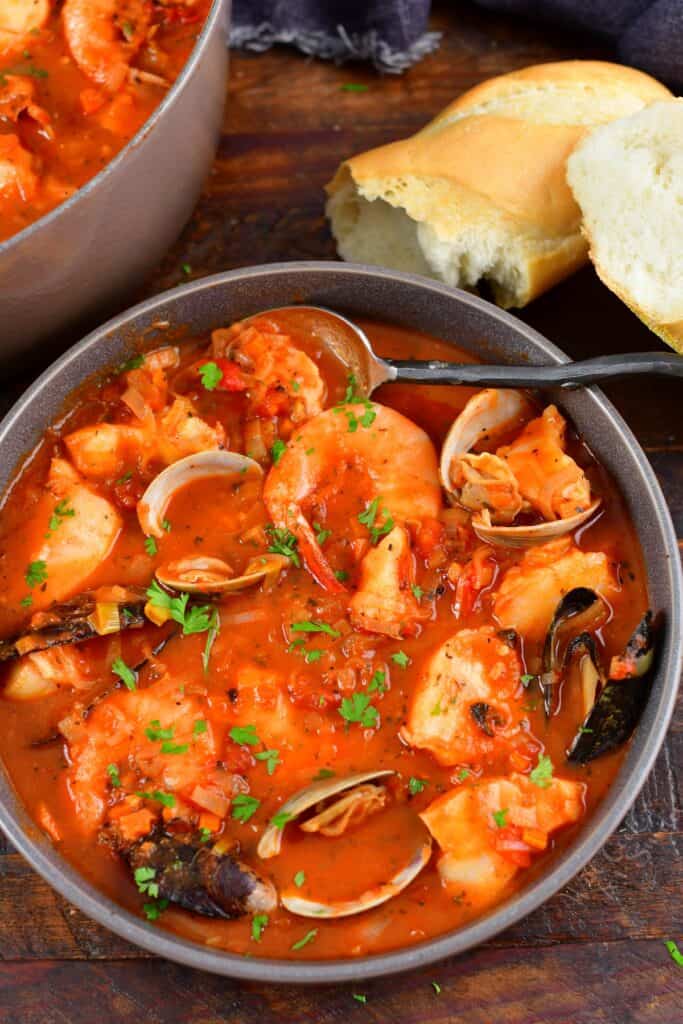 What is Cioppino?
This is an Italian-American fish stew that was first created in San Francisco in the late 1800's by the local Italian immigrant fishermen. Originally, Cioppino was created as a way to use all of the day's leftover catch. That's why it often uses a medley of seafood like fresh fish, shellfish like shrimp and crab, clams, mussels, and scallops. All of the seafood they had was thrown into a broth consistent of tomatoes, onions, and garlic with olive oil and some white wine, of course!
The very first restaurant to introduce Cioppino to the general public was Alioto's #8. It may have started as a food stand on the corner, but it eventually grew into an iconic restaurant on Fisherman's Wharf. Rumor has it that Nonna Rose, who owned the restaurant, used to make her son wear a bib and tell him, "If it doesn't splatter on your shirt, you aren't doing it right." I absolutely agree with this statement, because I have to hold onto a paper towel while enjoying and bowl of Cioppino.
While this seafood stew is somewhat customizable, I've found my own personal favorite blend of ingredients with this recipe. The broth is rich and boldly flavored, which perfectly compliments the vast amount of seafood at play. And remember, you can play around with your own combination of seafood at home!
Ingredients for Cioppino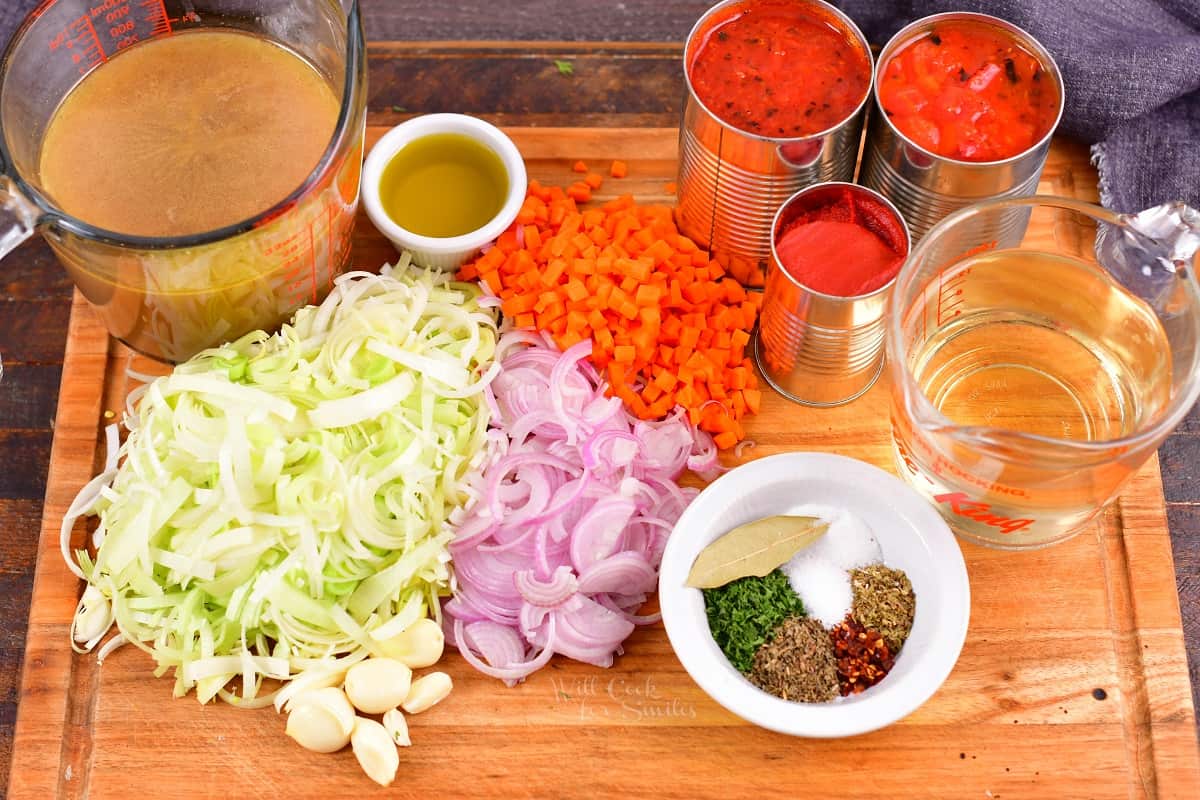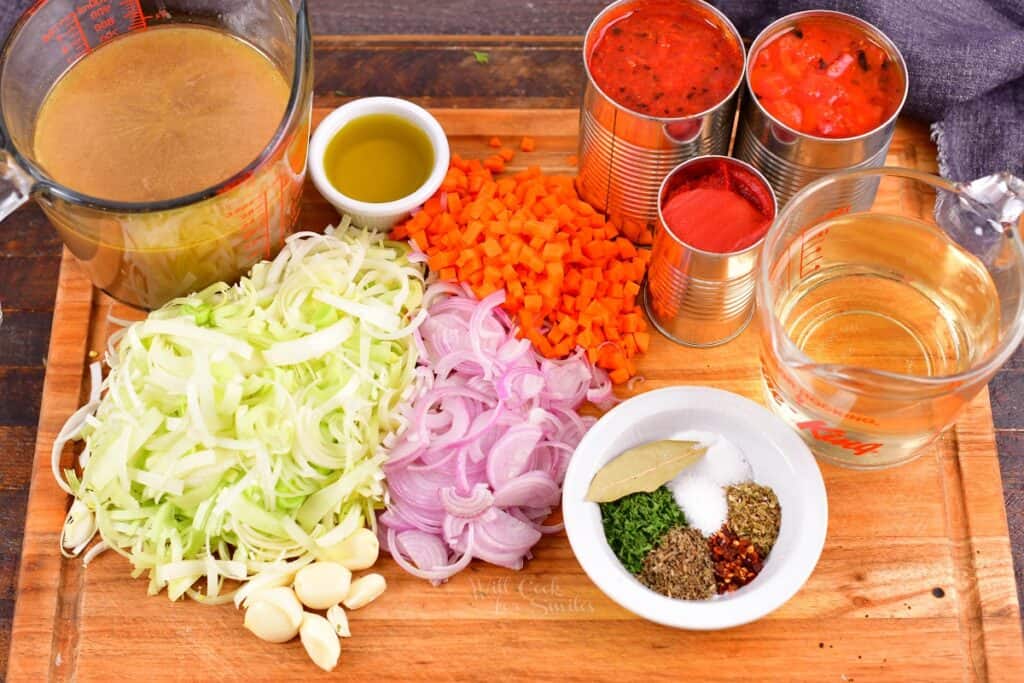 Vegetable Base: To make the most flavorful vegetable base, you'll need shallots, carrots, small leeks, and garlic.
Fish Stock: I've found that for this classic seafood stew, fish stock is the best. However, you can also use lobster stock or even Vegetable Stock if you cannot find fish stock.
Tomatoes: Tomatoes are a key ingredients here, so I make the most out of them by using both canned fire roasted diced tomatoes and tomato paste to create a deeper flavor.
Herbs: The best medley of dried herbs for this recipe includes a bay leaf, parsley, oregano, and thyme.
Seasonings: With the abundance of bold ingredients listed, the only seasonings I sprinkle into the mix are red pepper flakes, sugar, and salt.
Seafood combination of shellfish, white fish, and mollusks.
White Wine: Make sure it's a dry white wine like sauvignon blanc. (Not sweet!)
What Seafood In Cioppino: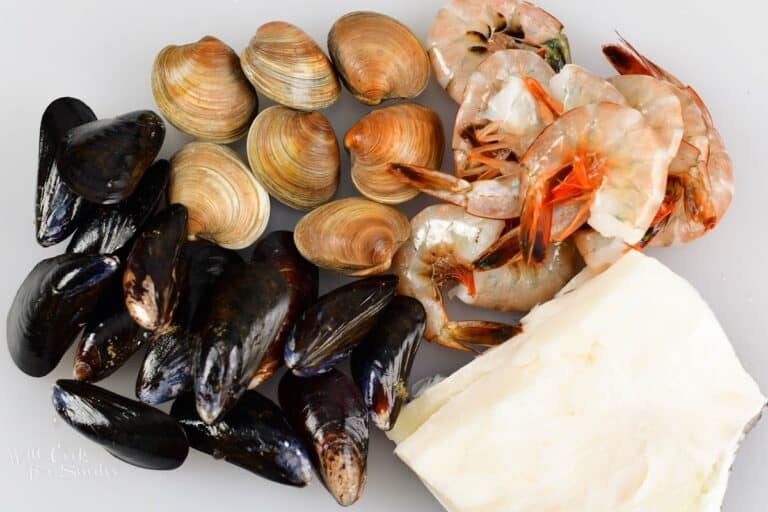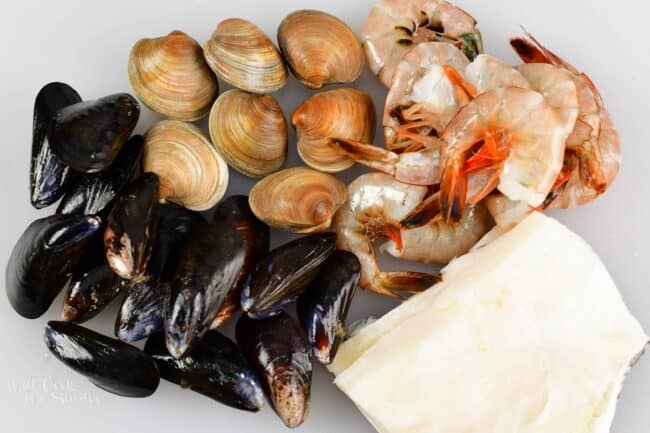 Traditional seafood in Cioppino included whatever was leftover and not sold from the day's catch. It most often included a combination of shellfish, white fish, and mollusks. Today, you will most often see mussels, manila or littleneck clams, jumbo shrimp, and white fish.
The white fish could be tilapia, cod, bass, grouper, or another white fish of your choice.
Of course, you could also toss in tasty additions like crab or scallops!
Types of clams will mostly likely be dictated by your location. While littleneck clams are the best choice and the tastiest, they are hard to get on the East coast. So check out your local markets.
Keep in mind that this list of ingredients can be altered to best fit your needs!
How to Make Cioppino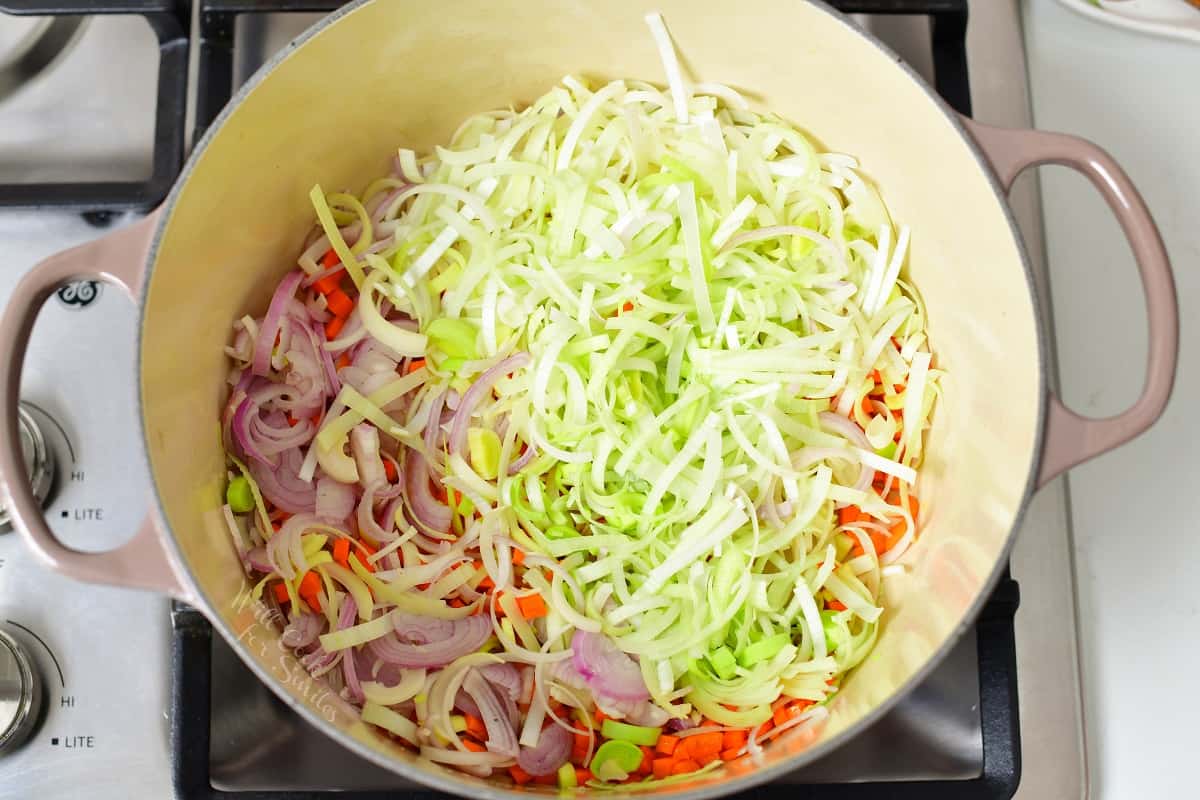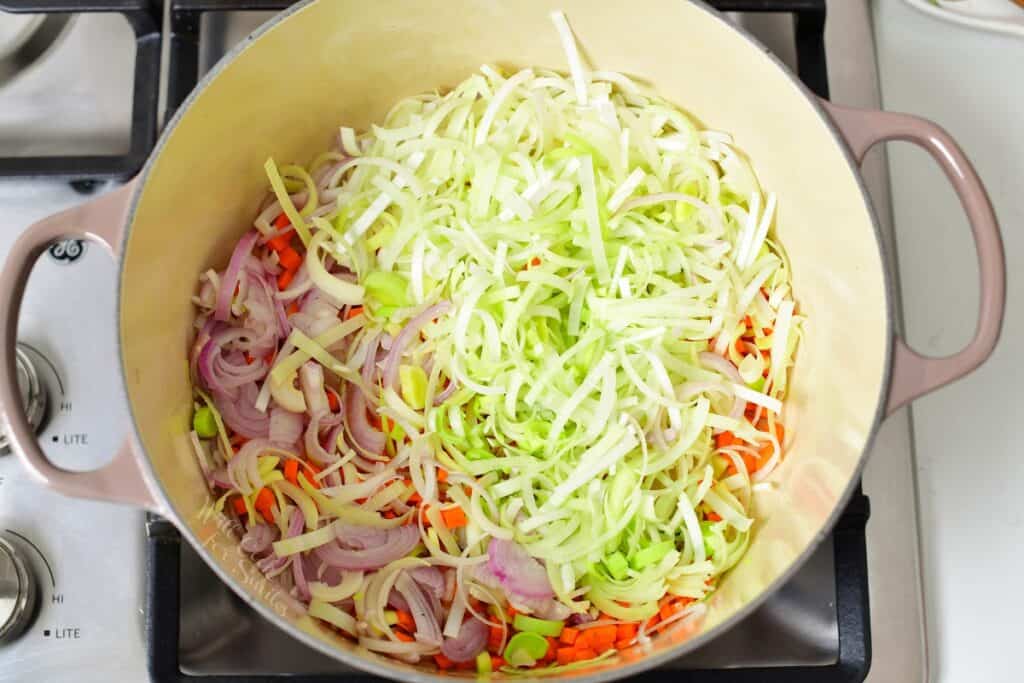 This is a bit of a quick moving recipe, so it's best to start off by preparing all of the ingredients as needed.
Tip: adding shrimp in shells will flavor the soup more but if you want an easy to eat soup, take the shells off before cooking. Either way you choose, make sure the shrimp is de-veined. Remember to scrub mussels and clams first as well.
Once you're prepped and ready, first step it to sauté the vegetables in olive oil. Then toss in the garlic and cook just until it's fragrant.
Pour in the wine and bring it to a simmer.
Next, toss in the tomatoes, tomato paste, seasonings, and fish stock. Mix everything together.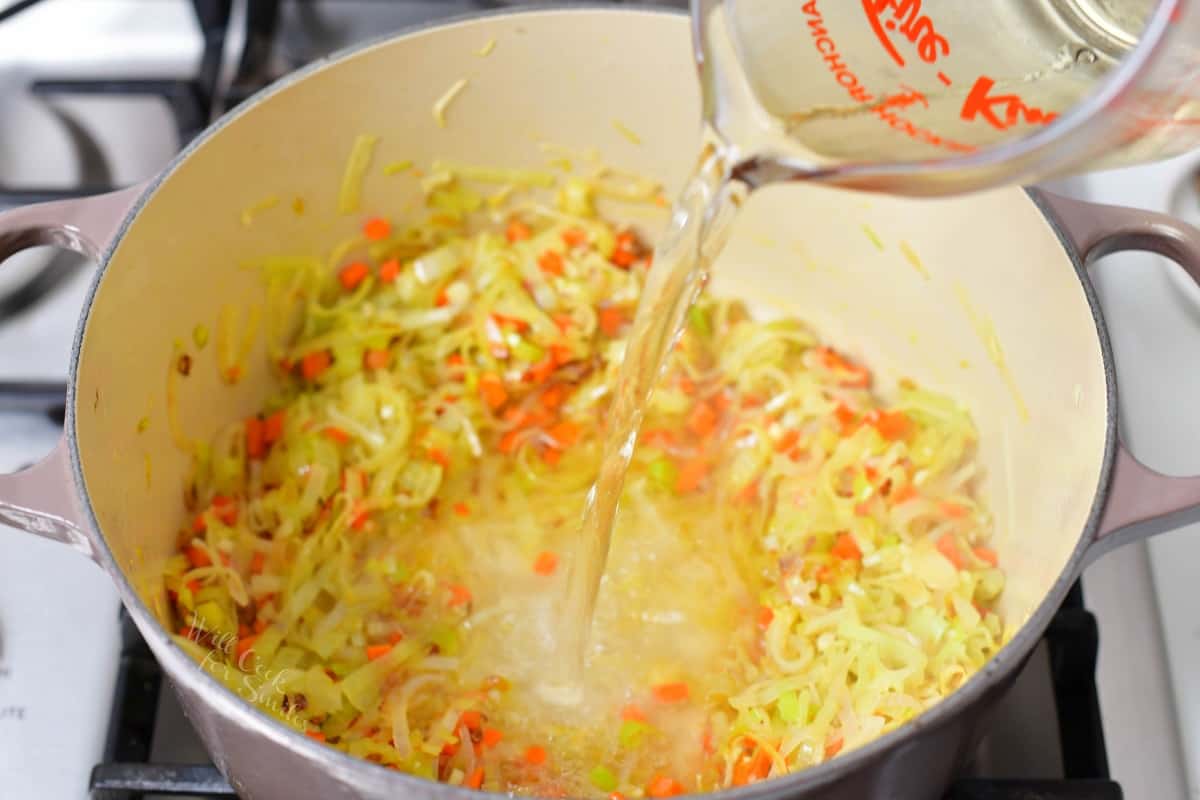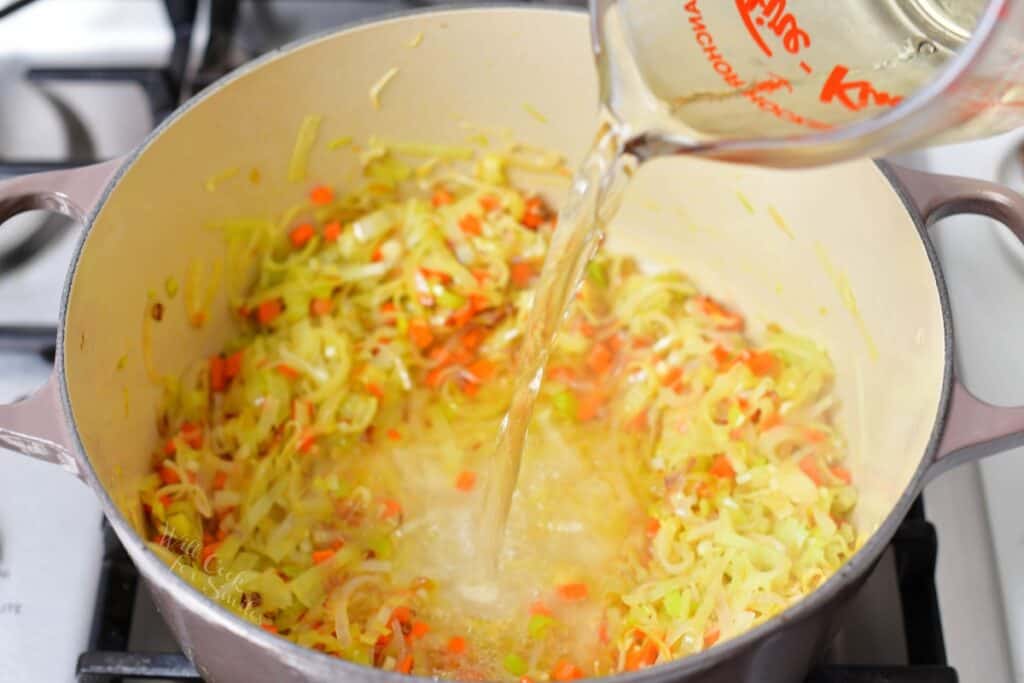 Let the soup simmer for approximately 20-25 minutes. Taste as you go to see if you need any more seasonings!
Add the mussels and clams to the broth and submerge them. Cover and cook for 3-4 minutes.
Finally, add the chopped white fish and shrimp to the broth, fully submerging them as well. Cover and cook for an additional 5 minutes.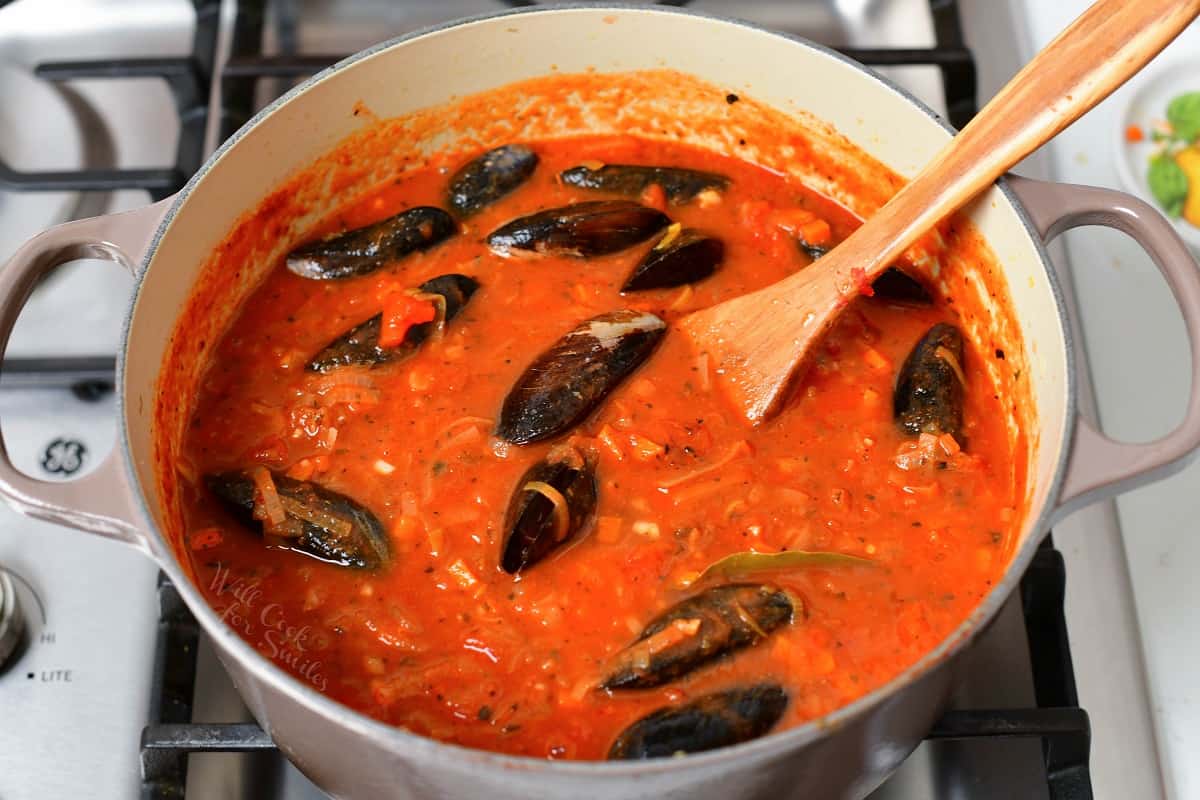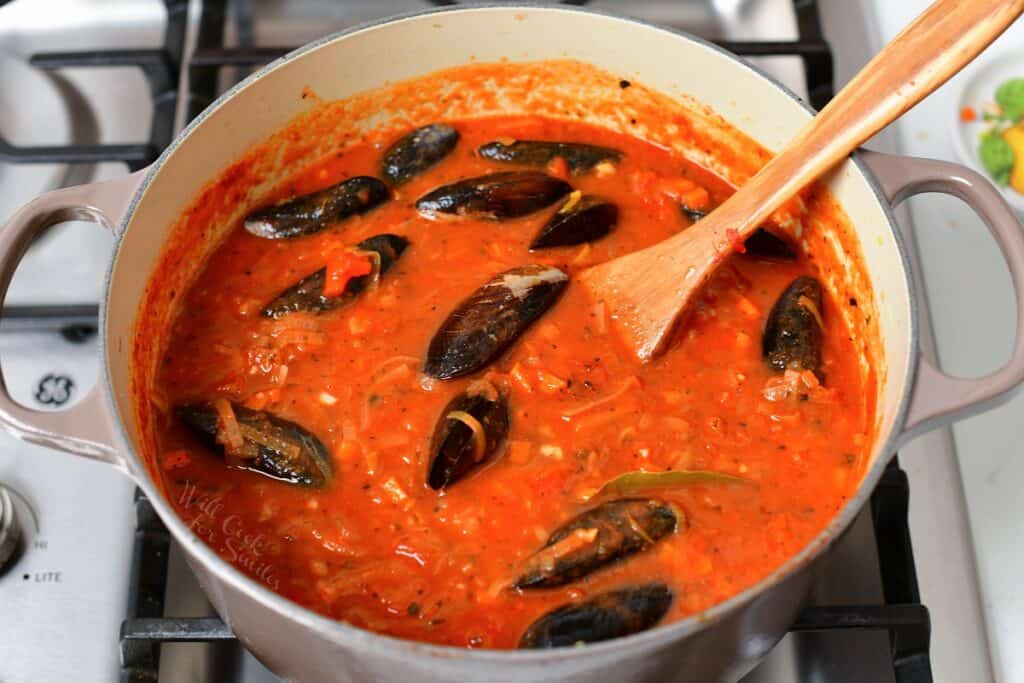 Serve right away, and don't forget some bread on the side! Sourdough is my personal favorite. You just don't want to let any of that savory broth go to waste.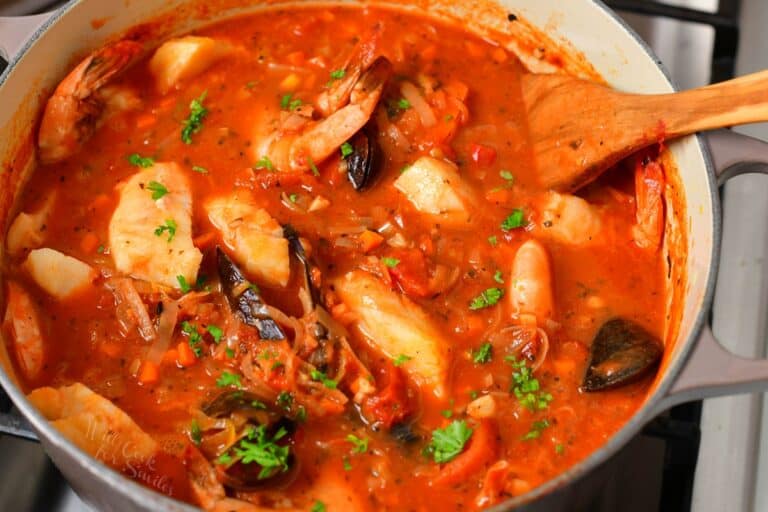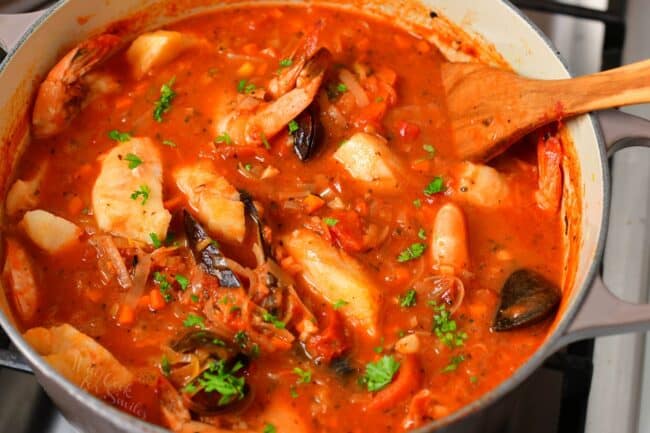 Tips for Best Cioppino
Use fresh seafood when possible!
Scrub the clams and mussels before adding them to the soup.
Decide if you want to keep the shells on or off of the jumbo shrimp. Leaving the shells on will give the soup more seafood flavor, but taking them off will make the soup easier to eat.
Use fish stock or seafood stock. Lobster or vegetable stock is also an option, but it should be treated as a last resort.
Don't skip out on the white wine! It's traditional and does wonders for the overall flavor of the soup.
It's important to know when to add the seafood. Some seafood will take a little longer to cook than others. So give the shrimp in shells and mollusks (clams, mussels) a few extra minutes of cooking time. They'll need a bit longer than fish and shrimp without shells.
Storing and Reheating
Unless you're having a dinner party or you happen to have a large family, you will most likely have some of this stew left over. Seafood is not the best when reheated, but it actually works well here! I haven't had much trouble reheating Cioppino, but with that being said, the shrimp tends to get tougher as it reheats.
You can store your leftover Cioppino in the refrigerator for up to 4 days. You can store it in the original pot you cooked it in, just make sure that it has a tight fitting lid. It can also be transferred into a food storage container with a lid.
To reheat this seafood stew, I highly recommend using a sauce pot and reheating it on the stove rather than a microwave! Reheat the desired amount in a small sauce pot over medium-low heat until the soup is just heated through.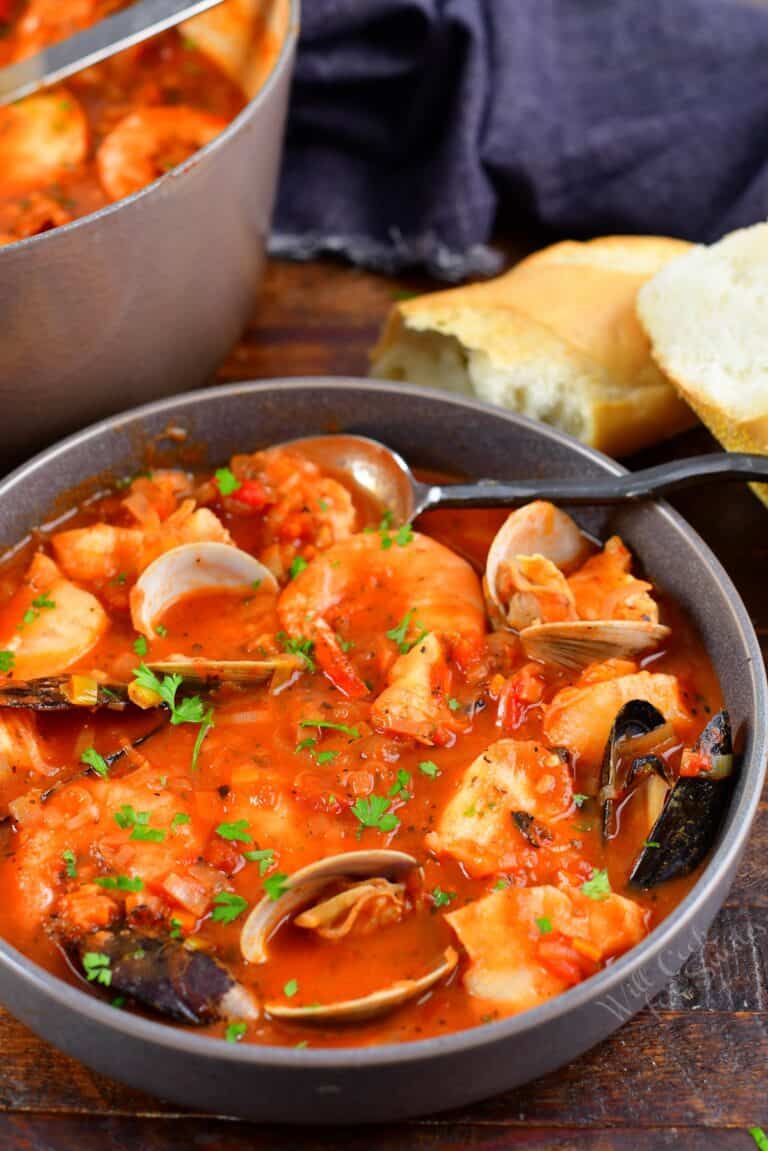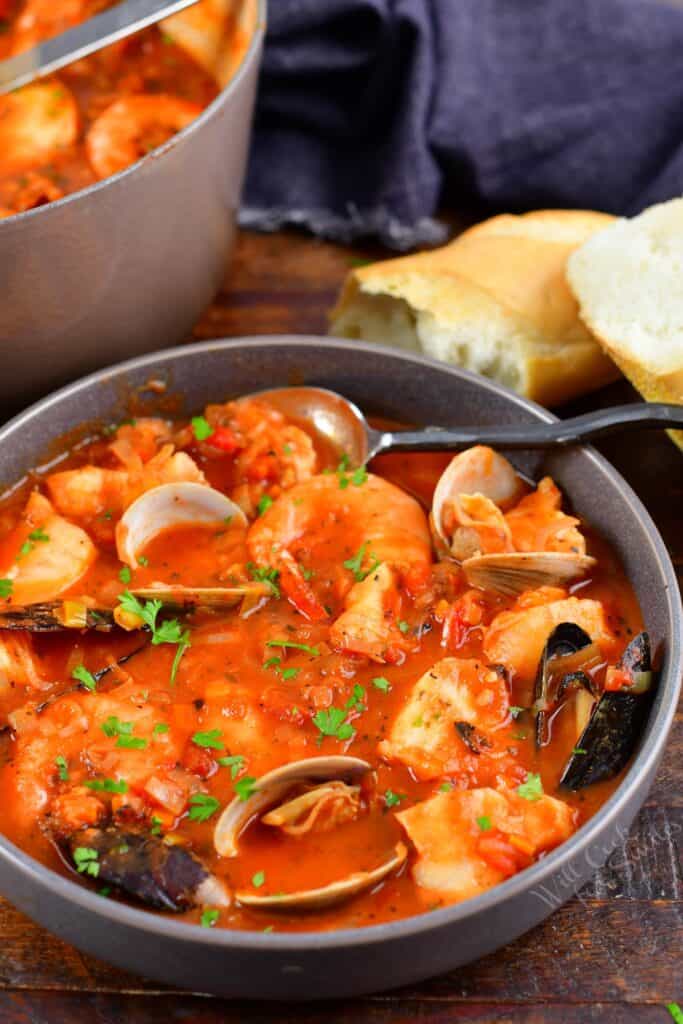 Other Great Seafood Recipes:
Lobster Pasta – a rich, creamy, and delicious seafood pasta dish with chunks of flavorful lobster meat and creamy Parmesan sauce
Family Favorite Paella – this recipe is packed with saffron infused rice, flavored with onion, peppers, tomatoes, and peas, chicken thigh meat, calamari, mussels, and shrimp
Shrimp Roll – this shrimp salad hits all the right spots with shrimp boiled with lemon and herbs and then mixed with celery, herbs, and creamy mayo mixture, all presented on a perfect bun
Pecan Crusted Salmon – this tasty, juicy baked salmon is coated in a thin layer of flavored mayo and encrusted in a mixture of crushed pecans and freshly grated Parmesan cheese.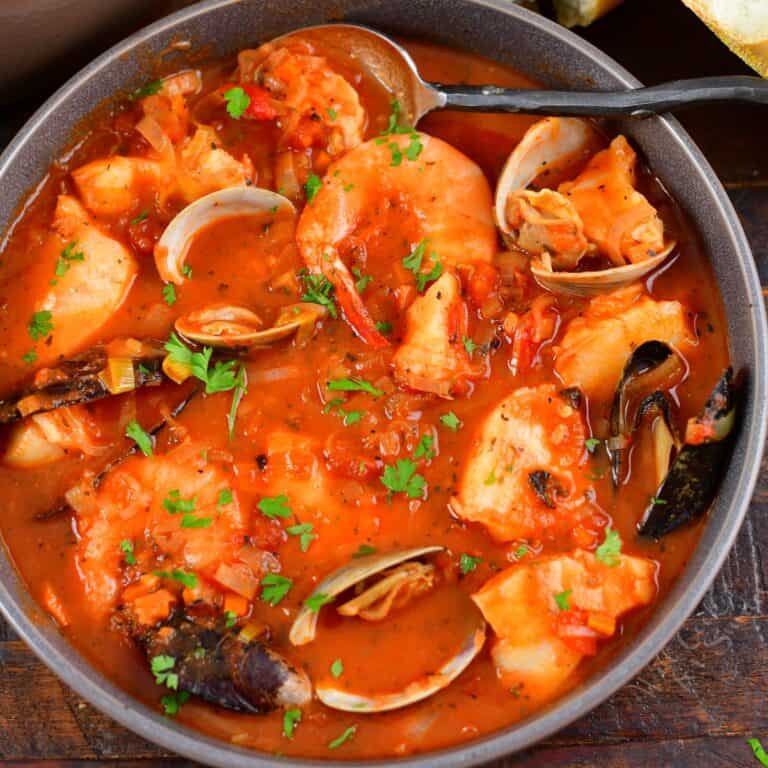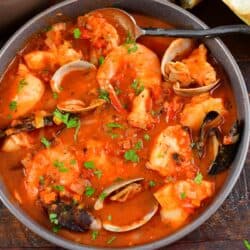 Cioppino
Cioppino is a delicious seafood stew with a rich tomato base and loaded with all your favorite seafood like white fish, clams, mussels, and shrimp.
Print
Pin
Save
Saved!
Rate
Ingredients
3

tbsp

olive oil

2

shallots

2

medium carrots

2

small leeks

or 1 large leek

4-5

garlic cloves

1 1/2

cups

dry white wine

2-14.5

oz

cans of fire roasted diced tomatoes

4

oz

tomato paste

2 1/2-3

cups

fish stock

or seafood stock

1

bay leaf

1

tsp

red pepper flakes

more or less to taste

1

tbsp

dried parsley

1

tsp

dried oregano

1

tsp

dried thyme

1

tsp

garlic powder

2

tsp

sugar

1

tsp

salt

more or less to taste

1/2

lb

mussels

1/2

lb

manila clams

or littleneck clams

1

lb

jumbo shrimp

deveined but in shell when possible

1

lb

white fish of choice
Instructions
Prepare all the ingredients first by dicing and slicing the vegetables, measuring liquids and seasoning, and scrubbing the clams and mussels.

Preheat a large Dutch oven over medium heat and add olive oil. Add shallots, leek, and carrots and sauté until vegetables soften and star to brown.

Smash and mince garlic and add it to the pot. Sauté just until garlic is fragrant and pour in wine.

Bring it to simmer and let it simmer for a minute.

Add tomatoes, tomato paste, seasonings, and fish stock. Mix everything together and taste to see if you need more salt.

Let the soup simmer over medium-low heat for 20-25 minutes for the flavors to come together. Taste to see if you need more spice from red pepper flakes.

Add mussels and clams and submerge them into the broth. Cover the pot with a lid and let them cook 3-4 minutes.

Add chopped white fish and shrimp and make sure they are also submerged into broth. Cover and cook another 5 minutes or so, until fish is opaque, shrimp is cooked through, and clams and mussels have opened.

Serve right away with some sourdough bread of bread of choice!
Nutrition
Calories:
338
kcal
|
Carbohydrates:
18
g
|
Protein:
33
g
|
Fat:
10
g
|
Saturated Fat:
2
g
|
Polyunsaturated Fat:
2
g
|
Monounsaturated Fat:
6
g
|
Trans Fat:
1
g
|
Cholesterol:
140
mg
|
Sodium:
1463
mg
|
Potassium:
881
mg
|
Fiber:
3
g
|
Sugar:
7
g
|
Vitamin A:
4524
IU
|
Vitamin C:
12
mg
|
Calcium:
146
mg
|
Iron:
4
mg
Tried this recipe?
Mention @willcookforsmiles and tag #willcookforsmiles