Paella is a beautiful and vibrant rice dish from the Valencia region of Spain. This Paella recipe is packed with saffron infused rice, flavored with onion, peppers, tomatoes, and peas. For our recipe, we love to use a combination of chicken thigh meat, calamari, mussels, and shrimp.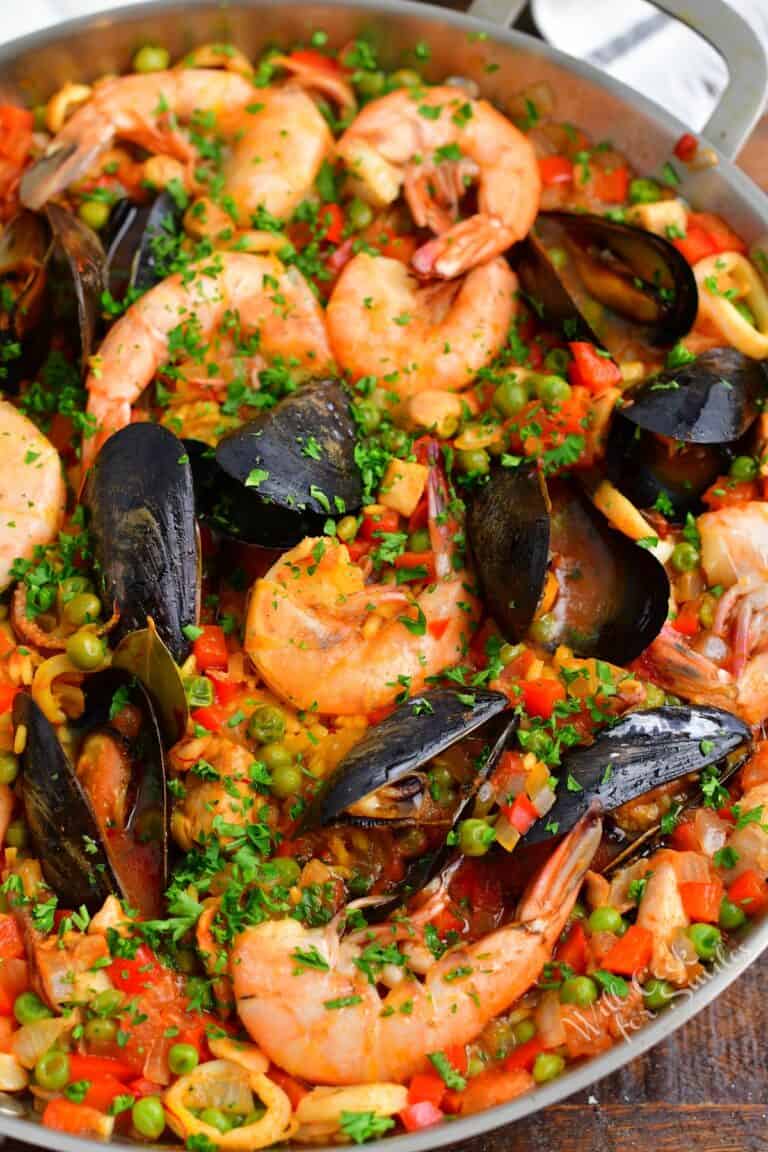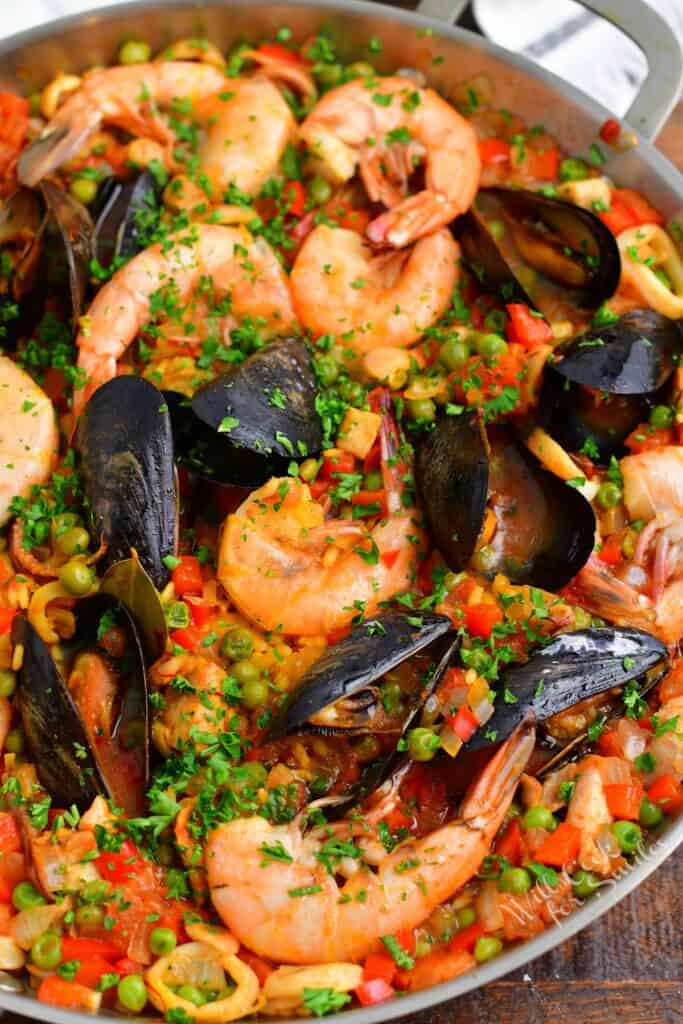 Paella
Paella is a wonderful rice dish that originated in Valencia, Spain. The original recipe consisted of saffron-scented rice cooked with chicken, rabbit, snails, and three types of beans. Rice is the main event in this dish and all of the other ingredients are meant to enrich it with as much flavor as possible.
This dish was usually cooked over a wood fire, and therefore had a smoky flavor to it. As popularity of this dish spread, different versions were created based on the taste preference and ingredient availability of the regions.
Today, we can find many different versions of paella including seafood, red meat, and even meatless. One thing that's important to note when learning about Paella is that it's actually named after the dish it's cooked in. In Spanish, "paella" actually means "pan," so the dish is named after the traditional wide and shallow pan that this it is served in.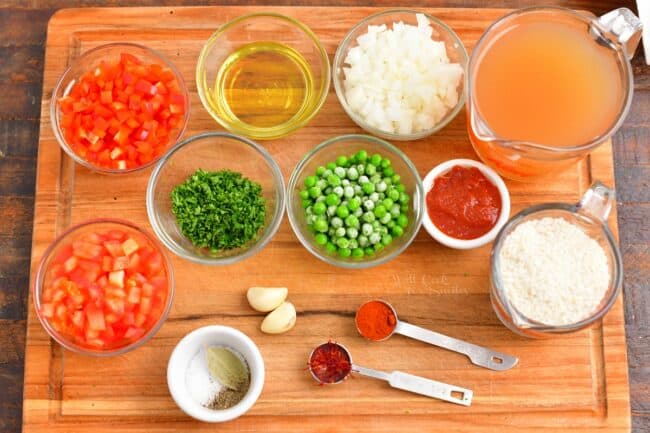 What is in Paella:
As previously mentioned, there are so many variations of this dish today that it's hard to compile an exact list that will fit every one. With that being said, there are a few ingredients that are a must when making your own! First, start with sofrito and very good olive oil, which is a base of flavorful vegetables. In this case, it's onion, bell pepper, tomato, and garlic.
Next, and probably the most important, is the rice. Make sure to use short grain rice, often called bomba, but some brands may call it Valencia rice. In a pinch, you can use medium grain rice, but DO NOT use long grain or Arborio rice in Paella.
Finally, don't skip out on saffron! You can buy saffron threads or even saffron in a powder form.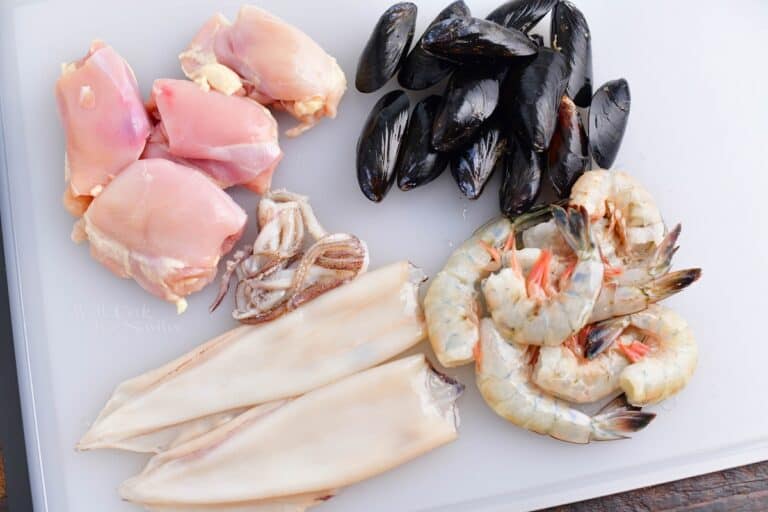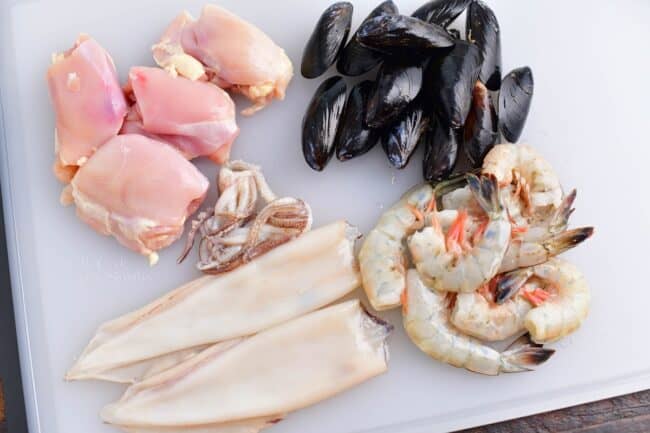 Meats in Paella:
As time has passed, so many versions of Paella have been created that just about every region and every family has their own! Paella can be made with so many different meat combinations, and it can even be vegetarian friendly.
Traditionally, Paella included meats like rabbit, chicken, and snails. Different meats and even seafood was added based on availability and regional preference.
Our personal favorite way to make paella is with a combination of dark chicken meat and seafood, but the meat and seafood is totally customizable to personal taste. I even mix up the seafood quite often based on seasonal availability.
You can try adding white fish, clams, scallops, and most other seafood you love!
Can I add sausage to Paella?
Adding sausage to Paella is a source of a great debate. Traditionally, no, sausage did not go into Paella. Although, I have tasted great Paella with sausage at many restaurants and when it's done right, it's very nice.
However, Paella does have a delicate flavor, and adding sausage can completely overwhelm all of the other flavors. You don't want sausage to be the star since this is a rice-forward dish. So, when I'm in a mood to add sausage to my Paella, I choose something more mild.
How to Make Paella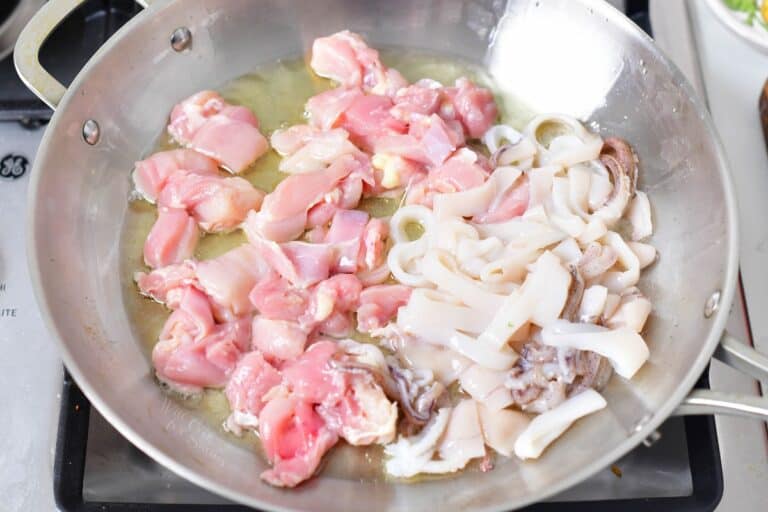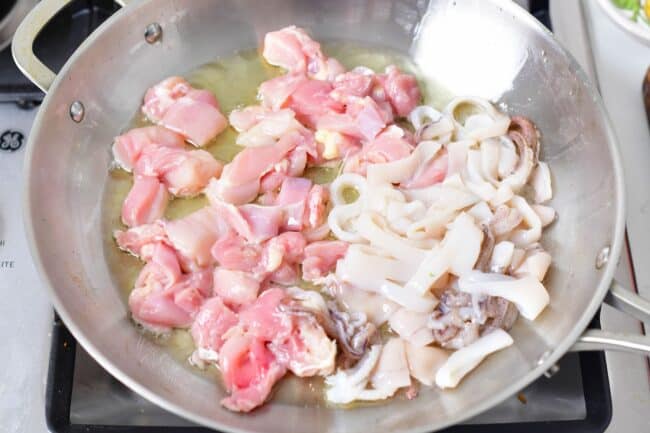 Before cooking – Prepare all of your ingredients prior to cooking! That means clean, cut, and measure everything first. Then, combine the chicken stock, tomato paste, bay leaf, saffron, paprika, salt, and pepper in a sauce pot and bring it to a simmer to heat up.
Helpful tip – calamari has to be either cooked fast at high heat, or slow at low heat. Since Paella is a slow dish, add calamari in the beginning.
First – Sear diced chicken thigh meat and calamari with some olive oil over medium-high heat. Once seared, remove the meat from the pan and set it aside.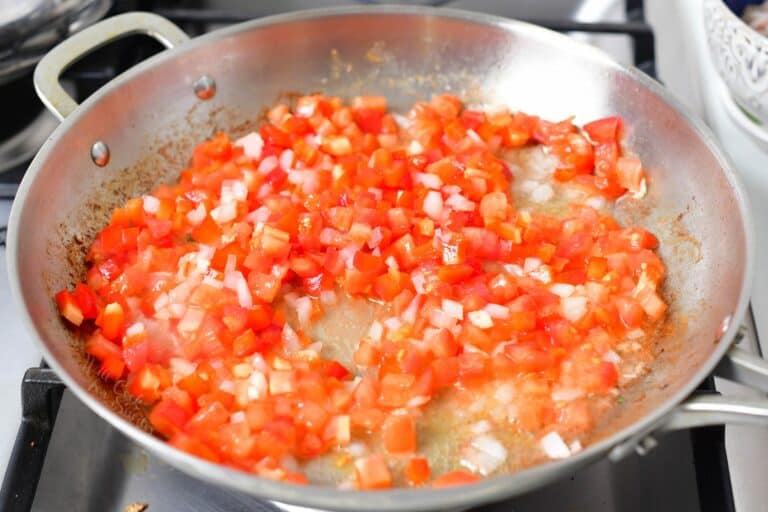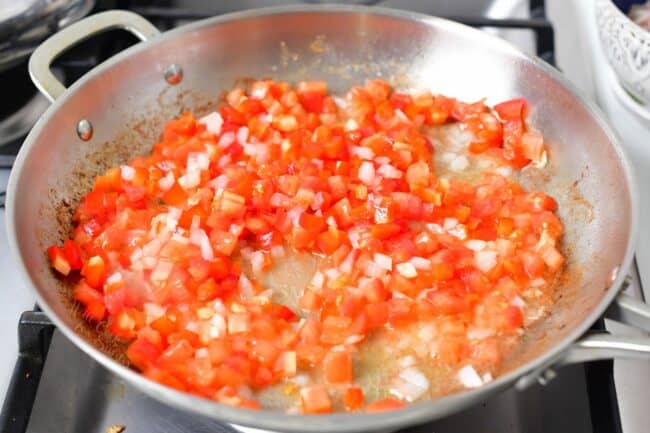 Vegetables base – Add some more olive oil, diced onions, tomatoes, and bell peppers to the same pan. Sauté for a few minutes before adding garlic, then continue to sauté until garlic is just fragrant.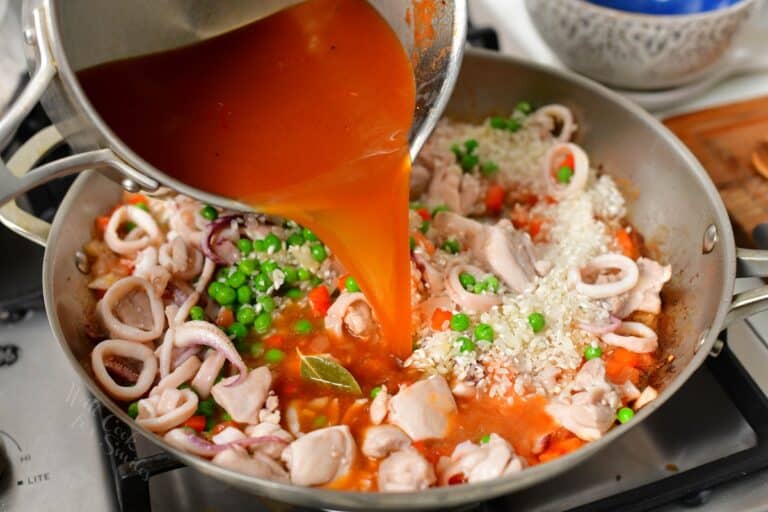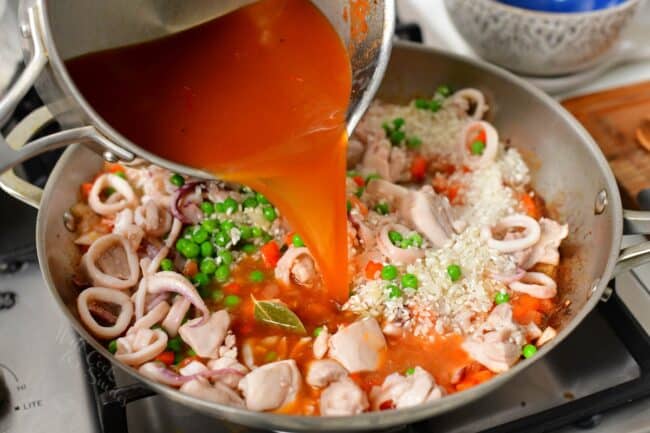 Get everything into the pan – Add back the seared chicken and calamari, peas, rice, and chicken stock mixture to the pan. Give it all a quick stir to mix and spread the ingredients evenly.
Be sure to only stir the rice mixture once or twice and don't touch it! Cook it undisturbed and uncovered.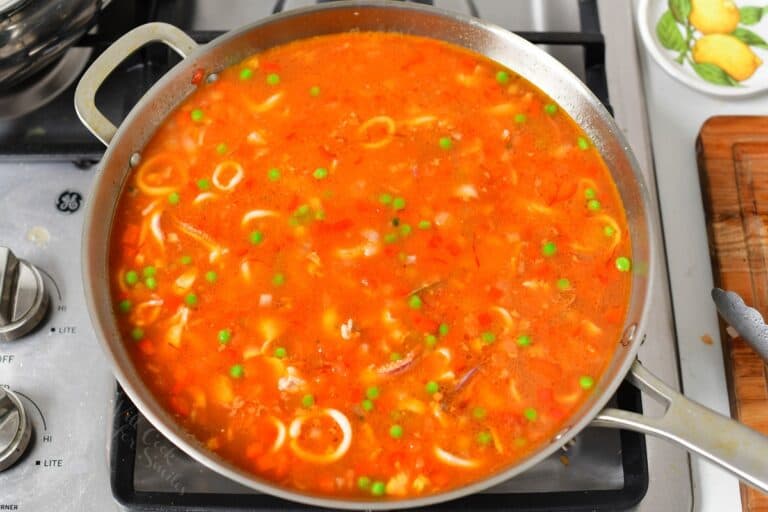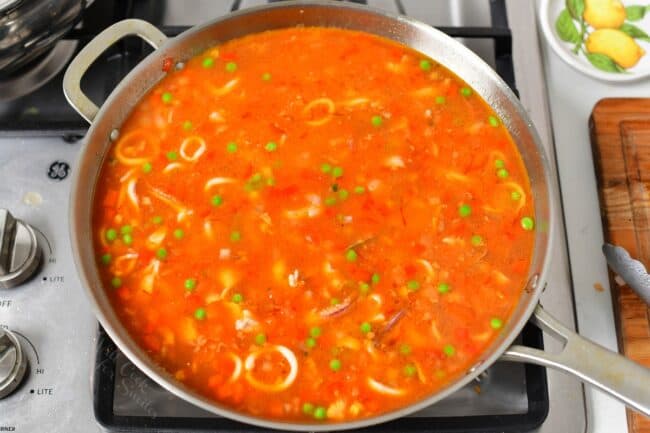 Cooking Paella On The Stove
Cook Paella uncovered and undisturbed for approximately 15-18 minutes.
It bears repeating – do NOT touch the Paella as it cooks during this step of the process!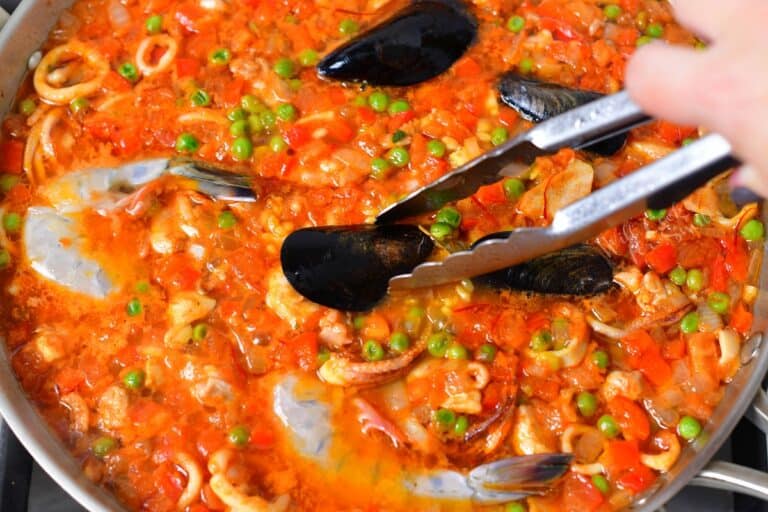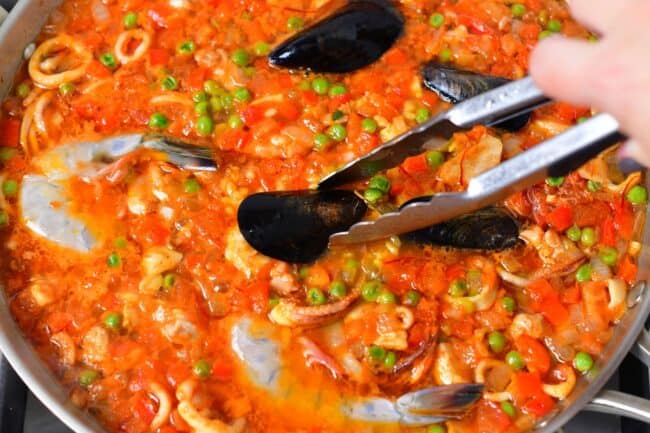 Add seafood – Using tongs, add the mussels and shrimp by carefully nestling them into the Paella.
After adding the shrimp and mussels, cover with a lid and cook for about 5 minutes or until the mussels open and the shrimp appears to be cooked through.
Once the shrimp and mussels are cooked, take off the lid!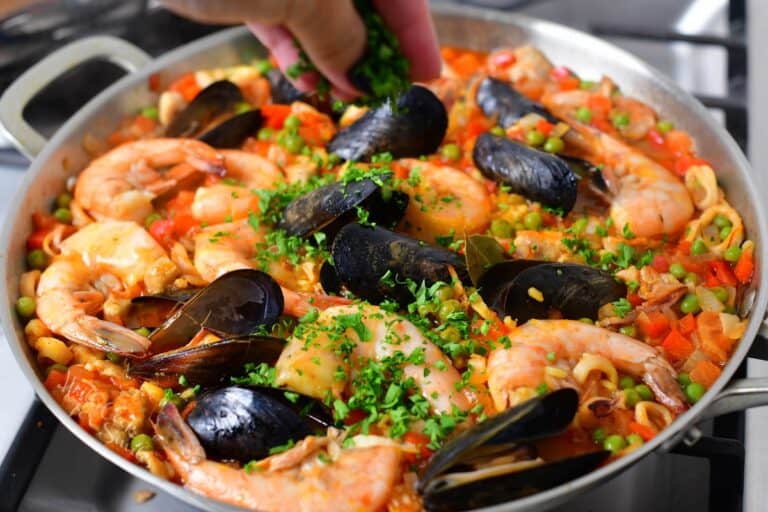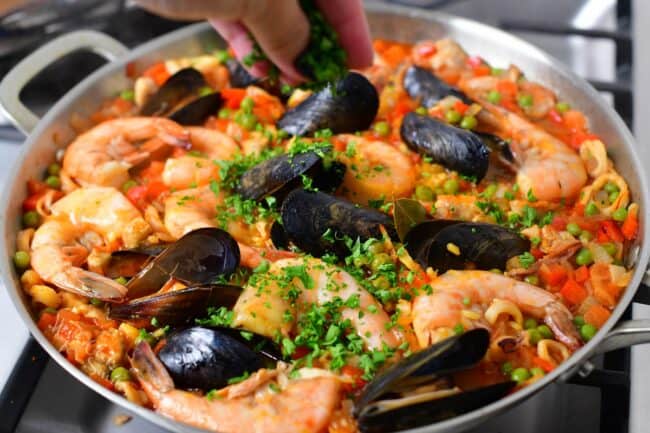 Socorrat – Once everything is cooked, turn the heat up to high for about a minute to a minute and a half to help create socarrat.
Socarrat is a crunchy, chewy, caramelized layer of rice that's created on the bottom of the pan. It's so flavorful and fantastic! While this step is optional, I highly recommend it for the BEST Paella.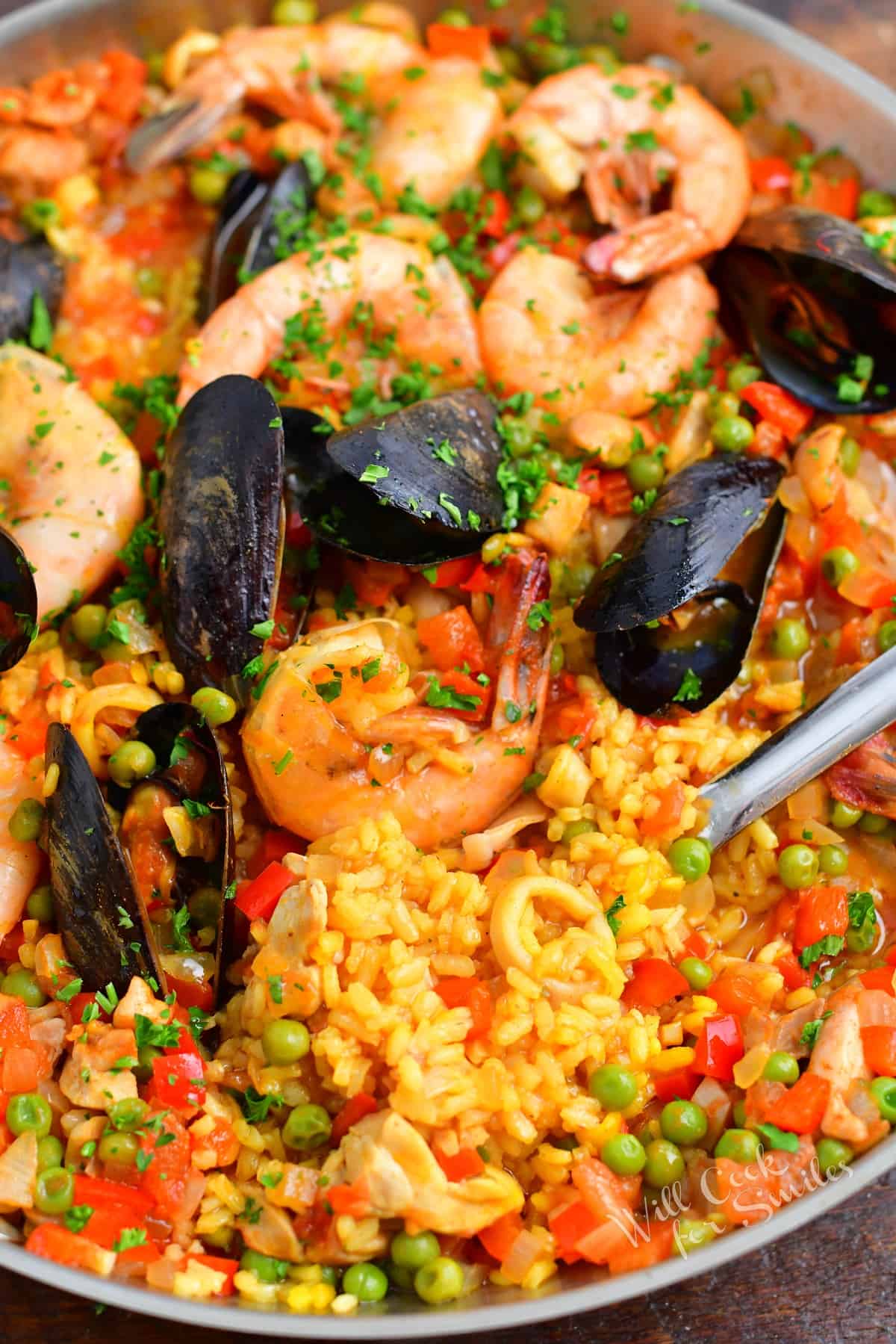 Do I have to have the right pan?
If you plan on making Paella often, I'd recommend that do get yourself the pan. I recommend one that can go on the stovetop and on the grill.
However, many home cooks don't want to have too many specialized pans lying around. If that's the case for you, you can easily use a wide and shallow cooking pan. Just make sure it is not bottom heavy and that it's wide enough to cook everything in it!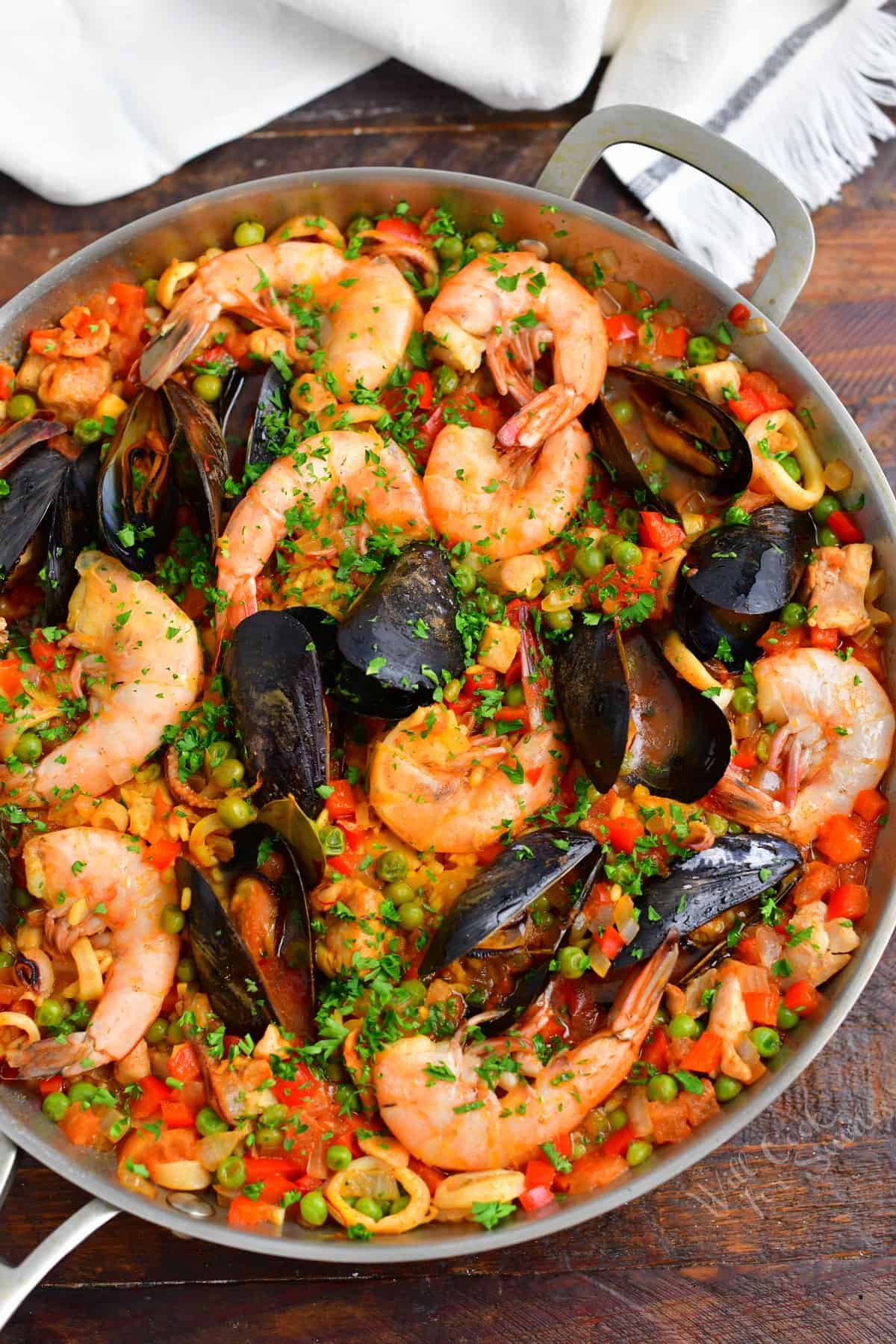 More Rice Dishes To Try:
Shrimp Fried Rice – each bite of this shrimp fried rice is loaded with a homemade savory sauce, perfectly cooked rice, fresh vegetables, and flavorful pan seared shrimp
Khao Pad – Thai fried rice is an amazing and easy fried rice dish made with key ingredients like chicken, jasmine rice, vegetables, and egg, and it's richly flavored with garlic, fresh ginger, fish sauce and oyster sauce
Chicken Fried Rice – a Chinese take-out staple that can easily be made from home with just a few minutes of your time and minimal ingredients
Chicken and Wild Rice Soup – this hearty, flavorful soup is made from scratch with chicken thighs, wild rice, mushrooms, onions, and cream.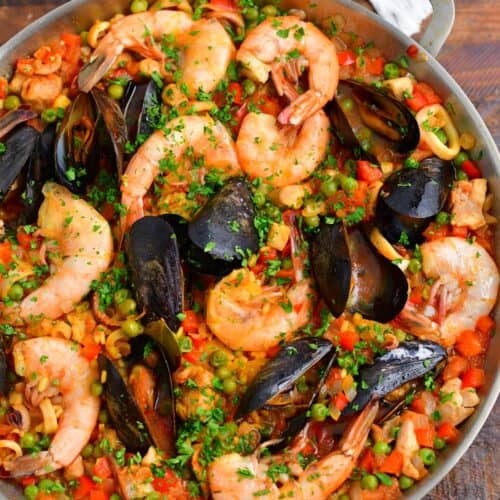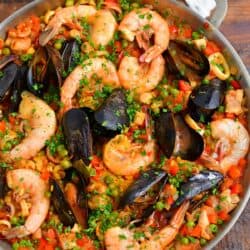 Chicken and Seafood Paella
This Paella recipe is packed with saffron infused rice, flavored with onion, peppers, tomatoes, and peas. For our recipe, we love to use a combination of chicken thigh meat, calamari, mussels, and shrimp.
Print
Save
Saved!
Rate
Ingredients
1/4

cup

extra virgin olive oil

1/2

yellow onion

diced

1

ripe tomato

peeled and diced

1

red bell pepper

seeded and diced

3

garlic cloves

smashed and minced

1

cup

short grain rice

1/2

cup

frozen peas

3/4

lb

boneless, skinless chicken thigh meat

1/2

lb

calamari

1/4-1/3

lb

jumbo shrimp

1/4-1/3

lb

mussels

preferably live

2

cups

chicken stock

1/4

cup

tomato sauce

1

bay leaf

pinch

saffron threads

1

tsp

paprika

salt

black pepper

2-3

tbsp

fresh minced cilantro
Instructions
Prepare all your ingredients before starting to cook. Dice chicken, calamari, and vegetables. Smash and mince garlic.

In a small sauce pot, combine chicken stock, tomato paste, bay leaf, saffron, paprika, salt, and pepper. Mix everything to combine, bring it to simmer, and turn down the heat to low.

Preheat a large and wide cooking pan (or a pan meant for Paella) over medium- high heat and add a little bit of olive oil.

Add diced chicken and calamari and sear it for a couple of minutes. Take the meat out of the pan and set aside.

Add remaining olive oil to the pan and add diced onion, tomato, and bell peppers. Sauté for a few minutes, until completely softened and starts to get golden brown. Add minced garlic and sauté just until fragrant.

Add back seared chicken and calamari, peas, rice, and chicken stock mixture to the pan. Give it a quick stir to mix and spread ingredients evenly, but not too much.

Lower the heat to low and cook Paella uncovered and undisturbed for about 15-18 minutes.

Nestle shrimp and mussels into the rice and let it cook for about 5 more minutes. (Cover the pan with a lid while seafood is cooking to help it cook through and help mussels open.) Take the lid off as soon as shrimp are done.

Raise the heat to high for about a minute and then take the pan off the heat.

Top it off with minced cilantro, let it rest for a few minutes, and serve!
Nutrition
Calories:
359
kcal
|
Carbohydrates:
35
g
|
Protein:
25
g
|
Fat:
13
g
|
Saturated Fat:
2
g
|
Polyunsaturated Fat:
2
g
|
Monounsaturated Fat:
8
g
|
Trans Fat:
1
g
|
Cholesterol:
167
mg
|
Sodium:
272
mg
|
Potassium:
529
mg
|
Fiber:
3
g
|
Sugar:
3
g
|
Vitamin A:
1172
IU
|
Vitamin C:
37
mg
|
Calcium:
46
mg
|
Iron:
3
mg
Tried this recipe?
Mention @willcookforsmiles and tag #willcookforsmiles