Raspberry and white chocolate are a classic combination, and there is not better way to combine them than in a cheesecake. This smooth and creamy cheesecake features chocolate cookie crust, delicious white chocolate and raspberry swirled filling, and fluffy cream cheese frosting. Decorate it with white chocolate curls, extra raspberry jam, and/or fresh raspberries.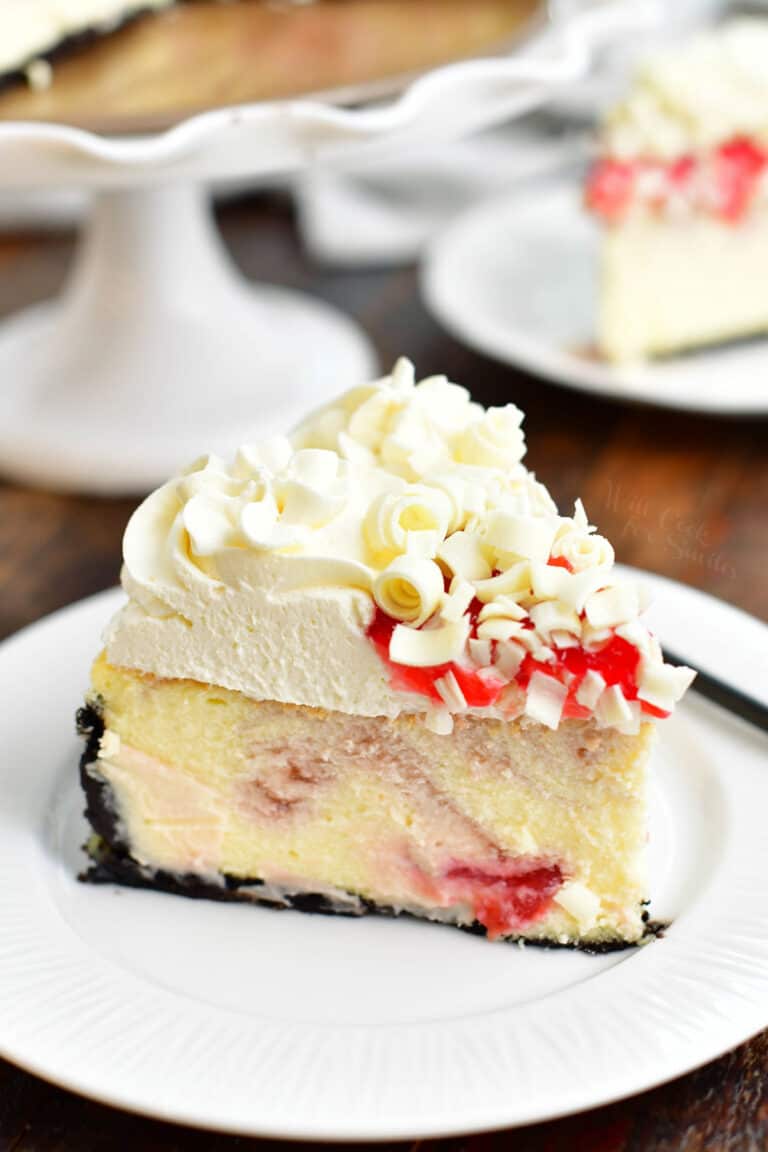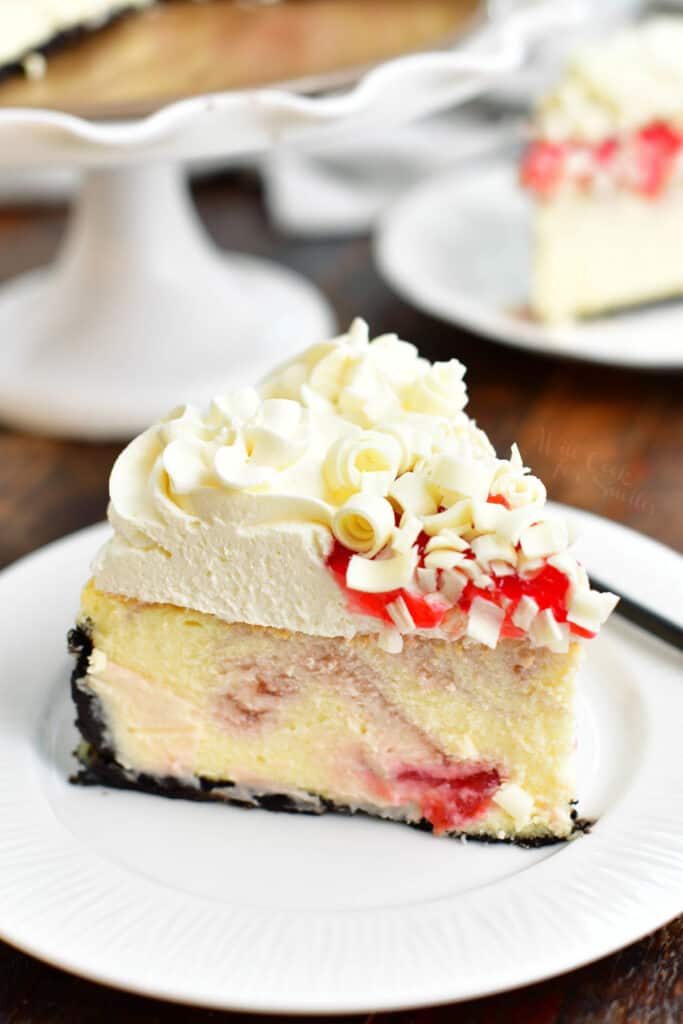 White Chocolate Raspberry Cheesecake
It's not an exaggeration to say that this white chocolate raspberry cheesecake is the pure definition of decadence. Between the chocolate crust, wonderfully creamy and flavorful cheesecake itself and the fluffy cream topping, this recipe is undoubtedly going to become one of your favorite go-to cheesecakes.
When I see a white chocolate raspberry cheesecake listed on the menu at a restaurant, my heart always skips and beat and I make sure to leave room for dessert! I've never met a cheesecake I didn't like, but there's something extra special about the simple combination of white chocolate and raspberry flavors in a cheesecake.
But no matter how tasty a restaurant dessert might be, homemade cheesecakes are always so much better. No restaurant can quite master the real depth in flavors and immensely creamy texture that this cheesecake has. Plus, no one will put more effort and love into your dessert than you!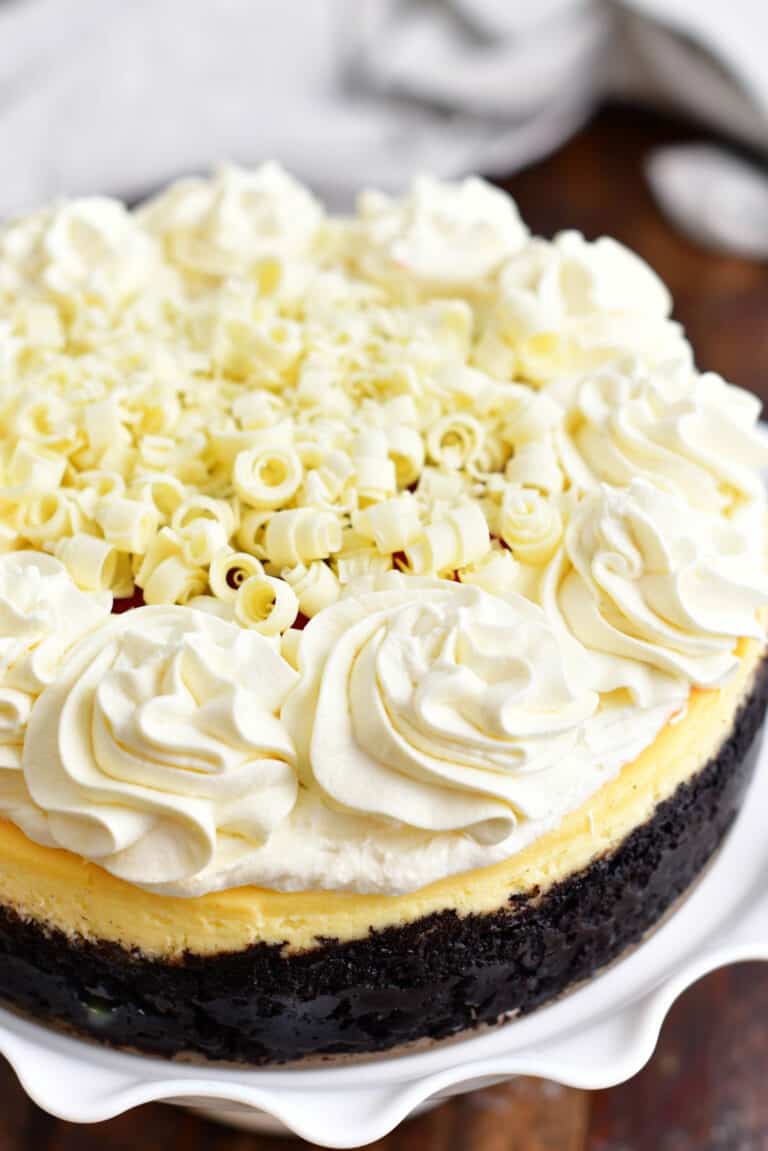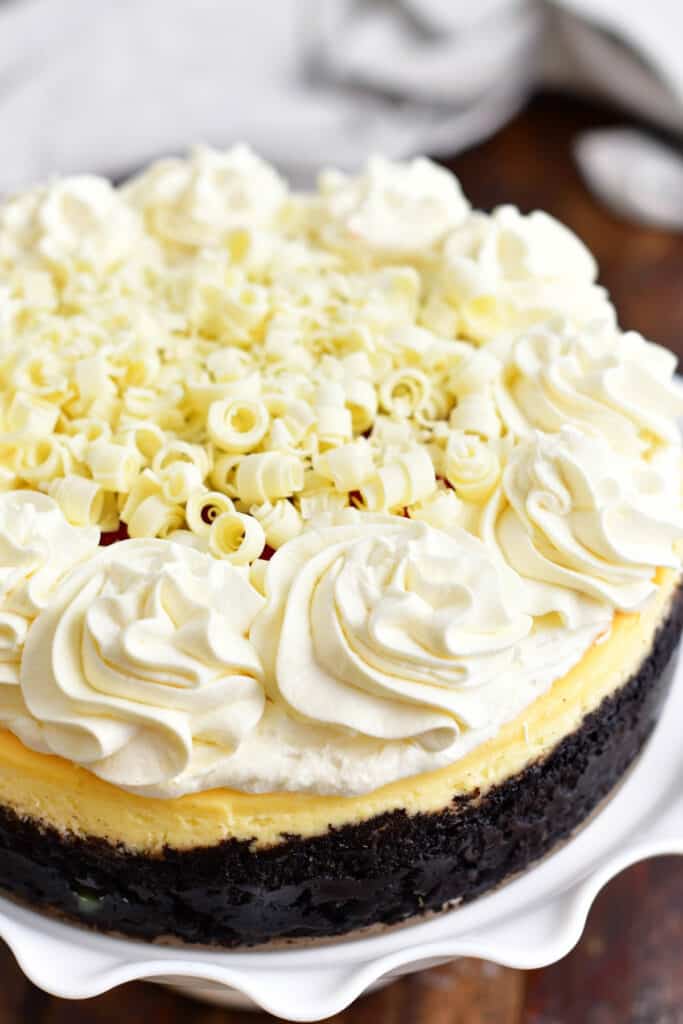 No Bake vs Baked Cheesecake Recipe
Eggs! A no bake or icebox cheesecake doesn't use eggs in the filling, and it sets entirely while chilling in the refrigerator. It also has a different ratio of solid and liquid ingredients like cream cheese vs. heavy whipping cream.
The baked version, however, does include eggs and must be baked in a water bath to prevent cracks as it sets. Then, it's refrigerated to firm up completely.
There is a very noticeable texture difference in a no bake vs. baked cheesecake. No bake cheesecakes taste very close to actual flavored cream cheese that is lighter, and smooth. It tastes like flavored cream cheese because essentially, that is what it is. Baked cheesecake however is creamy, smooth, soft, and fluffy, and it doesn't taste much like straight cream cheese.
How to Make White Chocolate Raspberry Cheesecake
Start off by making the crust, of course! Simply pulse the Oreo cookies in a food processor. Then, combine the crumbs and butter together. Press the mixture into a pan.
Next, make the sweet raspberry sauce by combining raspberries, vanilla, lemon juice, and sugar in a small sauce pot over medium heat. Smash the berries, toss them in, and continue cooking, also stirring in cornstarch. Strain the raspberries once thick.
Let's Bake the Cheesecake!
Place the cheesecake springform into a large roasting pan and add hot water to the roasting pan, about half way up the springform. Bake the cheesecake for about 85-90 minutes. Then, turn off the oven, and allow the cheesecake to sit for 10-15 minutes white oven temperature drops.
The cheesecake will need to further rest for 20 minutes at room temperature before you run a greased butter knife alongside the edge to separate it from the pan.
Cool the cheesecake on the counter for an additional hour, then cover it and place in the refrigerator for at least 4 hours.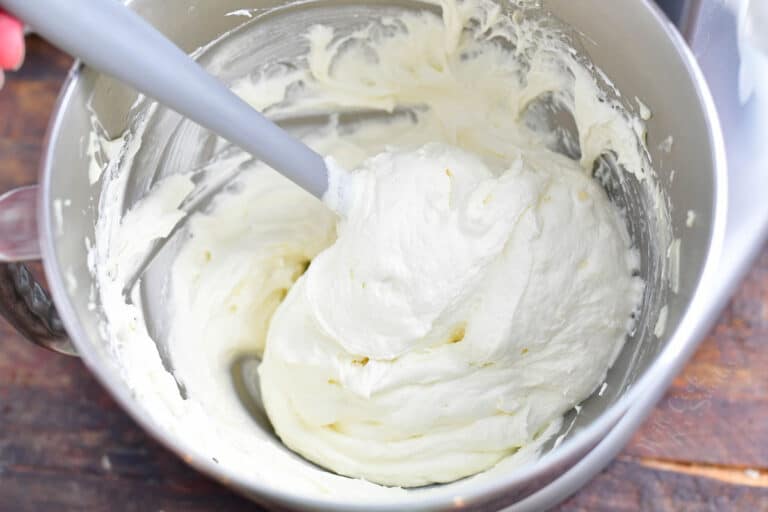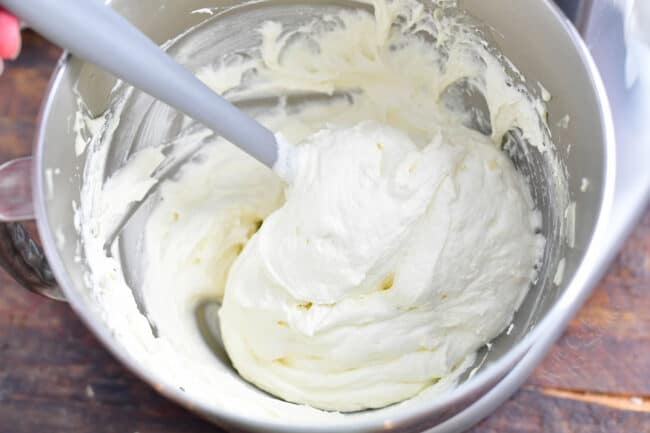 Make Cream Cheese Frosting
First, break up the white chocolate bars, then melt them. While that melts, beat the cream cheese with an electric mixer. Fold together melted chocolate and whipped cream cheese.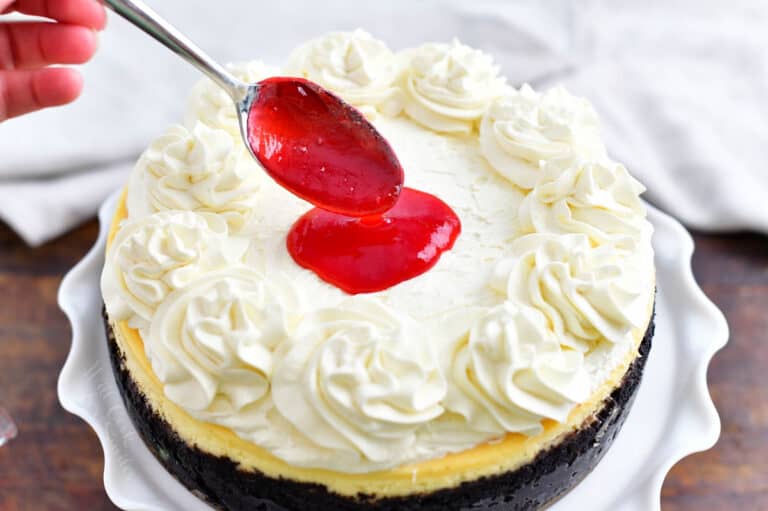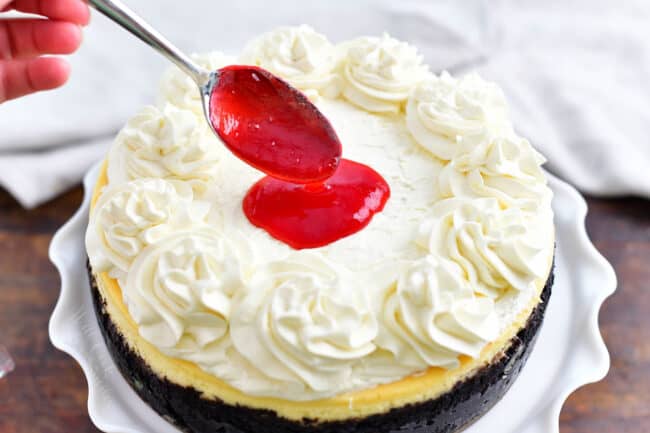 Now for the fun part – decorate the cheesecake!
Spread some of the homemade white chocolate frosting over the top of the cheesecake. Transfer the rest to a piping bag, and decorate as you wish. I like to create little flowers and swirls.
Spoon the leftover raspberry topping into the center, and top with white chocolate curls.
Tips And Tricks
Plan ahead. I recommend making this baked cheesecake recipe at least a day or two before you plan to serve it. The longer it has to chill, the easier it will be to slice.
Use room temperature ingredients. Set everything you need for the cheesecake filling on the counter for about 30-45 minutes first. It's the only way to ensure that everything will blend together faster and easier, but you'll get a silky smooth texture as well.
Don't have a double boiler? Make one with a large saucepan and a glass bowl! Simmer about an inch of water on the stove, then place the bowl over the pan and pour in the chocolate. Stir until smooth, then remove the bowl from the heat. Don't let any water get into the bowl, or the chocolate will get hard and crumbly.
No piping bags and tips? Use a large plastic zip top bag instead. Fill with the frosting, then snip off the bottom corner. To create swirls, cut a triangle into the corner instead of cutting it straight across. Then, squeeze from the top and support the base with your other hand.
Tip for easy slicing: Run a sharp knife under hot water, then dry it completely before slicing the dessert. The metal will retain the heat and glide smoothly through the layers without melting it.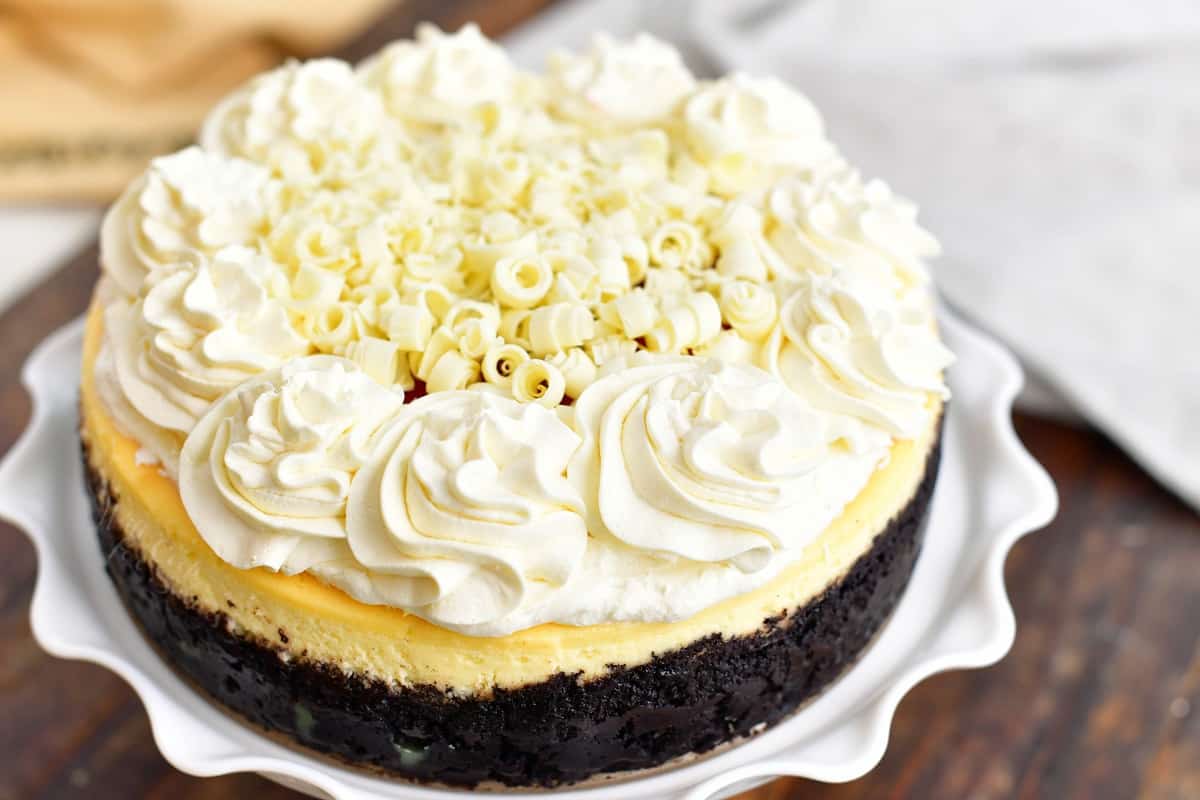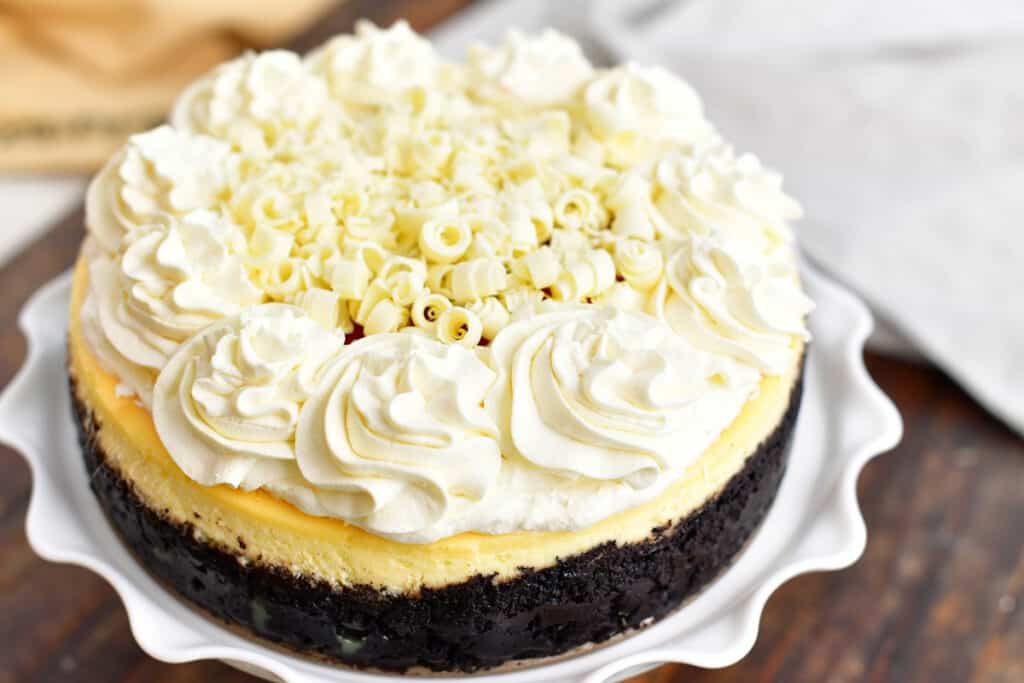 Cheesecake Recipe Notes
How to prevent cracks in a cheesecake: There are two major tricks to prevent cracks in your cheesecake. One is a water bath and another in gradual temperature change. The main reason for using a water bath for these desserts is to keep direct heat away from baking dish. It helps the cheesecake bake evenly throughout and results in a smooth, creamy cheesecake. It also prevents it from cracking. As far as the gradual temperature change, once the cheesecake bake time is up, turn off the oven and open the oven door about 1/4 of the way. Let the cheesecake sit there for about 10-15 minutes while the temperature gradually cools. Then pull the cheesecake out of the water bath and let it cool at room temperature.
How can you tell when a cheesecake is done baking? When the edges are set and the center is slightly soft and jiggly. As it cools in the oven and on the counter, the center will continue to set more and become more firm. DO NOT insert a knife or toothpick into the center since that may cause the dessert to crack.
Always remember to chill the cheesecake! Most cheesecake will be too soft to serve warm, before being chilled in the refrigerator. Cheesecakes continue to set as they rest, cool, and chill.
Storage and Freezing
This white chocolate raspberry cheesecake will keep in the refrigerator for up to 1 week. Cover air-tight with plastic wrap or keep inside a covered cheesecake pan so it doesn't dry out.
To freeze, make sure to freeze the cheesecake without the topping and frosting! Leave the cheesecake on the springform pan bottom part or transfer it onto a cardboard round covered with foil. Freeze for about an hour (set a timer), then cover it in a layer of plastic wrap and then foil.
Label and place it back in the freezer. Cheesecake can be frozen for up to 2 months for best results.
When you're ready to serve, transfer it to the refrigerator to thaw overnight (or up to 24 hours). Frost and decorate it before serving.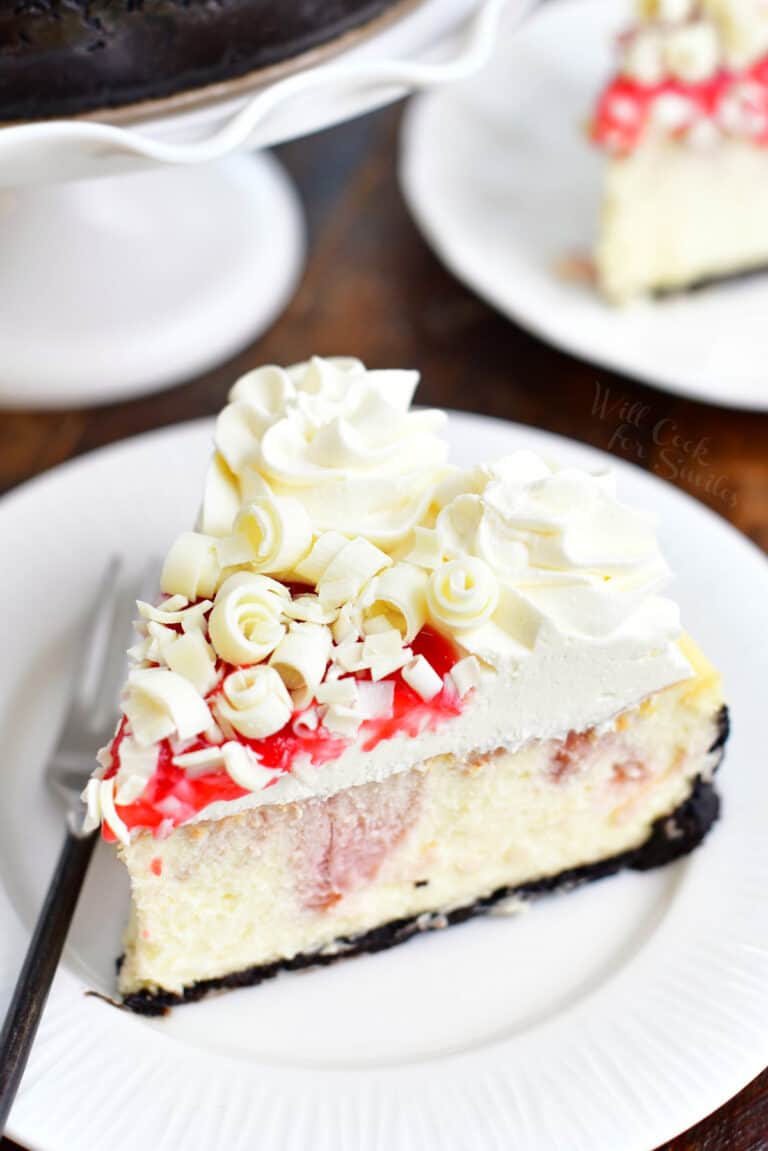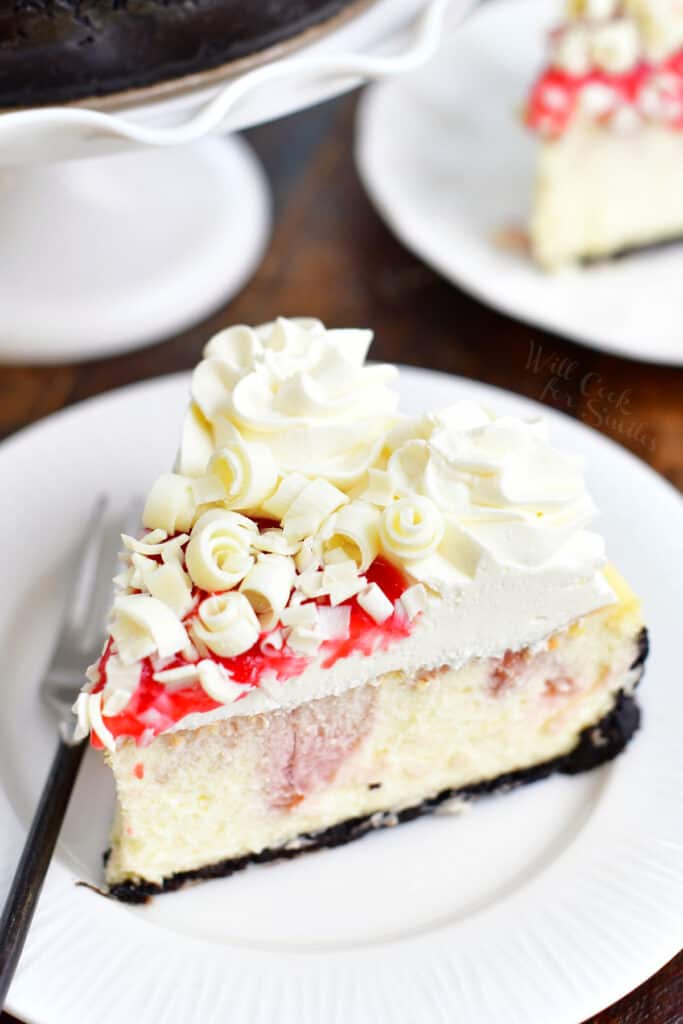 More Cheesecake Recipes To Enjoy!
Chocolate Cheesecake – luscious, rich, and smooth Chocolate Cheesecake is made with an Oreo cookie crust, smooth chocolate cheesecake filling, and deliciously topped with homemade chocolate whipped cream
S'Mores Cheesecakes – smooth cheesecake made with a layer of chocolate and marshmallows on the bottom and topped with hot fudge sauce and toasted marshmallows.
Strawberry Cheesecake – this silky smooth cheesecake has a layer of easy homemade strawberry spread on the bottom and then a swirl of it through the top
Lemon Cheesecake – lemon Cheesecake is a bright and beautiful dessert for the spring and summer season, each layer packs a lemon flavored punch and it goes so nice with the smooth and luscious cheesecake filling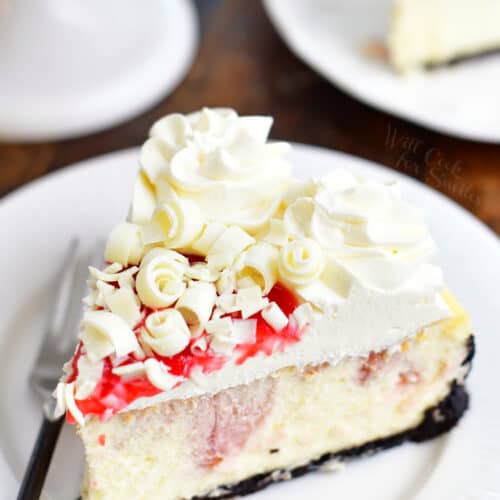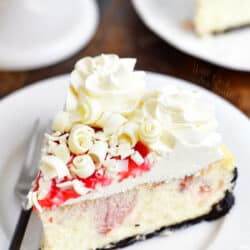 White Chocolate Raspberry Cheesecake
White chocolate raspberry cheesecake is a creamy decadent dessert with classic flavors. Make this baked cheesecake recipe for any occasion!
Print
Pin
Save
Saved!
Rate
Ingredients
Crust:
28

Oreo cookies

4

tbsp

unsalted butter

melted
Raspberry topping:
8

oz

raspberries

3/4

cup

white granulated sugar

1

tbsp

lemon juice

1

tsp

vanilla extract

1/2

tbsp

cornstarch

1/2

tbsp

water

to mix with cornstarch
Cheesecake Filling:
32

oz

cream cheese

softened

1

cup

white granulated sugar

3

eggs

room temperature

1/2

cup

heavy whipping cream

1/4

cup

sour cream

2

tsp

vanilla extract

2

tbsp

cornstarch

4

oz

white chocolate baking bar
Frosting:
8

oz

white chocolate baking bar

2 of the 4 oz. baking bars

8

oz

cream cheese

softened

8

oz

whipped topping like Cool Whip
Decorate:
remaining raspberry jam from above

2-3

oz

white chocolate

shaved
Instructions
Preheat the oven to 325 degrees and grease a 9 inch springform pan.

You will need a large roasting pan that's bigger and longer than the springform pan. (I use the aluminum foil disposable ones).

If you are not sure about your springform holding up in water, you can wrap the outside of the springform pan in heavy duty aluminum foil from bottom up to the sides. (I recommend wrapping the outside of the springform in foil before adding the crust and cheesecake batter.)
Raspberry Topping:
In a small sauce pot, over medium to medium-low heat, combine raspberries, vanilla, lemon juice, and sugar. Mix well and cook, over medium heat and covered for about 10 minutes.

Smash all the berries with a wooden spoon and cook for another 10 minutes over medium-low heat.

Whisk in cornstarch with a little bit of cold water and stir it into the raspberry mixture. Stir for a couple of minutes, until the mixture thickens.

Strain the mixture through a fine mesh strainer to get rid of the seeds and leftover skin. Use a wooden spoon to scrape and stir the raspberry mixture while straining to get the most out.

Set it aside for a few minutes to cool while preparing the cheesecake.
Crust:
Pulse Oreo cookies in the food processor or blender until it's just crumbs.

In a small bowl, combine cookie crumbs and melted butter until evenly incorporated. 

Press cookie crust mixture into the pan, evenly, all over the bottom and about half way up the side. 
Cheesecake Filling:
Start beating cream cheese and sugar on medium-high speed until smooth, about 2 minutes.

Add vanilla extract, and sour cream. Mix until combined.

Add eggs, one at the time, beating after each addition. Scrape sides and bottom of the bowl and beat until all incorporated.

Lower speed and add corn starch. While on medium-low speed, pour in heavy cream. Mix until all combined, scrape the sides and bottom of the bowl and mix again until smooth.

Melt white chocolate bar in the microwave or in a double boiler, according to the melting instructions on the label. (If melting in the microwave, make sure to melt on half the power and in 30 second increments.)

Pour in melted chocolate into the cheesecake while it's mixing. Scrape side and bottom of the bowl and make sure everything is evenly incorporated.

Pour the cheesecake batter into the springform, over the crust.

Spoon about 2/3 of the raspberry topping over the top of the cheesecake and carefully swirl it into the cheesecake but don't mix. You can use the thin handle of a wooden spoon or something similar to swirl.

(Reserve about 1/3 of the raspberry topping to top off cooked cheesecake when decorating.)
Baking the cheesecake:
Place roasting pan into the oven and place the cheesecake springform pan inside the roasting pan. Carefully add water to the roasting pan, about half way up the side of the springform.

Bake for 85-90 minutes. Turn off the oven and open the oven door half way. Let cheesecake rest for about 10-15 minutes and take it out of the oven (out of the roasting pan and carefully take off the foil).

Let it rest for 20 minutes on the counter and then gently run a greased butter knife between sides of the cheesecakes and the springform to carefully separate it. (You don't actually have to take the cheesecake out of the pan until ready to add topping.)

Cool cheesecake on the counter for an hour.

Cover the pan with saran wrap and place the cheesecake in the refrigerator. Refrigerate for at least 4 hours before adding the frosting.
Frosting:
Break up white chocolate bars and melt them according the to package instructions.

Beat cream cheese with an electric mixer for a couple of minutes.

Drizzle in melted white chocolate while continuing to beat cream cheese. Mix well.

With mixer turned off, fold in whipped topping gently until all combined.
Decorate:
Spread about a third of the white chocolate frosting over the top of the cheesecake.

Transfer the rest of the storing into a piping bag fillet with a decorating tip (I use 1M) and decorate with flowers or swirls around the cheesecake top.

Spoon remaining raspberry topping into the center. Top it all off with white chocolate curls.

TIP: Super easy cheater way to make chocolate curls is to use a vegetable peeler and slowly "peel" the chocolate bar. You can also to shave the chocolate bar on a box grater to make some chocolate shavings. (Note: it's easier to make chocolate curls with room temperature chocolate, not cold.)
Nutrition
Calories:
1068
kcal
|
Carbohydrates:
88
g
|
Protein:
16
g
|
Fat:
80
g
|
Saturated Fat:
45
g
|
Cholesterol:
207
mg
|
Sodium:
578
mg
|
Potassium:
620
mg
|
Fiber:
8
g
|
Sugar:
63
g
|
Vitamin A:
1971
IU
|
Vitamin C:
7
mg
|
Calcium:
209
mg
|
Iron:
10
mg
Tried this recipe?
Mention @willcookforsmiles and tag #willcookforsmiles