I'm sharing my new broccoli salad today! This salad is very "cool," it's made with broccoli, cucumbers, pine nuts, mint, Greek yogurt and more goodies!
This is another recipe that was brought to you by the demand of my Facebook fans. I had so much fun letting the fans choose the recipe to post last time, so I decided to do it again. I gave them a choice between new French Toast recipe, Flatbread grilled sandwich and Broccoli Salad. The majority chose Broccoli Salad, but you already know that!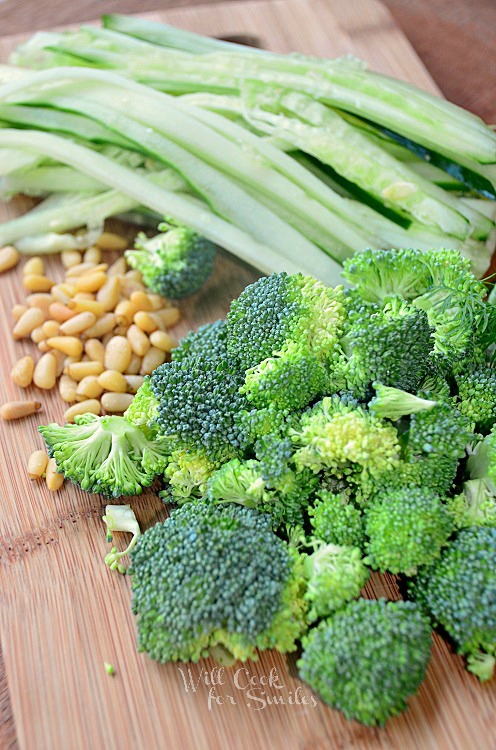 I love this broccoli salad. I may have only made it a couple of times but I love it already. It's refreshing and filling, which is perfect for a hot summer afternoon. It would be a perfect dish to bring to a barbeque party too.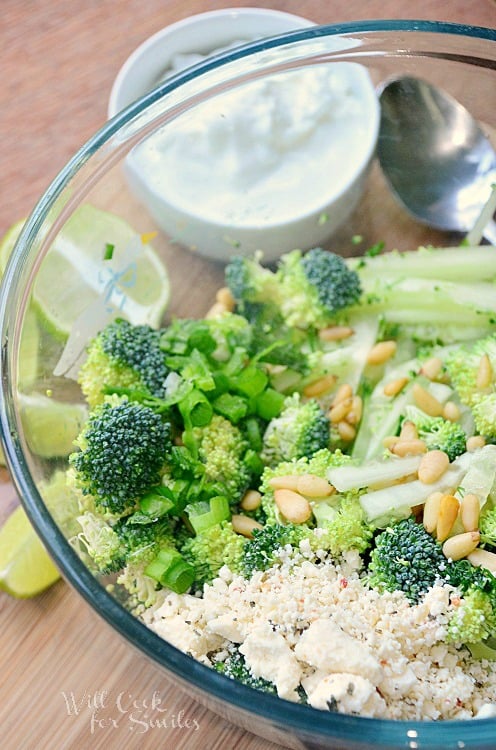 This broccoli salad is very "cool." No, it doesn't wear leather and bumps a jukebox with it's elbow to make it play. (I don't know why I went to the Fonzie reference, that was just the first thing to pop into my head.) This salad is "cool" because it's cooling and refreshing. It has broccoli, cucumbers, Feta, Greek yogurt and mint. It's great when it's first made but even better after sitting in the fridge for a couple of hours. While sitting in the fridge, the flavors get a chance to marinate for enhanced flavor.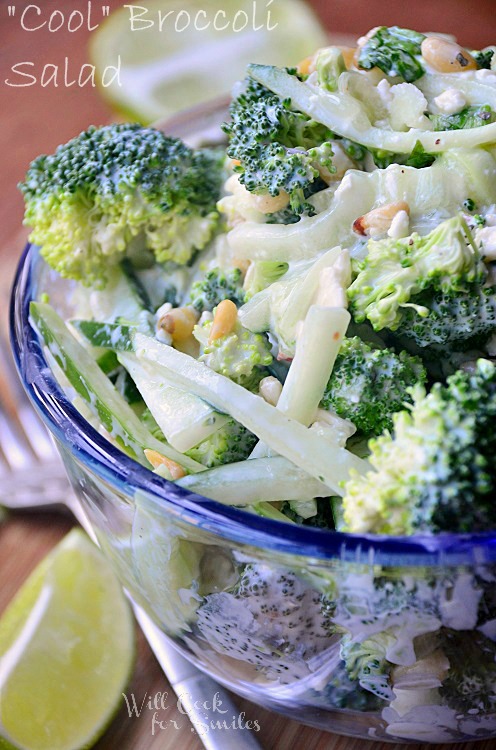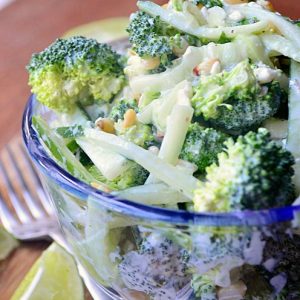 "Cool" Cucumber Broccoli Salad
This salad is very "cool," it's made with broccoli, cucumbers, pine nuts, mint, Greek yogurt and more goodies.
Ingredients
2

small bunches of broccoli

1

medium cucumber

1/2

cup

pine nuts

1/3

cup

Feta cheese

2

tbs

chopped green onion

1

tbs

fresh Dill weed

minced

5

mint leaves

minced

Salt

fresh cracked pepper

1/3

cup

plain Greek yogurt

1

tbs

mayo

1

tsp

fresh lime juice

1/2

tsp

sugar
Instructions
Cut the broccoli florets from the stem and chop them into smaller pieces.

Slice the cucumber into straws.

In a large mixing bowl, combine broccoli, cucumber, Feta, pine nuts, green onion, dill weed, mint, salt and pepper. Stir until mixed together.

In a small bowl, mix Greek yogurt, mayo, sugar and lime juice.

Mix the sauce into veggies until all veggies are evenly covered.

I recommend letting it sit in the fridge for a couple of hours before serving. Stir again and serve!
Recipe Notes
Recipe from Lyuba @ willcookforsmiles.com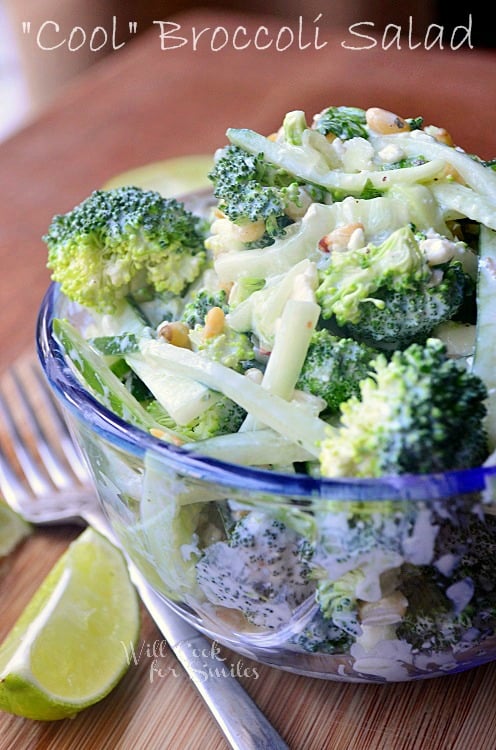 Make sure you follow me through your favorite blog reader (bloglovin or other), or follow me through | Facebook| Twitter| Pinterest|

Don't miss any new posts and recipes from me, subscribe to E-MAIL! Just enter your email in the side bar, you will receive an email for confirmation. Confirm and you are all subscribed! HUGS!
***************
Remember to come back and link up to my party on Saturday night!!