The best simple dinner that you can whip up in about 30 minutes. Comfort food at it's tastiest, tortellini made with homemade pesto and Alfredo sauce.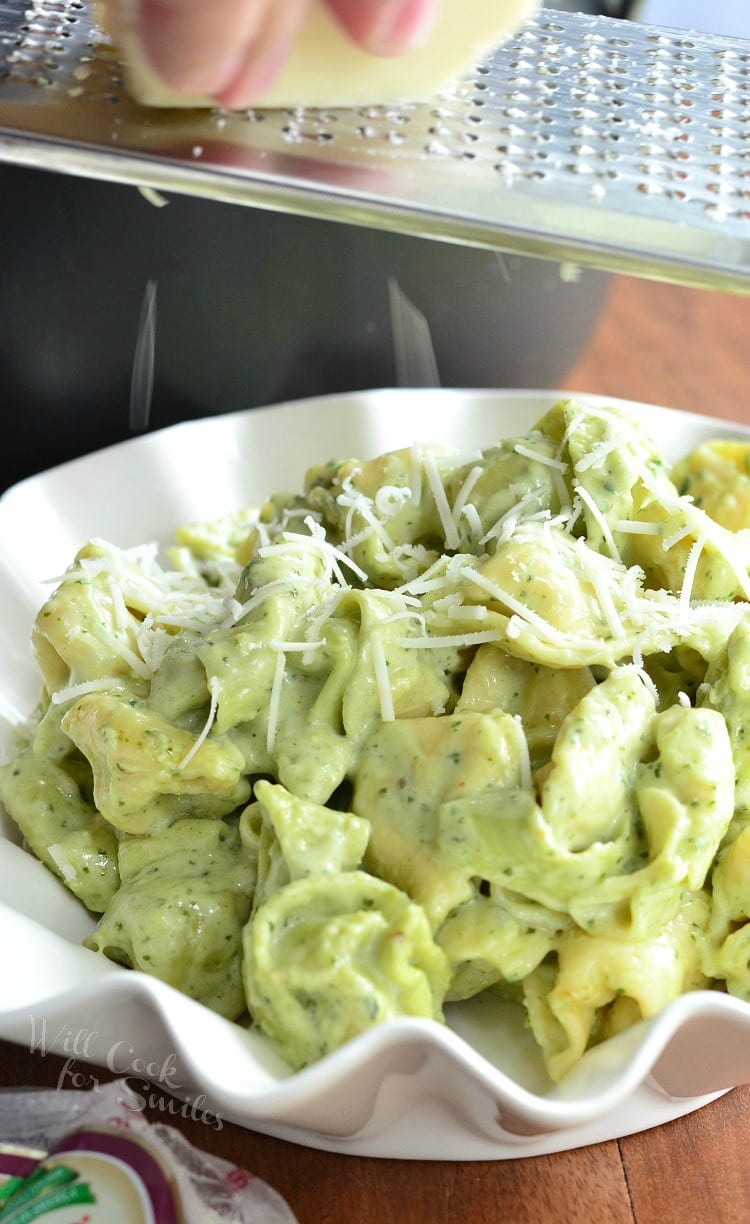 This is the best, quick and easy comfort dinner I've made in a while and I've been craving more since taking the last bite. I'm staying strong right now but I'm afraid I'll cave very soon.
We're all moved in to the new house now. Boy, did I underestimate the sheer amount of time that a move takes and just how much stuff we had packed in our little apartment. Last time we moved, we were 17 and 23 and we were moving to our little 2 bedroom apartment. We had next to nothing to move. All we had in our bedroom was a bed (mattress on a metal frame), an old, refurbished dresser and a TV. We had a couch and a hand-me-down coffee table in a living room.
A sweet old couple saw us picking up the couch from a store and they gave us their old, little dinner table, which was in such good condition, we still have it in our breakfast nook. That's it…we had next to nothing and we were happy. We had our own place for the first time. No roommates, no parents, just a couple of poor college students. Good times!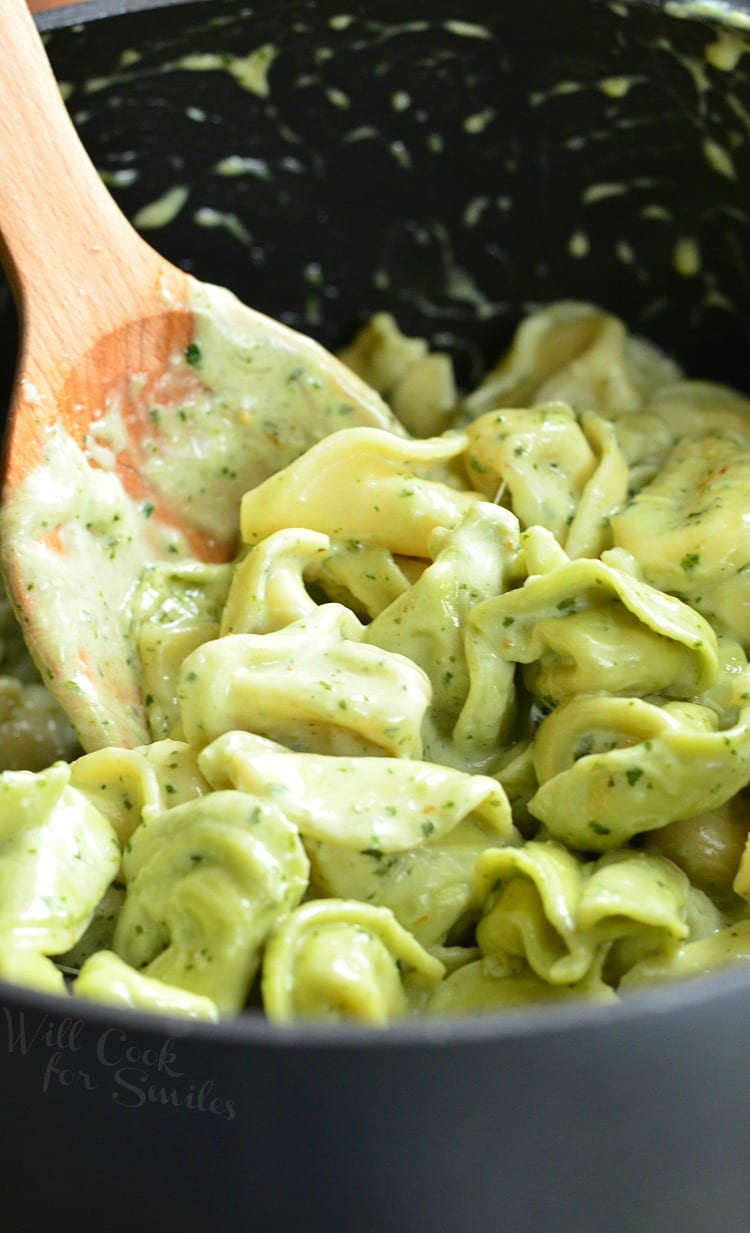 The best anecdote from our first year living together was our TV. As I mentioned, we had a little tube television set in our bedroom and all we had was some stolen antenna channels. I remember we could only get like 5 channels and luckily, one of them showed the playoffs and the World Series. The biggest drawback, if you remember trying to watch TV with an antenna, was the signal going in and out. It seemed to highly depend on our position. So during the World Series, we had to watch the games with our arms or legs up in the air. It was like a World Series Twister. We were laughing and crying every time we'd fall and miss the play.
It's so fun to reminisce about everything we had and didn't have when we were just dating, while looking around at our first house with our son, after 12 years of being together. And while we are looking around and reminiscing, we are starving after the full day of unpacking. Quick and easy dinner like this delightful Pesto Alfredo Tortellini is just what we needed.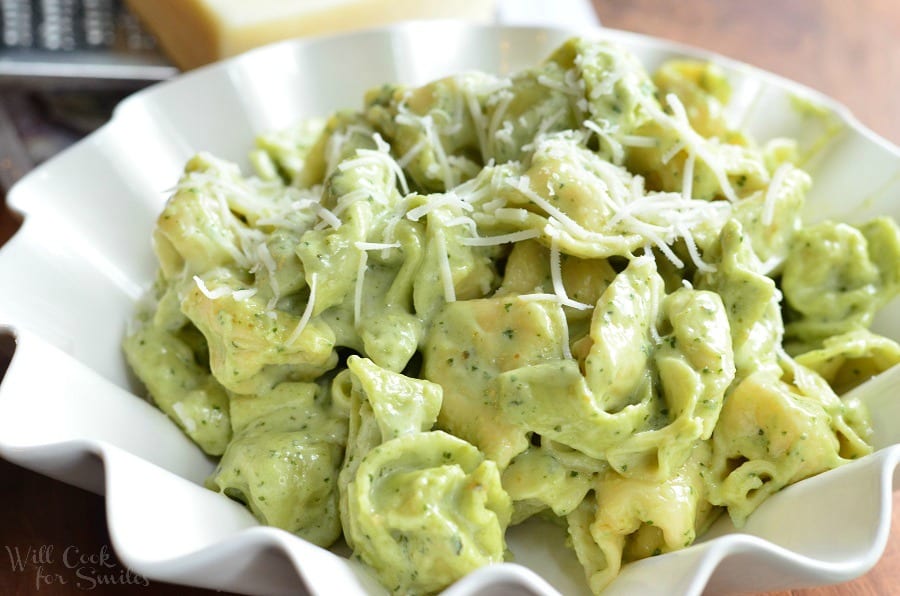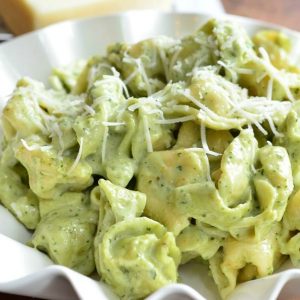 Pesto Alfredo Tortellini
Ingredients
20

oz

refrigerated three cheese tortellini

Salt

1/3

cup

prepared homemade pesto

2

Tbsp

butter

2

large clove of garlic

1 1/4

cups

heavy whipping cream

½

cup

fresh grated Parmesan cheese

½

cup

dry Parmesan cheese

2

Tbsp

sour cream

Salt and fresh cracked black pepper

1/2

cup

Mozzarella cheese

More fresh grated Parmesan for topping
Instructions
Cook tortellini in a large pot with some salted water, according to the package. Drain and set aside.

In a small sauce pot, melt butter over medium heat and add pressed garlic.

Saute until fragrant (just a few seconds) and slowly add heavy cream WHILE whisking. Heat through on medium heat, keep stirring slowly.

Add sour cream, Parmesan cheeses, salt and pepper. Keep cooking on medium-low heat for about 5-7 minutes, stirring often, until all smooth.

In the pot where you cooked the tortellini, add pesto and mix well.

Add Alfredo sauce and Mozzarella cheese. Mix well and serve.

Top each plate with some fresh grated Parmesan cheese.

(You can always served this dish with grilled chicken on top or a nice seared steak.)
Recipe Notes
Recipe from Lyuba @ willcookforsmiles.com All images and content are copyright protected. Please do not use my images without prior permission. If you want to share this recipe, please simply link back to this post for the recipe. Thank you.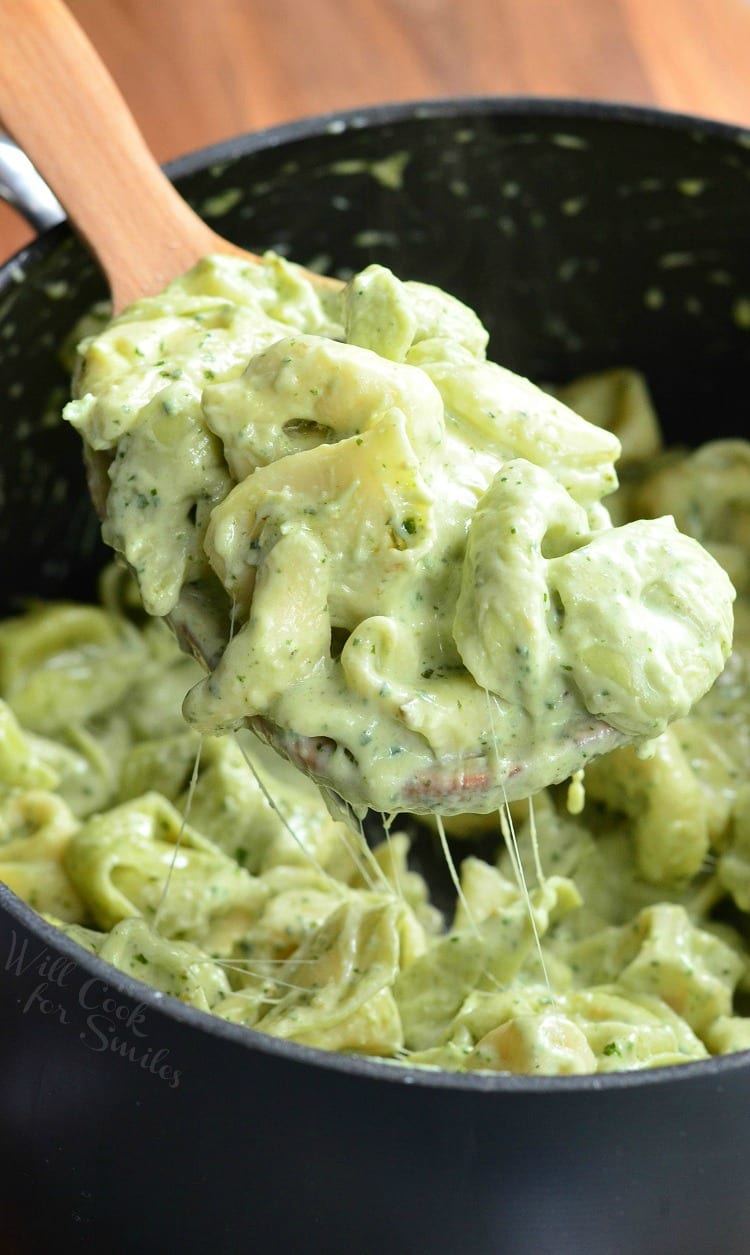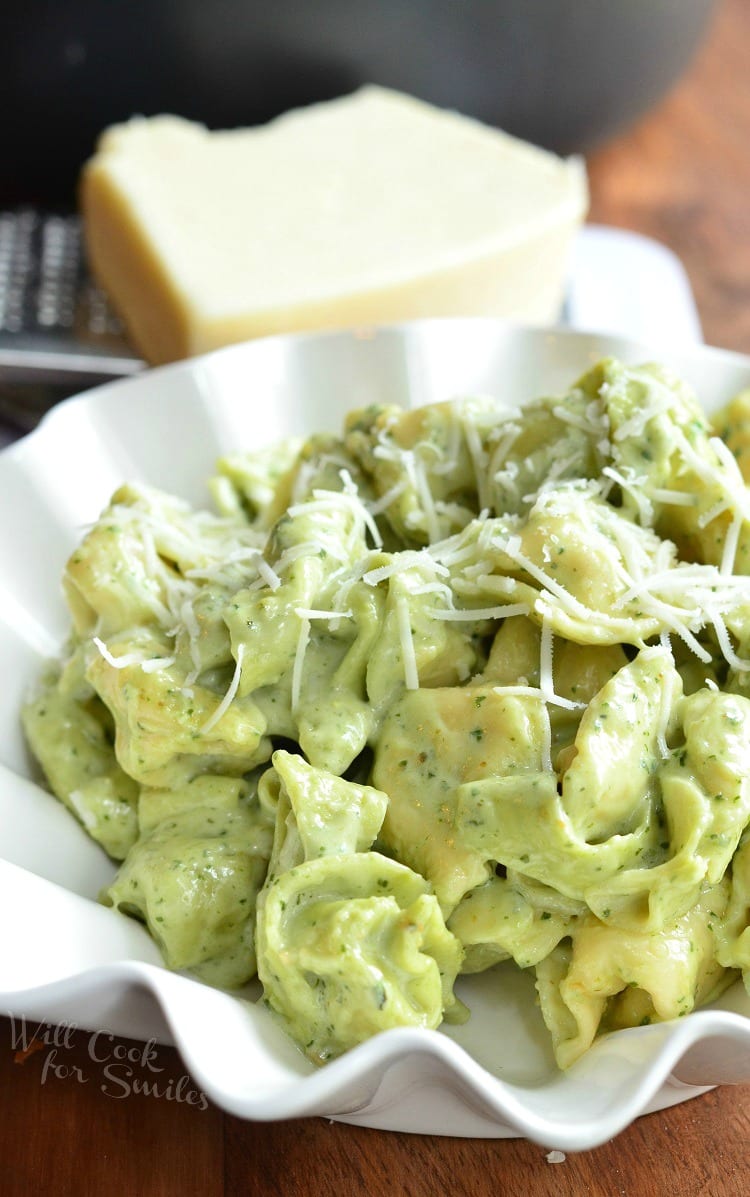 _________________________________________________________
Make sure you follow me through your favorite blog reader (bloglovin or any other), subscribe to e-mail or follow me through social media of your choice to keep up with the recipes!

_______________________________________________________

More Delicious Pasta Recipes From Me: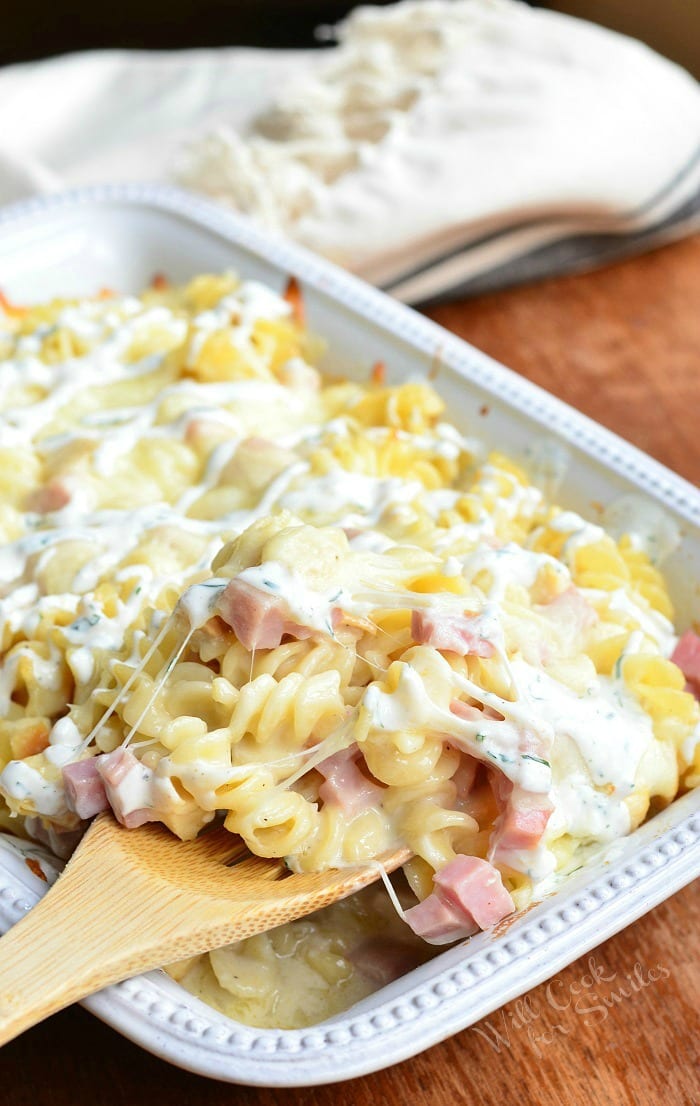 Creamy Chicken Cordon Bleu Pasta Casserole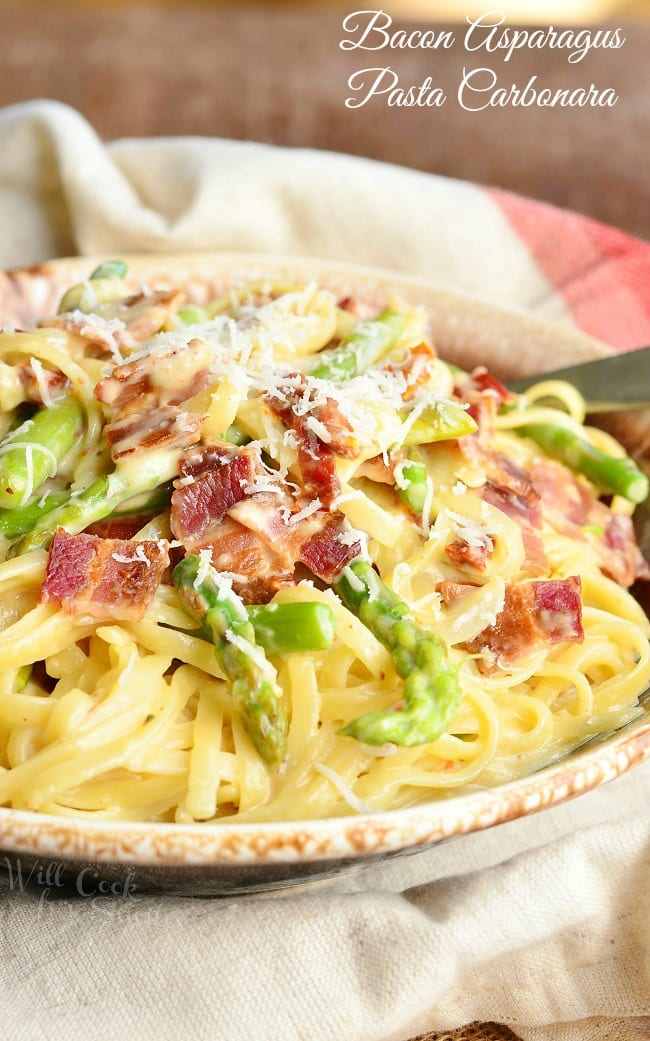 Bacon Asparagus Pasta Carbonara