Braised short ribs are a sophisticated, yet easy and cozy meal for a perfect family dinner. This classic recipe is much easier than most people think. It starts in a Dutch oven on stove-top and then, you will move it over to the oven to cook until completely soft and tender.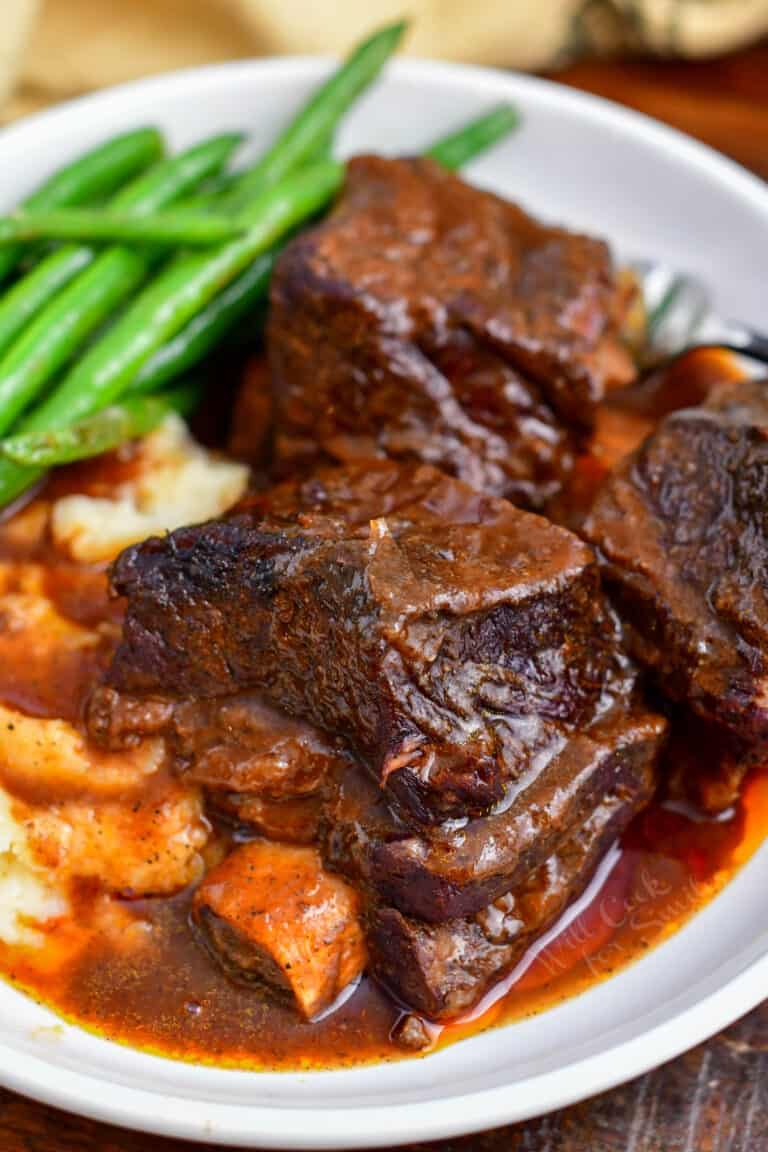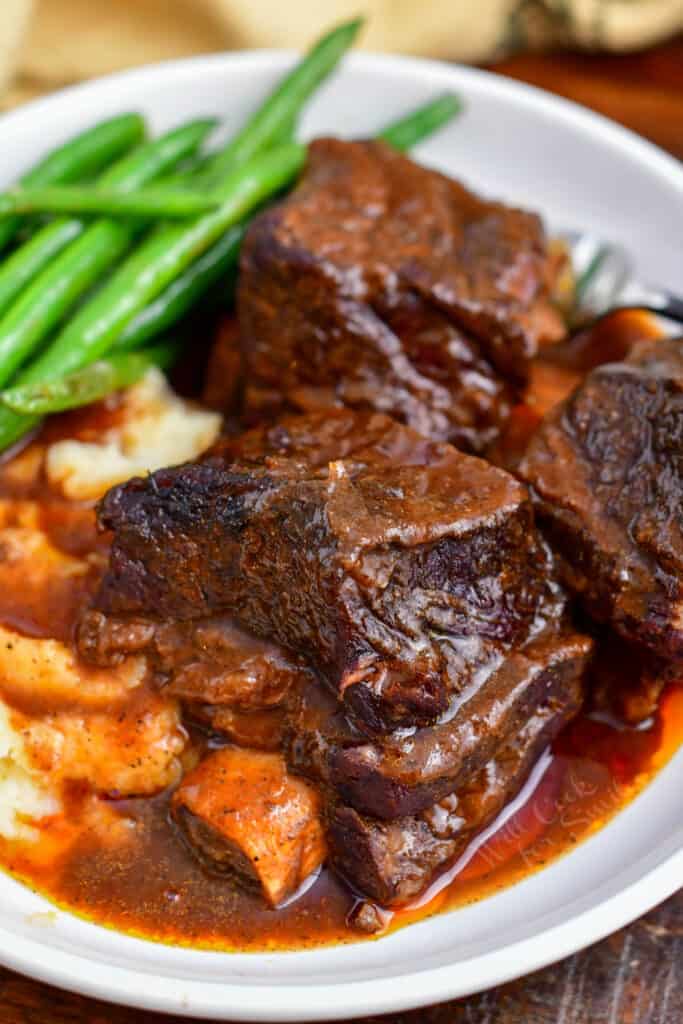 When I think of comfort food, a few words immediately come to mind – flavorful, rich, and hearty. This meal encompasses all three and so much more!
Braised short ribs is the dish that most people thoroughly enjoy but also get ingeminated making it at home. There is so much flavor in this dish and the meat is so tender, you might think that it's very hard to make. But it is not! It is actually quite straight forward recipe for a classic braising technique.
Next time you're craving a flavorful and comforting dinner this winter season, look no further than braised beef. I will take you about 4 hours to make but most of that time is beef just cooking in the oven.
What Is Braising?
Braising is a method of slowly cooking food using wet and dry heat. This technique starts off with searing the meat first at high temperature and then slow-cooking in the oven with liquid. This technique provides a great amount of flavor along with succulent and tender texture of the meat.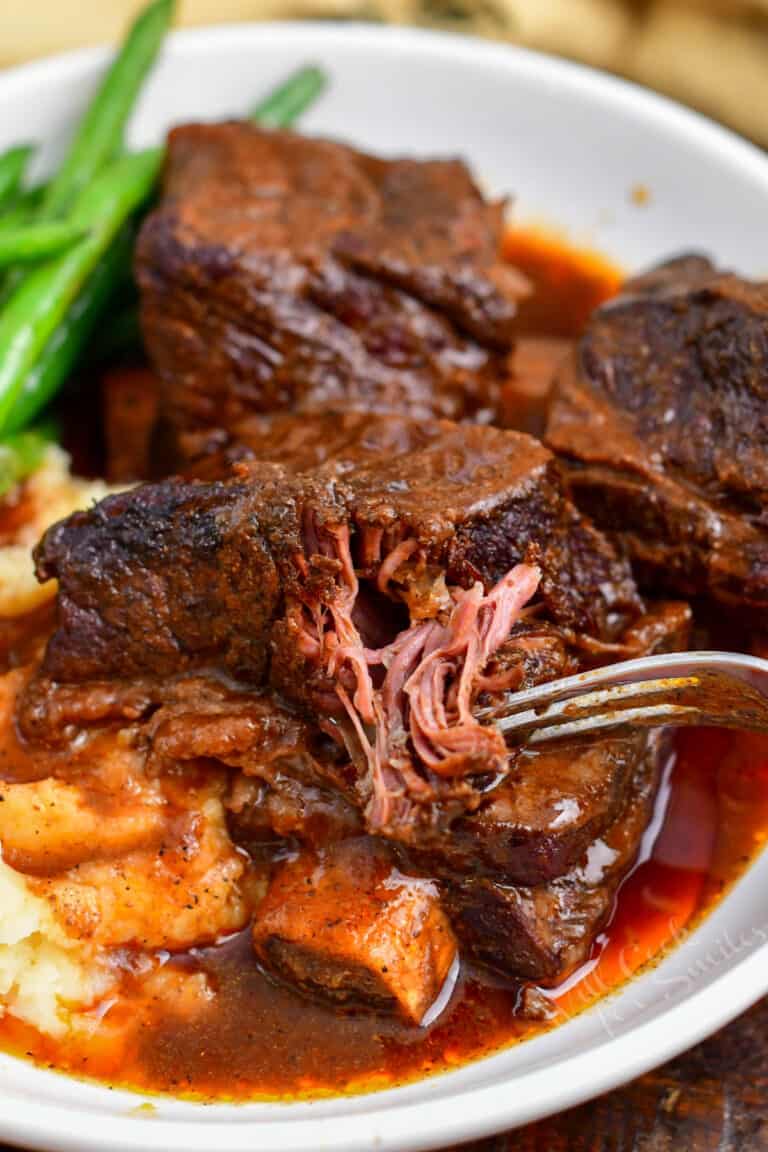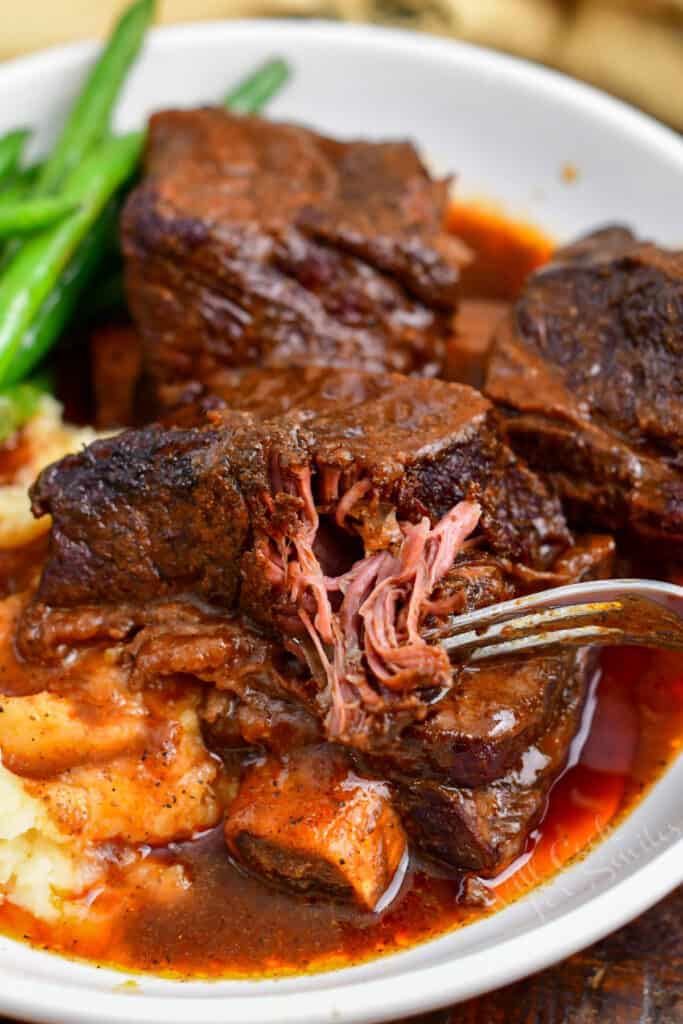 Ingredients for Braised Short Ribs
Short Ribs – Try to get the meatiest, thickest short ribs that are bone-in and cut into about 2-inch pieces.
Coarse Salt – make sure to use coarse salt not table salt. If table salt is your only option, use much less of it.
Canola Oil – Vegetable oil is a good substitute for this ingredient.
Yellow Onion
Carrots
Celery Ribs – When choosing the perfect celery, pick one that has firm stalks and no wilted leaves.
Garlic – You'll need to use the entire bulb of garlic for this recipe, so make sure to pick the freshest one! As long as it's firm and has unbroken skin, you should be good to go.
Red Wine – Use full-bodied, dry red wine that you like to drink. Avoid using sweet wines.
Beef Stock – It's best to use stock, not broth! Stock has a much fuller, richer flavor than broth.
Tomato Paste – This ingredient helps to create a rich flavor.
Thyme Sprigs – It's best to use sprigs are fresh thyme but if in a pinch, use a teaspoon of dried.
Parsley Stems – Just like the thyme sprigs, it's best to use fresh but you can substitute about 1 1/2 tablespoons of dried.
At the store, choose the meatiest, thickest short ribs. These will give you the most meat because beef will shrink quite a bit when it cooks.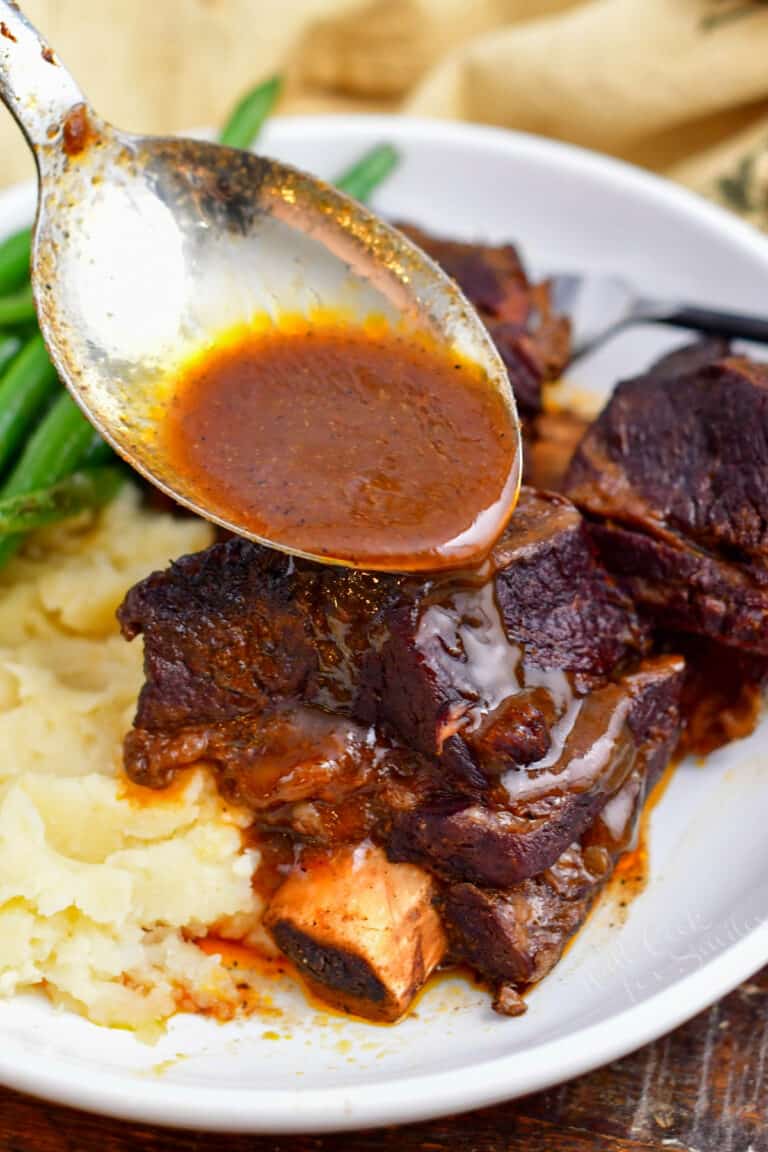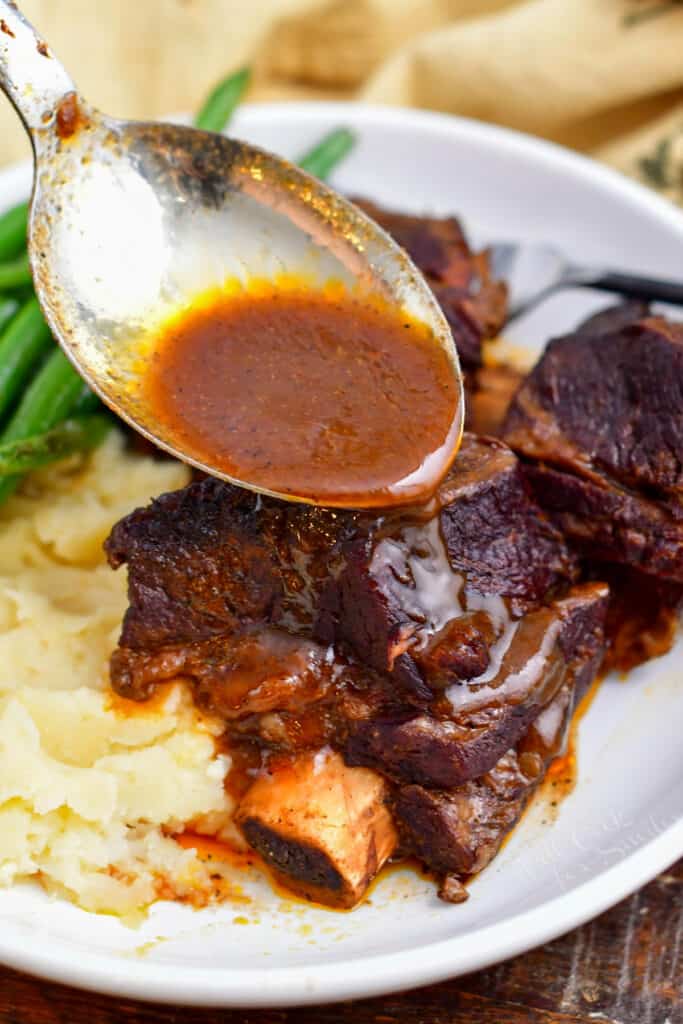 How to Make This Beef Ribs Recipe
Bring the meat to room temperature. Remove the ribs from the fridge and take it out of the packaging. Allow them to rest at room temp for about 30 minutes.
Use a paper towel to pat them dry, then season well with coarse salt and pepper.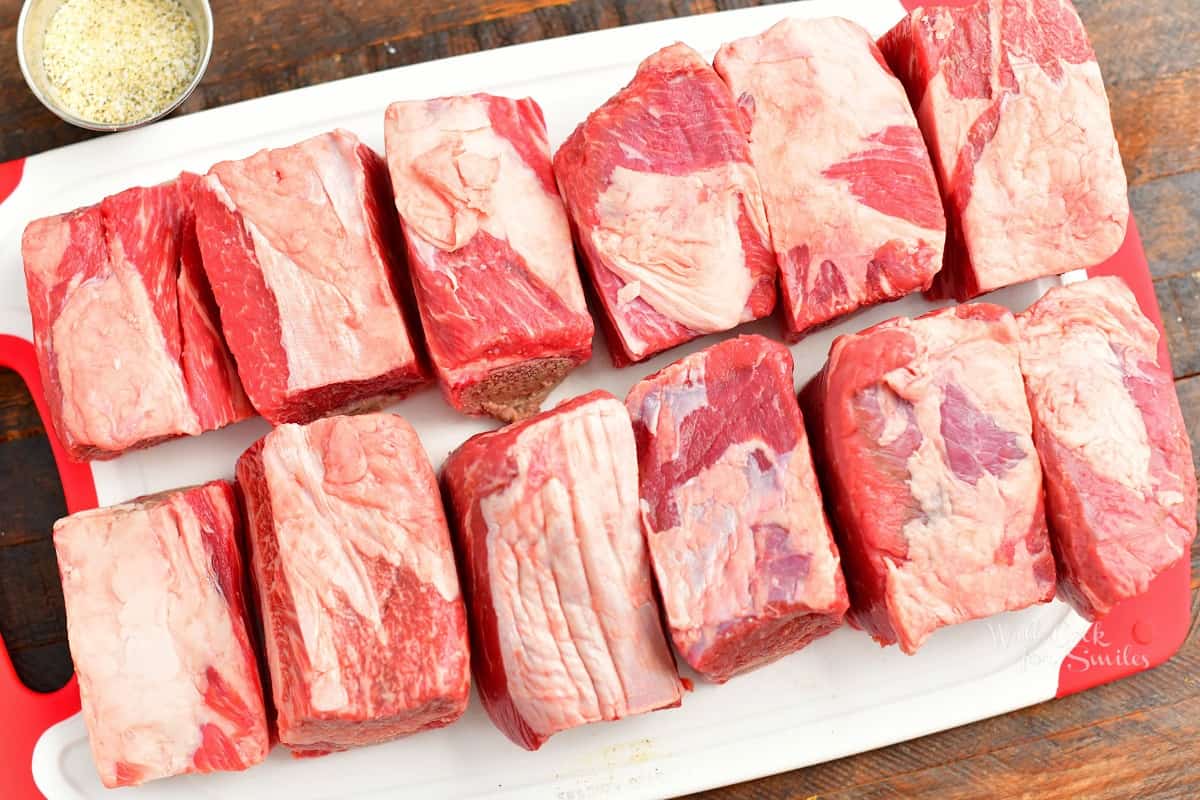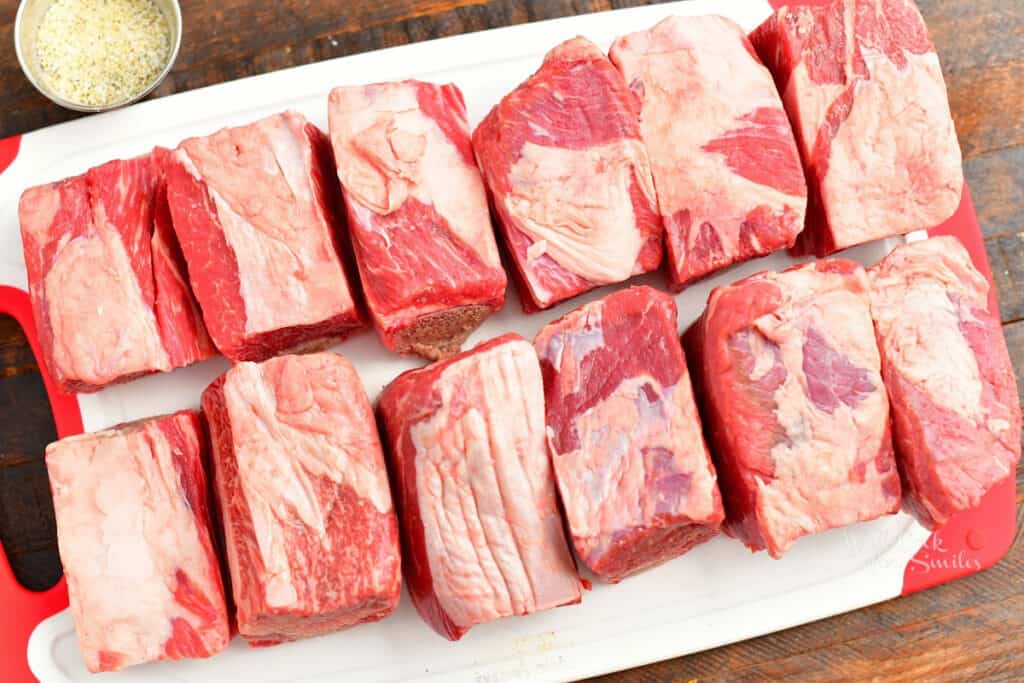 Prepare the vegetables. Slice and dice all of the vegetables, then set them aside. For the garlic, just peel the outer, loose skin and cut off the tips.
Sear the ribs. Working in batches to avoid overcrowding, sear the ribs until all sides are golden brown. Then, set them aside on a plate.
Note: if there is excessive fat that accumulated from searing short ribs, drain it off.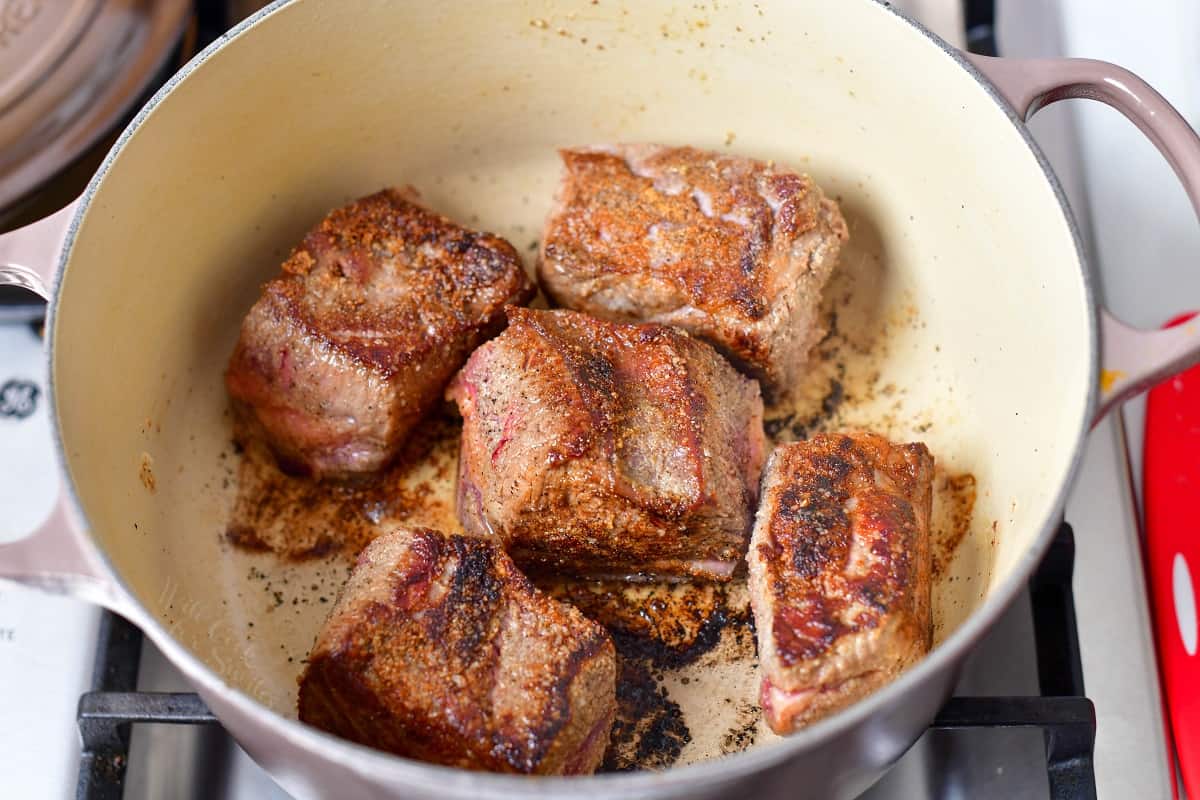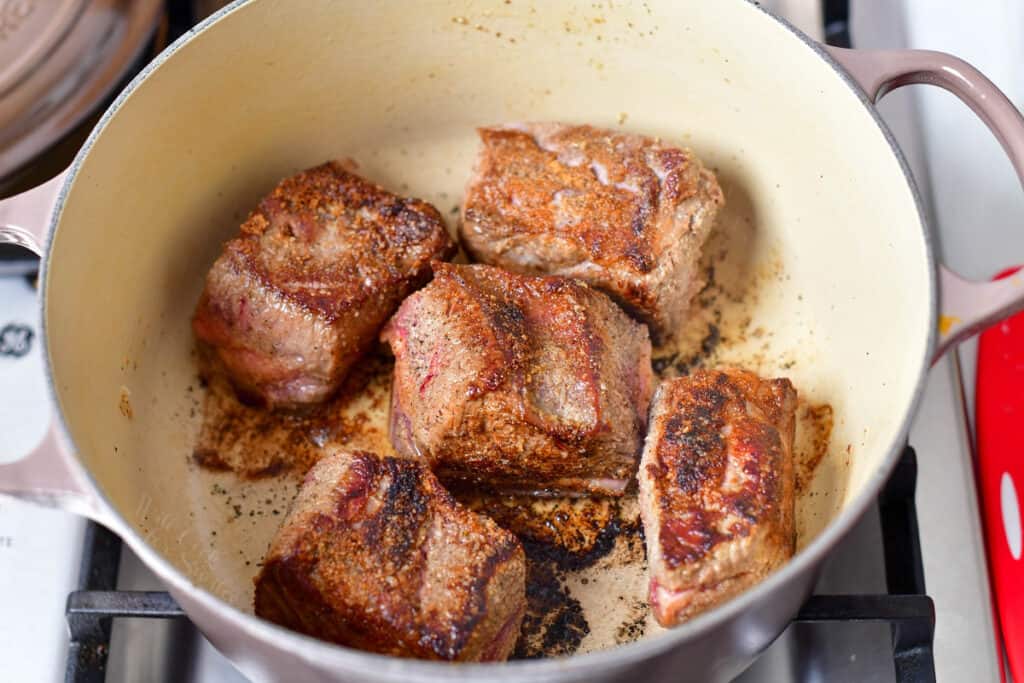 Sauté the vegetables. Sauté onion, carrots and celery in the same pot for a few minutes. Then, add garlic bulb and allow it to sear for just a few seconds.
Add red wine to the pot, all while stirring and scraping any brown bits of fond from the bottom of the pot. This is where the bold beef flavor comes from!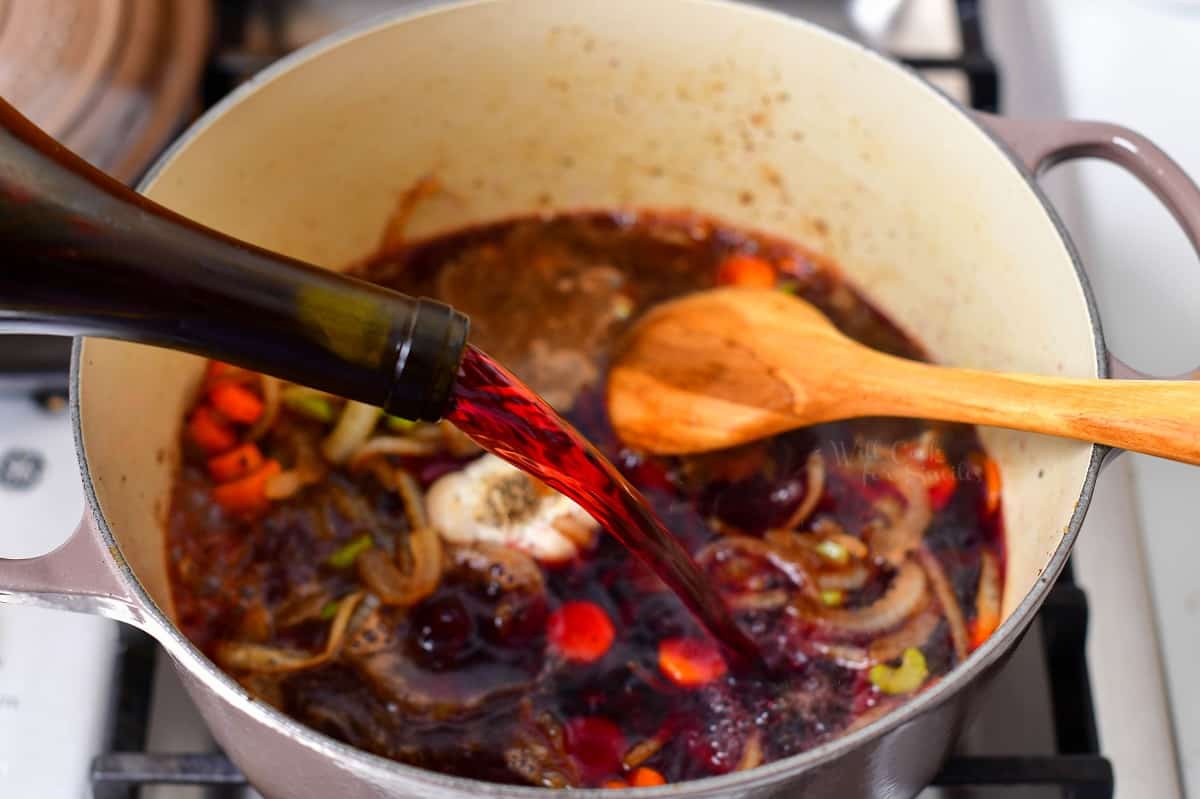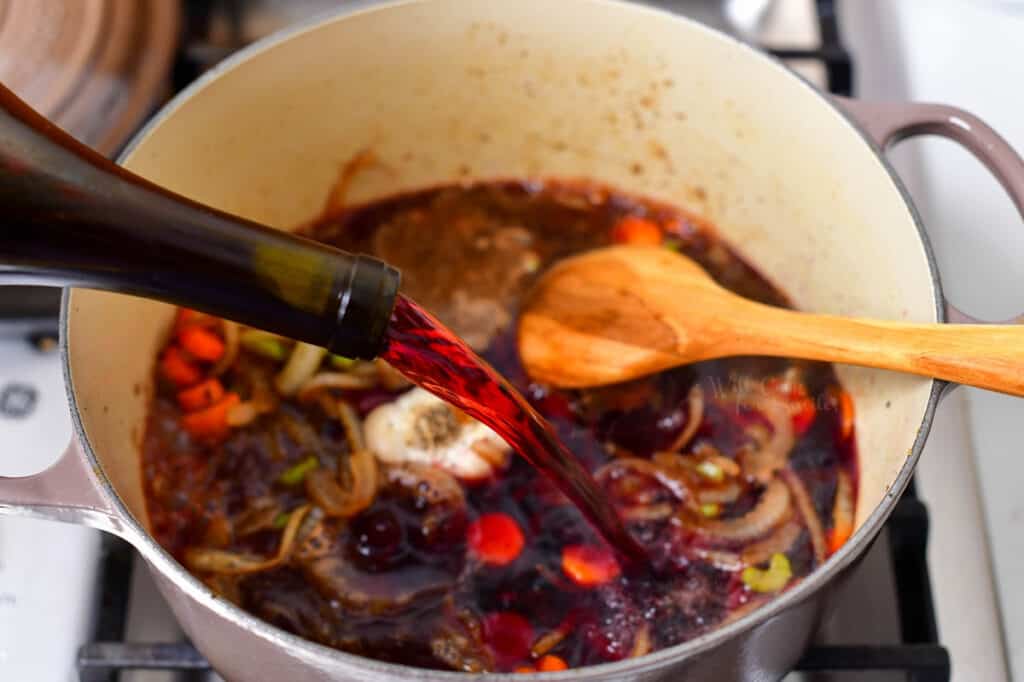 Add the meat. Carefully add the ribs back into the pot and lower the heat. Let the meat simmer in the wine for about 10 minutes.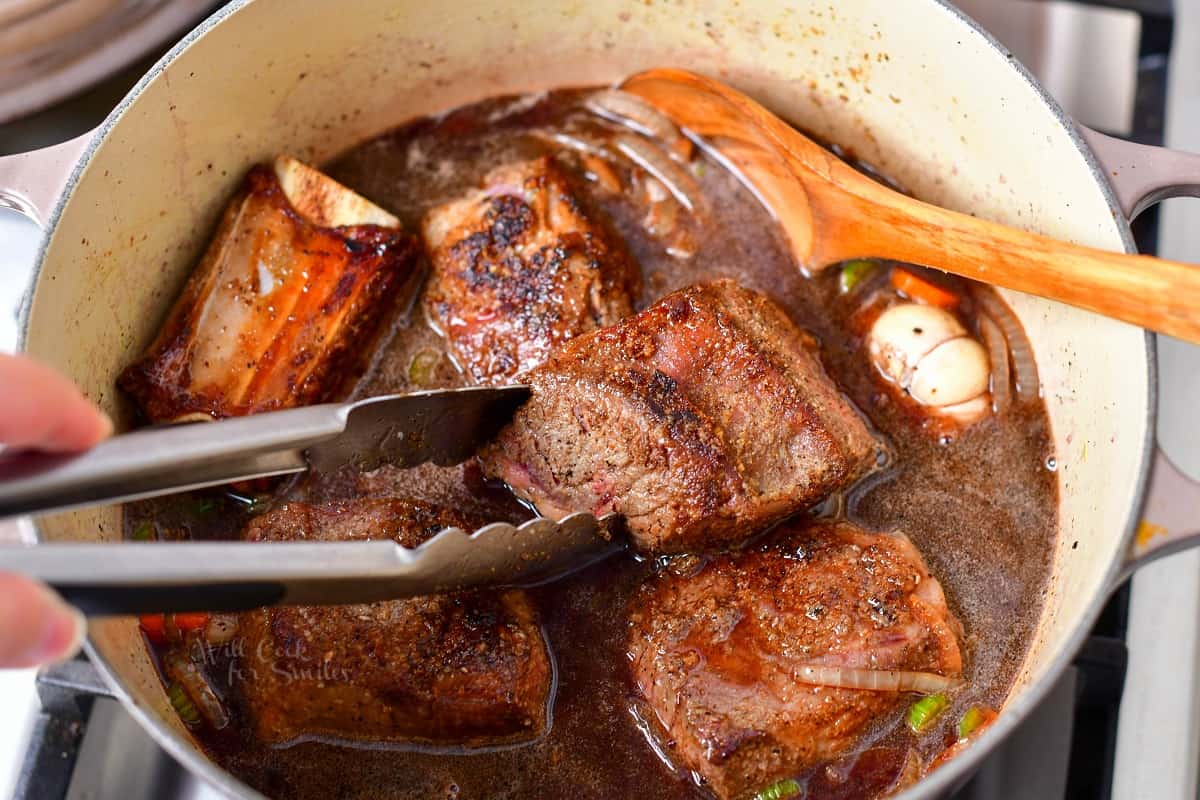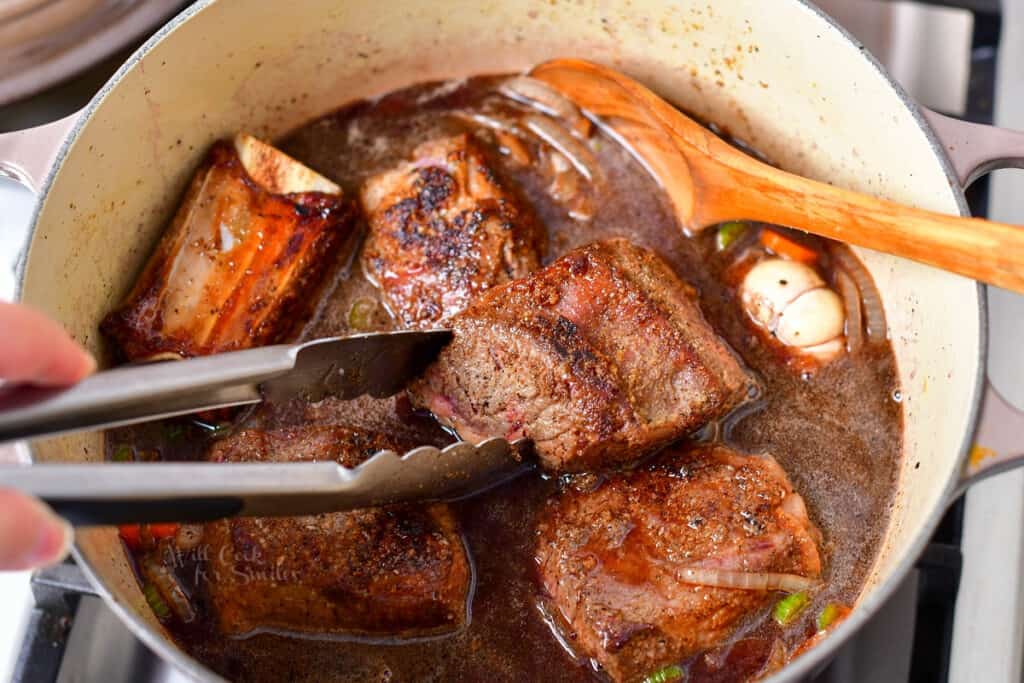 Add remaining ingredients. After letting the meat simmer, whisk in the beef stock, tomato paste, and herbs. Stir everything together before covering the pot.
Cook. Place your Dutch oven into the oven and cook for 2.5-3 hours. Take the lid off and cook for another 30-40 minutes.
Make the sauce. Use metal tongs to remove the ribs from the pot and set them aside. Then, strain the sauce through a large mesh strainer. Discard any solids, then add the ribs back into the pot with the sauce.
Serve the short ribs with sauce over the top.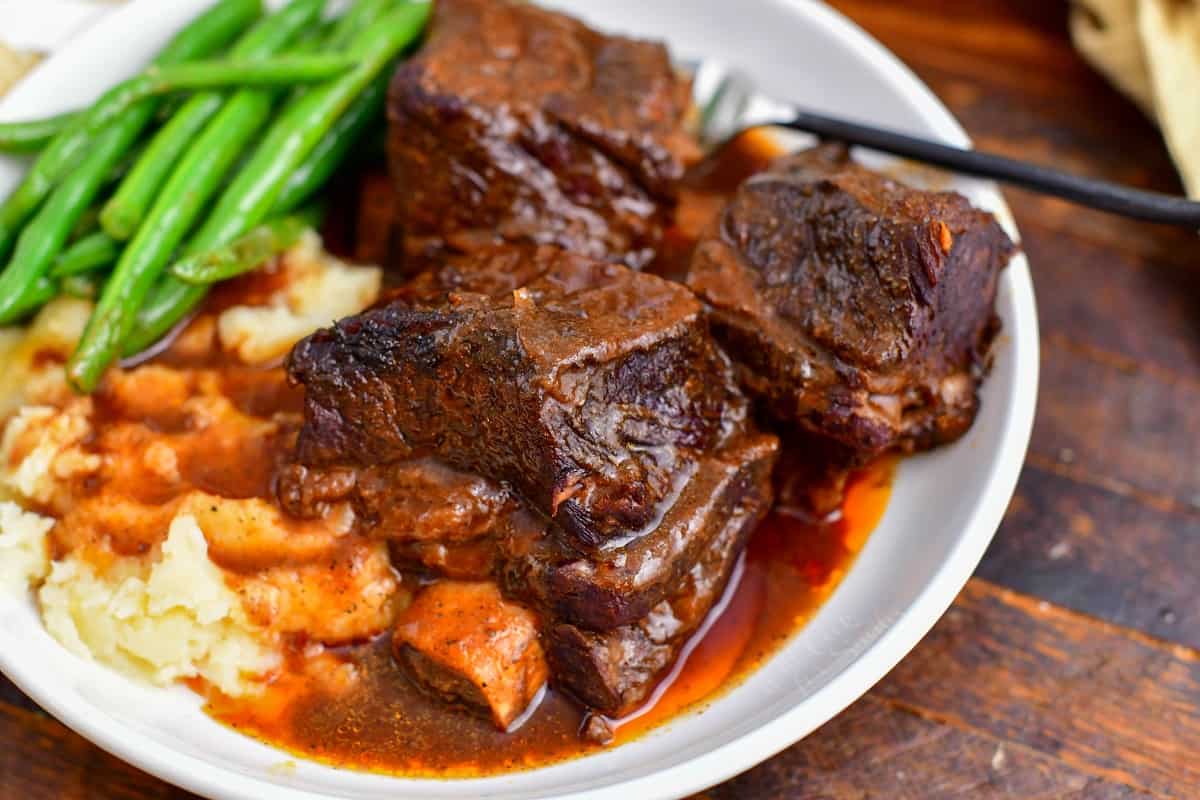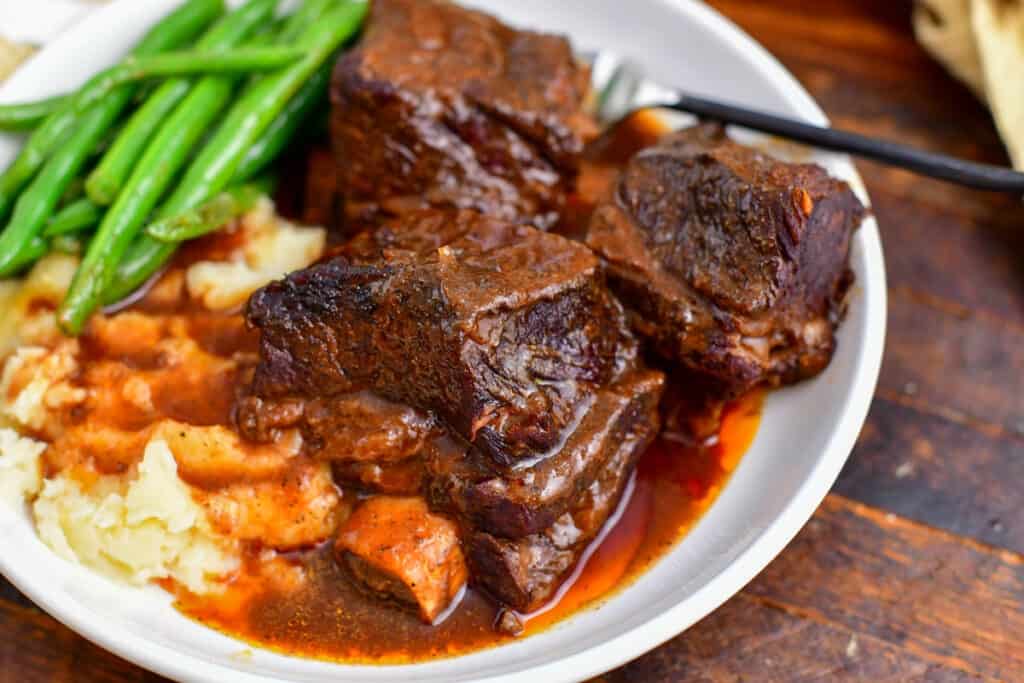 Q&A
What are the best sides to serve with short ribs?
Mashed potatoes is the best and the most comforting side dish for braised beef dishes.
For heathier side dishes, go with asparagus, green beans, cauliflower, and carrots.
How to store braised short ribs?
Make sure to store it in an airtight container, in the refrigerator. Stored properly, they should last 3-4 days.
If you have leftovers, you can reheat individual portions in a microwave or reheat all of it in the pot over medium heat.
More Beef Recipes You Don't Want To Miss:
Other comforting meals that I make during the cold months of winter are Instant Pot Beef Stew and and Instant Pot Pot Roast.
Try making short ribs in an Instant Pot too like my Instant Pot Short Ribs recipe.
Beef Brisket with Balsamic Sauce is another wonderful beef recipe with a fantastic sauce!
If you made any of my recipes and shared them on Instagram, make sure to tag me @willcookforsmiles and #willcookforsmiles so I can see all the things you tried!
Don't forget to sign up for email, so you won't miss any new recipes.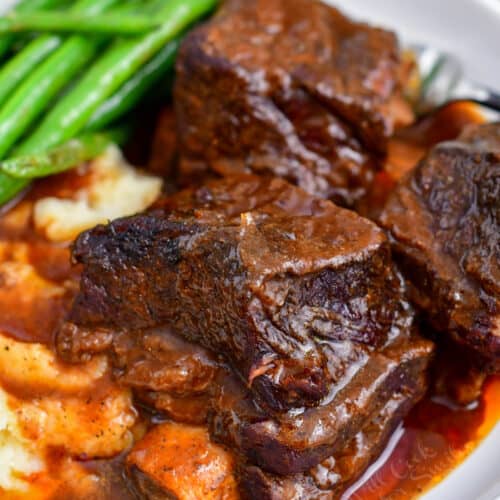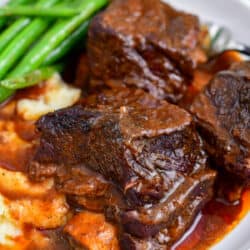 Braised Short Ribs
Braised short ribs are a sophisticated, yet cozy meal, with notes of red wine and garlic Make this recipe for a comforting winter dinner.
Print
Pin
Save
Saved!
Rate
Ingredients
4.5-5

lbs

bone-in beef short ribs cut in about 2-inch pieces

2

tbsp

coarse salt

2

tsp

cracked black pepper

2

tbsp

canola oil

1

yellow onion

3

medium carrots

2

celery ribs

1

bulb of garlic

750

ml

dry red wine

3

cup

beef stock

3

tbsp

tomato paste

6

thyme sprigs

6-8

parsley stems with leaves

2

tsp

dried oregano

2

bay leaves

cracked black pepper

salt

to taste
Instructions
Rest the short ribs:
Take short ribs out of the refrigerator and out of the package. Let them rest and warm up on the cutting board, on the counter, for about 30 minutes before cooking.

Slice onion, dice carrots, and celery and set them aside. Peel the outer loose skin of garlic and cut off just the tips to expose the garlic flesh.

Pat the ribs dry with a paper towel and season generously with salt and pepper on all sides.
Season and sear:
Preheat a large Dutch oven over medium-high heat. Add canola oil.

Sear the ribs in batches of 3 or 4 so they are not overcrowded. Sear them on all 4 sides until golden brown.

Take them out and set aside. (If there is a lot of excess fat from searing the ribs, drain it off.)
Cook vegetables and make the sauce:
Preheat the oven to 325° and remove the middle rack in needed, to be able to fit the Dutch oven.

Sautee the onion, carrots, and celery in the same pot until softened and golden. (Add a little more canola oil if needed.)

Add garlic bulb cut side down and let it sear for a few seconds.

Pour in the bottom of wine while slowly stirring and scraping the bottom of the pot.

Add ribs back into the pot and lower the heat to medium. Let the ribs simmer in red wine for about 10 minutes.

Whisk together beef stock, tomato paste, and herbs and pour it into the pot.

Stir everything carefully and cover with a lid.
Cook In The Oven:
Transfer the Dutch oven into the preheated oven and cook for 2 1/2-3 hours.

Take off the lid and cook another 30-40 minutes. (Until the rib meat is completely tender.)
Prepare sauce:
Carefully take the ribs out of the pot and set them aside. (It's okay of they fall off the bone, they are supposed to.)

Strain the sauce through a large fine mesh strainer. Stir the vegetables in the strainer to extract the juices and discard what is left in the strainer.

Add the ribs back into the pot with the sauce. You can spoon the excess fat from the surface of the sauce or you can do it the next day while it's cold.
Tips:
You can serve the ribs right away or the next day. It's actually better the next day and you will have a chance to get rid of the excess fat easily.

To get rid of the excess fat, refrigerate the cooled ribs in sauce. While it cools, the fat layer on the top will harden. You can easily take it off with a spoon the next day and discard.
Nutrition
Calories:
932
kcal
|
Carbohydrates:
18
g
|
Protein:
76
g
|
Fat:
45
g
|
Saturated Fat:
17
g
|
Cholesterol:
220
mg
|
Sodium:
4217
mg
|
Potassium:
1994
mg
|
Fiber:
3
g
|
Sugar:
6
g
|
Vitamin A:
8024
IU
|
Vitamin C:
12
mg
|
Calcium:
88
mg
|
Iron:
10
mg
Tried this recipe?
Mention @willcookforsmiles and tag #willcookforsmiles