Shrimp Pesto Pasta is a deliciously light summertime entrée with fresh ingredients like basil and garlic in the homemade pesto sauce and sautéed shrimp. Topped with parmesan and pine nuts, this pasta dish is just as satisfying and filling as it is vibrant and bright.
If you want to make a simple Pesto Pasta, you can do that without the shrimp of even add some baked chicken breast on top.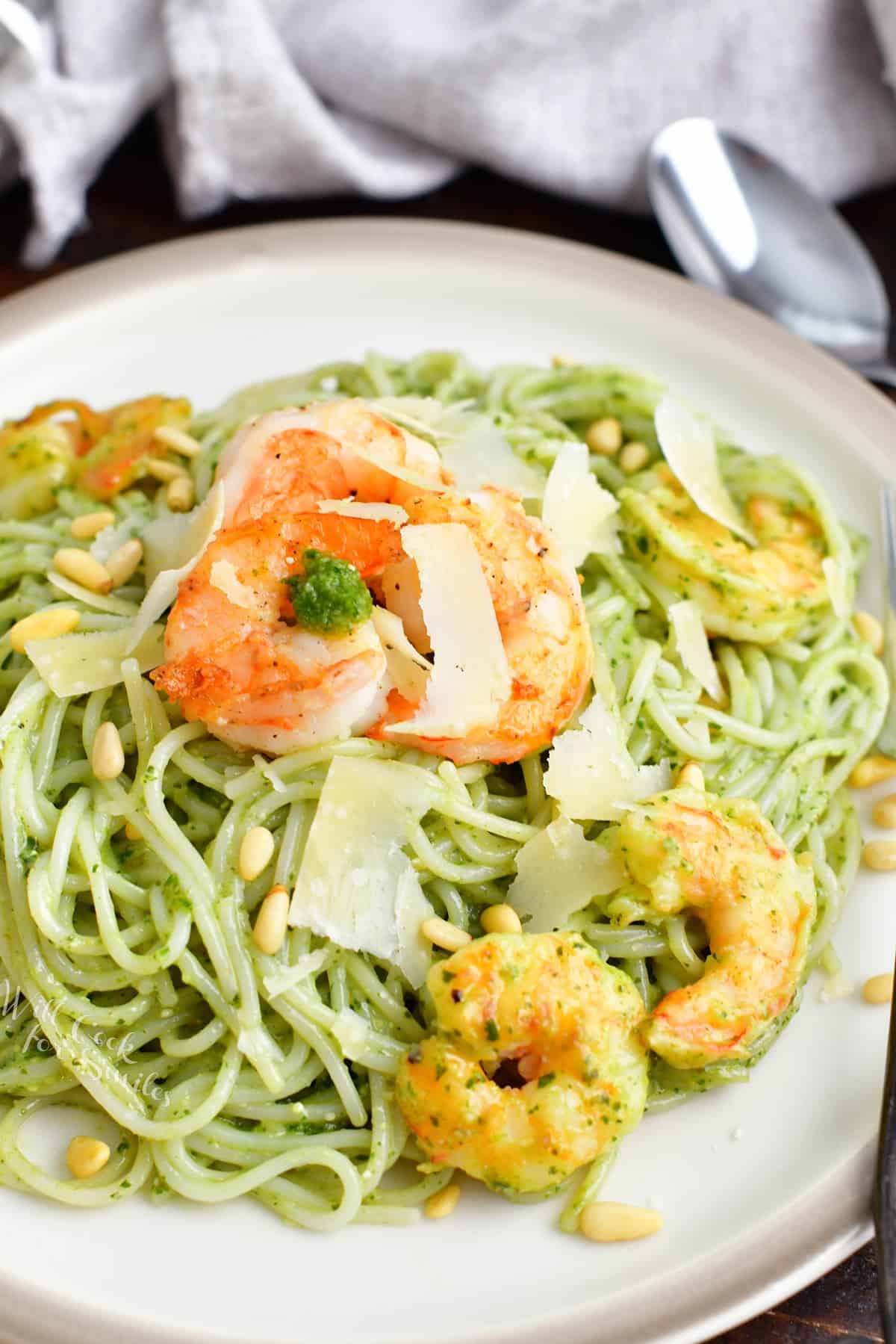 Shrimp Pesto Pasta Recipe
I don't think I've ever met a pasta dish I didn't like, honestly. The comfort that perfectly cooked pasta doused in delicious sauce brings is simply incomparable! However, during the warm summer months, I narrow down all of my favorite pastas… And this shrimp pesto pasta always comes out on top.
So, why is it my favorite summer pasta dish? First of all, the beauty of pesto pasta is that it's made with fresh ingredients that really make your mouth water. It's a similar experience to tasting a salad, but you still have the satisfaction of enjoying pasta! Additionally, this recipe also calls for sautéed shrimp, another summertime delicacy that I can't get enough of.
The combination of perfectly cooked shrimp and vibrant pesto sauce all tossed with the noodles of your choice is the definition of a perfect summertime dinner. While I consider this dish to be a lighter fare, as it's so green and fresh, it's also hearty and guaranteed to actually fill you up. However, it's so good that even when you're full, you'll want to go back for seconds!
Ingredients You'll Need: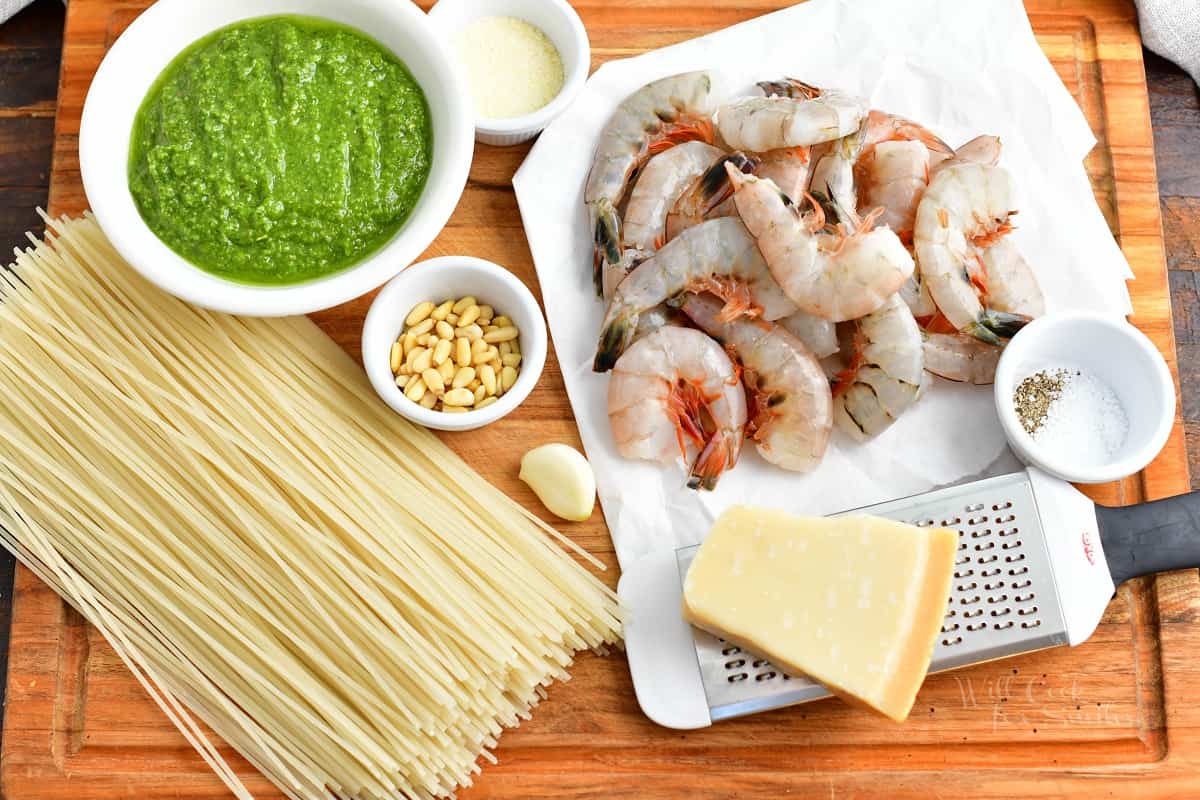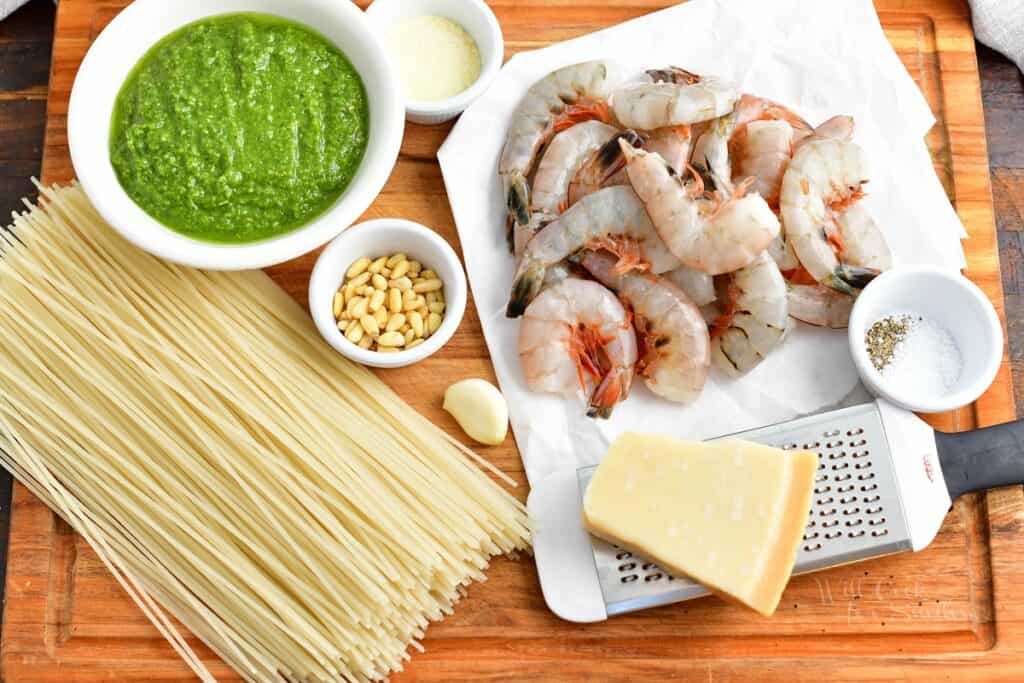 For The Pesto:
Fresh Basil – This is the true basis of any pesto recipe. Be sure to use fresh basil that is brightly colored green and lacks any discoloration or dryness.
Garlic – Use fresh garlic cloves, not the pre-minced garlic. Garlic cloves will provide the most potent, fresh flavor n the sauce.
Parmesan Cheese – I recommend using a block of parmesan that has a nice quality to it, as it provides a truly delicious flavor to the rest of the sauce.
Pine Nuts – If you're having trouble finding any pine nuts, you can use walnuts or cashews instead. While walnuts have a stronger flavor, they're still a delicious substitute.
Olive Oil
Salt
For Sautéed Shrimp:
Shrimp – Raw, uncooked shrimp from the seafood counter at the grocery store is the most appetizing! If you need to use frozen shrimp, allow them to completely thaw and pat them dry before using.
Olive Oil
Garlic – use fresh garlic for the best results.
Parmesan Cheese – While the pesto sauce can have any variation of parmesan cheese, it's best to use grated parmesan for the shrimp.
Salt
Black Pepper
Lastly, for the pasta:
Pasta – My personal favorite pasta to use in shrimp pesto pasta are spaghetti noodles! However, any type of noodle will work wonderfully in this recipe. Simply pick your favorite. Feel free to use GLUTEN FREEE noodles when needed!
Cooking Water – The starchy water that the pasta is cooked in will help the consistency of the pesto by keeping it moist! Pesto has a tendency to dry out because pasta soaks up the oil quickly, and cooking water helps to avoid that entirely.
Parmesan Cheese – Truly, you can never have enough parmesan. Sprinkle parmesan on top of the completed dish for a delicious finishing touch.
Pine Nuts – Just like the Parmesan, pine nuts are also used as a garnish for the pasta dish. They provide a tasty added crunch to the pasta!
Cooking Instructions: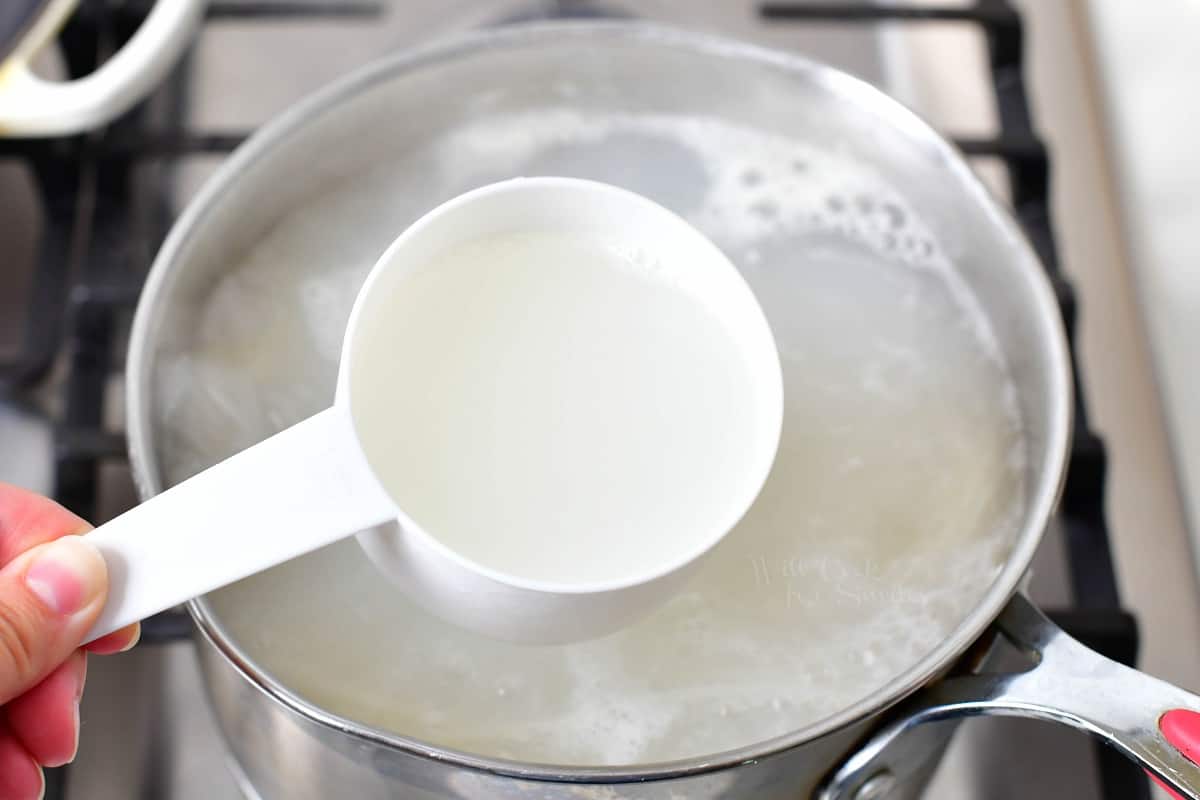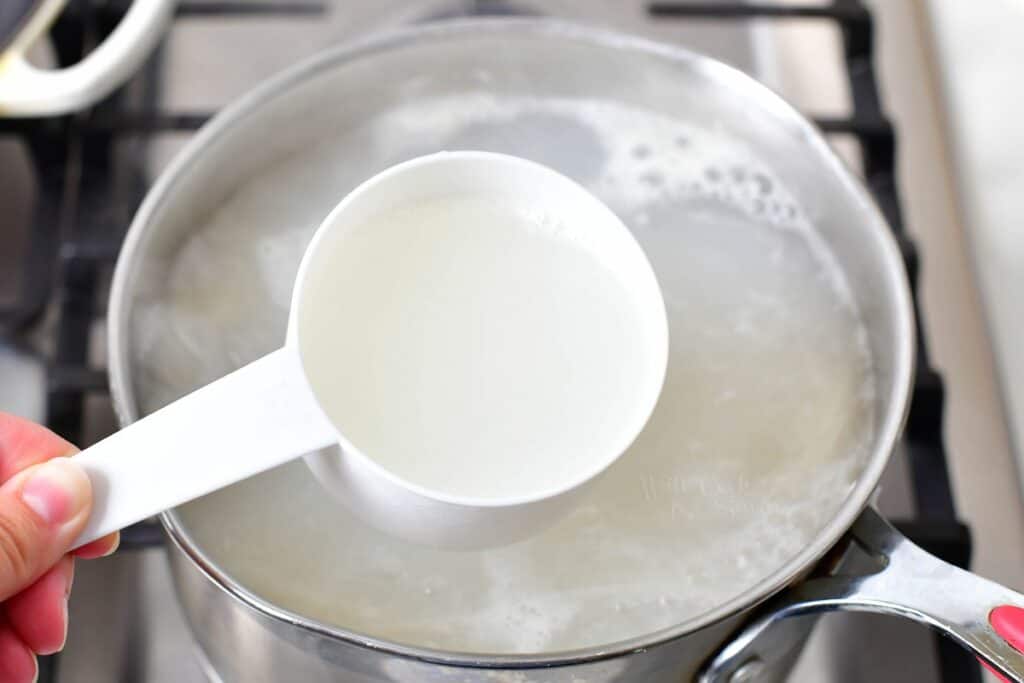 Start by making the homemade pesto. All you need to do is combine all of the ingredients thoroughly in a food processor until smooth – yes, it's that easy!
After making the pesto, cook the pasta according to the box instructions, making sure to reserve a cup of cooking water.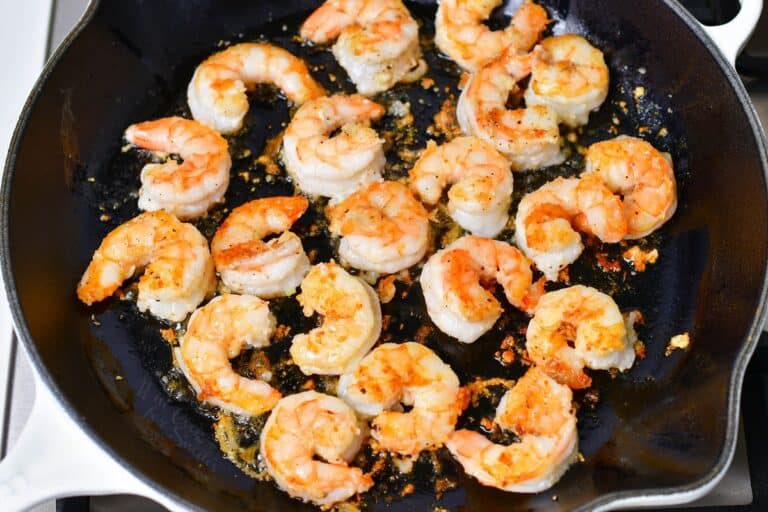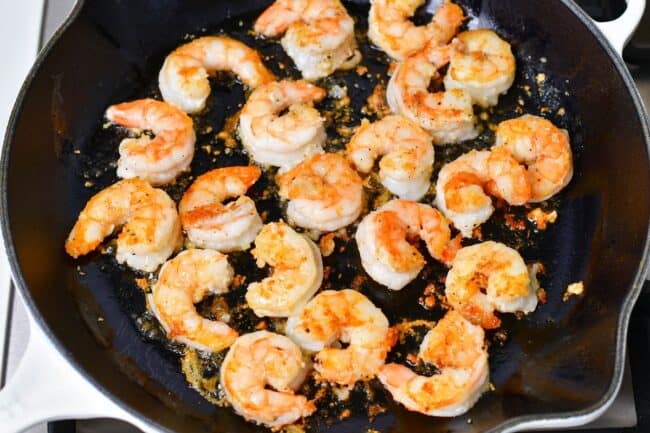 While the pasta is cooking, sear the shrimp!
Toss the shrimp in a mixing bowl with all of the required ingredients, then sear them for approximately 2 minutes on each side until cooked through.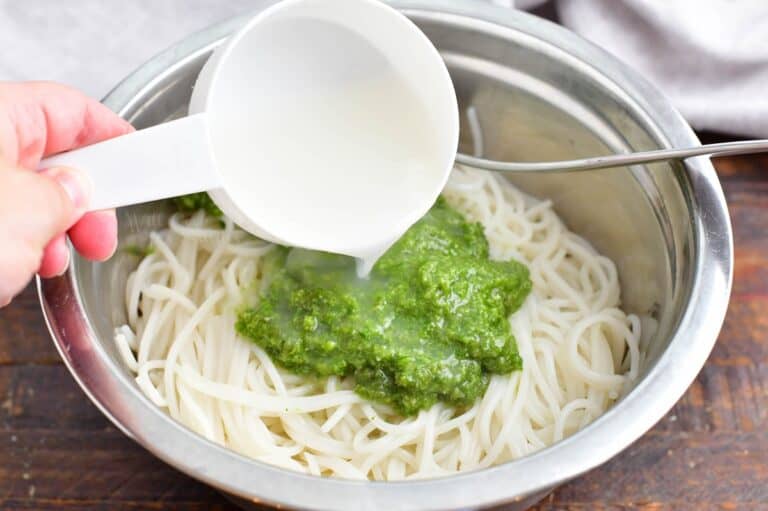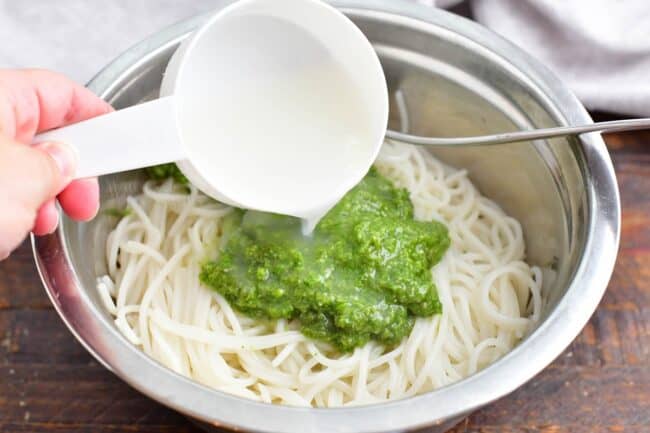 Once the pasta is cooked, drain it, then toss it with the pesto and cooking water.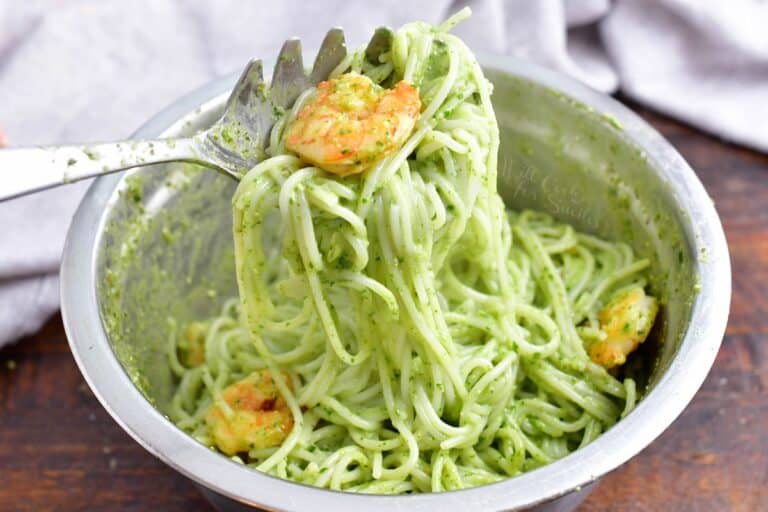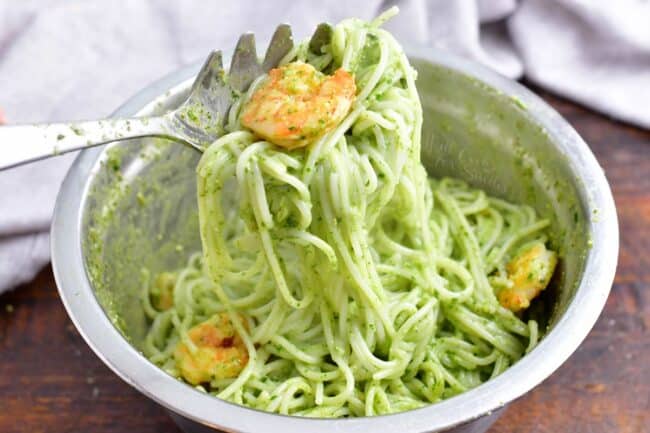 When adding the shrimp, you can toss it with the rest of the pasta or plate the pasta, then top it with the seared shrimp.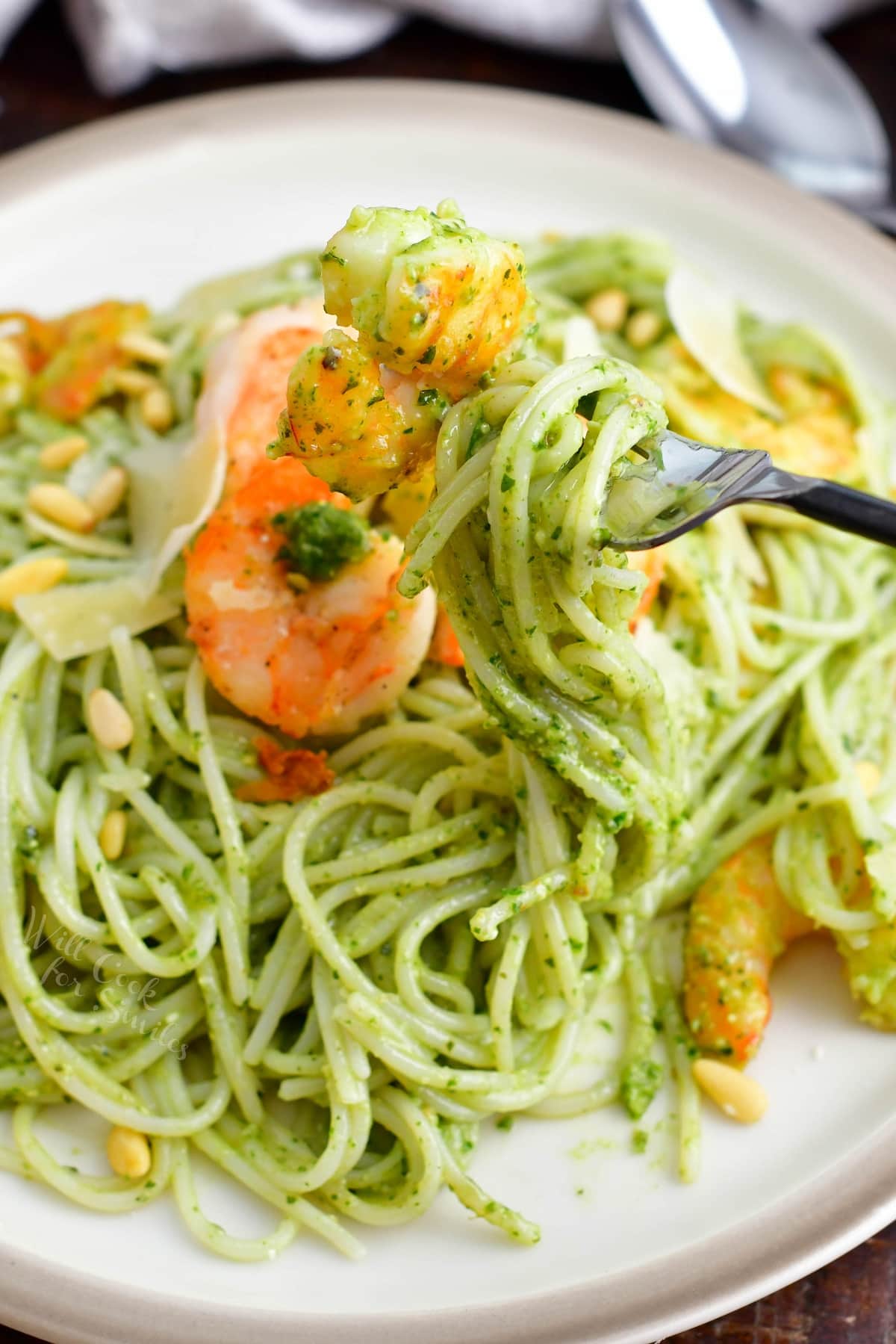 Frequently Asked Question:
Why do I need to add the cooking water?
Pasta water is the secret to a moist, juicy pasta dish! When not used, the pesto quickly dries out and becomes unappetizing. The same can be said for another one of my favorite pasta dishes, Cacio e Pepe. The sauce in both of these dishes simply isn't the right consistency without pasta water, because it creates both moisture and thickness.
Pasta water tip: If you plan to save pesto pasta leftovers for later, save 1/4-1/2 cup of starchy cooking water separately to use when reheating!
Can I make pesto pasta without shrimp?
Yes! If you have a shellfish allergy or simply don't care for shrimp, you can make simple Pesto Pasta. It's delicious both with and without the shrimp.
In the instance that you want to keep the protein in the pasta dish but still get rid of the shrimp, consider adding chicken instead. I love to marinate chicken breasts in a mixture of olive oil, balsamic vinegar, salt, pepper, garlic powder, dried basil, oregano, and parsley.
After marinating for a couple of hours, I just pan-cook it for 5-7 minutes per side. The exact time will depend on the thickness of the chicken. (You can check internal temperature and it should be 165°F.) Slice it, then serve it with your pasta!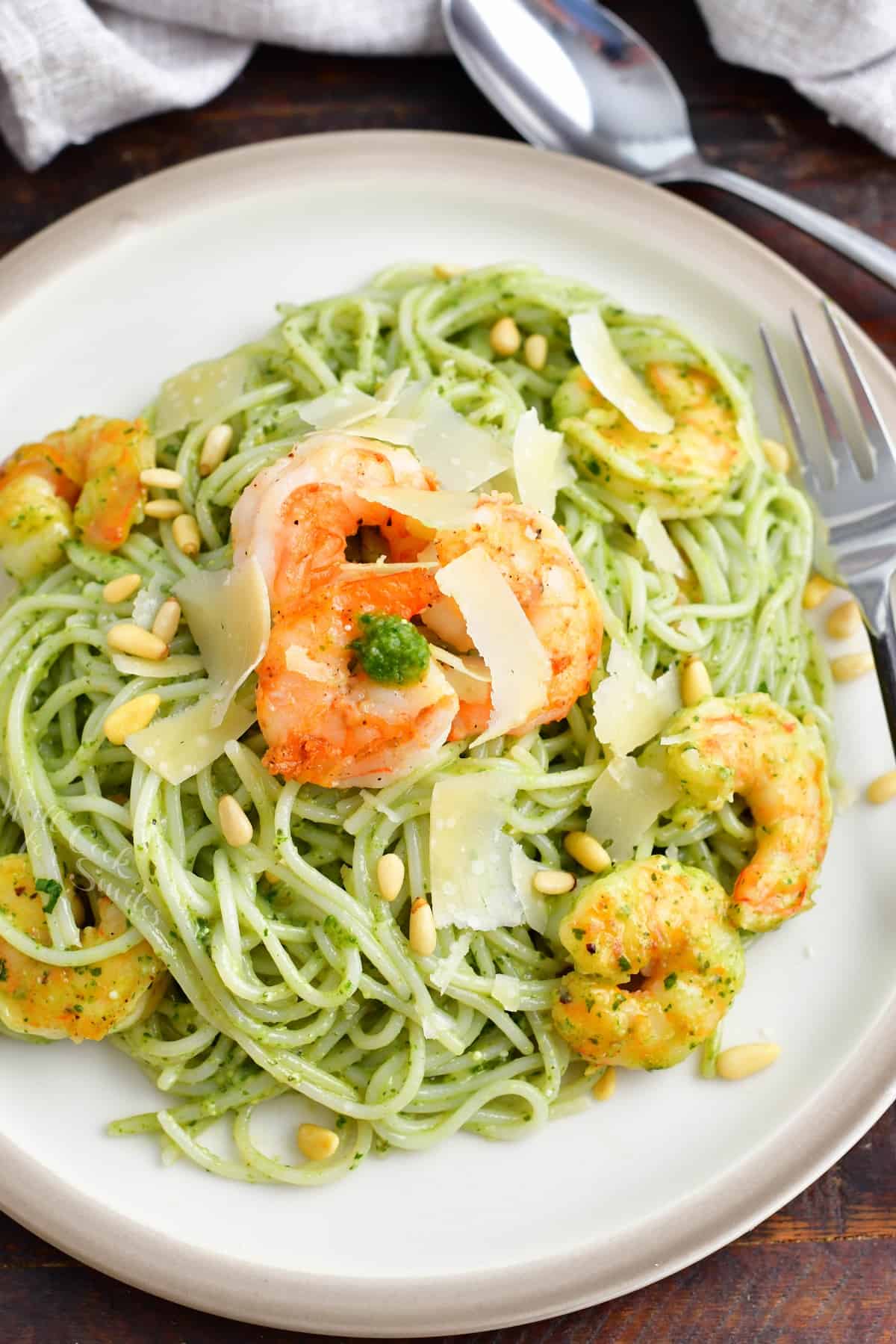 More Summer Pasta Recipes!
Lobster Pasta – a rich, creamy, and delicious seafood pasta dish with chunks of flavorful lobster meat and creamy parmesan sauce.
Pasta Primavera – a pasta dish that is loaded with roasted vegetables like summer squash, broccoli, juicy ripe tomatoes, lemon, basil and parmesan cheese.
Pasta with Pomodoro Sauce – It's a perfect combination of fresh tomatoes, onion, garlic, fresh basil, and extra virgin olive oil.
Antipasto Pasta Salad– loaded with salami, mozzarella, black olives, artichokes, pepperoncini peppers, cherry tomatoes, and a vibrant oil and vinegar dressing.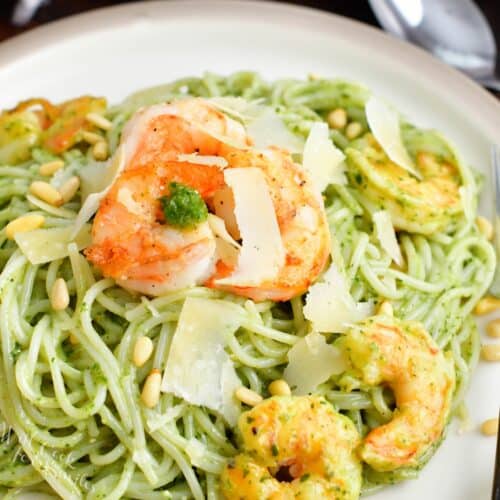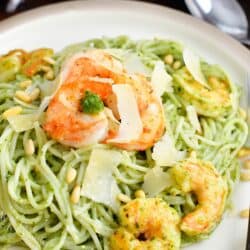 Shrimp Pesto Pasta
Shrimp Pesto Pasta is a deliciously light summertime entrée with fresh ingredients like basil and garlic in the homemade pesto sauce and sautéed shrimp.
Print
Save
Saved!
Rate
Ingredients
Pesto:
2

oz

basil

2

garlic cloves

2

oz

Parmesan cheese

block, shaved, or shredded

3

oz

pine nuts

1/2

cup

olive oil + 2 Tbsp.

salt

to taste
Shrimp:
1

lb

shrimp

2

tbsp

canola oil

2

garlic cloves

2

tbsp

grated Parmesan cheese

salt

black pepper
Pasta:
1

lb

pasta

any favorite pasta

1/2-2/3

cup

cooking water

shaved Parmesan cheese

for topping

pine nuts

for topping
Instructions
For Homemade Pesto:
In a food processor, add about half the oil.

Add basil, pine nuts, cheese, garlic, and salt to the blender and pour remaining olive oil over the top.

Pulse several times to begin to blend. Scrape sides of the blender and pulse a few more times. You may need to scrape the sides again and pulse a few more times until all ingredients are well blended.

Set aside until ready to mic into pasta.
Shrimp and Pasta:
Cook shrimp while pasta is cooking.

Cook pasta according to the box instructions and before draining off water, set aside about a cup of cooking water. (Some cooking water will go into pasta and set aside extra just in case you will need to reheat the pasta leftover's later.)

Toss shrimp in a mixing bowl with salt, pepper, pressed garlic cloves, and grated Parmesan cheese until evenly coated.

Preheat a large cooking pan over medium-high heat for a few minutes and add oil.

Sear shrimp for about 2 minutes on each side, until they turn completely opaque. (Exact time will depend on the size of shrimp.) Take the shrimp out of the pan as soon as they are cooked.

Toss cooked pasta with pesto and about 1/2-2/3 cup of cooking water.

You can mix the shrimp right into the pasta or simple add it to the top of pasta.

Garnish with some shaved Parmesan cheese and pine nuts and serve!
Nutrition
Calories:
658
kcal
|
Carbohydrates:
11
g
|
Protein:
34
g
|
Fat:
55
g
|
Saturated Fat:
8
g
|
Trans Fat:
1
g
|
Cholesterol:
298
mg
|
Sodium:
1744
mg
|
Potassium:
663
mg
|
Fiber:
3
g
|
Sugar:
6
g
|
Vitamin A:
1377
IU
|
Vitamin C:
16
mg
|
Calcium:
410
mg
|
Iron:
6
mg
Tried this recipe?
Mention @willcookforsmiles and tag #willcookforsmiles