Balsamic vinaigrette is simple to make and tastes so much better than any store-bought dressing. It has a perfect balance of tangy, sweet, and herb flavors and it will only take a few minutes to make.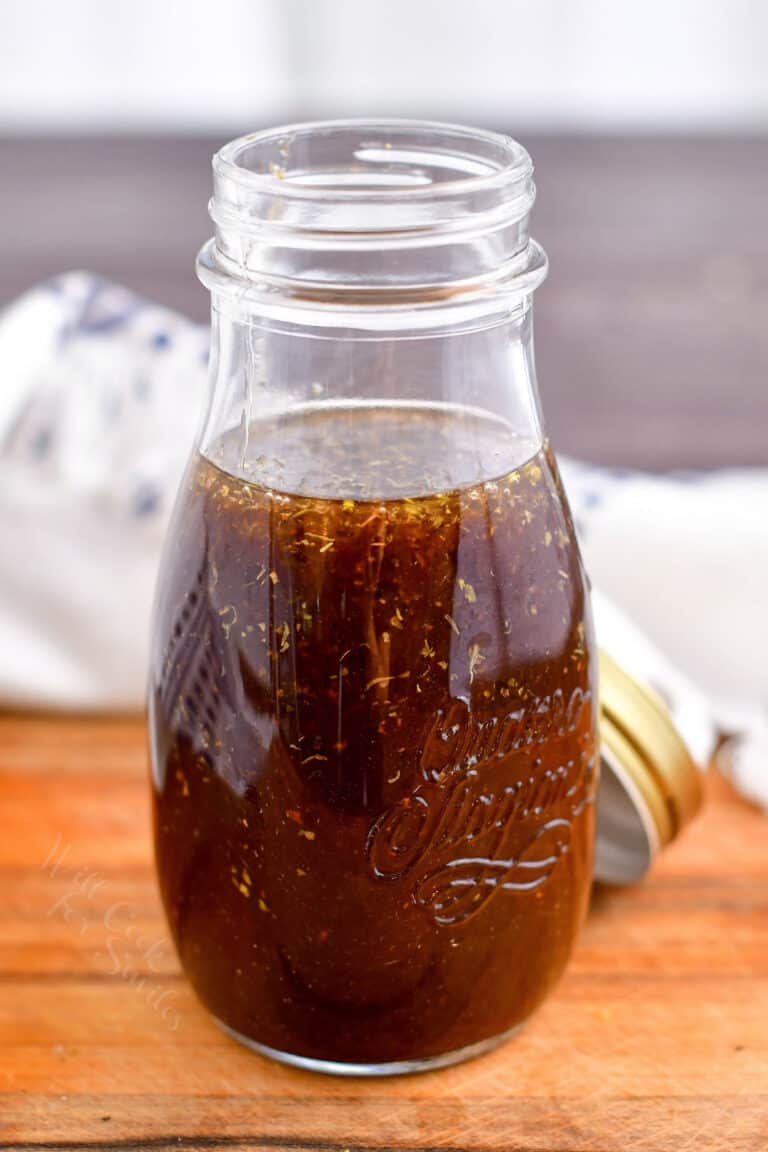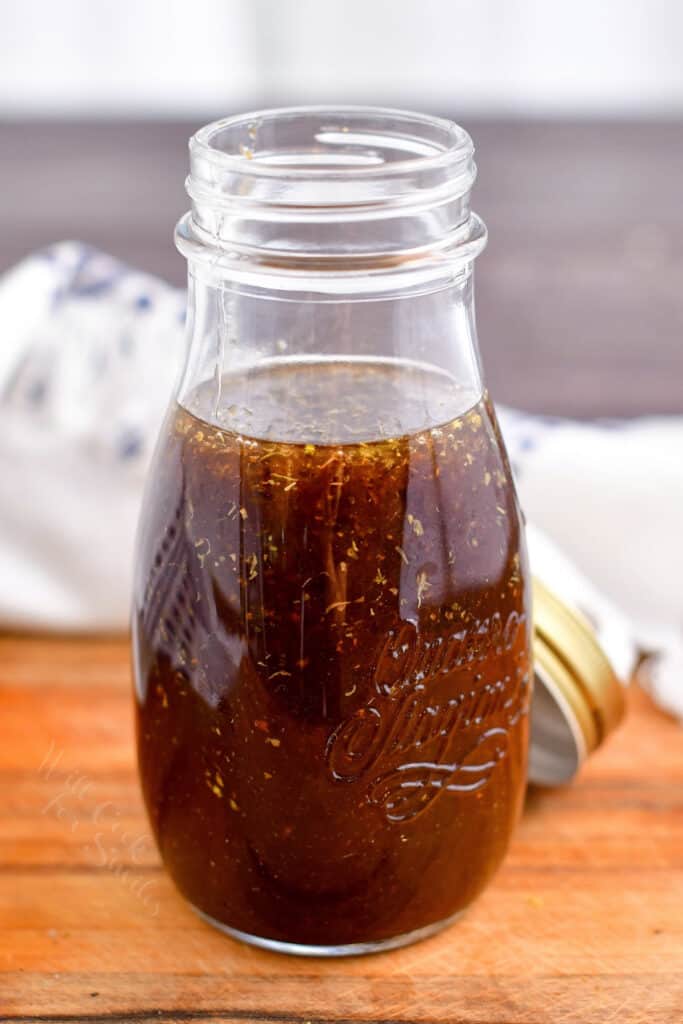 Balsamic vinaigrette is one of the most classic salad dressing recipes. It is so popular, that every restaurant will have it on their menu and every grocery store has it in stock.
But you don't ever need to go to the store or a restaurant to get you hands on some delicious balsamic dressing. You can make it yourself, right at home, and it will be the best tasting dressing. It just does not compare to anything you can get at the store. Plus, you choose the quality of every single ingredients that goes into your dressing.
There is a good chance that you already have all the ingredients you need in your pantry and refrigerator. So grab everything you need, and shake it all up!
Ingredients You'll Need: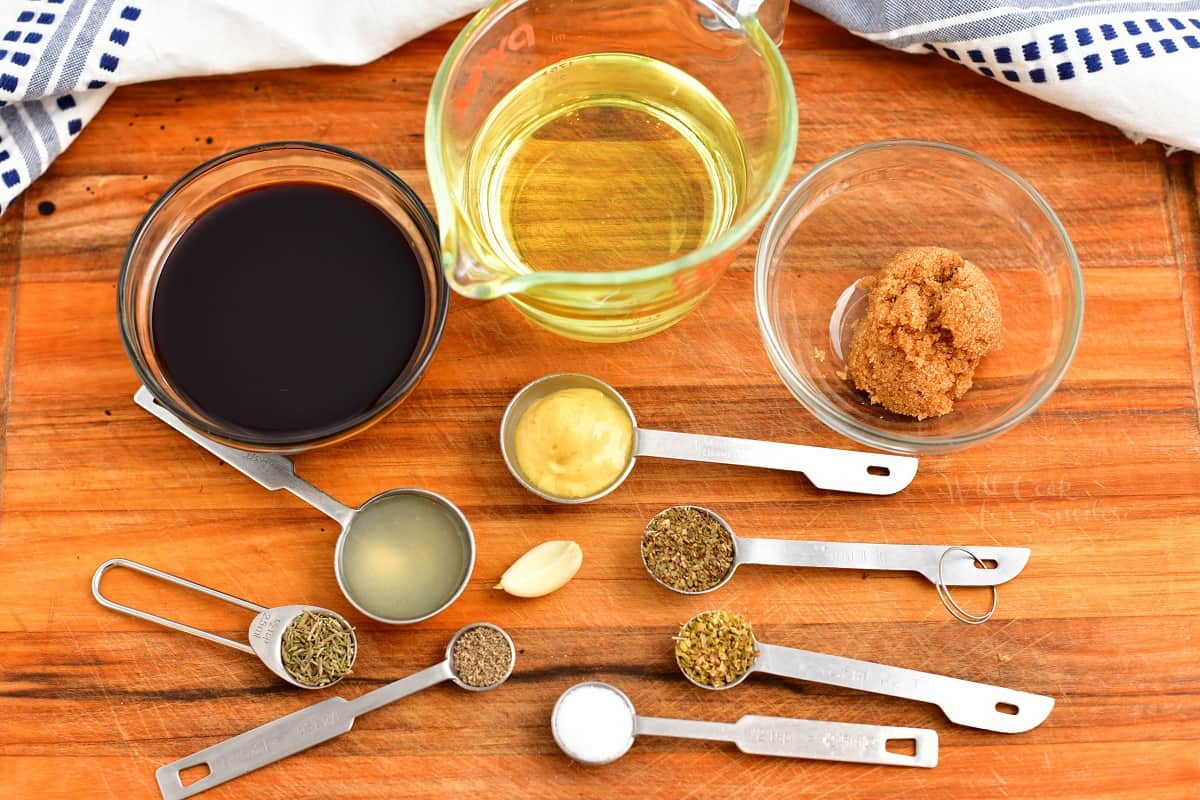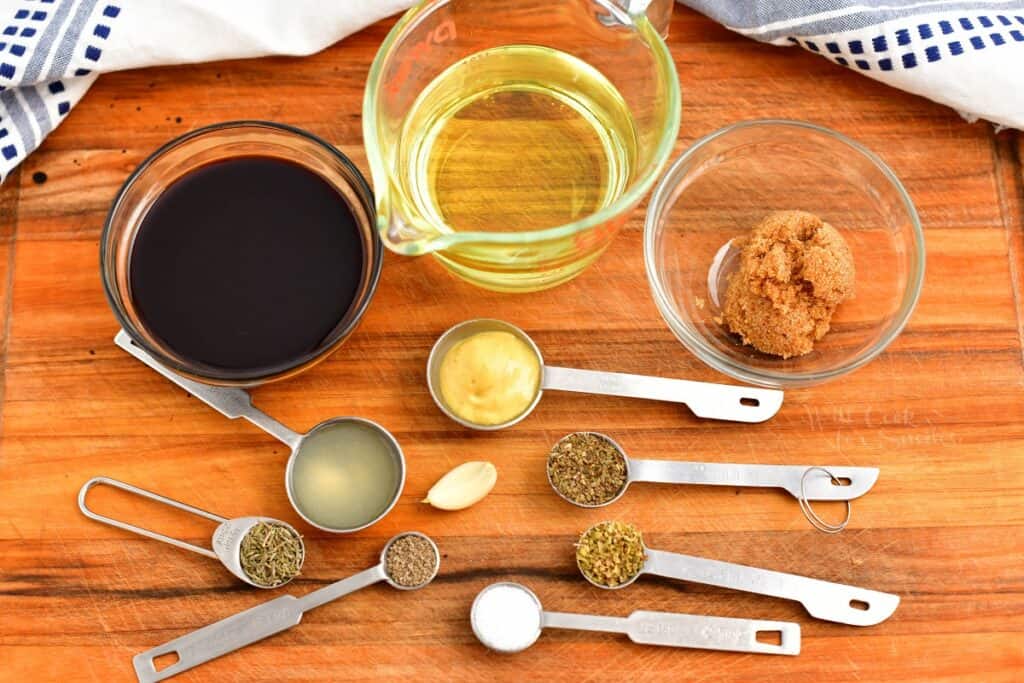 Extra virgin olive oil – You want this to be light tasting so the flavor doesn't overwhelm the other ingredients. So taste the oil before mixing it into the dressing to make sure there is no bitterness.

Balsamic vinegar – I like to use an aged variety because it has a deeper, richer flavor, but regular will work too. Either way, be sure to use a good quality vinegar since the flavor will come through a lot.

Dark brown sugar – The darker color means more molasses, which will help balances the tartness of the vinegar and give you a deeper flavor.

Dijon Mustard – Dijon has an earthier flavor than regular yellow mustard, and it also helps the dressing emulsify and stay together.

Lemon juice – Citrus is a great addition to the vinegar, oil, and sugar.

Garlic – Always use fresh garlic! The flavor is stronger, fresher, and more potent than jars of minced garlic. Jar may be convenience but it will never have the same flavor as fresh.

Dried herbs – Basil, thyme, and oregano are the secret to this amazing salad dressing recipe. While many other recipes don't include them, I find it makes the end result both flavorful and aromatic.

Salt and pepper – Staple ingredients in any kitchen that enhance the flavor of all your recipes.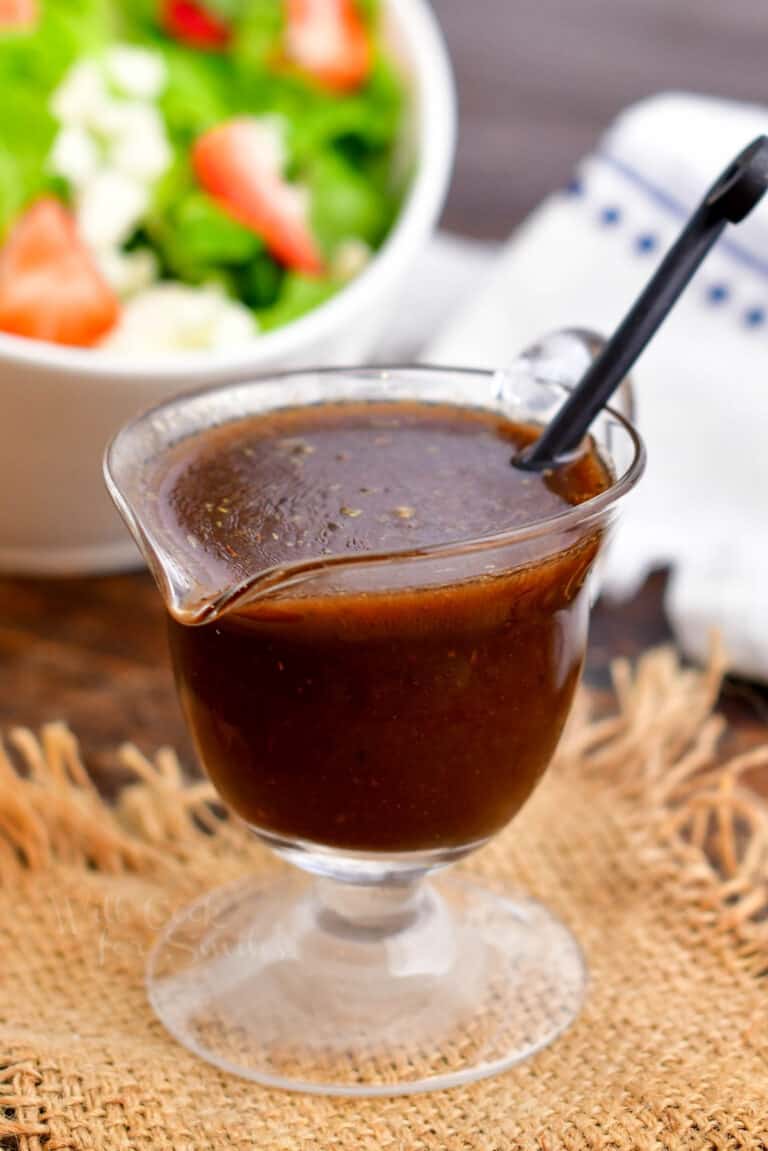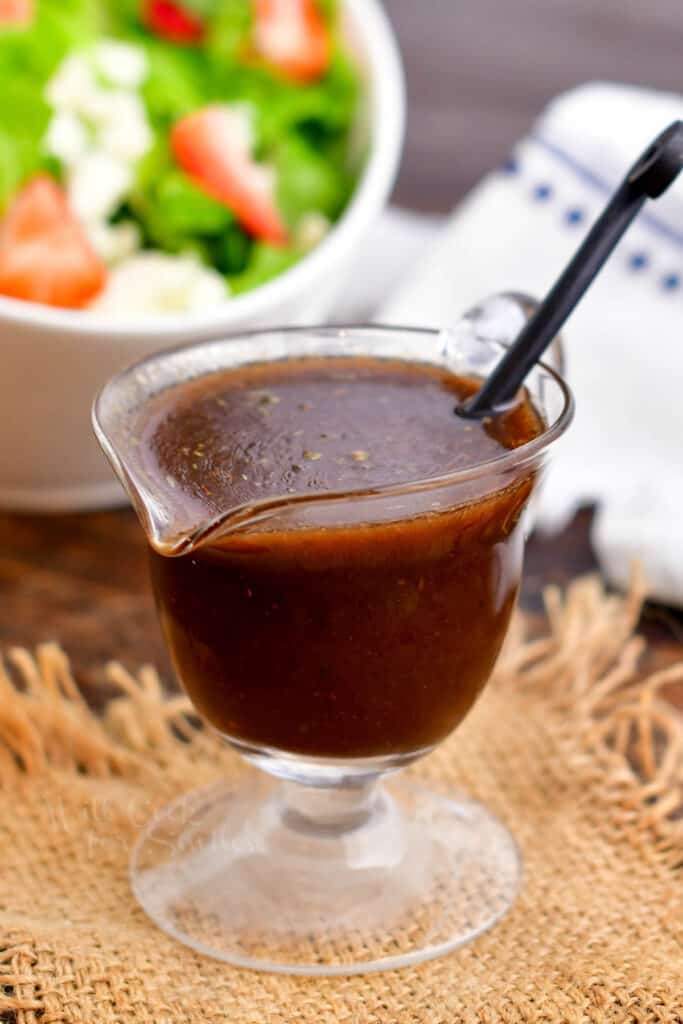 How To Make Balsamic Vinaigrette
All you need is a bowl and a whisk and you'll have yourself delicious salad dressing! Just combine everything except the olive oil in a bowl and whisk it together very well.
Then, drizzle in the oil very slowly as you whisk.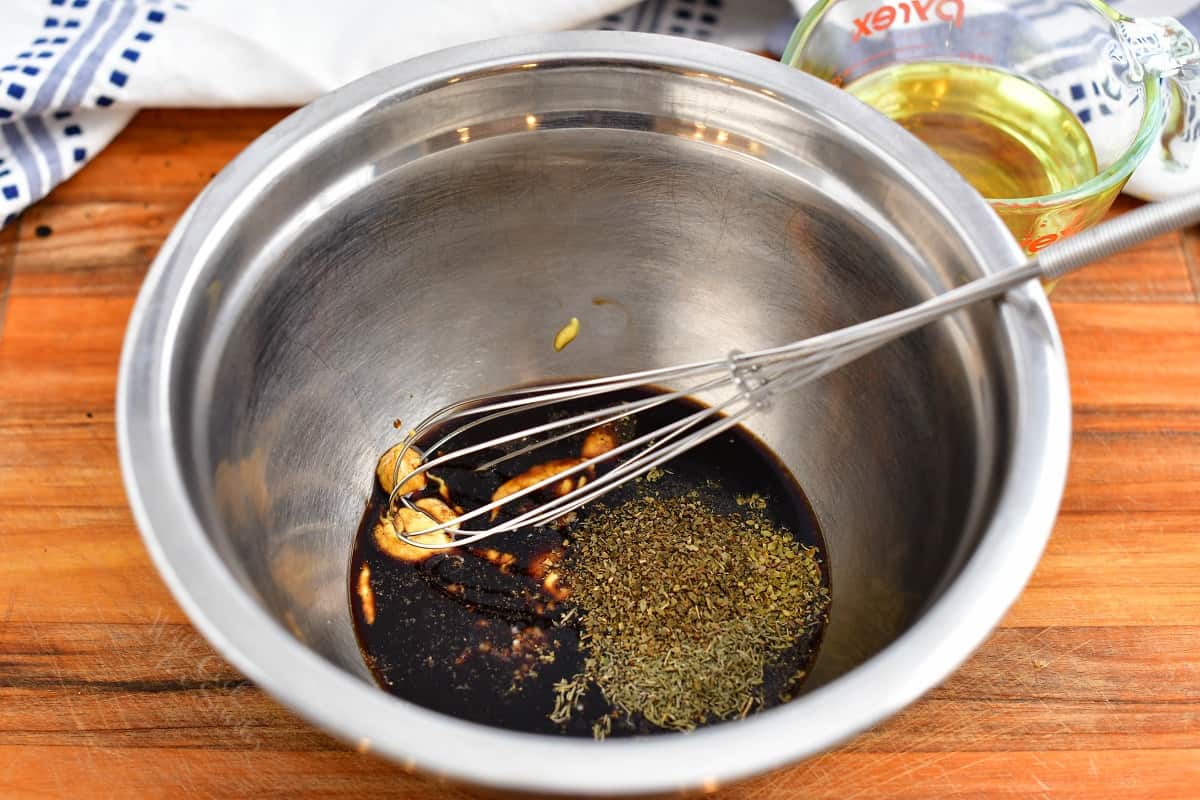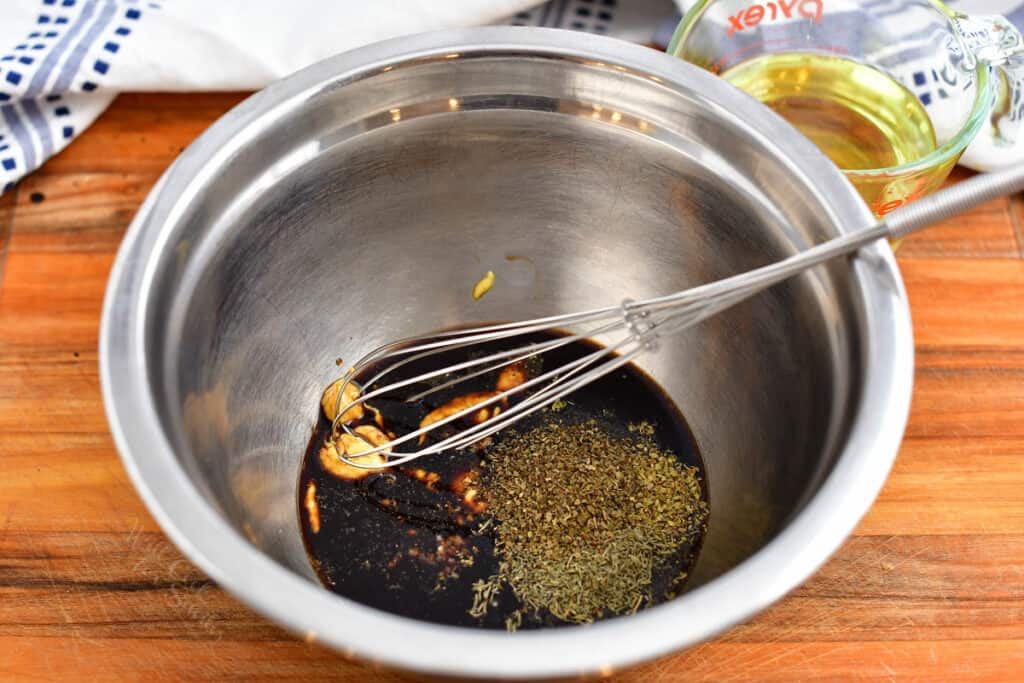 Transfer the dressing to any container with a lid and store in the refrigerator for up to 2 weeks. (It's best to use a glass container.)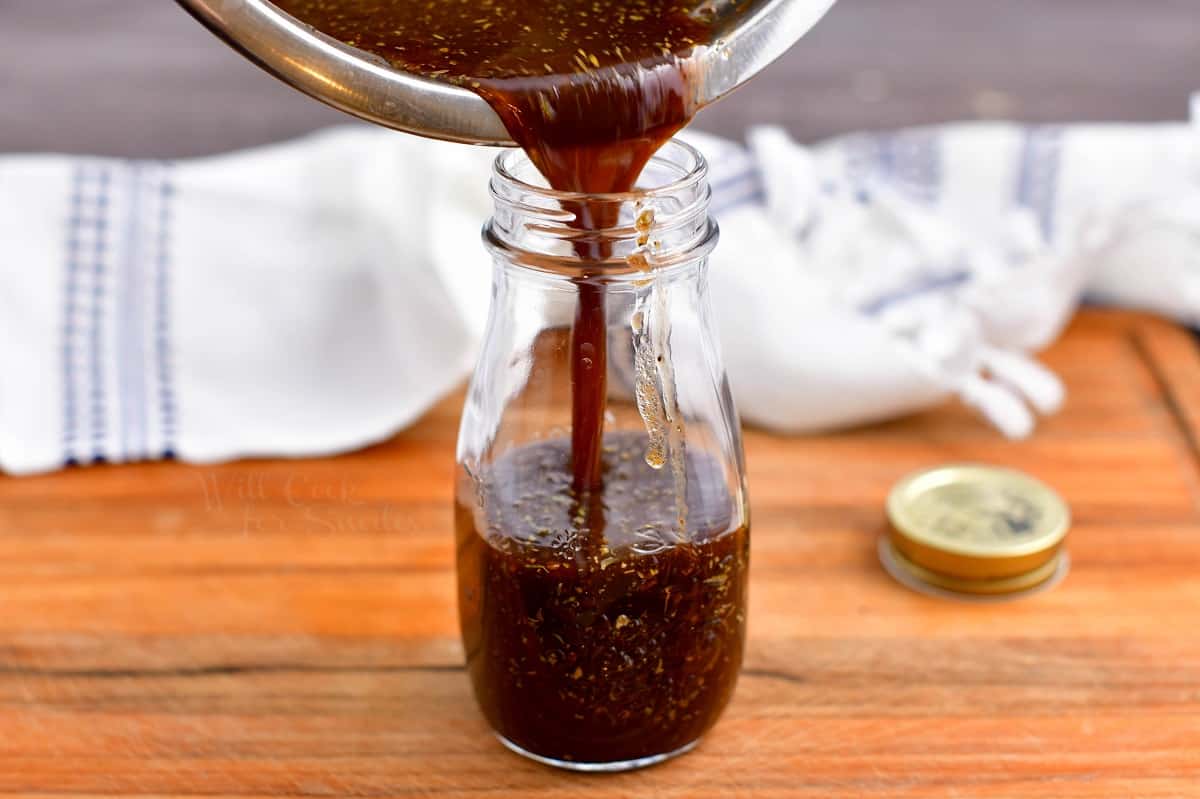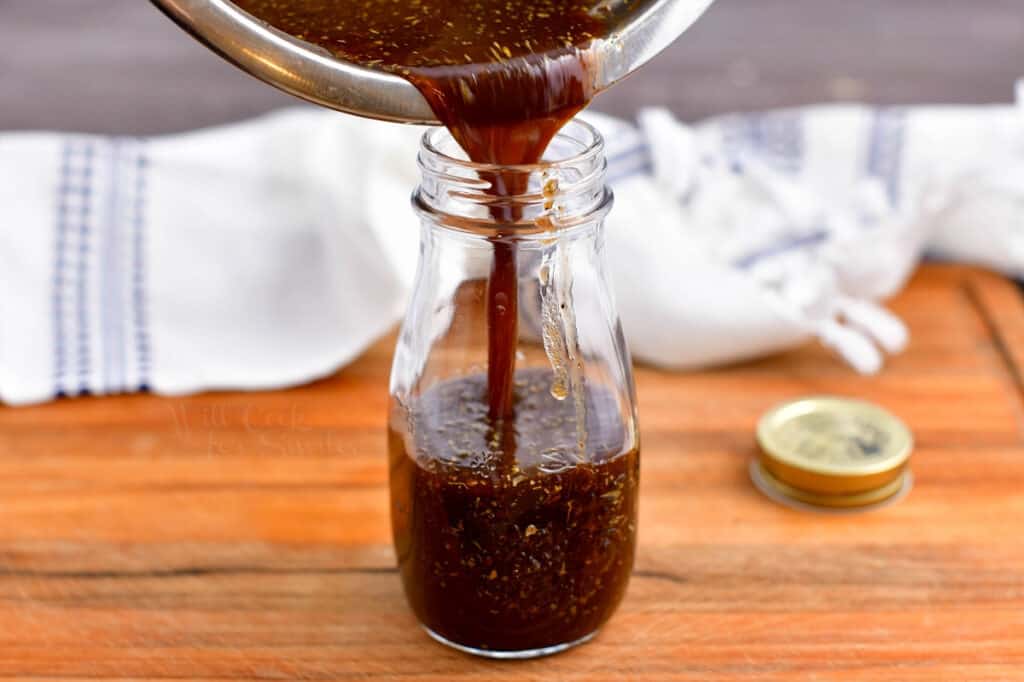 I like to use glass because it makes it doesn't react with acidic ingredients like plastic does and it helps preserve your food for longer. Plus, it can go right in the dishwasher when it's empty and cleans much better than plastic.
When you're ready to use, just drizzle it over your salad and enjoy!
Did your salad dressing solidify in the refrigerator?
Not to worry! It happens to many vinaigrettes dressings, especially ones that use extra virgin olive oil. What happened is that the dressing wasn't emulsified enough and some of the oil separated and floated to the top. The monounsaturated fats in oil partially solidified in the cold refrigerator. It's perfectly natural and there is nothing wrong with the dressing!
All you have to do is let it sit on the counter at room temperature for about 30-45 minutes to let it warm up and shake it up. If you're short on time, pop it into the microwave for just a few seconds and shake well.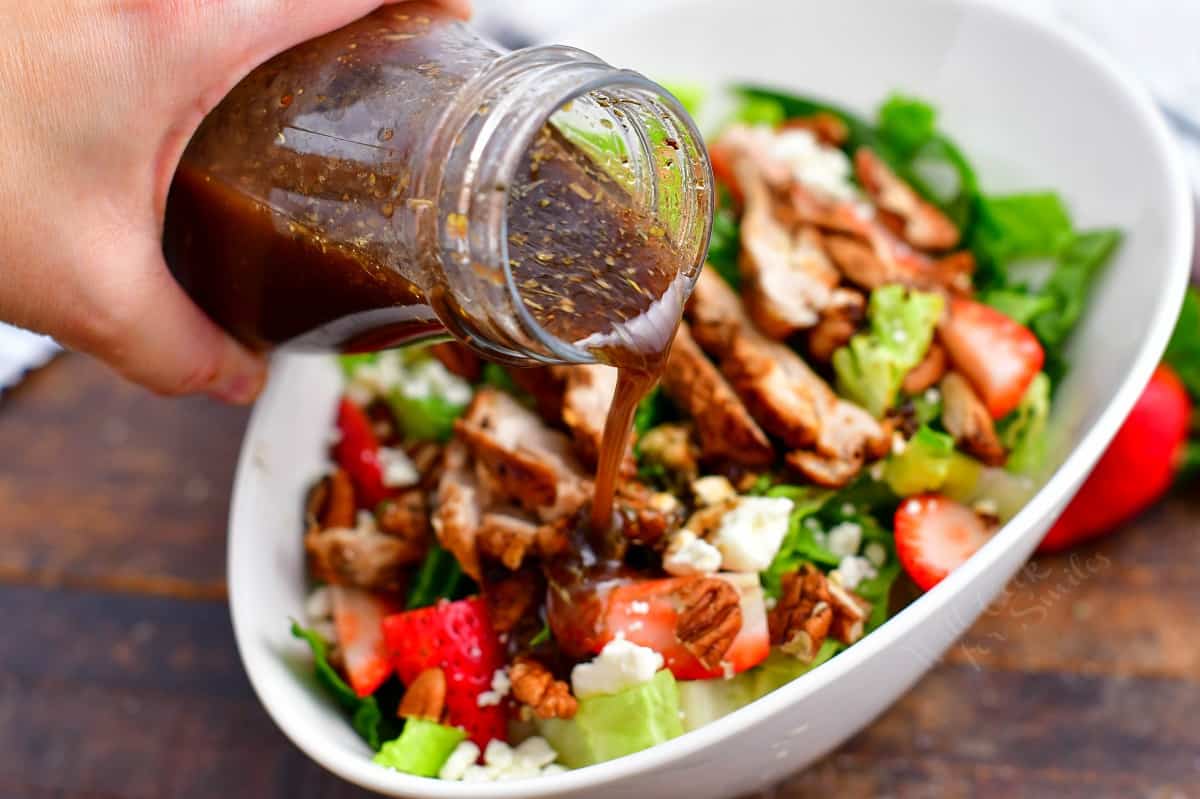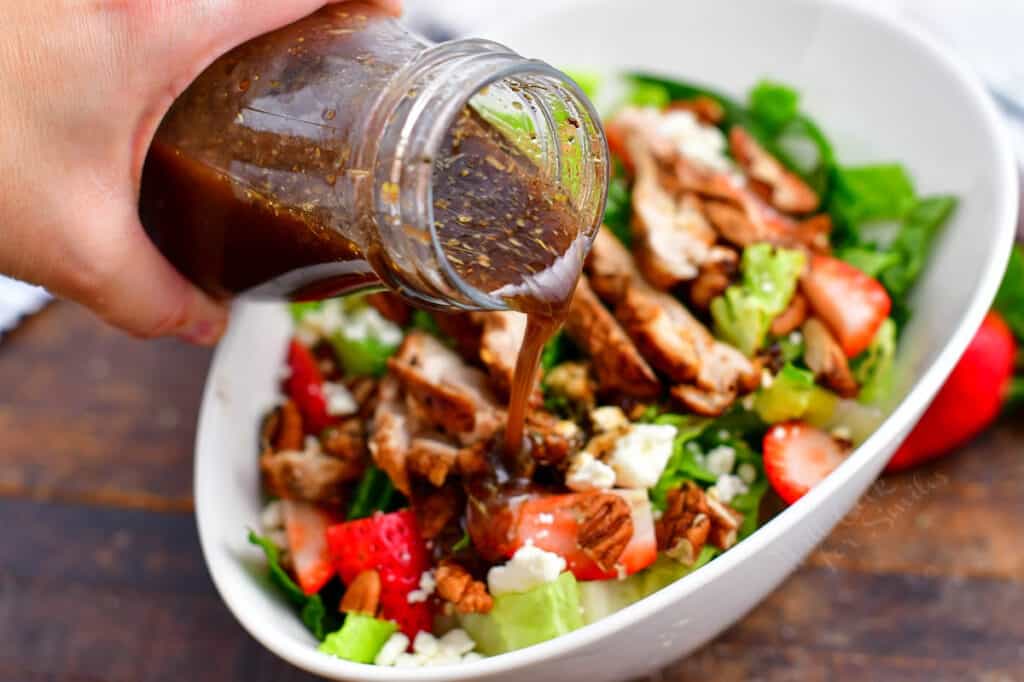 Helpful Tips and Tricks
Add the oil slowly. This is an important step for emulsifying the oil and vinegar since they tend to want to separate. Whisk as quickly as your wrist will allow while maintaining a thin, steady stream of oil for best results.

Make it ahead of time. While you can certainly use balsamic vinaigrette right away, it will taste even better after a day or two. That's because the flavors will continue to blend together as it sits. So, go ahead and make a batch whenever you have a few minutes.

Dressing starting to separate? This is completely normal! Just give it a good shake and it will be ready to use again.

Keep chilled. Even though this salad dressing recipe doesn't contain any dairy, there's still a chance that it can develop bacteria at room temperature. Refrigeration not only keeps it safe, but it extends the shelf life as well.

Feeding a crowd? For larger gatherings, you can easily double or triple the amounts and serve the balsamic vinaigrette in a pretty carafe or small pitcher.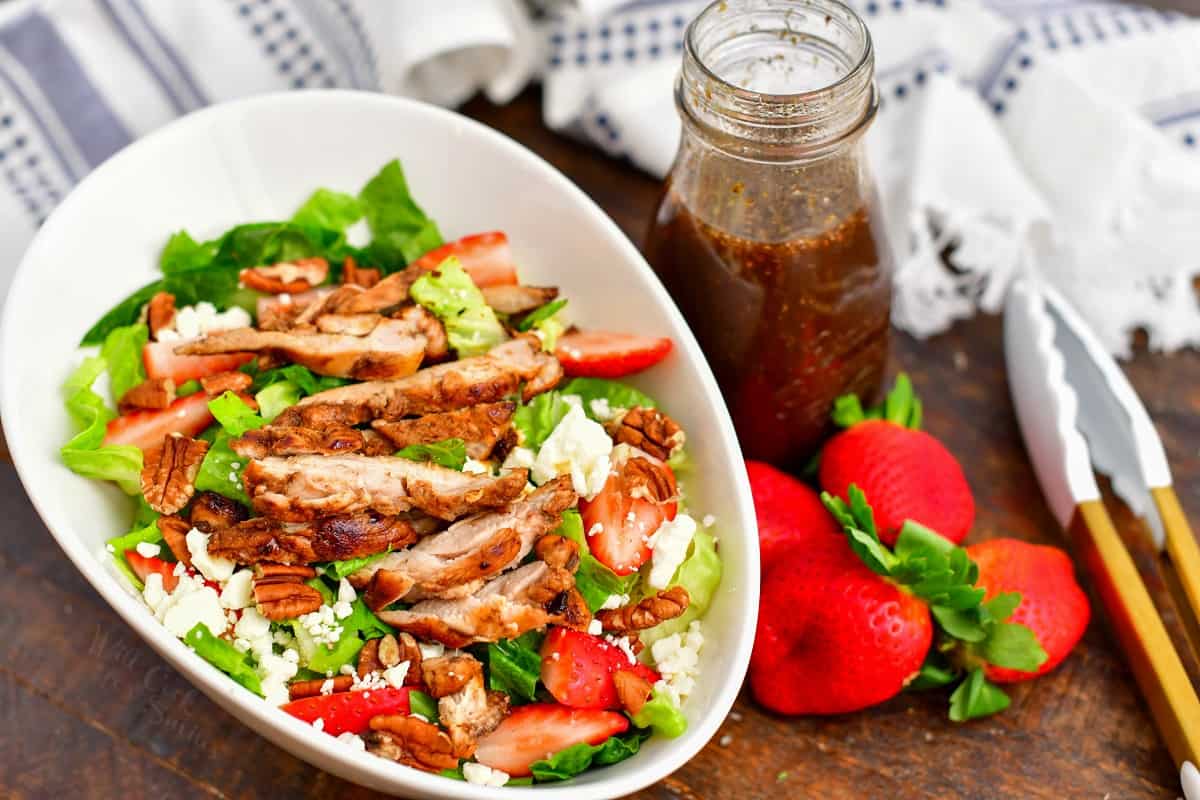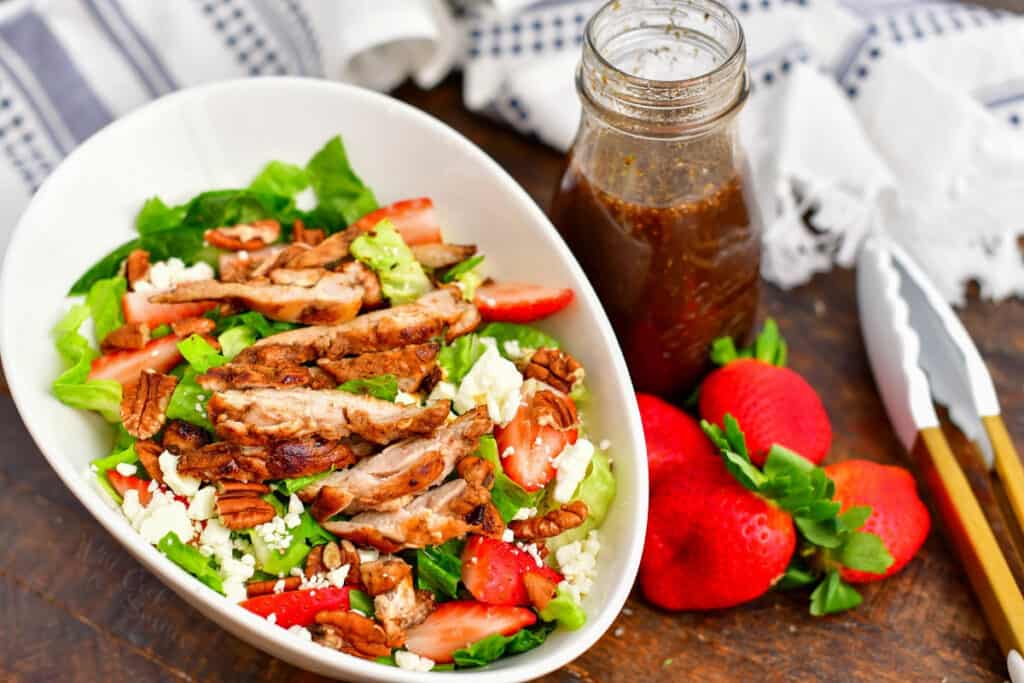 Serving Suggestions
Obviously, this homemade balsamic dressing tastes delicious on salads. The flavors are extremely versatile, making it a great choice at any time of year.
For inspiration, simply replace the reduction in my strawberry chicken or shrimp salad recipes with balsamic dressing instead! Otherwise, build your salad using any combination of the following ingredients and more.
Greens: mixed greens, spinach, arugula, kale
Fruits: apples, pears, berries, peaches, oranges
Veggies: cucumber, tomato, celery, avocado, broccoli
Nuts and seeds: walnuts, almonds, pistachios, pepitas, sunflower seeds
Cheese: feta, blue cheese, gorgonzola, cheddar
Protein: chicken, steak, ham, shrimp
But that's not all! Balsamic vinaigrette is just as delicious on pasta salads, sandwiches, and wraps.
You could even drizzle some over grilled and roasted vegetables for extra flavor or use it as dipping sauce for a crusty loaf of bread.
Use it as a marinade for easy balsamic chicken dinner! You can use chicken thighs or chicken breast and marinate is with the dressing from 30 minutes to 2 hours. (Make sure to discard the leftover marinade after you take out the raw chicken.)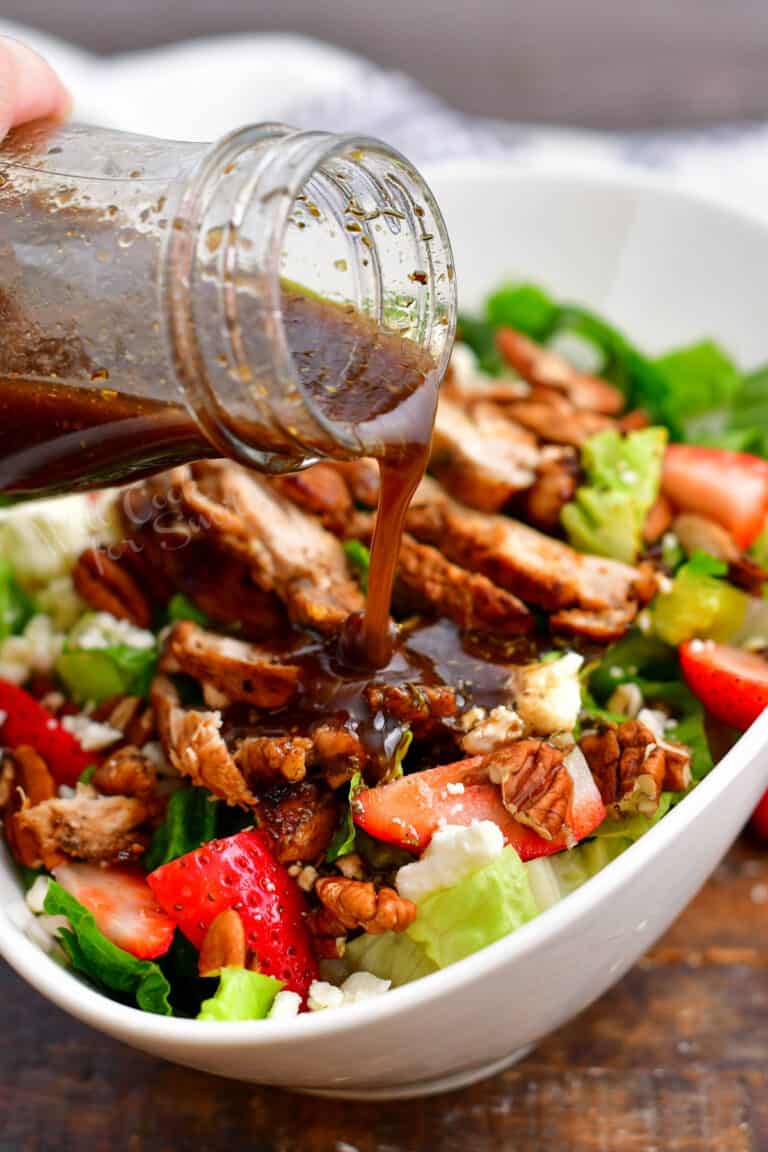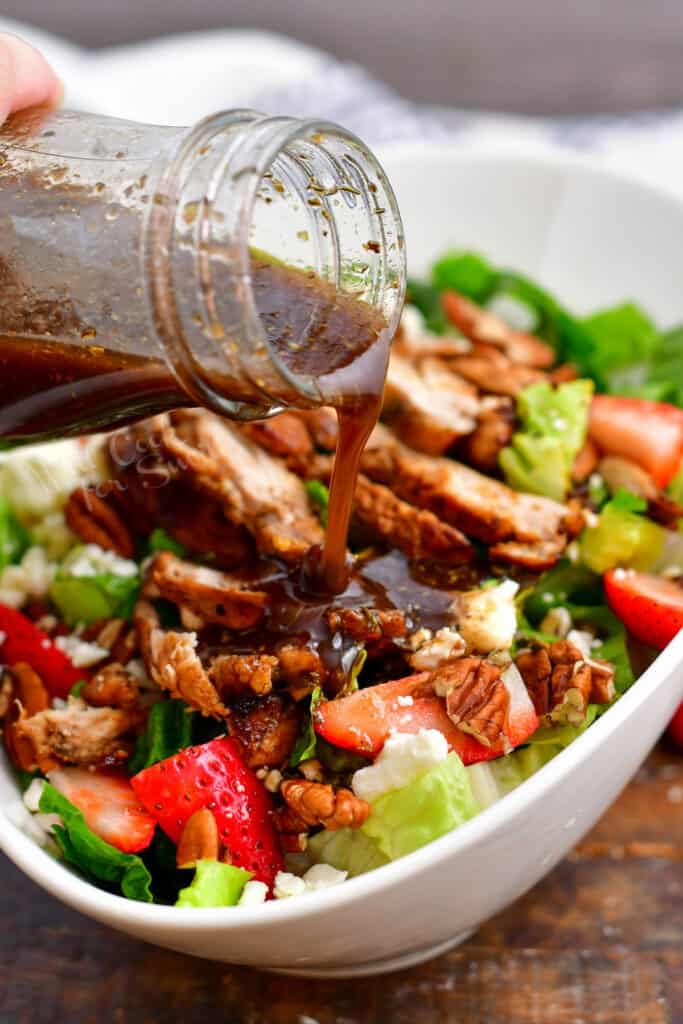 More Easy Salad Dressing Recipes:
My homemade buttermilk ranch and Caesar dressing are another staple salad dressing recipes that the whole family will love. Not only is Ranch great on salad, but you can spread it on a sandwich or use it as a veggie dip as well.
You'll also find over thirty delicious dressings below that ranch recipe, so there is sure to be something no matter what flavors you're looking for!
If you want to try something a little more interesting, I also have a balsamic vinaigrette made with fresh blueberries and lavender. It has an irresistible aroma that will brighten even the most boring salad.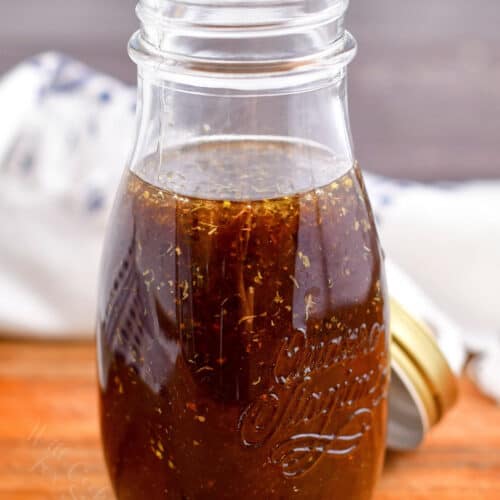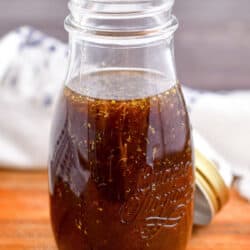 Balsamic Vinaigrette
Balsamic vinaigrette is simple to make and has a perfect balance of tangy, sweet, and herb flavors.
Print
Pin
Save
Saved!
Rate
Servings:
10
(makes a little over 1.5 cups)
Ingredients
1

cup

extra virgin olive oil

light tasting

1/2

cup

aged balsamic vinegar (or regular)

2

tbsp

dark brown sugar

2

tsp

Dijon mustard

1

tbsp

lemon juice

1

garlic clove

pressed

1

tsp

dried basil

1/2

tsp

dried thyme

1/2

tsp

dried oregano

1/2

tsp

salt

more to taste

1/4

tsp

black pepper
Instructions
Combine all ingredients except for olive oil in a large mixing bowl.

Start whisking vigorously until combined and then, slowly drizzling in olive oil. (Drizzling in the oil slowly while whisking will help emulsify the oil and vinegar together.)

Once it's all incorporated, transfer the dressing into a container with a lid. You can use it right away to store for later.

I recommend giving the vinaigrette up to a day to sit before using it. This will help marinade all ingredients together for better flavor. (You can use the dressing right away if needed, of course.)
Storing:
It is always best to store the dressing in the refrigerator. Even though there is no dairy ingredients in it, there is still a chance for contamination and growth of bacteria at room temperature. So store this vinaigrette in the refrigerator, in a glass container with an air-tight lid.
Shelf Life:
This vinaigrette should be good for up to 2 weeks when stored in the refrigerator.

If you notice that some of the oil separated and solidified in the refrigerator, let it sit on the counter for 30-45 minutes to warm up or take off the lid and pop it in the microwave for just a few seconds. Shake it well before using.
Nutrition
Calories:
213
kcal
|
Carbohydrates:
5
g
|
Protein:
1
g
|
Fat:
22
g
|
Saturated Fat:
3
g
|
Sodium:
132
mg
|
Potassium:
27
mg
|
Fiber:
1
g
|
Sugar:
4
g
|
Vitamin A:
5
IU
|
Vitamin C:
1
mg
|
Calcium:
12
mg
|
Iron:
1
mg
Tried this recipe?
Mention @willcookforsmiles and tag #willcookforsmiles