This strawberry chicken salad will become your favorite from the first bite. Bright, complimentary flavors of chicken, fresh mozzarella cheese, strawberries, basil, and balsamic reduction come together in one dish.
Don't forget to sign up for email, so you won't miss any new recipes.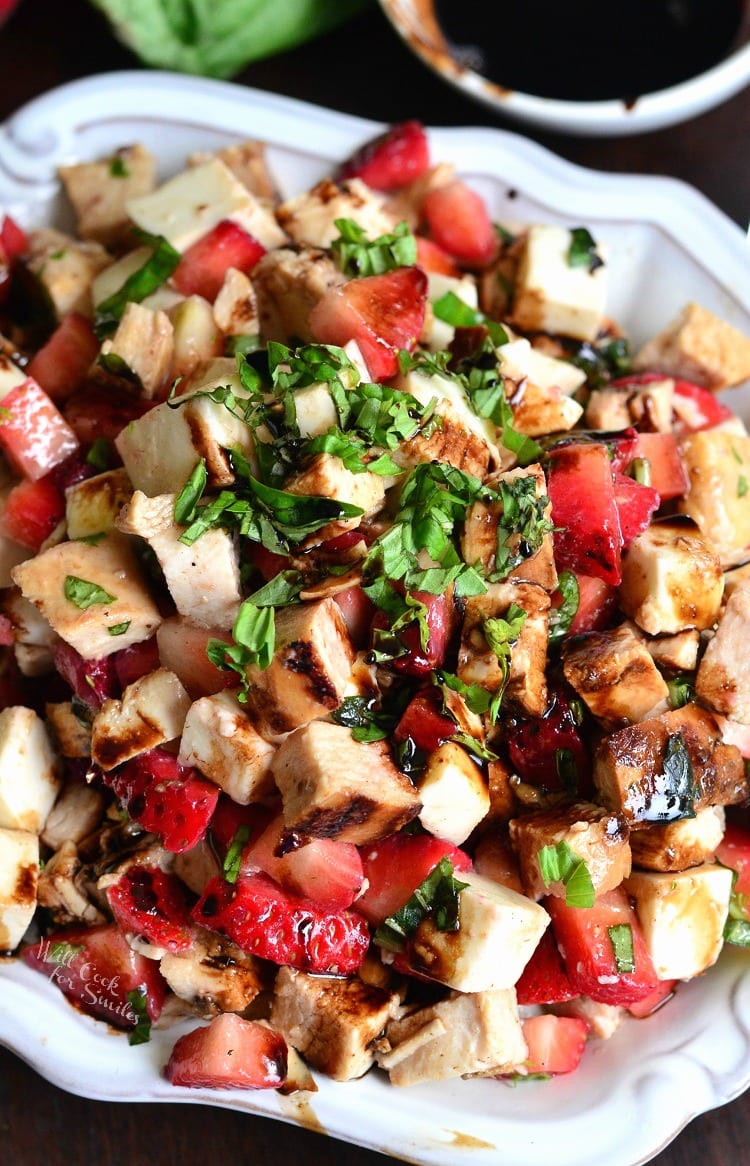 Caprese salad can officially suck it because there is a new kid on the block!
This Balsamic Strawberry Chicken Salad is kicking butt and taking names. I already have it on the menu for every party this summer. Caprese salad is something I make very often for parties because it's fresh, it's easy, and the classic flavors are always satisfying. Instead of a classic caprese, I am definitely making this balsamic chicken salad from now on.
I took my favorite parts of the caprese salad, balsamic reduction, fresh basil, and fresh mozzarella cheese, and I coupled them with juicy grilled chicken and sweet strawberries. The result was one DELICIOUS summer salad.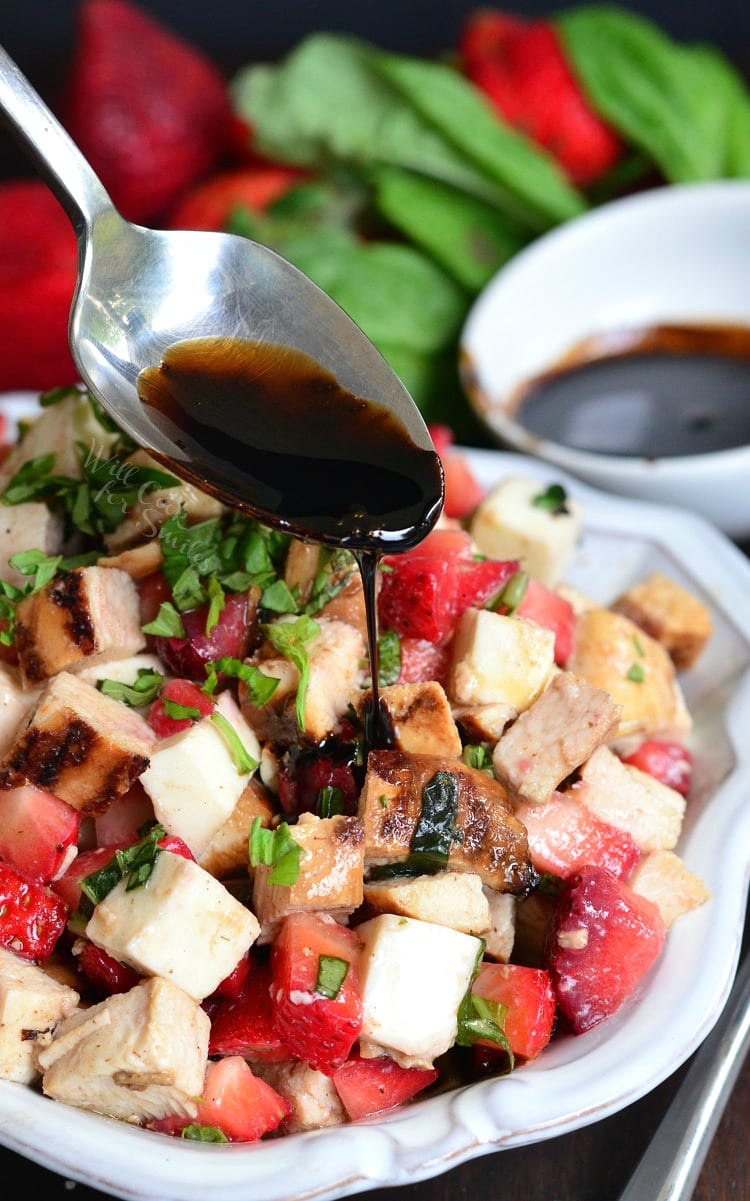 I actually made this tasty strawberry chicken salad twice in one week. Yes, it is that good but no, I didn't make it just for fun.
My camera decided to fail me and NOT record any of the photos that I took this weekend. It was a second time when my camera randomly decided to not to record any photos onto the SD card. Not gonna lie, there were tears….lots and lots of tears.
I sat down to write up this recipe and share it with you on Monday and it was like a slap in the face. At that moment, I got an urge to slap my camera back for ruining all my hard work. So instead of sharing this delicious salad with you, I spent all night trying to figure out the problem with my camera and how to fix it. I was so upset over not only loosing the photos, but also over not being able to share this recipe. That is why I had to remake it as soon as possible so that everyone can try this salad too. We happily polished off the salad both time though.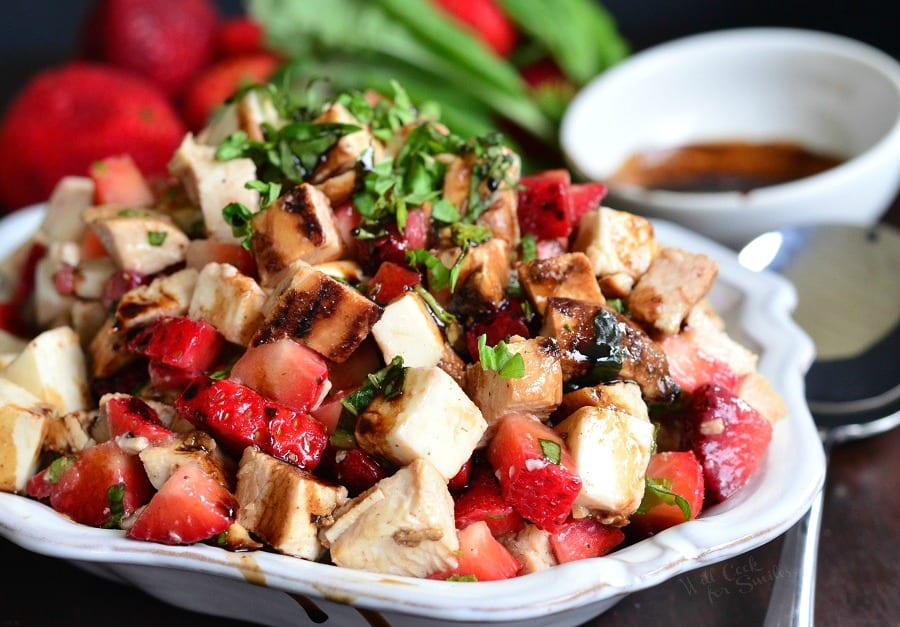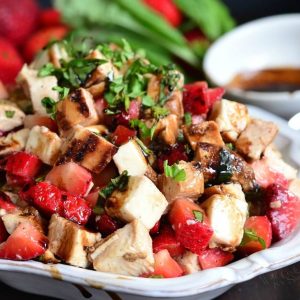 Balsamic Strawberry Chicken Salad
Ingredients
2

large chicken breasts

2

Tbsp

balsamic vinegar

Salt

8

oz

fresh mozzarella cheese

8

oz

strawberries

3

Tbsp

minced fresh basil

2

Tbsp

olive oil

Salt

1/3

cup

balsamic vinegar

1/2

Tbsp

brown sugar

Optional: 2/3 cup chopped pecans
Instructions
Marinade the chicken breasts in balsamic vinegar for about 10 minutes before cooking. Season with some salt and cook until done.

*You can choose to grill the chicken or cook chicken on the stove top.*

Once chicken is cooked, set is aside to cool down.

Preheat a small pan over medium heat. Add balsamic vinegar to the heated pan and stir in brown sugar. Let the vinegar simmer until it is reduced enough to coat a spoon. (It will reduce by about half the amount.)

Take balsamic reduction out of the pan and into a small bowl to cool down. Once it cools down, you can add it to the salad.

Chop fresh mozzarella cheese and strawberries and place them into a mixing bowl.

Mince basil and add it to the bowl as well.

Once chicken is cooled enough to handle, chop chicken breasts and add it to the mixing bowl.

Season with some salt and add olive oil and balsamic reduction. Mix well.

Optional: stir in some chopped pecans for a little crunch!

*This salad is recommended to consume the same day because strawberries will start to wilt after a day.*
Recipe Notes
Recipe from Lyuba @ willcookforsmiles.com All images and content are copyright protected. Please do not use my images without prior permission. If you want to share this recipe, please simply link back to this post for the recipe. Thank you.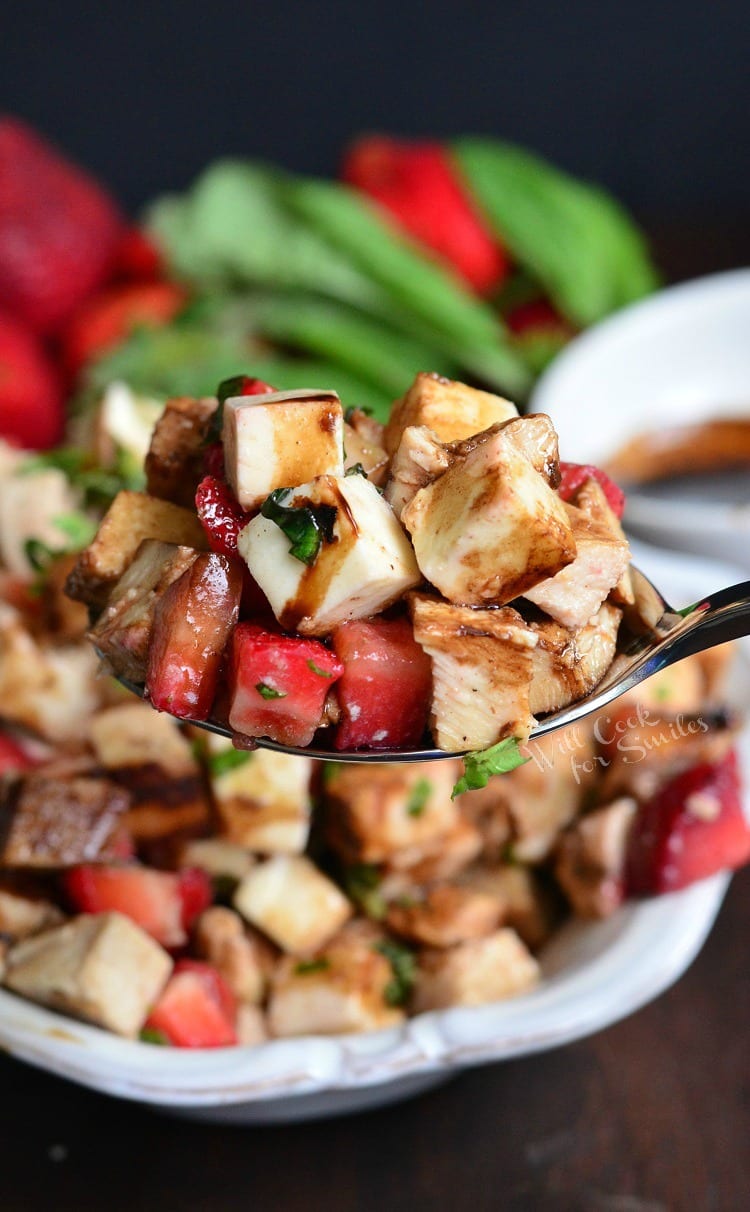 _________________________________________________________
Make sure you follow me through your favorite blog reader (bloglovin or other), subscribe to e-mail or follow me through social media of your choice to keep up with the recipes!
        
_______________________________________________________

Some More Recipes From Me: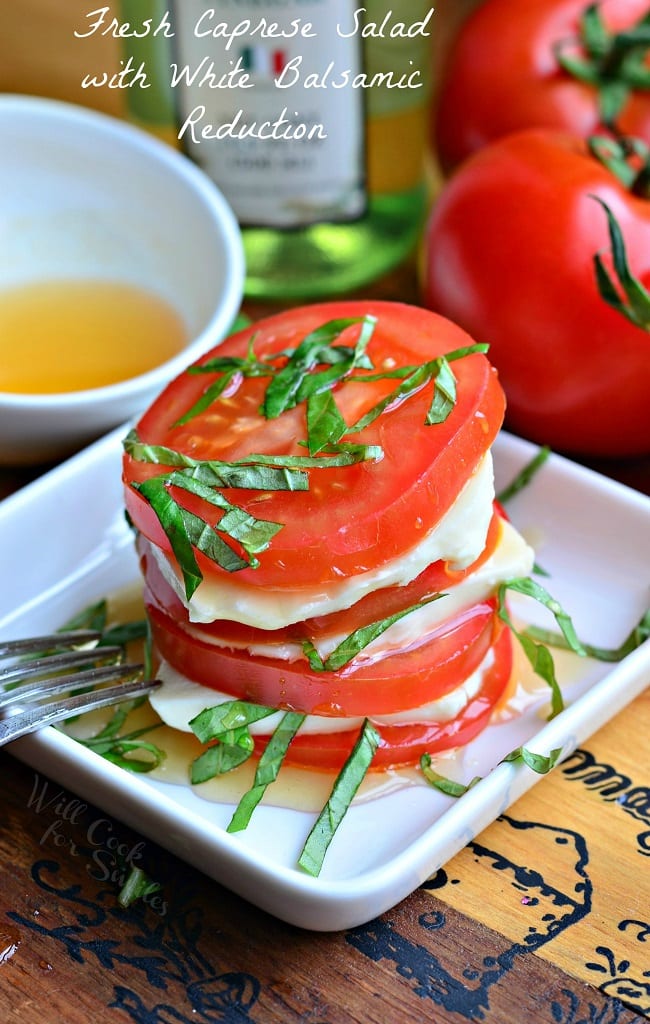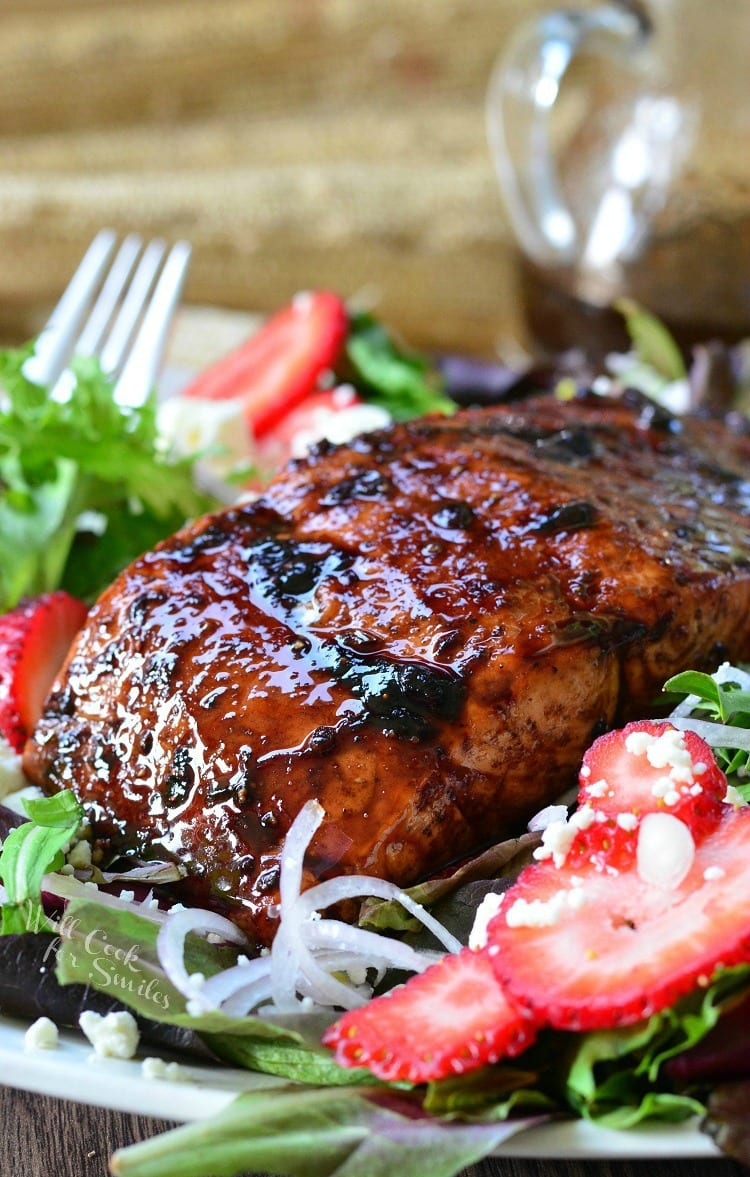 Strawberry Balsamic Glazed Salmon