I'm back to share some deliciousness with you! Today, I have a recipe for a Greek Chicken Salad. More specifically, it's a chicken salad made with feta cheese, tomatoes, olives, bell peppers, Greek yogurt and many more goodies! It's great on sandwiches or as a side for your next barbecue.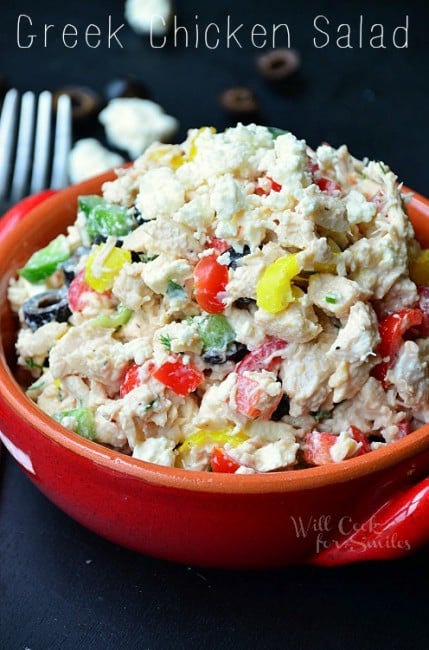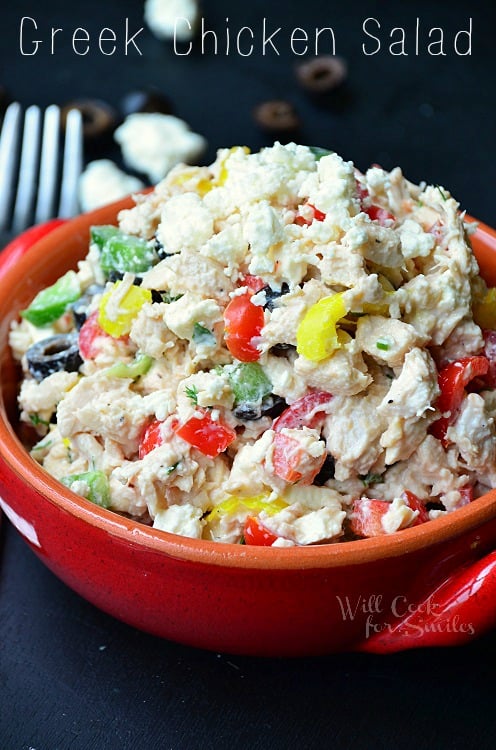 I know it's been kind of a slow week here. I've been a little under the weather and didn't feel like cooking or typing. But don't worry, I can't stay away for too long and you know I will make it up to you!
This past week, nothing just seemed right to me. You know how you try on an outfit one day and it's great but the next day it suddenly doesn't look right. I'm sure that ladies know what I'm talking about. For some reason, the way an outfit looks changes day to day and only women understand it. (I have a point, I promise.)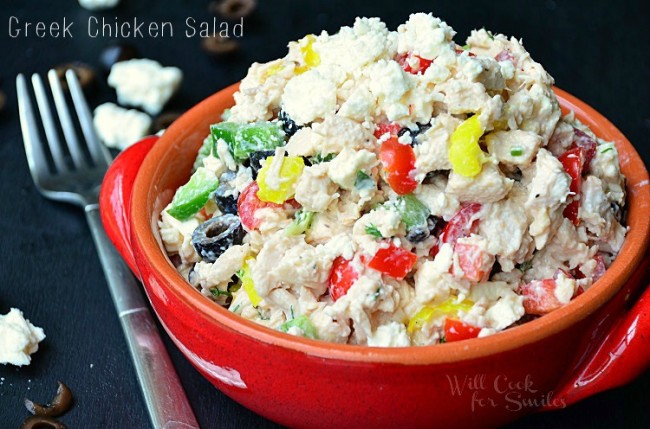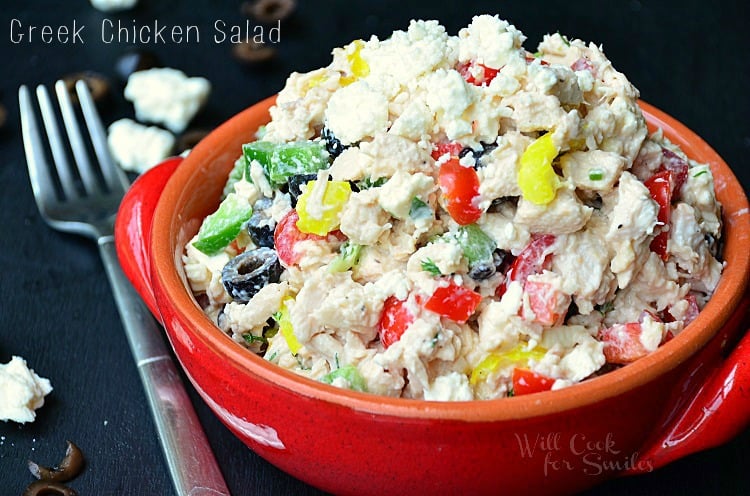 That's how I felt about posting recipes this week. I have several recipes saved on file that I was thinking about posting but none of just them seemed right to me. I was just waiting on that special dish to speak to me and inspire me to share it. That happened yesterday when I made this delicious Greek chicken salad for lunch. I got that "I can't wait to share it" feeling right away and here it is!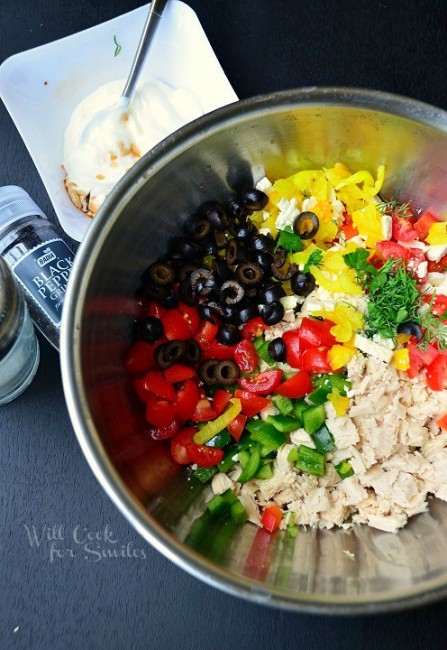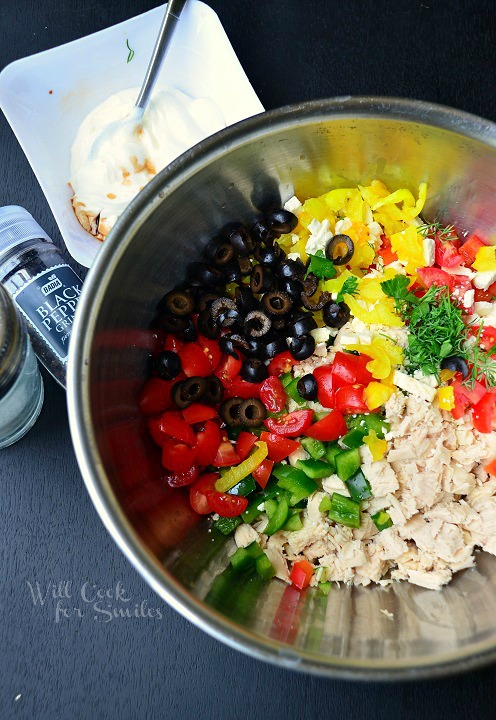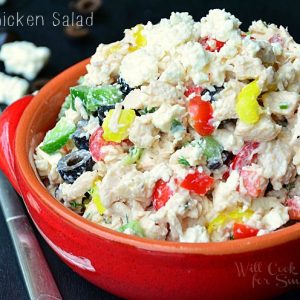 Greek Chicken Salad
Ingredients
3

chicken breasts

cooked

1/2

cup

chopped tomatoes

1/2

cup

chopped red and green bell peppers

1/4

cup

chopped red onion

1/4

cup

sliced black olives

1/4

cup

banana peppers

2/3

cup

crumbled feta cheese

1

tbs

minced fresh dill weed

salt

fresh cracked peppercorns

1/2

cup

plain Greek yogurt

1

tsp

Balsamic vinegar

1

tsp

sugar
Instructions
While boiling the chicken, I like to add salt, pepper, bay leaf and some coriander. This gives chicken more flavor and you can use the water as stock. (This stock will keep in the fridge for a couple of days.)

Chop the cooked chicken , add it to the large mixing bowl and add the chopped veggies and feta. Add salt and cracked peppercorns to the taste. Mix well.

In a small bowl, whisk together the Greek yogurt, Balsamic vinegar and sugar.

Mix the Greek yogurt mixture into the chicken and veggies. Make sure it's all combined.

Refrigerate until ready to serve.
Recipe Notes
Recipe from Lyuba @ willcookforsmiles.com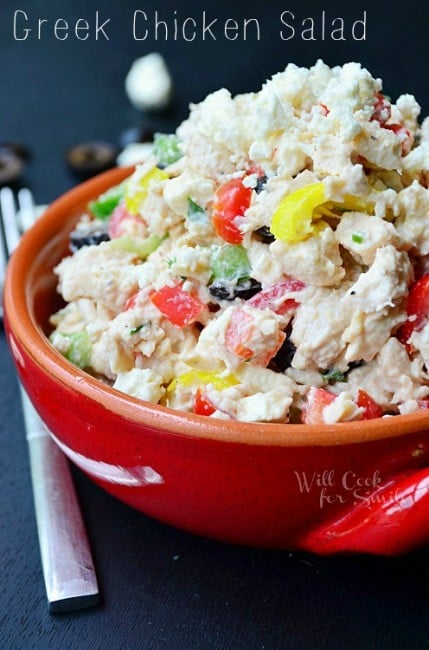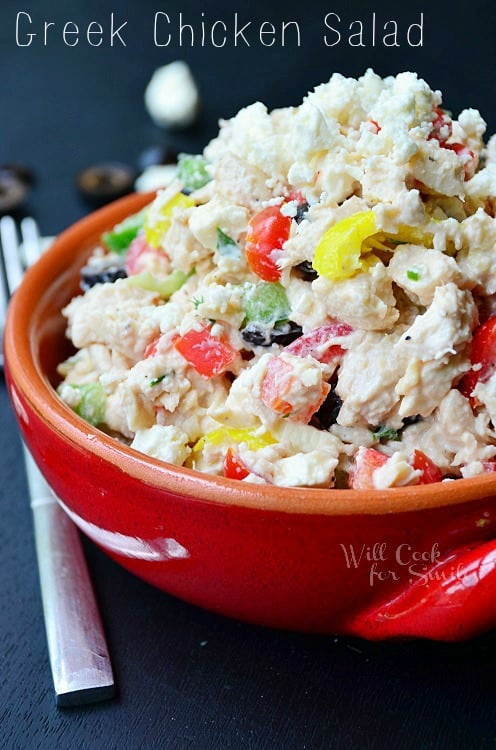 Make sure you follow me through your favorite blog reader (bloglovin or other), or follow me through | Facebook| Twitter| Pinterest|

Don't miss any new posts and recipes from me,
subscribe

to E-MAIL! Just enter your email in the side bar, you will receive an email for confirmation. Confirm and you are all subscribed! HUGS!

***************


Here is some more salad inspiration!