Delicious cold chicken salad made with simple ingredient and a whole lot of flavor. It's packed with chicken, tomatoes, onions, jalapenos, cilantro, lime, and of course, hot sauce and spices. Great chicken salad to add on top of a dinner salad, wrap, or straight from the bowl.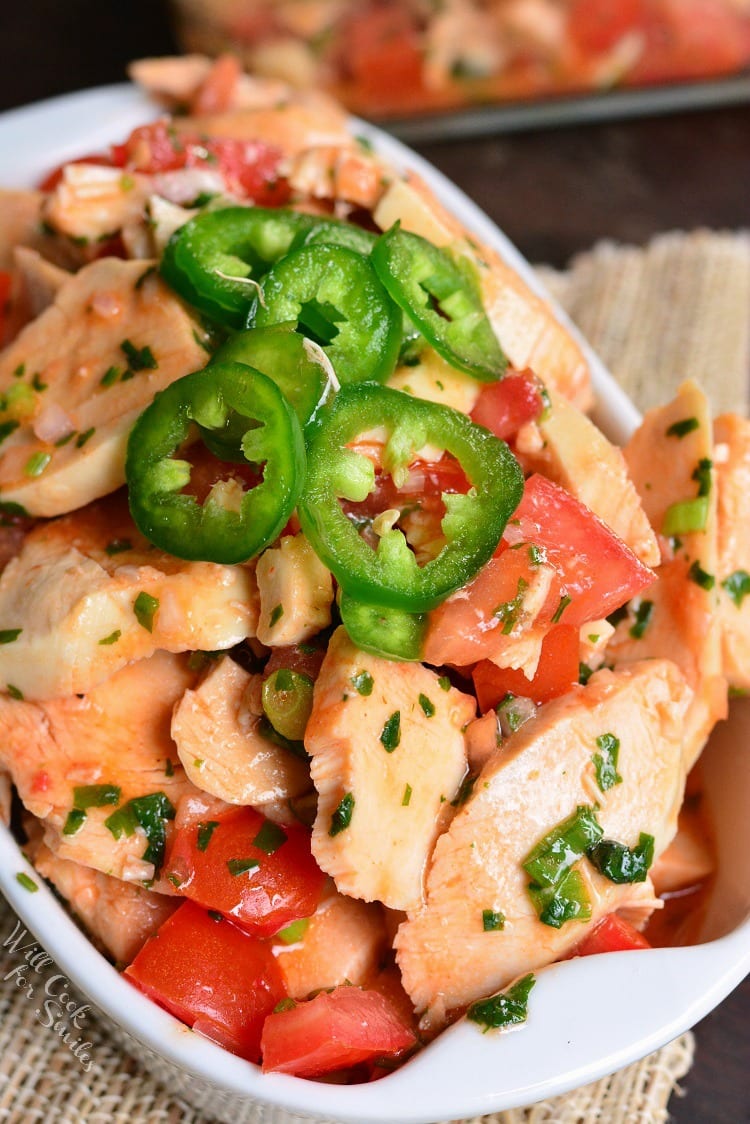 MEXICAN CHICKEN SALAD
I've been watching the weather this week and seeing record high temperatures all over the the northern states. Crazily enough, we are enjoying some mild temperatures in the south. Although, if we were having record high temperatures, we'd probably fry.
Fourth of July week is over and as sad as it is when holidays end, I'm loving the silence. A week of nightly fireworks was a little too much. As soon as it starts getting dark, all you hear is "bang, bang, bang, bang" for two hours straight. It's fun when you're the one setting off the fireworks, less fun when you are trying to work, or read, or get some sleep.
Nevertheless, July 4th celebration might be over until next year but summer continues. There is still a month before kids go back to school and a month of summer festivities. More time in the pool and more time to enjoy the cookouts.
I have an awesome new chicken salad to introduce to you. It's not like a traditional chicken salad that one might be used to but it's really tasty. This salad is actually served with sliced chicken as opposed to finely cubed or shredded. It's also not mixed with any mayo or sour cream but some oil, hot sauce, and lime juice instead.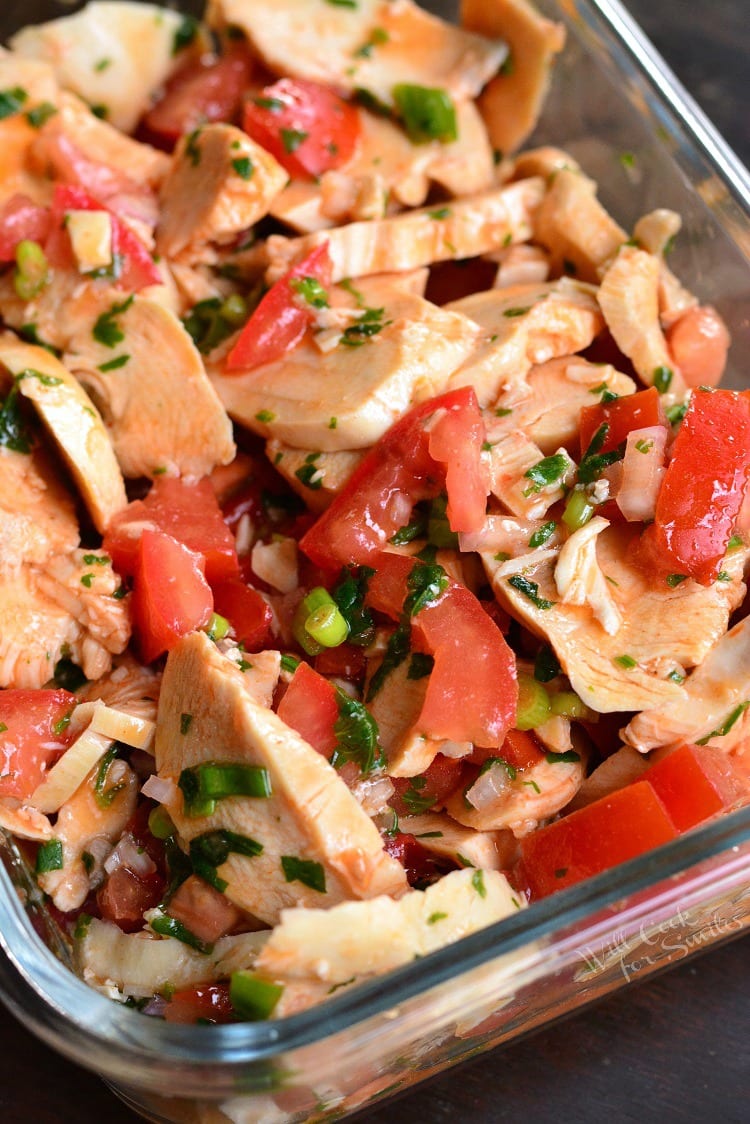 TIPS FOR MAKING YOUR OWN SPICY CHICKEN SALAD:
This Spicy Mexican Chicken Salad can be served on top of a dinner salad and the juices in this chicken salad can be used as a dressing. You can also serve it as a side dish, a wrap, or just grab a fork and chow it down right from the bowl. (That may or may not be exactly what I do.)
My favorite way to eat this salad has been straight up with a side of guacamole. You get a little chicken salad on the fork and a little guacamole and it's heavenly together.
When preparing this spicy chicken salad for yourself, amount of spice can be easily adjusted. You can choose to add or omit the jalapeno peppers. You can also add some chili powder if you want to have a spicier salad.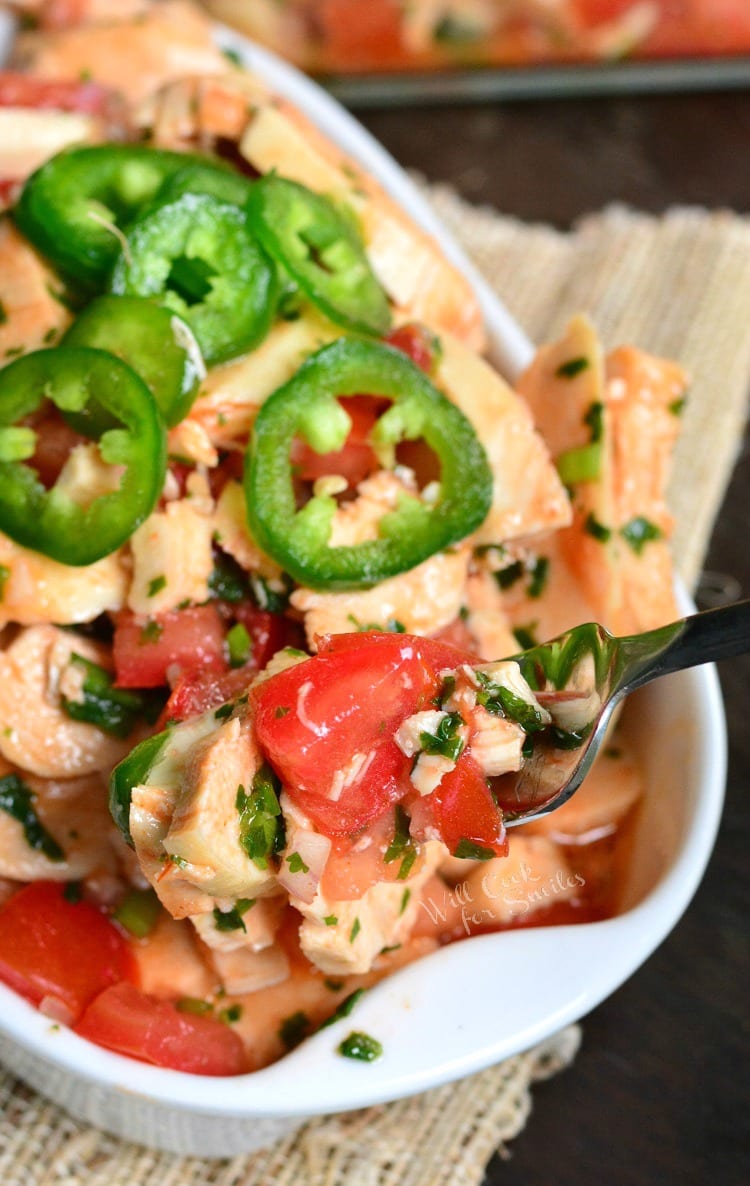 HOW TO MAKE THIS SPICY MEXICAN CHICKEN SALAD:
One of the most common question I get on my recipes is whether or not it can be prepared ahead of time. I now try to mention in the recipes if they can easily be made ahead of time and this one is definitely one that can be done in advance.
This chicken salad consists of cooked chicken, veggies, herbs, and a few other fresh ingredients. Chicken can be cooked ahead of time. You can bake or boil the chicken, then just store it in a fridge for a day or so, until you're ready to make the salad.
When ready, all you have to do is slice cooked chicken breast, dice veggies, add remaining ingredients, and mix everything in a bowl.
Spice can be adjusted by adding or omitting jalapeno peppers. You can also adjust heat level just by leaving the jalapeno seeds in or taking them out of the pepper. Seeds are the spiciest part of the jalapeno, so taking them out will make a difference. (Remember to wear gloves when working with a jalapeno so that your hands and everything you touch is not burning for hours.)
Store this chicken in an air-tight container, in the refrigerator.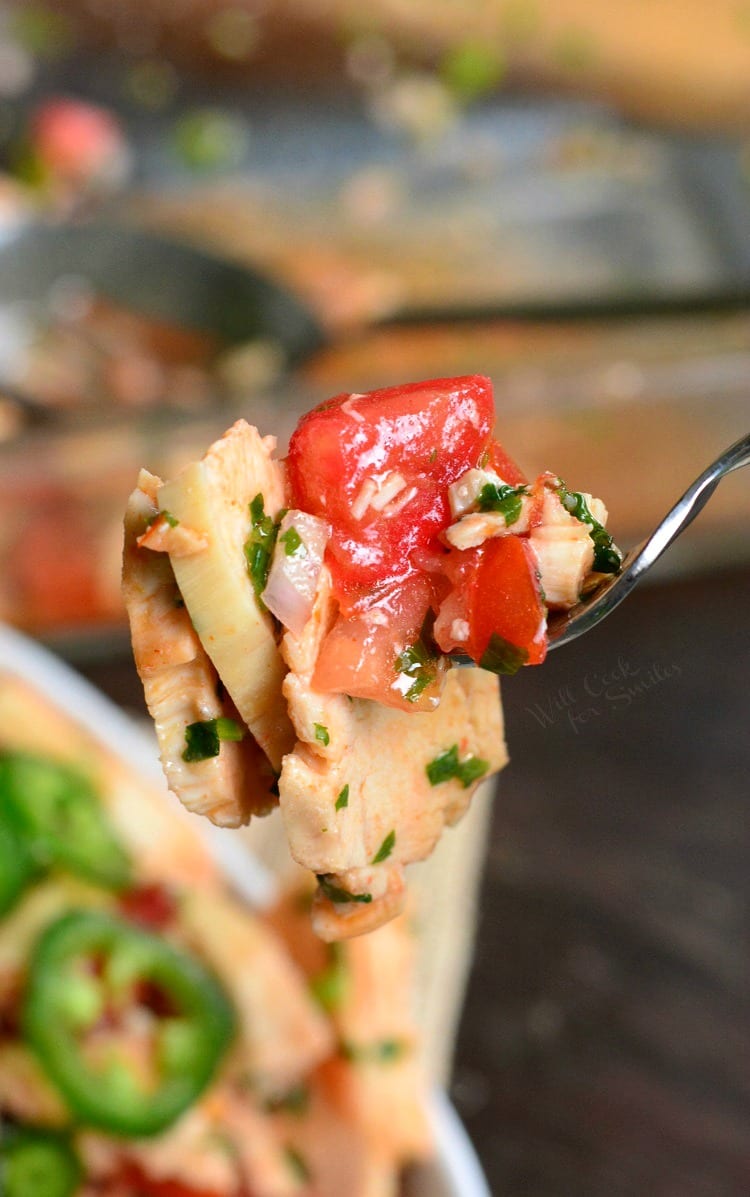 SOME MORE CHICKEN RECIPE:
Honey Sriracha Chicken Tenders
If you made any of my recipes and shared them on Instagram, make sure to tag me @willcookforsmiles and #willcookforsmiles so I can see all the things you tried!
Connect with Will Cook For Smiles!
Be sure to click below and follow me on my social media, so you never miss a recipe.
Don't forget to sign up for email, so you won't miss any new recipes.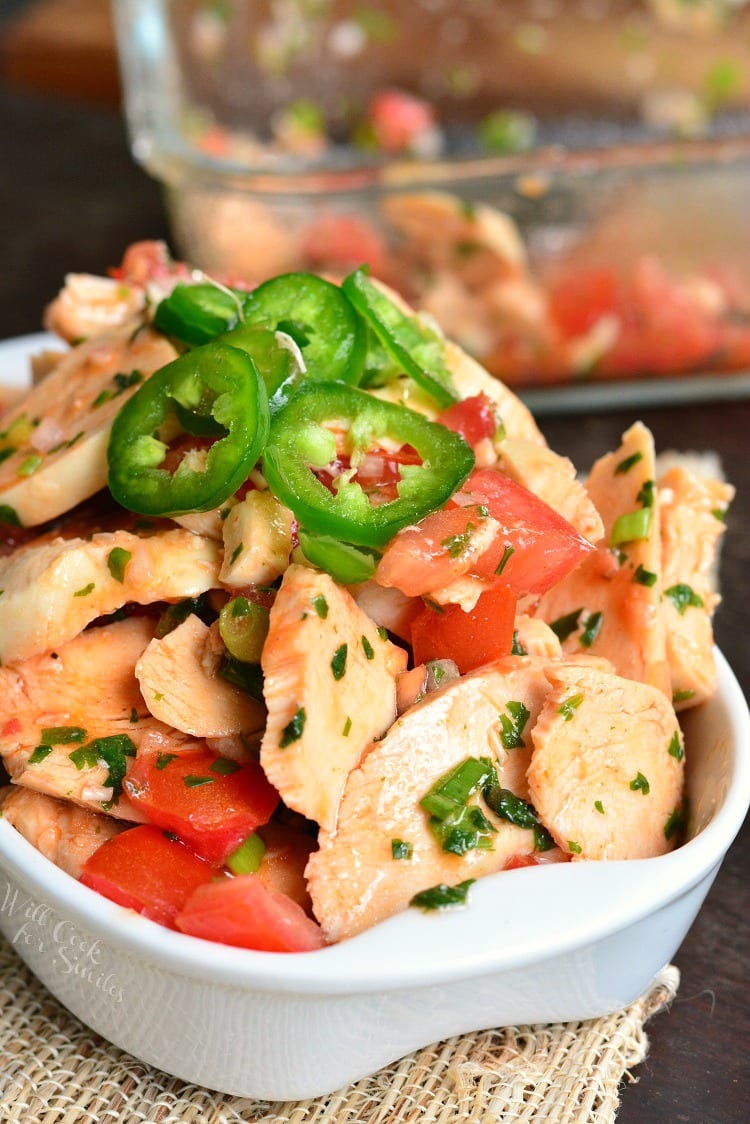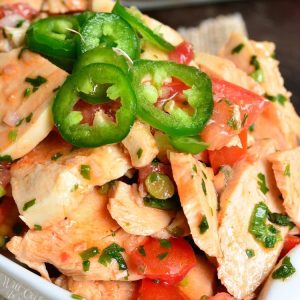 Spicy Mexican Chicken Salad
Ingredients
24

oz

boneless, skinless chicken breast

(3 chicken breasts)

3

Roma tomatoes

2

shallots

1/4

cup

diced green onion

1

large jalapeno

3

limes

JUICE

1/4

cup

cilantro leaves

diced, NOT packed

1/4

cup

olive oil

3

Tbsp

hot sauce

1 1/2

Tbsp

sriracha sauce

1

tsp

garlic powder

Salt
Instructions
Cook chicken breast by either baking it or boiling it in water. When cooking the chicken, add juice from 1 lime and some salt so the flavors carry through the chicken. (If boiling chicken, throw the lime halves into the water after squeezing out the juice for more lime flavor.)

Once chicken is cooked, take it out and cool it enough to be handled. Slice chicken into thin slices and add to a mixing bowl.

Dice tomatoes, mince shallots, green onions, cilantro, and jalapeno peppers. Add veggies to the bowl. (Remember to wear glove when handling jalapenos so that your hands and everything you touch is not burning.)

Add olive oil, juice from 2 limes, hot sauce, and sriracha sauce to the bowl. Mix well.

Add garlic powder and salt and mix very well.

Transfer into a storage container with a lid and refrigerate for about an hour to cool down.

Store in an air-tight container in the refrigerator.

Nutrition Facts
Spicy Mexican Chicken Salad
Amount Per Serving
Calories 353
Calories from Fat 162
% Daily Value*
Fat 18g28%
Cholesterol 108mg36%
Sodium 590mg26%
Potassium 873mg25%
Carbohydrates 10g3%
Protein 37g74%
Vitamin A 645IU13%
Vitamin C 40.6mg49%
Calcium 39mg4%
Iron 1.4mg8%
* Percent Daily Values are based on a 2000 calorie diet.