Beautiful balance of flavors is bursting here, in this tasty chicken dish. Crispy chicken tenders are made with sriracha sauce right in the batter and served with a cool, sweet honey sour cream sauce. For the brave ones, drizzle some more sriracha sauce on top of cooked chicken tenders.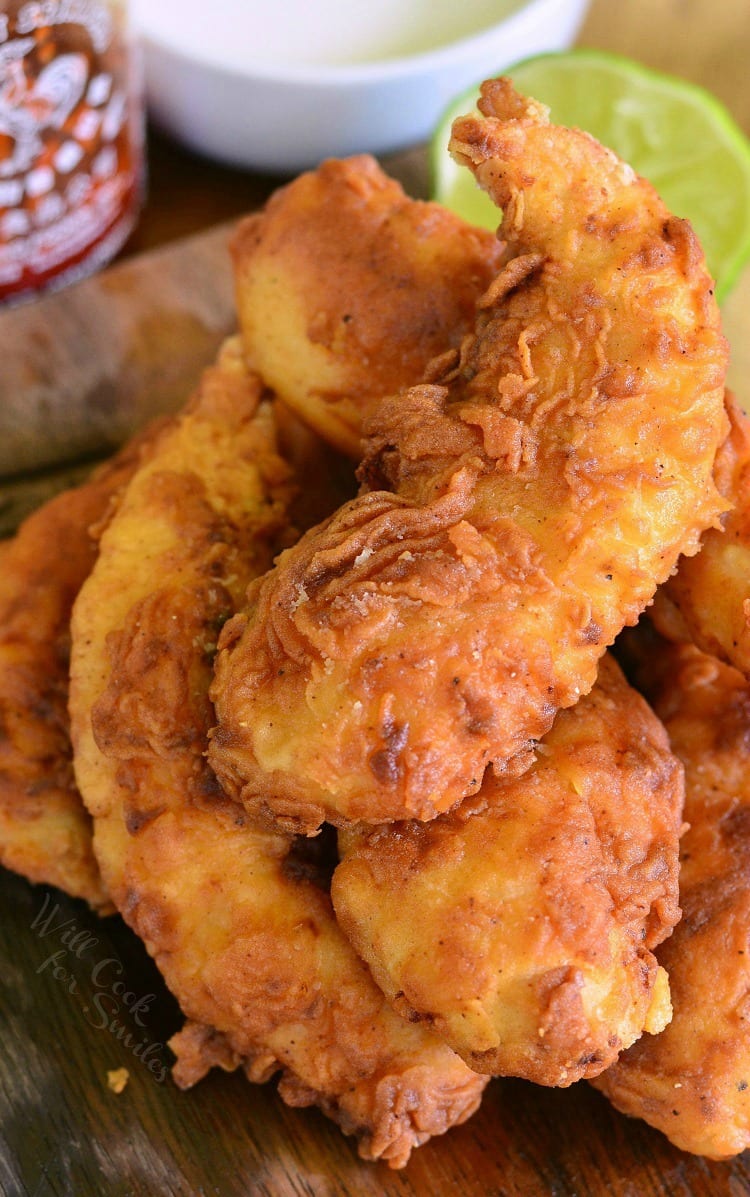 My little man's obsession with sriracha sauce continues! And, I continue to take advantage of that and make different dishes for him to try. There are a few key ingredients that I can add to a dish that will get him to agree to taste it and sriracha and honey are two of the bigger ones. Those two and honey mustard actually. I haven't figured out a way to use all three and I have a pretty strong feeling that mustard will clash with sriracha, whether it's sweet or not.
I'm beyond happy that he is agreeing to try more and more new dishes lately. Finally, I'm starting to see a light at the end of this picky eater tunnel. I don't like it that he doesn't have as wide variety in his diet and it's so hard to pack lunch for him for school. I know that there is a fat chance of him eating lunch from school cafeteria and having more things to pack is always nice. I just think it's hilarious that he loves spicy foods. I would have never guessed in a million years that sriracha would be my bargaining ingredient. I get chocolate, I get ranch, I even get honey mustard, but sriracha, that was a surprise.
Luckily, sriracha and chicken are awesome together and it's a great way for him to eat more protein. If you remember, he discovered sriracha sauce when I made Sriracha Chicken Tacos and has been loving it since then. So I decided to put this spicy twist on our favorite chicken tenders recipe and it paid off big. I'm thinking of tackling veggies next, to see if sriracha will get him to eat more of those.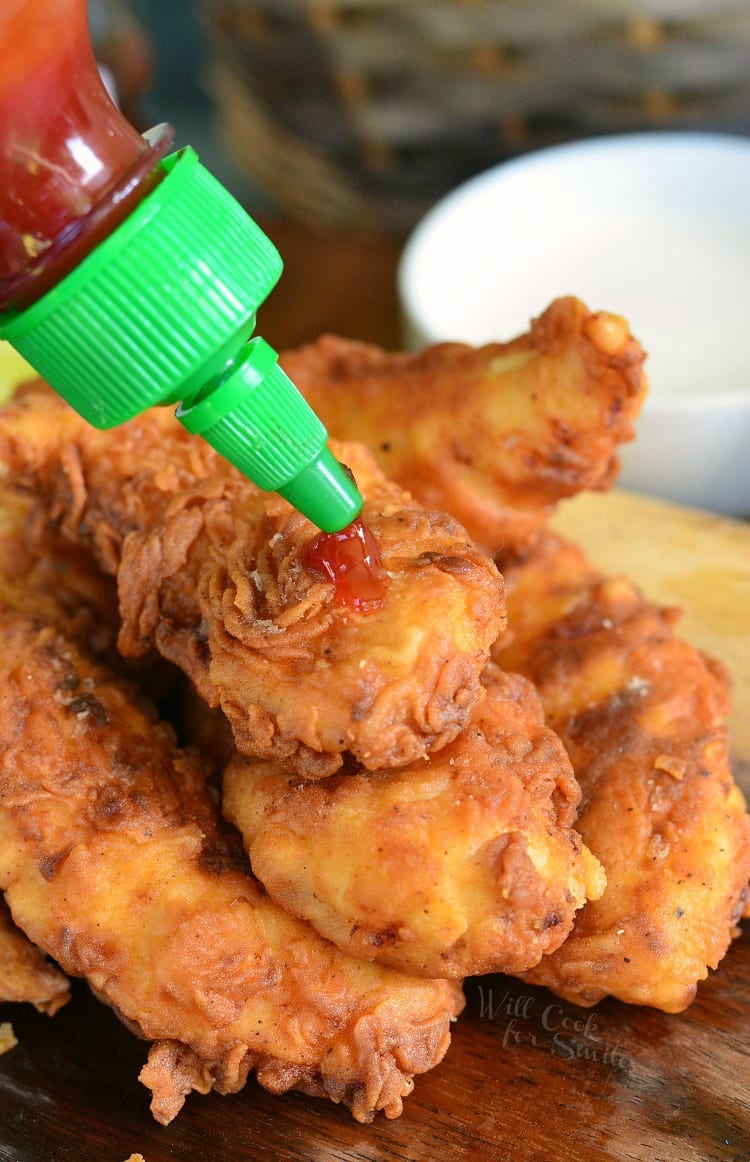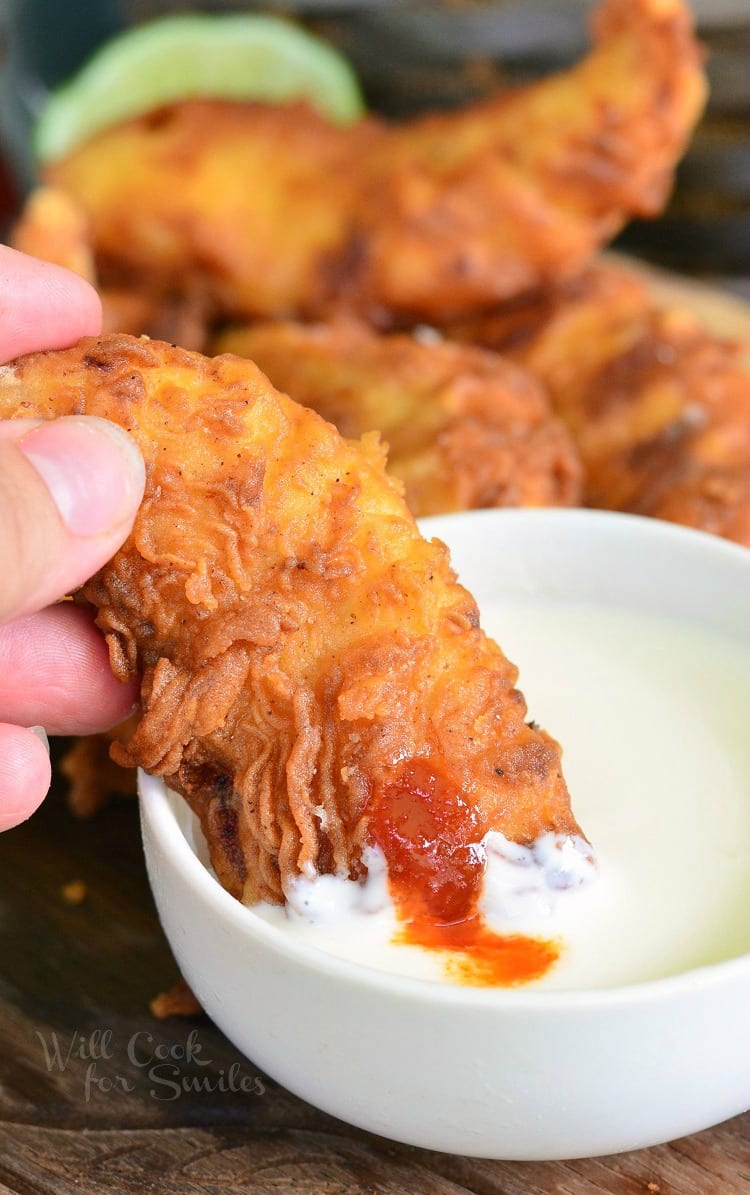 As I mentioned above, these crispy chicken tenders are already cooked with sriracha sauce in the batter but for the brave ones, you can also mix some sriracha and honey together and drizzle over cooked chicken tenders for a bigger sriracha flavor. I don't think that I'd be able to handle that much hot sauce without a gallon of milk following it, but I know many people that can do it in a heartbeat.
This is actually why I made this sweet, creamy, and citrusy sauce to go along with this crispy chicken. It's a great combination of flavors and it acts as a perfect cooling agent for the spicy sriracha.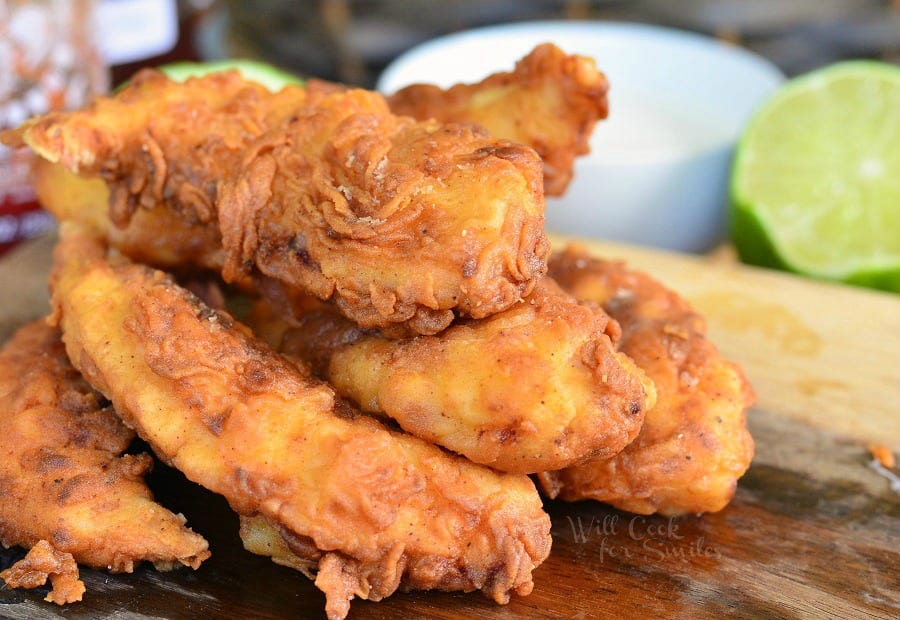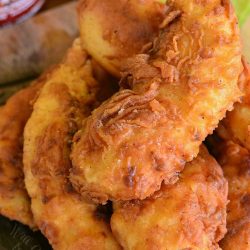 Sriracha Crispy Chicken Tenders with Honey Dipping Sauce
Crispy chicken tenders are made with sriracha sauce right in the batter and served with a cool, sweet honey sour cream sauce.
Print
Save
Saved!
Rate
Ingredients
10-12

raw chicken tenders

3/4

cup

buttermilk

I use 1%

1

Tbsp

Sriracha

Salt

1

cup

flour

1 1/2

tsp

paprika

Salt

3-5

cups

vegetable oil for frying

Sauce:

1/4

cup

sour cream

1/2

Tbsp

honey

1

tsp

lime juice
Instructions
Heat oil to 350 degrees. You can use a deep cooking pan but don't fill it more than 1/2 way because the hot oil will fizz and raise as you add the chicken.

Place a couple of paper towels on a plate for the cooked chicken. Paper towels will soak up excess oil.

In a medium bowl, mix buttermilk sriracha and salt and in another medium bowl, mix flour paprika and salt.

Pat chicken tenders dry with a paper towel. Dredge each chicken tender in the flour mixture first, then dip it in buttermilk mixture and then, toss it back in the flour mixture.

Fry battered chicken for 8 to 10 minutes, depending on the size of the tenders. Remember, use a metal slotted spoon or metal tongs to take out chicken tenders.

For the sauce, mix all three ingredients until smooth.

Serve right away.

**If you want to add a drizzle of sriracha sauce, mix 2 Tbsp of sriracha with 1 Tbsp of honey.**
Tried this recipe?
Mention @willcookforsmiles and tag #willcookforsmiles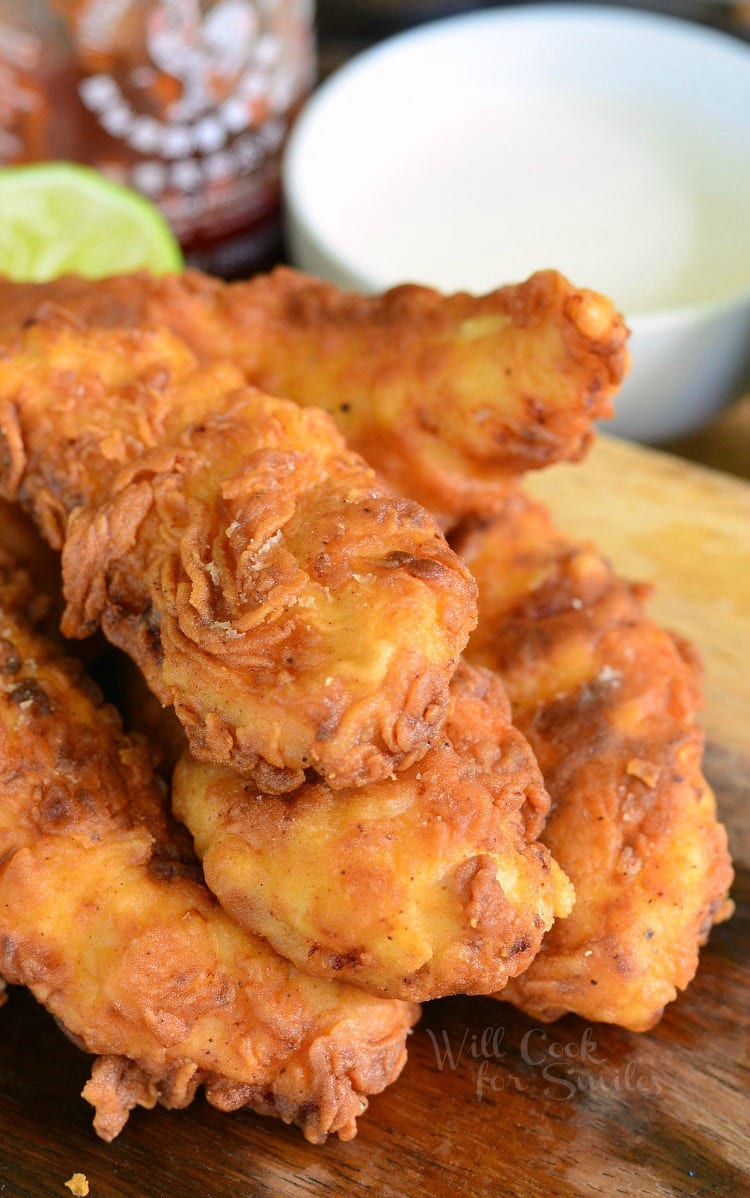 _________________________________________________________
Make sure you follow me through your favorite blog reader (bloglovin or other), subscribe to e-mail or follow me through social media of your choice to keep up with the recipes!

_______________________________________________________

Some More Recipes From Me: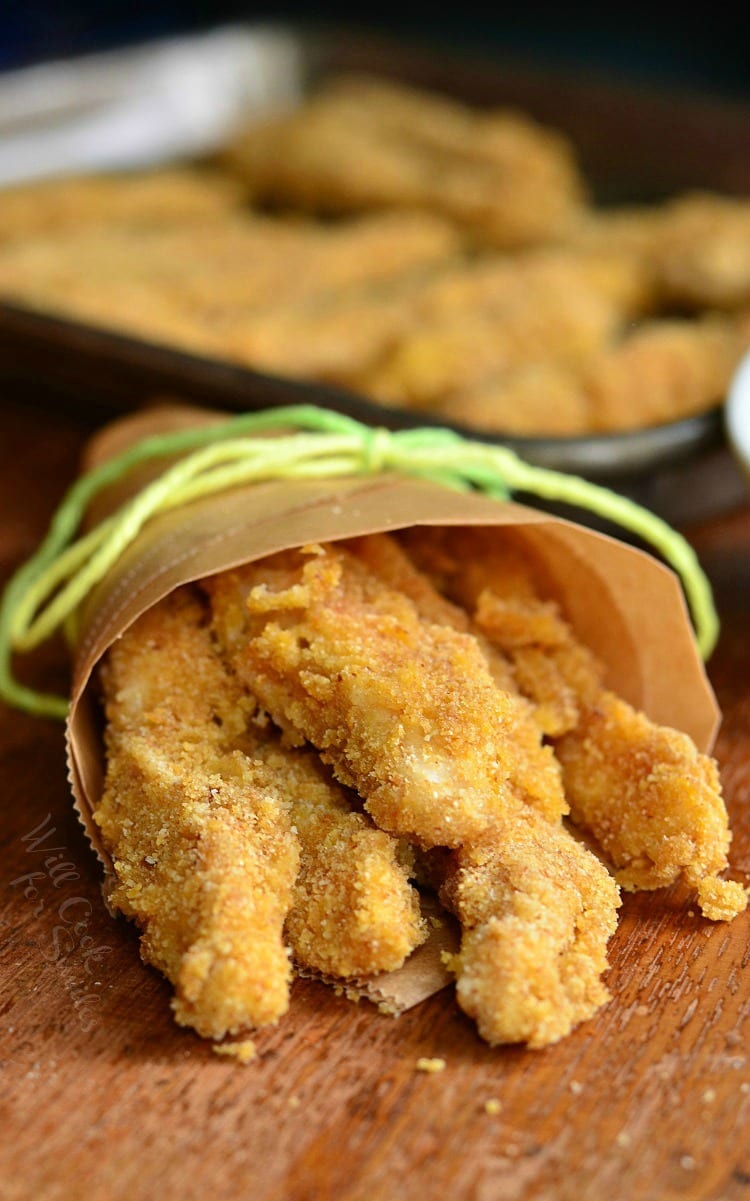 Homemade Honey Mustard Baked Chicken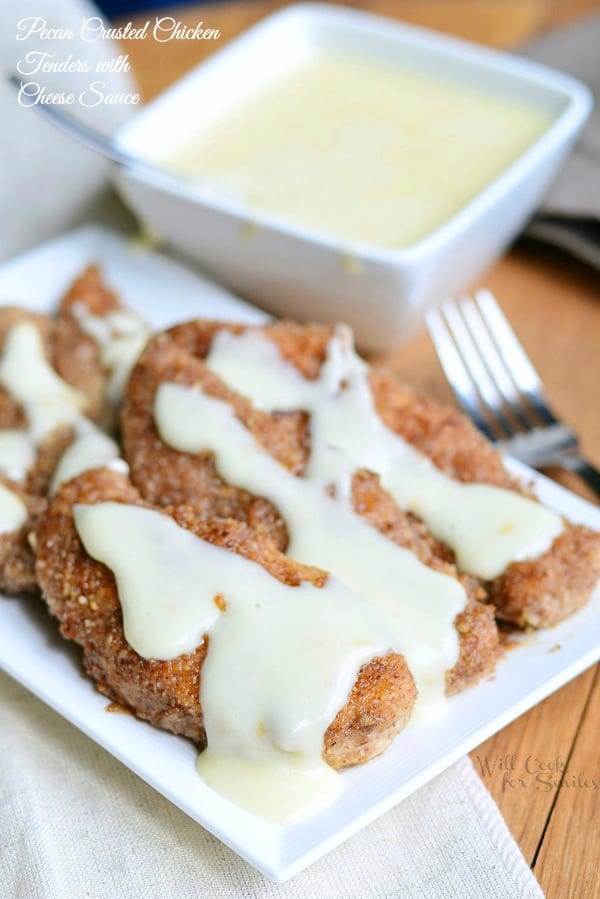 Pecan Crusted Chicken Tenders with Parmesan Sauce