Black Bean and Corn Salad is an amazing summer salad with lots of goodies added into it! You get a burst of flavor with every bite that features black beans, sweet corn, bell peppers, red onion, jalapeño peppers, avocado, and tomatoes. This vegetable mix is perfectly flavored with southwestern flare of lime juice, cilantro, agave nectar, chili powder, cumin, garlic powder, and salt. It makes a great side dish for your next BBQ party and a great dip as well.
We love corn in the summer and if you do too, try out creamy corn salad and grilled corn on the cob.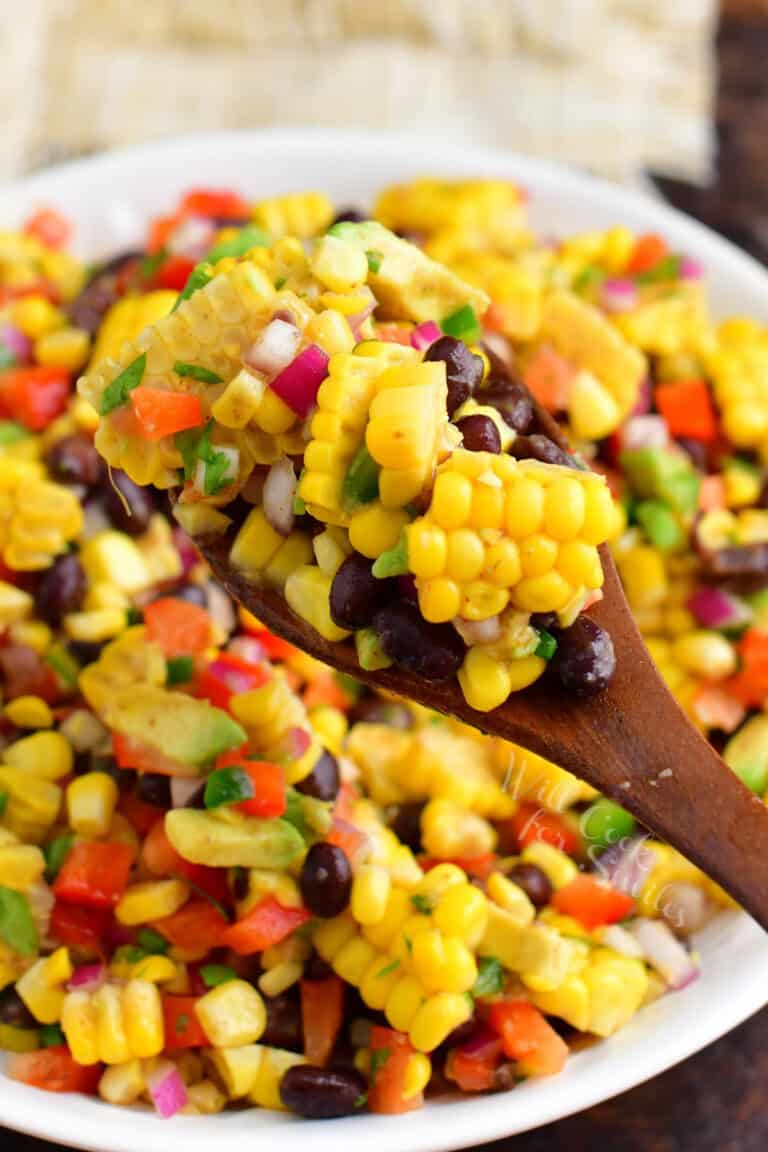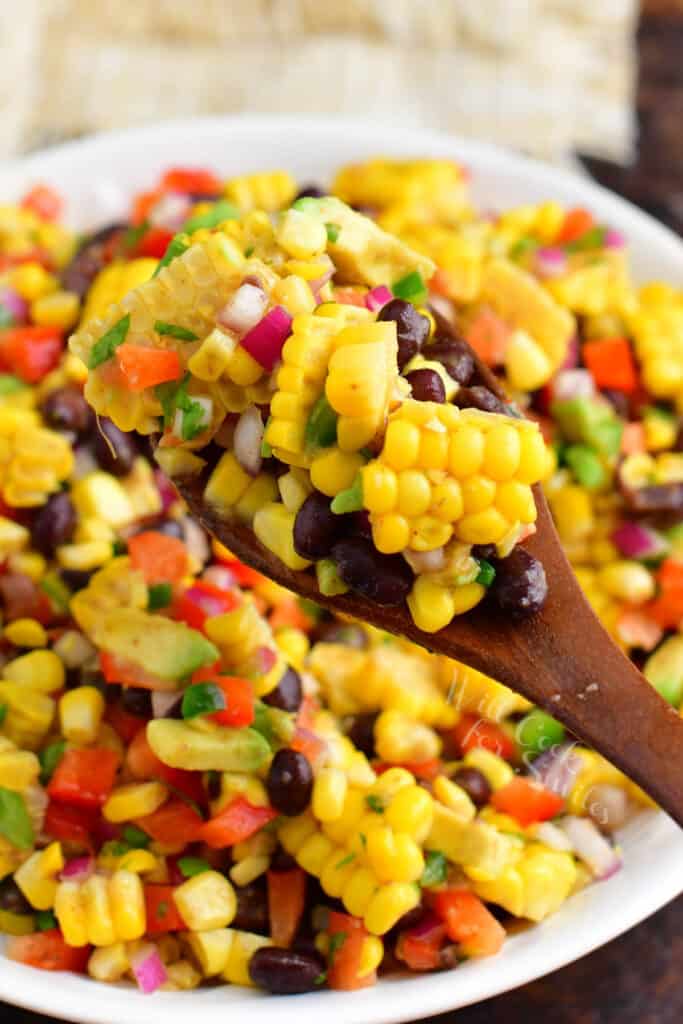 Black Bean and Corn Salad
Delight and impress everyone at the kitchen table or potluck with this black bean and corn salad! It's really got it all. This dish has a great amount of natural sweetness from the corn, a little kick of heat with the jalapeños, and just enough tangy flavor from the fresh lime juice to make your mouth water. The best part is, there are a few more ingredients that also contribute to this delicious side dish!
While this southwest salad is typically served plated next to an entrée and meant to be eaten with a fork, there are other ways to enjoy it, too. This salad also doubles as a salsa, if you're looking for a fun corn dip for your next fiesta that's not just queso or guacamole. Simply serve it with tortilla chips and watch it disappear!
Whether it's Cinco de Mayo, a summertime celebration, or just a night at home with the family, you're going to love this extremely flavorful black bean and corn salad! It's really got something in there for everybody.
Another good thing about making this salad is how versatile it is to your specific tastes, too! You can omit or add ingredients as you like, and it will still hold up. For example, if you want it to be spicier, add more jalapeños and a tablespoon of cayenne powder.
Ingredients for Black Bean and Corn Salad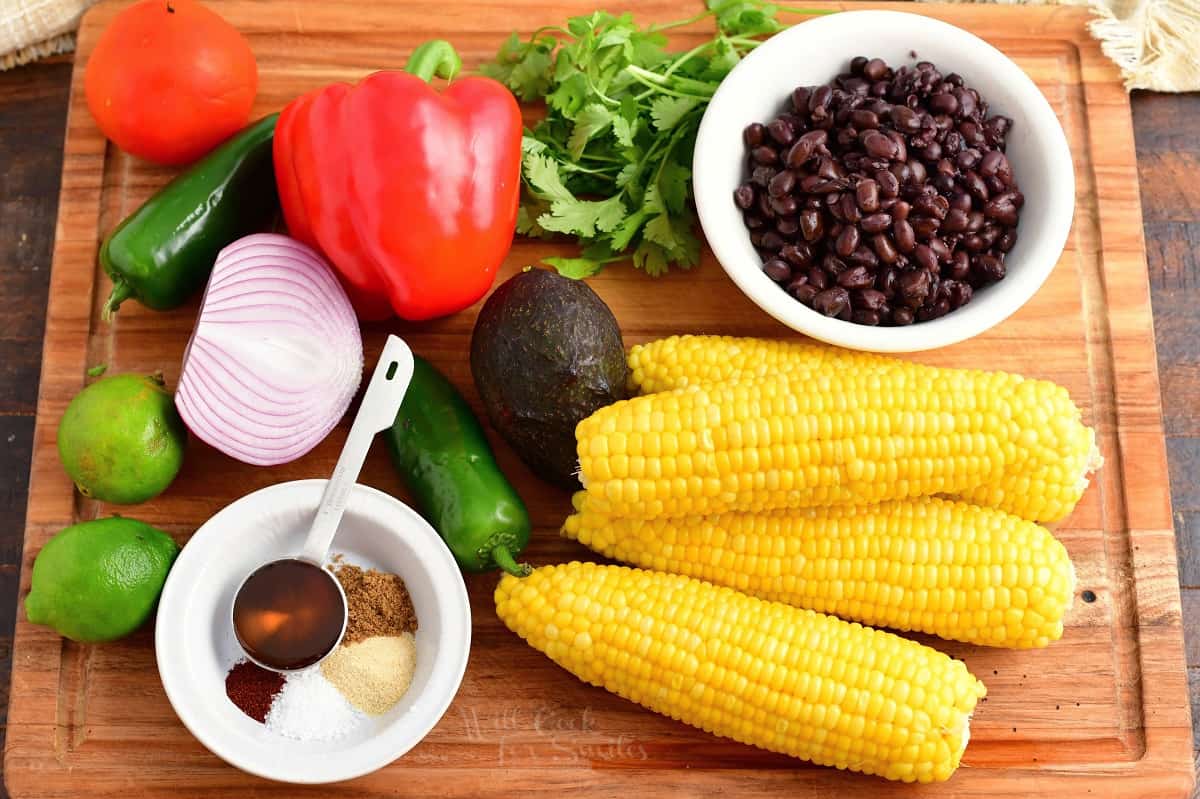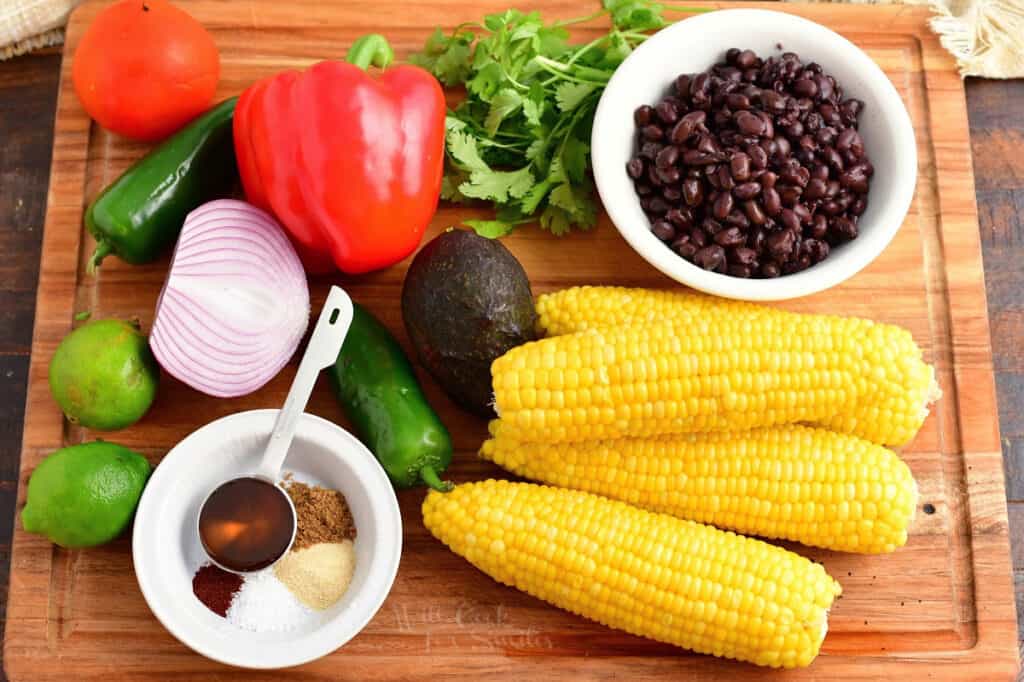 Corn – The absolute best corn to use for this salad is corn on the cob! It's got the most flavor and best texture.
Black Beans – use canned black beans but make sure to give them a quick rinse with cold water and strain well.
Red Bell Pepper – Red bell peppers not only provide a vibrant color to the mix of ingredients, but they give a great touch of sweetness that compliments the corn perfectly.
Red Onion – this onion will give you beautiful color, rich onion flavor, and a little sweetness.
Jalapeño Peppers – Use fresh jalapeños and you can adjust the spice level just by choose older or younger jalapenos. Young jalapenos are less spicy and they have smooth, deep green skin. Older jalapenos get spicier as they age and they will have brown veins running along the skin. The more veins, the spicier the jalapeno. You can also discard jalapeno seeds if you want less spice of leave them in for more spice.
Avocado – Double check that the avocado is ripe by giving it a gentle squeeze. It should be soft enough to give a little bit, but firm enough to not feel mushy.
Tomato – Pick ripe tomatoes bright red and full of color – that's how you can tell it'll be full of flavor, too.
Olive Oil – In a pinch, avocado oil will also work.
Lime Juice – Use fresh lime juice, not the bottled juice from concentrate. The difference in fresh flavor is very noticeable.
Cilantro – Sometimes, I use a little extra cilantro. This ingredient just enhances the flavor of the overall salad in so many ways! You can omit it if you have to.
Agave Nectar – This natural ingredient provides a very pleasant note of sweetness to the salad and gives it a little more depth of flavor.
Cumin – this is always a great addition to the southwestern flavor pallet.
Chili Powder – This ingredient really controls the level of spice in this salad. Adjust it to meet your liking.
Salt
How to Cook Corn on the Cob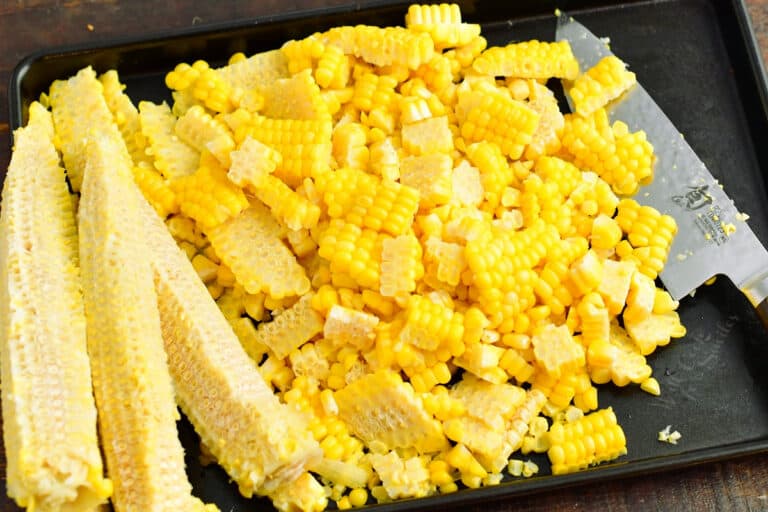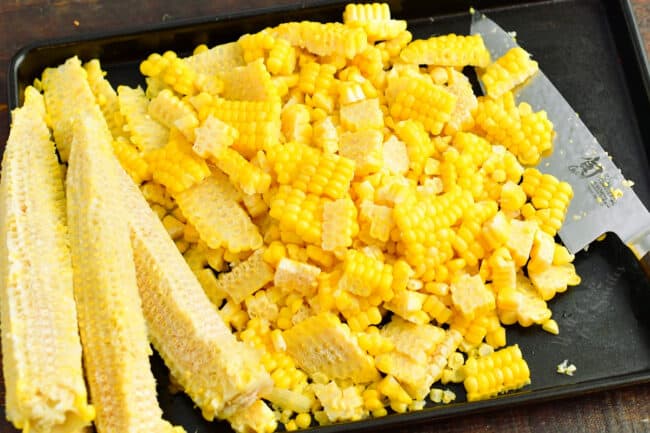 Bring a pot of salted water to a boil. While it's heating up, husk the corn and remove all of the silk threads from it.
Once the water reaches a boil, lower the heat and add the corn. Cover the pot and cook the corn until it's tender, about 10 minutes.
Take the corn out and allow it to cool until it's not too hot to handle.
How to Make Black Bean and Corn Salad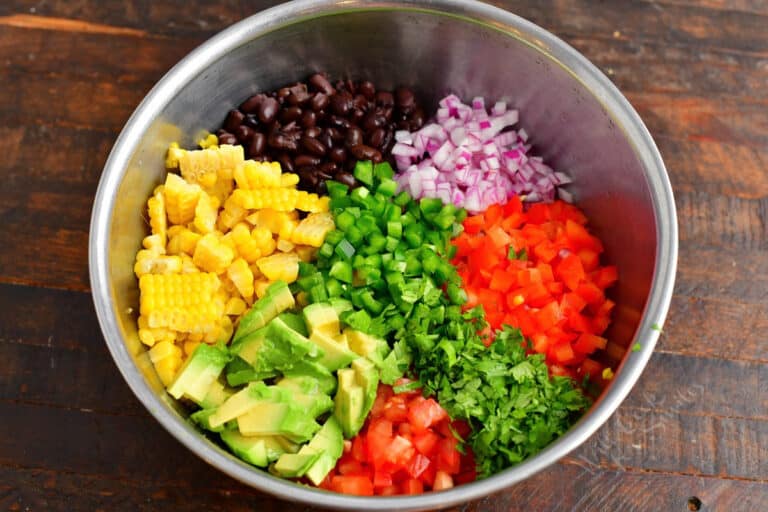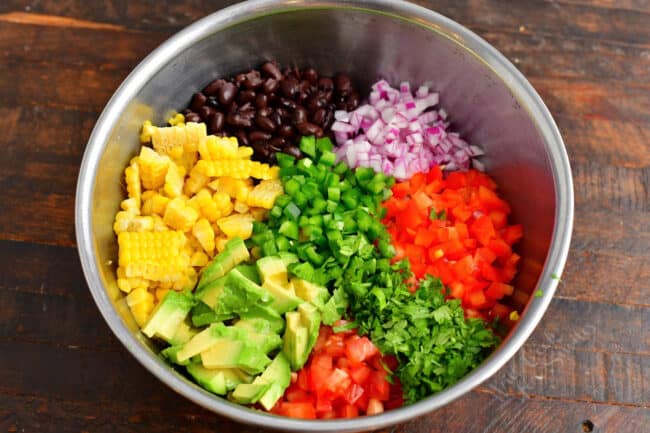 Slice the corn off of the cob once it's cooled enough. Stand the corn up in a rimmed baking sheet to contain the kernels. Using a sharp knife, slice the kernels off from top to bottom, following the natural curve of the corn.
Prepare all of the other ingredients accordingly, and toss everything into a mixing bowl.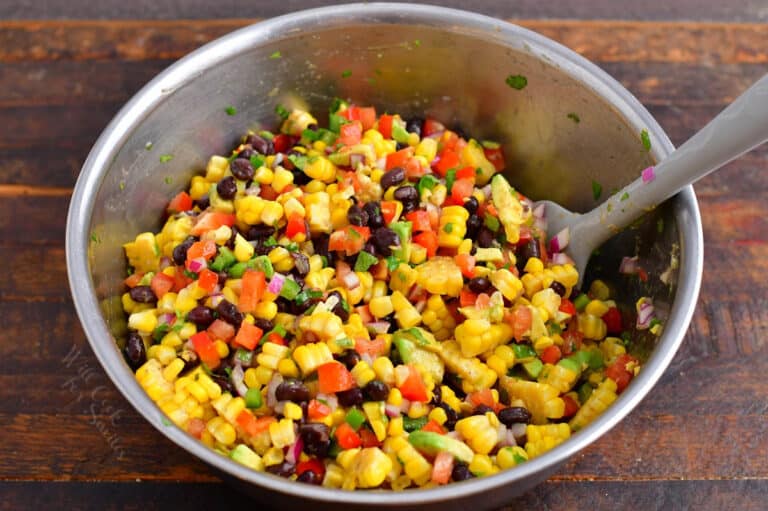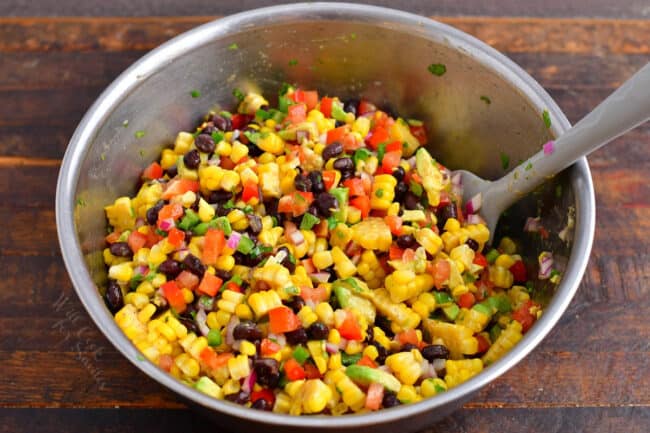 Add the lime juice, oil, cilantro, agave nectar, and seasonings to the bowl. Mix everything together thoroughly.
Serve this black bean and corn salad chilled or at room temperature. Enjoy!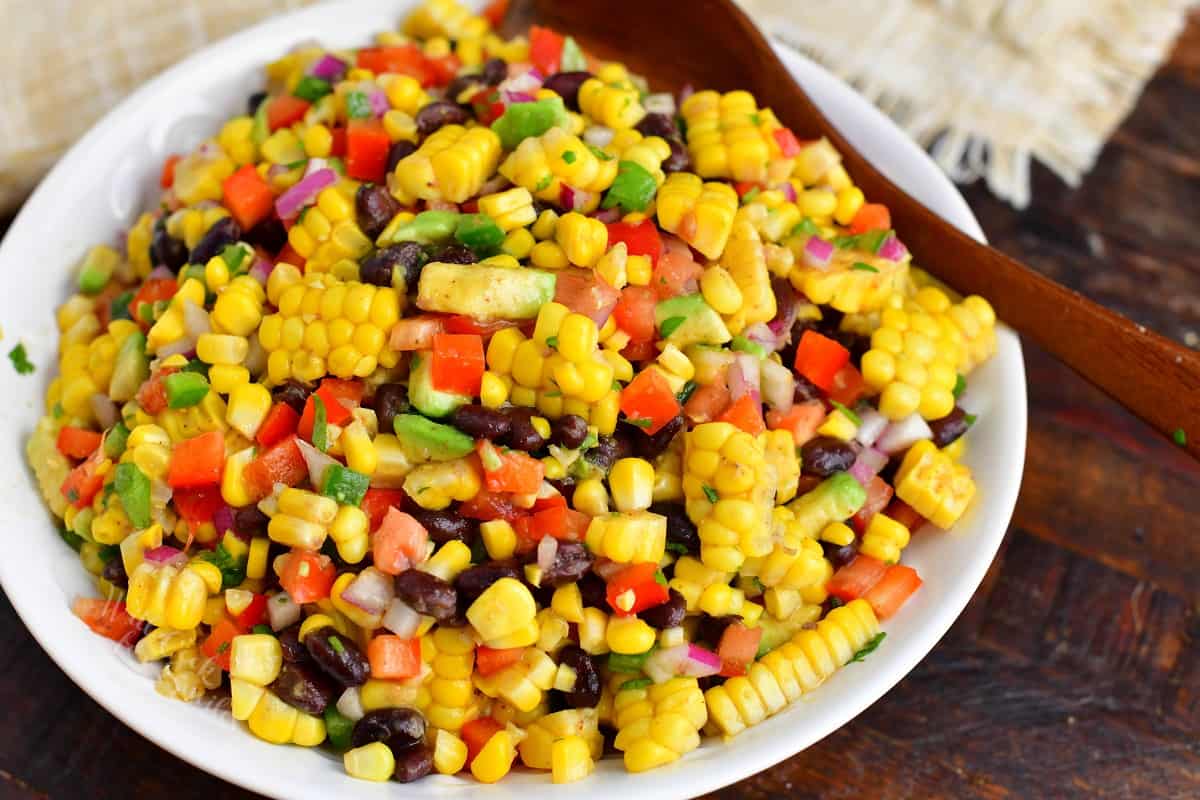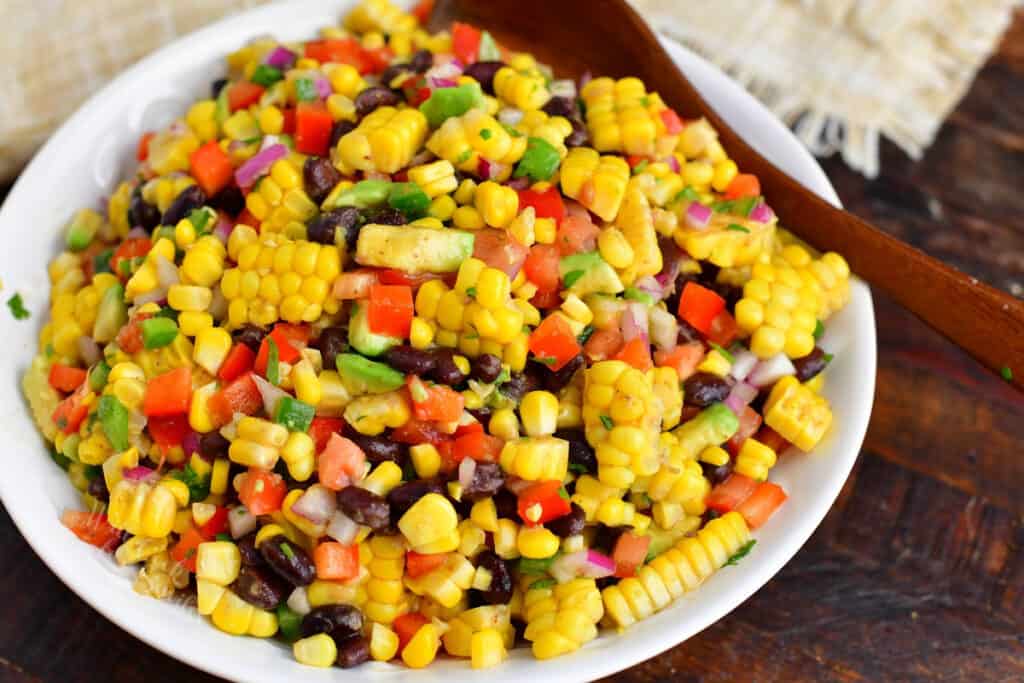 Can I make this salad ahead of time?
Yes, you can make it ahead, but remember a couple of things first. Don't add the avocado until ready to serve the salad! Also, I don't recommend that you make it more than a day before, because the vegetables will start to wilt and release too many juices.
With that in mind, black beans and corn salad can be stored in the refrigerator in an airtight container for approximately 2-3 days.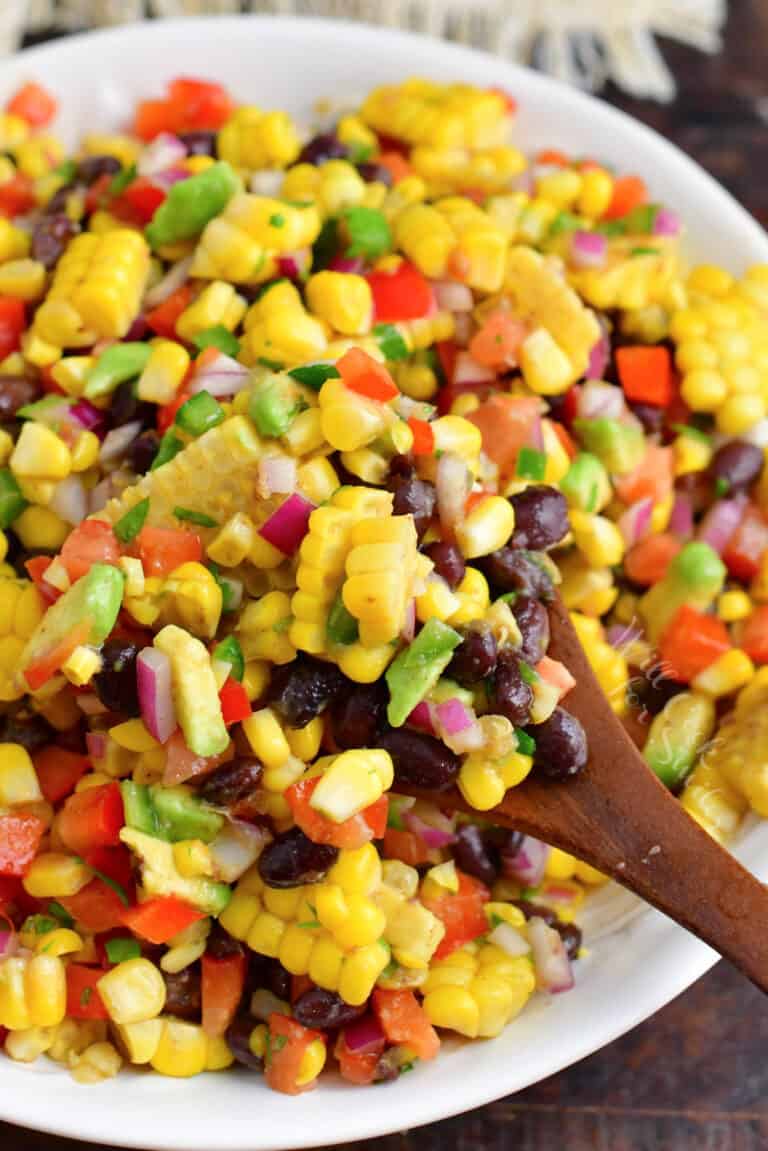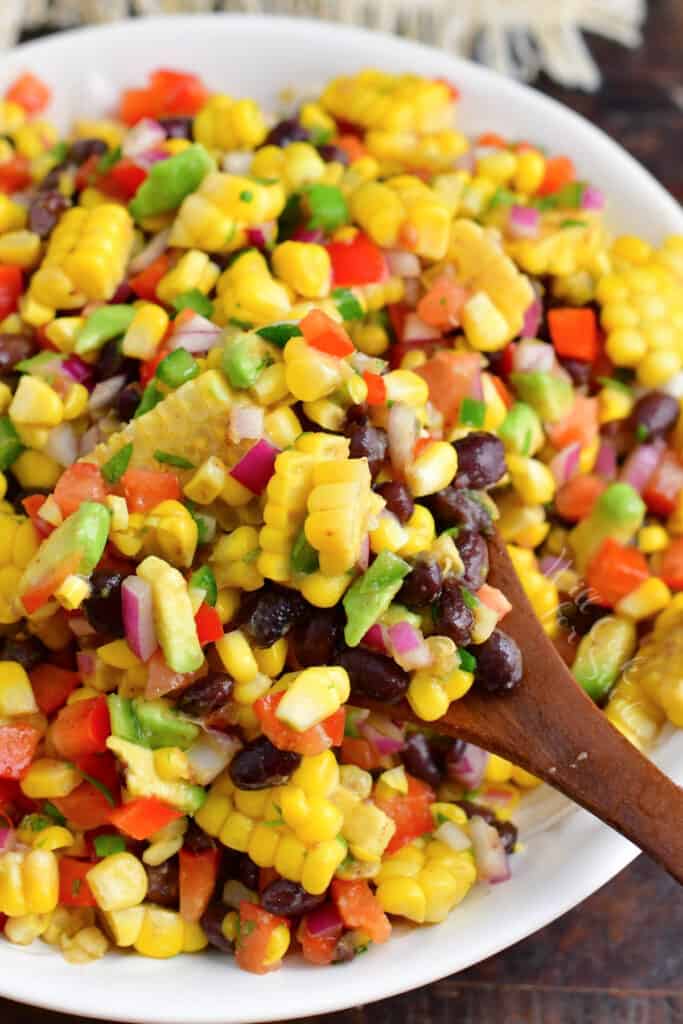 More Easy Summer Side Recipes!
Family Favorite Pasta Salad – The pasta salad itself is incredible, but what really makes it stand out from other pasta salad recipes is the mouthwatering homemade dressing.
Caesar Salad – This classic salad recipe has homemade croutons and a creamy Caesar dressing that your whole family will love.
Cucumber Tomato Salad – Creamy cucumber tomato salad is such a refreshing summer side dish and it only has 4 ingredients.
Mexican Street Corn Salad – This delicious Mexican Street Corn Salad is made with grilled corn, grilled poblano peppers, queso fresco, fresh herbs, and more.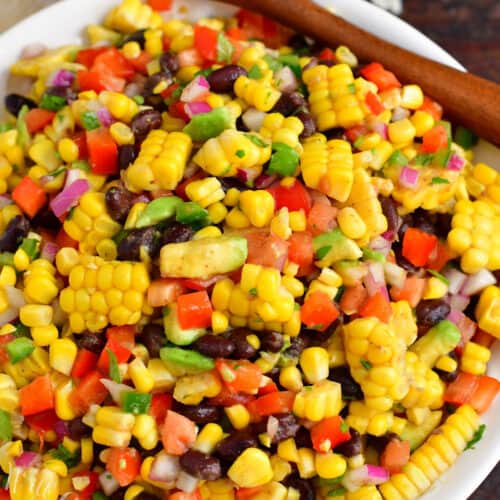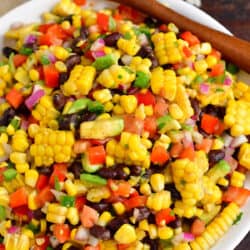 Black Bean Corn Salad
Black Bean and Corn Salad is an amazing summer side dish or dip with lots of goodies added into it and bright southwestern flavors.
Print
Save
Saved!
Rate
Ingredients
4

corn on the cob

15

oz

can black beans

rinsed and strained well

1

red bell pepper

1/2

small red onion

2

jalapeno peppers

1

ripe avocado

1

medium tomato on a vine

3

tbsp

olive oil

2

tbsp

fresh squeezed lime juice

1/4

cup

minced cilantro

1 1/2

tbsp

agave nectar

1

tsp

garlic powder

1

tsp

cumin

1/2-1

tsp

chili powder

more or less to personal preference

1/2-1

tsp

coarse sea salt
Instructions
To Cook Corn:
Heat up a large pot of water over medium-high heat and season it generously with salt. Make sure to take off the husk and all the silk threads from the ears of corn before cooking.

Once water starts to boil, lower the heat to medium-low and add corn. Cover the pot and let corn cook for about 10 minutes, until tender.

Take all the corn out onto a cutting board and let it cool enough to be handled. 
To Make Corn Salad:
To cut corn kernels off the cob, stand corn up in a large mixing bowl or in a rimmed baking dish cut side down. Slice the kernels off with a sharp knife from top to bottom, close to the part where kernels attach to the cob. Turn the ear of corn and repeat slicing the kernels off all the way around. 

Dice bell pepper, red onion, tomatoes, and avocado and add to the bowl. Put on gloves and dice jalapeno. (Gloves help protect your hands from spicy jalapeno juices. Discard gloves as soon as you finish dicing the peppers and add them to the bowl.)

Add lime juice, oil, cilantro, agave nectar, and seasonings to the bowl. Mix everything very well and serve.

You can serve this chilled or at room temperature. It you prefer the salad chilled, cover and refrigerate for about 2 hours.
Nutrition
Calories:
267
kcal
|
Carbohydrates:
34
g
|
Protein:
8
g
|
Fat:
13
g
|
Saturated Fat:
2
g
|
Polyunsaturated Fat:
2
g
|
Monounsaturated Fat:
9
g
|
Trans Fat:
1
g
|
Sodium:
484
mg
|
Potassium:
683
mg
|
Fiber:
9
g
|
Sugar:
10
g
|
Vitamin A:
1107
IU
|
Vitamin C:
45
mg
|
Calcium:
42
mg
|
Iron:
2
mg
Tried this recipe?
Mention @willcookforsmiles and tag #willcookforsmiles