Red wine steak sauce is a rich and easy sauce for your favorite steaks. This rich sauce is made with bold ingredients like garlic, cognac, red wine, beef stock, and more! Pair it with filet mignon, ribeye steak, or any other steak you love.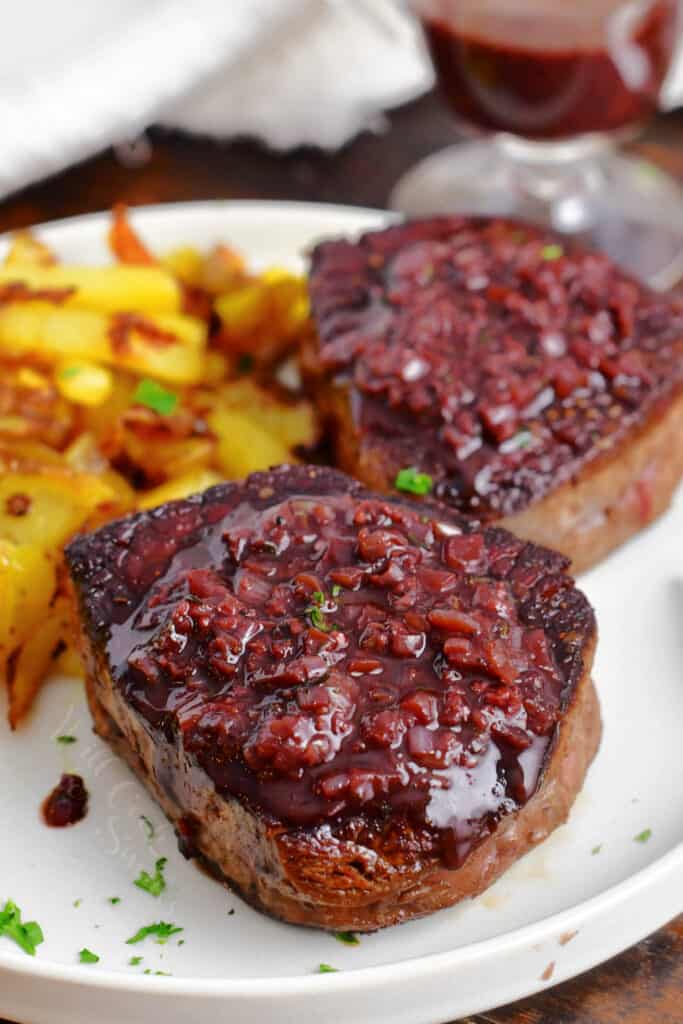 Red Wine Steak Sauce
This red wine steak sauce can make even the most inexpensive cuts of steak taste like they're worthy of a Michelin star stamp of approval. Rich sauce with complex ingredients and wonderfully complimentary to the flavors of a perfectly cooked steak. I simply can't enjoy a filet mignon without this sauce! And while filet mignon is usually my steak of choice with this red wine steak sauce, you can really serve it with any cut of your preference.
Serving your steaks with this red wine sauce is the best way to elevate your culinary experience. The best part is, other than how delicious it is of course, is just how simple this sauce is to make. For such a sophisticated addition to a steak dinner, this red wine sauce requires only twenty minutes of your time from start to finish. You're going to obsess over how flavorful and all around perfect this sauce is.
This sauce can also be referred to as a reduction. A reduction is a culinary process used to thicken or intensify the flavor of a liquids like broth, vinegar, wines for sauces. It's not just for sauces though, use it in soups, dressings, stews, and more. It's so easy to make too, all you have to do is even juices allow the liquid to simmer (not boil) until enough water evaporates to thicken it. The flavors are so much more rich and concentrated after the liquids are reduced.
Ingredients for Red Wine Steak Sauce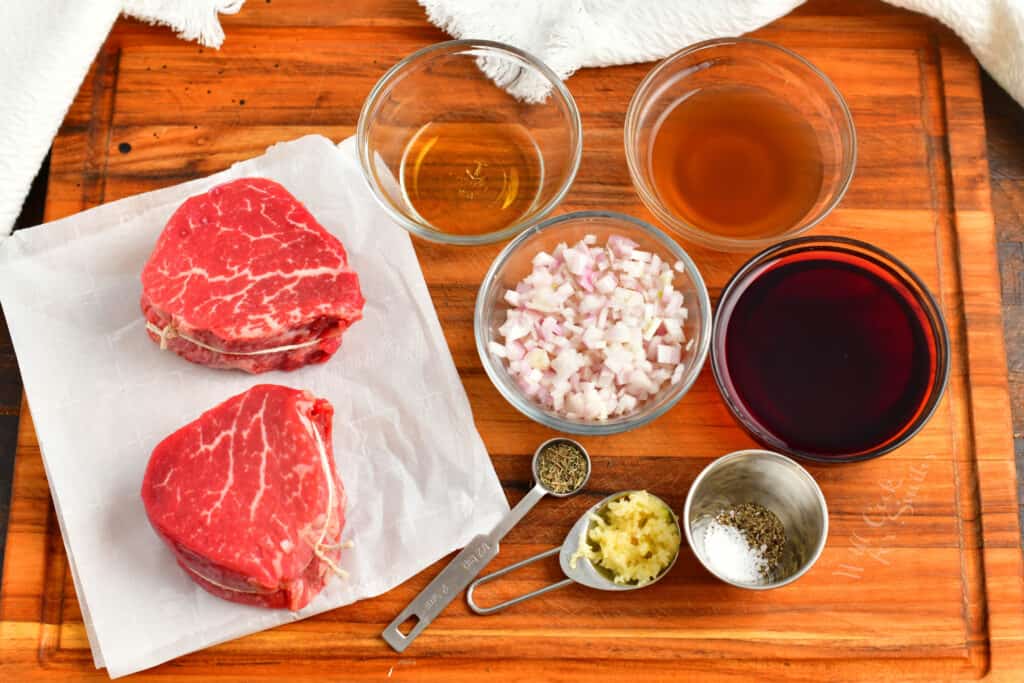 Canola Oil – Vegetable oil will also work well.
Shallots – Shallots are the best for this recipe, as they have a delicate texture and hint of sweetness and garlic flavor that balances with their also present onion flavor.
Garlic Cloves – For the best results, use fresh garlic, not pre-minced garlic.
Cognac – Use a good quality cognac for the best flavor. While you don't need the most expensive bottle to have a delicious sauce, you'll want to steer clear of the bottom shelf options.
Red Wine – You want to use a rich and full bodied red wine. Make sure to NOT use any sweet wines! I recommend a nice Zinfandel, Malbec, or Pinot Noire. These wines are not too dry, have a very slight sweetness to them, and are rich and full bodied.
Thyme
Salt
Black Pepper
Butter – use unsalted butter to finish the sauce.
In addition to the items listed, you will need 2 to 4 of your favorite steaks. The instructions in the recipe card are for filet mignon, so be sure to make the necessary adjustments if you will be using a different cuts of steaks.
How to Make a Red Wine Steak Sauce
First: Cook the steaks!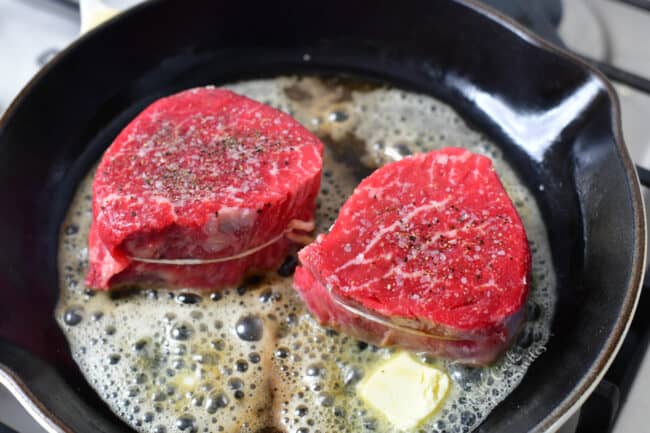 If you're cooking a filet mignon, tie a string of cooking twine around each steak. Preheat the pan. Then, pat the steak dry and season with salt and pepper right before adding it to the pan.
Cook the steaks in a pan with butter for about 3-4 minutes per side.
Don't forget to allow the steaks to rest and redistribute the juices evenly!
Next: Make the Steak Sauce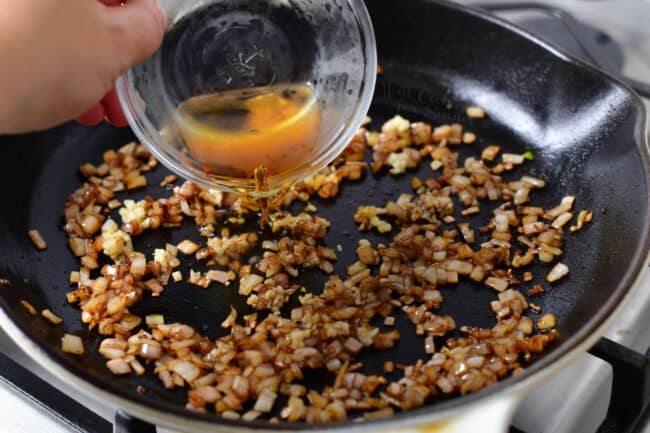 Heat the oil in the SAME pan, then add the shallots and cook until they're softened and browned. Then, stir in the garlic and cook until fragrant.
Pour in the cognac and simmer until it's reduced by half. Then, pour in the red wine until it's also reduced down by half.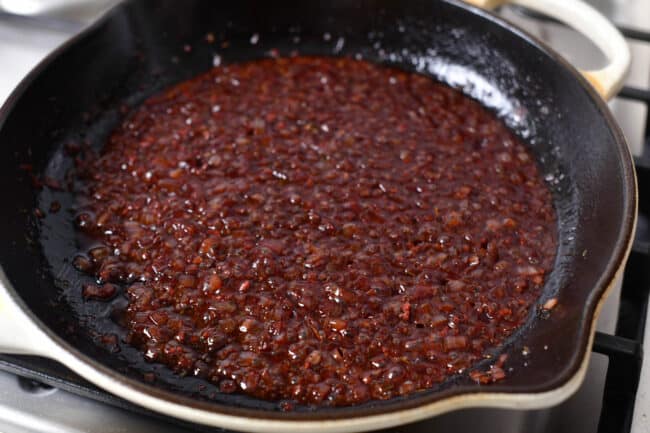 Stir in the beef stock, thyme, a dash of salt, and freshly cracked black pepper. Simmer for another few moments, until reduced a little more, then take off the heat.
Transfer sauce into a sauce dish and stir in butter to give it the beautiful glossy finish!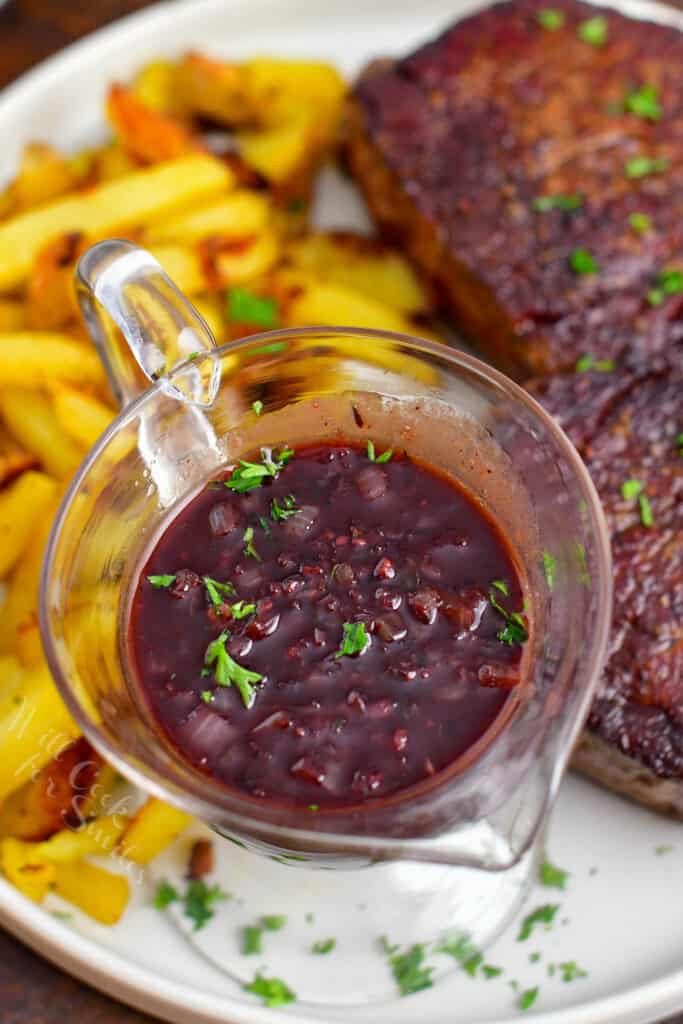 Storing Red Wine Steak Sauce
Have leftover red wine steak sauce? Allow it to cool first and then transfer it into an airtight container. Refrigerate it for up to 2 days. Use it with any leftovers or sear a fresh batch of meat the next day. It even tastes delicious on chicken and vegetables!
Recipe Notes for the Best Steak Sauce:
Use the right pan. Because higher heat is needed for a good sear on the beef, I find that cast iron is the best choice. Stainless steel can also work, but you risk the food sticking if you aren't careful.
Use the best ingredients for the best results. Use the wine you like to drink vs cheaper wine because it will come through in the taste. Don't skip the cognac and use beef stock vs beef broth for rich flavor.
Baste the meat with butter. This is optional since you'd be adding extra butter but the result will be rich and flavorful. It's a secret to even browning and getting that gorgeous golden color on the crust. Do this during the last minute of cooking, right as the filet mignon starts to reach the desired temperature.
Don't forget to finish the sauce with butter when you take it off the heat for a beautiful glossy finish.
Reduction for finishing sauces and glazes is best to do in the same pan as where the meat was cooked to incorporate the drippings for more flavor.
Serving Suggestions:
I love serving steaks with Mashed Potatoes, especially when I make this red wine sauce! You don't want to miss a single drop of this sauce, and the mashed potatoes soaks up the excess sauce perfectly.
With that being said, vegetables and roasted potatoes are also a tasty options!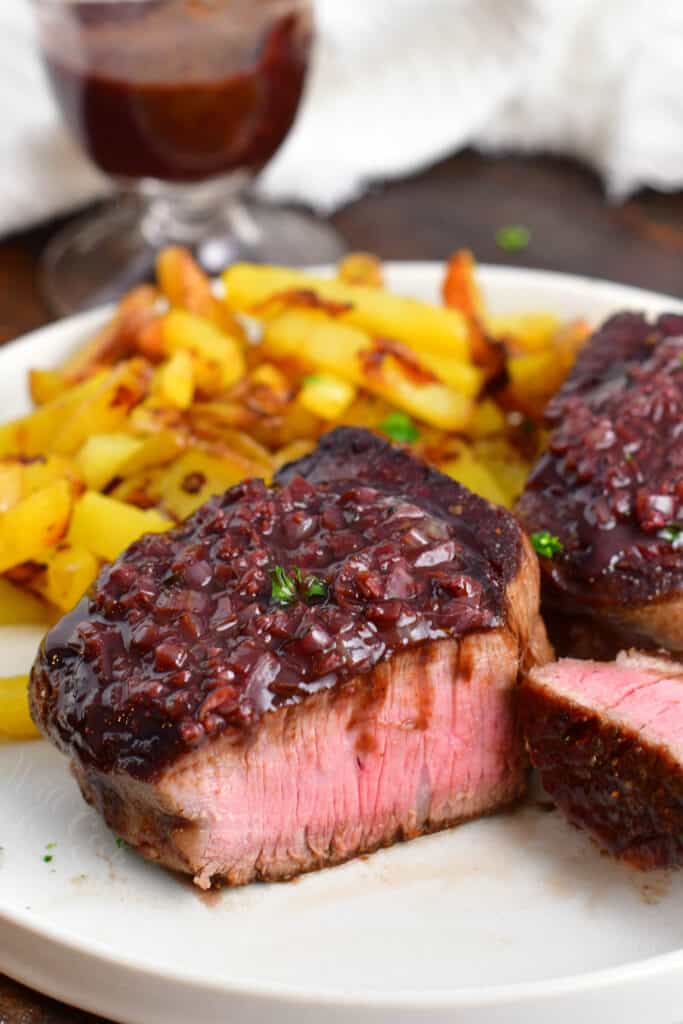 Enjoy more steak dinners – you deserve it!
Pan Seared Steak – a very easy but special weeknight dinner since it only takes a few minutes, and results in a perfect steak every time.
Steak Diane – a classic filet mignon recipe that is first pan-seared to your perfect temperature and then, topped with an amazing cream sauce.
Ribeye Steaks with Mushrooms and Onions – these delicious, tender rib eye steaks are made in the oven and topped with an easy mushroom and onion topping.
Ribeye with Amazing Creamy Steak Sauce – This creamy steak sauce is made with shallots, garlic, Dijon mustard, blue cheese crumbles, fresh grated Parmesan, and heavy whipping cream.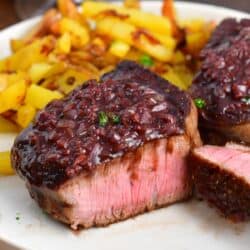 Red Wine Steak Sauce
Red wine steak sauce is easy to make with just a few ingredients. Pair it with perfectly seared filet mignon for a fancy meal right at home!
Print
Save
Saved!
Rate
Ingredients
2-4

Filet mignon steaks

or ANY other favorite steaks

2

tbsp

canola oil

kosher coarse salt

fresh cracked black pepper
Red Wine Sauce:
1

tbsp

canola oil

1-2

shallots

depending on size

3

garlic cloves

2

tbsp

cognac

3/4

cup

red wine

1/4

cup

beef stock

1/4

tsp

dried thyme

salt

fresh cracked black pepper

1 1/2

tbsp

unsalted butter

to finish the sauce
Instructions
Before Cooking:
Make sure to take the steaks out of the refrigerator and out of the package 30-45 minutes before cooking. Let them rest on the cutting board.

Prepare and measure all your ingredients before starting to cook.
Cook the Steaks:
If using filet mignon: Tie a string of cooking twine around each filet mignon steak. Tie it firm but not too tight where it starts to cut into meat. Trim off long sting ends.

You do not need to do this with other steaks.

Use a paper towel to pat each steak dry.

Preheat the skillet over medium-high heat for 3-5 minutes, until very hot. (Different stoves may take different amount of time to preheat.)

Season steaks with salt and pepper on all the sides, don't forget to season around the edges as well.

Add oil to the pan and spread it around.

Add steaks and let them cook for 3-4 minutes, undisturbed. Flip the steaks with metal tongs and sear steaks for another 3-4 minutes on the other side, also undisturbed.

Lower the heat to medium and check temperature of the steaks. Flip the steaks to the other side and cook it for another minute before flipping again. Keep cooking and flipping every about every minute until they are cooked to the desired temperature. Use a digital meat thermometer to measure for the desired doneness.

Take steaks out and set aside to rest.
Red Wine Sauce:
Raise the heat back to medium-high and add a little more oil to the pan if needed.

Add shallots and cook until completely softened and browned. Stir in garlic and let it sear a few seconds, until fragrant.

Pour in cognac and simmer until reduced by half.

Pour in red wine, stir and simmer until also reduced by about half.

Stir in beef stock, thyme, and some salt and pepper to taste. Let it simmer for a few minutes, until reduced some more, and take off heat.

Mix in butter until melted and sauce is glossy and serve with steaks!
Notes
Nutrition notes: please note that nutritional value above is calculated only for the sauce. Each type of steak will take a different nutritional information. 
Nutrition
Calories:
134
kcal
|
Carbohydrates:
3
g
|
Protein:
1
g
|
Fat:
8
g
|
Saturated Fat:
3
g
|
Trans Fat:
1
g
|
Cholesterol:
11
mg
|
Sodium:
33
mg
|
Potassium:
117
mg
|
Fiber:
1
g
|
Sugar:
1
g
|
Vitamin A:
135
IU
|
Vitamin C:
1
mg
|
Calcium:
14
mg
|
Iron:
1
mg
Tried this recipe?
Mention @willcookforsmiles and tag #willcookforsmiles