Chicken Gnocchi soup is so comforting and tasty. Tender fresh vegetables, juicy chicken, soft and delicate gnocchi, flavorful broth, fresh herbs, and a squeeze of lemon all make up this wonderful soup.
You can made this soup the best it can be with homemade chicken stock and homemade gnocchi. If you like this recipe, you will love my classic chicken noodle soup too.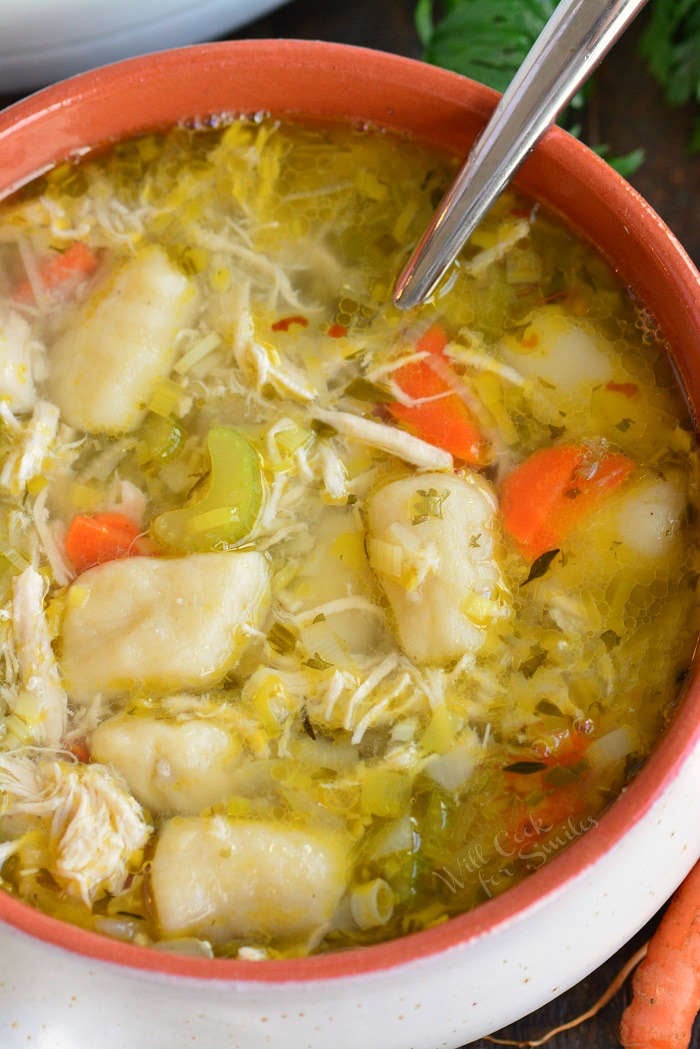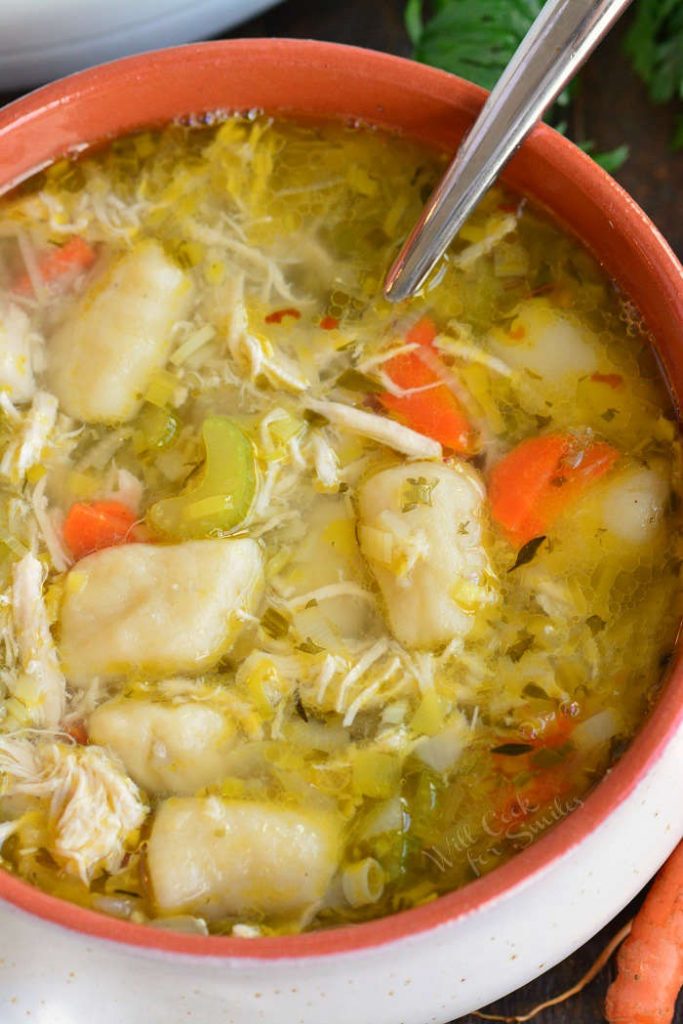 Comforting Chicken Soup
If you think that fall and winter is the only season when you often need a bowl of comforting soup, you're wrong. End of winter and early spring proves to be the worst cold season for us in a warmer climate.
Weather is so unpredictable day to day, getting sick this time of year is simply inevitable. I make soups just as often in the early spring days as I do in the fall and winter.
When the crazy 80°/40° weather hits, I can bet that one or all of my family members will be down with a cold. It's time to stock up on chicken broth in the freezer because I'll be making a lot of soup. My go to soups are always the classics: chicken noodle, chicken and rice, minestrone, vegetable soup, and of course, chicken gnocchi soup.
Why We Love It:
Chicken gnocchi soup has a great combination of vegetables and comfort. You start with the base of onion, carrots, and celery. I also throw in some leeks to variate onion flavor and add a little something extra.
As far as the chicken, you can cook chicken thigh meat or chicken breast meat right in the broth with vegetables. Chicken will take on a lot of soup flavors this way.
If you're in a time crunch, you can always use rotisserie chicken.
Enhance the soup with homemade chicken stock, fresh herbs, and a squeeze of lemon juice. There is something about fresh herbs and lemon juice that turns plain ole' soup into something magical. I have many friends who still thank me for this tip.
This soup is easy to make GLUTEN FREE simply by using gluten free gnocchi.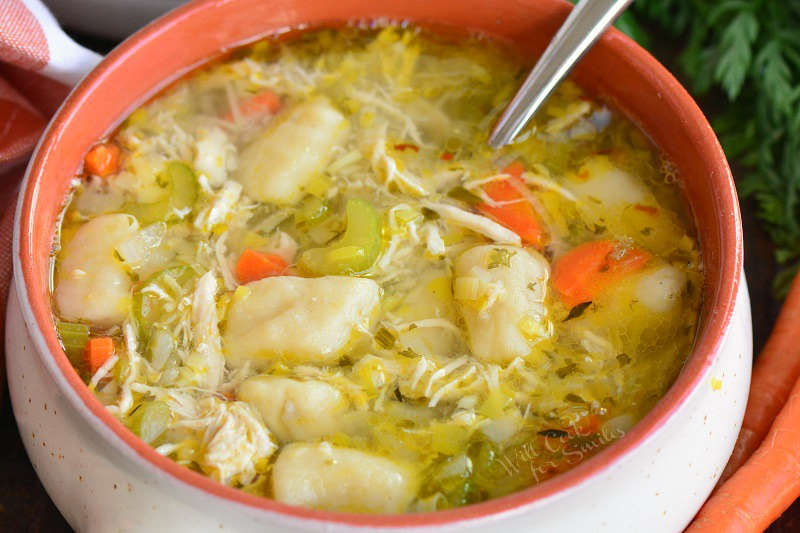 Make Ahead Tips:
All components of this soup, you can make homemade ahead of time and save for later. Homemade always tastes so much better so if you'd like to take that route, make your own chicken stock and gnocchi.
I often make a batch of gnocchi and freeze it in portion bags to use through the week. It takes away so much dinner worry and ready in only a few minutes. The same goes for chicken stock. I keep homemade chicken stock in the freezer because unfortunately, it doesn't last more than a day or two in the fridge.
You can save the chicken meat from cooking homemade chicken stock and freeze it separately, in a freezer friendly bag or container. Use this chicken to make soups later.
When you have all these components on hand, this soup will only take about 40 minutes to make.
How To Make This Soup Homemade:
Making homemade chicken stock:
To make your own stock, you will want to use bone-in meat, vegetables like onion, carrots, celery, and garlic. For aromatics, use herbs like bay leaves, parsley, and thyme. Don't forget whole peppercorns and salt to season the broth.
Sear the meat in a pot until browned and then throw in vegetables, herbs, and seasoning. Bring to boil and then, cook everything over low heat for about 4 hours. You can also use a slow cooker for 6-8 hours, or an Instant Pot. (For Instant Pot, cook it for 45 minutes. Check instructions here.)
Strain the broth through a fine strainer. Pick through the chicken to save the meat but vegetables won't have any nutritional value left, you can discard them.
Let the stock cool and you can portion it into freezer bags and freeze if you're not planning on using it right away.
Gnocchi:
I have great instructions on how to make gnocchi that you don't want to miss. There are a lot of tips that I include and thorough instructions. Check it out if you want to make your own.
Much like the stock, you can make it and freeze for later. When ready, simply grab a bag of homemade gnocchi from the freezer and add it to the soup. Don't thaw it, cook from frozen.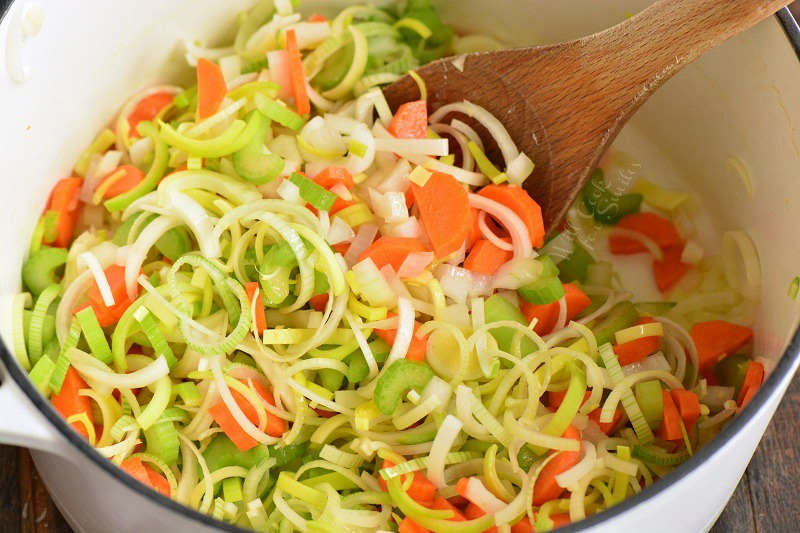 Make the soup:
Sauté vegetables first in a preheated Dutch oven with a little oil. I like to use canola oil but you can use vegetable or olive oil. When the vegetables are soft, smash and add garlic. Stir and cook it until garlic is fragrant and then add stock. Bring it to simmer and add chicken meat. Lower the heat to medium-low, cover loosely with a lid and cook until chicken is tender.
Take chicken out when it's ready and shred using two forks. Add chicken meat back in with seasoning and herbs. Raise the heat to medium-high, bring to simmer and add gnocchi. Cook gnocchi in soup until it floats to the top. Give it another minute and take off heat. Mix in fresh squeezed lemon juice and serve right away.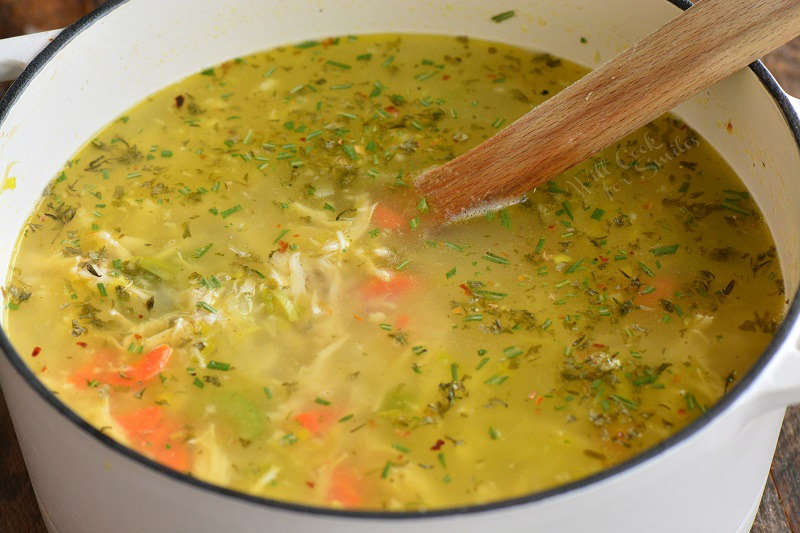 How To Make This Soup Quick and Easy
Use rotisserie chicken – rotisserie chicken is a great way to make fast and easy soup and it's already so flavorful. Choose lemon pepper chicken if available, it will go great in this soup. If you don't have access to rotisserie chicken, you can use cooked and shredded chicken that you may have made ahead.
Pre-made chicken stock – wonderful thing about homemade chicken stock is that you can make it ahead and freeze it. If you don't have any homemade, it's easy to grab low sodium chicken stock at the store.
Ready Gnocchi – much like chicken stock, you can make a big batch of homemade gnocchi and freeze it uncooked, in portions. Any time you want to make a fast and easy dinner, simply pull out a bag of frozen gnocchi and add it to soup. If there is no homemade gnocchi in your freezer, simply grab a package of prepared ones in the refrigerated section of the grocery store.
More Comforting Soup Recipes: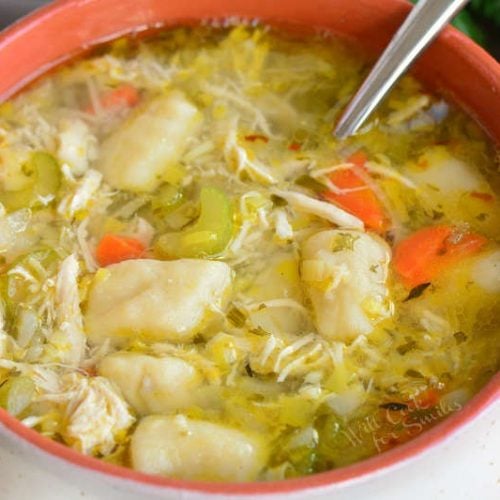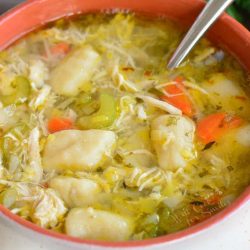 Chicken Gnocchi Soup
Tender fresh vegetables, juicy chicken, soft and delicate gnocchi, flavorful broth, fresh herbs, and a squeeze of lemon all make up this wonderful soup.
Print
Pin
Save
Saved!
Rate
Ingredients
1

large yellow onion

2

leeks

2

medium carrots

2

celery ribs

3

garlic cloves

1.5

lbs

chicken thigh meat

can also use chicken breast meat

8

cups

homemade chicken stock

can also use store-bought

1

tsp

crushed red pepper flakes

2

tsp

fresh thyme

2

tsp

fresh rosemary

salt

pepper

16

oz

gnocchi*

homemade or store-bought from refrigerated section

1/2

lemon – juice only
Instructions
Dice onion, leek, carrots, and celery. (Use only the white parts of the leek, discard the green stalks.)

In a large Dutch oven, add oil and preheat over medium heat.

Add onion, leeks, carrots, and celery to the pot and saute until vegetables are softened.

Smash and mince the garlic and add it to the pot. Stir and cook until garlic is fragrant.

Add chicken meat and raise the heat to bring stock to boil. Once it starts to boil, lower the heat to medium-low, cover loosely with a lid, and let the soup cook until chicken is tender.

Take chicken out into a separate bowl and shred it using 2 forks. Add shredded chicken back to the pot.

Stir in red pepper flakes, thyme, rosemary, salt, and pepper. Taste to make sure there is enough salt.

Raise the heat again to medium-high and bring everything to a low boil.

Add gnocchi and cook until gnocchi is done and float to the top. (Gnocchi is usually ready in about 5 minutes but if using frozen gnocchi, it might take a couple extra minutes.)

Stir in fresh squeezed lemon juice and serve right away.
Storing Notes:
If you're making soup ahead of time or not planning on serving the whole batch, don't add all the gnocchi. Cook gnocchi separately and add to individual servings.

Gnocchi doesn't hold up too well to being stored in liquid. It's best to cook enough gnocchi for what you need.

Soup without gnocchi is best to store in the refrigerator, in a air-tight container.
Freezing Instructions:
This soup will freeze very well but again, without gnocchi. Freeze soup in an air-tight freezer container and don't fill the container all the way so there is room for soup to expand as it freezes. You can also freeze it in zip-lock freezer bags.

Cook gnocchi in thawed soup while reheating or cook them separately and add to individual servings of soup.
Notes
*To make this soup gluten free, use gluten free gnocchi. Many stores (especially healthy grocery stores) carry gluten free gnocchi. If you can't find them at your stores, you can make homemade gnocchi but substitute gluten free all purpose flour.
Nutrition
Calories:
414
kcal
|
Carbohydrates:
48
g
|
Protein:
34
g
|
Fat:
9
g
|
Saturated Fat:
3
g
|
Cholesterol:
117
mg
|
Sodium:
1230
mg
|
Potassium:
784
mg
|
Fiber:
4
g
|
Sugar:
8
g
|
Vitamin A:
4059
IU
|
Vitamin C:
13
mg
|
Calcium:
71
mg
|
Iron:
5
mg
Tried this recipe?
Mention @willcookforsmiles and tag #willcookforsmiles