Mushroom risotto is a classic dish, and this risotto has incredible flavor! Every second put into this recipe is well worth it for a family night or a romantic dinner. This recipe works well as a comforting side or as a main dish. Finish it with a hint of truffle oil for a bolder flavor.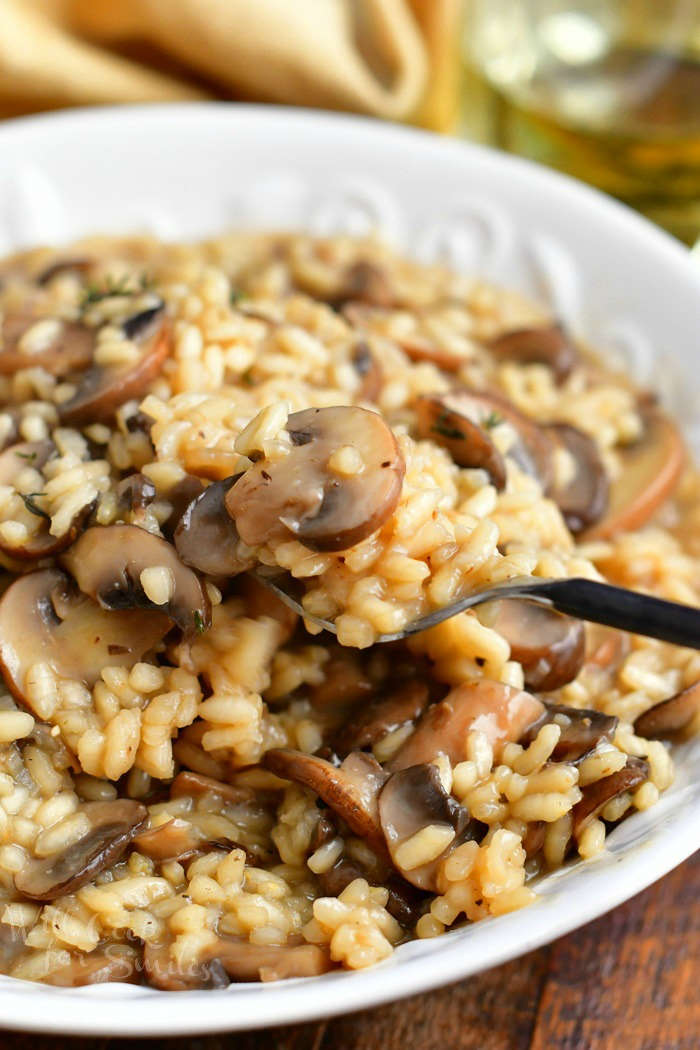 MUSHROOM RISOTTO
Risotto is a beautiful Italian rice dish where you have to cook rice slowly gradually with white wine and broth until it reaches creamy consistency. The creamy consistency does not actually come from adding cream but from extracting starches from rice. When you spend a lot of time slowly stirring the rice throughout its cooking process, you get a lot of nice starches out and into the dish.
Some people are intimidated at the thought of making risotto because they think it's difficult to make. The truth is, the method is simple, there is simply stirring and adding liquid, stirring and adding liquid. You are basically repeating the same two steps a few times.
However, it's important to know that making risotto requires attention. To make it correctly, you'll need to stir the rice every few minutes, before and after adding more liquid. The key is to let the rice absorb wine and broth gradually, a couple ladles as a time. In no way should you dump all the liquid at once.
But, I encourage you to give your full attention to making this mushroom risotto recipe. I assure you, the results will be well worth it!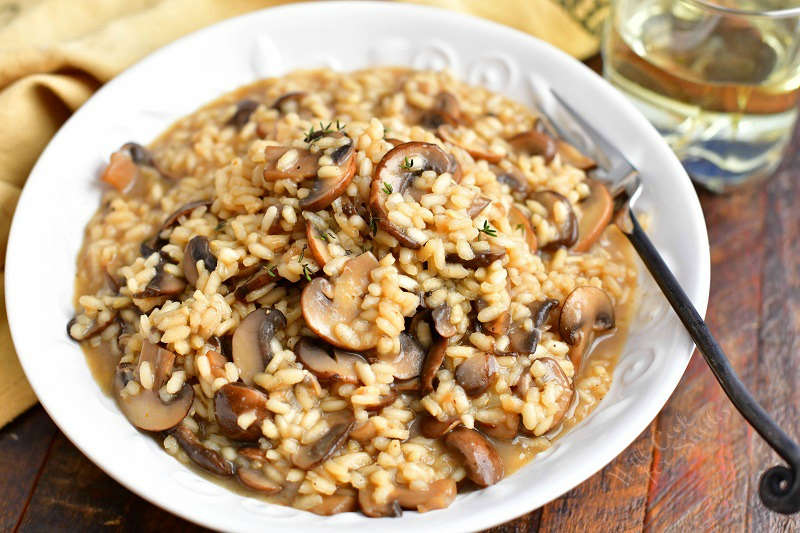 Making mushroom risotto with truffle oil
Even though it's an optional step, I like to make my risotto with truffle oil for one very specific reason – FLAVOR!
What is truffle oil and how is it used?
If you're not already familiar with it, truffle oil is classified in culinary terms as a finishing oil. All varieties of cooking oil lose flavor as they heat up, and this especially true for finishing oils.
This means, truffle oil isn't meant to cook food in. Rather, it is drizzled over food or mix it in right after the food is cooked to enhance the flavor. Similar to adding fresh leaves of basil to a caprese salad.
Truffle oil is very potent, so just a tiny drizzle will give a lot of flavor. The cost for a bottle varies depending on the purity of the oil, but the cost for an average quality oil is about eight dollars.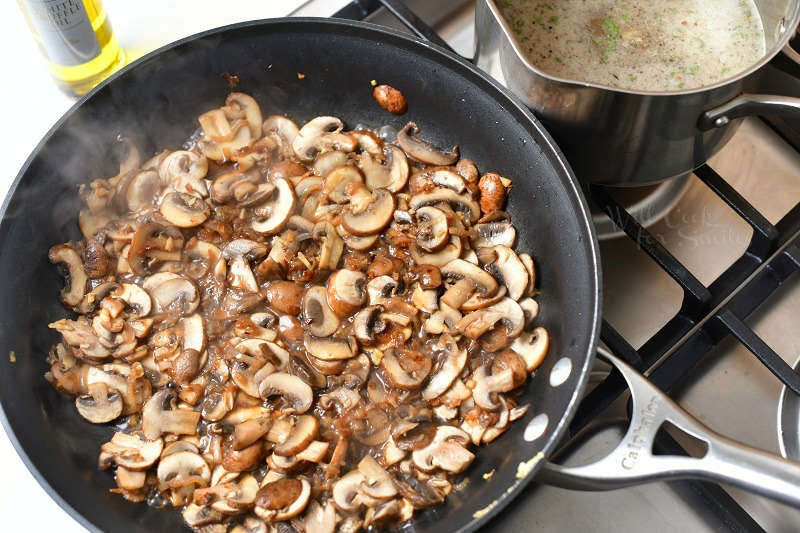 WHAT INGREDIENTS DO I NEED?
This is just a partial ingredient list. For full details, see the recipe card at the bottom of this post.
Arborio rice – This is a short grain white rice, and it's truly one and only rice to use in risotto. Short grain rice has more starch than long grain rice, and that starch releases, thickening and adding creaminess to the dish.
Mushrooms – You can use any type of edible mushroom for this recipe. Typically, meatier mushrooms like Baby Bella, Cremini, and Shitake are better choices than thinner mushrooms, which can become mushy.
Shallot – If you need a substitute, you can use the white part of a green onion and when in a pinch, use sweet onion.
Stock or broth – Vegetable stock or broth is what I use. If you plan to serve the dish with chicken, feel free to use chicken stock instead of vegetable.
White wine – Choose a dry white wine that you enjoy drinking. The alcohol in the wine will cook out, leaving a hint of the flavor. However, if you would rather not use it, just substitute with an equal amount of stock or broth.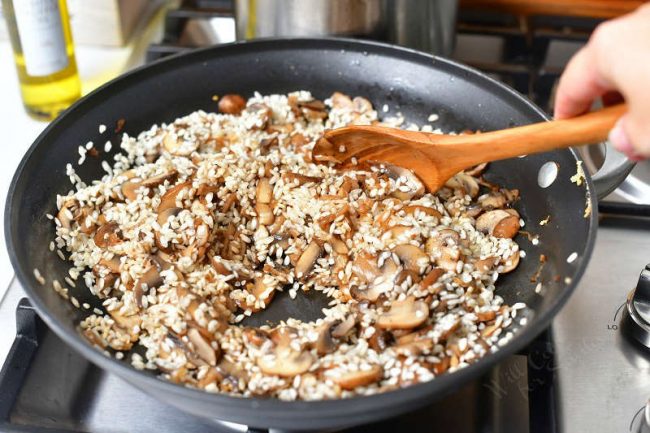 HOW TO MAKE IT
Prep the ingredients.
To clean the mushrooms, you just need to slice off the woody end and use a damp paper towel to remove any dirt or debris from the mushroom caps. Avoid rinsing or soaking them, because they will absorb the water.
Heat the cooking liquid.
Add the broth and seasonings to a sauce pan and heat them up over medium heat. When the liquid is hot, turn the heat down to low and allow the liquid to stay warm on the burner.
Saute mushrooms, garlic, and shallot.
Add the rice. Stir to combine the rice with the mushrooms, then allow it to cook for a minute, until the rice has a nutty aroma.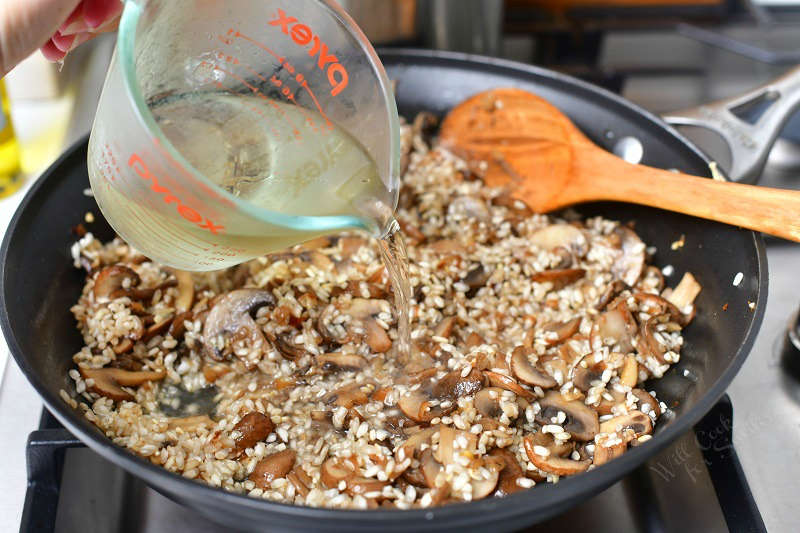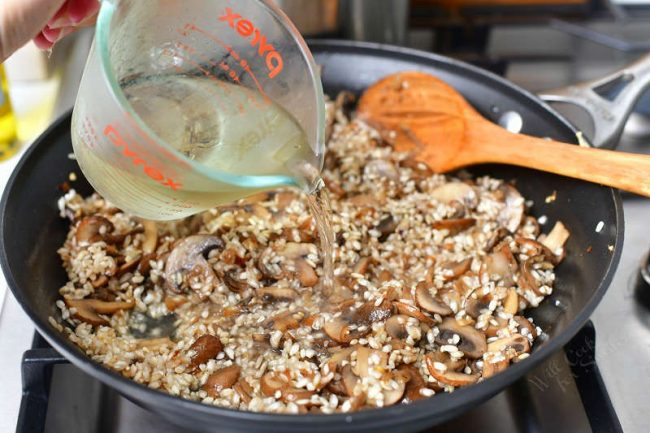 Pour wine into the pan.
Pour in half of the white wine and stir to combine. Then, allow the contents to simmer until the rice absorbs the wine. You'll want to stir the rice occasionally.
Slowly add warm cooking liquid, one cup at a time.
After you add the first ladle full of the warm broth, keep the pan hot enough that the liquid simmers. Stir occasionally, until the rice absorbs the liquid completely. Then, add the remaining wine, and allow it to absorb into the rice.
After the wine absorbs, add another cup of cooking liquid and repeat the process until all of the cooking liquid is absorbed into the mushroom risotto.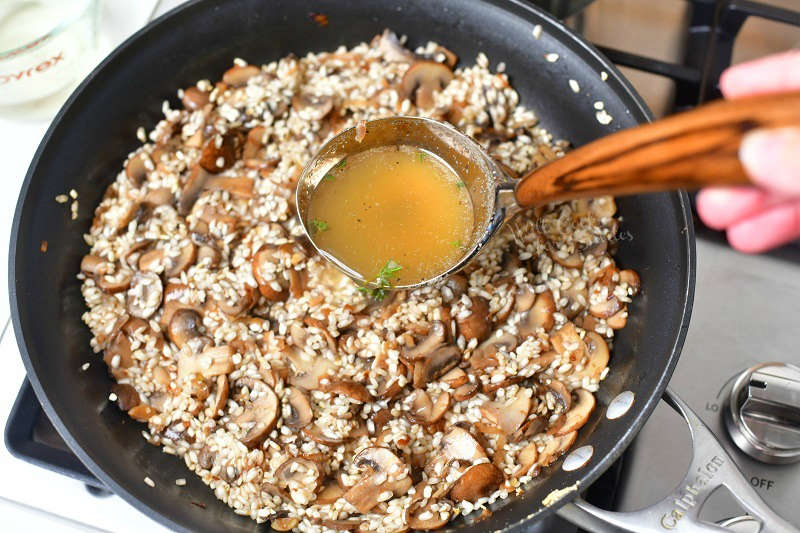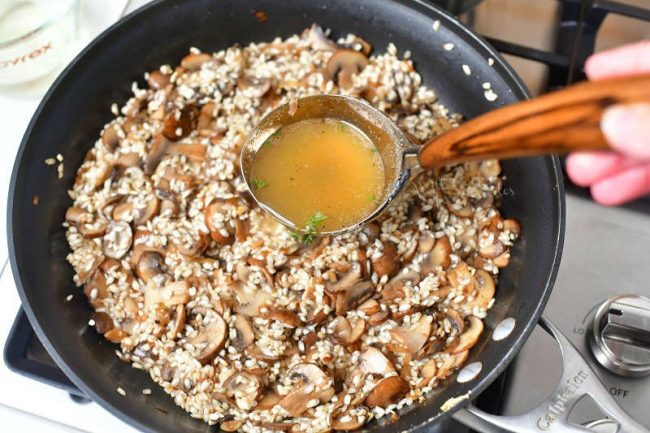 OPTIONAL: Finish by mixing in about 1/2 teaspoon of truffle oil and serve immediately. (If you've never tried truffle oil before, you can do a taste test by mixing a separate bowl with a few drops of oil just to taste.)
HOW TO SERVE MUSHROOM RISOTTO
Mushroom risotto will continue to cook and thicken, even after removing it from the heat. So, it is best to serve it immediately after cooking.
This is a multi-purpose dish, which means that you can eat it as a side or as meatless main dish. It tastes fantastic on its own, but it's also tasty as a side with chicken, pork, beef, lamb, and even fish.
If you have any leftovers, store them in a covered container in the refrigerator and it will keep well for up to 5 days. You can easily reheat leftover risotto in the microwave, just make sure to cover the dish. Rice will soak up all the liquid so if you do feel like you want it a little thinner, feel free to add a couple tablespoons of stock before reheating.
Other Risotto Recipes
Another classic risotto recipe to make is Parmesan Risotto. It pairs well with just about any protein!
Speaking of protein, I think you will love this Bacon Onion Pumpkin Risotto recipe.
Or, for a flavorful and beautiful side dish, make some Creamy Tomato Risotto. The fresh basil in the dish pairs perfectly with the tomatoes. It's a great meal for the end of summer.
Other Comforting Rice Dishes
If you crave comfort food, you may want to consider making is Creamy Chicken Mushroom Rice Casserole. This meal will make you feel warm and cozy, so it's perfect for a cool fall evening.
For a lot of families, Tuesday is taco night, When you're ready to change things up, make Beef Enchilada Rice Casserole instead! The meal comes together easily and the flavors are kid-friendly, too.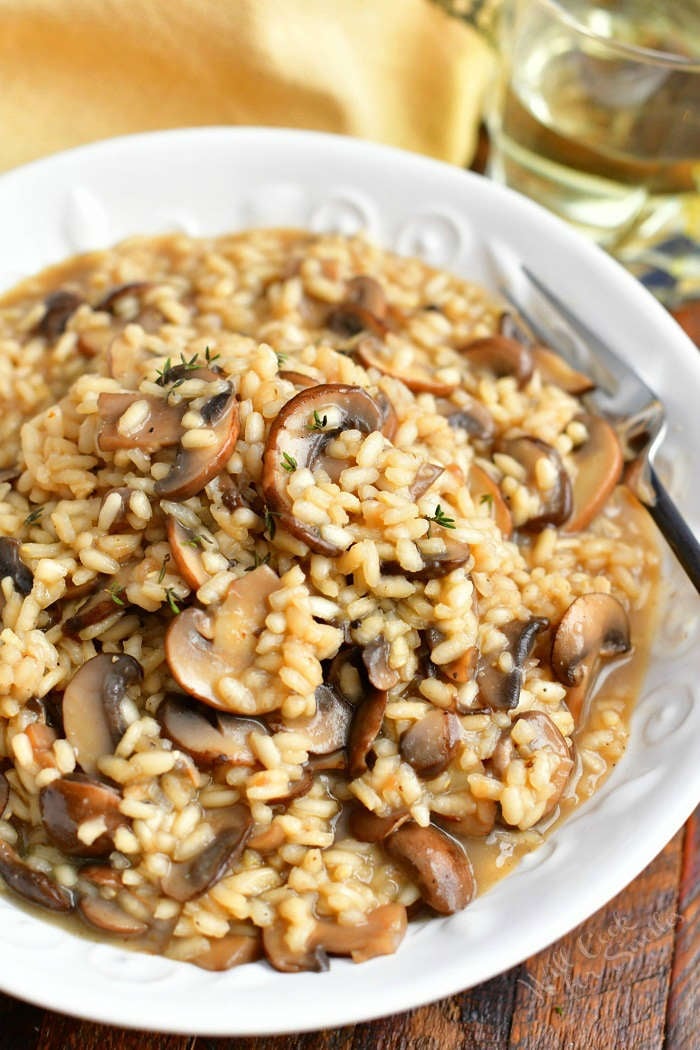 If you made any of my recipes and shared them on Instagram, make sure to tag me @willcookforsmiles and #willcookforsmiles so I can see all the things you tried!
Connect with Will Cook For Smiles!
Be sure to click below and follow me on my social media, so you never miss a recipe.

Don't forget to sign up for email, so you won't miss any new recipes.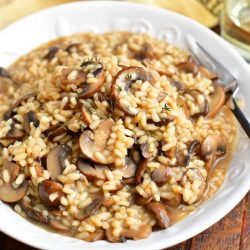 Mushroom Risotto
Mushroom risotto is a classic dish, and this risotto has an incredible flavor! Every second put into this recipe is well worth it for a family night or a romantic dinner. Finish it with a hint of truffle oil for a bolder flavor.
Print
Pin
Save
Saved!
Rate
Ingredients
2

Tbsp

olive oil

2

shallots

sliced thin

16

oz

baby bella mushrooms

use other kind of you want

3

garlic cloves

1 1/2

cups

Arborio rice

1

cup

dry white wine

split in 2

3 1/2

cups

vegetable stock

1

cup

water

1 1/2

tsp

garlic powder

1

tsp

fresh thyme

salt

fresh cracked black pepper
Optional:
1/2 -1

tsp

truffle oil

black or white
Instructions
Slice shallots and mushrooms thinly and mince garlic. Measure and prepare other ingredients.

Combine broth, water, thyme, garlic powder, salt, and pepper in a sauce pot and bring it to simmer. Turn the heat down to lowest setting so it stays warm. 

Preheat a large cooking pan over medium-high heat. Pour it olive oil and let it warm up.

Add sliced shallots and saute until browned.

Add sliced mushrooms and saute for a few minutes until cooked and start to brown as well.

Stir in garlic and let it cook until fragrant. Lower the temperature to medium or just a little less than medium.

Mix in Arborio rice and let it cook for about a minute.

Pour in the first half of white wine and stir it to spread everything evenly. Let rice simmer and absorb the wine. Stir a little as rice simmers. Cook until rice absorbed the liquid.

Ladle in about a cup of hot broth. Stir and let rice simmer as it absorbs the liquid.

Once the liquid is absorbed, pour in the second half of wine and another cup of stock mixture. Stir and let is simmer while rice absorbs the liquid.

Continue to add about a cup of hot broth at a time and letting the rice absorb the liquid before each addition. Remember to stir often but not constantly.

Cook risotto until rice is al dente. You want to taste rice often and let it cook until it has a little resistance in the middle when you bite it.
Optional:
Stir in a little bit of truffle oil right before serving. (Start with no more than 1/2 tsp because it's very potent and taste before adding more.)
Nutrition
Calories:
427
kcal
|
Carbohydrates:
72
g
|
Protein:
8
g
|
Fat:
7
g
|
Saturated Fat:
1
g
|
Sodium:
839
mg
|
Potassium:
672
mg
|
Fiber:
3
g
|
Sugar:
5
g
|
Vitamin A:
438
IU
|
Vitamin C:
2
mg
|
Calcium:
35
mg
|
Iron:
4
mg
Tried this recipe?
Mention @willcookforsmiles and tag #willcookforsmiles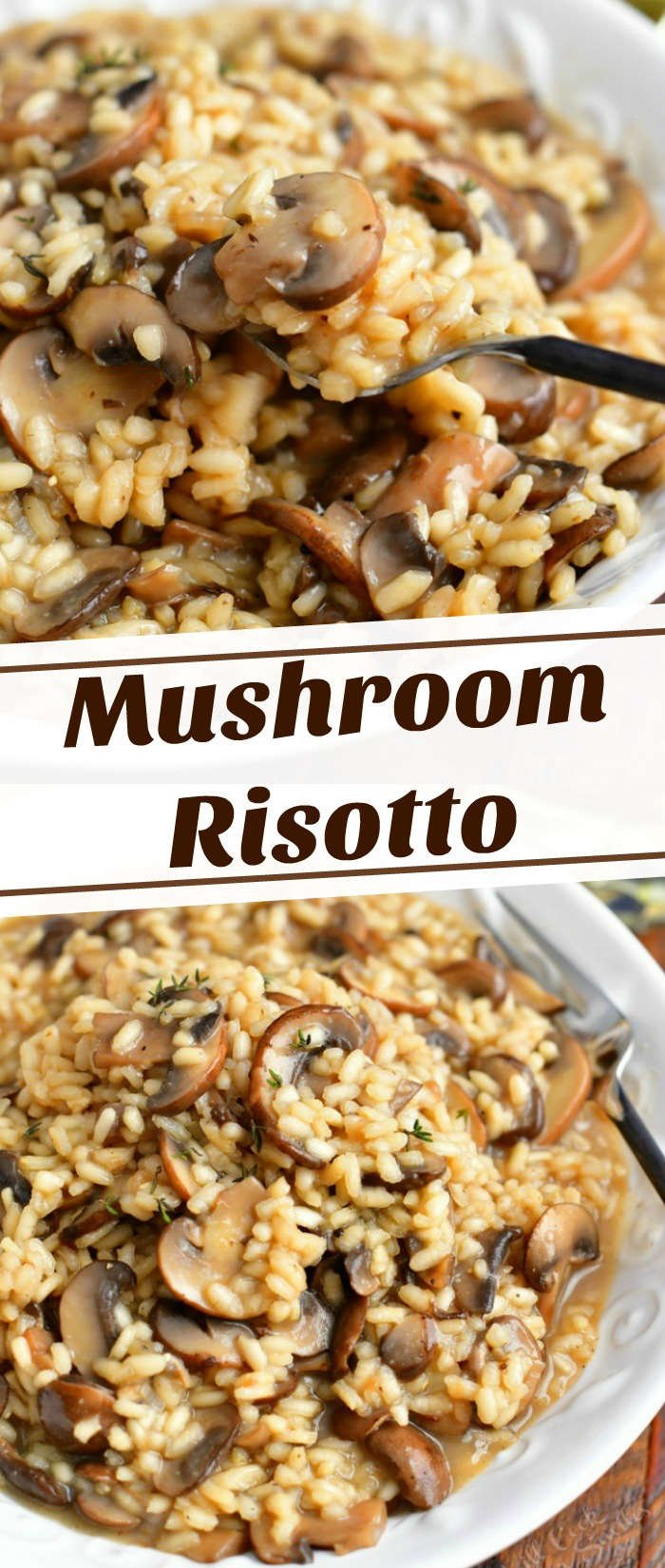 Originally published on Will Cook For Smiles on July 9, 2014. Updated September 2, 2020.