Poutine is the most incredible comfort food and it is made with only three simple parts: homemade French fries, gravy, and cheese curds! Homemade gravy is simple to make in just about 10 minutes, and you can do it while making the fries in an air fryer. Toss them all together and enjoy the simple comfort of this tasty dish.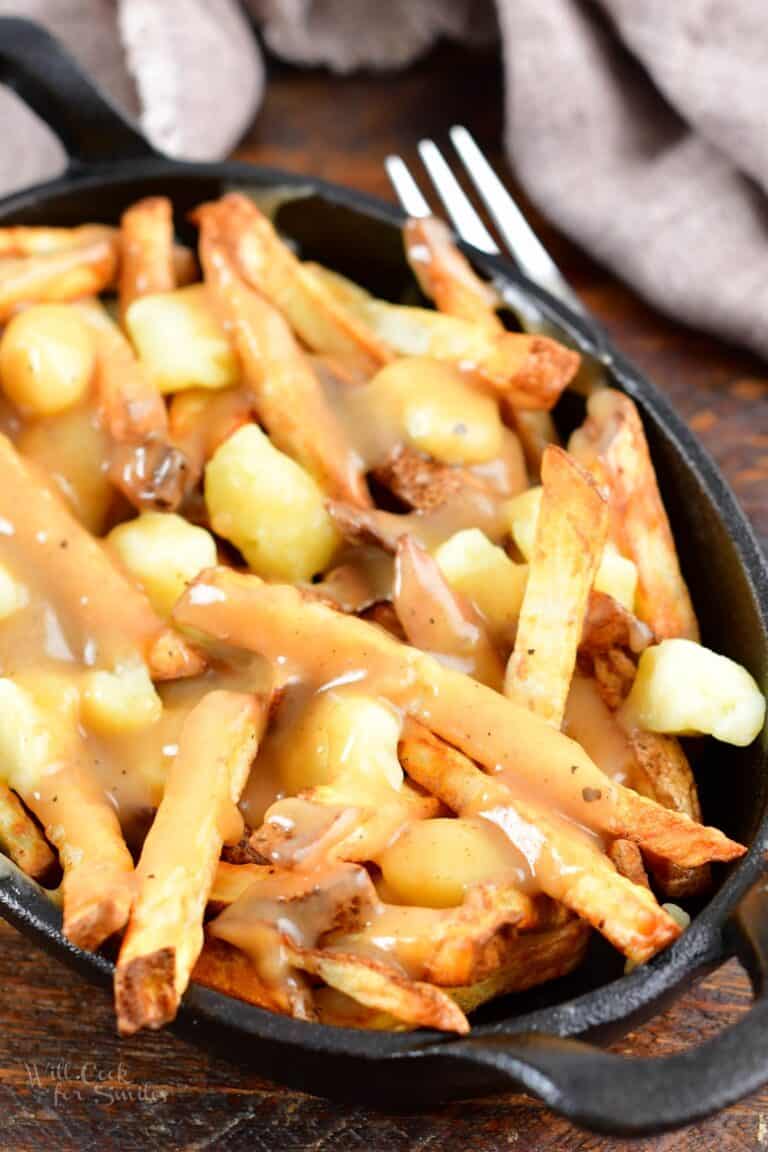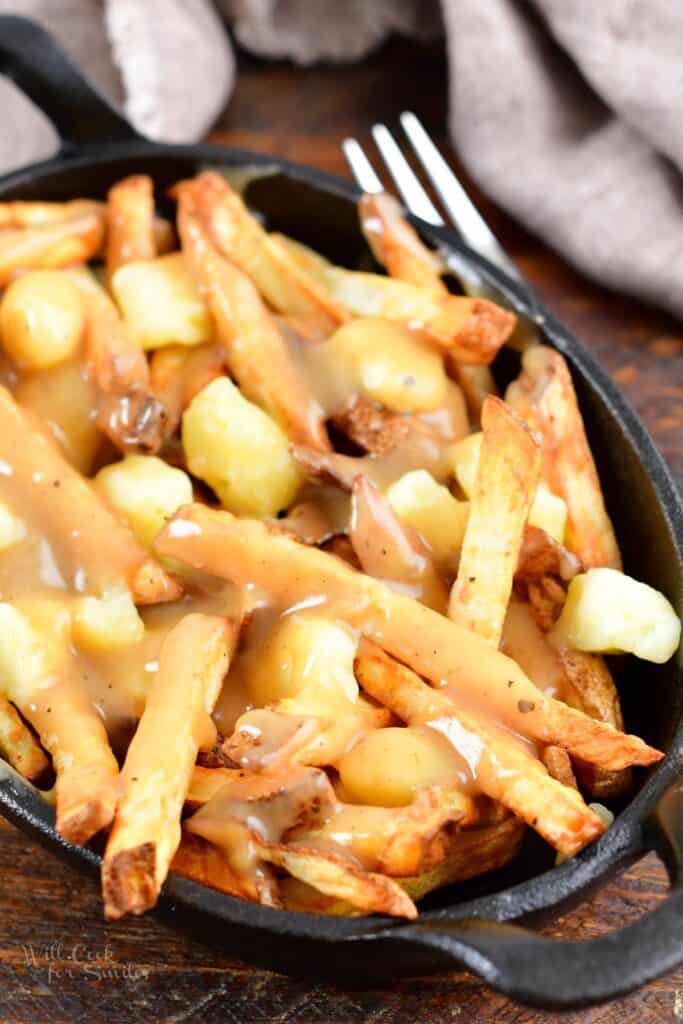 Poutine
The irresistible combination of soft, yet crispy French fries with rich gravy, and cheese curds is a comfort food that's pretty impossible to beat. While the components to this dish are fairly simple, there are some essential steps to take to make sure your poutine is the best it can be.
Since there are only three parts of the dish, the right ingredients are pretty important! Try to use homemade fries, whether you make them in the air fryer of fry them in oil. Also, make your own gravy! A jar might seem easier, but the taste is never comparable.
Plus, homemade gravy takes only about 10 minutes to make. If you have some homemade Beef or Chicken Stock leftover somewhere in the freezer, use it! it will give you the best flavor for the gravy.
If you're a whiz at making cheese, feel free to make your own cheese curds! I, on the other hand, still resort to buying cheese curds at the store. While I'm usually all about being fully homemade, I do like how quick and easy store-bought cheese curds are while still tasting delicious. So, store-bought will do just fine in this easy, comforting, delicious poutine recipe!
What is poutine?
Poutine is a quintessential Canadian dish that's made with a combination of fries, gravy, and cheese curds. This dish originated from the rural Quebec area around the late 1950's. There is not one person or singular restaurant that is credited with first creating it, but many have claimed to have done do! For that reason, the exact origin is not known. All we know is that it's simple but incredible!
How to Make Poutine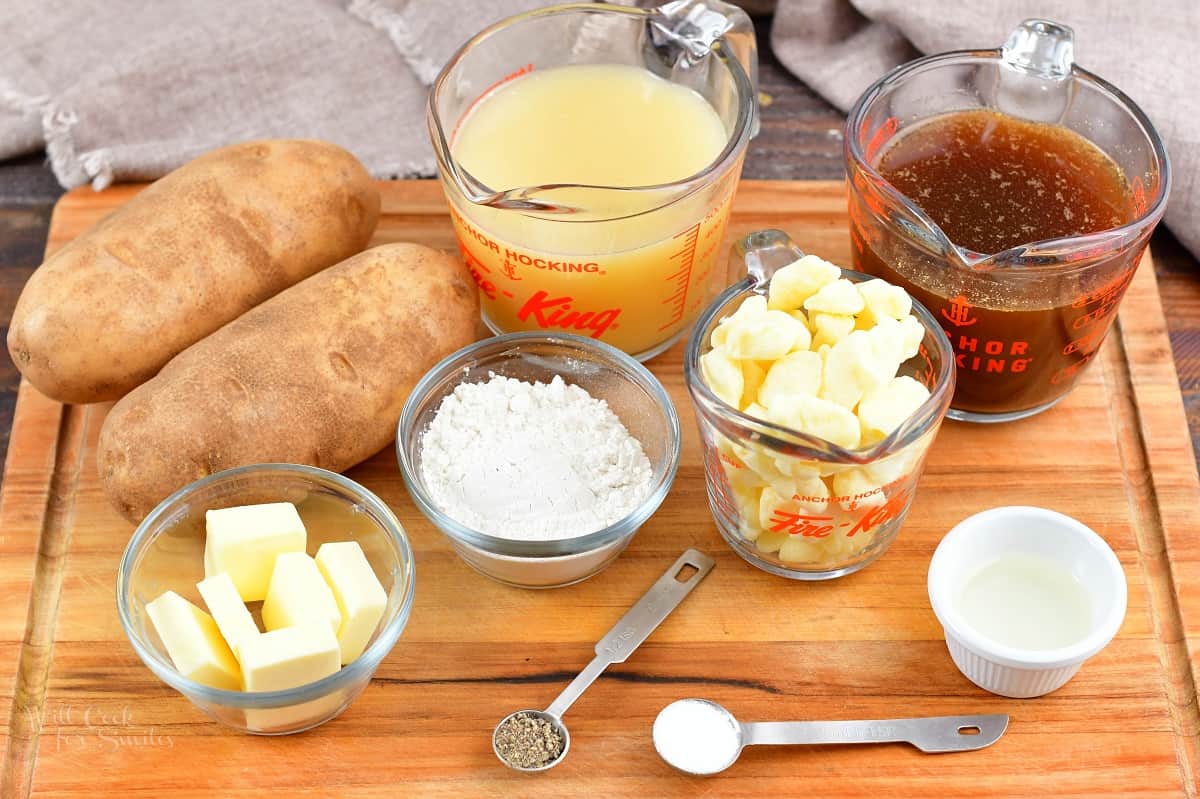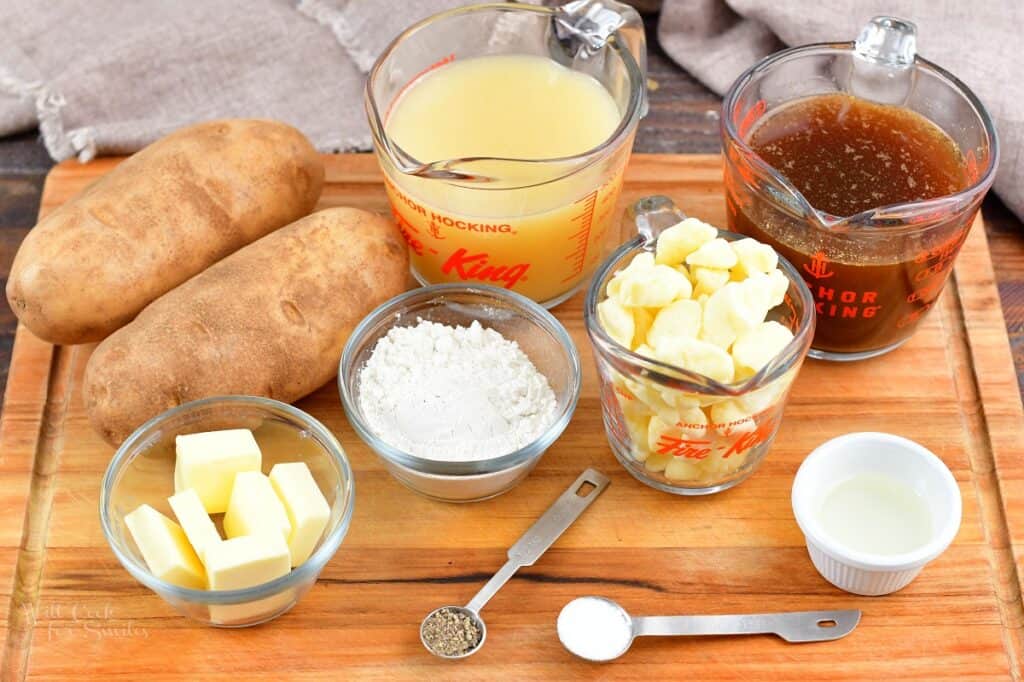 Ingredients You Need:
For the fries and cheese, you'll need –
Russet Potatoes – These are classic potatoes for making fries.
Salt and pepper – to season potatoes either before air-frying or after frying in oil.
Oil – You'll only need vegetable oil if you're frying your fries traditionally and not in the air fryer.
Cheese curds – White cheddar cheese curds are the best! If you absolutely have to substitute them with something, use chopped mozzarella (not shredded).
For the gravy:
Butter – Make sure it's unsalted so you can control the amount of sodium.
Flour – All purpose flour is what thickens the gravy. (Use gluten free all purpose flour if needed.)
Stock – Homemade is best, but store-bought will work just fine for both the chicken and beef stock. Also, if you have any pan drippings from roasting meats, mix them into your stock for extra flavor.
Salt – More or less should be used to taste.
Black Pepper – Freshly cracked black pepper should be used, as it has the best flavor. Gravy is not a gravy without a good amount of black pepper.
Gluten Free Notes:
This recipe can easily be made gluten free by using gluten free all-purpose flour in the gravy. Check the packaging of the cheese curds but those, as well, should be gluten free.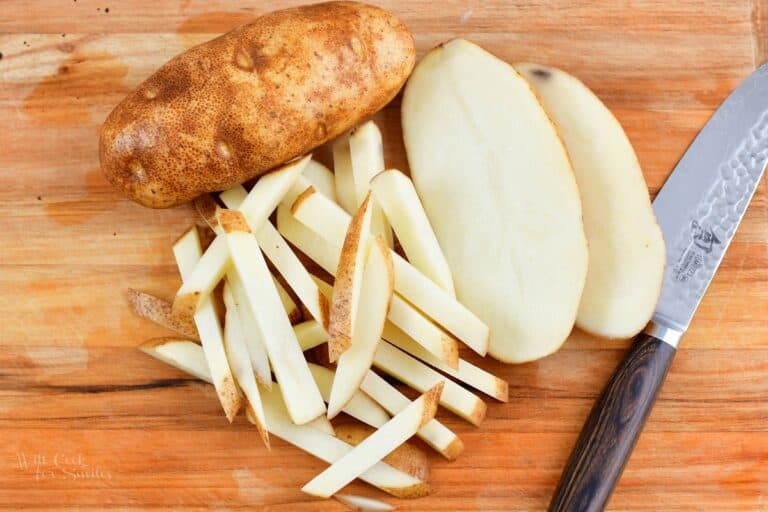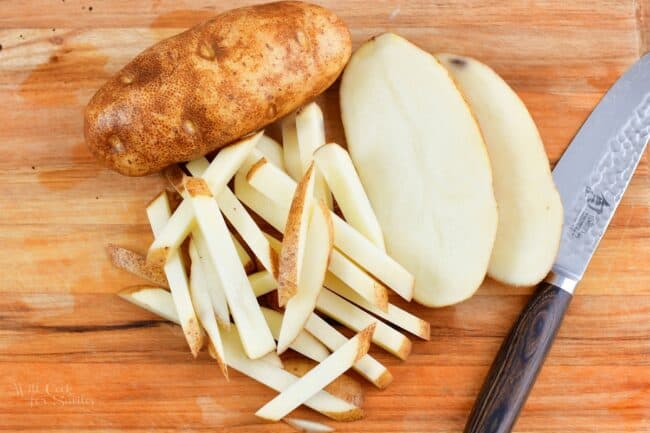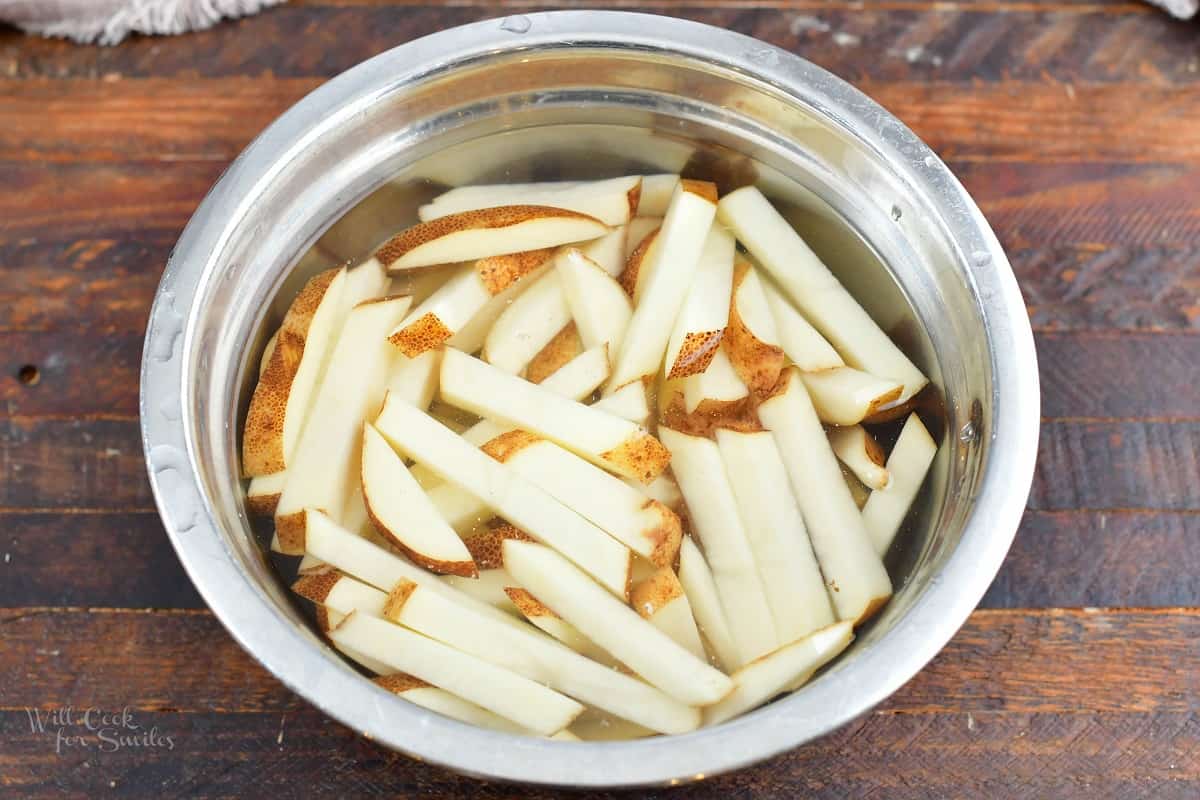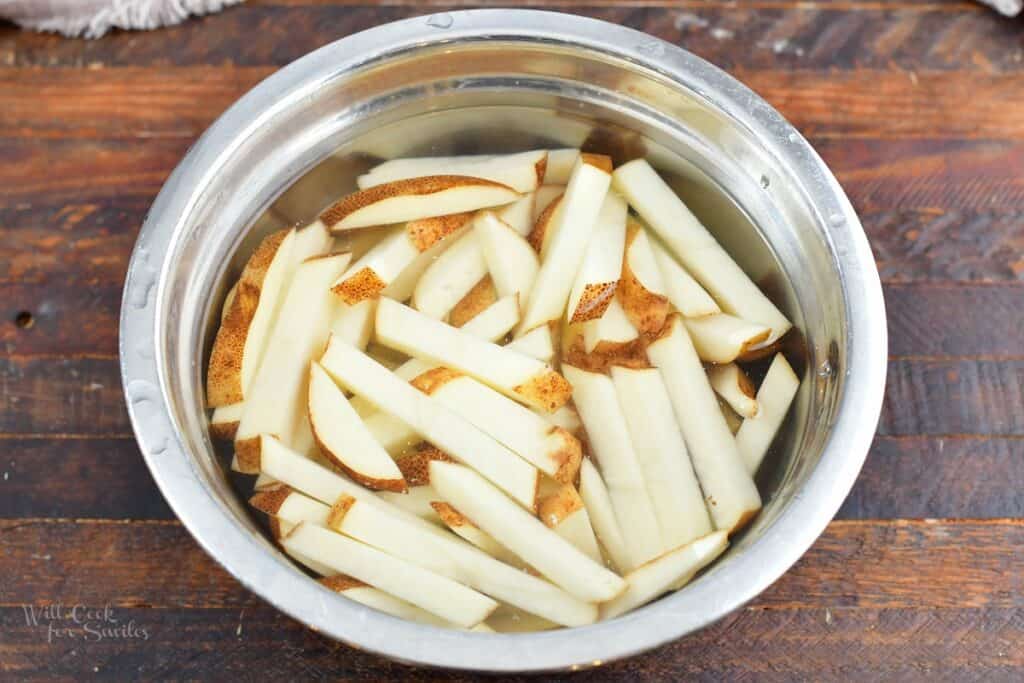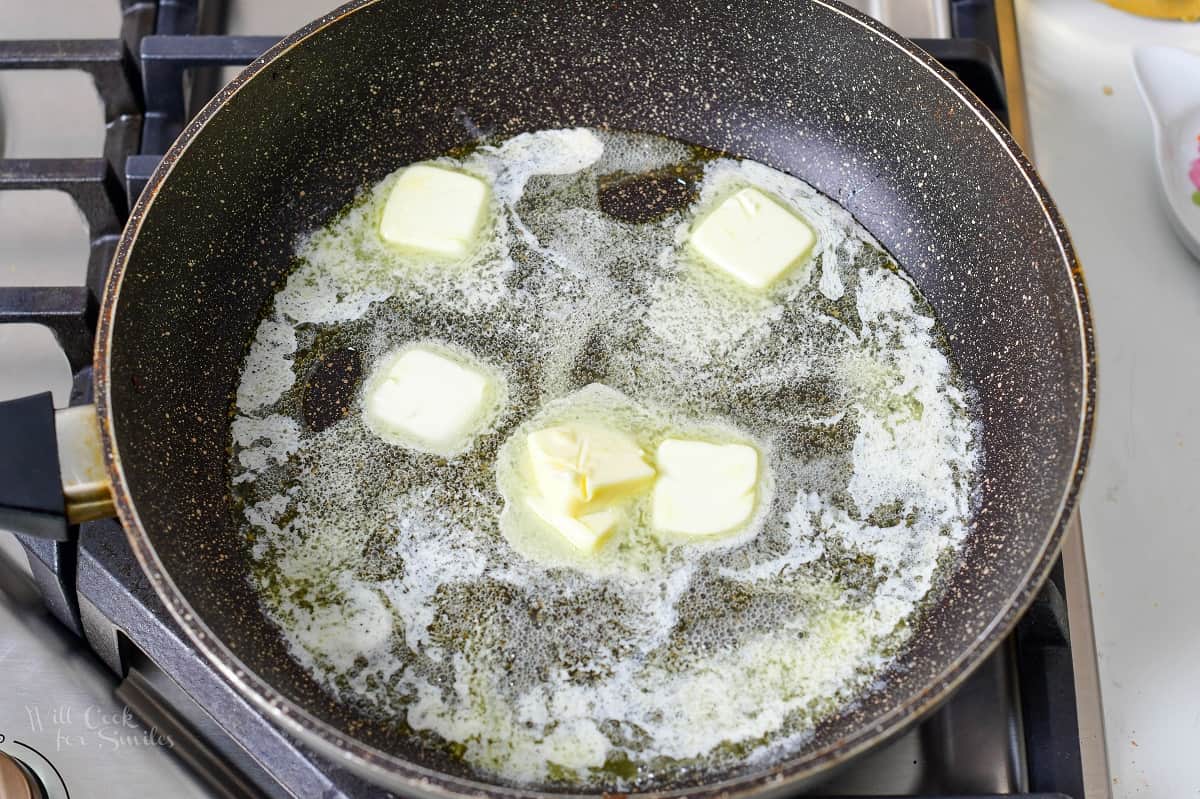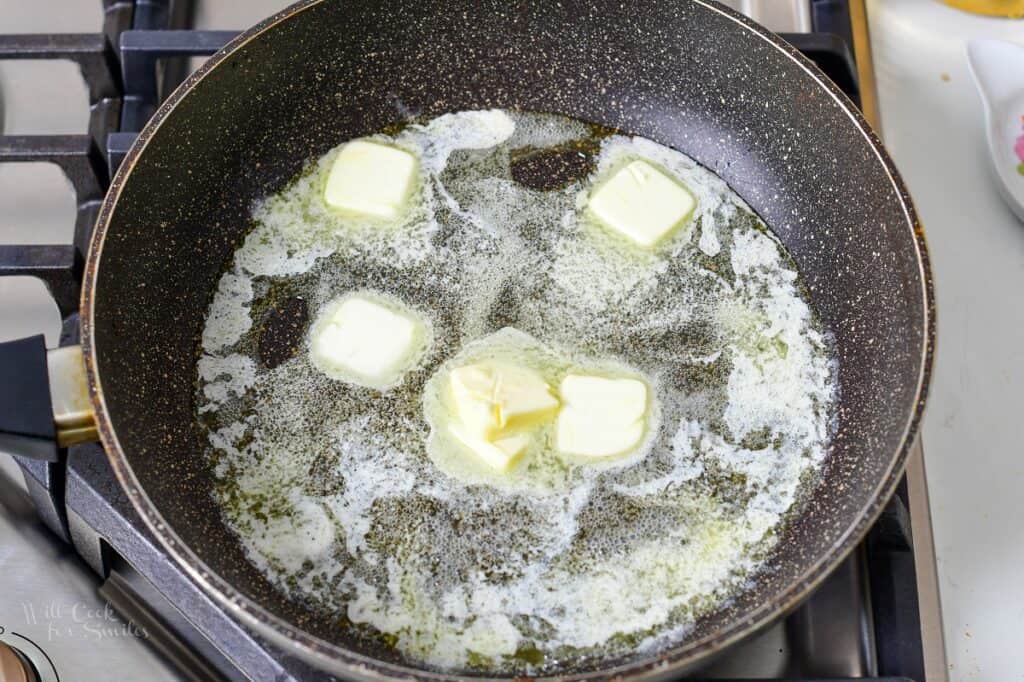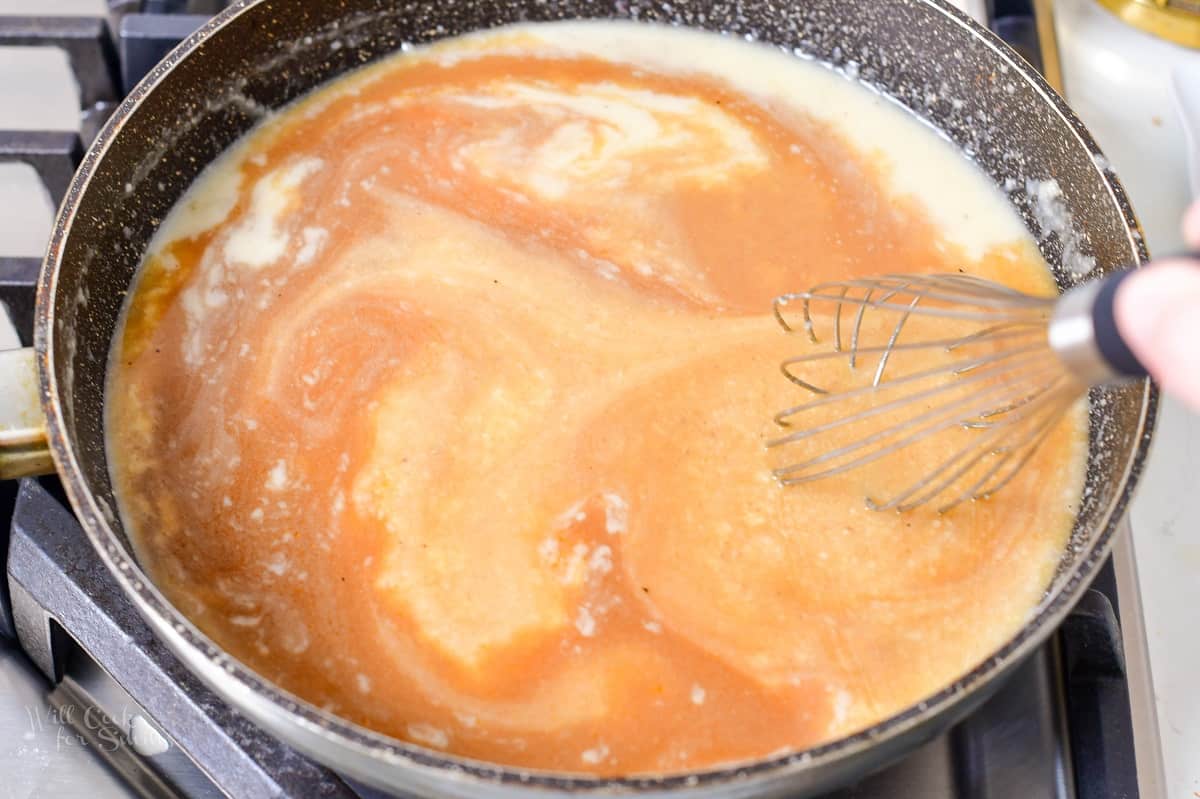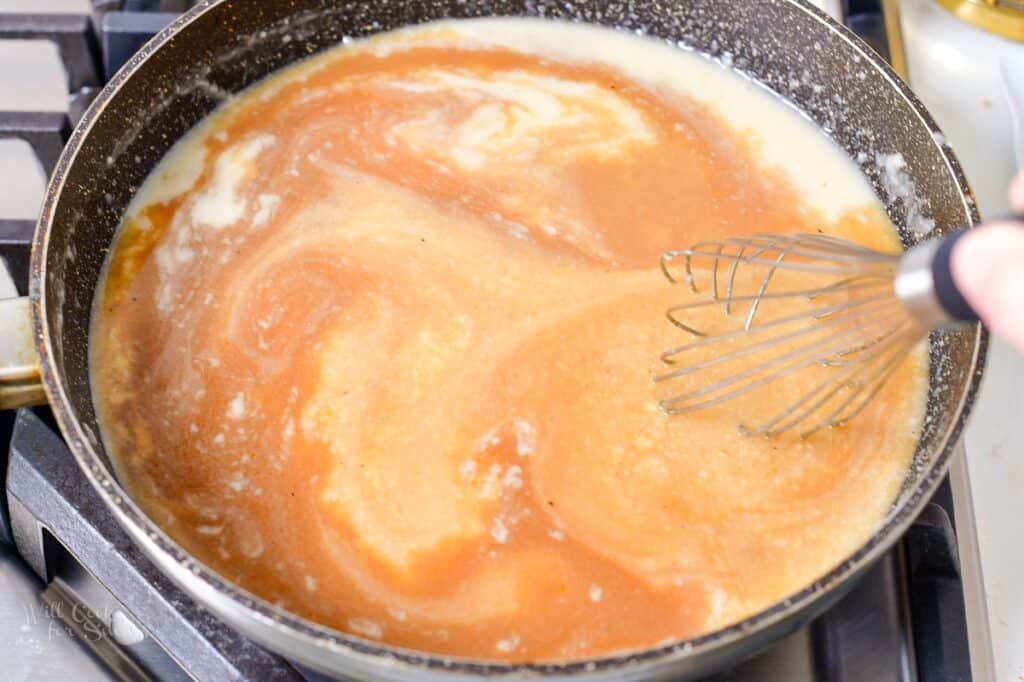 Cooking Directions:
Prepare the potatoes.
Start off by washing the outside of the potatoes and cut them into straws.
Place the cut potatoes into a bowl, rinse them with cold water and couple of times, and the fill with out water to cover them. Allow them to soak for half an hour. Then, drain the bowl and fill it up once more before emptying it a final time. Pat them dry.
How to Cook the French fries in the air fryer.
Toss the dried potatoes with olive oil, salt, and pepper.
Spread the fries in a single layer. Consult your air fryer instructions but for our air fryer, I use the 400° and cook for 20-22 minutes, tossing the fried every 5 minutes or so.
How to fry the French fries in oil.
Preheat the oil to 300°F. Prepare a wire rack lined with paper towels.
Fry the potatoes in batches for 4-5 minutes before placing them on the paper towel.
Increase the heat to 400°F and fry them again until golden brown. Remove them from the oil and place them on a fresh paper towel.
Make the gravy.
Melt the butter, then whisk in the flour until smooth.
Slowly pour in the stock and keep whisking as you do so. Keep whisking until it's smooth, then sprinkle in salt and pepper.
Stir as the gravy comes to a low simmer and thickens. Taste to make sure there is enough salt and pepper! Simmer for a few extra minutes, stirring slowly, then remove from the heat.
Assemble the Poutine!
Combine fries and cheese curds in bowls or plates. Pour the gravy liberally over the fries and cheese.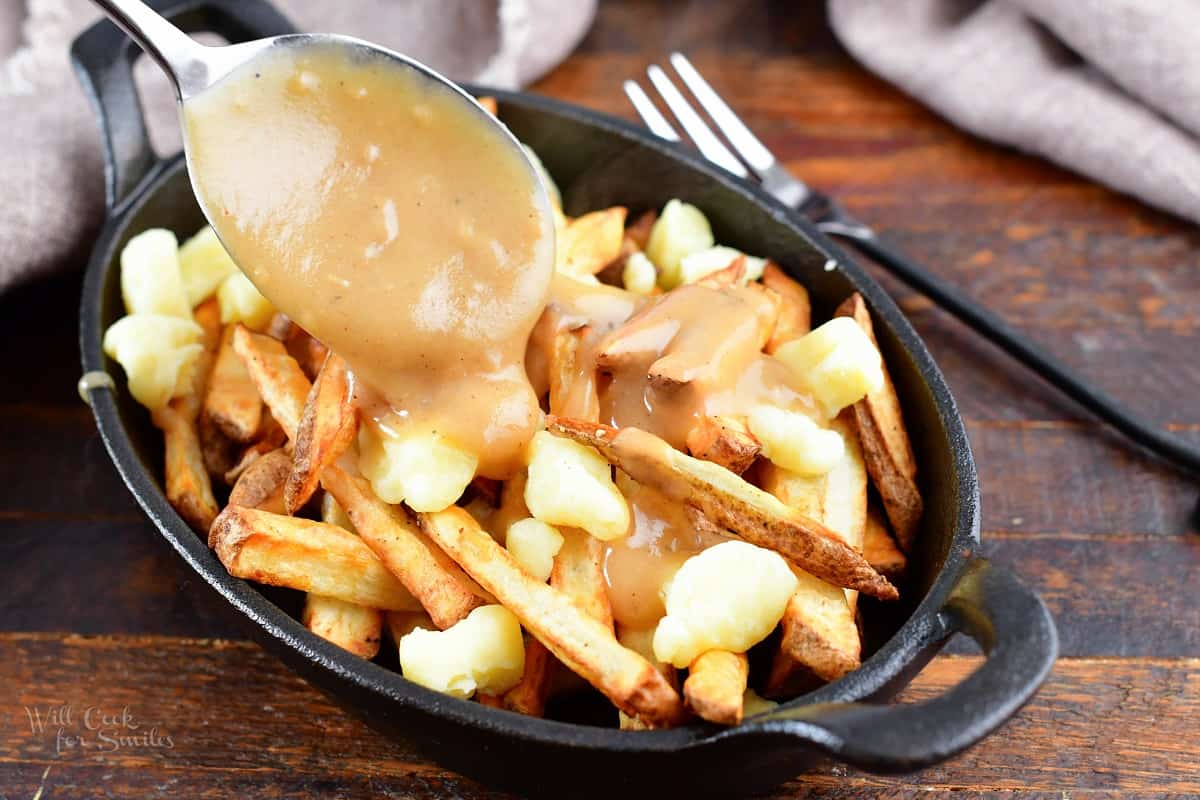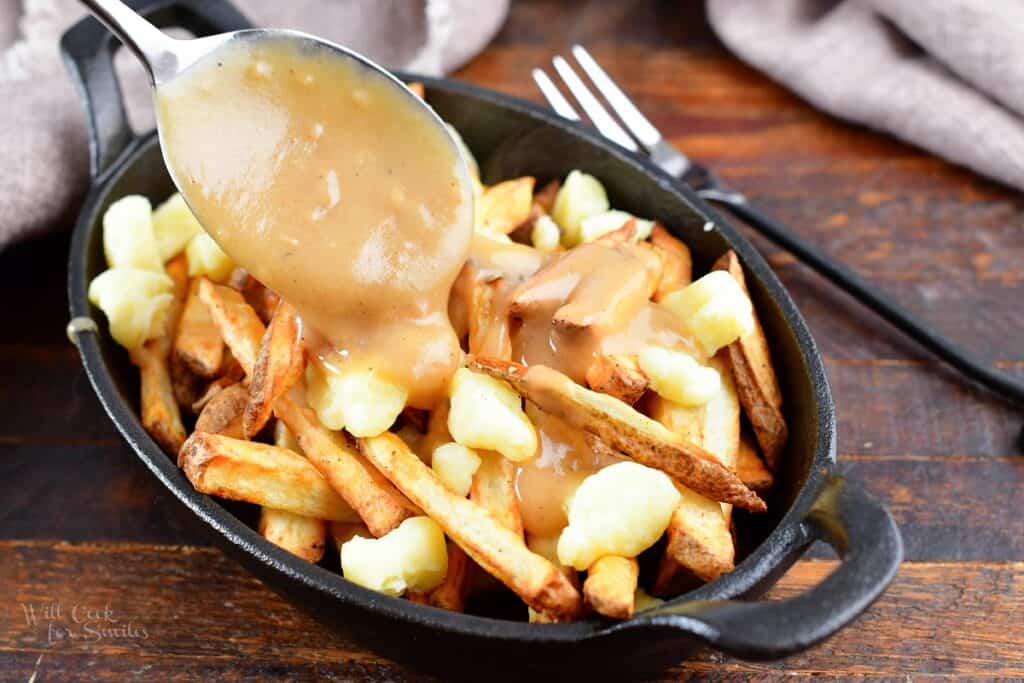 Frequently Asked Questions
What are cheese curds?
Cheese curds are an important part of poutine and a preferred ingredient. Cheese curds are the moist, curdled milk pieces that form early on in the cheese making process, before the cheese is aged. When the whey first separates from the curds, the curds are usually collected, shaped, and aged to make the cheese. Other times, the curds are collected and simply bagged to be used right away.
Can this dish be made ahead of time?
The only part that you can make ahead of time is the gravy. You can prepare the gravy and store it in the refrigerator, in an air-tight food storage container. To make poutine, all you'll have to do is make the fries and reheat the gravy.
Do I have to use homemade fries?
I won't force you but I will highly encourage it! It tastes so much better with homemade fries and if you have an air-fryer, it will be pretty fast and convenient too.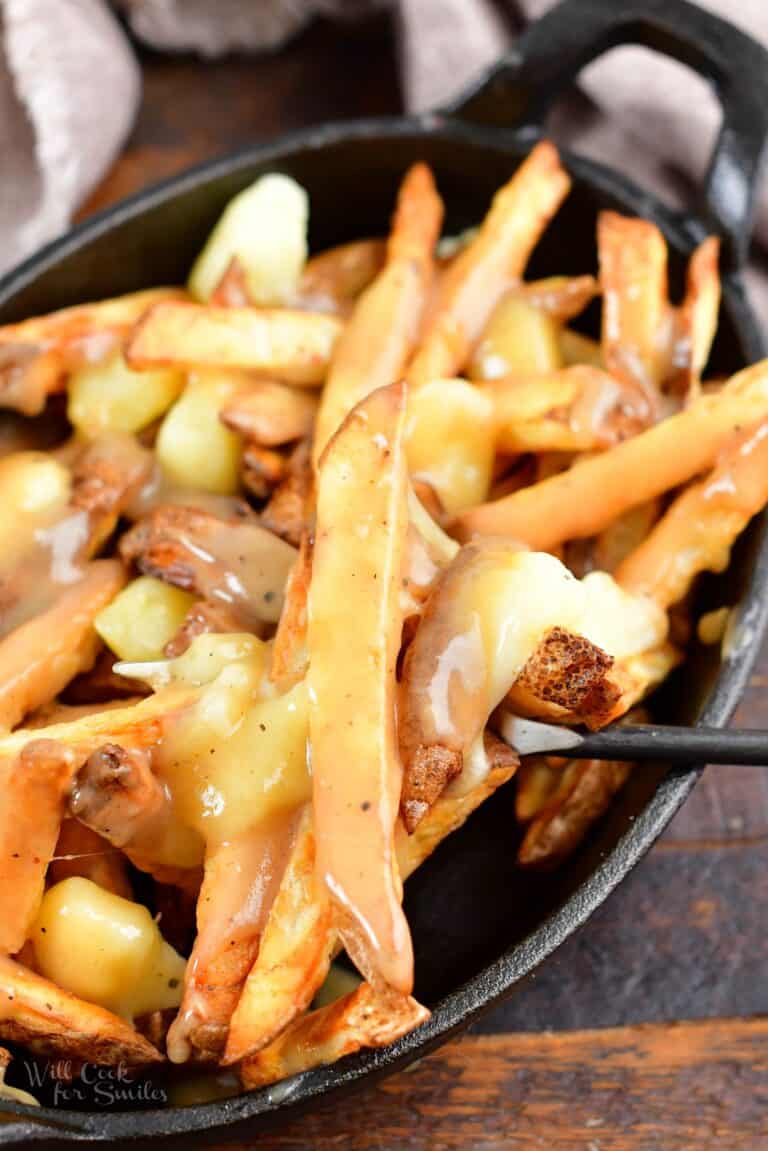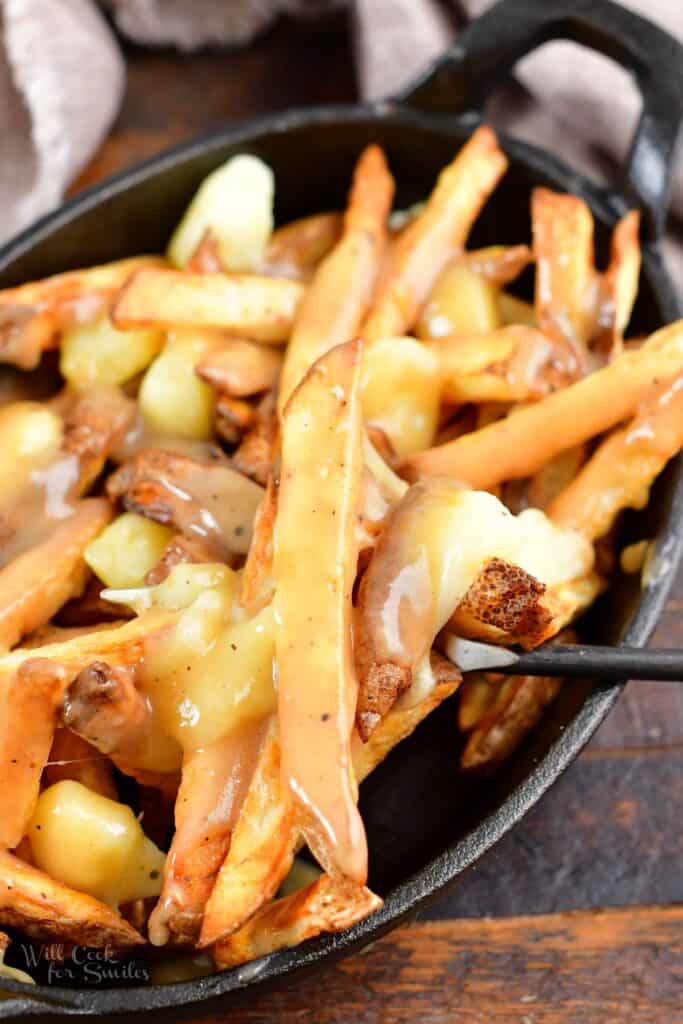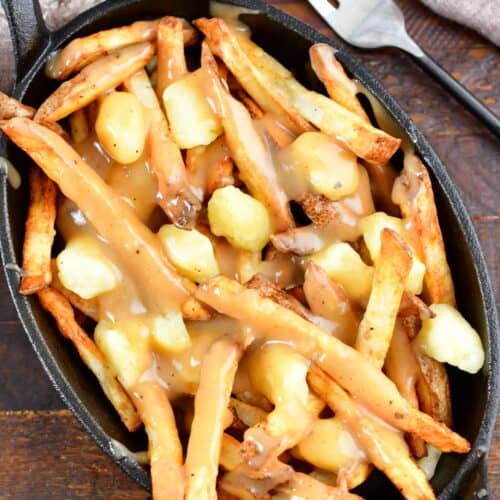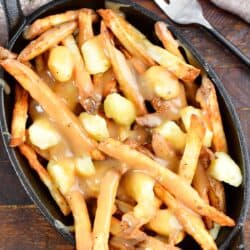 Poutine
Poutine is the most incredible comfort food and it is made with only three simple parts: homemade French fries, gravy, and cheese curds!
Print
Pin
Save
Saved!
Rate
Ingredients
2

lbs

Russet potatoes

oil for frying*

if needed

1 1/2

cups

white cheddar cheese curds
Gravy:
6

tbsp

unsalted butter

1/3

cup

all purpose flour

2

cups

chicken stock

2

cups

beef stock

1

tsp

salt

more or less to taste

1/2

tsp

fresh cracked black pepper
Instructions
You can make the fries in the fryer, air-fryer, or bake them. (It is best to prepare homemade fries but if you're in a rush, you can use frozen fries and bake or fry them.)

Either method you choose, soaking is one important step that you need for all of them!

Wash potatoes well and cut them into straws. Don't make them too thin or they will get soaked in gravy and don't make them too thick or they won't be as crispy.

Place potatoes into a mixing bowl, rinse them a couple of times with cold running water, and then, fill the bowl with cold water to cover them completely. Let them soak about 30 minutes. Drain off all the water and fill the bowl again. Swish to rinse and drain off the water.

Spread potatoes on the towel and pat them dry.
Cook Fries In The Air-Fryer:
Toss potatoes with a little olive oil and a sprinkle of salt and pepper.

Spread the fries in one or two layers (one layer will require extra batches but will be extra crispy). Check your air fryer's recommendation first but I air-fry the fries at 400° for about 20 minutes, and make sure to toss them every 5 minutes.
Frying the French Fries:
Preheat the oil to 300° and prepare a wire rack lined with paper towels. Fry the potatoes in batches for 4-5 minutes, take them out, and place onto the paper towel.

Increase the heat of oil to 400° and fry them again until golden brown. Take them out of oil and onto a fresh paper towel.

If you need to keep fries warm, place them into the oven heated to 200°.
Gravy:
Have all the ingredients measured and ready on hand before starting to cook because this recipe will go fast.

Melt butter in a cooking pan over medium heat. Once melted, whisk in flour until smooth and blended.

While whisking, start pouring in the stocks slowly. Keep whisking until smooth and season with salt and pepper.

Slowly stir as the gravy comes to simmer and thickens. Cook for a couple extra minutes, stirring slowly, and take off heat.
Put Together the Poutine:
Place fries into the bowls add cheese curds. Generously pour gravy all over the fries to coat them.

Serve right away and enjoy!
Nutrition
Calories:
817
kcal
|
Carbohydrates:
52
g
|
Protein:
21
g
|
Fat:
60
g
|
Saturated Fat:
21
g
|
Polyunsaturated Fat:
9
g
|
Monounsaturated Fat:
23
g
|
Trans Fat:
1
g
|
Cholesterol:
90
mg
|
Sodium:
1141
mg
|
Potassium:
1289
mg
|
Fiber:
3
g
|
Sugar:
2
g
|
Vitamin A:
528
IU
|
Vitamin C:
13
mg
|
Calcium:
355
mg
|
Iron:
3
mg
Tried this recipe?
Mention @willcookforsmiles and tag #willcookforsmiles