This applesauce recipe is easy and naturally sweet (with no added sugar)! Homemade Applesauce is much more rich in apple flavor, the texture is more luscious, and it's sweeter. All you need for this easy recipe are your favorite sweet apples, a splash of water, and a dash of cinnamon if you'd like.
If you have lots of apple this season, use them in wonderful apple recipes like Apple Cider, Baked Apples, and Apple Fritters.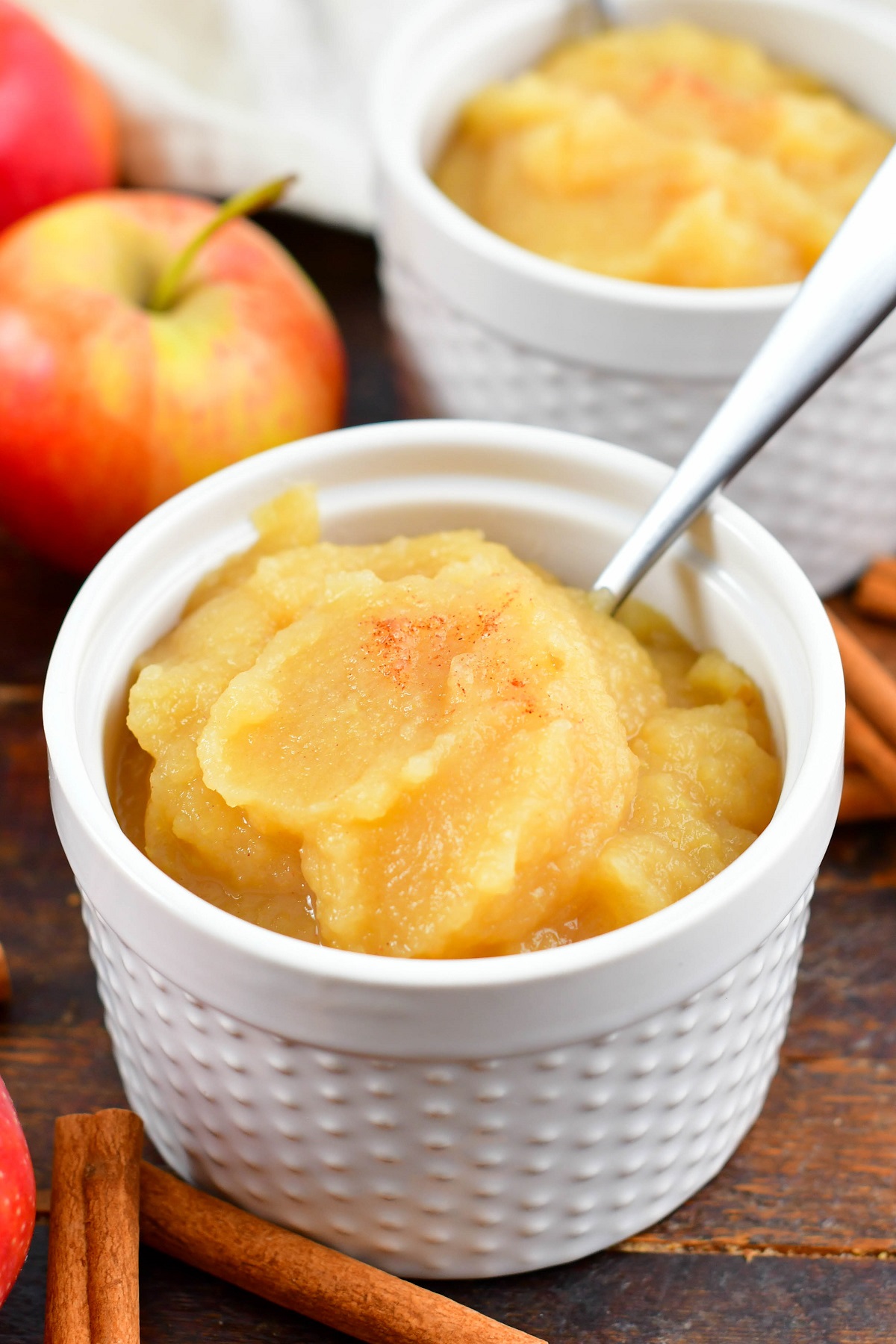 Those little cups of applesauce from the store have nothing on this easy homemade recipe! Once you (and your kiddos) try this applesauce, you'll never want to go back to the store-bought again.
Homemade applesauce is delightfully easy to make. So easy, in fact, that little hands can help you make this kid-friendly snack! Bonding with kids in the kitchen is always fun, especially when they'll actually eat the final product.
With that being said, as an adult, applesauce is still a favorite treat of mine, too. It's got loads of natural sweetness that satisfy my sweet tooth, but it's still a pretty guilt-free snack.
On top of everything else, this recipe is very budget-friendly! At the store, you'll only need to grab apples for this recipe. Chances are, you already have most of if not all of that in your kitchen right now. It all comes together in just under an hour with super easy to follow steps, so let's make some seriously good applesauce!
Ingredient Notes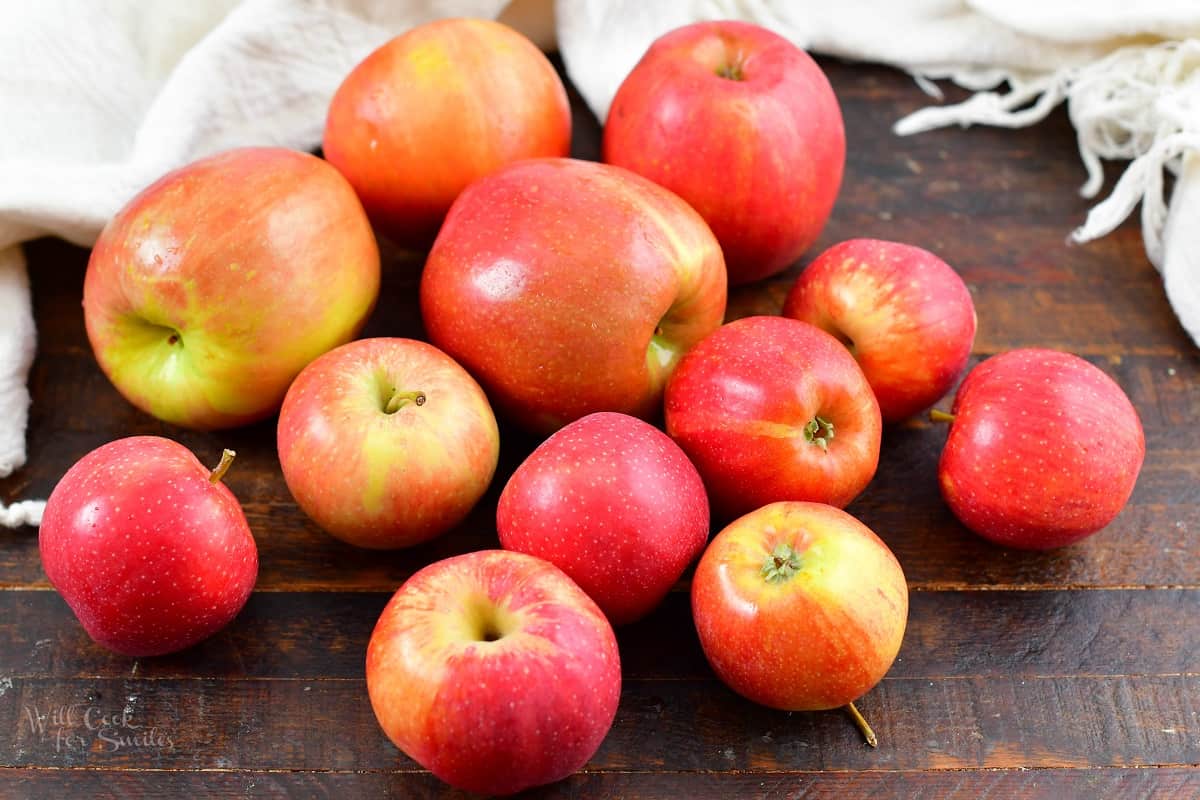 Sweet Apples – Use sweet, juicy apples like Gala, Fuji, Honeycrisp, Pink Lady, or Sweetie. The rule of thumb is that you don't want the apples to have any sour or tart flavor.
Water
Cinnamon – This ingredient is optional, but highly recommended. Cinnamon adds a warm depth to the applesauce that really compliments the caramelized apple flavor.
Cooking Spray
How To Make Homemade Applesauce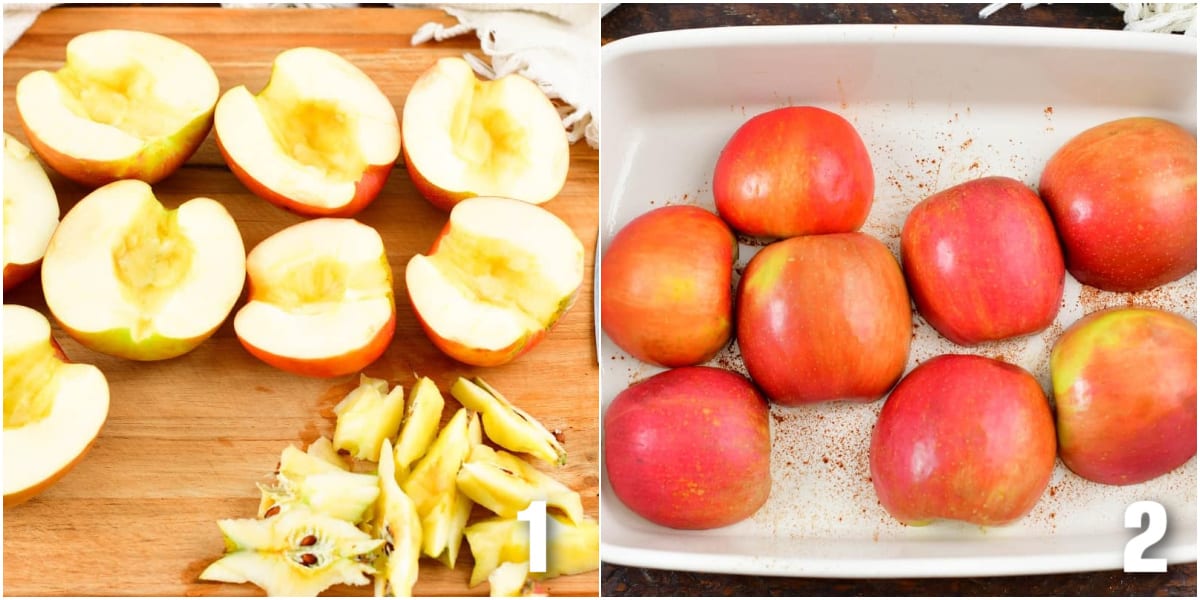 Prepare your baking pan and apples.
Start by preheating your oven to 350°F and lightly greasing a 9×13 baking dish. Sprinkle your baking dish with cinnamon if you wish.
Wash the apples, cut them in half, and remove the cores (1).
Bake the apples.
Place the apples into the prepared pan cut side down (2). Drizzle a couple of tablespoons of water into the pan around the apples.
Bake the apples for 35-45 minutes until the apples are completely soft (3).
You'll want to feel the apples to make sure they're really soft. All apples are different sizes, which determines how long they'll need to cook.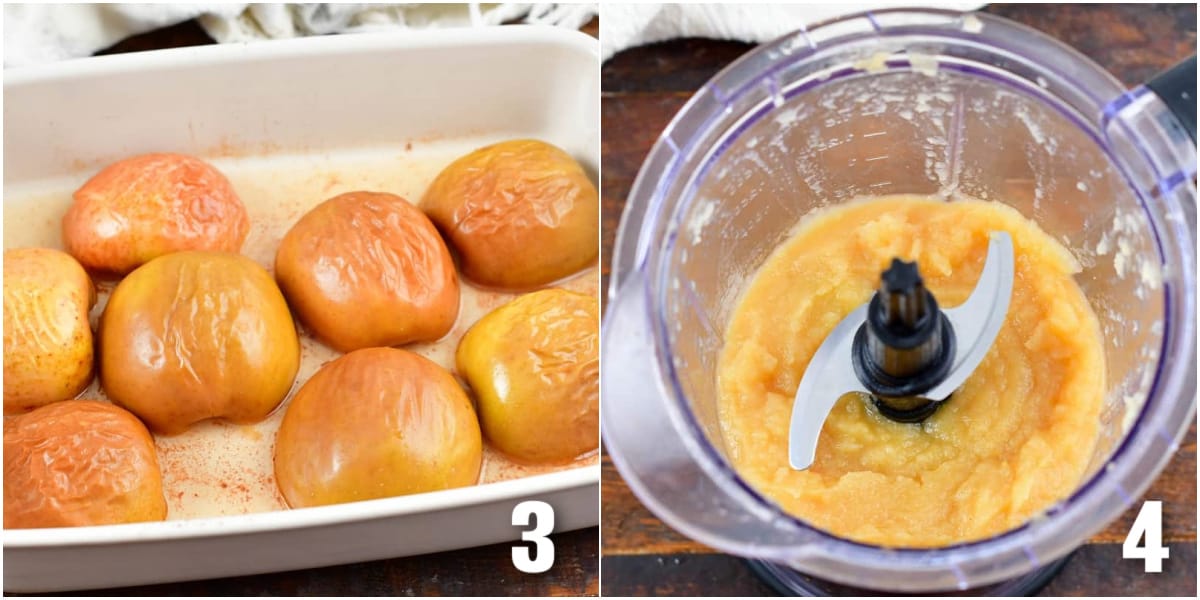 Blend it up!
Remove the apples from the oven and wait to handle them until they've cooled down a bit.
Scoop the "meat" of the apples from the skins. Add all of it to a blender or food processor and blend until smooth (4).
Once blended smooth, transfer the applesauce into a food storage container with an airtight lid and pop it into the fridge.
PRO TIP: if you don't mind slightly grainier texture, you can throw the apple into the blender with the skin. It will be easier and retain more nutrients but the texture won't be as smooth.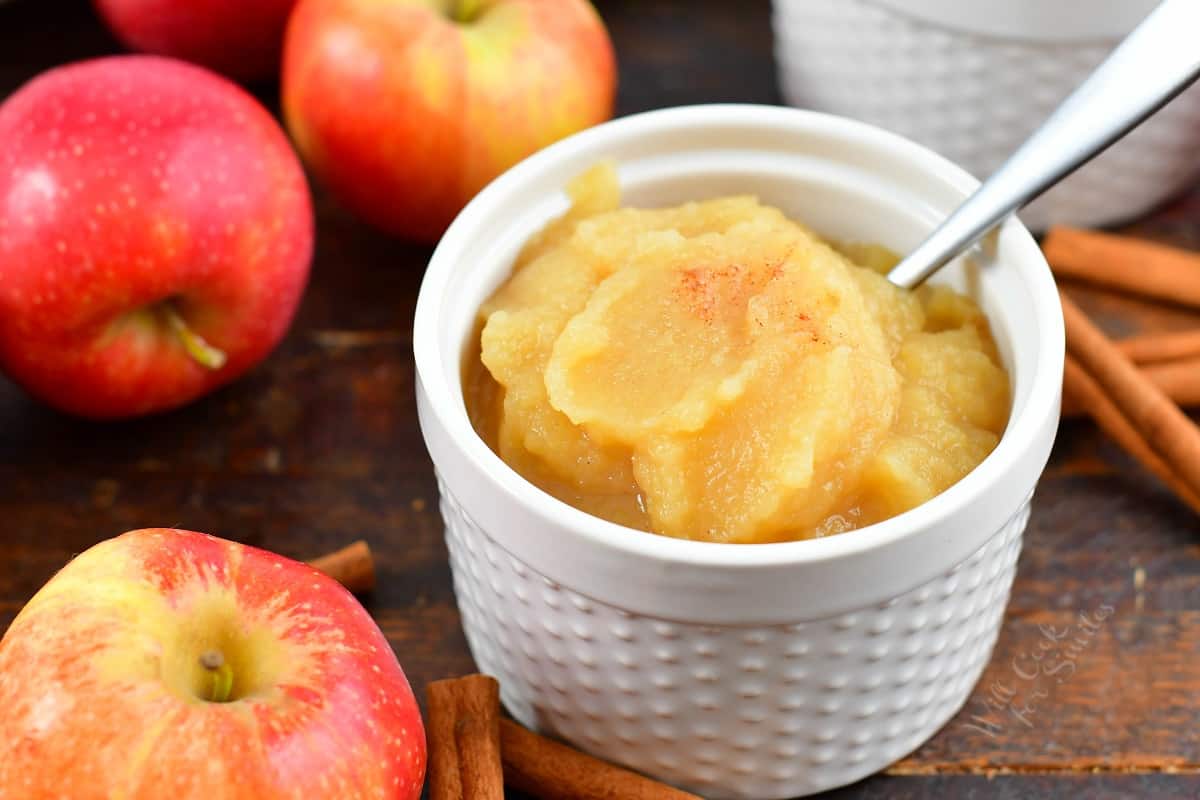 Recipe FAQs
What other flavors can I add to applesauce?
You can combine other fruit to this applesauce like pears, peaches, apricots, or berries. You can add smaller and softer fruits like apricots and peaches during the last 20 minutes of cooking. If you want to add berries, do so during the last 10-15 minutes of cooking.
Skin or No Skin?
While you should definitely bake the apples with the skin on, you can choose to keep the skin on or off when blending the apples for applesauce. If you choose to scoop out the apple meat and get rid of the skin, your apple sauce will be extra smooth.
With that being said, removing the meat from the skin does take a few minutes of extra work, and you will lose out on a few extra nutrients. Blending the apples with the skin on will save some time, and you'll add more nutrients to the applesauce. With the skin on, though, the applesauce will be slightly more grainy.
How to store applesauce?
Make sure to store your applesauce in an airtight food storage container in the refrigerator. Use a clean spoon each time you need to scoop some applesauce out. Properly stored, it should be good for approximately 7-10 days. Keep in mind that the spoon really does need to be clean! Any new bacteria introduced to the applesauce will cause it to spoil at a much faster rate.
Can I freeze homemade applesauce?
Technically, yes, you can freeze homemade applesauce, but I don't recommend it. Defrosted applesauce tends to be extra watery and the texture is not as pleasant. This recipe is best when enjoyed within the week it is made.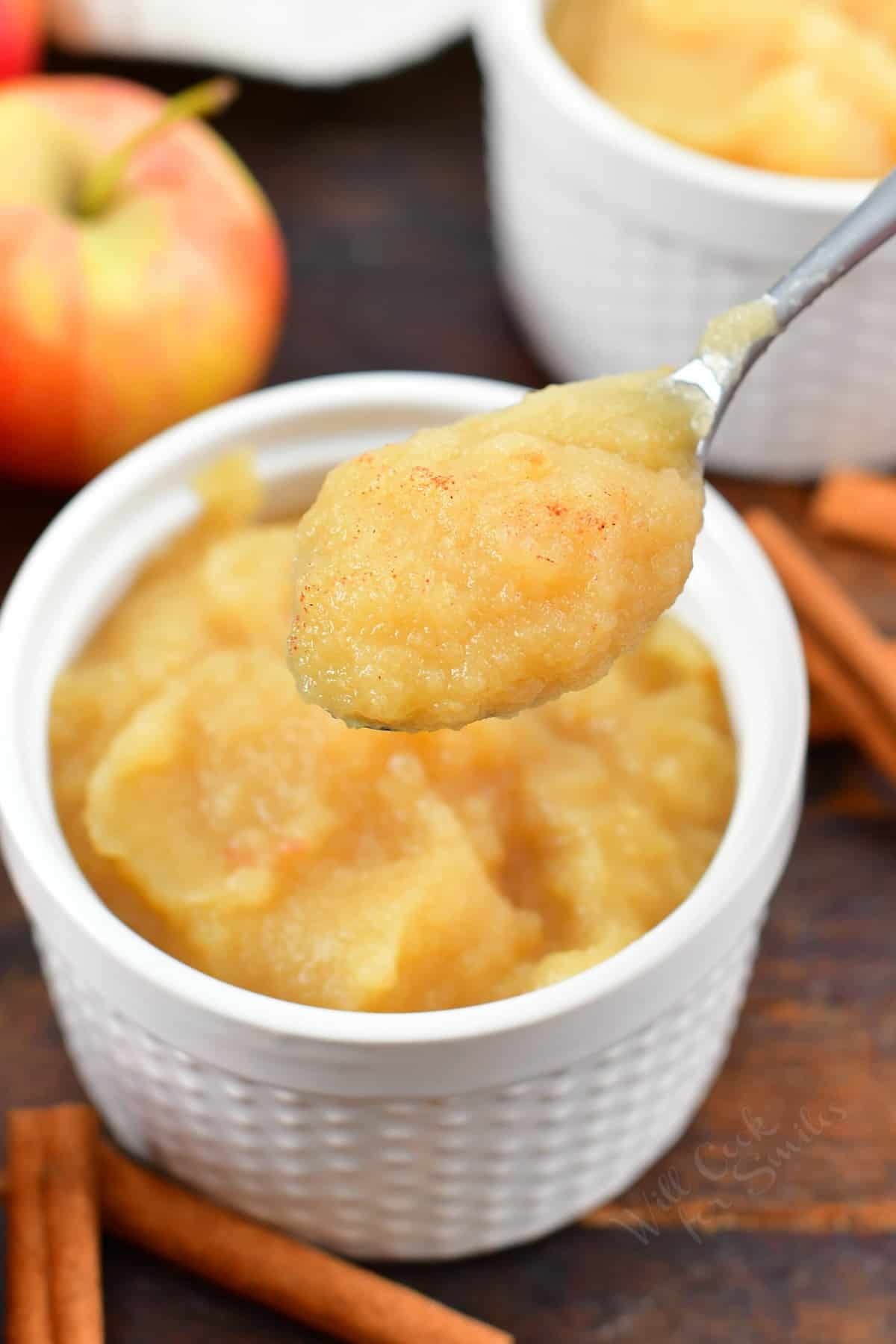 More Delicious Recipes To Try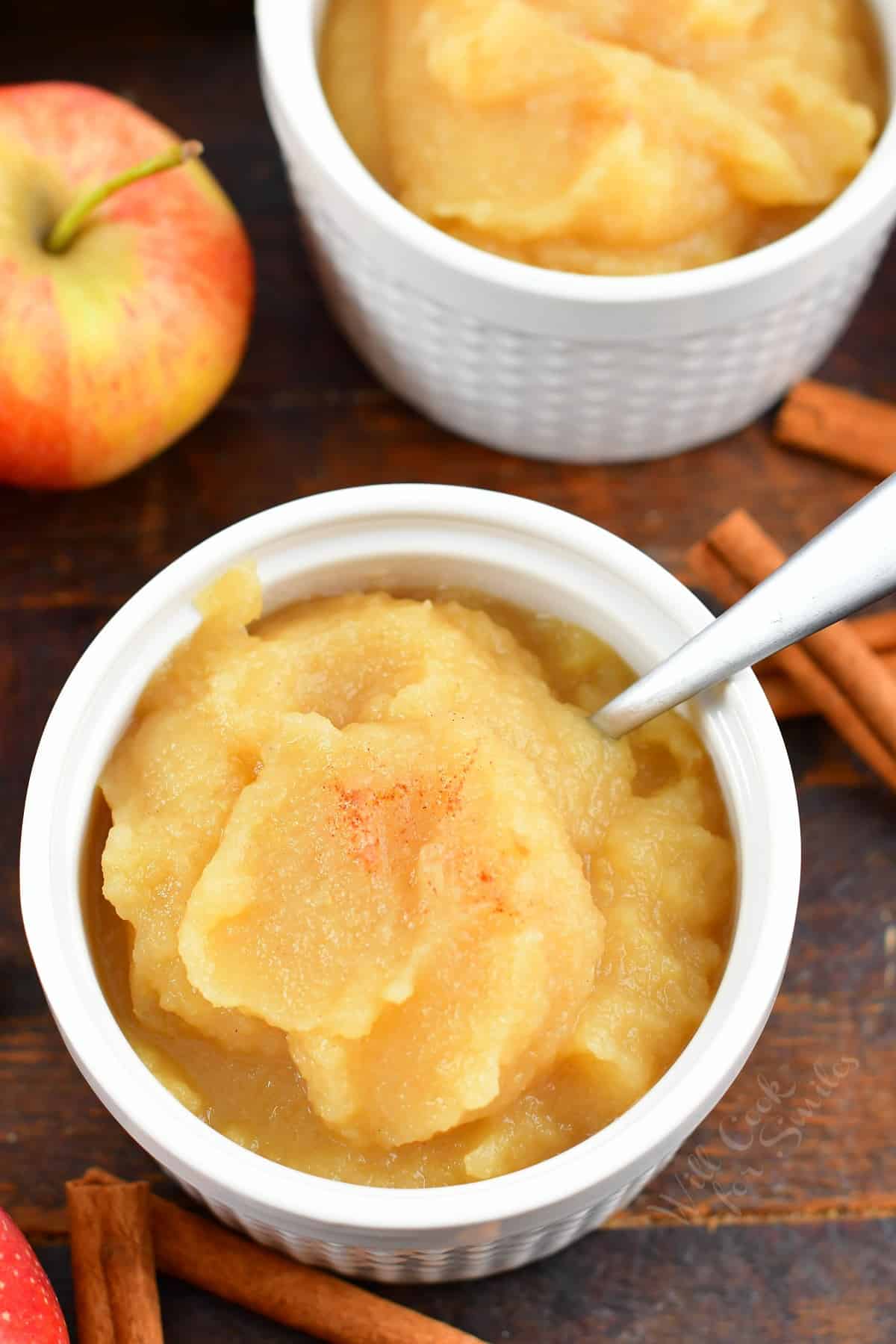 DID YOU MAKE THIS RECIPE? PLEASE leave a 🌟 star rating! Let me know how you liked it by leaving the 📝 comment below or share and tag me on social media @willcookforsmiles. DON'T FORGET to subscribe to my newsletter!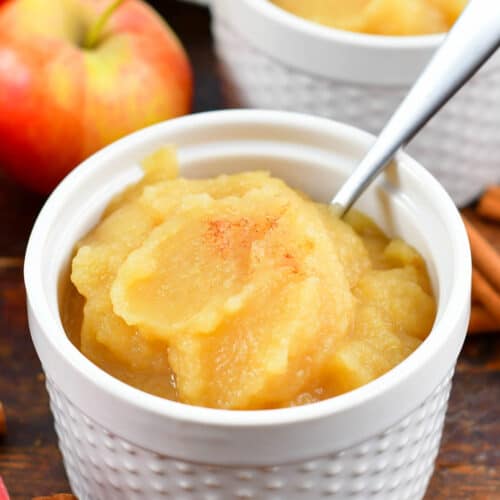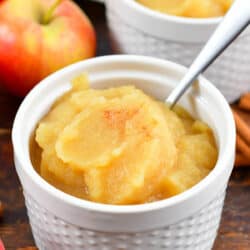 The Best Homemade Applesauce Recipe
Homemade Applesauce is much richer in apple flavor, the texture is more luscious, and it's sweeter without any added sugar!
Print
Pin
Save
Saved!
Rate
Ingredients
2.5-3

lbs

sweet apples

Gala, Fuji, Honeycrisp, etc.

2-3

tbsp

water

1/2-1

tsp

cinnamon

optional

cooking spray
Instructions
Preheat the oven to 350° and lightly grease a 9×13 baking dish.

Sprinkle the bottom of the baking dish with cinnamon.

Wash the apples, cut them in half, and core them.

Place apple halves into the prepared pan, cut side down. Drizzle a couple tablespoons of water in the pan around the apples.

Bake the apples for 35-45 minutes, until apples are completely soft.

Make sure to feel the apples because the size of apples will affect how fast the cook. Small apples might take as little as 30 minutes and large apples would take up to 45 minutes.

Take the pan out of the oven and let them cool enough to be able to handle.

Scoop out the apples from the skin using the spoon, try to scrape out as much apple meat as you can. Add it all to the blender or food processor and blend until smooth.

Note: you can blend the baked apples with the skin on, which will be faster and you'll keep more nutrition from the apples, but the applesauce will be a little more grainy.

Transfer applesauce into a food storage container with an air-tight lid and refrigerate for up to a week.
Notes
Want to make more?
Feel free to double and triple the recipe if you wish. Just make sure that you will he able to eat it all within about 7-10 days. 
Need to can it?
You can definitely can the homemade applesauce. Make sure to clean and sterilize the glass canning jars in hot boiling water before filling them with applesauce. Fill the jars a little more than 3/4 of the way, leaving about 1/2″ off the top. Gently tap the filled jars on the cutting board to remove air bubbles. Follow the directions of your canner to process and seal the the jars properly. Label and store in a cool, dry place. 
Nutrition
Calories:
148
kcal
|
Carbohydrates:
39
g
|
Protein:
1
g
|
Fat:
1
g
|
Saturated Fat:
1
g
|
Polyunsaturated Fat:
1
g
|
Monounsaturated Fat:
1
g
|
Sodium:
3
mg
|
Potassium:
304
mg
|
Fiber:
7
g
|
Sugar:
29
g
|
Vitamin A:
154
IU
|
Vitamin C:
13
mg
|
Calcium:
20
mg
|
Iron:
1
mg
Tried this recipe?
Mention @willcookforsmiles and tag #willcookforsmiles