Soft, warm, and quick Apple Bread will be the highlight of this fall season. This easy bread uses lots of fresh, juicy, sweet apples and is flavored with a delicious cinnamon swirl for the perfect addition of fall flavor. You can modify this recipe to make it perfect for you by using different apples and adding some nuts or raisins!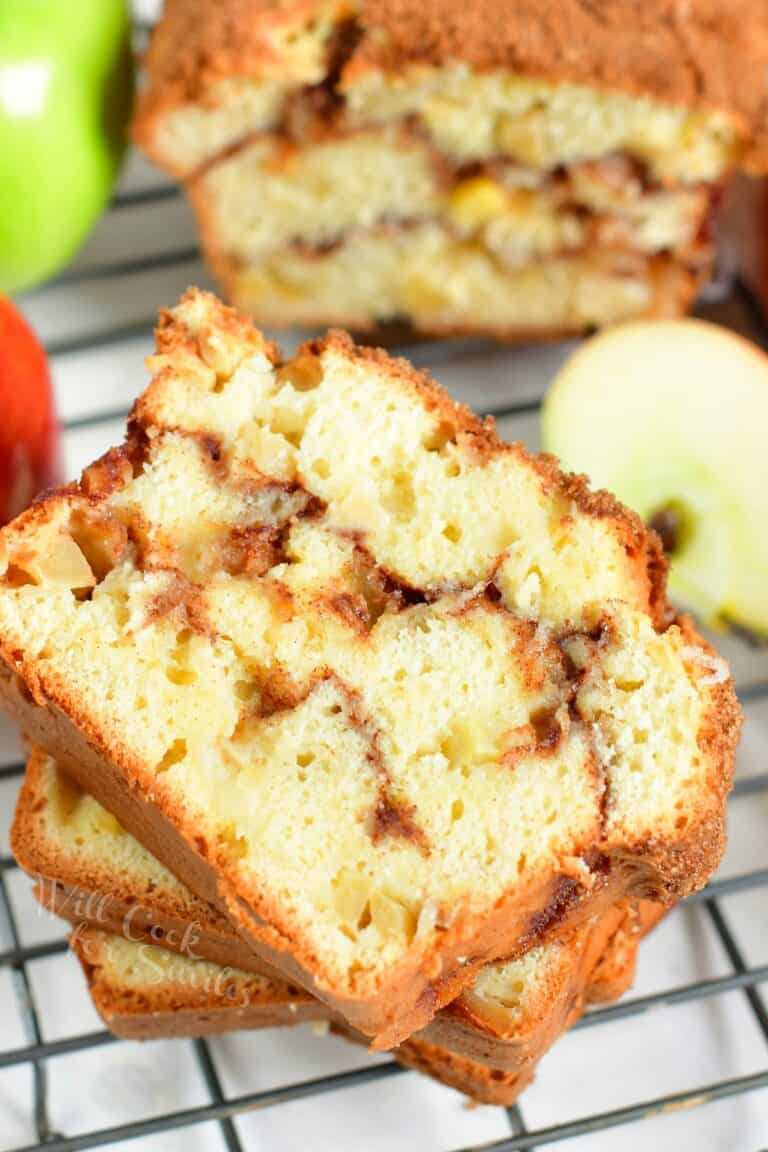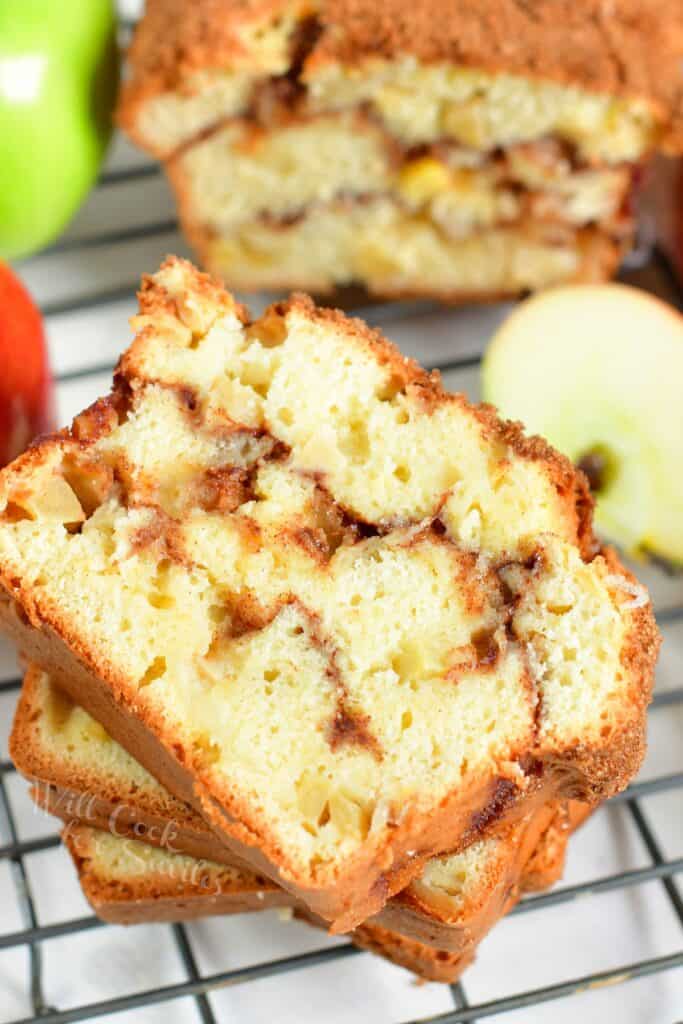 Apple Bread
It's that time of year again! As we say farewell to the strawberry and pineapple recipes, let's not be too sad, as it's now time to welcome all of the warm spiced apple and pumpkin recipes. This easy to make apple bread is a recipe that I always whip up right at the beginning of the fall season, simply because nothing sets the cozy mood more.
So what makes this sweet bread so autumnal? Besides the fresh apple flavor itself, there are other ingredients that help to enhance that warm and cozy feeling. Primarily, the simple yet delicious cinnamon swirl on top of the bread will make your mouth water as well as make you feel all the fall feelings! Cinnamon and apples are always a perfect match.
There's nothing more satisfying than enjoying a slice of this wonderfully moist, flavorful apple bread with a warm mug of Apple Cider. Even if you live in an area that's rich with green palm trees, you'll still be reveling in all of the apple spiced flavors of fall! The best part is, this is a quick bread recipe, so you won't even have to put in too much work for this cozy experience.
Ingredients for Apple Bread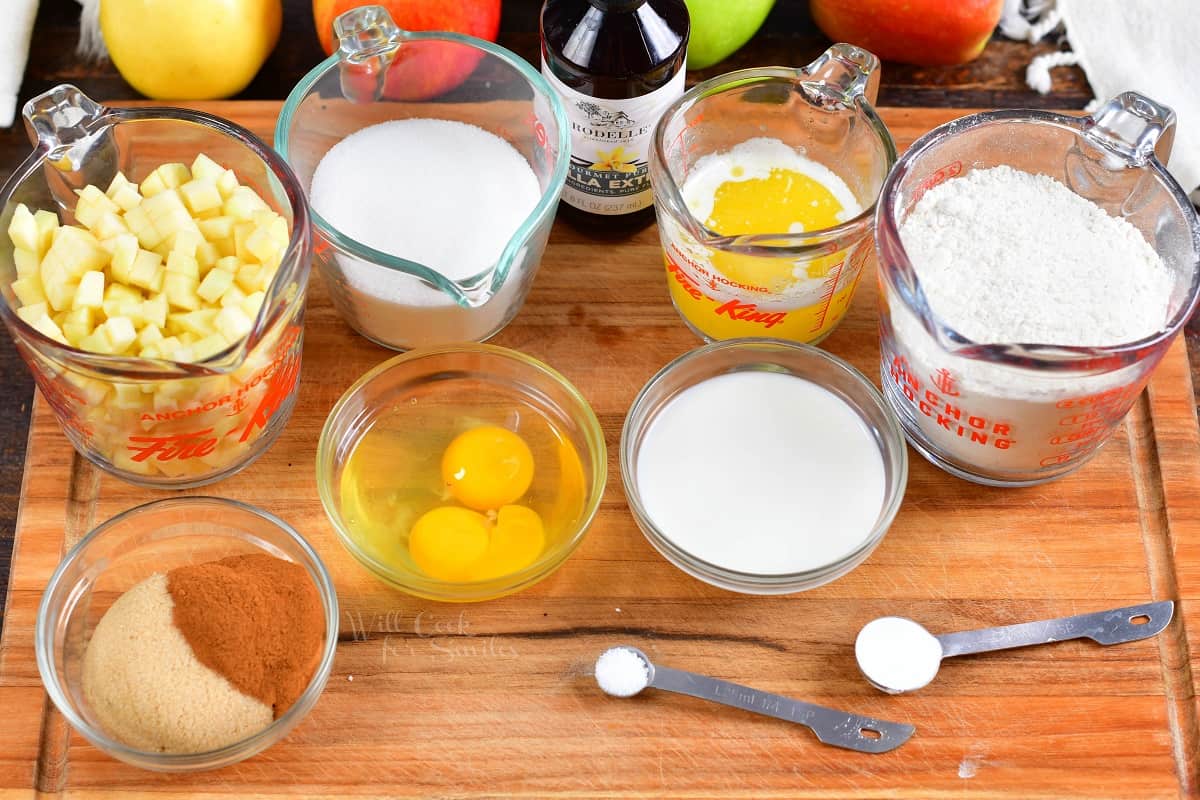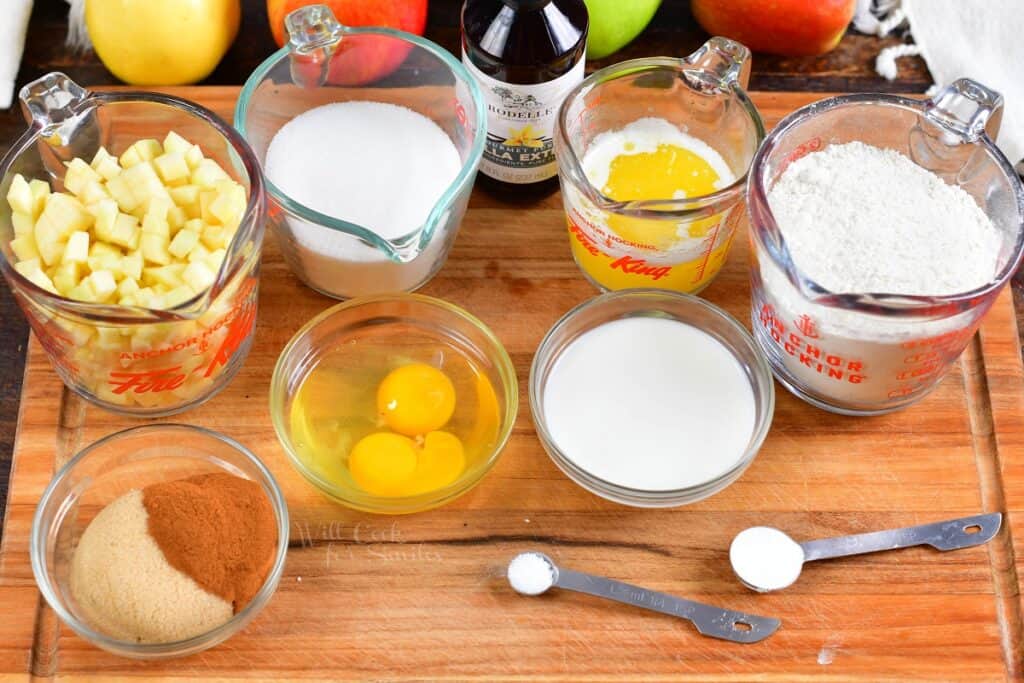 For the Bread:
Butter – Use unsalted butter to better control the amount of salt.
Sugar – White granulated sugar is the best option in this recipe.
Eggs – make sure to pull the eggs from the refrigerator about 30 minutes before baking to warm up.
Buttermilk – use low fat buttermilk.
Vanilla – pure bourbon vanilla extract will give you the best aroma.
Flour – use all purpose flour.
Salt
Baking Powder – This is what will help the bread rise, so that it's just the perfect balance of both fluffy and dense.
Apples – Honeycrisp, Gala, or Granny Smith apples will all work! Just pick your favorite, and dice them up.
For the Cinnamon Swirl:
Cinnamon
Brown Sugar – Light or dark brown sugar will both work, so you can use whichever you prefer.
How to Make Apple Bread
First, you'll need to start off by peeling and dicing your apples, preheating the oven, and preparing the baking dish.
Now you can begin baking! Beat the eggs and white granulated sugar in a bowl of an electric mixer. You'll need to do this for a few minutes, until light and fluffed.
Lower the speed of the mixer and add the melted butter and vanilla extract. Then, still on low speed, mix in the flour, baking powder, and salt until everything is just incorporated.
Pour in the buttermilk and mix in until it's also just incorporated.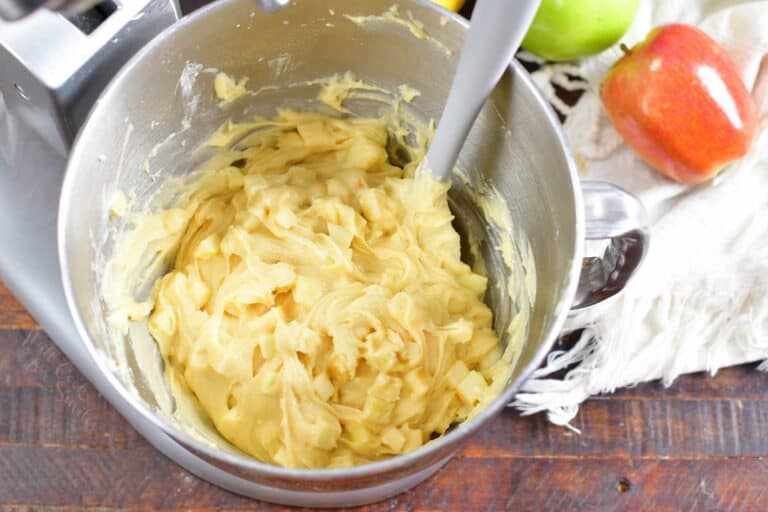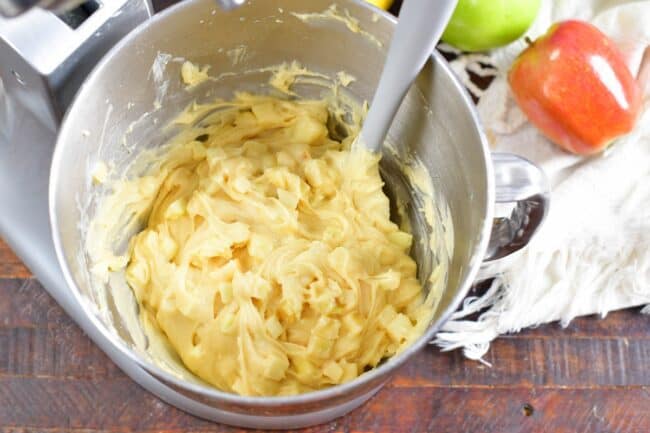 Scrape down the sides of the bowl and fold in the diced apples.
Spread about 1/3 of the batter in the prepared baking dish. Then, sprinkle some of the cinnamon sugar mixture over the top.
Spread another 1/3 of the batter atop of that first layer, then top it off with another sprinkle of cinnamon sugar before repeating the process one final time. You should end up with a layered cinnamon sugar masterpiece!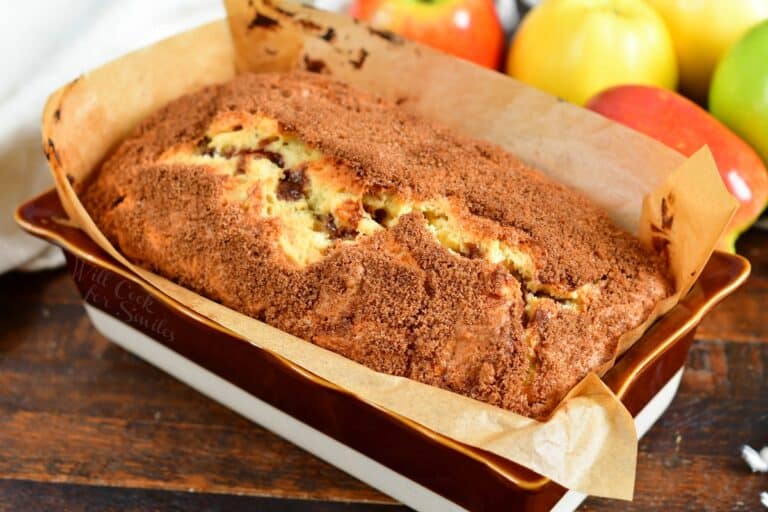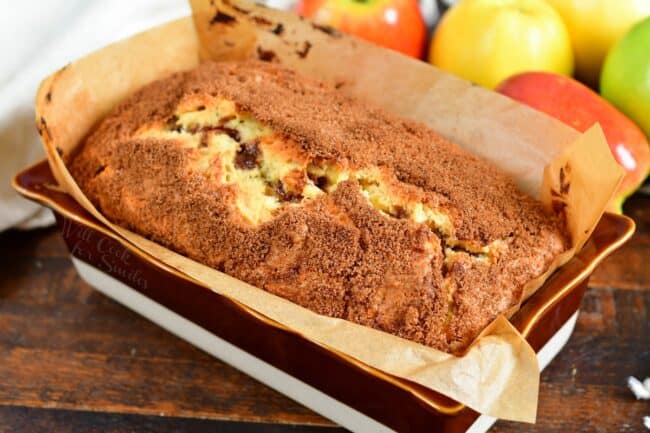 Bake the bread for approximately 55-60 minutes.
How To Tell If Quick Bread Is Done?
I get this question a lot, especially when a person follows the baking time exactly rather than temperature on baked bread. Since each oven is different, it affects the bake time differently. Also, location and altitude do affect bake time as well. So when you see bake times and cook times in recipes, remember that those are suggested times but you still have to watch the food to see if it's done.
There are several tests you can perform to see if the food is done but the temperature is the best indication in most cases. Some easy tests include to touch and gently press the middle of the bread to see how firm it is, or you can use toothpick test to see if the middle of the bread is done. Using an instant read digital meat thermometer is the best way to test if the bread is done. Measure at the center of the bread to see if it reached 200° internal temperature.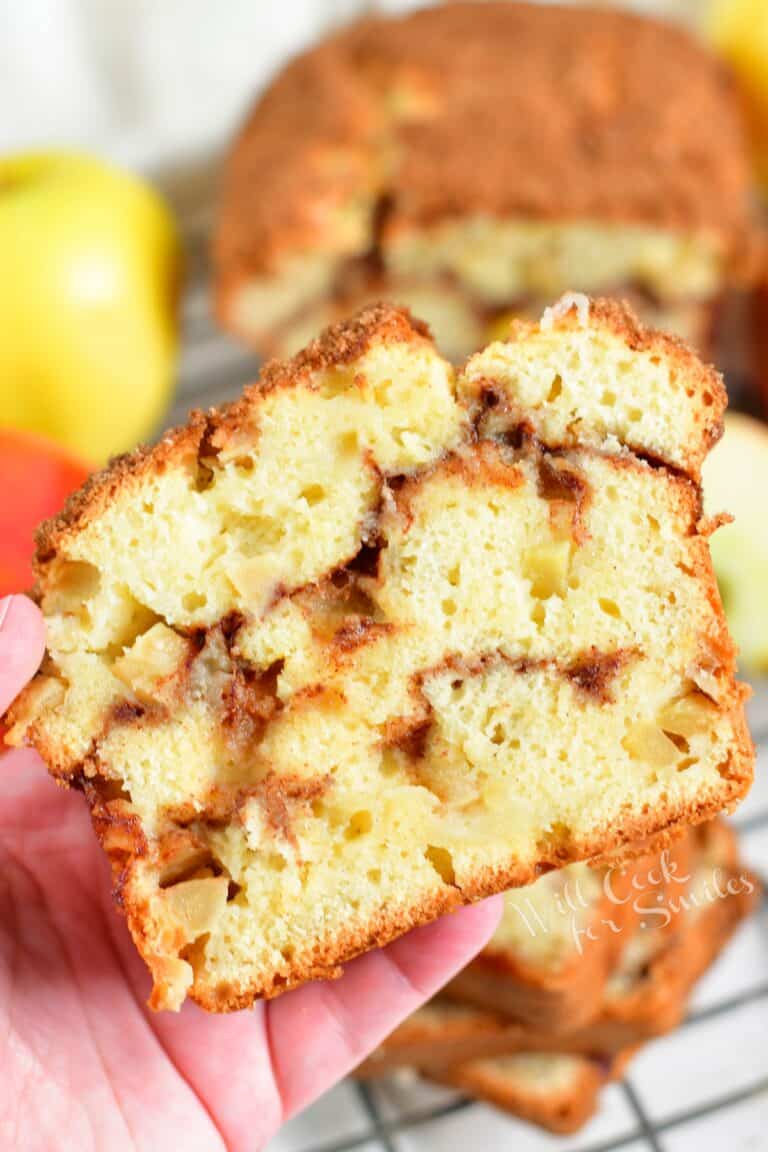 What apples are best in apple bread?
My go-to apples are usually honeycrisp or gala apples. They provide a bright and sweet flavor palate and actually keep their shape while baking. If you want a little tart and sour flavor, use Granny Smith apples.
Other apples that are good for baking include Jonagold (little tart and honey like sweetness), Braeburn (sweet and crispy and stands up great to baking without becoming mushy), Mutsu (sweet and juicy, similar to golden delicious in flavor), and Pink Lady (this apple had a milder flavor than other, it's mildly sweet and slightly tart).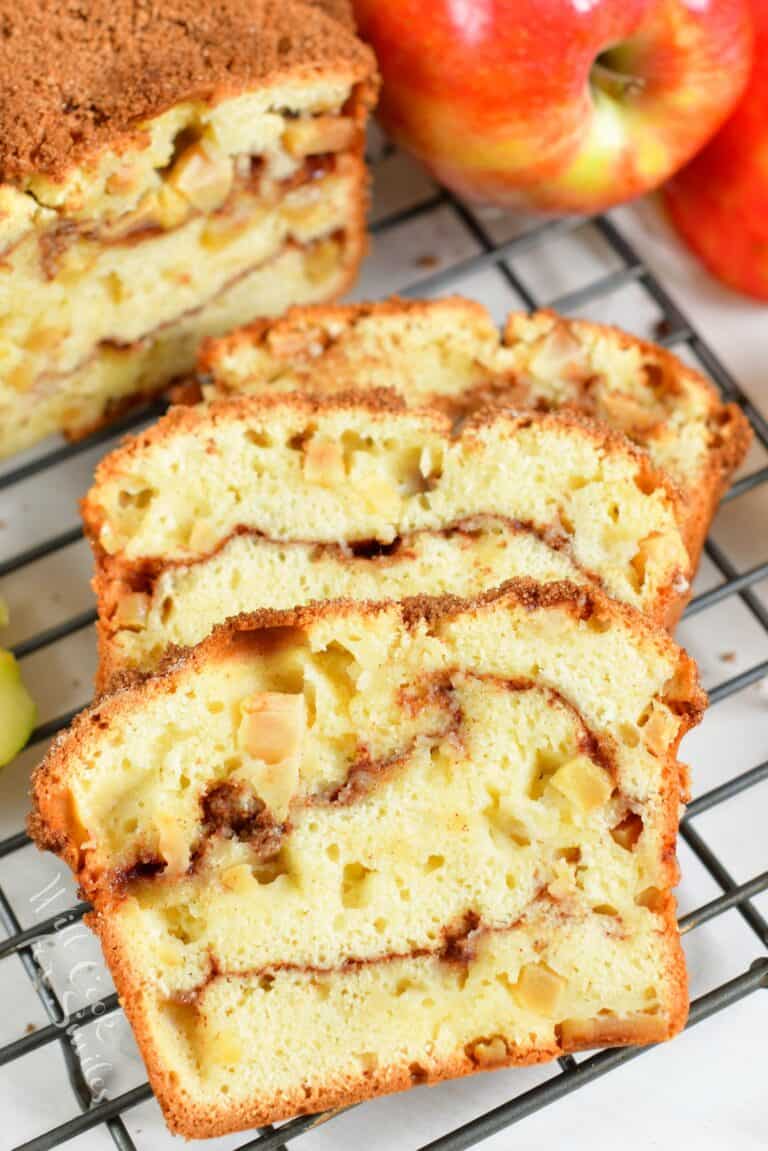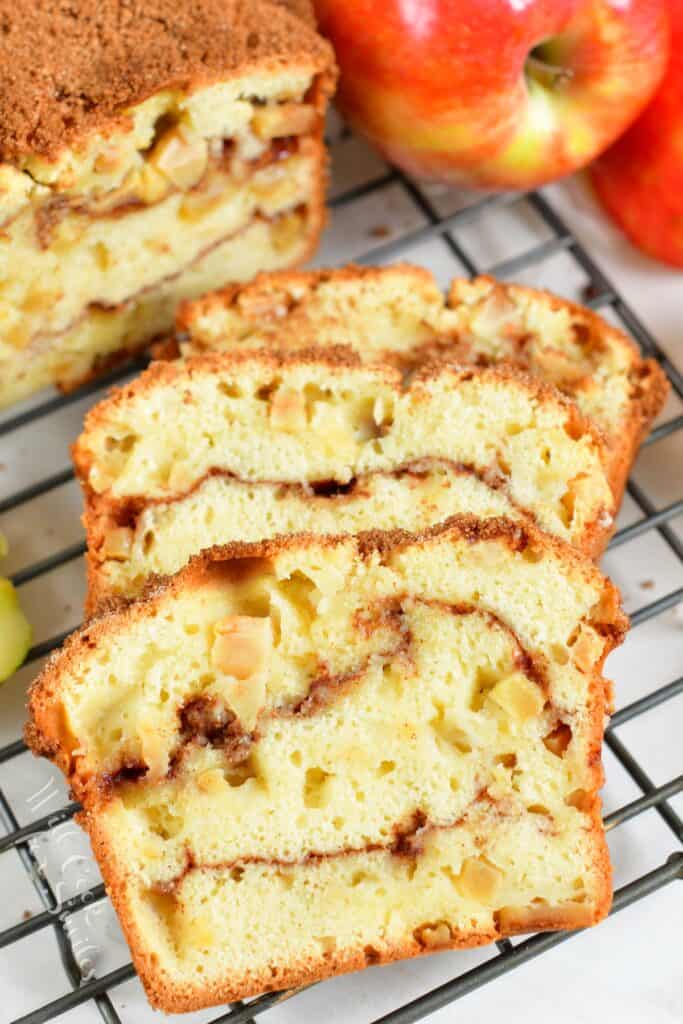 Storing Apple Bread
You can keep baked apple bread at room temperature, in the refrigerator, or freeze it! The best part is that you can store the bread as a whole or slice it into individual slices.
If you know you will eat it within a couple of days, you can easily store it at room temperature for 2-3 days. Just make sure to cover it airtight so it doesn't dry out.
In the refrigerator, this bread will last much longer. Make sure to cover the bread airtight and store it for 5-7 days.
Freezing Apple Bread
Cool the apple bread completely before freezing (or refrigerating). Slice the bread into even slices.
Quick sweet breads are more moist, so I like to place a slice of parchment paper in between each slice to keep them from sticking together. Wrap the whole loaf of bread in aluminum foil first and then place it in a large zip-lock freezer bags and let the air out. (You can also wrap each slice in foil and place them into the freezer bag if you want to pull out one slice at a time.)
Label the bag and place it in a freezer. Freeze for up to 2 months.
Defrost the bread on the counter top. Slices of bread will take minutes to defrost.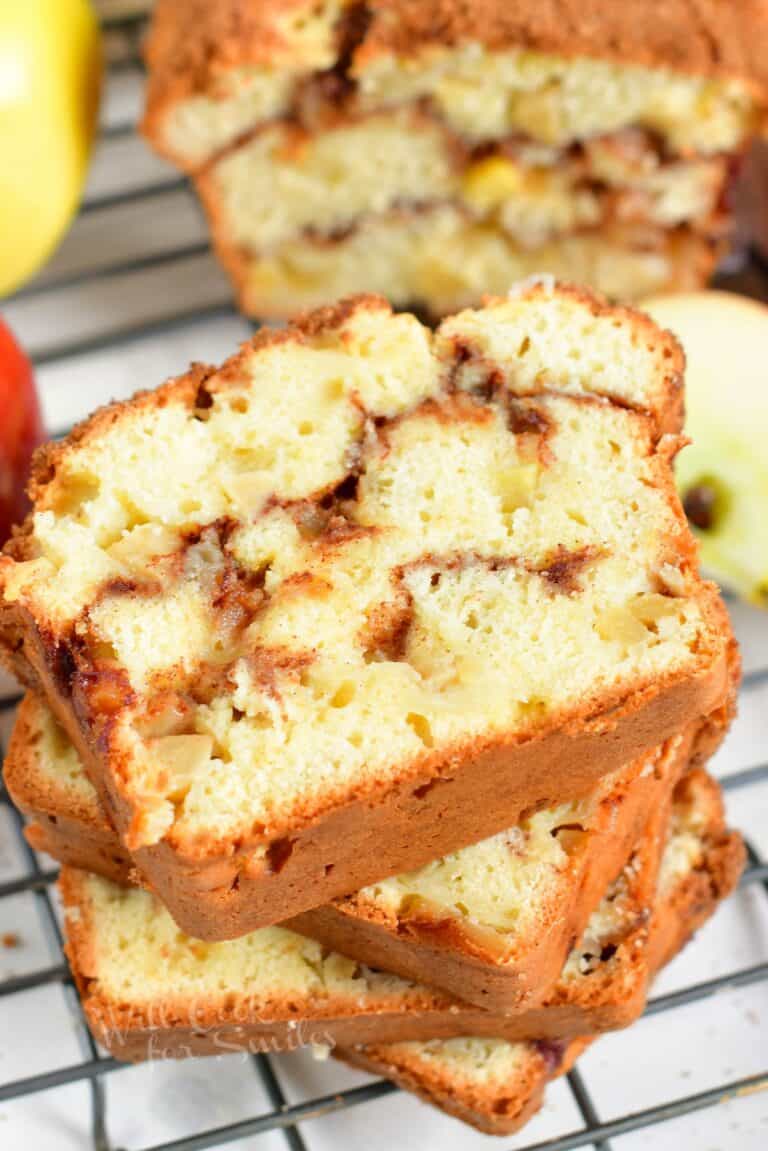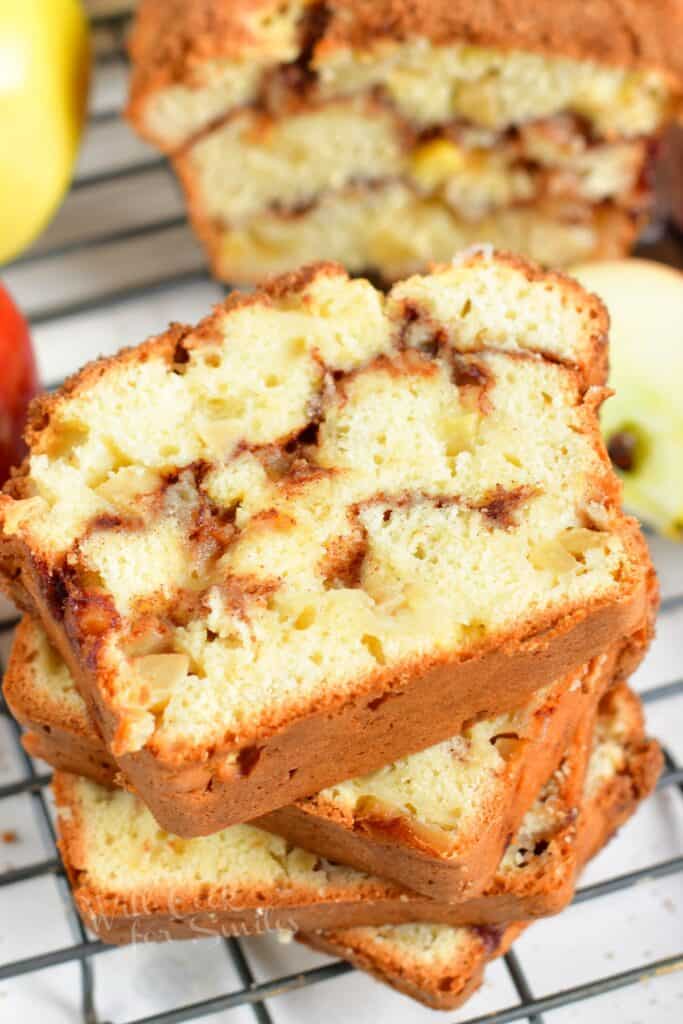 More Quick Bread Recipes To Enjoy:
Classic Banana Bread -it's a classic bread that takes only a few minutes to prepare and tastes amazing every time.
Pumpkin Bread – a moist quick bread with real pumpkin puree and warm spices.
Zucchini Bread – a super moist, sweet, and tender bread with a pleasant combination of textures.
Coconut Banana Bread – this quick bread is soft, moist, and has a delightful hint of tropical coconut flavor.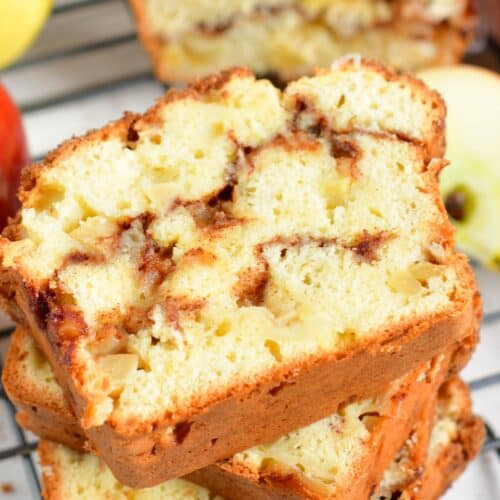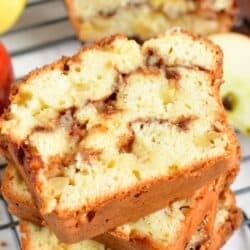 Apple Bread
This easy bread uses lots of fresh, juicy, sweet apples and is flavored with a delicious cinnamon swirl for the perfect addition of fall flavor.
Print
Save
Saved!
Rate
Ingredients
1/2

cup

unsalted butter

melted

1

cup

white granulated sugar

2

large eggs

room temperature

1/2

cup

low fat buttermilk

2

tsp

vanilla extract

2

cups

all purpose flour

1/4

tsp

salt

1

tsp

baking powder

1 1/2

cups

diced apples: Honeycrisp or Granny Smith

2 large apples
Cinnamon Swirl:
2

tsp

ground cinnamon

1/2

cup

brown sugar
*Optional mix-ins:
1

cup

chopped nuts like pecans, almonds, hazelnuts, walnuts

1/2-1

cup

raisins

1/2-1

cup

caramel bits
Instructions
Peel and cores apples and dice them into small pieces. Set aside.

Preheat the oven to 350° and line an 8 1/2 x 4 1/2 inch bread baking dish with parchment paper. Or, you can grease the bread dish with butter or oil spray all over the bottom and up the sides if you do not wish to use parchment paper.

(Note: you can use a bread baking dish that is 9×5 if needed, you will just need to start checking if the bread is done 5-10 minutes earlier.)

Beat eggs and white granulated sugar in a bowl of an electric mixer for a couple of minutes, until light and fluffed.

Lower the speed to medium and add melted butter and vanilla extract until mixed in.

Lower the speed to "stir" and mix in flour, baking powder, and salt just until incorporated.

Still on low speed, pour in buttermilk and let in mix just until incorporated. Turn off the mixer.

Scrape sides and bottom of the bowl with a butter spatula and fold in diced apples.

Spread about a 1/3 of the batter in the prepared pan, sprinkle some of the cinnamon sugar mixture over the top. Spread another 1/3 and sprinkle cinnamon over the top. Repeat one last time.

Make sure the batter is spread evenly throughout the baking dish and bake for 55-60 minutes, until done. You can do a toothpick test of take internal temperature. Internal temperature of quick bread should be 200° when done.
Notes
*The amount of optional mix-ins are for individual use, if you want to combine nuts and raising or nuts and caramels, use smaller amounts of each.
Nutritional information does not include optional mix-ins.
Nutrition
Calories:
403
kcal
|
Carbohydrates:
67
g
|
Protein:
5
g
|
Fat:
13
g
|
Saturated Fat:
8
g
|
Polyunsaturated Fat:
1
g
|
Monounsaturated Fat:
3
g
|
Trans Fat:
1
g
|
Cholesterol:
72
mg
|
Sodium:
111
mg
|
Potassium:
173
mg
|
Fiber:
2
g
|
Sugar:
42
g
|
Vitamin A:
435
IU
|
Vitamin C:
1
mg
|
Calcium:
72
mg
|
Iron:
2
mg
Tried this recipe?
Mention @willcookforsmiles and tag #willcookforsmiles