This easy pumpkin bread is a moist quick bread with real pumpkin puree and warm spices. It's hard to imagine the fall season without this aromatic, homemade pumpkin bread. Kids and adults love it for breakfast or an easy snack.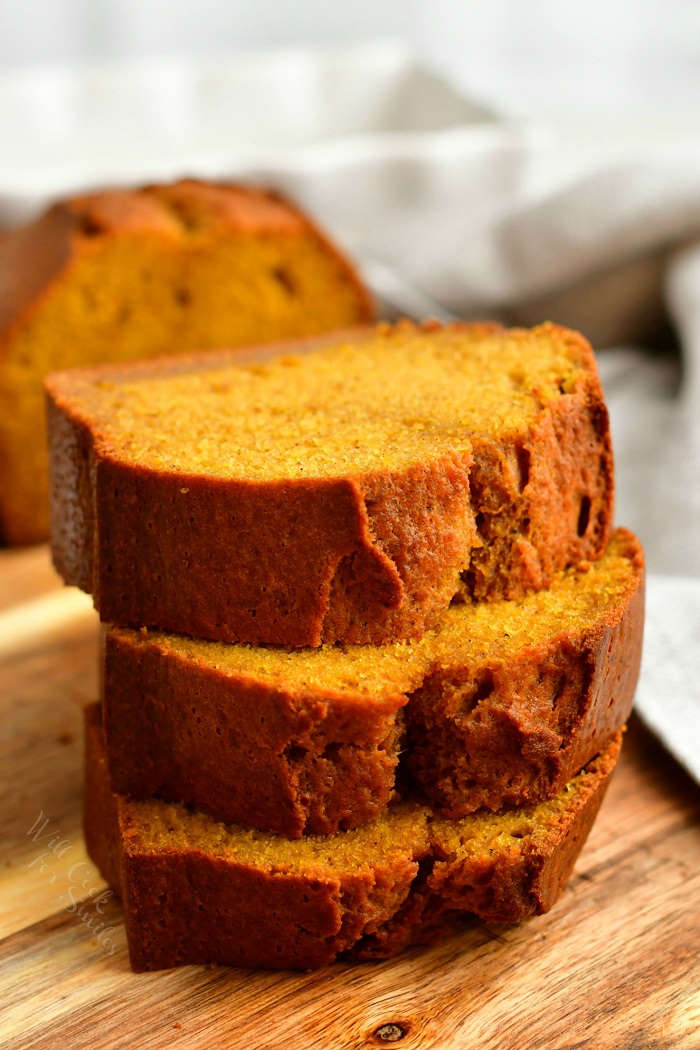 If there is one sure sign of autumn's arrival in the kitchen, it's the aroma of the pumpkin treats baking in the oven. That aroma fills the house faster than anything and can instantly transform your mood. There is something about the scent of pumpkin and apples spiced with cinnamon, nutmeg, allspice, cloves, and ginger. All those beautiful fall spices make you feel warm and cozy.
Whether it's a stack of fluffy pumpkin pancakes with warm maple syrup drizzle, a batch of glazed pumpkin donuts, or this easy pumpkin bread, the aroma will have your family running to the kitchen.
No need to buy fall scented candles and air fresheners, all you need to do is make some easy recipes using these classic fall ingredients. Preheat your oven and make some treats for your family!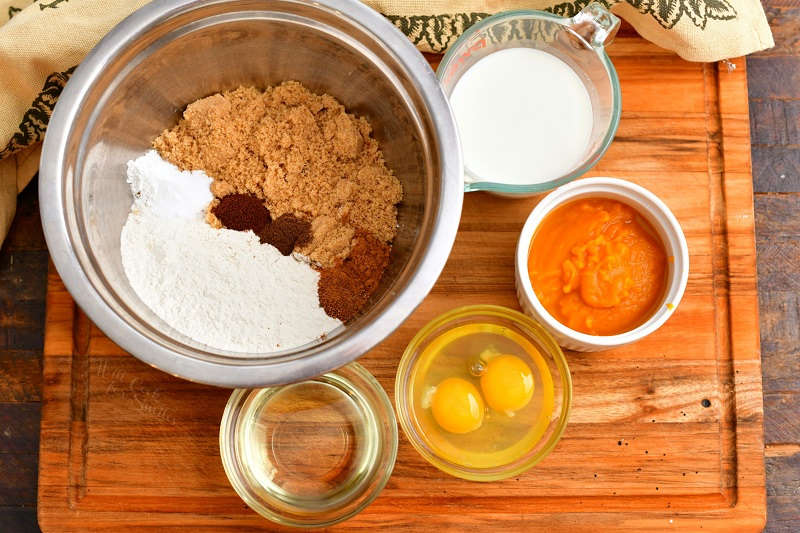 Why this easy pumpkin bread is a must-make?
Super easy. All it takes it to combine ingredients, whisk them together, pour into a baking dish, and bake.
Simple ingredients. If you do any baking at all, the odds are good that you have absolutely everything you need to make this moist pumpkin bread recipe. Okay, you may need pumpkin puree. Actually, when pie pumpkins are in season, I like to make homemade pumpkin puree. It's very easy to do!
It's incredibly moist. If you have problems making moist pumpkin bread, this recipe will make you a believer. Even better, it's moist but still holds together well enough to avoid a lap full of crumbs.
Quick baking time. There's a reason it's called "quick bread". When you make bread recipes with yeast, there is a lot of waiting for the yeast to rise. A quick bread uses baking soda and baking powder to create fluffiness.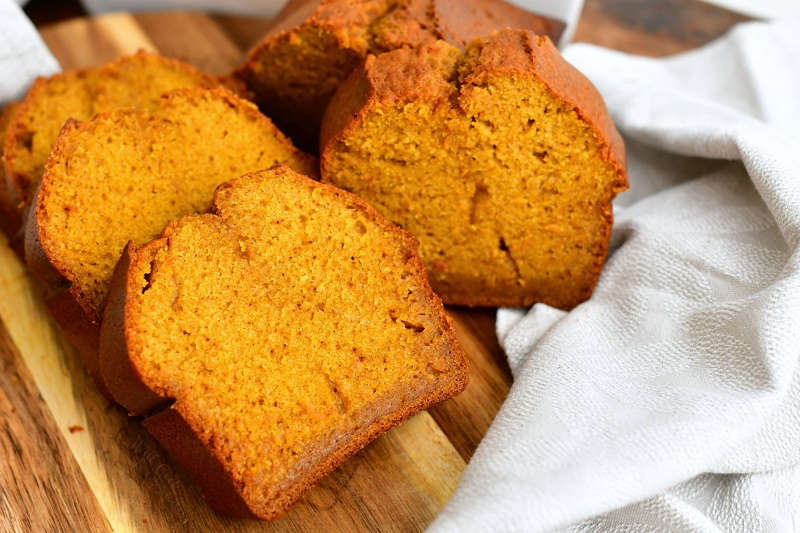 HOW TO MAKE MOIST PUMPKIN BREAD
This recipe, as well as other quick breads like Banana Bread are simple enough to make. But, if this is true, why is the bread so often dry and lacking in flavor?
There are several reasons for this, and we'll cover what they are and how to avoid them.
Use fresh ingredients.
Do you know that if it isn't stored properly, the shelf life for flour is 6 months? On the other hand, if it is kept in an airtight container in a cool, dark place, it will last for up to 2 years! The same goes for dry spices. If you leave them in bottles on your counter, they may lose flavor after 4 months.
To extend the shelf life of baking products, do NOT store them in your refrigerator or freezer! All that will do is add moisture to them, which can cause mold to form.
For more information, check out this fantastic guide on how to store common baking items.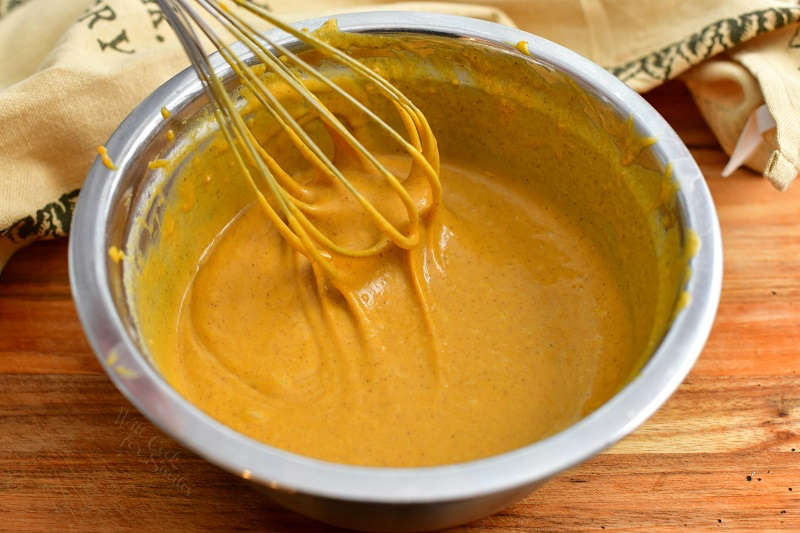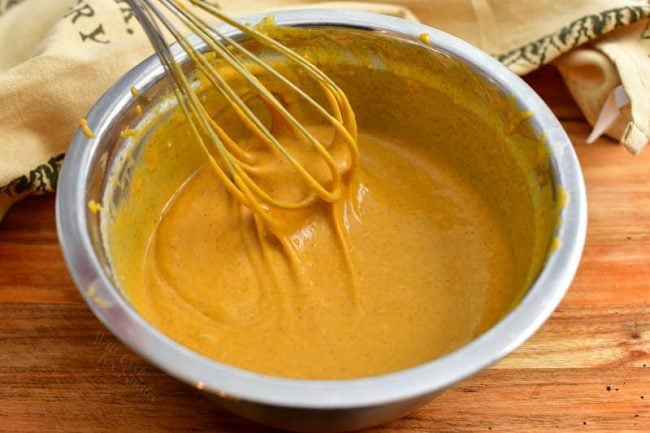 Mix the ingredients.
When you make this easy pumpkin bread recipe, pay attention to how you incorporate the ingredients. For quick breads and muffins, the ingredients are combined using a process known as the muffin method.
This involves combining the dry ingredients in one bowl and the wet ingredients in another bowl. Then, the wet ingredients are added to the bowl with the dry ones.
As a result, less gluten is produced, creating a tender and moist pumpkin bread.
Baking the bread
Bake your pumpkin bread immediately after mixing the batter.
Most commonly sold and used baking powder right now is double acting, which means it is activated when mixed with other ingredients and then again when introduced to heat. Since baking powder is chemically activated by the other ingredients while mixing, it only remains active for a short time. After that, it loses the ability to help the pumpkin bread rise.
For this reason, it is important that you turn on your oven to preheat before you start making the batter. Immediately after incorporating the ingredients, pour the batter into the loaf pan and get it into the oven.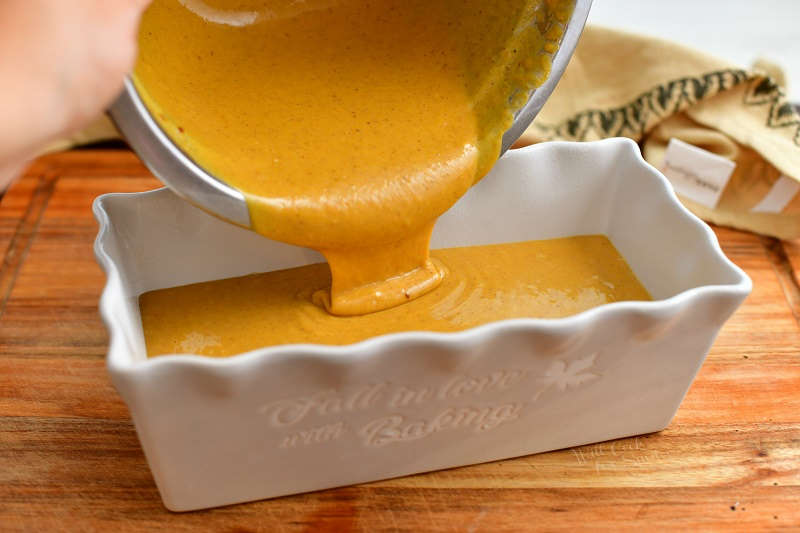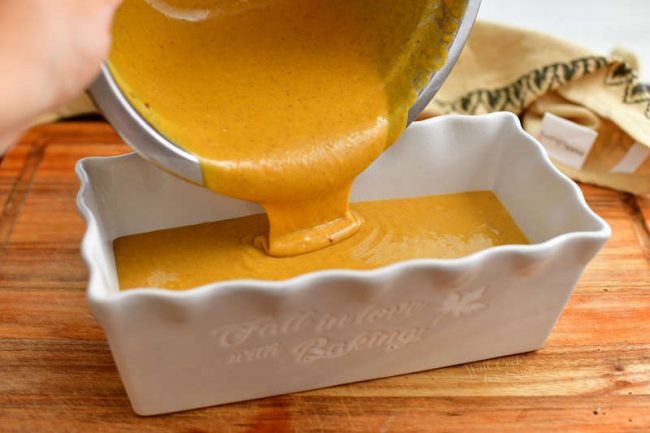 Avoid over baking the bread.
Many recipes will tell you to remove the pan from the oven when a toothpick comes out clean after being inserted into the center of the loaf. Very often, this can lead to it being dry.
To avoid this problem, remove the pumpkin bread while there are still a few moist crumbs visible on the toothpick. The loaf will continue to cook for a few minutes as it cools off. The toothpick should not have any under-baked batter on it but it also should not be bone-dry.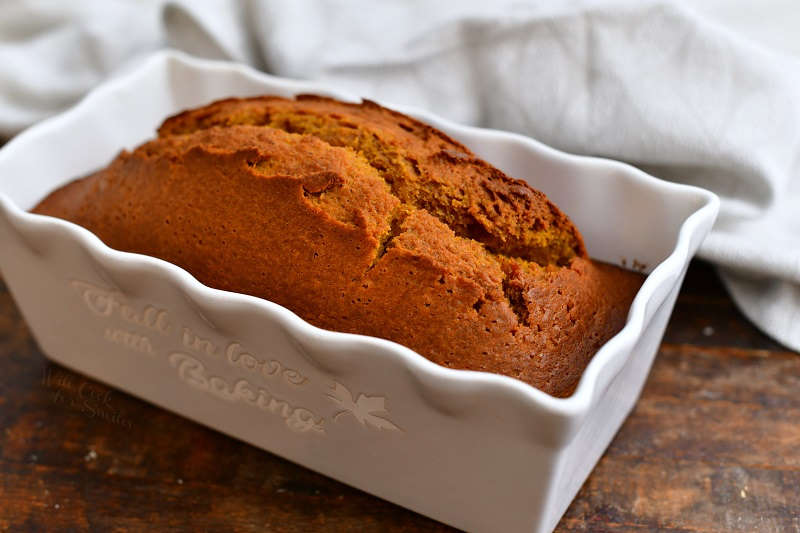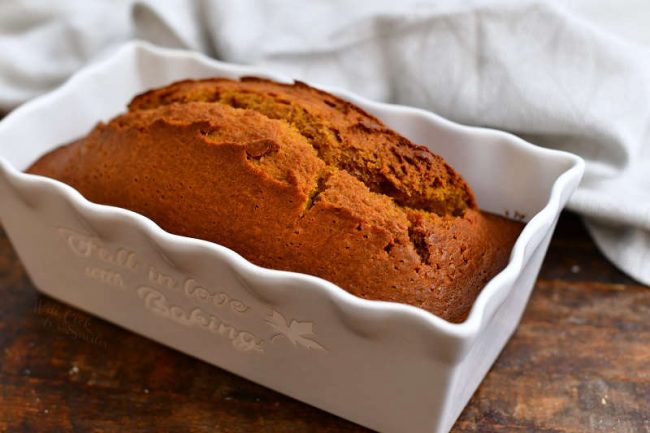 COMMONLY ASKED QUESTIONS
Why didn't my pumpkin bread rise?
If your bread didn't rise, it may be for one of the following reasons:
Expired (old) baking soda or baking powder.
Adding too much batter to the pan. Be sure that your batter fills the pan no more than 3/4 full. If there is too much batter, the bread will sink as it reaches above the top of the pan.
Waiting too long to bake it after mixing the batter.
What tastes good on pumpkin bread?
Any type of butter is delicious on a warm slice of bread. Cinnamon butter is especially delicious, and for extra special treat, try some peanut butter, apple butter, or pumpkin butter on it!
My kids also love to top a hot slice of pumpkin bread with ice cream and eat it like cake.
What else can I make with pumpkin puree?
If you have a cup of pumpkin puree left over, consider stirring it into a bowl of warm oatmeal, make French toast, or pancake batter. Make a batch of frosted pumpkin brownies too, they are amazing!
Transfer the leftover pumpkin puree into a small food storage container with a lid and keep it refrigerated.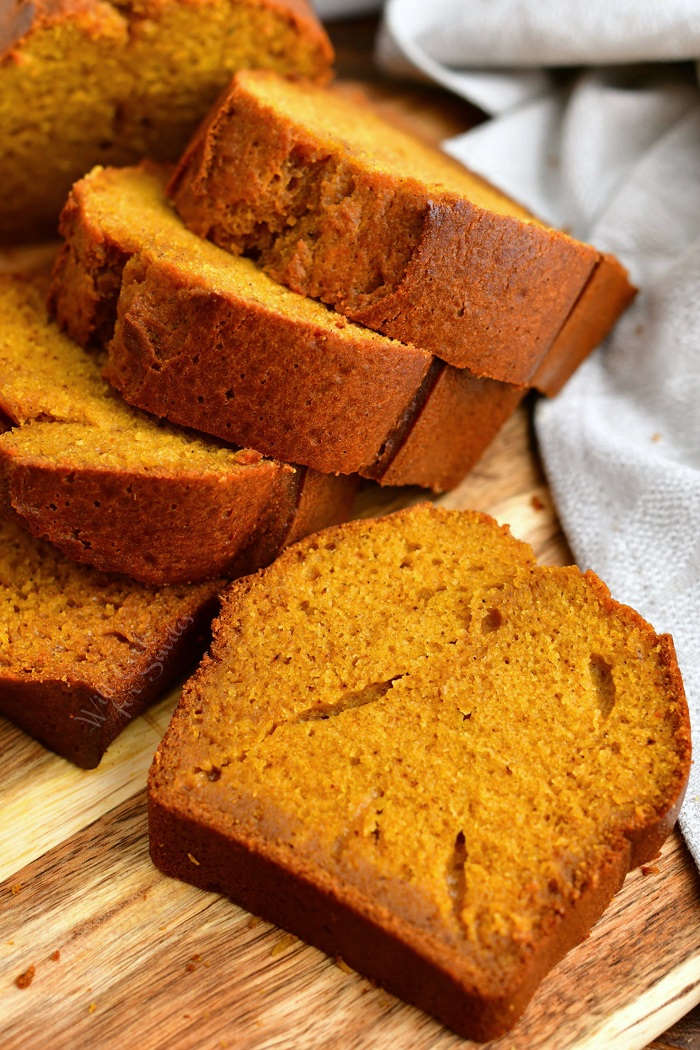 If you made any of my recipes and shared them on Instagram, make sure to tag me @willcookforsmiles and #willcookforsmiles so I can see all the things you tried!
Connect with Will Cook For Smiles!
Be sure to click below and follow me on my social media, so you never miss a recipe.

Don't forget to sign up for email, so you won't miss any new recipes.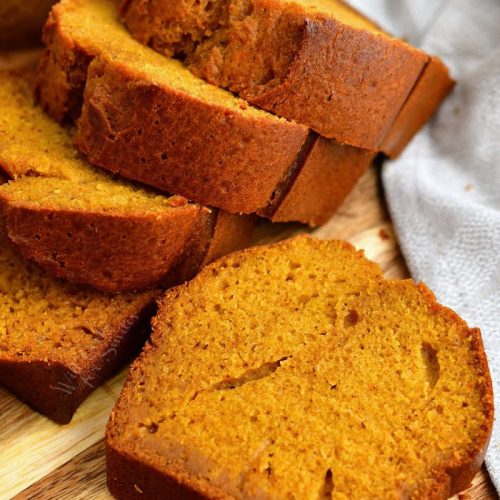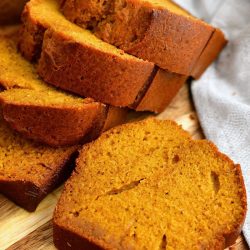 Pumpkin Bread
Soft, moist, and rich classic pumpkin bread will bring happiness to everyone during the fall season. It's an easy recipe that will take only a few minutes to put together.
Print
Pin
Save
Saved!
Rate
Ingredients
2

eggs

room temperature

1

cup

brown sugar

½

cup

whole milk

1

cup

pumpkin puree

½

cup

vegetable oil

1½

cups

flour

¼

tsp

salt

1

tsp

baking soda

1/2

tsp

baking powder

¼

tsp

ground nutmeg

1 1/2

tsp

ground cinnamon

½

tsp

ground allspice

1/2

tsp

ground ginger
Instructions
Preheat the oven to 350 degrees and grease a standard loaf pan. (9x5 inch pan will work well, or one similar in size.)

Sift in dry ingredients in a mixing bowl and mix well.

In another mixing bowl, whisk together eggs, brown sugar, milk, pumpkin puree, and oil until smooth.

Pour in wet ingredients into the dry ingredients and whisk until just combined and smooth.

Pour batter into the prepared pan and sprinkle some cinnamon on top.

Bake for 55–60 minutes, until a toothpick inserted in the center comes out clean. (If needed, bake additional 5-7 minutes.)
Optional toppings:
Pecans or walnuts

Streusel/crumble topping
Optional mix-ins:
Dried cranberries

Chocolate chips

Pecans or walnuts
Storing pumpkin bread:
At room temperature, the bread will last up to 2 days. Take it out of the baking dish, let it cool and make sure to wrap it tightly with plastic wrap.In the refrigerator, it will last up to a week. You can store it in the same baking dish or a food storage container, just make sure to wrap it air-tight.In the freezer, pumpkin bread will last up to 3 months. Cool bread completely before freezing and you can freeze the whole loaf or in slices. Wrap each slice or the whole loaf with plastic wrap and then place it into a freezer zip-top bag.
Nutrition
Calories:
345
kcal
|
Carbohydrates:
49
g
|
Protein:
5
g
|
Fat:
16
g
|
Saturated Fat:
12
g
|
Cholesterol:
42
mg
|
Sodium:
262
mg
|
Potassium:
192
mg
|
Fiber:
2
g
|
Sugar:
29
g
|
Vitamin A:
4850
IU
|
Vitamin C:
1
mg
|
Calcium:
75
mg
|
Iron:
2
mg
Tried this recipe?
Mention @willcookforsmiles and tag #willcookforsmiles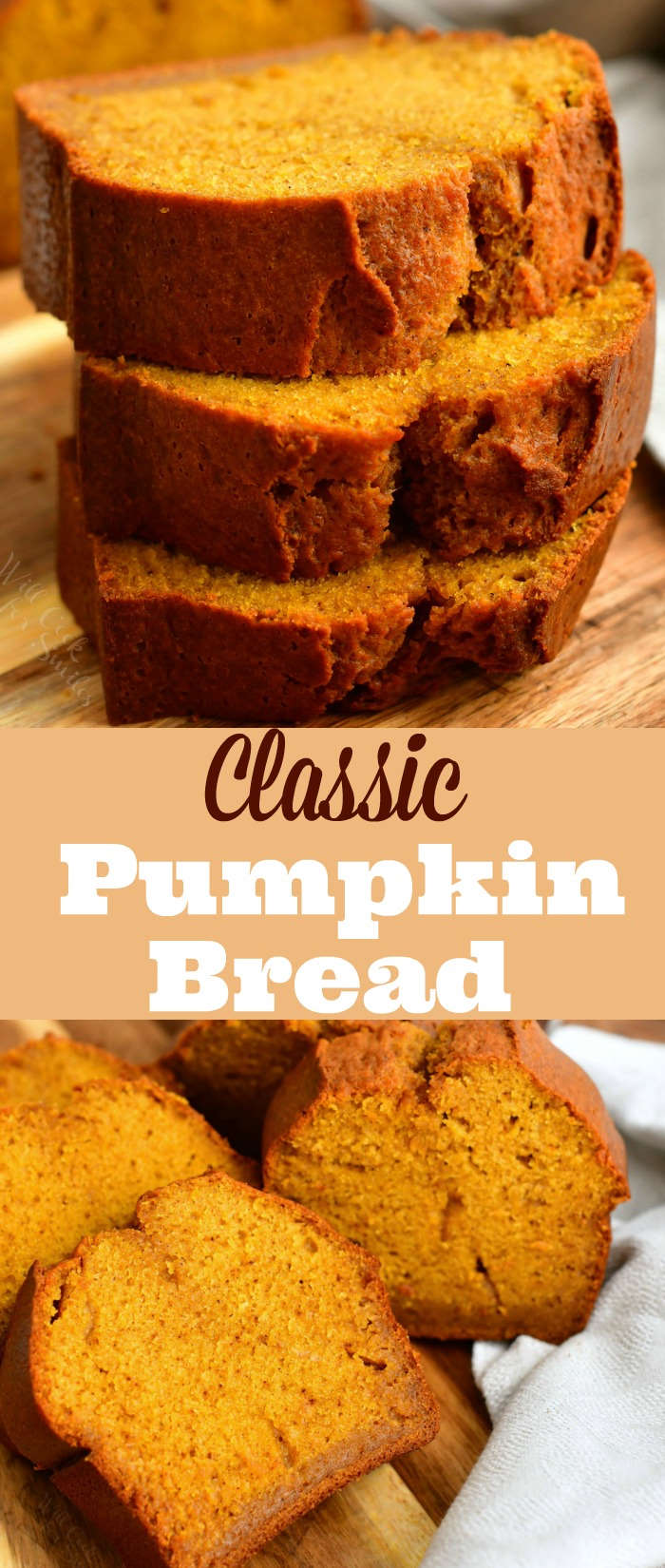 Originally published on Will Cook for Smiles on May 1, 2015. Updated September 9, 2020.