Roasted Garlic Aioli is probably the best dip for fries you can ever try! This garlicky dipping sauce will be the best friend for your fries, or a spread for your sandwiches and burgers. Next time you make roasted garlic, be sure to save a bulb or two for this easy aioli recipe.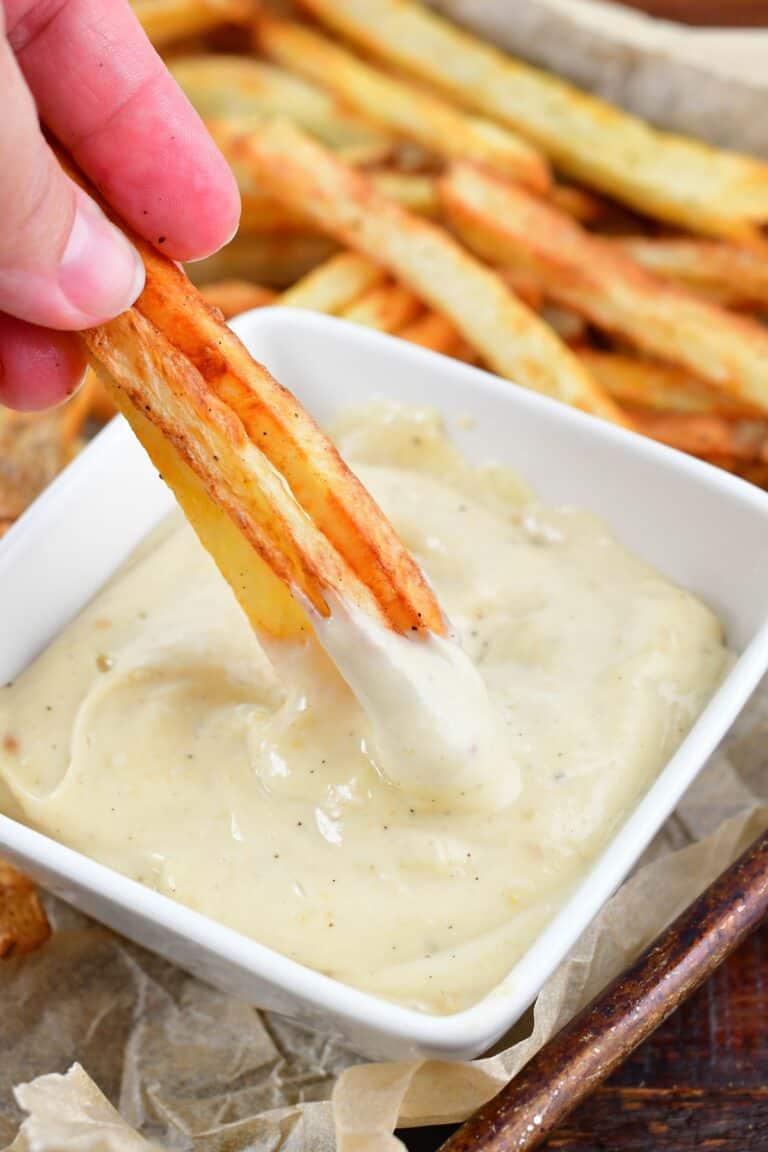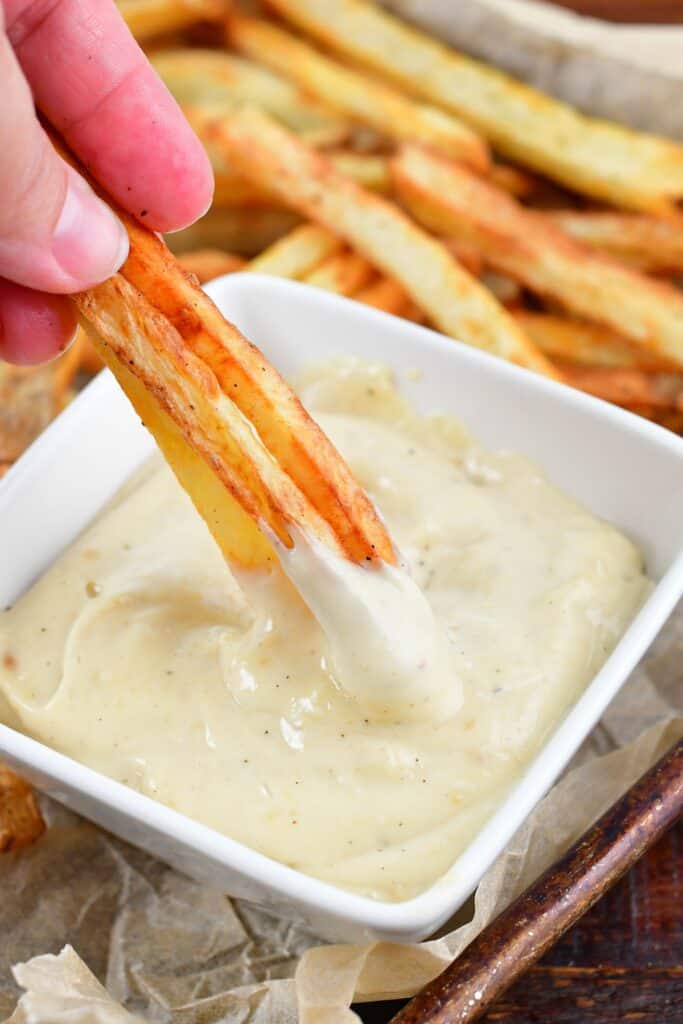 Roasted Garlic Aioli
If you've been to a restaurant in the last five years, the chances of you having seen aioli featured on the menu! This condiment has really taken over, so much so that I almost never see ketchup served with fries anymore. And for good reason! When made just right, garlic aioli should be creamy, potent with garlic flavor (but not overpowering), and complimentary to your salty fries.
What elevates this aioli is the delicious caramelized flavor or roasted garlic, it really makes it rich. There's an endless list of ways you can use roasted garlic, but this has got to be one of my favorites! When roasted to perfection, garlic cloves add a sweet, yet savory depth to aioli that just can't be beat. Plus, it really compliments the other ingredients, like the lemon juice and parmesan cheese.
Roasted Garlic Aioli is ideal for serving with fries or spread on burgers and sandwiches, but you can really get creative with it! I love serving homemade sauces like this at parties and gatherings because it really adds a little something special that the store-bought bottles just can't compete with. You'll never touch store-bought aioli again once you try this recipe!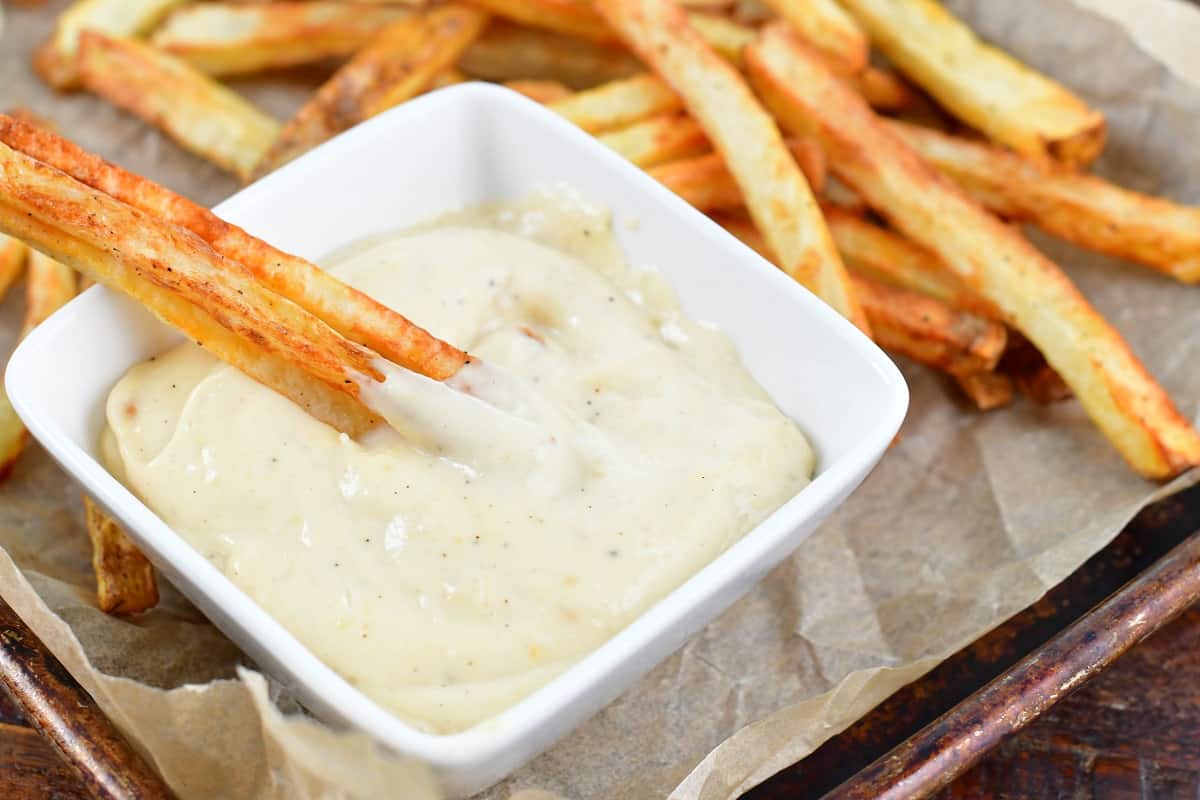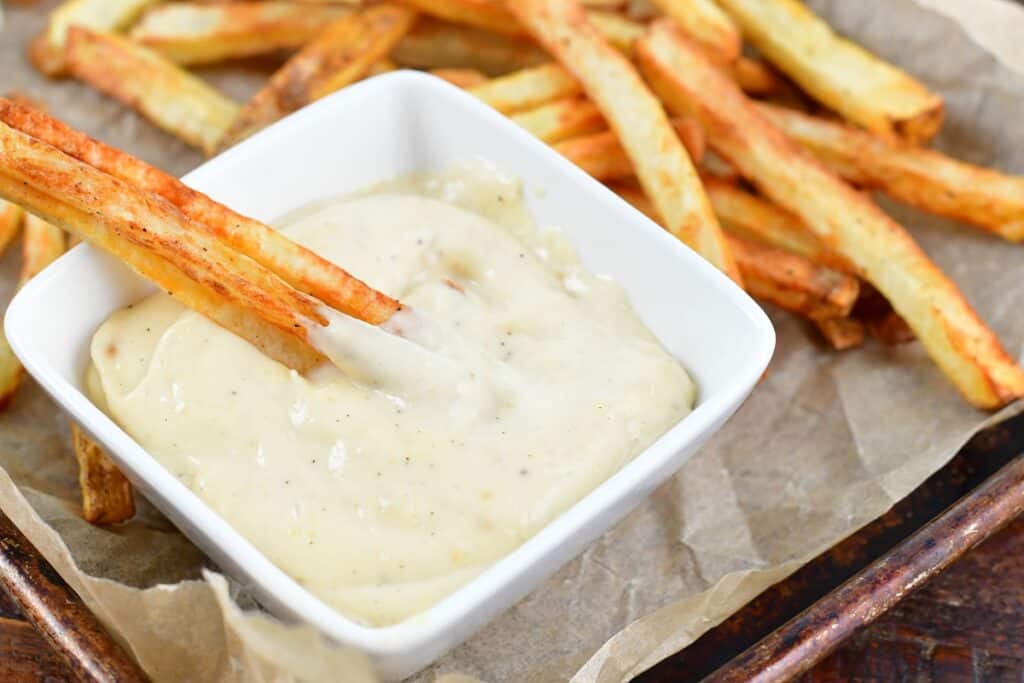 What is aioli?
You might already be familiar with this rich and creamy dip/spread, but you may not know what it is exactly. In the recent decades, aioli has become synonymous with mayo, but it wasn't this way originally. Original aioli is Mediterranean, and it was a simple emulsion of three ingredients: real olive oil, fresh garlic, and a pinch of sea salt. Of course, by garlic, I mean a ton of garlic!
It was mashed together in a pestle and mortar until it formed a creamy emulsion. It's an extremely laborious process to get the thick and creamy sauce consistency this way. Over time, aioli has morphed with the French way of making an emulsion by combining egg yolk, lemon juice, and mustard, which is a creamy spread that resembles mayo.
Mayonnaise is also an emulsion of acid like lemon juice or vinegar combined with egg yolks, mustard, and salt, but it goes through a different preparation process which makes it more fluffy instead of rich and creamy.
Aioli vs Mayo:
So the key differences between aioli and mayo is the oil and the actual emulsion process. Aioli uses olive oil, while mayo uses a more neutral oil. The process for making aioli results in a denser, richer, and creamier sauce, while mayo is creamy, yet light and fluffy.
Different aioli recipes use homemade mayo or store-bought, but it's always made with "a little something extra" to give it a burst of flavor. You can choose to use your favorite mayo from the store to make it easy, or make it homemade if you have a great recipe you love! (Do remember to choose a classic, straight forward mayonnaise. No flavored ones or brands that have a very potent, lemony taste of mayonnaise because it will change the whole flavor profile of the aioli.)
How to Make Roasted Garlic Aioli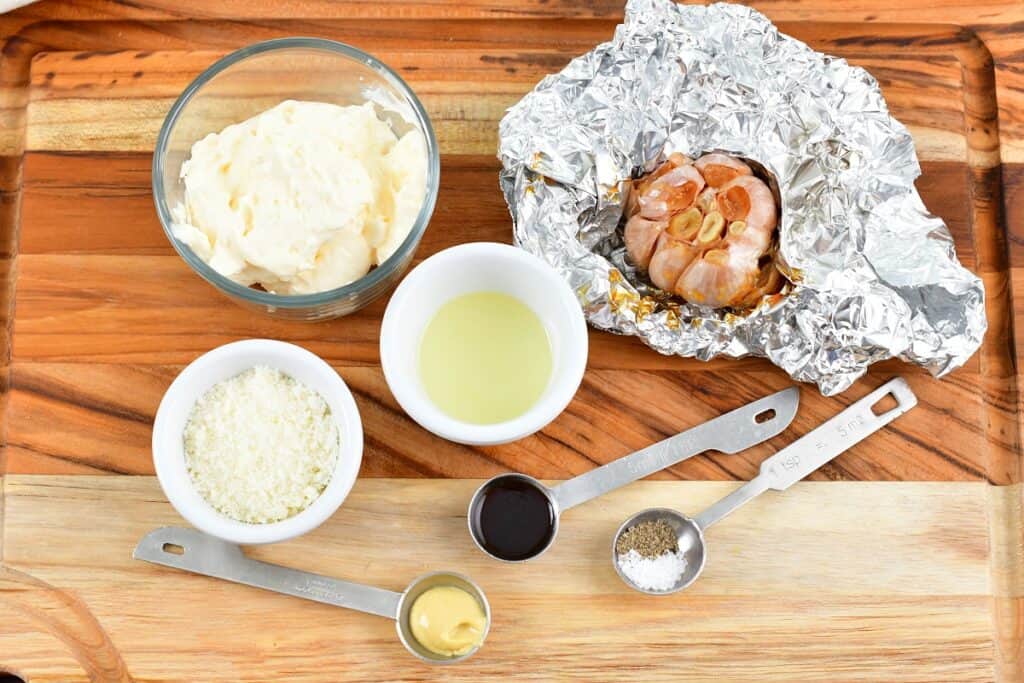 Ingredients You'll Need:
Garlic – You'll need a whole bulb of garlic, and maybe even two depending on the size.
Olive Oil – Try to use a good quality olive oil for the best results.
Mayonnaise – For the best consistency, avoid using low fat or flavored mayo. It should be smooth and mild in flavor.
Lemon Juice – use fresh squeezed lemon juice!
Worcestershire Sauce
Dijon Mustard – Do NOT substitute this ingredient with plain yellow mustard.
Parmesan Cheese – for best results, grate the cheese yourself, or head to the deli and see if they sell containers of freshly grated parmesan.
Salt and Pepper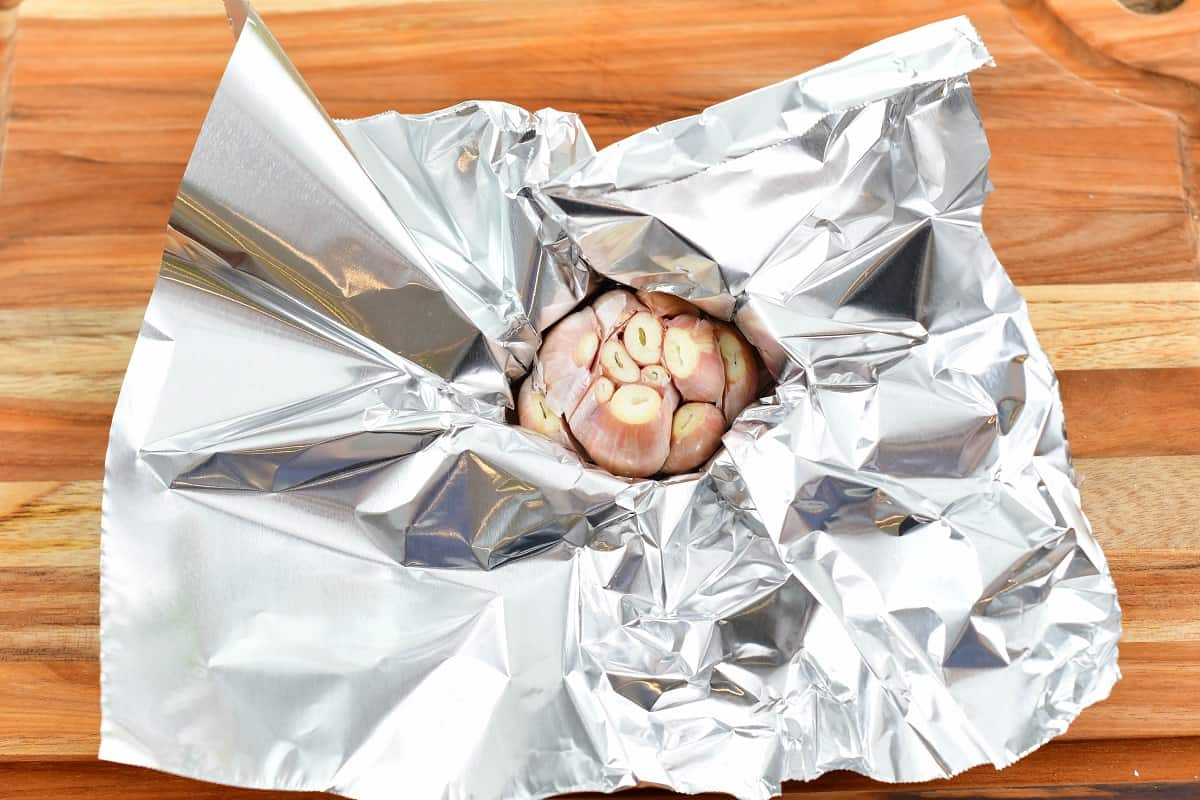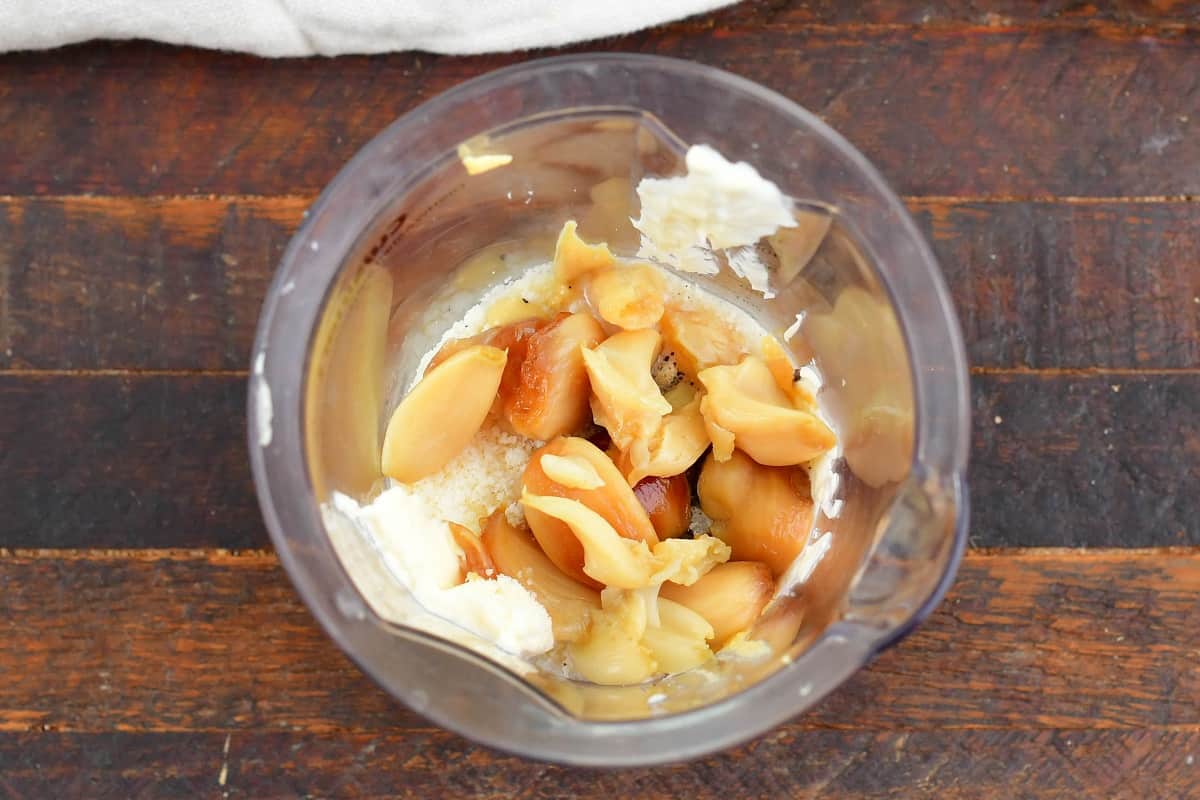 Directions:
Start off by roasting the garlic.
Clear the outer, sheer layer of the garlic, but make sure the bulb is still intact and the thick skin is on. Slice the tips off of the bulbs.
Place prepared garlic bulb on a square sheet of foil and drizzle it with olive oil. Tightly wrap the bulb with the foil.
Bake the garlic in an oven at 400°F for 40-45 minutes. Let the garlic fully cool before trying to handle it, because it'll be very hot!
Combine the ingredients to make your aioli.
Once the garlic is cooled enough to handle, squeeze out all of the caramelized cloves you'd like to use. (Or peel the skin off each one.)
Combine all of the ingredients in a blender and pulse a few times to combine.
Frequently Asked Questions
How to use aioli?
You can use Roasted Garlic Aioli any way you would use a mayo!
Use it as a spread on all of the sandwiches and burgers you love.
It's also common to use it as a dip for your fries, crackers, and veggies.
You can even dip chicken nuggets, popcorn shrimp, and popcorn chicken into it.
If you'd like, you can can thin it with some extra olive oil and drizzle it over roasted vegetables, flatbreads, and pizzas. You can also dip some breadsticks into it!
Storing Roasted Garlic Aioli
It's best to store Roasted Garlic Aioli in an airtight glass jar with a lid, and of course, in the refrigerator. Stored properly, it should stay fresh for 5-7 days.
Can I roast the garlic ahead of time?
Of course! You can follow the instructions for roasting garlic and storing it in the fridge. There's also no need to reheat the garlic, just mix it into aioli cold. Just remember to NEVER store roasted garlic at room temperature!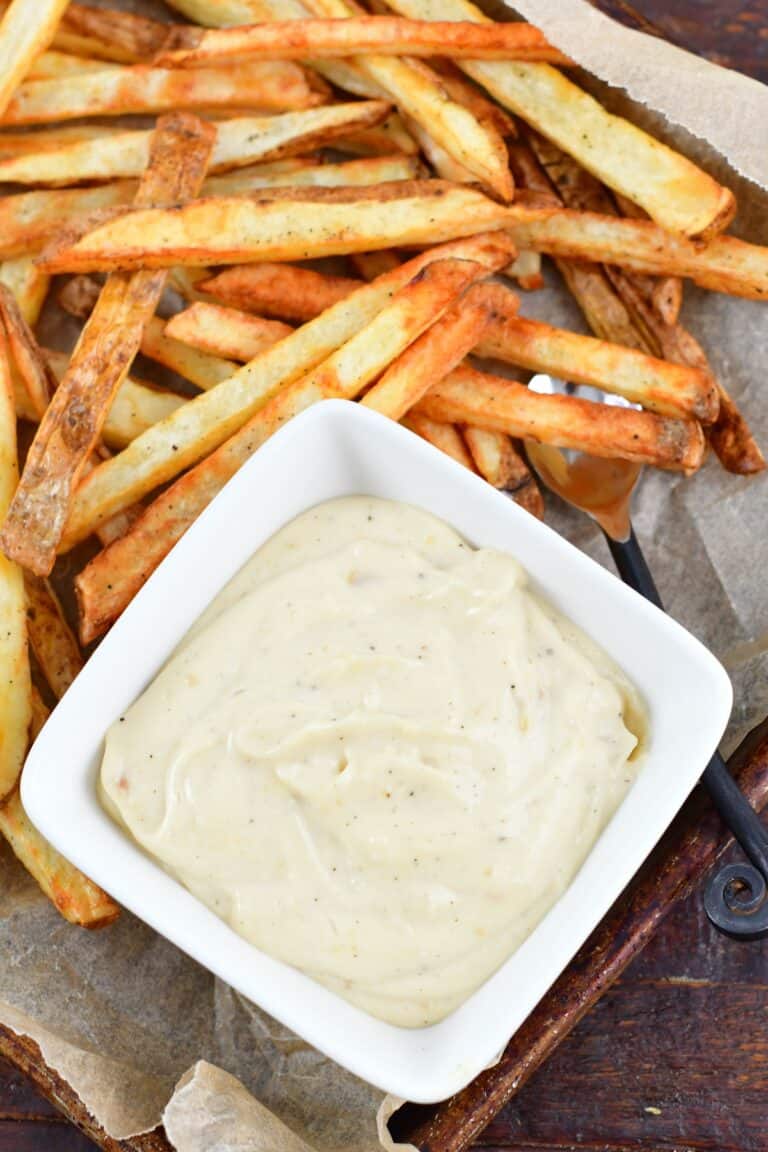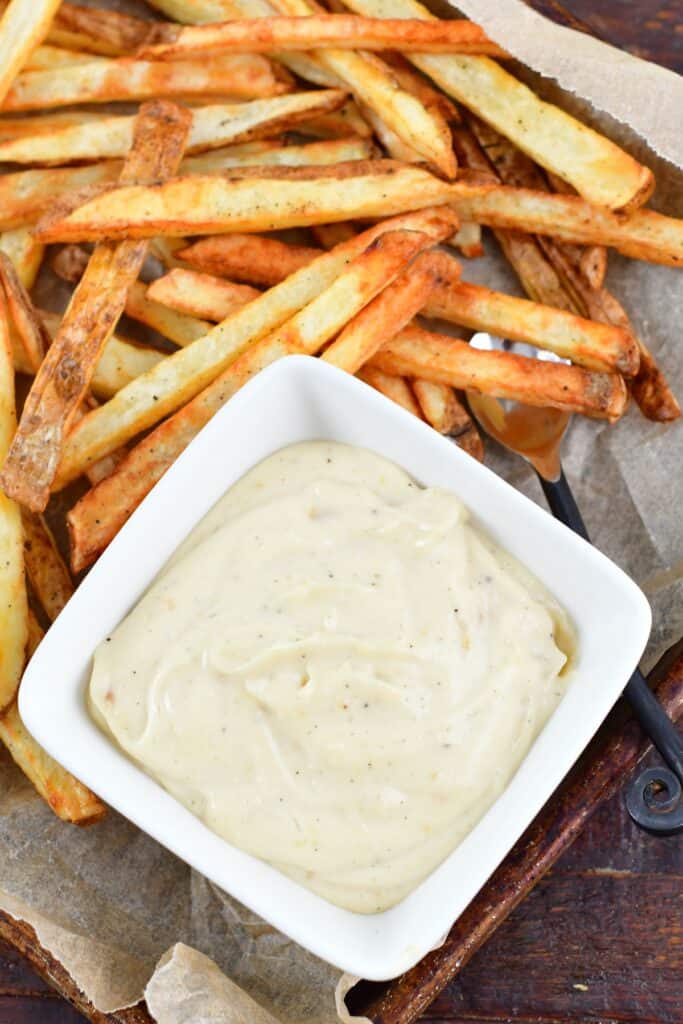 Roasted Garlic Aioli Recipe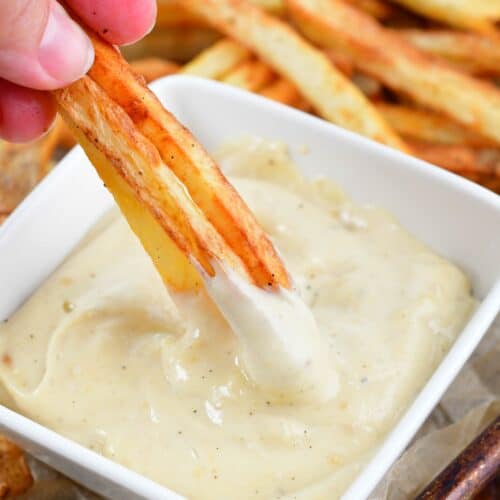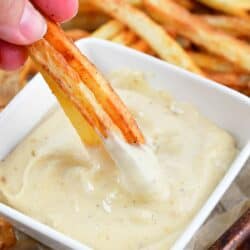 Roasted Garlic Aioli
Roasted Garlic Aioli is probably the best dip for your fries you can every try! This easy garlicky dipping sauce will be the best friend for your fries, or a spread for your sandwiches and burgers.
Print
Pin
Save
Saved!
Rate
Ingredients
To Roast Garlic:
1

garlic bulb

if garlic bulbs are small, you can use 2

1

tsp

olive oil
For Aioli:
1/2

cup

mayonnaise

1

tbsp

fresh lemon juice

1/2

tsp

Worcestershire sauce

1

tsp

Dijon mustard

2

tbsp

grated Parmesan cheese

pinch

salt

to taste

pinch

black pepper

to taste
Instructions
Roasting the Garlic:
Preheat the oven to 400°. You can roast as many garlic bulbs as you wish, just roast them individually wrapped. You will need aluminum foil squares, each square big enough to wrap the bulb.

For this recipe, you will need one, medium sized garlic bulb.

Clear the very outer, sheer layers of of the garlic bulb but leave the thicker inner skin on. Keep the bulb intact. Slice off tips from garlic cloves on the bulb, just a little, about 1/4 inch.

Place the garlic bulb in a middle on an aluminum foil square. Drizzle about a teaspoon of olive oil over the top of the bulb and wrap the bulb in foil.

Place wrapped garlic bulb onto a roasting pan and bake for 40-45 minutes. Let the bulb cool down before using.
To Make Aioli:
Once garlic is cooled, you can either squeeze the garlic out of each clove or peel each clove to get the garlic out. (Personally, I prefer to peel each clove because when you just squeeze it out, some garlic is always left behind.)

Combine all of the ingredients (including roasted garlic) in a blender and pulse a few times just to combine and blend.
Storing:
Serve right away or store in an air-tight glass container with a lid. Make sure to store roasted garlic aioli in the refrigerator. Stored properly, it should be good for 5-7 days.
Nutrition
Calories:
213
kcal
|
Carbohydrates:
1
g
|
Protein:
1
g
|
Fat:
23
g
|
Saturated Fat:
4
g
|
Polyunsaturated Fat:
13
g
|
Monounsaturated Fat:
6
g
|
Trans Fat:
1
g
|
Cholesterol:
14
mg
|
Sodium:
245
mg
|
Potassium:
25
mg
|
Fiber:
1
g
|
Sugar:
1
g
|
Vitamin A:
42
IU
|
Vitamin C:
2
mg
|
Calcium:
28
mg
|
Iron:
1
mg
Tried this recipe?
Mention @willcookforsmiles and tag #willcookforsmiles