This Chai Latte is a warm, comforting, creamy drink with the perfect balance of aromatic spices. Each sip of this Chai gives you the feeling of a warm blanket being wrapped around you! This recipe has the great balance of spices to ensure an amazing chai latte every time.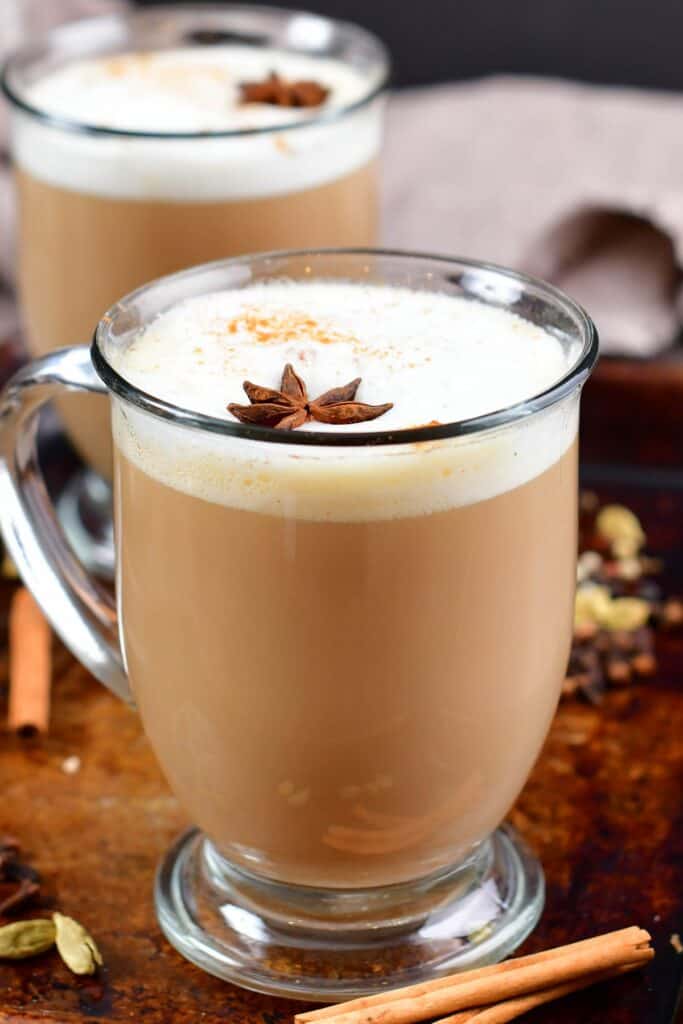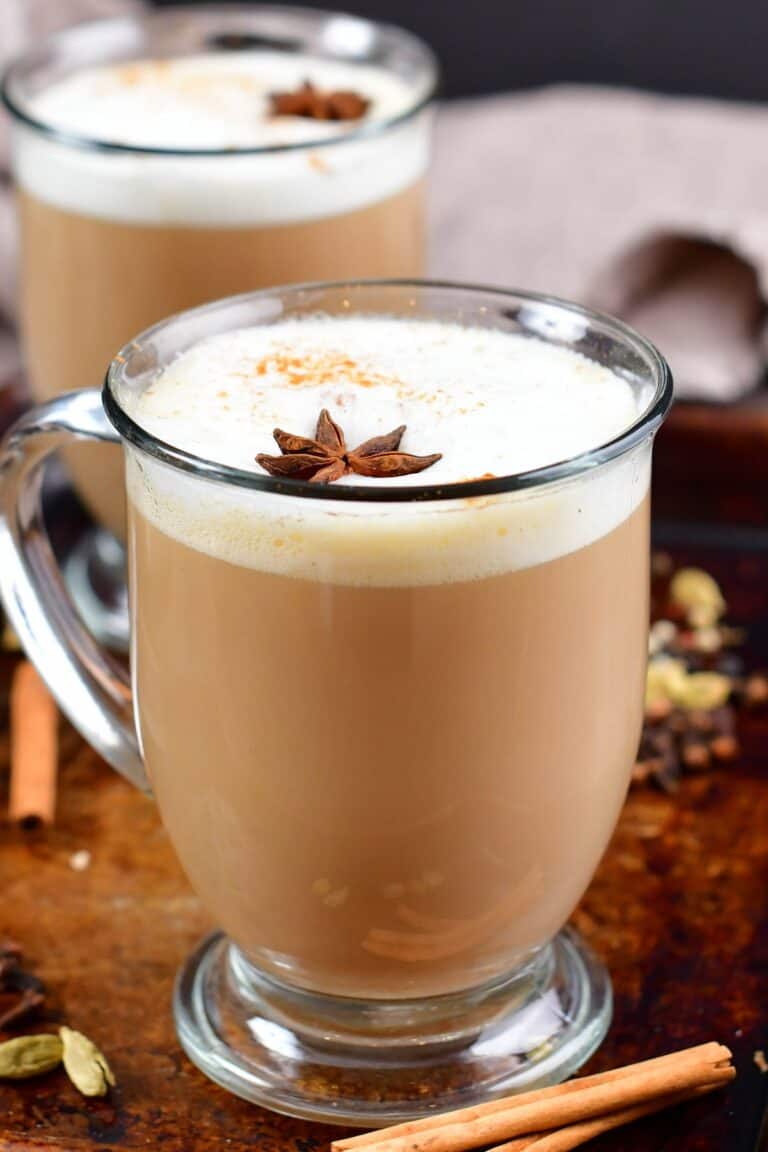 Chai Latte
A couple of years ago, my stomach was apparently not done playing cruel tricks on me because I could no longer drink coffee. For someone who was about 80% caffeine, that was a hard thing to process.
So I started trying to figure our what I can drink to still get some caffeine without the actual coffee. Chai Latte is where I landed and have been quite happy!
Since I can't exactly go to a coffee shop once or twice a day (not a Rockefeller!), I had to learn to make it at home. Countless bad batches and lots of experimenting later, I finally came up with a great recipe that my family and I love. I've been using this recipe for over a year and can't wait to share it.
I make a batch every week of about 2- 2.5 quarts and it lasts me through the week. It's a great make-ahead drink recipe!
What Is Chai?
So, what exactly is a chai latte? (In the states, you may be more familiar with it as a "Chai Tea Latte," thanks to Starbucks.) Put simply, this traditional Indian drink is an aromatic blend of black loose leaf tea, whole spices, sugar, and rich milk.
The most important aspect of homemade chai is the mix of spices and tea that goes into the drink. It's the key to a perfect sip, and has quite a delicate balance. Even though every family has their own special recipe, there is still a traditional set of spices and you need to balance them well. One wrong move, too much of one spice, and the whole drink is ruined.
Through some trial and error over the last couple of years, I've developed a great chai recipe with a very pleasant balance of traditional chai spices! Dare I say, it's even better than Starbucks. (Well, completely different actually, since this is homemade and Starbucks uses a pre-packaged mix.)
Notes of cinnamon, cardamom, and ginger are bold, but not overwhelming. This blend also happens to be my favorite because I like to err on the side of less sweetness so you can truly taste the tea and spices. You can always adjust sweetness to how you like it!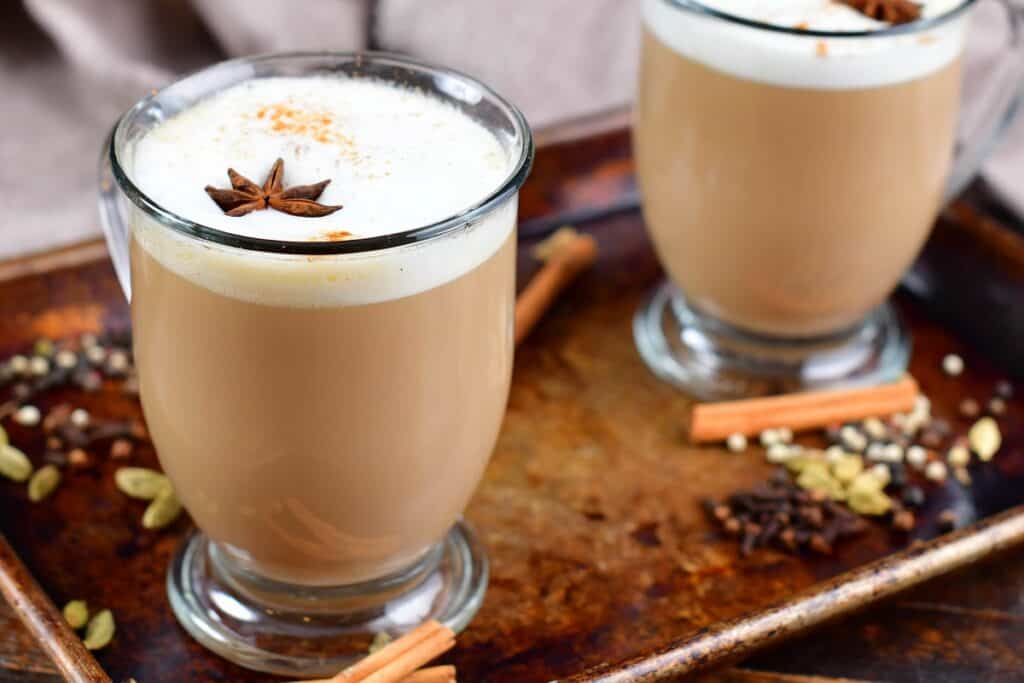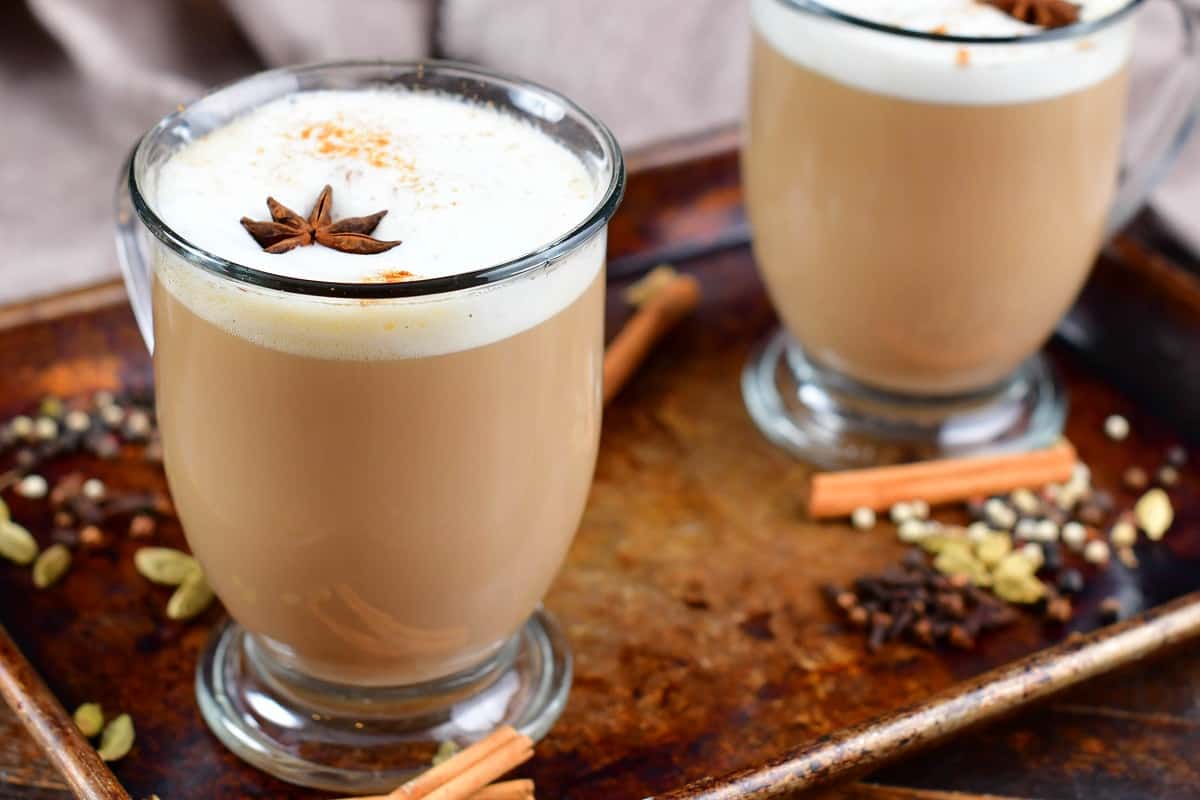 Chai Tea vs. Chai latte
Funny enough, they're actually the same thing! It just comes down to the term vs. the actual drink. So here's the skinny – "chai" actually means tea in various cultures. The chai latte drink that we know in the United States is the one that originated in India.
In Hindi, "chai" literally translates to tea and "masala chai" means mixed spice tea, which is what we all know and love. So when we say "chai tea," we are actually saying "tea tea." For this reason, Chai Latte is a more correct term to use, rather than "Chai Tea Latte."
What spices are in Chai?
For the most authentic, aromatic, and texturally pleasant results, you'll want to use whole spices! More common spices in Chai are cardamom, cinnamon, fresh ginger, cloves, fennel seeds, allspice, black peppercorns, and star anise. Many coffee shops also add nutmeg, turmeric, and basically every spice in the baking aisle.
Every person has their own preference, so you may want to play around and discover what you like the best. Below is the recipe for my preferred combination. The essential spices that you should include are cardamom, ginger, cinnamon, and black peppercorns. I love to add aromatic whole cloves and star anise too!
How To Make Chai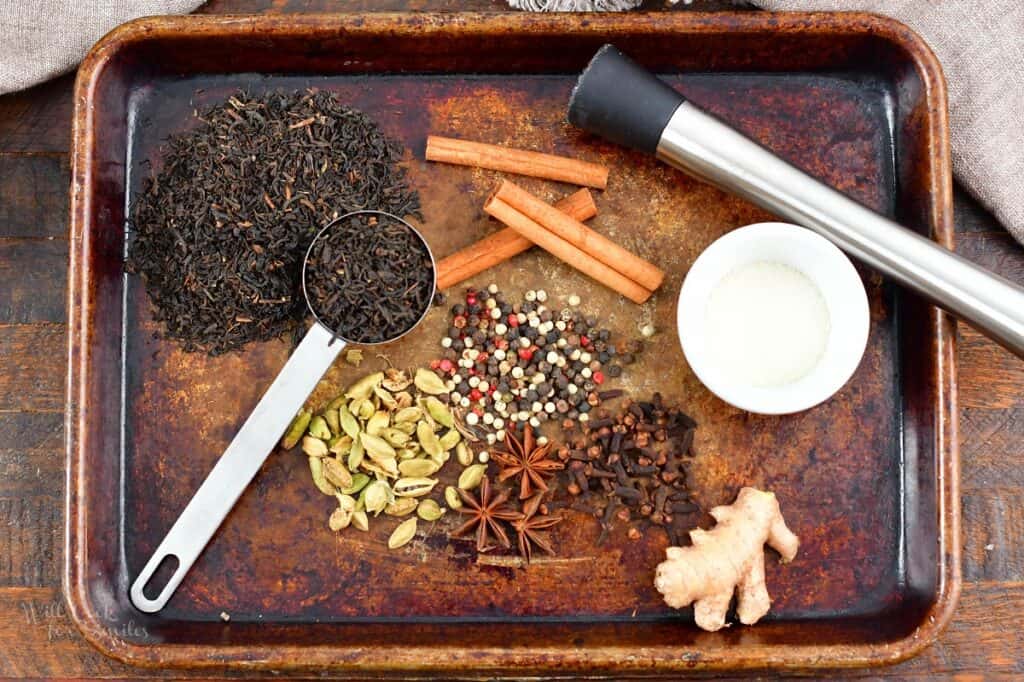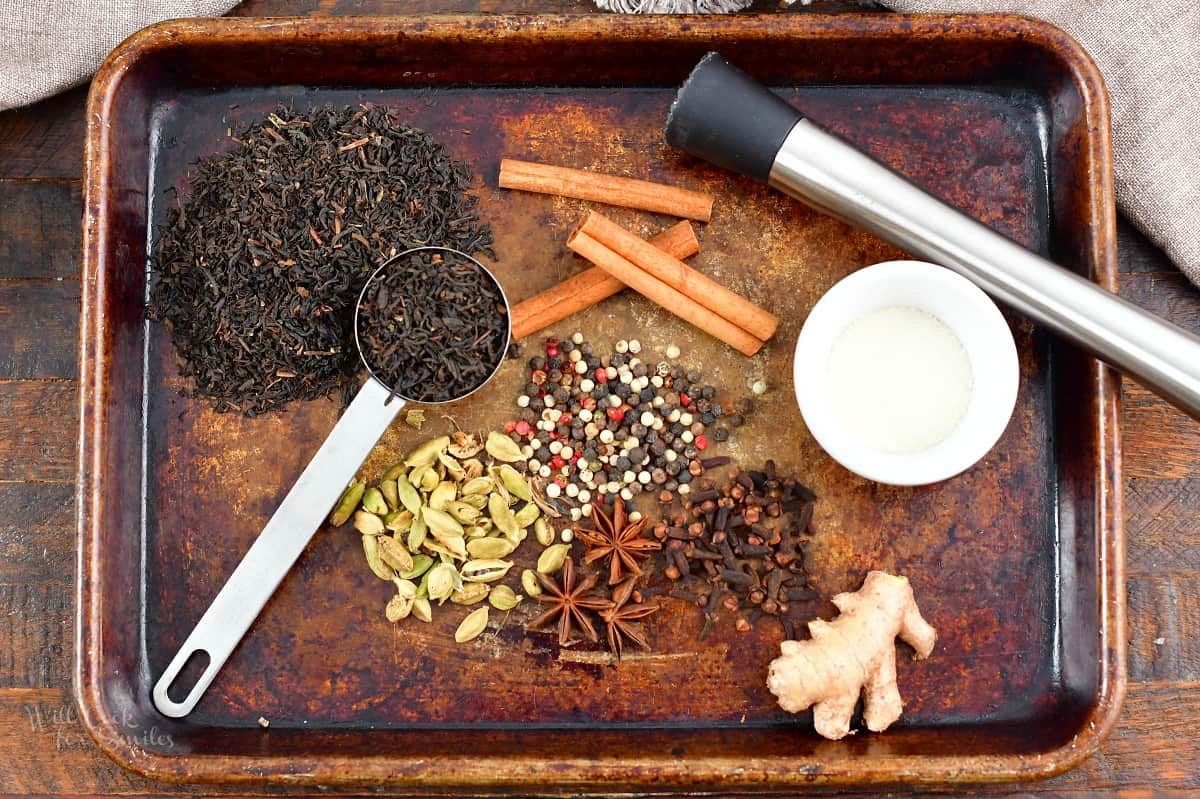 Ingredients for Chai Tea Latte
For the concentrate:
Water
Black Tea – When choosing a black tea to use for this recipe, pick one that is loose leaf black tea. For use in chai, best tea is Assam but you can also use English breakfast.
Sugar – You can add more sugar if you'd like a sweeter latte, but I've found that 4-6 tbsp. gives me just the right amount of sweetness while still allowing me to fully taste the rich spice mix and black tea. You can also use sugar substitutes but each one will have a different amount needed, so start small.
Cardamom Pods – Cardamom pods are in the same family as ginger, which is why the two ingredients compliment each other so well. When adding the cardamom pods to the mix, make sure that you're using green pods, not brown.
Cinnamon Sticks – Cinnamon is one of the most notable flavors in a chai tea latte, and that bold flavor is created by using cinnamon sticks instead of powder. However, a sprinkle of cinnamon powder on top of the beverage is a perfect finishing touch.
Fresh Ginger – Fresh ginger, not dried ginger, provides the concentrate with a spicy, yet warm flavor that really wakes up your tastebuds. For best results, thinly slice the ginger.
Black Peppercorns – Chai concentrate is known for being a bit spicy, and some of that delicious spice comes from whole black peppercorns.
Whole Cloves – Cloves are what really make this beverage so intoxicatingly aromatic. They add warmth to the concentrate that perfectly accompanies the other ingredients.
Star Anise – you can play around with this spice, adding more or less. It definitely makes a difference so use 1, 2, or 3!
Vanilla Extract (Optional) – vanilla is a great flavor and aroma addition if you like it. 1 tsp should be plenty.
For the Latte –
Milk – it's best to use whole milk chai latte because the result should be rich and creamy. However, alternatives like oat milk, skim milk, or any other option should work just fine! Remember that some milk alternatives DO have a different taste, especially when heated.
Note that if you'd like to make a dirty chai latte, all you need to do is stir in a shot of espresso to the final product!
Recipe Notes:
Make sure to use WHOLE spices (not ground) when preparing chai concentrate!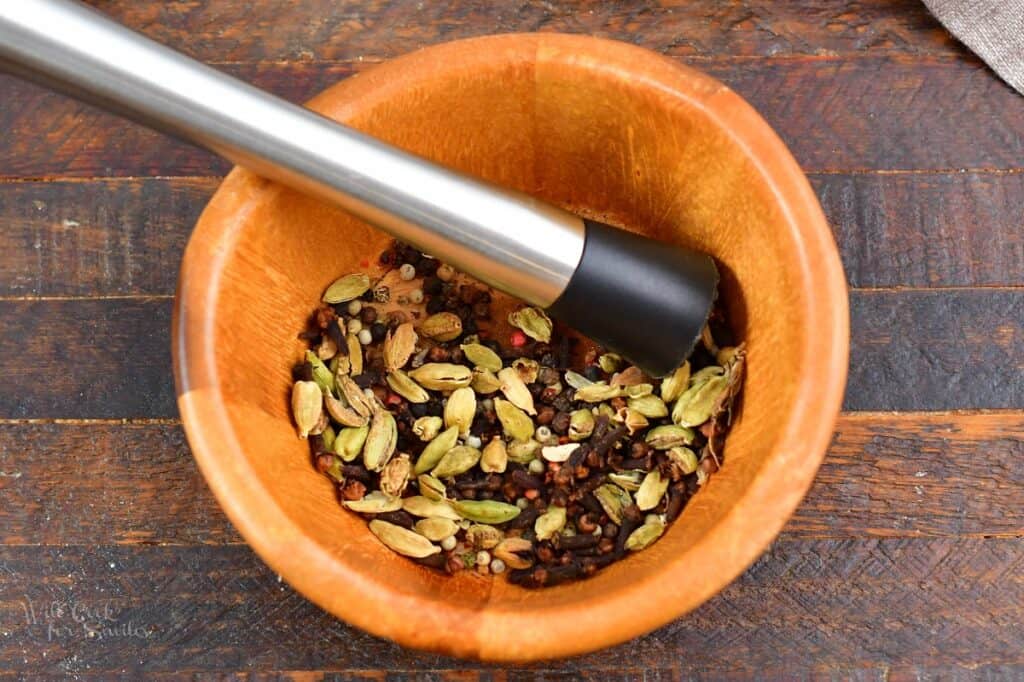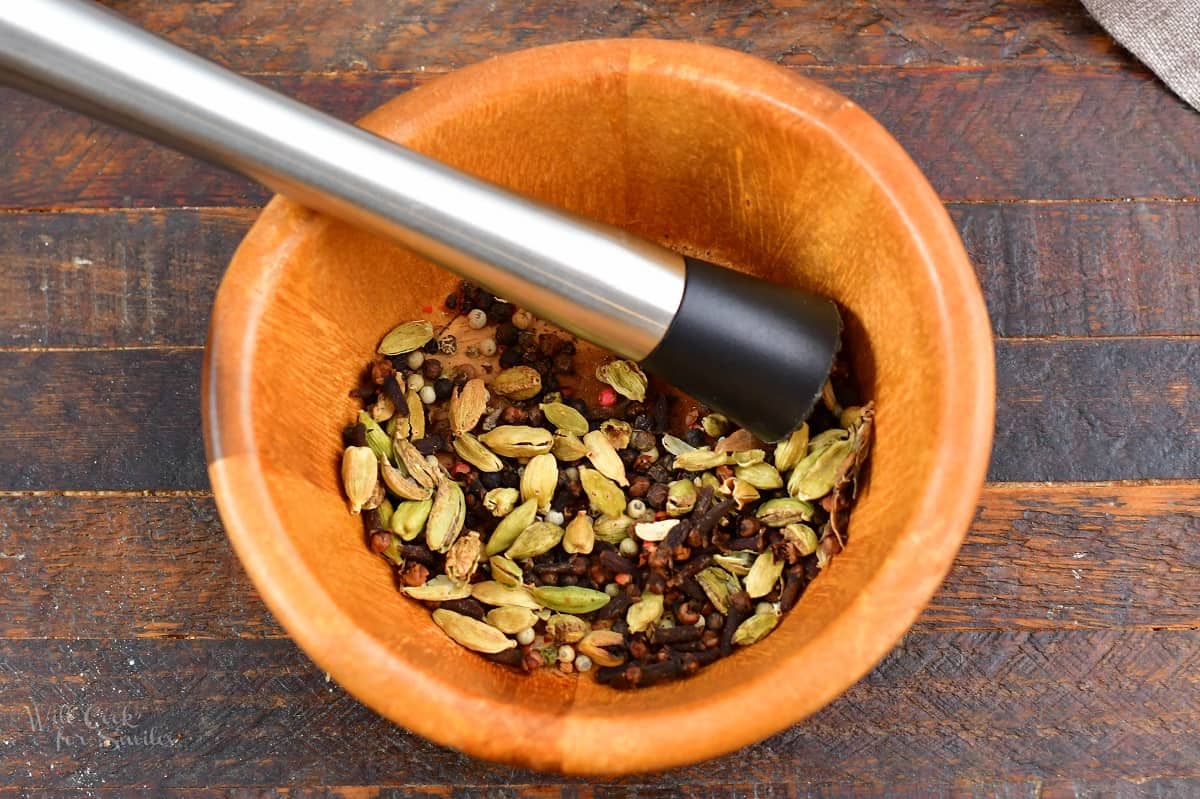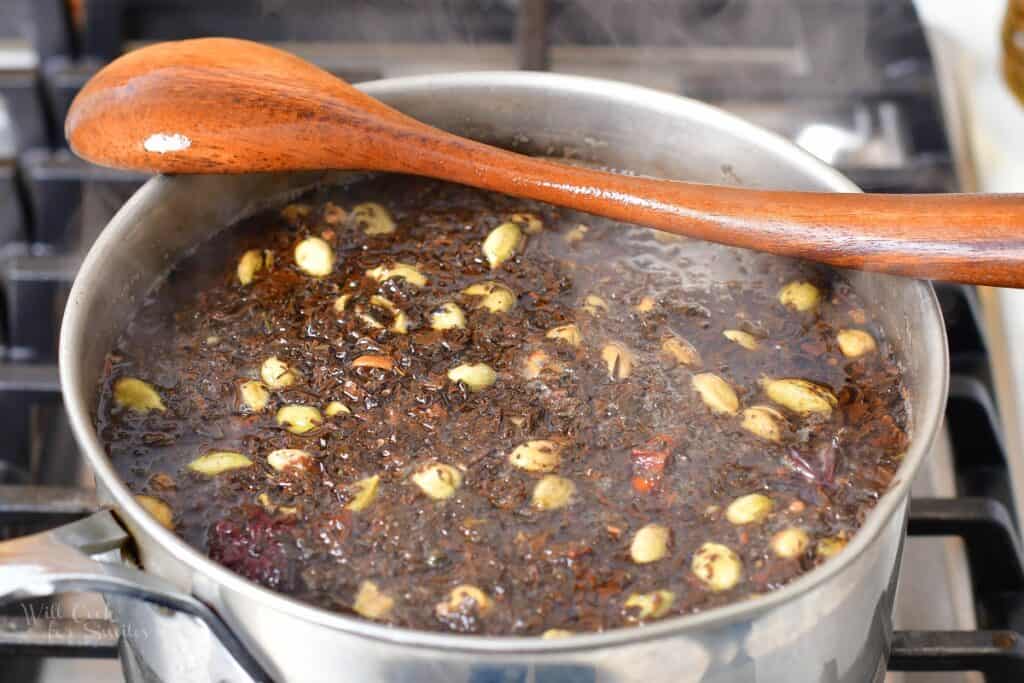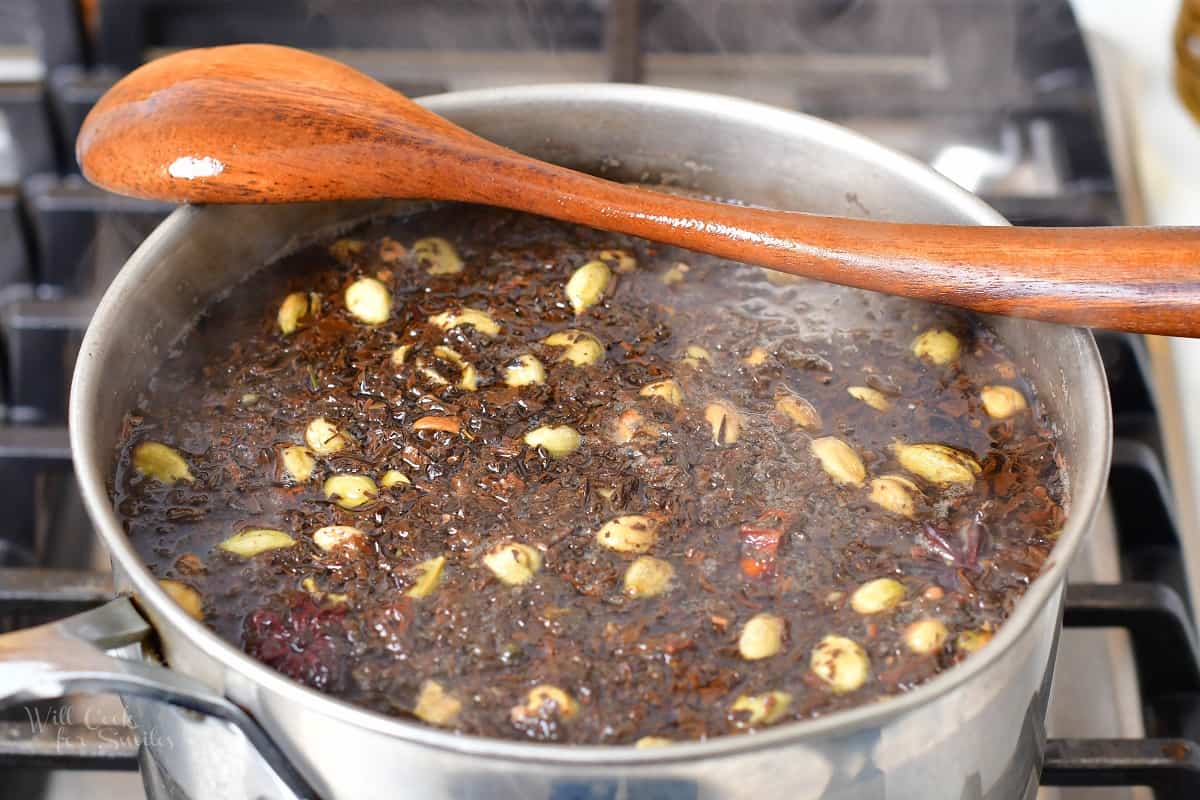 How to Make a Chai Tea Latte
Start by crushing cardamom pods, cloves, and peppercorns in a small bowl.
Add water to the pot and start to heat it over medium-high heat. Add cinnamon sticks, sliced ginger, sugar, and star anise to the water and add the crushed spices. Bring water to boil.
As soon as water starts to boil, stir in the tea, and turn off the heat. Let everything sit and steep for about 30 minutes.(Stir in vanilla extract if using.)
Strain the concentrate through a fine mesh strainer into a large jar or heat-proof pitcher.
To make a latte: froth some milk and then combine it with hot concentrate.
Frequently Asked Questions:
How can I prepare it ahead of time?
This recipe is for 2 servings, but feel free to double and triple the recipe for the tea concentrate and store it in the refrigerator without milk. This is the easiest way to make your self some chai latte in the morning or afternoon.
To make a cup from the concentrate, simply heat up tea and then mix with steamed or hot milk. Or, you can skip the heating and make yourself an iced chai latte, and pour the tea mix and milk over ice.
Why can't I use ground spice in chai?
There are two reasons why you want to use whole spice and not ground. Whole spice hold more aroma and flavor than ground spice and that comes through into the tea concentrate. When spices are ground, they start to loose a lot of their potency. Also ground spices spend years in the bottles and loose potency as well. So for the best bold and aromatic spice flavor, use whole spices.
Another reason is simply texture. No-one wants to sip on their drink and get mouthfuls of grain and pieces of spices. You will not be able to strain off the ground spices completely, if not at all depending on how fine it is.
Variations to Try
Make black tea stronger by adding an extra tablespoon or two and steeping it longer (up to an hour).
Add more or less peppercorns to alter the level of heat. You can also alter the spice level with more or less cloves.
If you want to make it feel like the holidays, feel free to add a dash of allspice and nutmeg (whole not ground)!
As I mentioned, adding vanilla extract will give you a great flavor boost. You can also stir in a little caramel sauce to your prepared chai latte!
Cozy up with more deliciously warm drinks!
Apple Cider – a wonderful seasonal drink that is incredibly easy to make and perfect to enjoy in the cooler weather
Hot Chocolate – a rich, smooth, and creamy hot chocolate made with bittersweet chocolate, cocoa powder, milk, and a splash of vanilla extract
Irish Coffee – this classic recipe is made with sweetened hot coffee, Irish whiskey, and soft whipped cream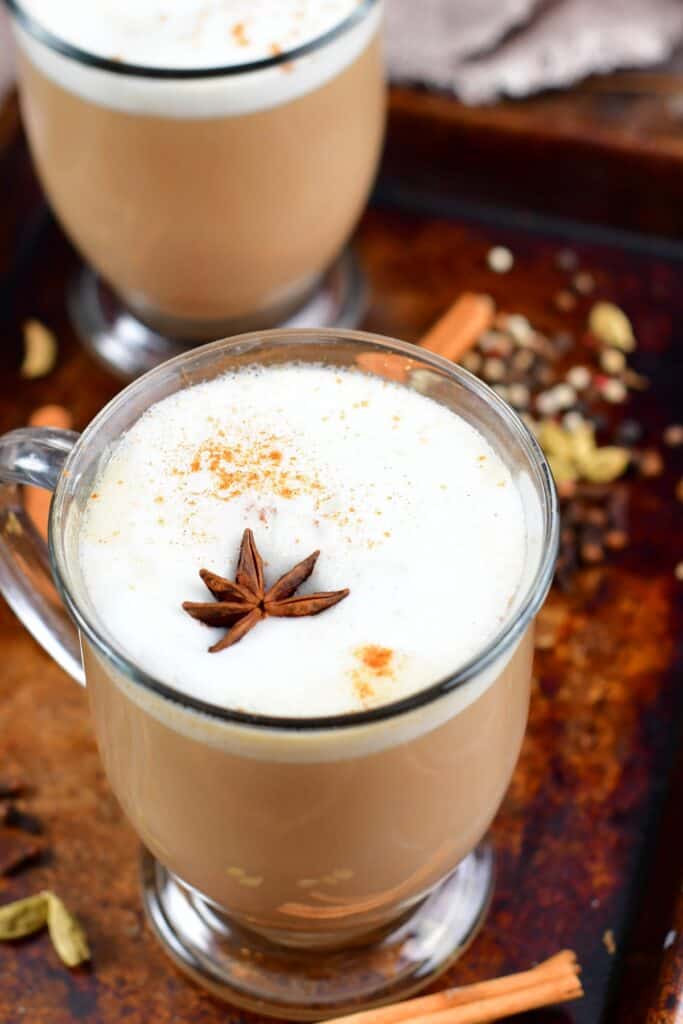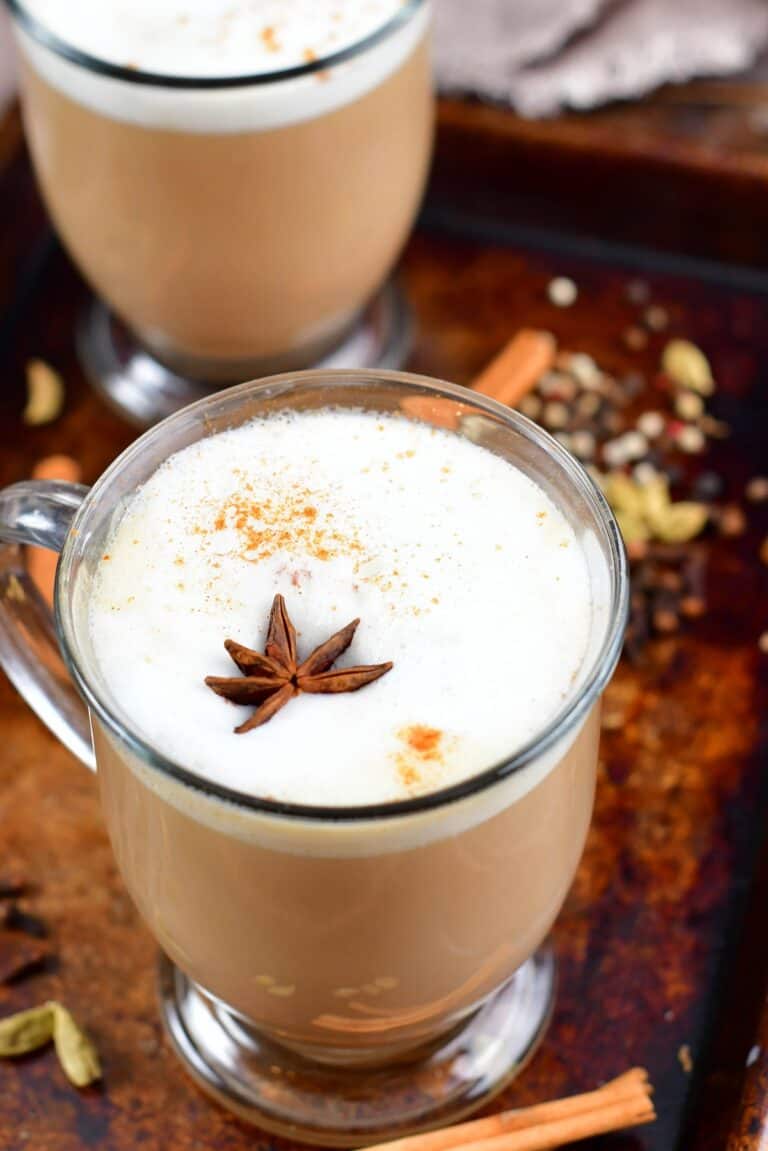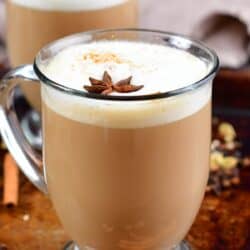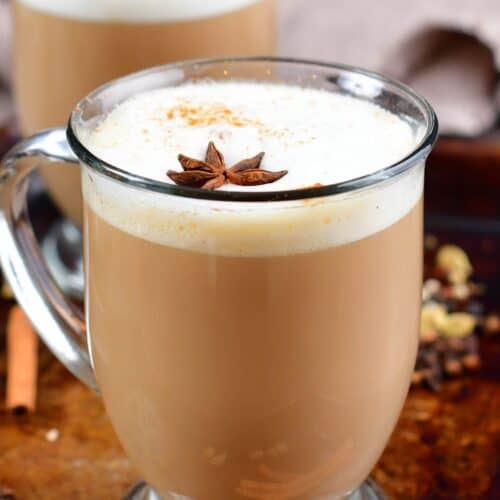 Chai Latte
This Chai Latte is a warm, comforting, creamy drink with the perfect balance of aromatic spices.
Print
Pin
Save
Saved!
Rate
Servings:
10
makes about 2.5 quarts
Ingredients
For The Concentrate:
2.5

quarts

water

1 1/2

inch fresh ginger root

3

2-inch cinnamon sticks

2

whole anise stars

1/4-1/3

cup

sugar

1.5

tbsp

green cardamom pods

1-1 1/2

tbsp

black peppercorns

1

tbsp

whole cloves

1/3

cup

loose leaf black tea
For Chai Latte:
whole milk

or alternative milk
Instructions
Chai Concentrate:
Crush cardamom pods, peppercorns, and cloves in a small bowl with a spice muddler.

Add water to a pot and set it over medium-high heat.

Add cinnamon sticks, sliced ginger root, and star anise to the pot. Add crushed spices to the pot as well.

Let the water come to a boil and then add sugar and loose leaf tea.

Stir and turn the heat off. Taste to make sure it's sweet enough (remember, you will be adding milk to each mug). Let the mixture sit there and steep for about 30 minutes.

Once steeped, carefully strain it through a fine mesh strainer into a large jar or a heat-proof pitcher with a lid.

Let the tea concentrate cool to room temperature and refrigerate. Keep it in the refrigerator for up to a week and simply pour off the desired amount when needed.
To Make Chai Latte:
Reheat the desired amount of chai and make sure to leave enough room in the mug for milk. Froth or simply heat up some milk and combine it with the heated chai concentrate.
Iced Chai Latte:
You can also make iced chai latte by combining the cold tea concentrate with cold milk over ice.
Milk to Chai in Chai Latte:
As far as the chai concentrate to milk ratio, you can play around with your own to see what you prefer. Personally, I like my chai strong, so I use about 6 oz. of chai to 2 oz. of whole milk. (You can start with 4 oz. to 2 oz. to see how you like it.)
Dirty Chai Latte:
Dirty Chai Latte simply means adding espresso. Depending on how much you are making, prepare 1 or 2 shots of espresso and stir it into the prepared Chai Latte. For an 8-12 oz. Chai Latte, you can add 1 shot of espresso.
Notes
Note: the nutritional information is calculated for the chai concentrate. Nutritional information will vary widely based on type of milk, amount of milk, type of sugar, and amount of sugar. 
Nutrition
Calories:
155
kcal
|
Carbohydrates:
40
g
|
Protein:
2
g
|
Fat:
1
g
|
Saturated Fat:
1
g
|
Polyunsaturated Fat:
1
g
|
Monounsaturated Fat:
1
g
|
Trans Fat:
1
g
|
Sodium:
68
mg
|
Potassium:
239
mg
|
Fiber:
7
g
|
Sugar:
25
g
|
Vitamin A:
62
IU
|
Vitamin C:
2
mg
|
Calcium:
156
mg
|
Iron:
2
mg
Tried this recipe?
Mention @willcookforsmiles and tag #willcookforsmiles