This Chocolate Peanut Butter Fudge is smooth, creamy, and soft with a delicate mixture of chocolate and peanut butter where neither flavor overpowers the other. I like to top off our fudge with peanut butter chips, but you can choose your favorite toppings to personalize your homemade fudge!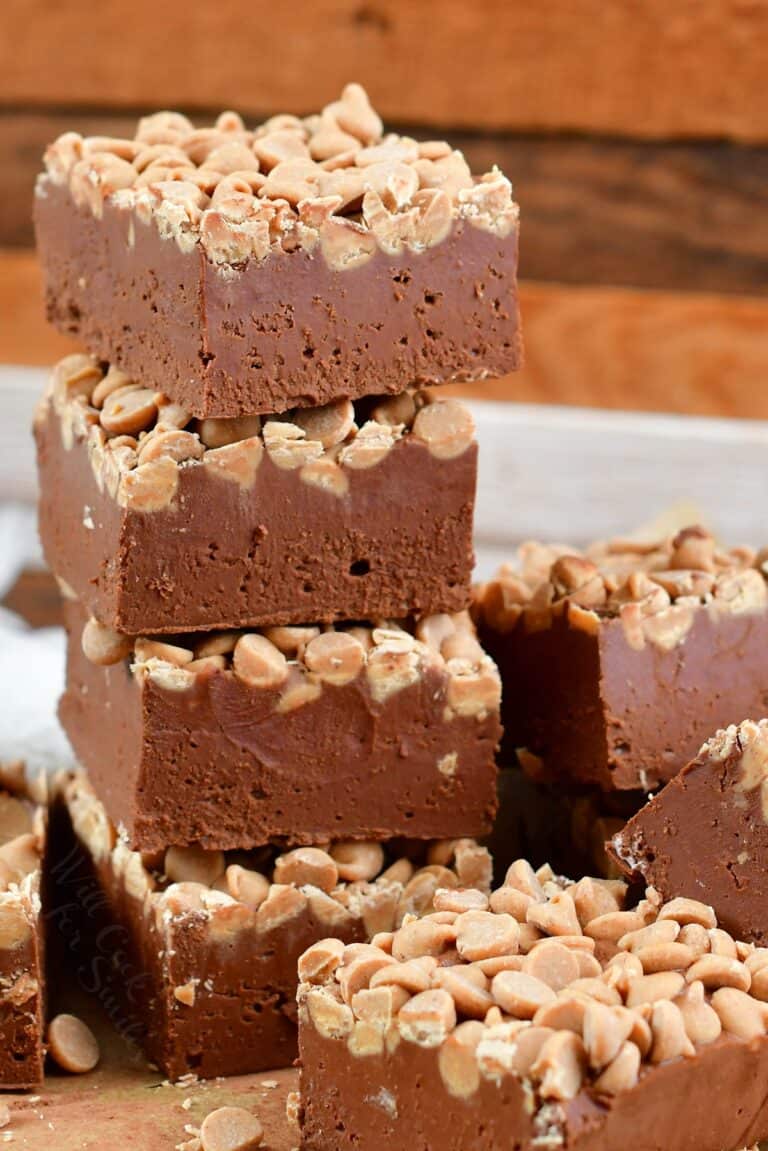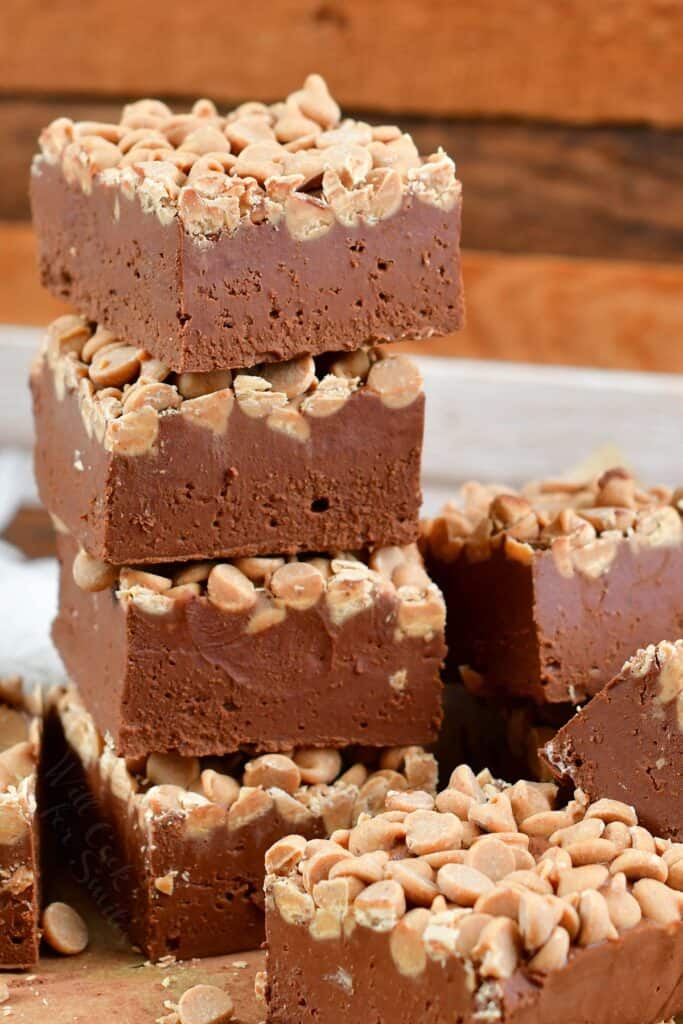 Chocolate Peanut Butter Fudge
Peanut butter and chocolate is one of the best food combinations out there. There's just no debating that simple fact. It's all thanks to the creator of Reese's candy bar – that man was a genius! Truly, there's nothing more satisfying than those two flavors melded together, and this recipe perfects the combination. The best part is, you only need five simple ingredients to create the best chocolate and peanut butter fudge. Oh, and it's no-bake!
This chocolate peanut butter fudge is not just my family's favorite fudge, it's the favorite of our friends and neighbors. When I hand this treat out as gifts, I always get tons of compliments, and it's not hard to see why. Fudge is always a hot commodity (really, who doesn't like fudge?) and the addition of creamy peanut butter only enhances it.
The consistency of this fudge is also what helps make it the best around. It's thick and has the most perfect bite that's never grainy! I hate grainy fudge, so I made sure through plenty of trial and error that this recipe would only yield the most crave-worthy, flavor-packed- non-grainy homemade fudge. You can share this fudge with grandparents, kids, and everyone in-between!
Simple Ingredients in Chocolate Peanut Butter Fudge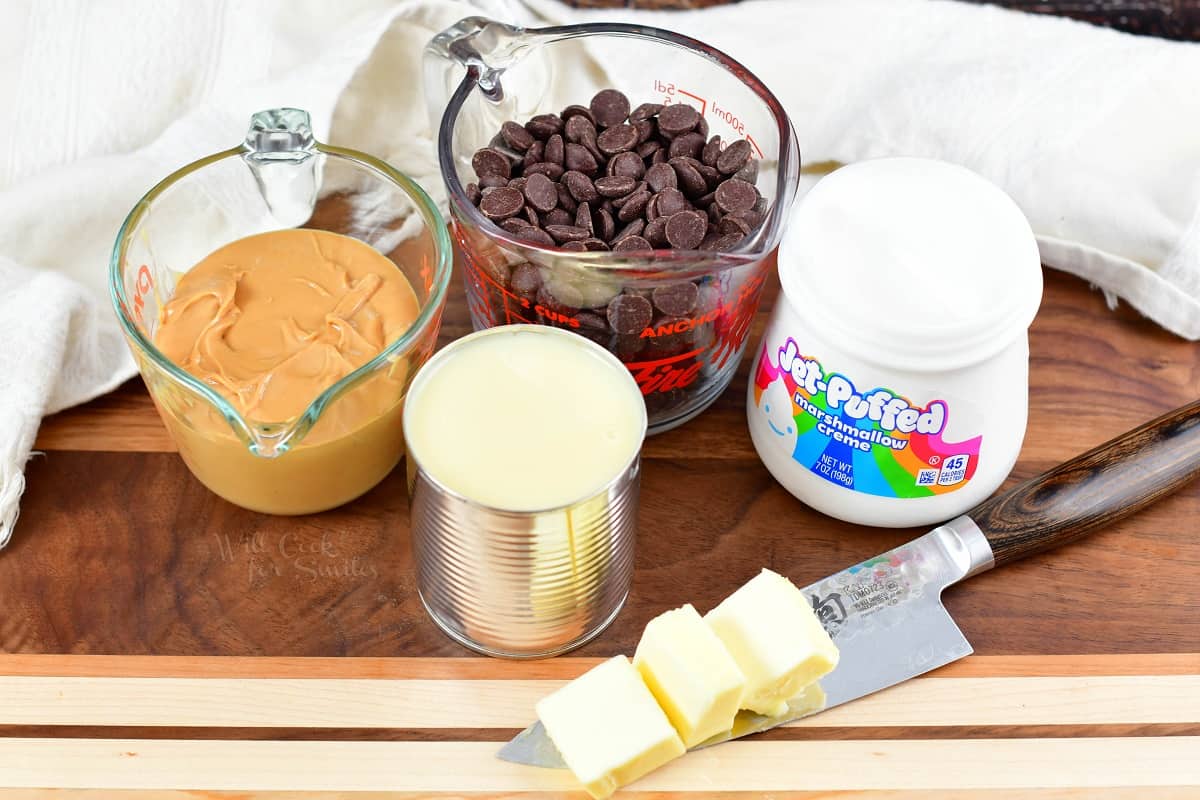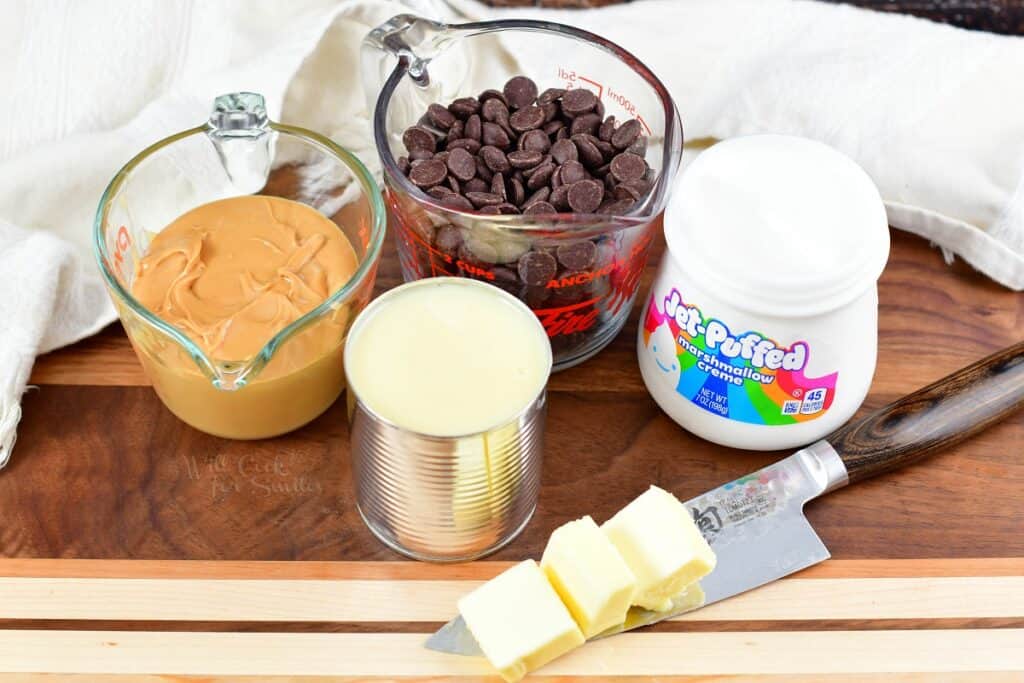 You only need five simple and inexpensive ingredients to whip up this perfect homemade fudge. It's a budget-friendly recipe that you'll love making! Plus, you likely already have some of (if not all) of these ingredients in your kitchen.
Butter – it's best to use unsalted butter.
Sweetened Condensed Milk – This adds both sweetness and helps create the most creamy consistency for the fudge.
Dark Chocolate Chips – You can substitute these for milk or semi-sweet chocolate chips, but I find that dark chocolate chips really help create the deep chocolate flavor that makes for the best fudge. Plus, it also balances well with the peanut butter.
Marshmallow Fluff – This is one of my favorite ingredients! It helps create the sweet flavor and decadent, velvety consistency of fudge.
Peanut Butter – Any brand should do the trick, so just use your favorite. Also, keep it creamy, not crunchy.
Topping Options:
Peanut butter chips
Chocolate chips
Mini Reese's cups
Peanuts
How to Make Chocolate Peanut Butter Fudge
Prepare your dish with parchment paper and butter.
Place the chocolate chips, peanut butter, and marshmallow fluff in a large mixing bowl and set it aside.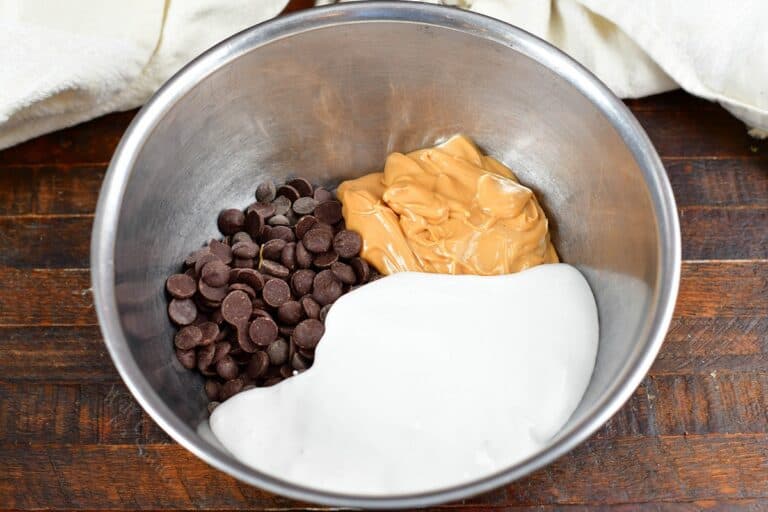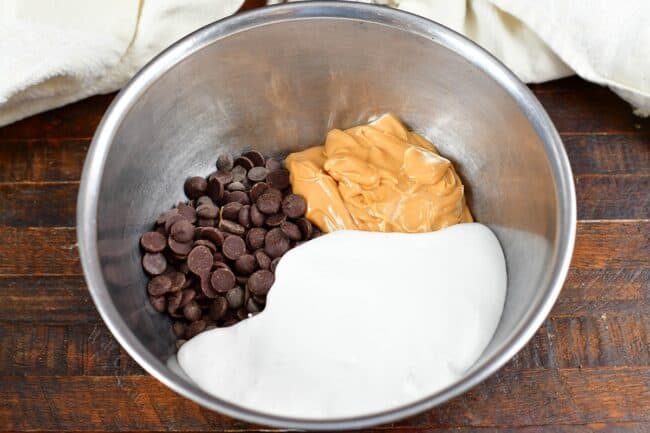 Melt the butter, then add the sweetened condensed milk to the pan. Bring to a simmer, and make sure to stir constantly.
Pour the hot mixture into the bowl you previously set aside, then whisk until everything's smooth.
Pour the fudge mixture into the prepared baking dish and spread it around evenly. Then, add the toppings of your choice. Press them gently into the fudge, so they really stay apart of it and don't fall off.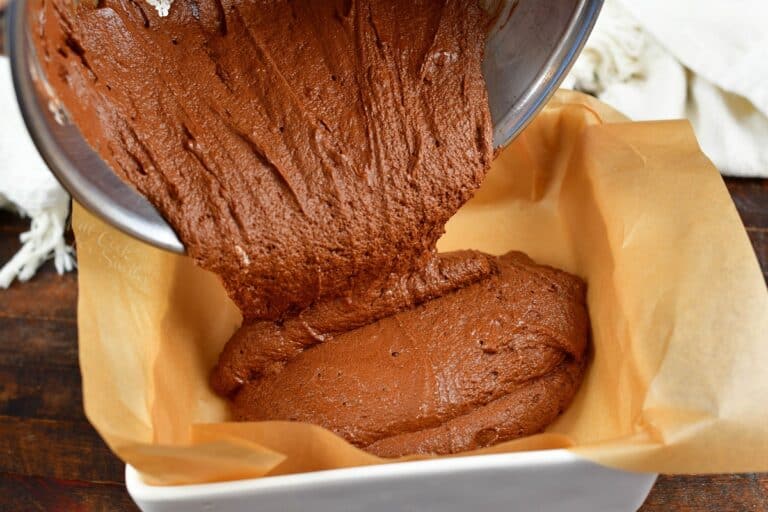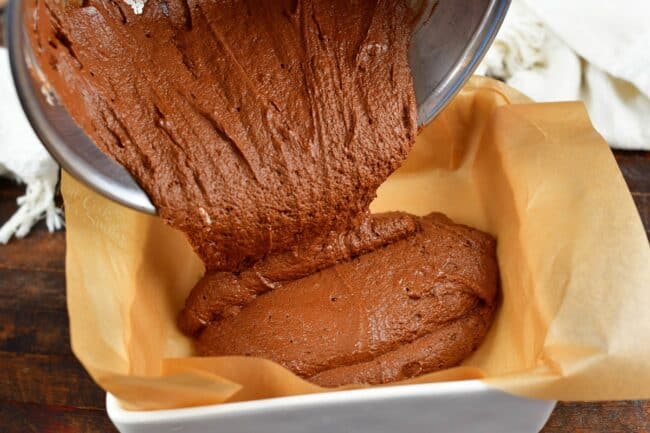 Let the fudge stand on the kitchen counter for a while, until it cools down to room temp. Once cooled, transfer the fudge to the refrigerator, where it should firm up for about 3-4 hours.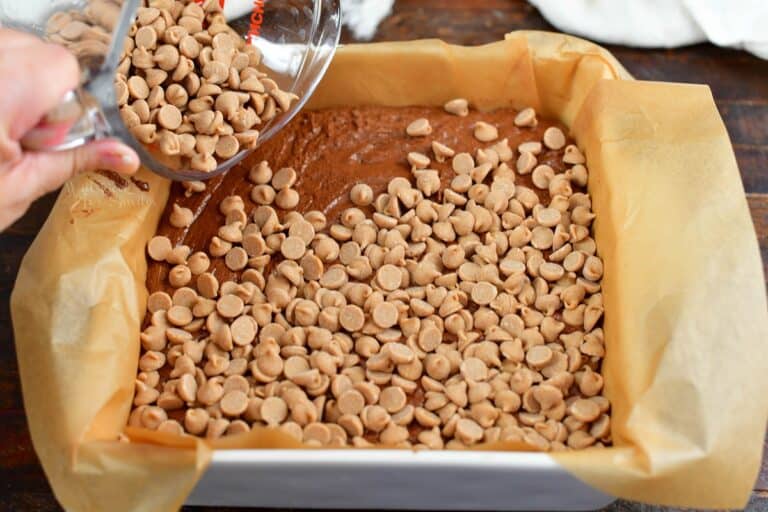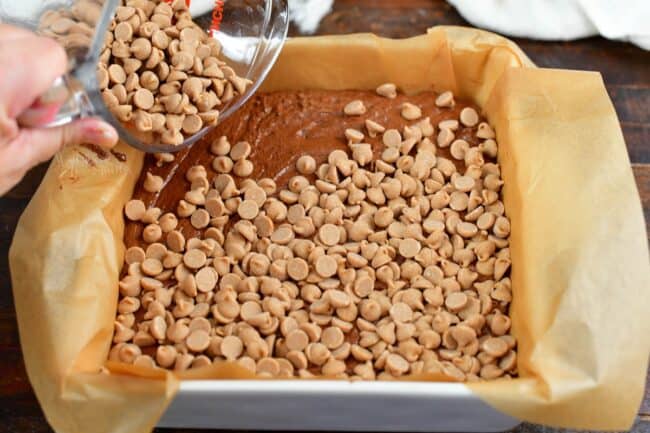 Remove the chilled fudge by using the parchment paper. When you're ready to enjoy it, slice it up with a large, sharp knife, and dig in!
How to Store Homemade Fudge
If you intend to eat it within a couple of days, you can store fudge at room temperature. Make sure to keep the fudge air-tight no matter where you keep it though! Line an container with parchment paper and make sure the container has an air-tight lid. This will keep the fudge away from the elements and keep it from drying out.
If you know that it will take longer to eat the fudge, keep it in the refrigerator. Again, make sure to store it in an air-tight container.
You can always freeze all or some of the fudge as well. To freeze fudge, wrap each piece of fudge in wax paper and then wrap it either in aluminum foil or in plastic wrap. Stack wrapped pieces in a freezer zip-top bag and freeze for 2-3 months. To thaw, simply pull a wrapped piece out of the freezer and leave it on the counter to thaw.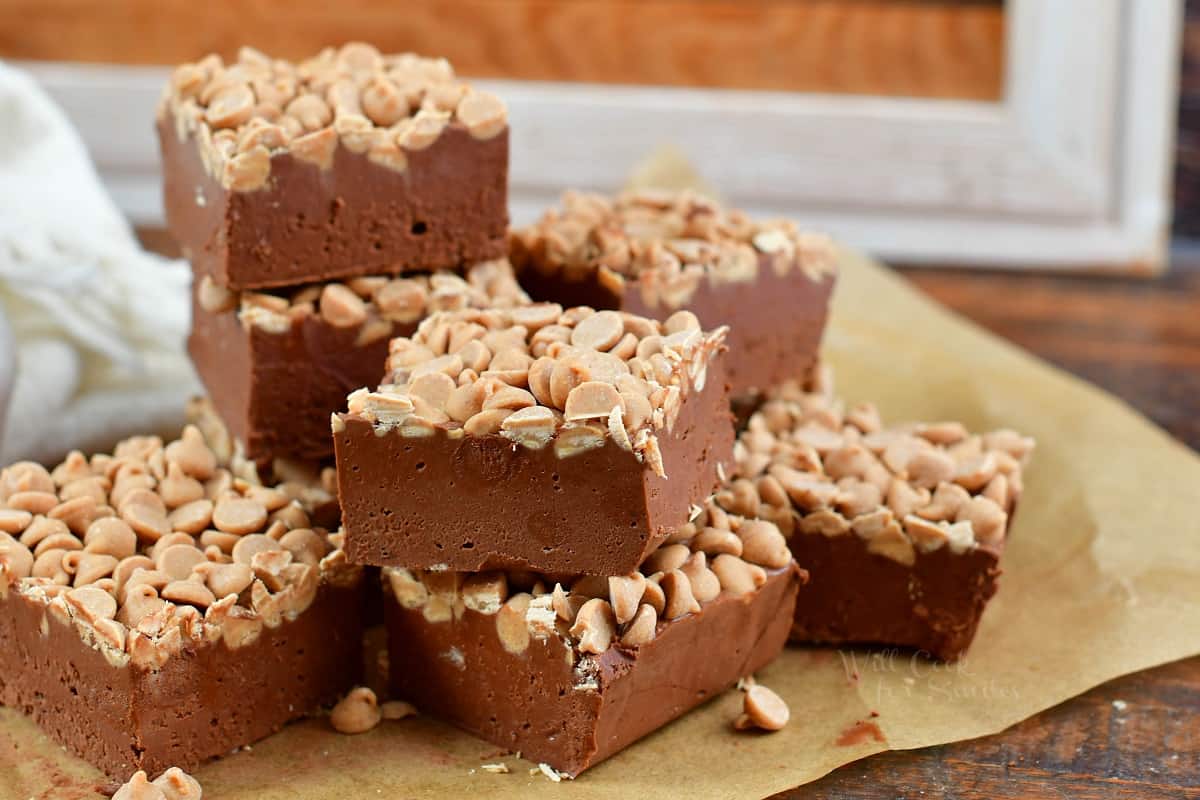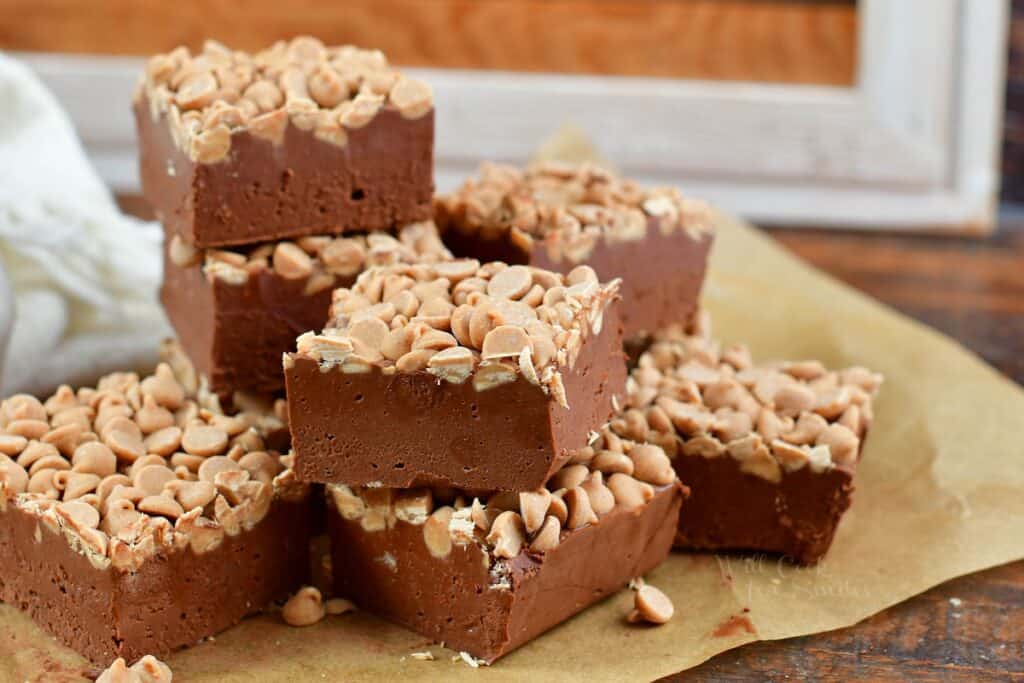 Don't Miss More Fudge Recipes!
Cranberry White Chocolate Fudge – This fudge is smooth and creamy with a wonderful flavor contrast of sweet chocolate and sour cranberries
Peppermint White Chocolate Fudge – This fudge is sweet, minty, and has the most perfect soft and delightful fudge texture.
Salted Almond Fudge Truffles – Rich chocolate fudge truffles made with addition of toasted almond and sea salt. These decadent chocolate truffles have ever so satisfying sweet and salty flavor pallet with a little crunch.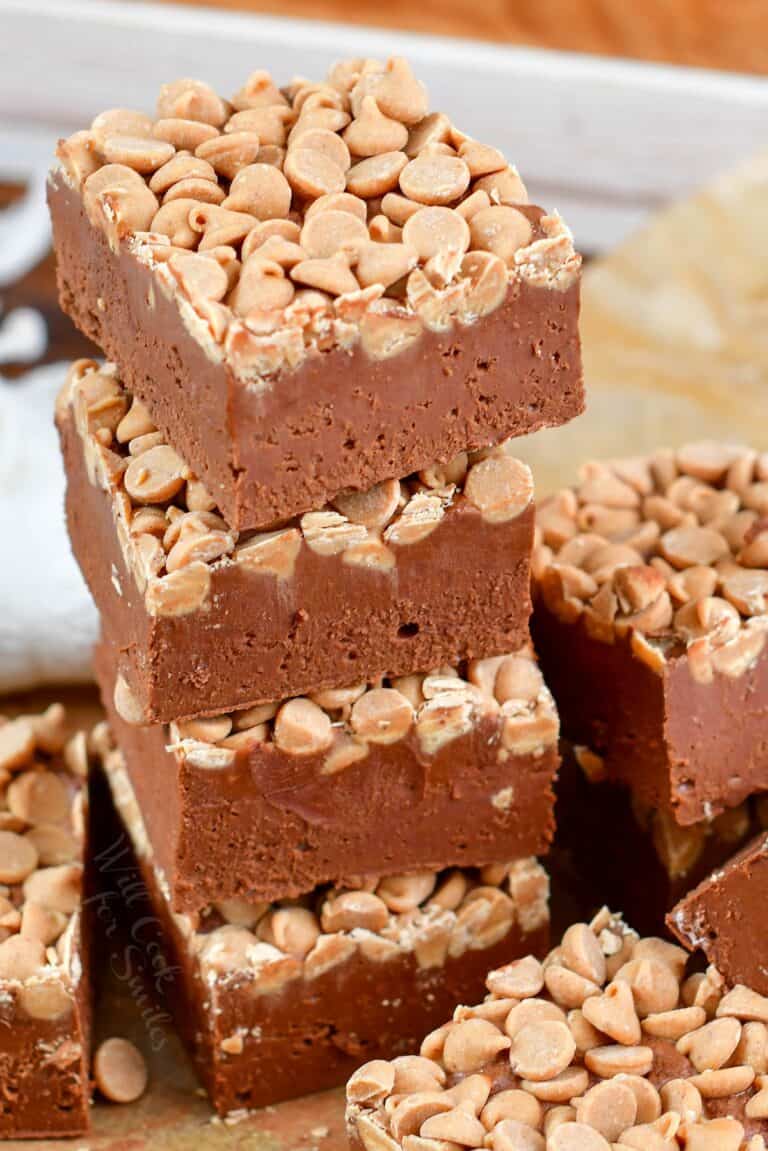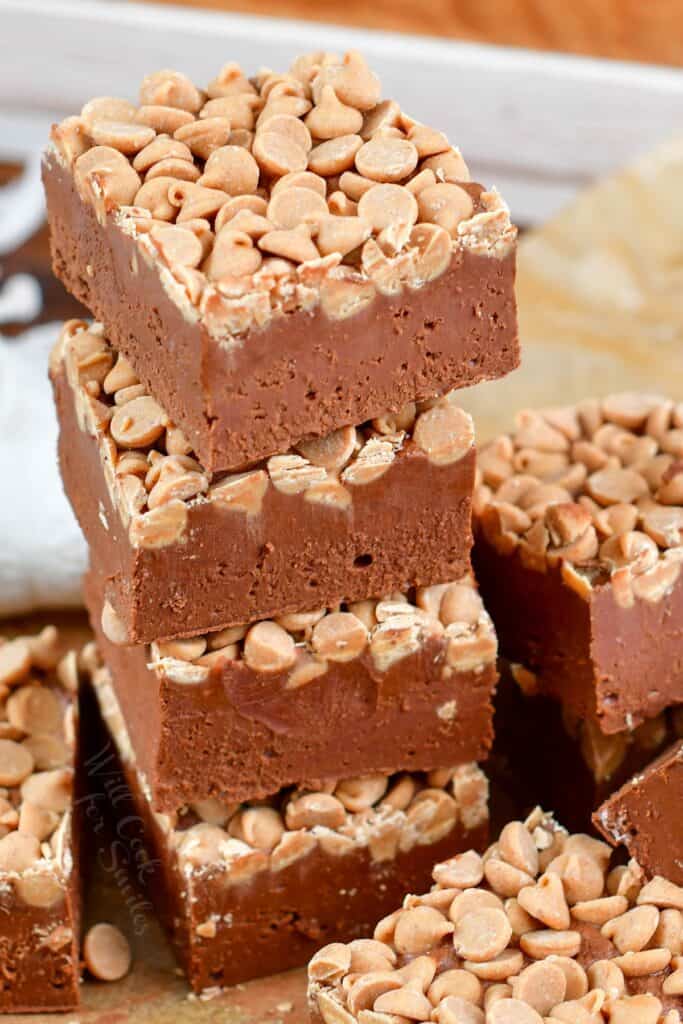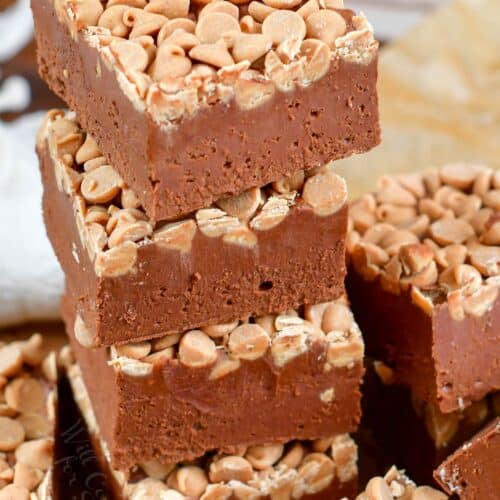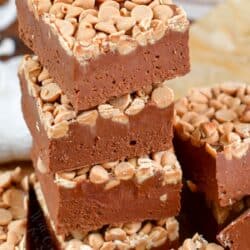 Chocolate Peanut Butter Fudge
This Chocolate Peanut Butter Fudge is smooth, creamy, and soft with a delicate mixture of chocolate and peanut butter where neither flavor overpowers the other.
Print
Pin
Save
Saved!
Rate
Ingredients
3

tbsp

unsalted butter

14

oz

can sweetened condensed milk

2

cup

dark chocolate chips

7

oz

marshmallow fluff

1

cup

peanut butter
Optional Toppings:
Peanut butter chips, chocolate chips, peanuts, chopped mini peanut butter cups
Instructions
Fit a 9×9 baking dish (or one similar in size) with parchment paper and grease the paper all over the bottom and sides with some butter (or non-stick baking spray), so fudge doesn't stick.

Place chocolate chips, peanut butter, and marshmallow fluff in a large mixing bowl. Set aside.

In a bottom-heavy sauce pot, over medium heat, start melting butter and add sweetened condensed milk. Bring to simmer over medium heat, stirring constantly so that condensed milk doesn't burn.

Pour hot condensed milk mixture into the bowl and whisk until all smooth.

(You will want to start whisking slowly, so the hot mixture doesn't splatter on you, and then increase your whisking speed to get the mixture nice and smooth. If using a metal mixing bowl, you may want to hold it with an oven mitt while whisking. If whisking starts to get a little tough, switch to a rubber spatula.)

Pour your fudge mixture into the prepared baking dish and spread it evenly. Spread the peanut butter chips (or other topping) over the fudge and very gently press of the topping so it's pressed into the fudge a little bit. This will help it stay on the fudge when cutting rather than fall off.

Let it stand on the counter until it cools to room temperature. Then place the pan in the refrigerator to chill and firm up for a 3-4 hours.

Once cooled, take the fudge with parchment paper out of the pan and use a large, sharp knife to cut it into desired amount of pieces.
Notes
Note: nutritional value is calculated with peanut butter chips topping.
Nutrition
Calories:
605
kcal
|
Carbohydrates:
71
g
|
Protein:
17
g
|
Fat:
32
g
|
Saturated Fat:
19
g
|
Polyunsaturated Fat:
3
g
|
Monounsaturated Fat:
6
g
|
Trans Fat:
1
g
|
Cholesterol:
13
mg
|
Sodium:
233
mg
|
Potassium:
330
mg
|
Fiber:
4
g
|
Sugar:
54
g
|
Vitamin A:
171
IU
|
Vitamin C:
1
mg
|
Calcium:
222
mg
|
Iron:
1
mg
Tried this recipe?
Mention @willcookforsmiles and tag #willcookforsmiles