This classic, creamy, Broccoli Cheese Soup is the ultimate comfort food that's deliciously packed with fresh broccoli and other vegetables. Every bite of this family favorite soups is full of comfort from sharp, flavorful cheddar cheese and bites of broccoli. This soup is fast and easy to prepare, so you can make it any day when you feel you need a little more comfort.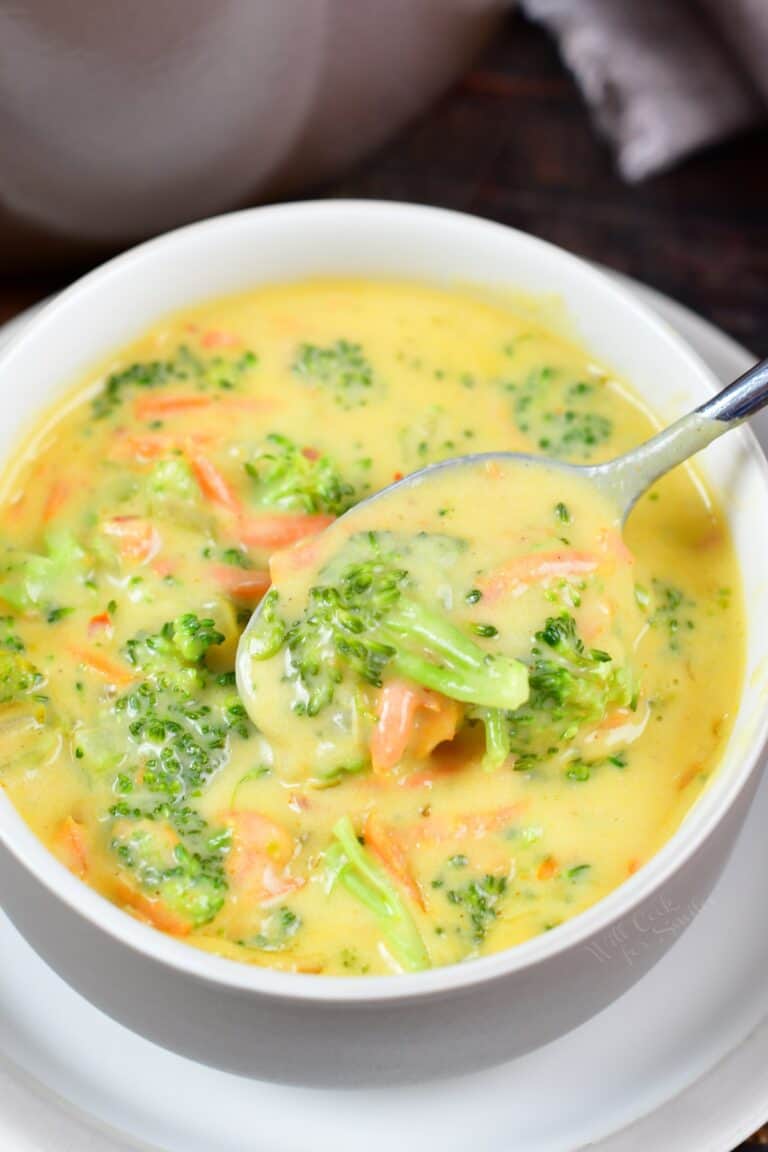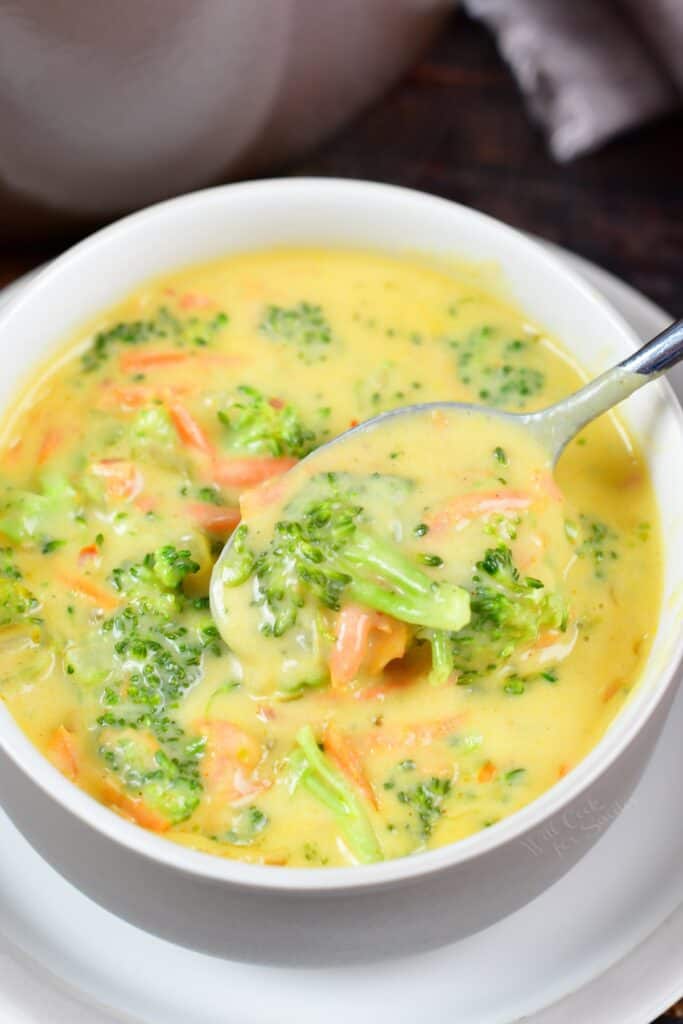 Broccoli Cheese Soup
Sorry, Panera… This homemade soup is way better than yours! I know there are plenty of Panera fans out there who may try to disagree, but it's true. This broccoli cheese soup, made with fresh broccoli and grated cheddar cheese, is so rich, creamy, and decadent. Every bite will make you hum a happy tune.
Just in time for the chilly seasons, this easy to make, classic soup is sure to warm you and fill you up. All of the ingredients are also simple and easy to find at any store. It will take you just a little over 30 minutes to prepare, and kid friendly! If you're looking for a kid-friendly soup that can feed a family of four, it will make you family very happy.
Speaking of kid-friendly, this is the best way to sneak in some veggies to your little one's diet. I know plenty of picky eaters out there don't like to eat broccoli on it's own, but they'll love when it's mixed in with creamy cheddar cheese soup. It's not just broccoli that's in there, either – there are also plenty of carrots! When those two veggies are mixed with this flavorful cheese, even the picky eaters won't be able to resist.
Ingredients For Broccoli Cheese Soup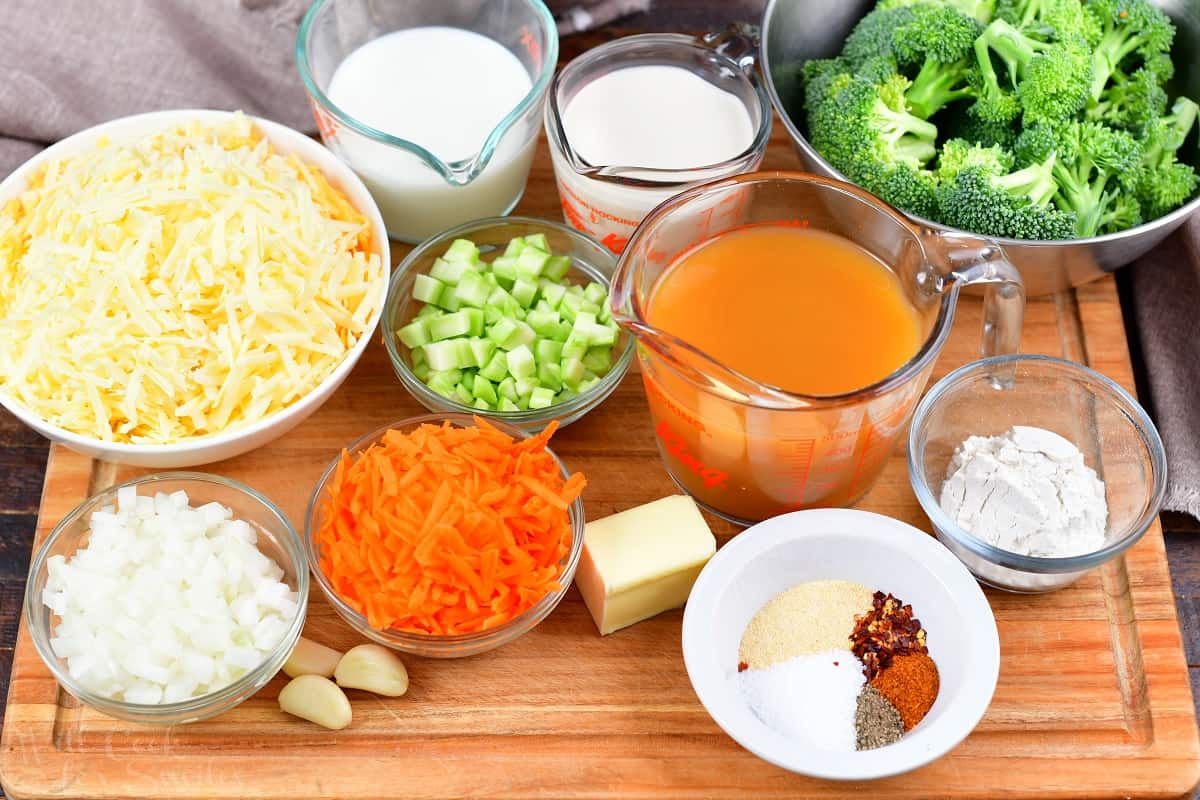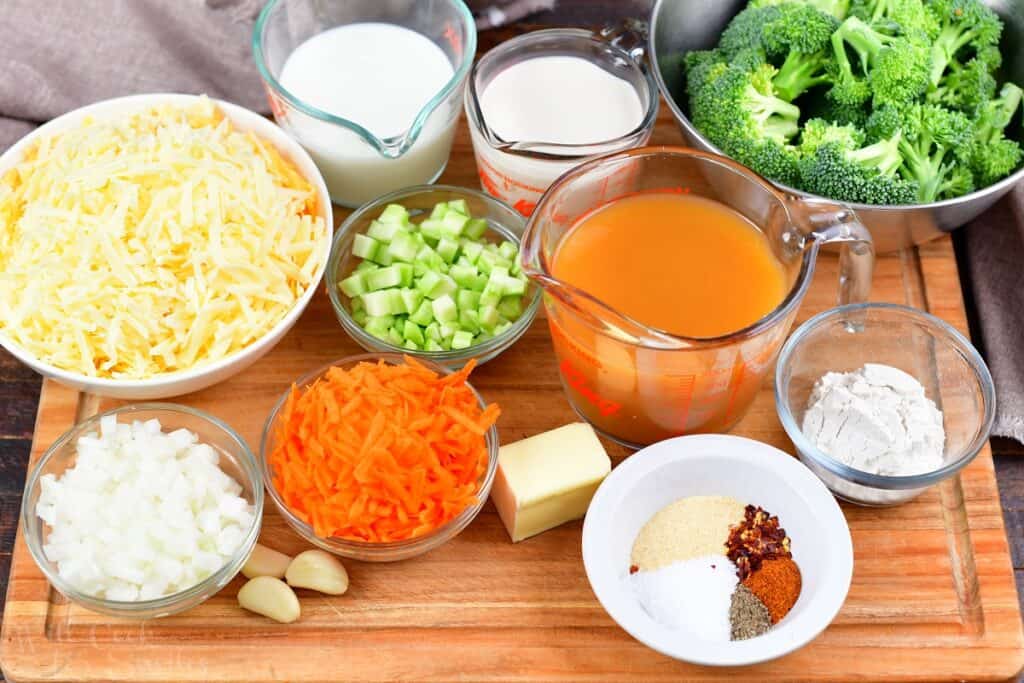 Butter – Unsalted works best to control the sodium amount.
Vegetables – onion, carrots, and diced broccoli stems (if using).
Garlic -you'll want fresh garlic for the best flavor.
Flour – use all purpose flour and it you need to, use gluten free all purpose flour.
Stock – use chicken or vegetables stocks and when available, use homemade Chicken Stock or Vegetable Stock.
Milk – use whole milk to create the rich and creamy consistency for the soup.
Heavy Whipping Cream – the heavy cream is what really does the trick when it comes to making this soup creamy!
Cheese – Sharp cheddar cheese freshly grated off the block always provides the best flavor for this soup. Make sure to get block of cheese and grate it yourself!
Broccoli – it's best to use fresh broccoli. You can get a bag already cut into florets or get a couple of bunches and cut it yourself.
What Cheese Should I Use in Broccoli Cheese Soup?
The best cheese to use in broccoli cheese soup is definitely hand grated sharp cheddar cheese. For the BEST flavor and texture, get the block and grate it yourself. Don't buy the pre-shredded bagged cheese. Cheese that is already shredded in the bag is not good to use in soups and sauces because it contains separators, which is the powdery substance that coats each shaving of cheese.
Using pre-shredded cheeses completely alters both, sauce and soup consistencies. I like to use sharp and extra sharp cheddar cheeses in classic broccoli cheese soup, but I also like to play around with other cheeses like in Italian Broccoli Cheese Soup and Asiago Broccoli Cheese Soup.
The Difference Between White Cheddar and Yellow Cheddar:
Did you know that cheddar cheese is actually white? Yellow, or orange cheddar cheese is just plain white cheddar with added food coloring. The food coloring was added to cheddar cheese to make it more appealing to American consumers because they were used to seeing yellow colored cheeses (think American cheese on cheeseburgers).
So the only difference between white and yellow cheddar cheeses is the food coloring – there's no difference in taste or textures. What affects the taste and texture is the aging process, aging time, and smoking. The sharpness is dictated by the amount of time the cheese was aged. Longer aging times means sharper flavor, which is great for this recipe.
Can I use frozen broccoli?
Yes, absolutely! While it's best to use fresh broccoli, whether it's a bunch or just florets, you can still use frozen broccoli if you'd like. Just make sure the broccoli is fully thawed. The good thing about using frozen broccoli is that it's softer so you don't need to steam it, just cook it in soup a few extra minutes. Make sure to strain off all the accumulated liquids before chopping it and adding it to the soup, and it'll be good to go.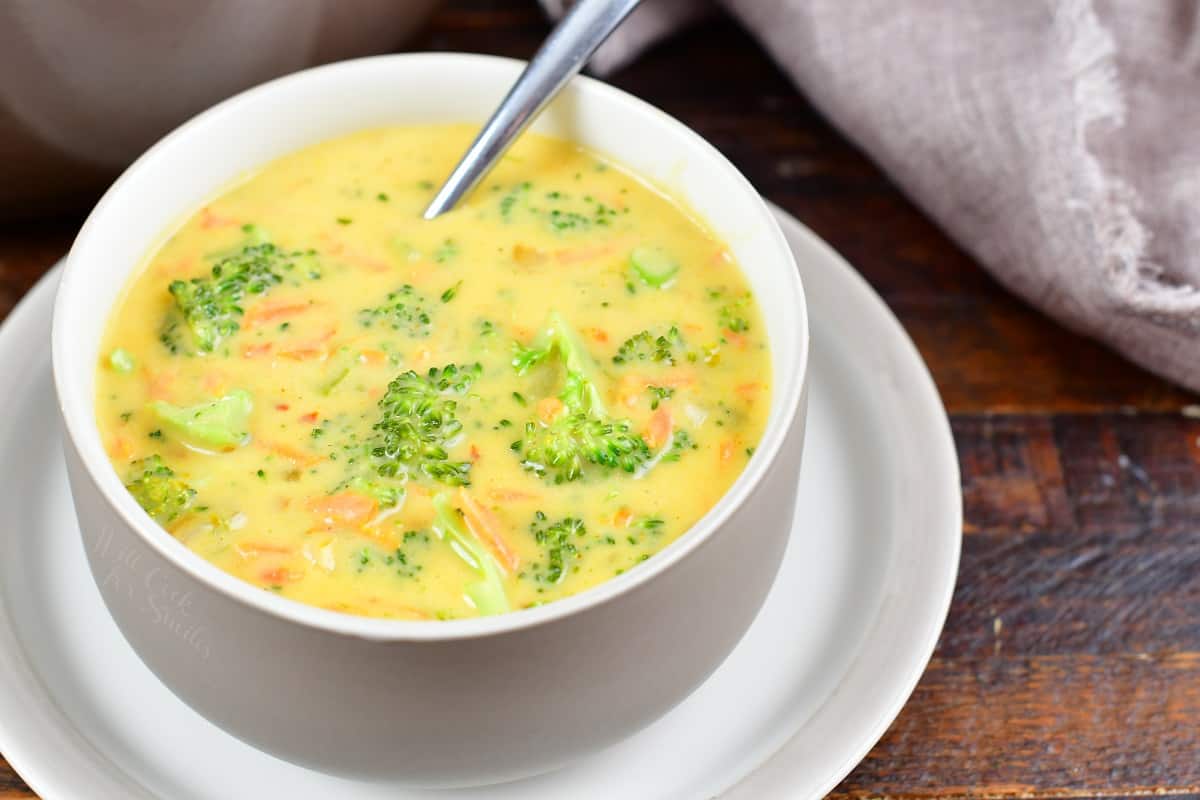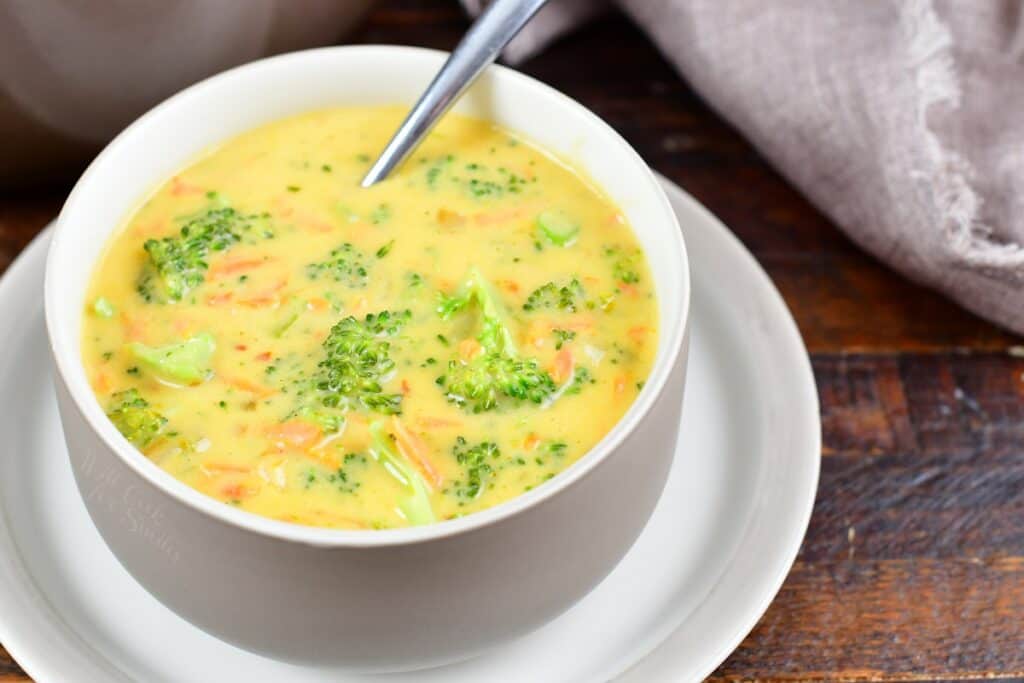 How to Make Broccoli Cheese Soup
Start off by preparing the broccoli: It's super fast and easy to steam it in the microwave, which helps on busy weekday afternoons. Dice the florets and spread them on a large, microwave-safe plate. Add a little water to the bottom, cover with a microwave lid, and cook it for a minute or two. Set steamed broccoli aside.
However, you could also use a steamer on a stove-top to steam the broccoli as well if that's what you'd prefer.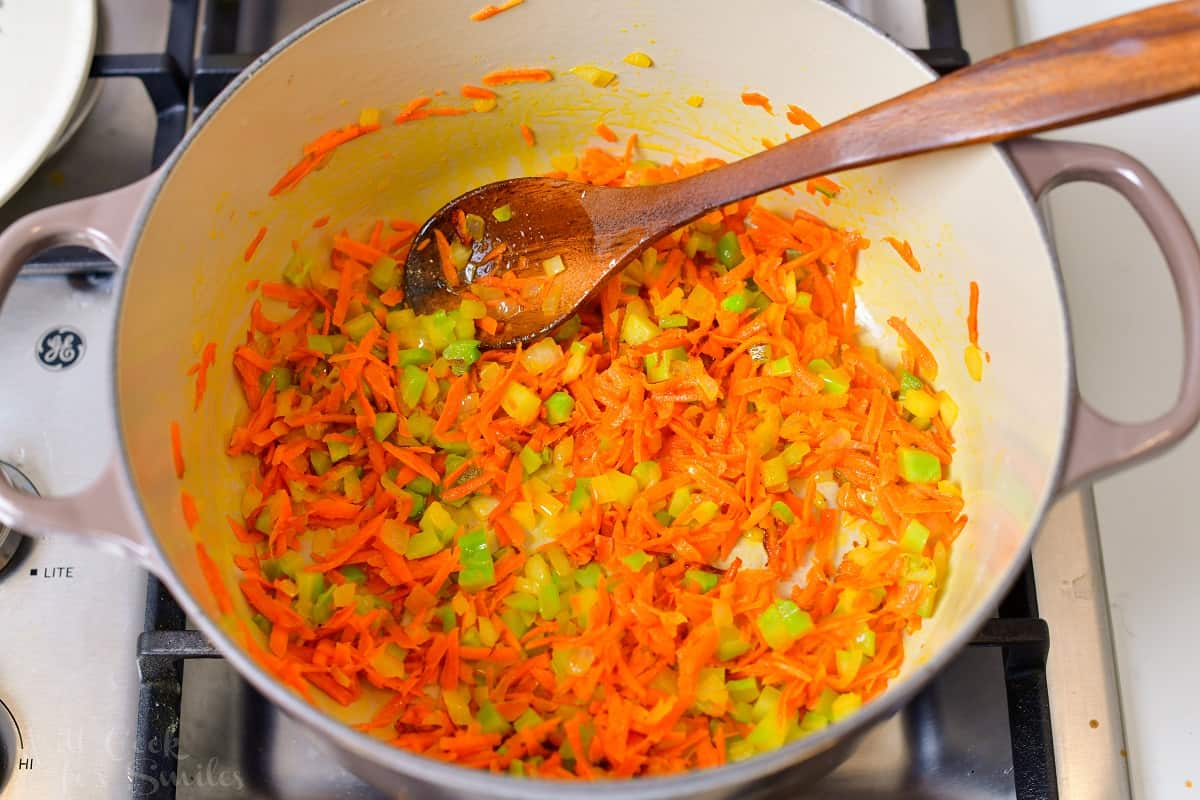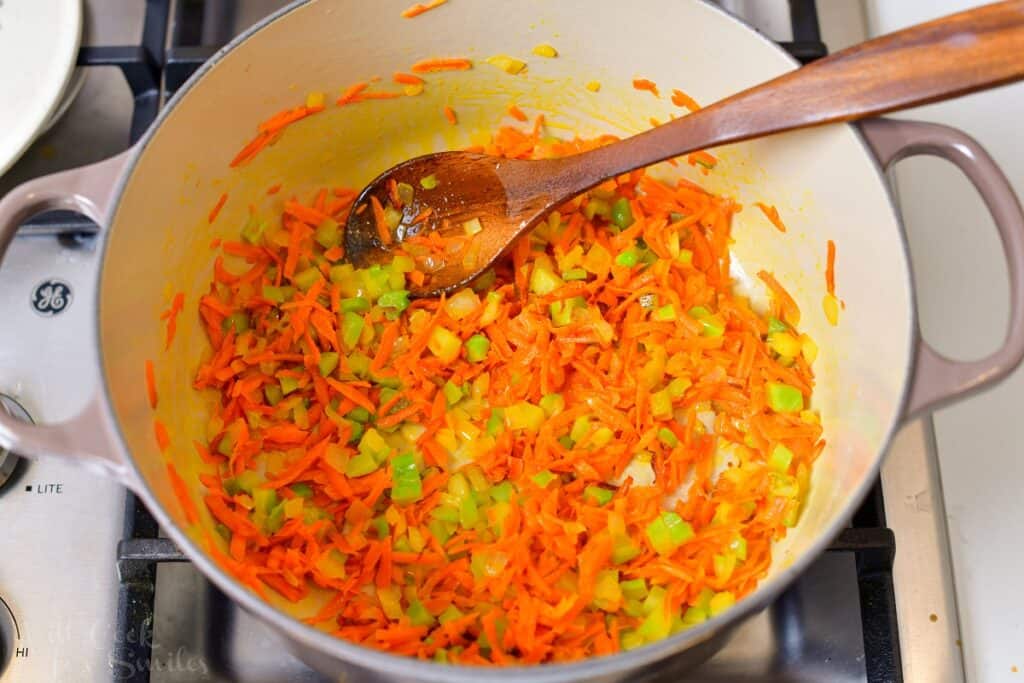 Time to make the soup! Preheat a Dutch oven over medium heat and melt the butter. Add carrots, broccoli stems, and onions to the melted butter and cook until soft and starts to get golden brown.
Add the garlic and sauté until fragrant. Then, sprinkle flour over everything and stir to mix. Continue to stir and pour in the chicken stock, milk, and add seasonings.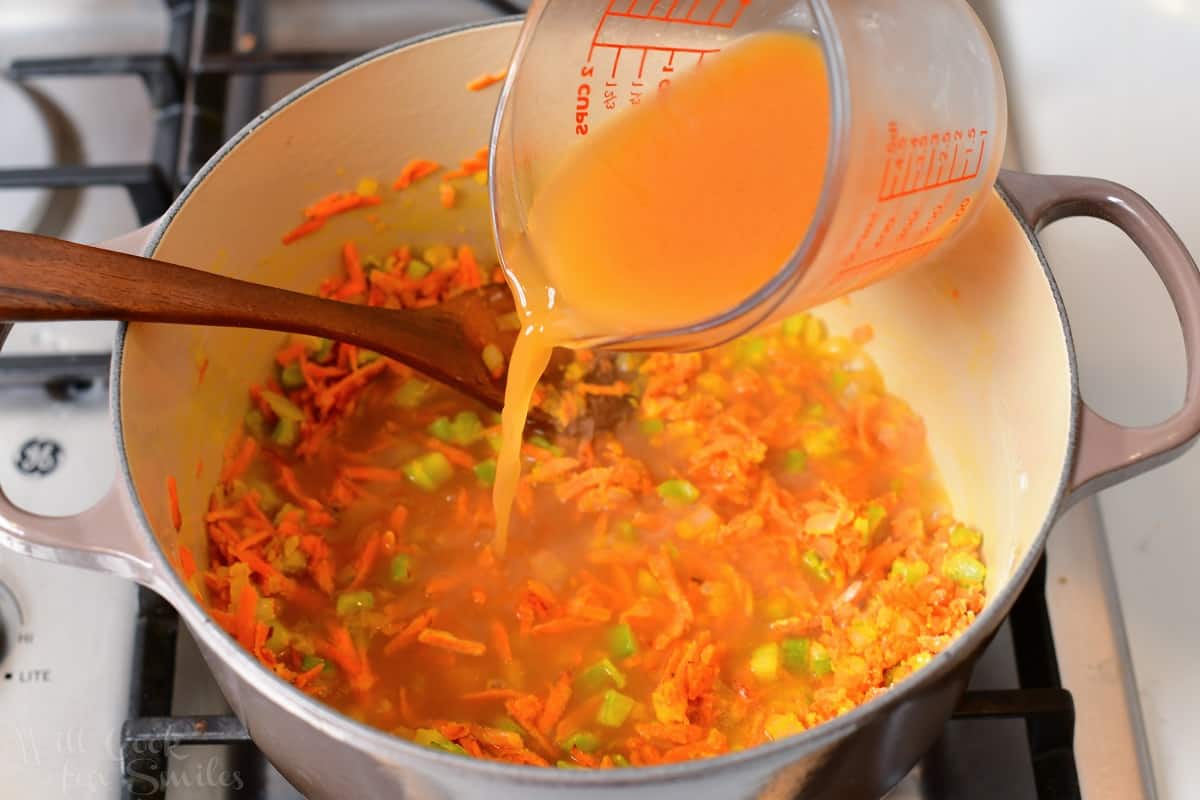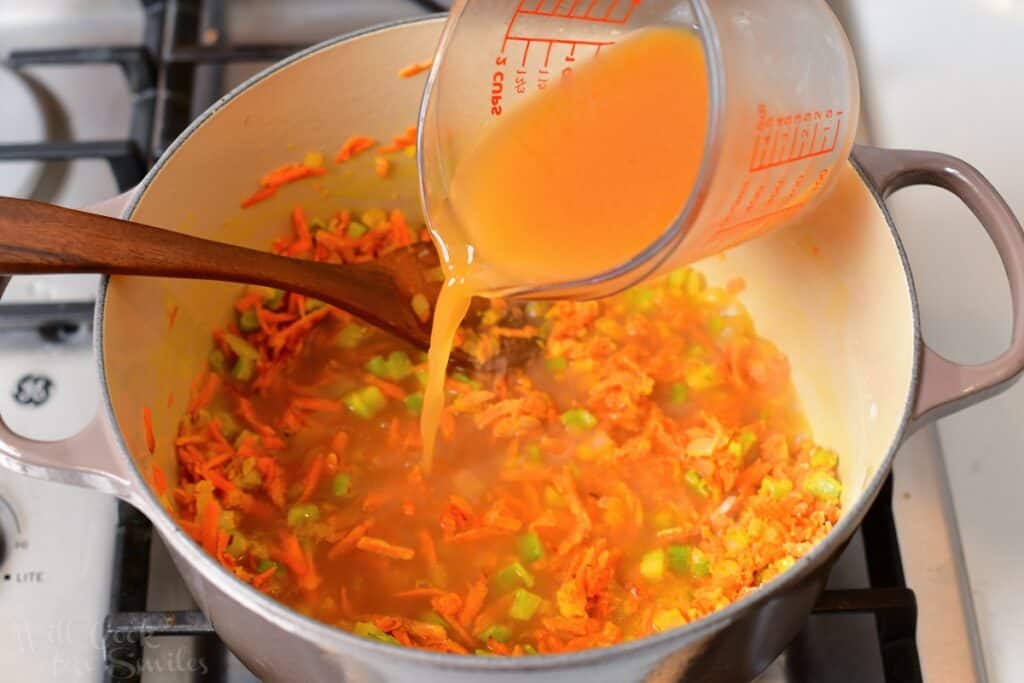 Let the creamy broth heat through first and then lower the heat and start to add the grated cheddar cheese, one handful at a time. Keep slowly stirring as you add the cheese.
Once cheese is smooth and melted, add the broccoli and heavy cream. Stir to combine everything and cook for just a few minutes, making sure everything is heated through.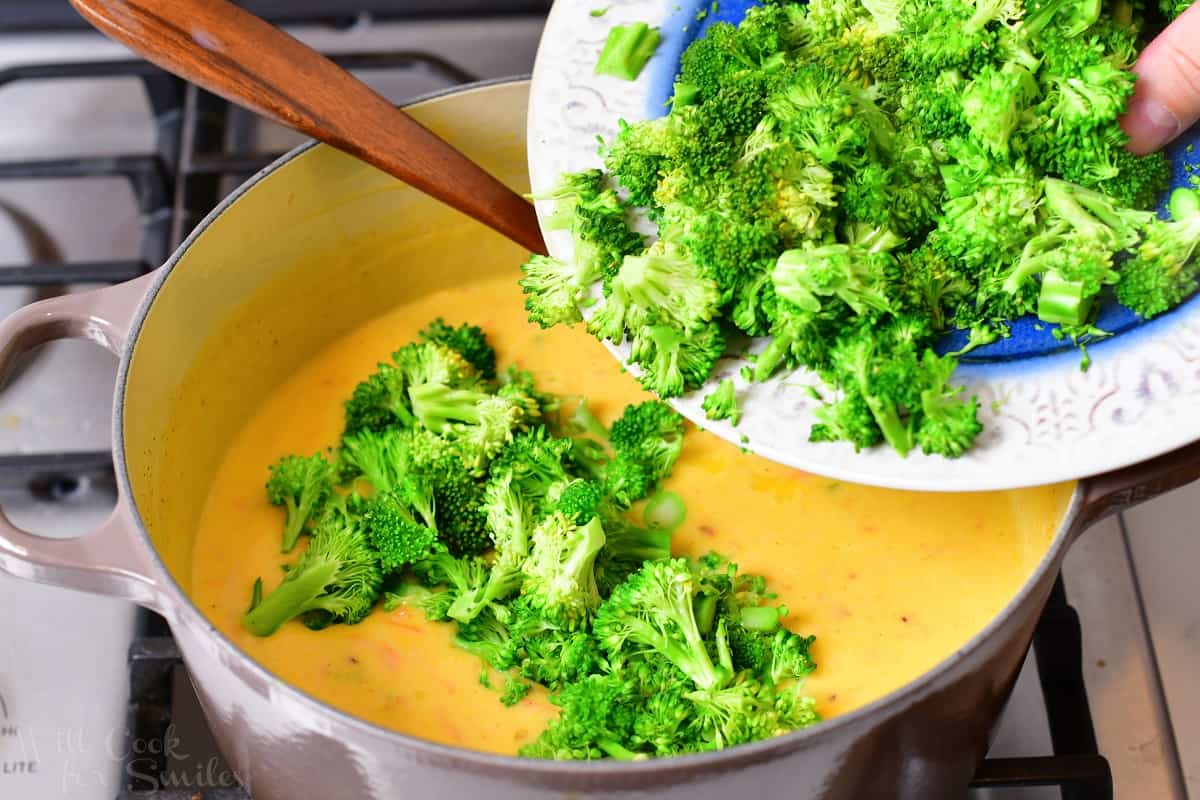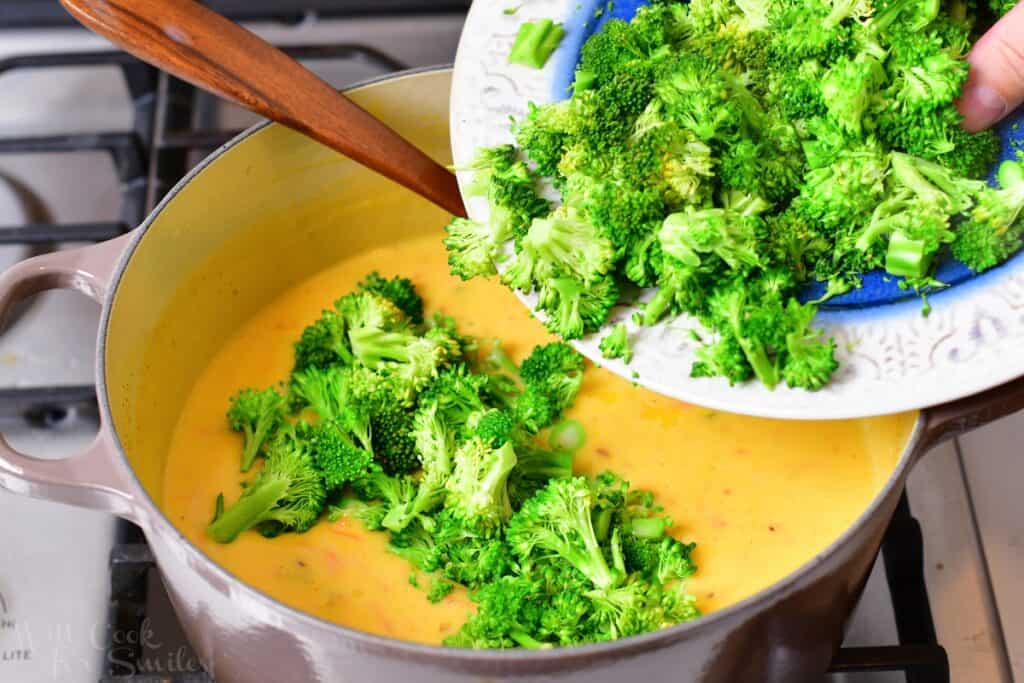 Storing, Reheating, and Freezing
Store leftover soup in an airtight food storage container for up to 3 days in the refrigerator.
The best way to reheat a soup like this is on stove top in a small sauce pot over medium-low heat. To reheat, you can use microwave if needed, but do it in a few second intervals and stir in between.
Please note that broccoli cheese soup does not freeze well! There is whole milk and cream in the soup, so it will not freeze and thaw well.
Hungry for More Homemade Soups?
Cioppino – a delicious seafood stew with a rich tomato base and loaded with all your favorite seafood like white fish, clams, mussels, and shrimp
Loaded Baked Potato Soup – This potato soup recipe is loaded with crispy bacon, soft golden potatoes, cheese, and green onions.
White Bean Soup – a hearty Italian style white bean soup featuring cannellini beans, vegetables, bacon, swiss chard, and the prominent Parmesan cheese flavor in every bite
Copycat Olive Garden Gnocchi Soup – You will enjoy this soup packed with chicken, vegetables, creamy broth, and soft gnocchi.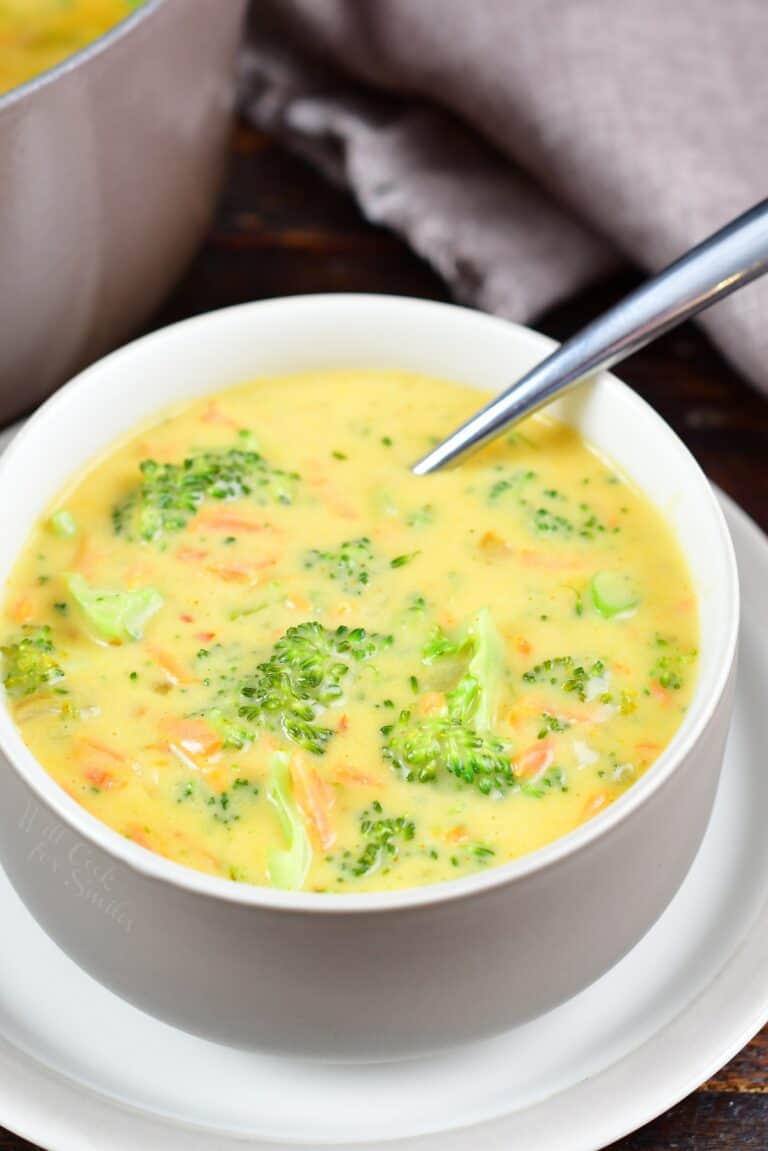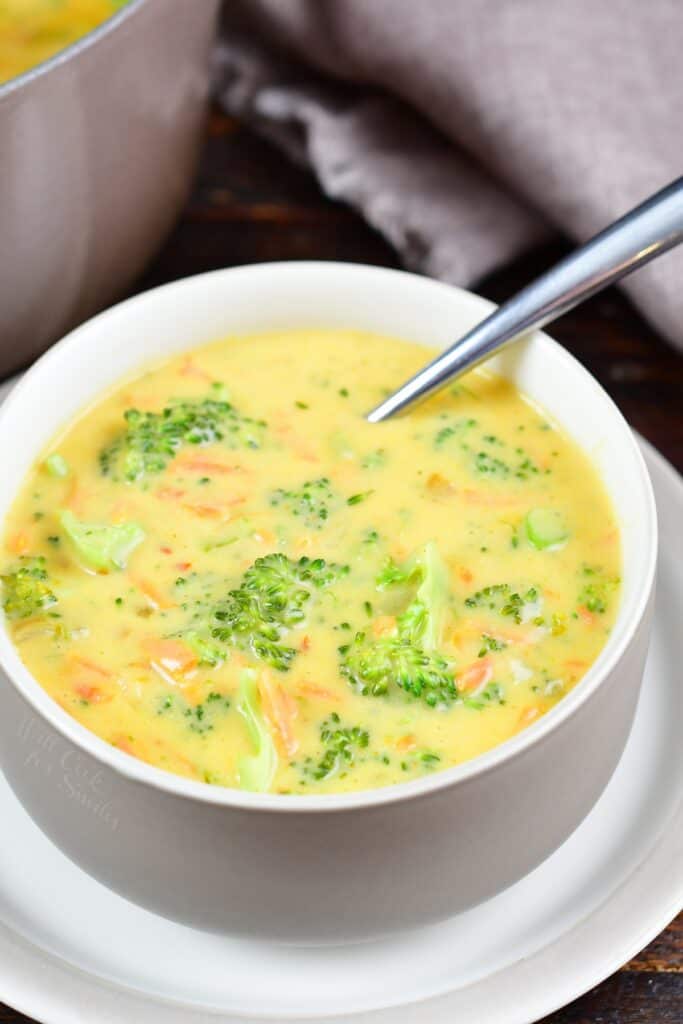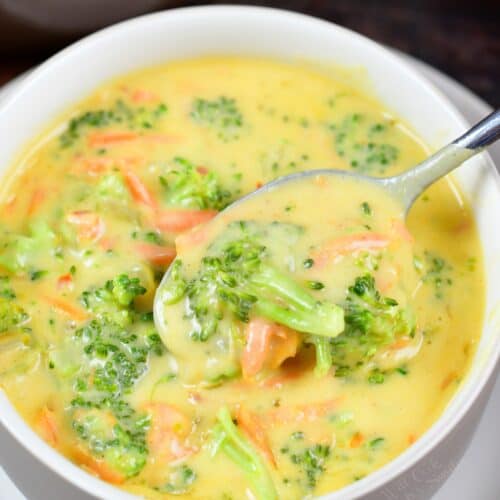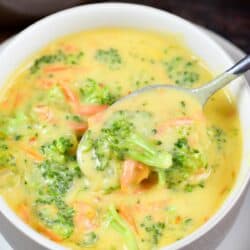 Broccoli Cheese Soup
This classic, creamy, Broccoli Cheese Soup is the ultimate comfort food that's deliciously packed with fresh broccoli, other vegetables, and lots of cheese.
Print
Save
Saved!
Rate
Ingredients
3

tbsp

unsalted butter

1/2

yellow onion

1-2

medium carrots

to taste

1/2

cup

diced broccoli stems

optional

3-4

garlic cloves

1/3

cup

all purpose flour

can also use gluten free flour

2

cups

chicken or vegetable stock

1

cup

whole milk

1

cup

heavy whipping cream

14

oz

sharp cheddar cheese block

grated

14-16

oz

broccoli florets

1

tsp

garlic powder

1

tsp

paprika

1/2

tsp

crushed red pepper flakes

salt

black pepper
Instructions
Prepare the Broccoli:
Easy and fast way to steam broccoli is in the microwave. Dice broccoli and spread it in one even layer on a large plate. Add about a tablespoon of water to the plate. (If you have a microwave steam bowl with a lid, that's perfect.)

I use a microwave plate cover but if you don't have one, you can use another deep plate turned upside down to cover with just leave a little crack for steam.

Microwave for about a minute and a half and set aside. 

No microwave? No problem. You can steam broccoli in a steamer on the stove-top. It will take a little longer but it's a good option.

Note: if you got a broccoli bunch, you can dice some of the broccoli stems and sauté it with onions and carrots for more broccoli flavor.
Make the Soup:
Preheat the Dutch oven over medium heat and add butter. Let butter melt and add diced onion and carrots (and diced broccoli stems if using). Let it cook, stirring once in a while, until softens and starts to get golden-brown.

Add minced garlic, stir and sauté until garlic is fragrant.

Sprinkle flour over the veggies and stir to mix. Pour in the chicken stock as you slowly stir the veggies and then pour in the milk and add seasoning.

Heat the creamy broth through first, then lower the heat to medium-low. Then, start adding grated cheddar cheese one handful at a time as you stir slowly.

Add steamed broccoli and heavy whipping cream. Stir and let it cook for a few minutes. Take off heat.
Nutrition
Calories:
818
kcal
|
Carbohydrates:
24
g
|
Protein:
35
g
|
Fat:
67
g
|
Saturated Fat:
41
g
|
Polyunsaturated Fat:
2
g
|
Monounsaturated Fat:
19
g
|
Trans Fat:
1
g
|
Cholesterol:
214
mg
|
Sodium:
750
mg
|
Potassium:
762
mg
|
Fiber:
4
g
|
Sugar:
7
g
|
Vitamin A:
5467
IU
|
Vitamin C:
102
mg
|
Calcium:
896
mg
|
Iron:
2
mg
Tried this recipe?
Mention @willcookforsmiles and tag #willcookforsmiles