"This is a sponsored conversation written by me of behalf of Ball Park® brand. All opinions and text are my own. #ad "
You can never go wrong with some amazing hot dogs at a summer barbecue party. These hot dogs are amazing, tossed in bbq sauce, wrapped in bacon and grilled to smoky perfection. To make it even better, they are topped with crispy onion straws.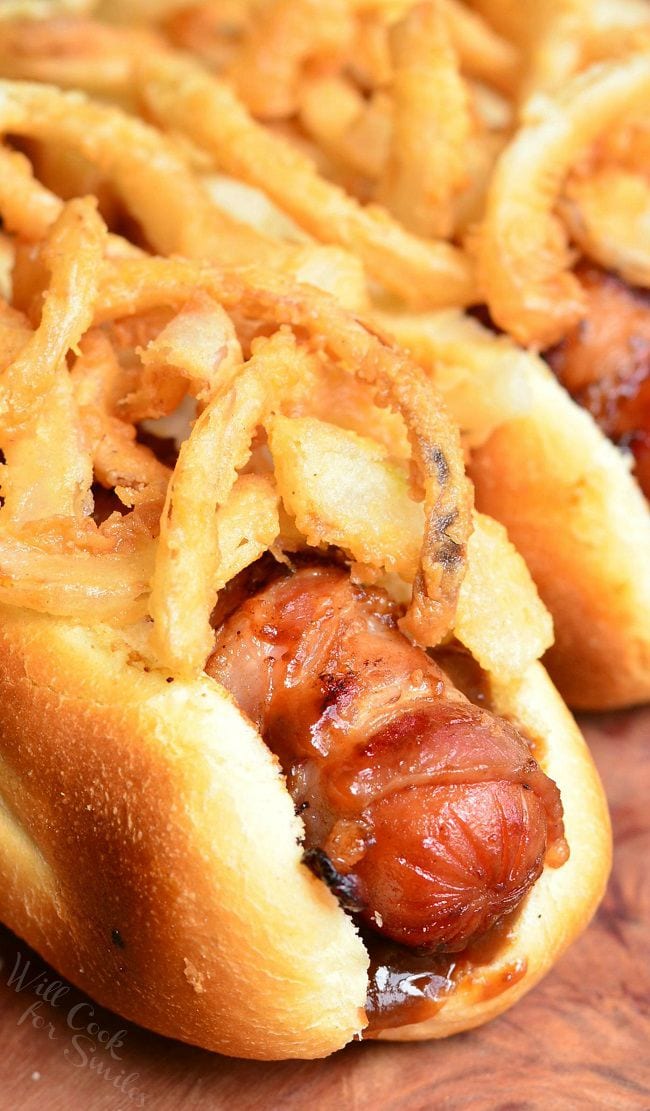 Please don't think that I'm a freak, or at least don't say it out loud, but I like do to "dry runs" before major parties. What I meant by that is that I practice recipes to make sure that they come out right and to gauge how much time I would need. Of course, I don't do it with all the recipes for all the parties, that would waste too much time. I practice new ideas and new recipes and only before major parties.
I do have a pretty major party coming up. Little man's 6th birthday is coming soon and this one seems to be the biggest so far. This year, he actually has friends coming over. Before it was mostly family at his birthday parties but this year, he has kids coming that were his schoolmates and became his friends. I think that I'm more excited about his party then he is though. He's just excited for his chocolate birthday cake and the fact that his party theme is "Angry Birds Star Wars" this year. It's not even the presents he is looking forward to but his "chocolate birthday cake!" (He reminds me every day to make sure that it will be chocolate cake.)
While he gets to have fun at his party, I get to have fun planning the party and cooking for it. Well, fun and stress all at the same time. I have the cake figured out, now I just have to make a practice cake. (Can't wait to share this one!) I have decorations ordered and games almost planned. (My favorite will be "Pin the Lightsaber on the Vader.") So now for the fun and stressful part…The FOOD!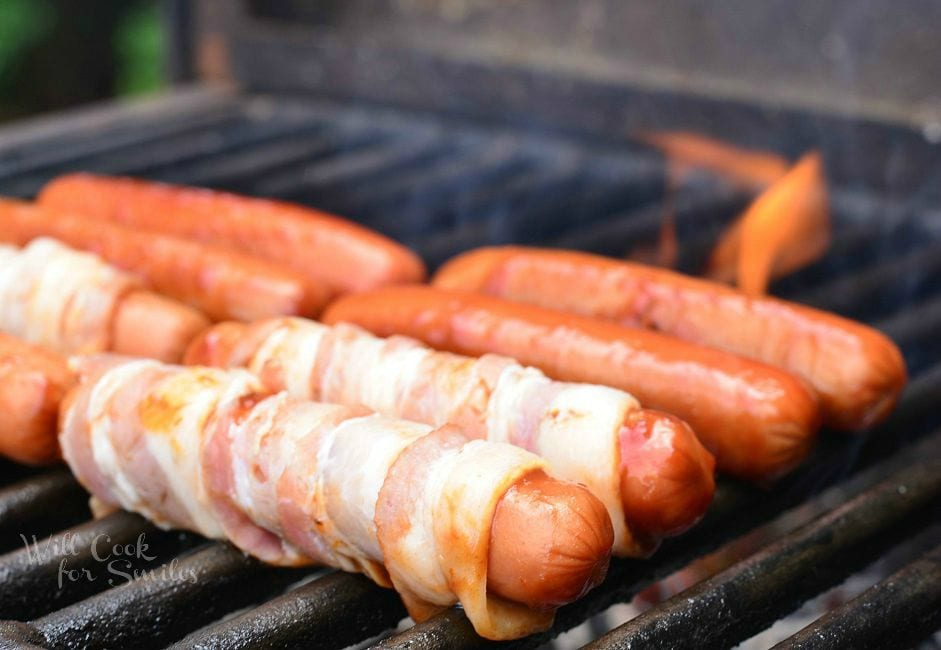 I am actually under a lot of pressure here. All the parents coming to the party know that I'm a food blogger so when I invited them to the party, the first thing I head was that they can't wait to eat at my party. Eek! I have to make sure that everything is perfect!
Kids are easy, just throw some hot dogs on the grill and give them ketchup. Of course, there will be much more to the kids table but it is still so much easier than the adult one. I've been working on the adult menu for nearly two weeks. I want to make it delicious but I also want it to be easy enough so I don't go crazy. So since I'm making hot dogs for kids, I figured that I might as well make hot dogs for adults too. Except they won't just settle for ketchup, I need to wow them there too.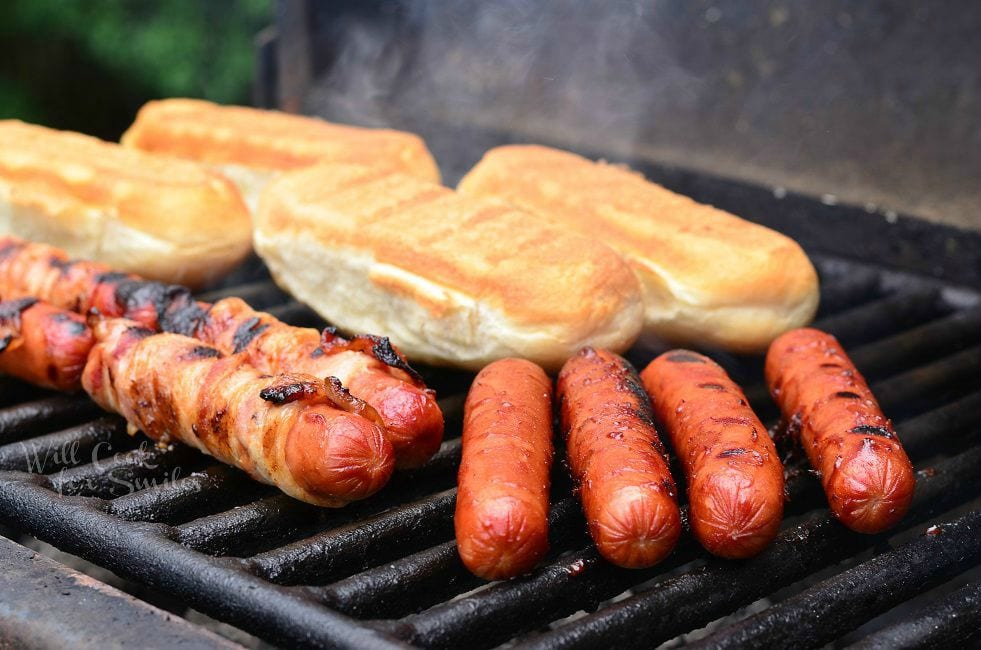 This past weekend, hubs and I experimented with some hot dogs on our friends. He wanted to see just how fast he can grill all the hot dogs and I wanted to experiment with a recipe idea. We totally nailed it … and had way too many hot dogs!
First of all, I stocked up on some Ball Park Park's Finest hot dogs. I like these hot dogs because they are not just tasty, they are premium hot dogs with no artificial preservatives, no artificial flavors, no colors or fillers, no nitrates or nitrites added, and they are made with 100 percent beef. Both, kids and adults, like them because of the big, bold flavors. Ball Park Park's Finest hot dogs​ come in five great flavors: Jalapeno Cheddar, Slow Cooked Chili, Signature Seasoned, Slow Smoked Hickory, Cracked Dijon Mustard.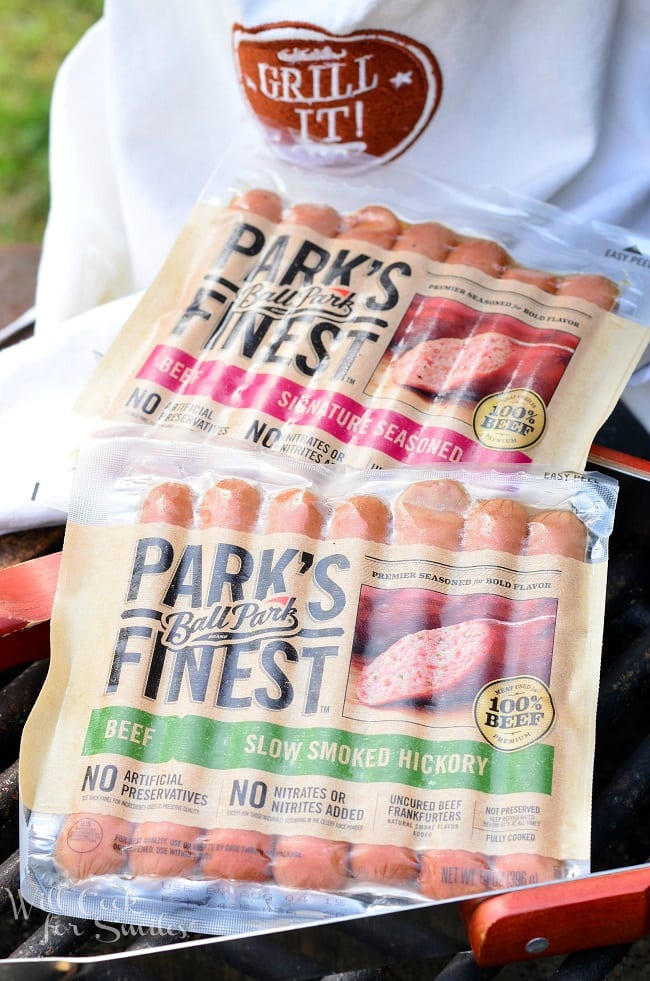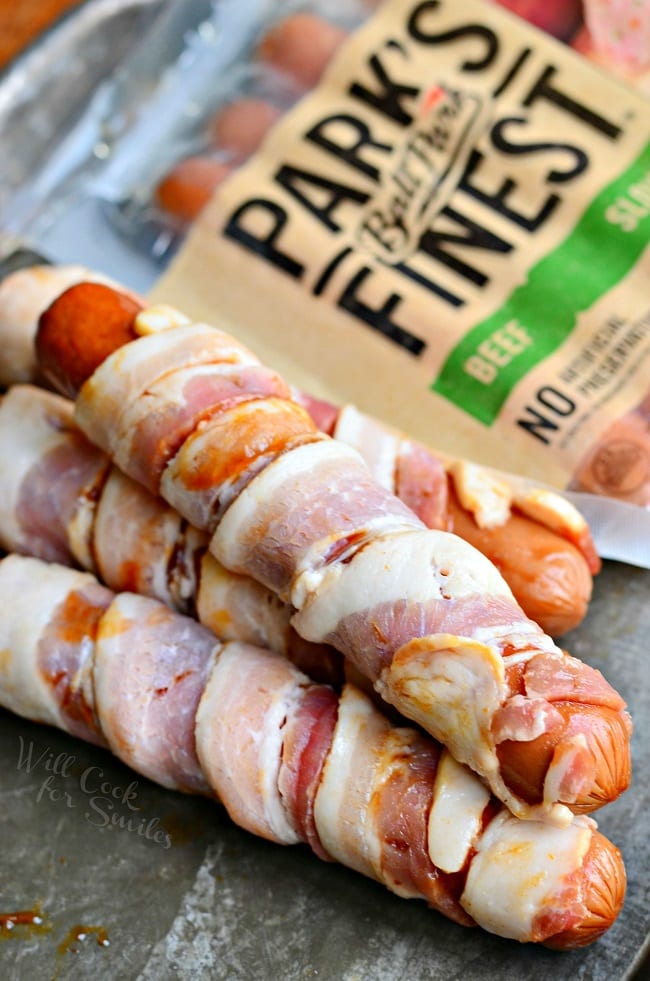 For adults, I've decided to focus on the BBQ hot dog bar so I have Slow Smoked Hickory, Cracked Dijon Mustard and Signature Seasoned. All three flavors go great with array of BBQ sauces. I will have three difference sauces from them to choose, I got mustard based, spicy and honey smoked. These sauces will complement the hot dogs beautifully. I will also have a variety of cheeses to include, Monterrey Jack, White Cheddar and Smoked Cheddar. But my favorite two parts about the hot dogs are bacon and crispy onions. You can never go wrong with bacon wrapped and topped with crispy onion straws!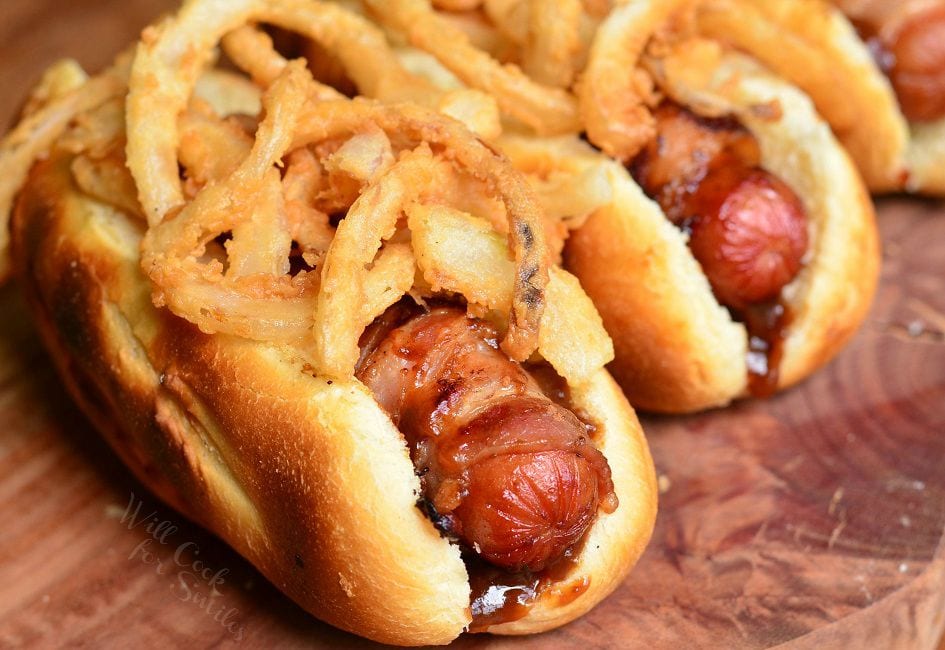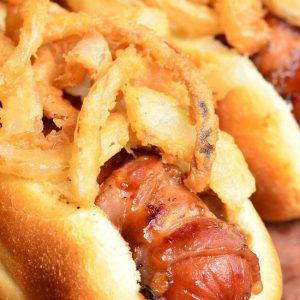 BBQ Bacon & Crispy Onion Hot Dogs
These hot dogs are amazing, tossed in bbq sauce, wrapped in bacon and grilled to smoky perfection. To make it even better, they are topped with crispy onion straws.
Ingredients
7

Ball Park Park's Finest hot dogs

slow smoked hickory would be best

7

Bakery Fresh buns

they just taste so good

7

Uncooked bacon

1/3

cup

honey bbq sauce

Crispy onions:

1

medium yellow onion

1

cup

of buttermilk

1½

cups

of flour

Salt

fresh cracked black pepper

About 2-3 cups of vegetable oil for frying
Instructions
Haystack: Slice the onion, width-wise, thinly. Submerge sliced onion in buttermilk and set aside for about 30 minutes. Mix four, salt and pepper in a large shallow bowl. Heat up oil in the large pot, on medium-high heat (or fryer). Take out sliced onions from buttermilk and shake it off, lightly. Throw onions in the flour, spread them out and toss in flour mixture. Fry onion straws in heated oil until golden brown. Take out and spread them out on a paper towel to soak up excess oil.

Toss hot dogs in bbq sauce in a large bowl.

Wrap each hot dog in uncooked bacon strips.

Grill until bacon is crispy and hot dogs are cooked.

Place cooked hot dogs in warm buns and top them off with crispy onions.
Recipe Notes
Recipe from Lyuba @ willcookforsmiles.com All images and content are copyright protected. Please do not use my images without prior permission. If you want to share this recipe, please simply link back to this post for the recipe. Thank you.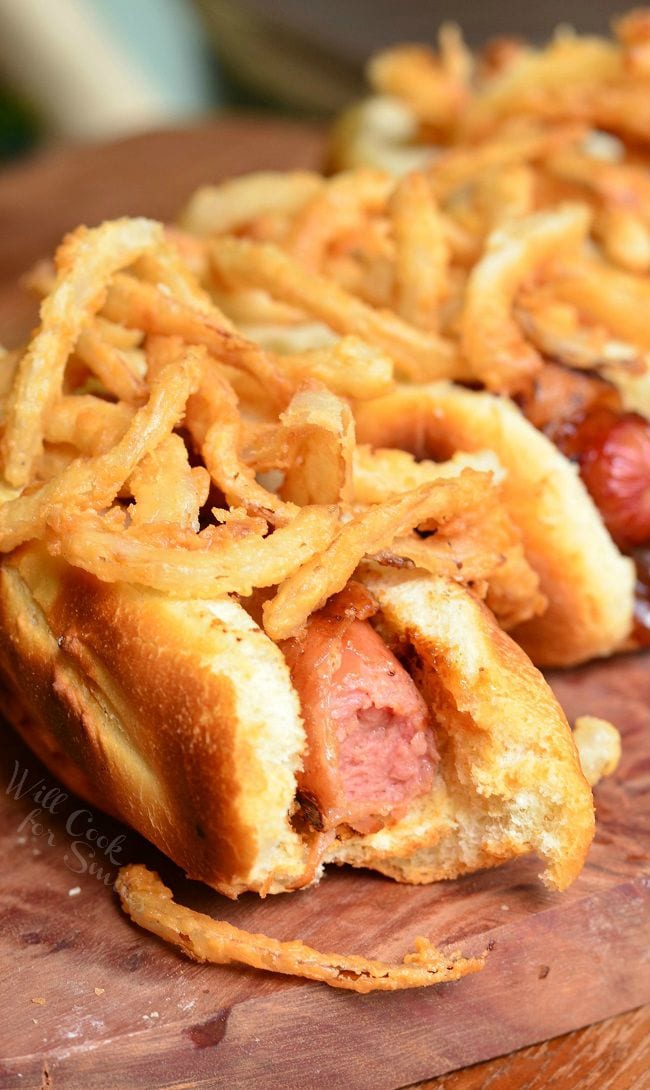 Speaking of some fun grilling times, Ball Park and a team of finest grill masters will attempt to break the world record for longest marathon BBQ by a team. This Finest Grillathon event will take place in NYC, in August, it will be live streamed for everyone to watch!
_________________________________________________________
Make sure you follow me through your favorite blog reader (bloglovin or other), subscribe to e-mail or follow me through social media of your choice to keep up with the recipes!
        
_______________________________________________________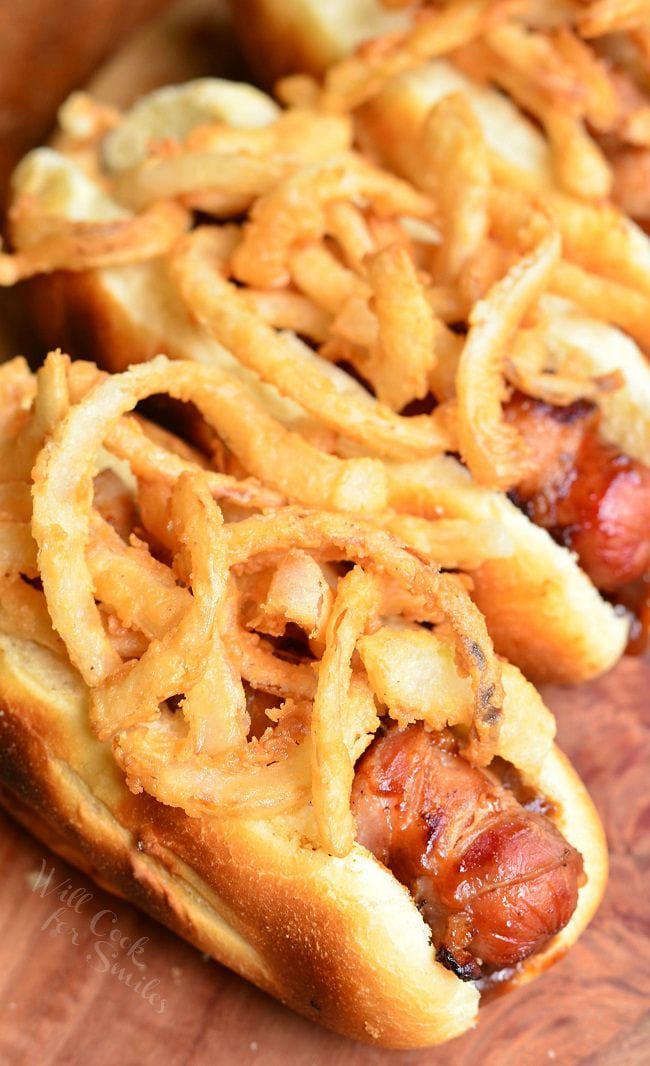 This is a sponsored conversation written by me on behalf of Ball Park. The opinions and text are all mine.