She-Crab Soup is a rich and creamy soup that is deliciously aromatic. It has just a touch of sweetness and of course, it's chock-full of delicious crab meat. This seafood soup is reminiscent of a bisque, mainly because of the rich and creamy texture. Make sure add a splash of sherry in a bowl when you serve this scrumptious soup!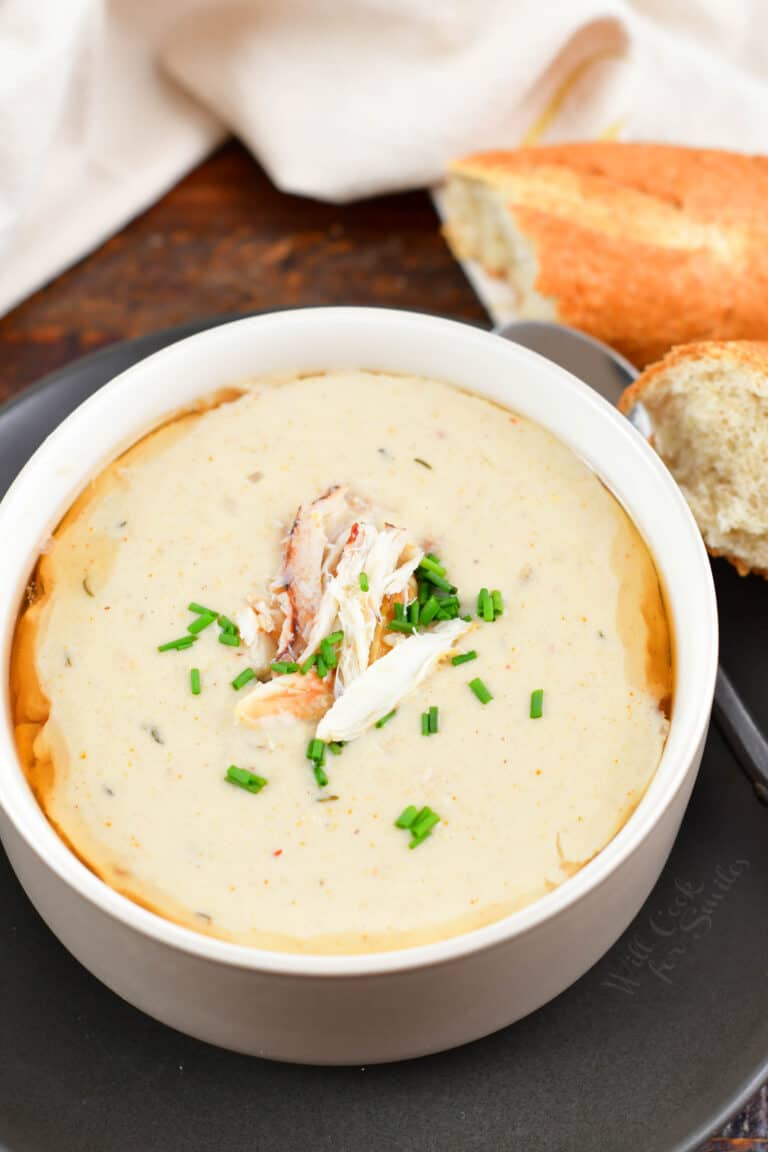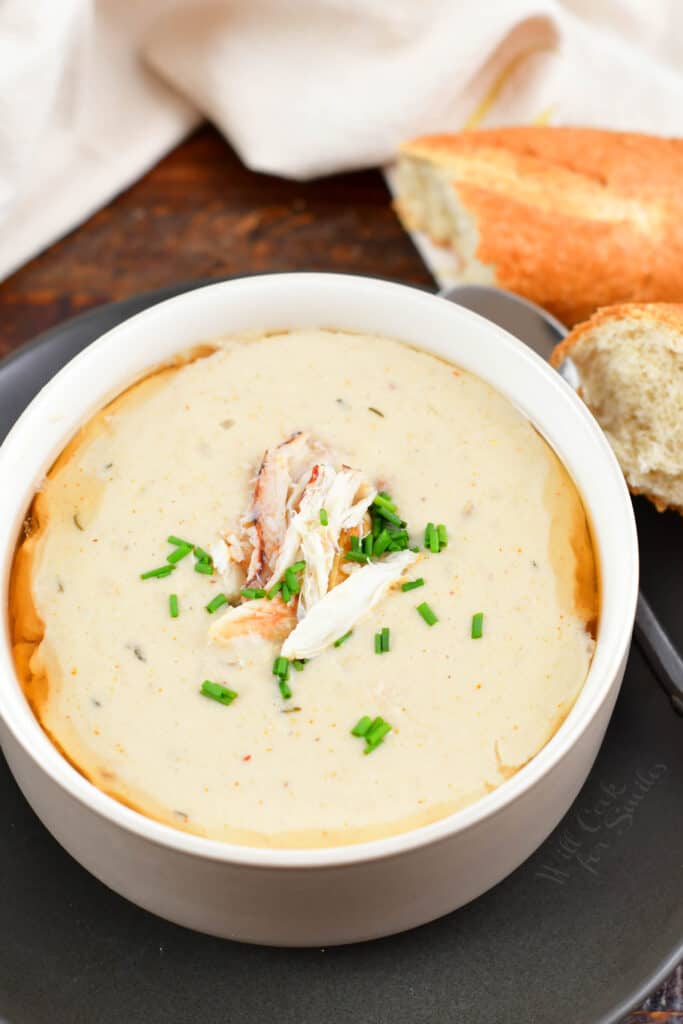 She-Crab Soup
She-crab soup is one of my favorite seafood soups to curl up with on a chilly day. Since it has a truly decadent consistency that's reminiscent of bisque, it always hits the spot when you're craving something satisfying to soothe your soul and warm your bones!
The crab meat and roe itself creates the signature flavor of the dish, but there are plenty of other ingredients that create the creamy consistency, like both whole milk and heavy whipping cream. There are also a hearty amount of other flavorful additions to help enhance the crab soup even more. One of my favorites is the cognac – yes, cognac!
Next time you're craving a soup that's rich with savory, yet sweet flavors and full of tender crab meat, this is the recipe to turn to. Crab roe isn't the easiest ingredient to get your hands on, so don't beat yourself up if you're having a hard time finding some.
While some she-crab soup purists will preach that the soup must have it, I'd argue that the other ingredients like shallots, fish stock, paprika, and so much more will still keep this rich soup extremely flavorful with or without the roe. With that being said, if you can find some roe, more power to you!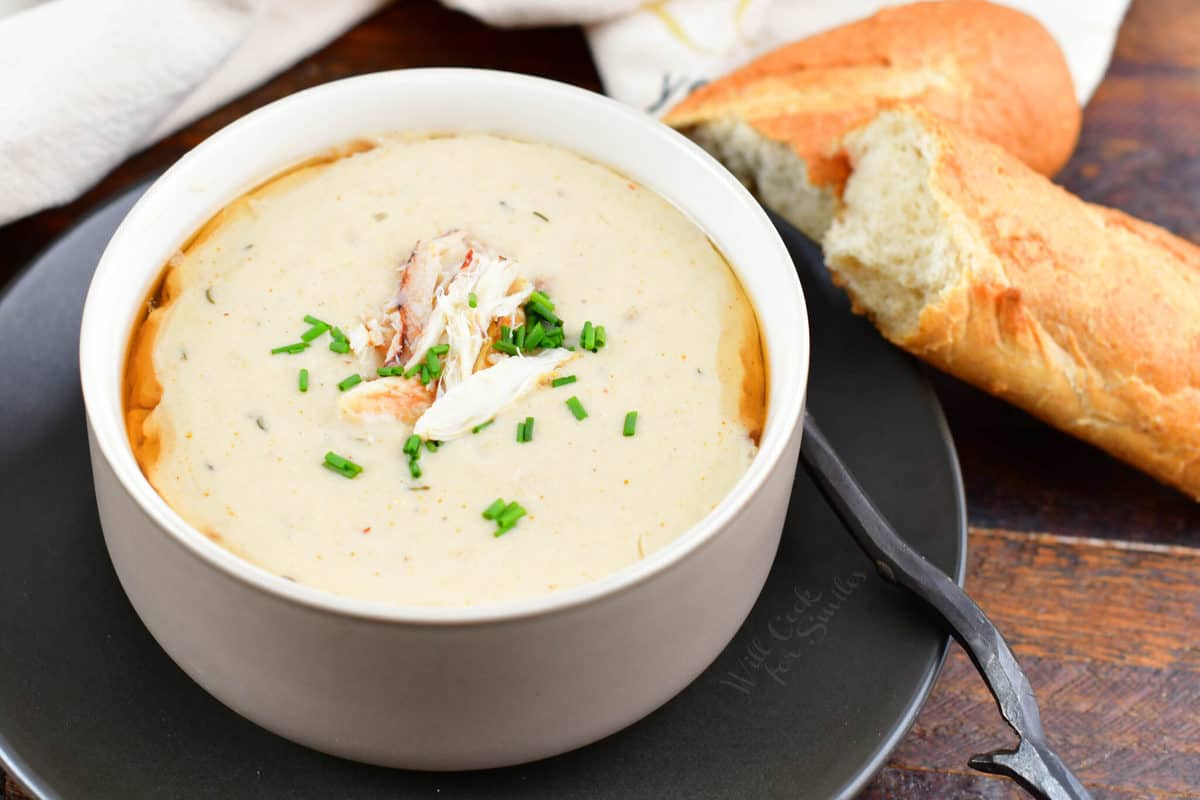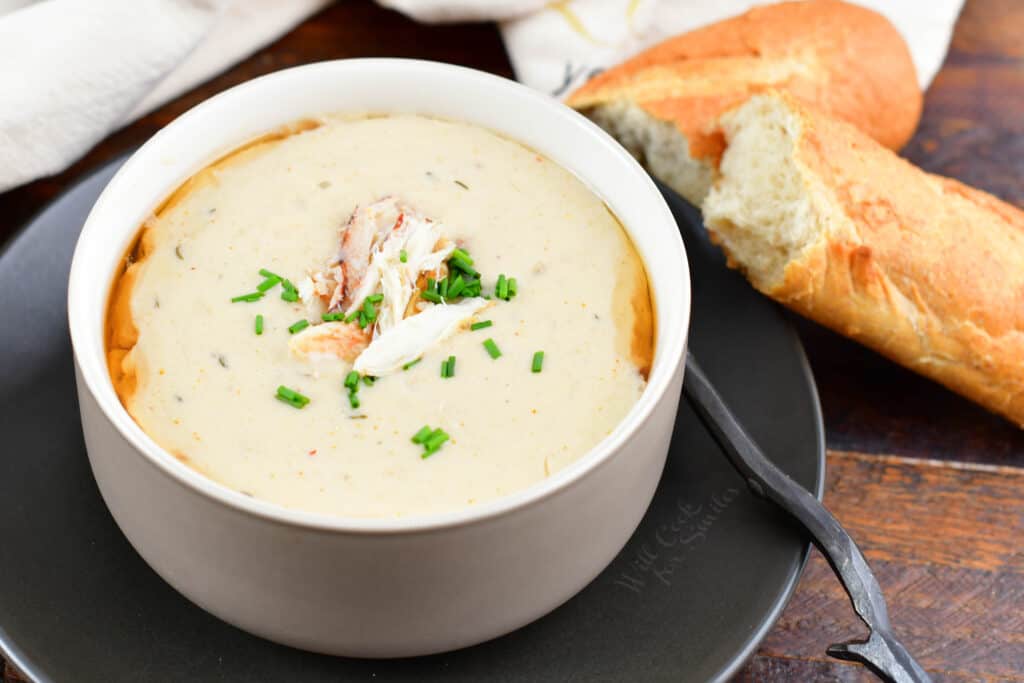 What Is She-Crab Soup
Traditionally, she-crab soup is made with lump crab meat and crab roe. The "she-crab" is literally referring to the female crabs. Crab roe actually makes quite the flavorful impact in the soup as a whole, although it's been harder and harder to obtain.
Some states have even made it illegal to harvest crab roe or fish for mature female crabs in order to help maintain the crab population. If you have to, you can simply omit the roe when needed. While many people believe that crab roe always has to be present in an authentic she-crab soup, I say you do what you want in your own kitchen! This crab soup will be amazing with or without it.
How to Make She-Crab Soup Without Roe
If you want a little more crab flavor and you don't happen to have access to roe, you can make crab stock by cooking whole crabs in the shell first. Cook them with some basic vegetables like onion, celery, and carrots, white wine, and aromatics like fresh parsley, thyme, bay leaves, and whole peppercorns. You can also use fish stock or lobster stock instead.
Ingredients for She-Crab Soup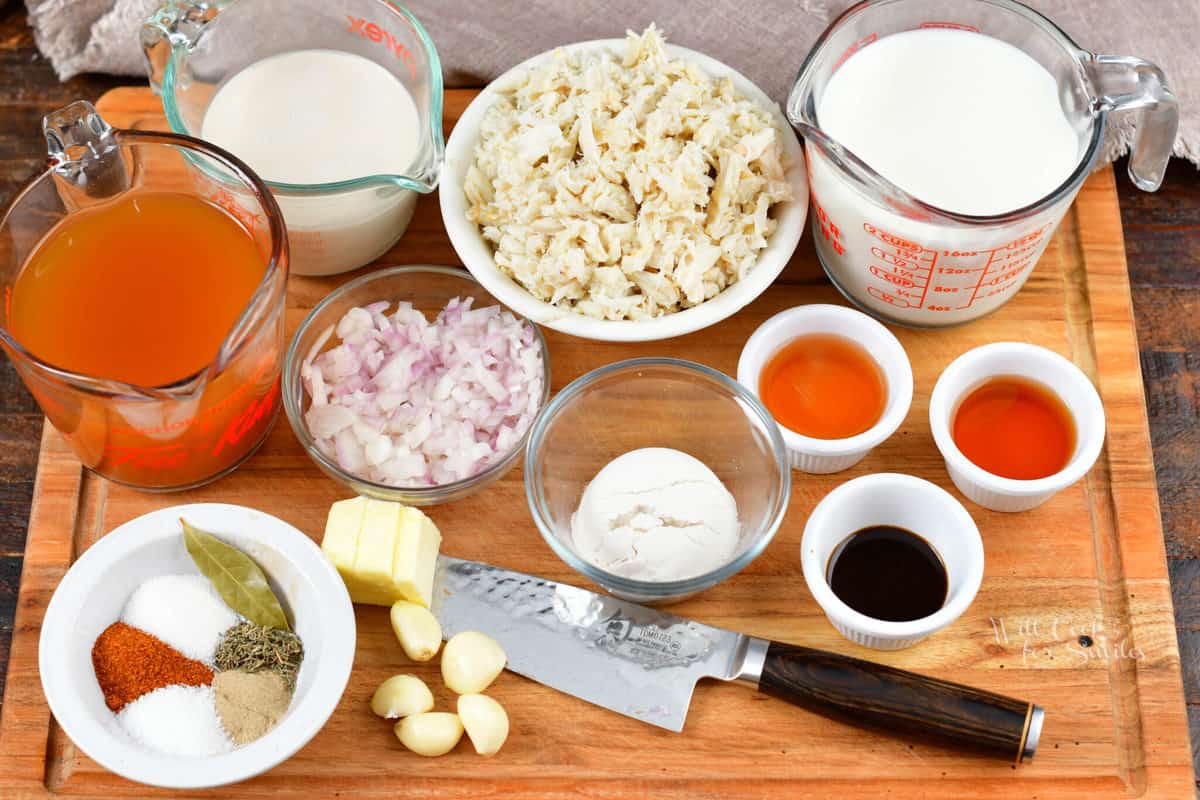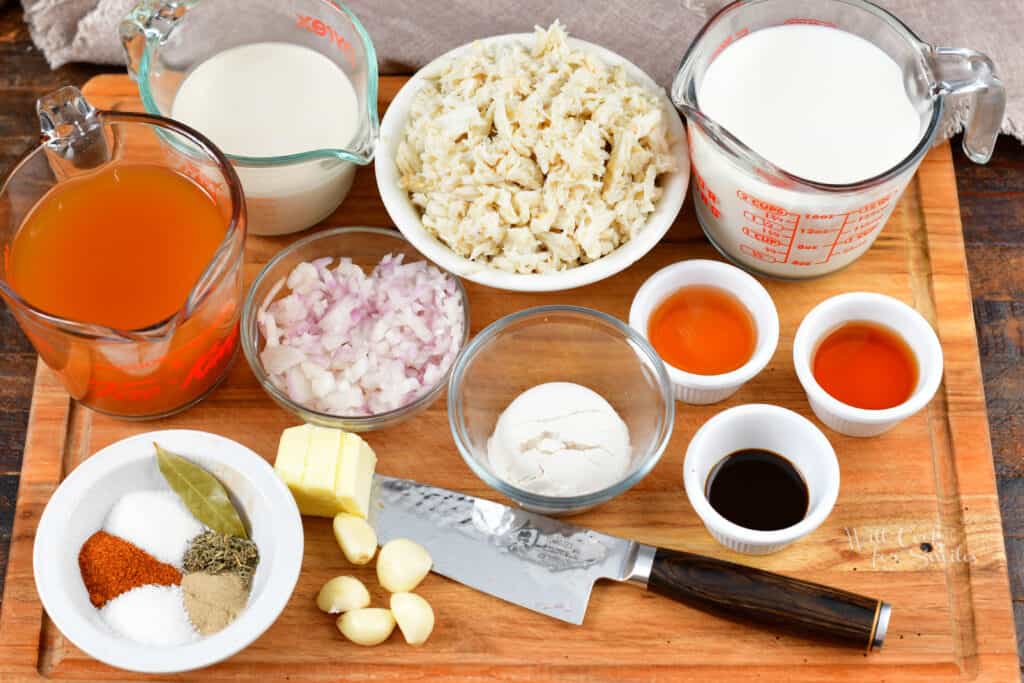 Butter – Unsalted is preferred to control the amount of sodium.
Shallots – These delicately sweet onions pair perfectly with the crab meat.
Garlic – for the best flavors, use fresh garlic, not jarred.
Flour – All-purpose flour works great or, use gluten free if you need to!
Cognac – You can also use brandy if that's what you have on hand.
Fish Stock – In a pinch, lobster or even Vegetable Stock will also do the trick.
Worcestershire – This is the best ingredient for adding a perfect amount of savory tang.
Whole Milk – it's best for the rich, creamy texture.
Heavy Whipping Cream – similarly to the whole milk, this will give you the richest, creamy texture.
Lump Crab Meat – for best results, use lump crab meat from the refrigerated section. That is a pricy option though, so in a pinch, substitute claw meat.
Paprika
Sugar
White Pepper
Thyme
Bay Leaf
Salt
What Crab Meat to Use in She-Crab Soup
In a traditional she-crab soup, lump crab meat is what you will need. However, if you can't find lump crab meat, you can use whole crabs or claw meat instead. Between the two alternatives, claw crab meat is less expensive and easier to find at the stores.
It's best to avoid canned crab meat, and instead get better quality meat at the seafood counter. Your homemade soup will be as good as the ingredients put in it, and crab is of course the most important ingredient!
Dietary Substitutions:
Gluten free: to make crab soup gluten free, simply use gluten free all purpose flour to thicken the soup.
Lactose free: use lactose free whole milk and an unsweetened almond or oat milk creamer. Make sure to use unsweetened creamer! Also, note that oat milk creamer will naturally be slightly sweet, but that won't affect the soup in a bad way.
Dairy free: if you have to make the soup completely dairy free, use milk substitute and an unsweetened milk substitute creamer. My best suggestion is to use oat milk (make sure it's unsweetened and not flavored) and almond milk unsweetened creamer. They balance out the sweetness.
How to Make She-Crab Soup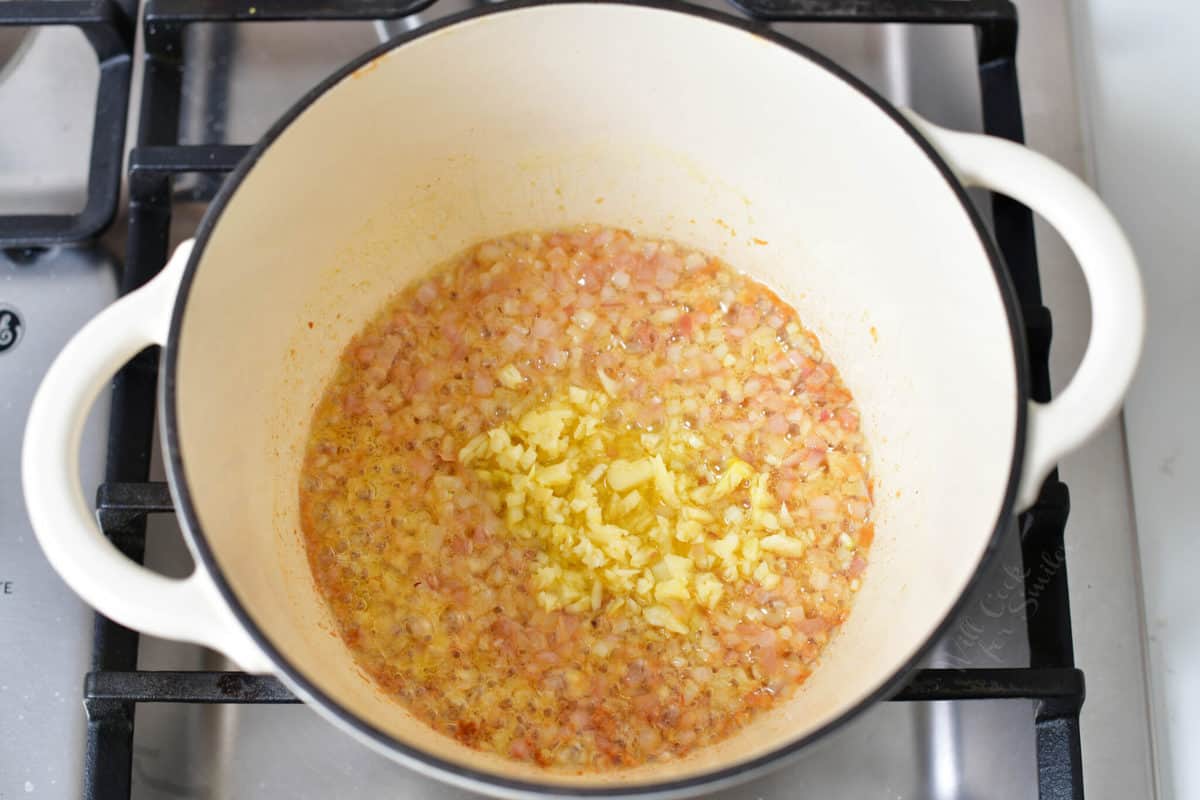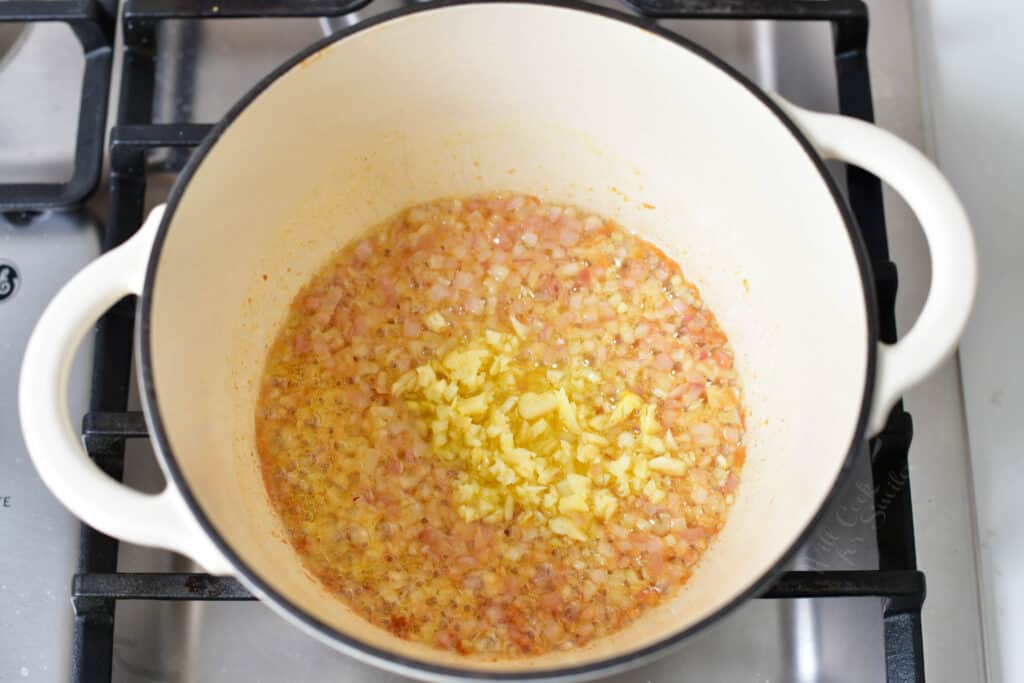 Start by cooking the shallots in some warm melted butter in your pan. Then, add the garlic and sauté until fragrant. Pour in the cognac and let simmer for one minute.
Coat the veggies in flour, stir, and add milk slowly.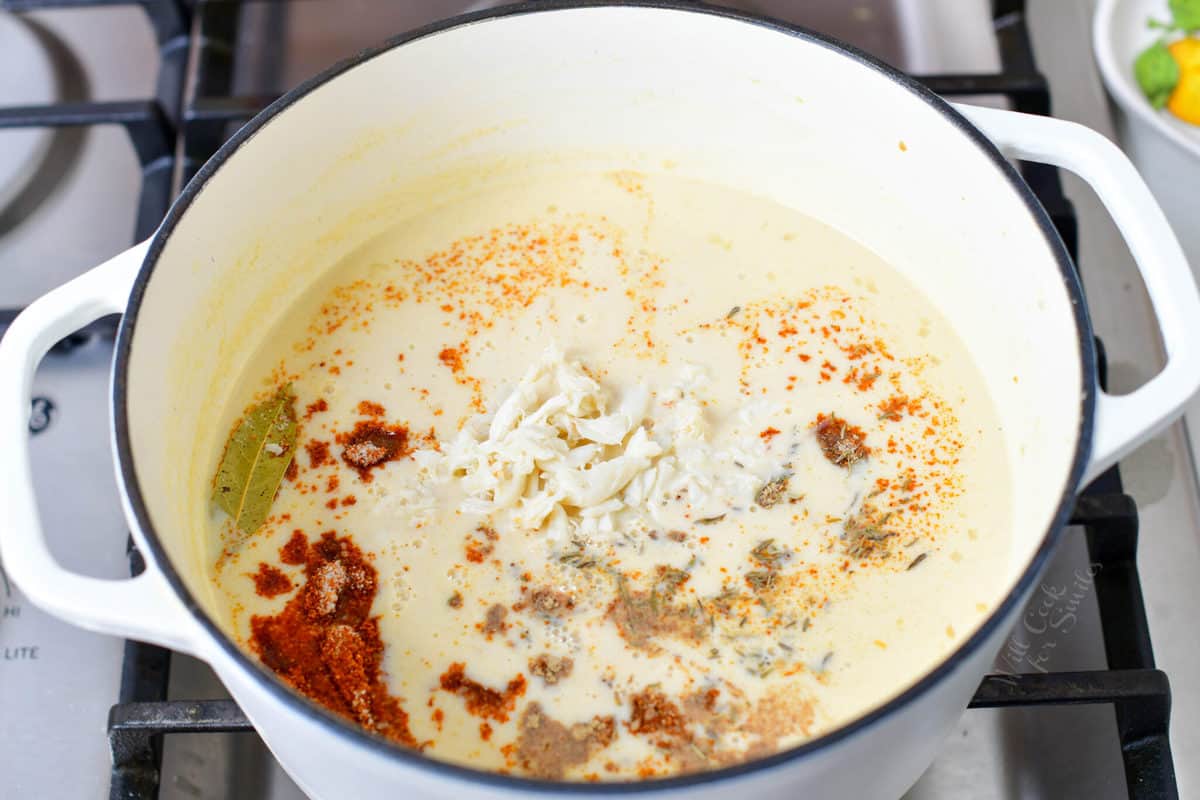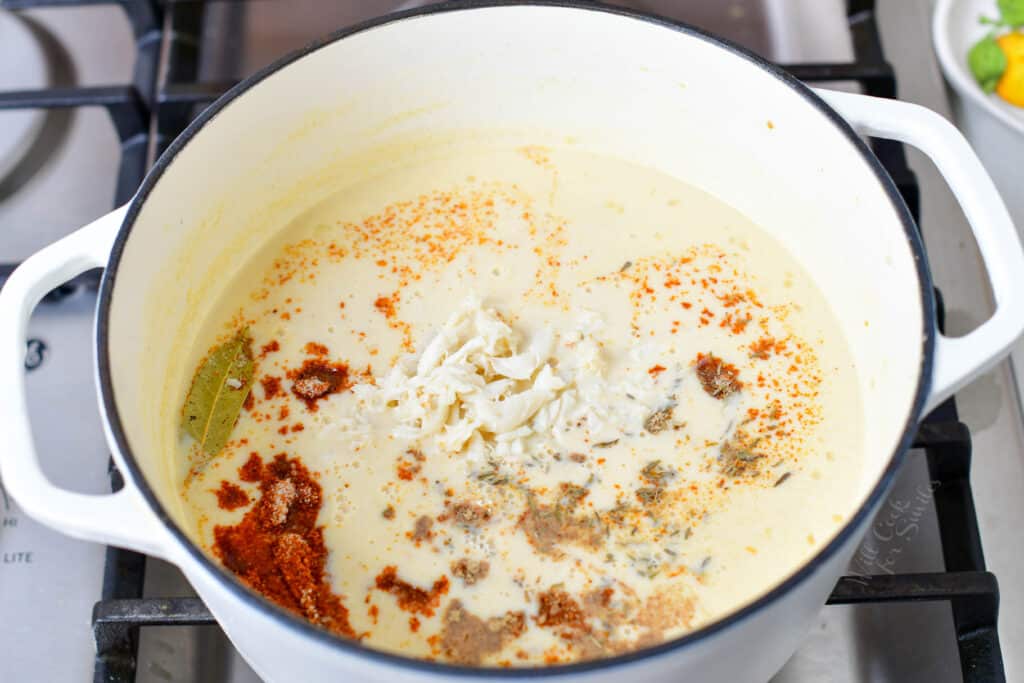 Pour in the Worcestershire, seasonings, and about half of the lump crab meat. Lower the heat and stir well. Cook for about 15-20 minutes.
Stir in the heavy whipping cream and remainder of the crab meat. Cook for a few more minutes so everything is warmed through, and discard of the bay leaf.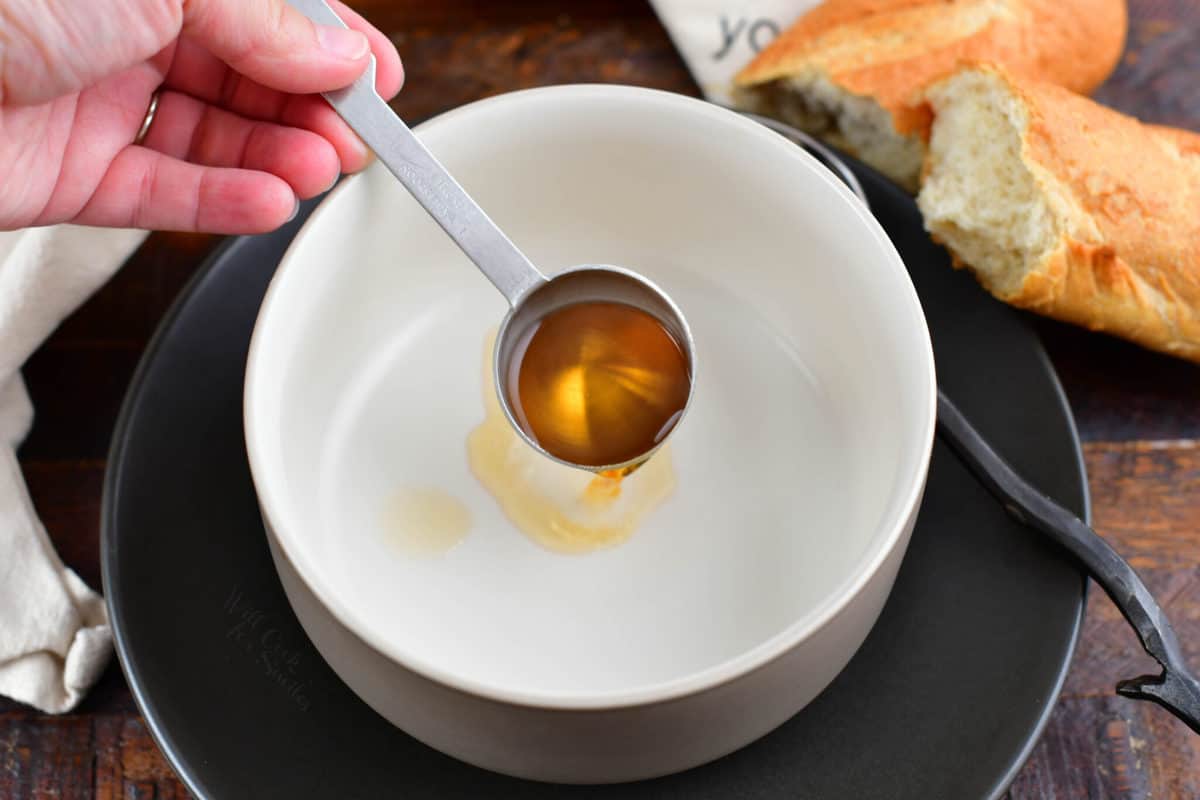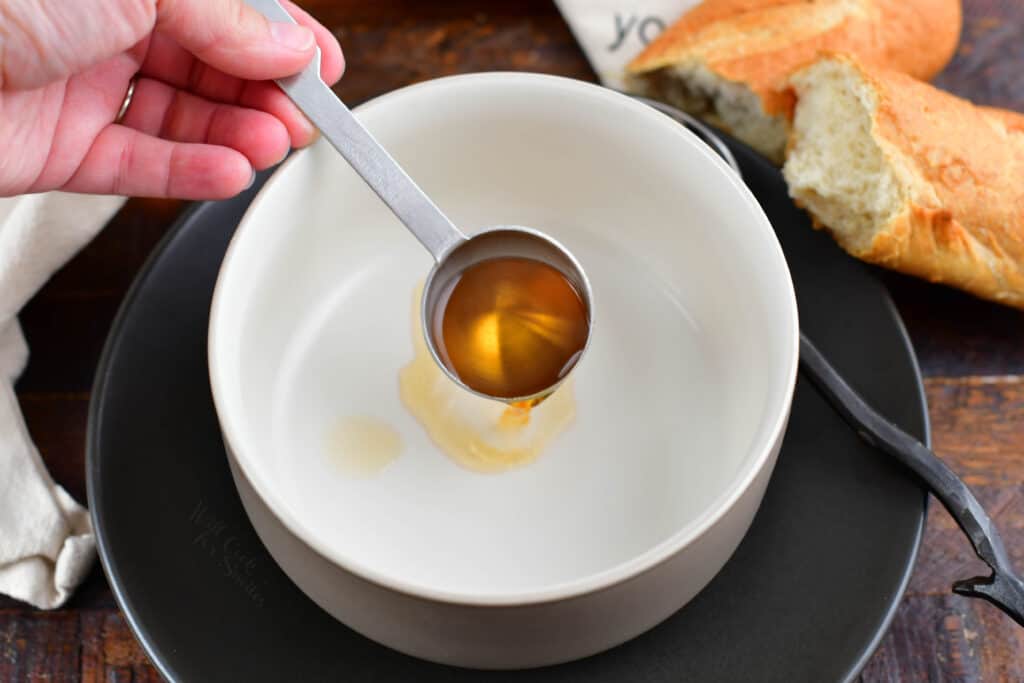 Prior to serving, pour some sherry into each bowl. Ladle soup among the bowls and top with chives or crackers, and enjoy!
Storing and Reheating
Refrigerate any leftovers you may have in an airtight container for up to 2 days.
You can reheat it in a sauce pot over medium-low heat just until heated through for best results. I don't recommend microwaving this soup.
Creamy Soup Recipes You Can't Miss:
Tomato Bisque Soup – Tomato Bisque is a creamy variation of a classic tomato soup with rich tomato flavors and smooth, creamy texture.
Cheddar Ale Soup – An amazingly comforting cheesy, flavorful soup made with veggies, beer, and lots of sharp cheddar cheese.
Potato Leek Soup – Made with Yukon gold potatoes, leek, celery, chicken stock, and cream, this potato soup has the best texture and flavor.
The Best Mushroom Soup – Comforting, classic creamy mushroom soup made with a few flavorful additions to make it the best.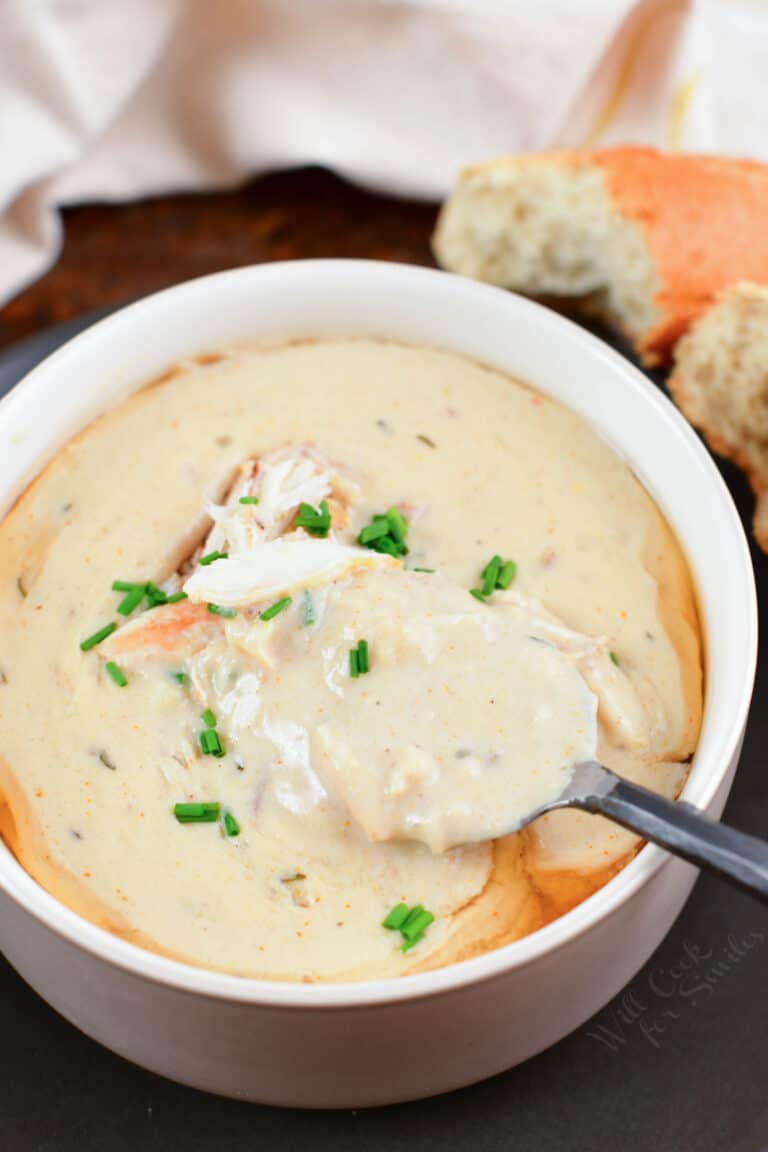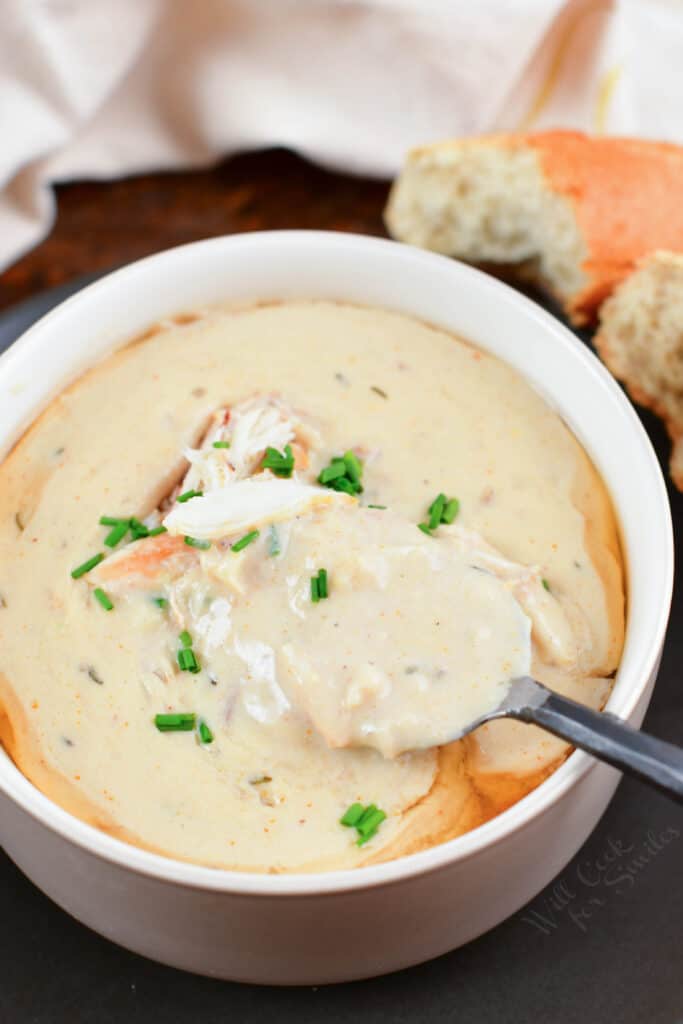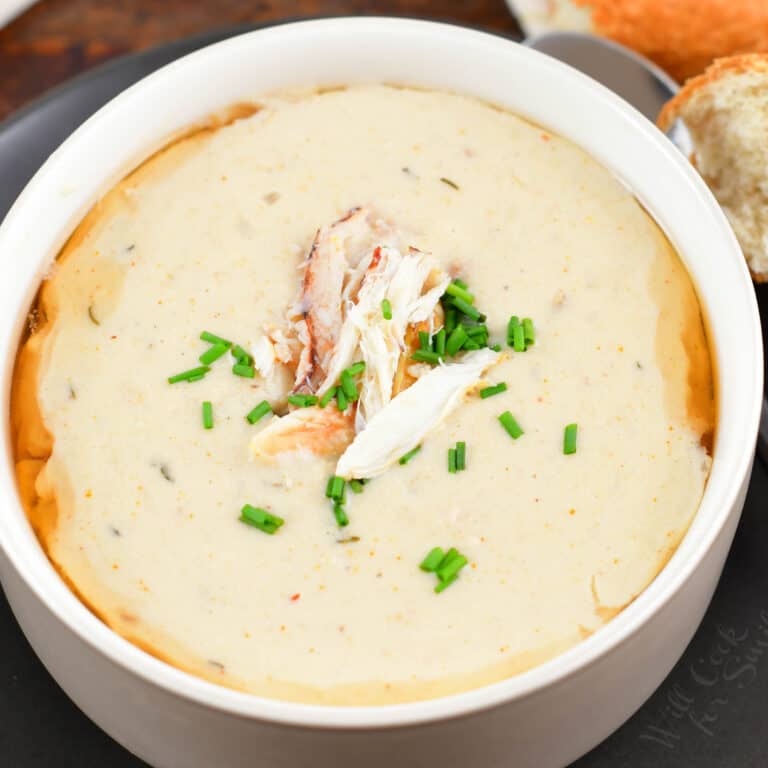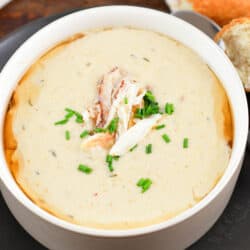 She Crab Soup
She-Crab Soup is a rich and creamy soup that is deliciously aromatic. It has just a touch of sweetness and of course, it's chock-full of delicious crab meat.
Print
Pin
Save
Saved!
Rate
Ingredients
2

tbsp

unsalted butter

2

shallots

3-5

garlic cloves

1/3

cup

all purpose flour

3

tbsp

cognac

or brandy

2

cups

fish stock

can use lobster stock, or vegetable stock

1

tbsp

Worcestershire

2

cups

whole milk

1

cup

heavy whipping cream

2

tsp

paprika

1

tsp

white granulated sugar

1/4

tsp

ground white pepper

1/2

tsp

dried thyme

1

bay leaf

1/2-1

tsp

salt

more or less to taste

1

lb

lump crab meat
For Serving:
1/4

cup

sherry

2

tsp

fresh minced chives

crackers of bread
Instructions
Before cooking:
Prepare your ingredients first: dice shallots, smash and mince garlic, measure all other ingredients.

Spread out the crab meat and sift through it with your hand to make sure there are no accidental shells left behind.
Cooking the soup:
Preheat a Dutch oven over medium heat and add butter. Once butter is melted, add shallots and sauté until softened and starts to brown.

Add garlic and sauté until fragrant. Pour in cognac and let it simmer for just about a minute.

Sprinkle flour over vegetables and stir to coat it in flour. Keep stirring and slowly pour in the stock slowly and then milk. (You can use a whisk if you need to break up any clumps that may form.)

Add in Worcestershire sauce, seasonings, and half of the crab meat. Stir everything well, and lower the heat to medium low. Let the soup cook for about 15-20 minutes. Make sure to taste to see of there is enough salt and pepper.

Stir in heavy whipping cream and remaining crab meat. Cook the soup for just a couple more minutes and take off heat. Discard the bay leaf.

Before serving, pour about a tablespoon of sherry into each bowl and then ladle out the soup. Top it off with some chives and serve it with bread of crackers.
Nutrition
Calories:
363
kcal
|
Carbohydrates:
15
g
|
Protein:
20
g
|
Fat:
22
g
|
Saturated Fat:
13
g
|
Polyunsaturated Fat:
1
g
|
Monounsaturated Fat:
6
g
|
Trans Fat:
1
g
|
Cholesterol:
104
mg
|
Sodium:
1165
mg
|
Potassium:
451
mg
|
Fiber:
1
g
|
Sugar:
6
g
|
Vitamin A:
1203
IU
|
Vitamin C:
7
mg
|
Calcium:
193
mg
|
Iron:
2
mg
Tried this recipe?
Mention @willcookforsmiles and tag #willcookforsmiles