This healthy salmon recipe is so easy to make and my go to way to make salmon any day of the week! Herbs, lemon, and garlic are the perfect flavor compliments and all you need is about 20 minutes to bake it in the oven.
If you want to try some other healthy salmon recipes, try my Sun-dried Tomato Baked Salmon, Cajun Baked Salmon, and Avocado Salmon Bowl.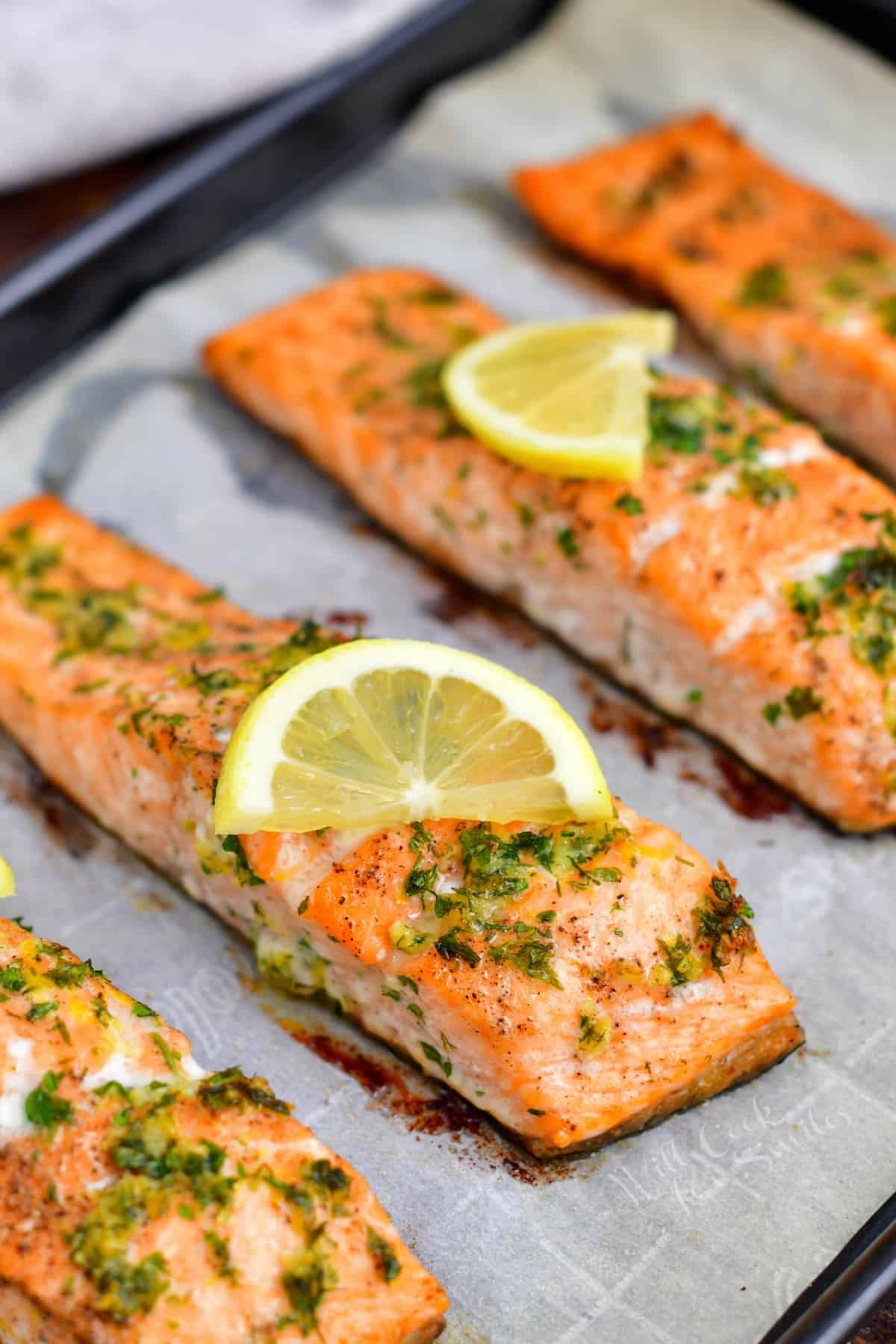 There is a reason why salmon is the most popular fish. With its smooth and mild flavor, hearty and flaky texture, a ton of health benefits, and ease of cooking, there is no fish like it. This is a very forgiving fish when it comes to cooking and versatile when it comes to flavors.
I have about 25 salmon recipes right here on the site and there is no stopping in sight. But with all those different ways to cook salmon, this simple and healthy recipe is still my go-to way of cooking it.
It's a no-fail recipe that you can easily whip up for dinner any time of the week. The ingredients are simple and you most likely already have everything you need on hand!
Anytime you're in doubt as to what flavors to use with seafood, you can always rely on lemon, garlic, and mild herbs like parsley, dill weed, and chives.
Healthy Salmon Recipe Ingredients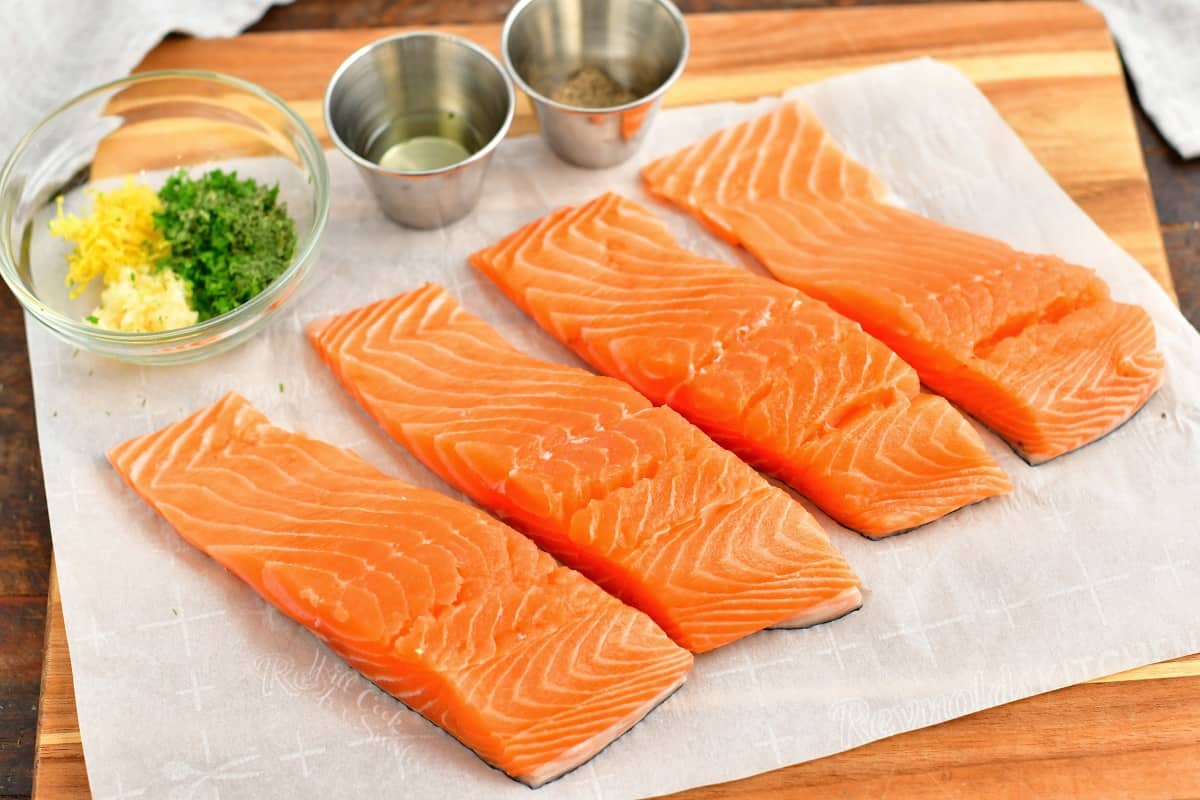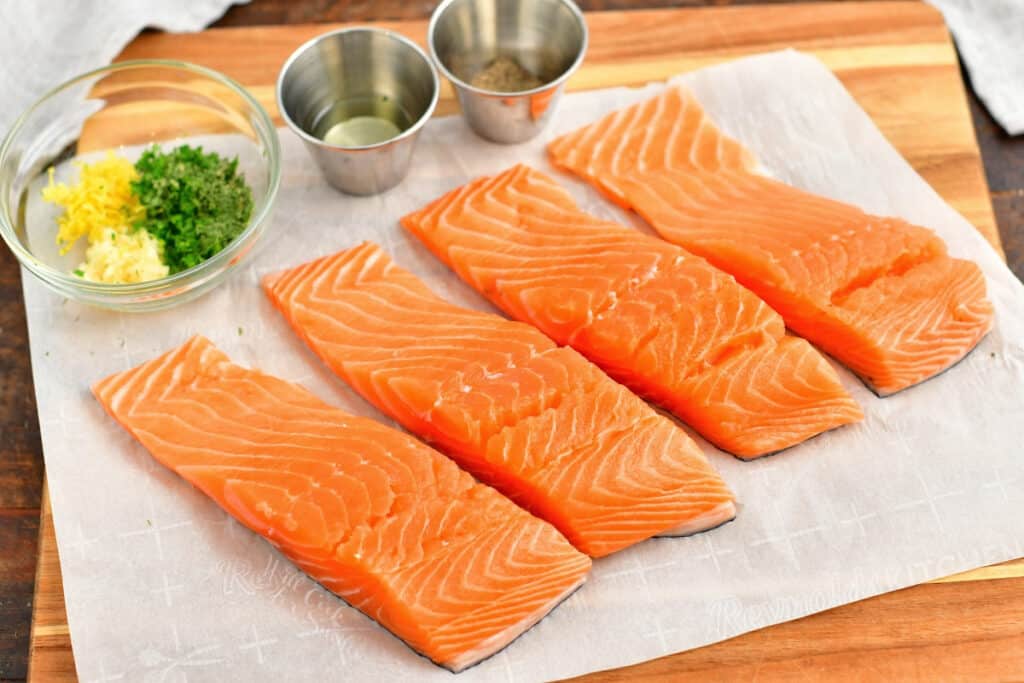 Herbs, lemon, and garlic:

These three simple ingredients are the perfect flavor for seafood in general, but are always perfect for fish. Use fresh herbs for the best flavor and zest your own lemon. It's always best to use fresh garlic over prepared and pre-packaged because the flavor is quite different.

Cooking oil– I like to cook with canola oil or light tasting olive oil. Both are healthy oils with a flavor that balances well and doesn't overpower. Other healthy oil that would be good for this recipe include avocado oil. Be careful when using grapeseed oil because its smoke point is quite low.
TYPES OF SALMON TO BUY
There are actually different types of salmon. For the best health benefits and flavor, it's important to know where your fish comes from.
Salmon either come from the wild or from a farm. Farmed fish are typically less expensive than wild caught, but they can come with potential health risks. The waters of fish farms often contain toxins and pollutants like PCBs.
Also, some consumers are leery of the antibiotics given to prevent disease in farmed fish. Ultimately, the decision as to which type to use is up to you.
These are some of the most common types you will see at the seafood counter:
King salmon – this is going to be your most expensive and the most exquisite type of salmon to get. It's rich in flavor, high in fats, and great for any type of cooking. It's also not as widely available as other types but if you come across it, it's worth it for a special occasion.
Sockeye/red salmon – you'll know this type by its bright red color and full flavor. This type of salmon is much more available and cheaper. It has a bolder salmon flavor and is leaner.
Atlantic Salmon – you may be surprised to know that all Atlantic salmon is now farm raised. Wild Atlantic salmon is endangered and no longer commercially harvested so virtually all of it is now farm-raised. This type of salmon is the most affordable, has a mild flavor, and relatively good amount of fat. When choosing farm-raised salmon, consider its sources before purchasing, this will highly affect the quality.
Skin On or Off
I always recommend that you buy salmon with the skin on. The skin is edible, and there are healthy fats that hide between the meat and the skin that you want to keep! The fatty layer between the flesh and the skin stores a lot of flavor, oil, and of course, many of salmon's health benefits. While fish is cooking, fat melts into the meat and helps infuse the meat with flavor as well as keeping it moist. 
Even if you don't want to eat the skin, and most people don't like to unless it's crispy, it comes off very easy once salmon is cooked.
Skin also protects the fish from overcooking, helps retain moisture, and protects flesh from sticking to the pan. So when you take health benefits and protection in account, skin is something you want to keep on!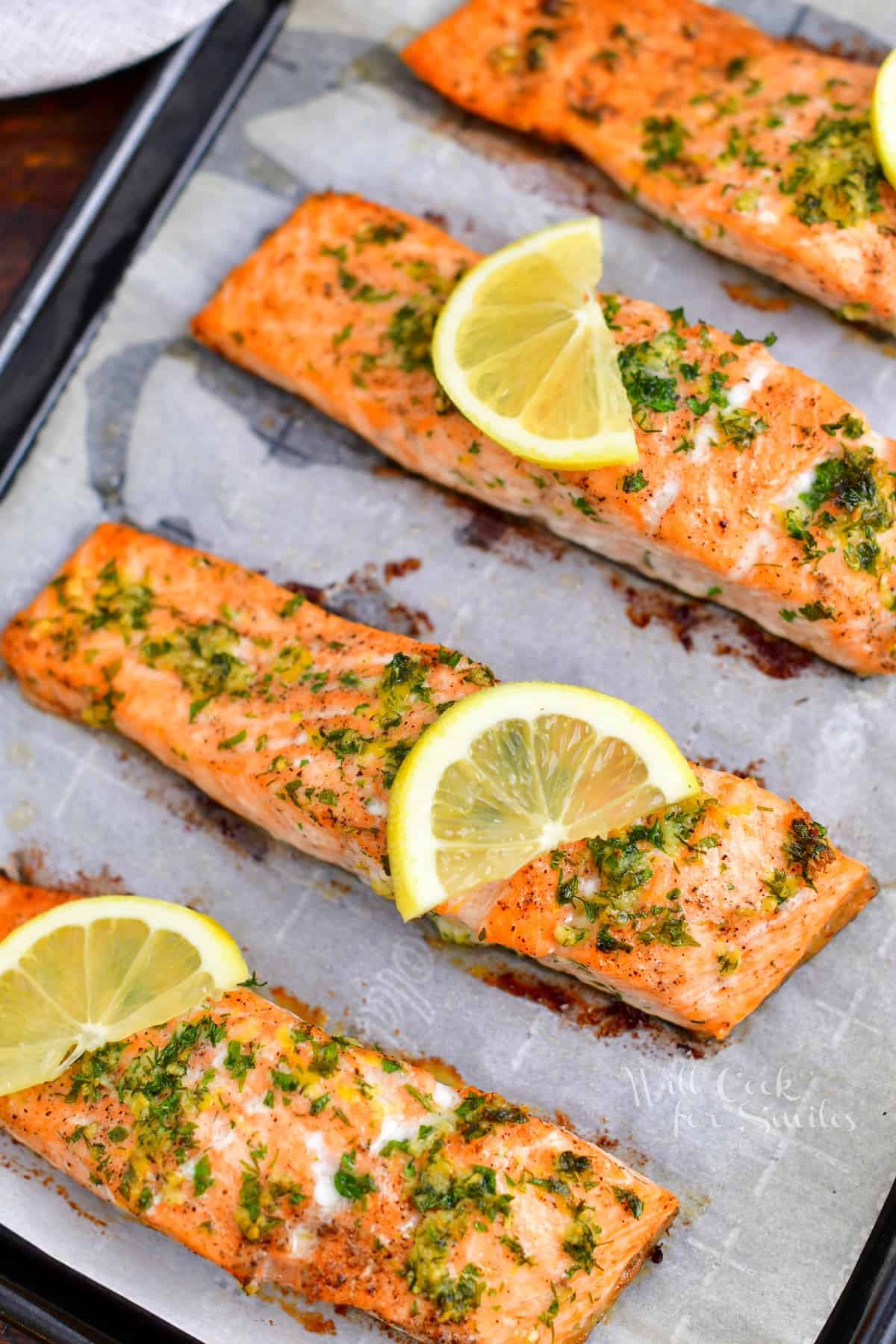 Salmon Health Benefits
In addition to being a good source of lean protein, salmon is low in calories and saturated fats. It is also packed with some amazing health benefits:
Omega 3 fatty acids– The healthy fats in the flesh and skin which are great for healthy brain function and development in babies, helps lowering blood pressure, lowers inflammation, helps with depression, and many other health benefits.

Anti-inflammatory properties– Salmon is a great source of a mineral known as Selenium. When combined with the healthy Omega 3 fats, it gives the fish anti-inflammatory properties. It can help to reduce high blood pressure and reduce inflammation around the heart.
Great source of in protein, potassium, B Vitamins, and D Vitamin.
How to Make Healthy Salmon Recipe
Dry the fillets and prepare your baking sheet.
Like with most other meat, you want to pull it out of the refrigerator about 20 minutes before cooking, depending on size of filets. Use paper towels to pat the fillets dry. This helps the oil and the seasonings to stick to the fish better.
Next, line your baking pan with a sheet of parchment paper. It does a great job of preventing the food from sticking.
Prepare the seasoning and apply it to all sides of the fish.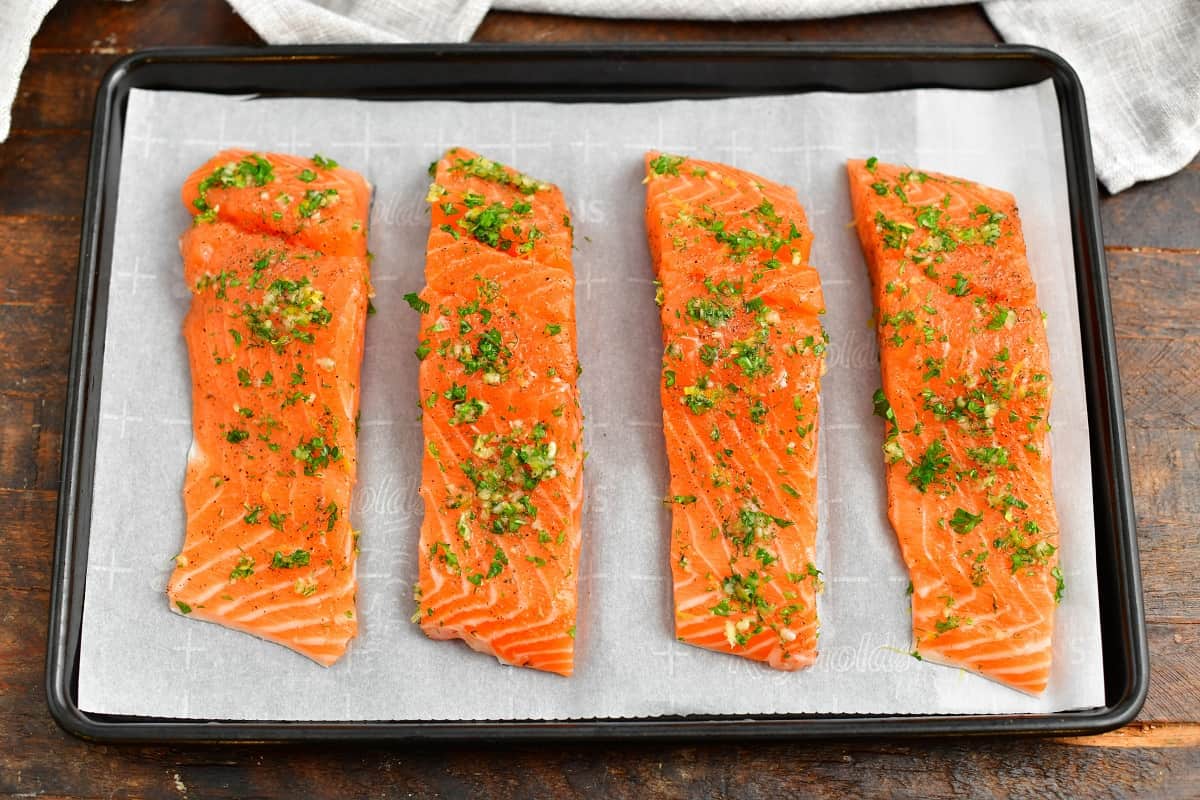 Bake the fish and allow it to rest.
Bake salmon at 425° for 18-22 minutes, depending on size and thickness of the filets. (Larger filets, that are about 8 oz each, could take 25-28 minutes.)
You can check salmon by touch or use a meat thermometer. It is recommended by USDA to cook salmon to 145° internal temperature, which is when salmon is considered fully done. Personally, I prefer salmon at either medium or medium-well temperature, which is around 125°-130°.
After removing the fish from the oven, it's important to allow it to rest on the pan for a few minutes. This helps the lock the moisture inside and for the juices to spread throughout meat evenly. You will end up with healthy baked salmon that is soft, flaky, and juicy.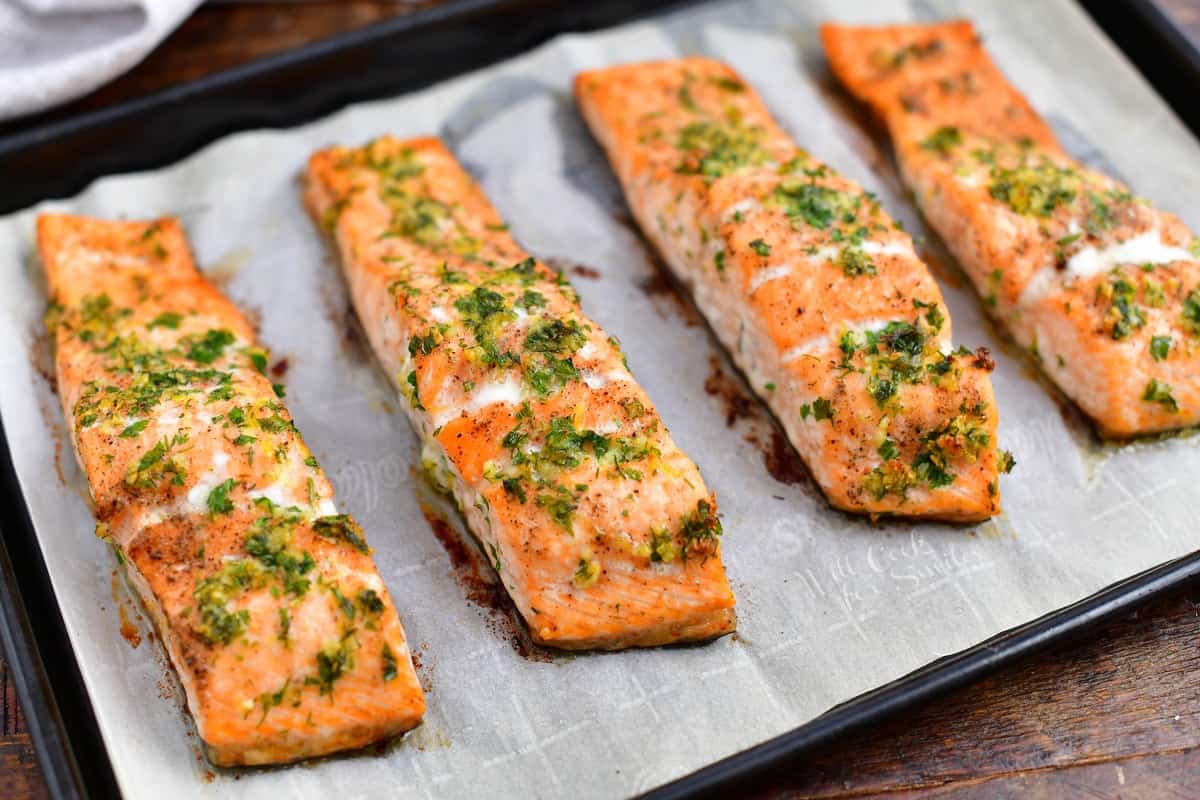 Recipe Tips
Just a few more tips for baking salmon:
Before cooking, run your fingers through the flesh to feel for any leftover bones. Use tweezers to pull out any bones that may have been left behind.
Always line your baking sheet. I find that parchment paper is the best for this, as it protects the salmon from sticking, while also making your cleanup easier!

Also, keep in mind that you don't need to use a lot of oil when baking on parchment paper. It does a better job than oil when it comes to preventing food from sticking.
How to know when salmon is fully cooked
Like any other fish, there are a couple of ways to know for sure that your salmon is ready to eat. First, the flesh will lose its translucent pink color ad turn completely opaque. If you pierce a fork gently into the flesh, it should flake easily.
The more you cook your meats and fish, the better you will be able to tell by touch. When meat is cooked through, it will be firm to the touch when pressed in the center. If you still feel some squishy texture inside, it's not cooked through.

The most trusted way is to use an instant read digital meat thermometer. Salmon is safe to eat when it reaches an internal temperature of 145°F. However, some find that salmon is overcooked at that point. 
Personally, I prefer salmon at either medium or medium-well temperature, which is around 125°-130°F. You can try both and decide which one you prefer.
Be sure to let the salmon rest for about 5 minutes after you take it out of the oven. During this time, the juices that have been condensed during the cooking process will spread throughout the flesh.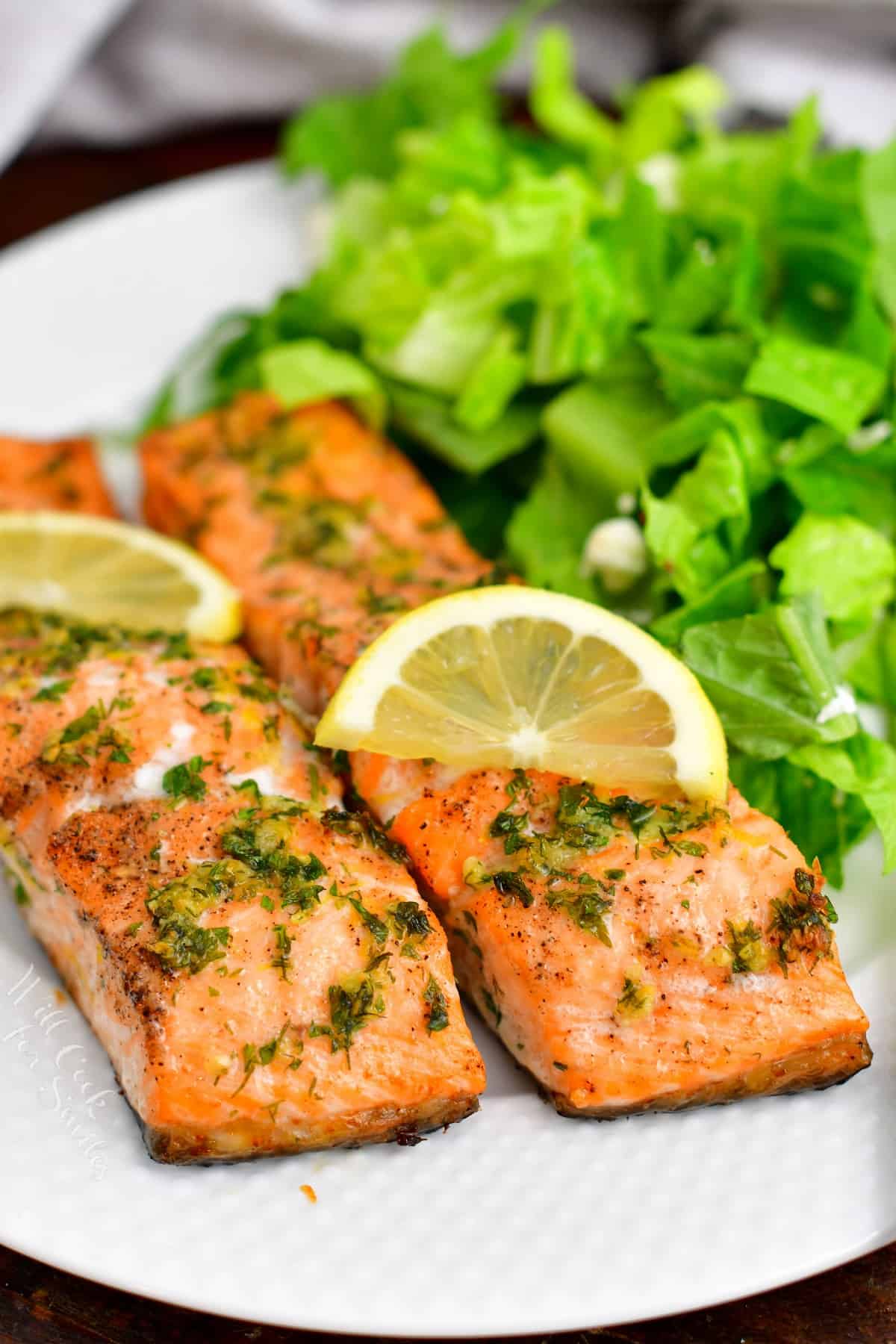 HOW TO SERVE THIS SALMON
These simple flavors are complimentary of just about any vegetable and side dish so you ca pair this dish with almost anything. Vegetables like asparagus, roasted green beans and mushrooms, zucchini, broccoli, cauliflower and so much more.
Go for heartier sides like rice, baked potatoes, mashed potatoes, and even mac and cheese.
Salads are great as a side too, like a simple kale salad or Caesar salad.
For a bit of additional protein and healthy nutrients, try Shirazi salad! It's a chopped vegetable salad with a refreshing citrus dressing.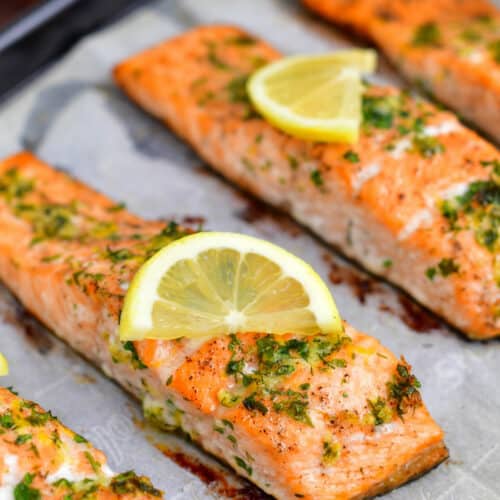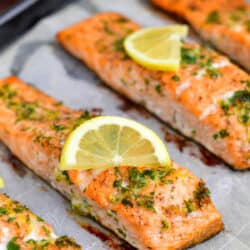 Easy Healthy Salmon Recipe
Herbs, lemon, and garlic are the perfect flavor compliments and then, all you need is about 20 minutes to bake this delicious easy salmon in the oven.
Print
Pin
Save
Saved!
Rate
Ingredients
1.5

lbs

salmon fillet with skin on

4 6 oz. fillets

1

tbsp

olive oil

3

garlic cloves

zest

1

lemon – zest only

1 1/2

tbsp

fresh minced parsley

1

tbsp

fresh dill weed

1

tsp

olive oil

to mix in

salt

black pepper
Instructions
Preheat the oven to 425°. Line a baking sheet with parchment paper for easy clean up and to prevent salmon skin from sticking to the baking sheet.

Take salmon out of the package and pat it dry with a paper towel. Rub each fillet with some olive oil and place them skin side down on the prepared baking sheet.

In a small bowl, combine herbs, lemon zest, pressed garlic, and a teaspoon of oil and mix well.

Evenly coat the top and sides of the salmon with lemon and herb mixture and season each fillet with salt and pepper.

Place into the oven and bake for 18-22 minutes, depending on the thickness. Salmon is considered fully cooked at 145° internal temperature.

(Personally, I prefer salmon at either medium or medium-well temperature, which is around 125°-130°.)
Nutrition
Calories:
286
kcal
|
Carbohydrates:
1
g
|
Protein:
34
g
|
Fat:
15
g
|
Saturated Fat:
2
g
|
Cholesterol:
94
mg
|
Sodium:
76
mg
|
Potassium:
843
mg
|
Fiber:
1
g
|
Sugar:
1
g
|
Vitamin A:
194
IU
|
Vitamin C:
5
mg
|
Calcium:
24
mg
|
Iron:
1
mg
Tried this recipe?
Mention @willcookforsmiles and tag #willcookforsmiles