Bacon Wrapped Scallops are the perfect appetizer for any occasion, whether it's fancy, romantic, or casual. There is a wonderful flavor combination between the salty bacon, the sweet and savory seasoning on the scallops, and slightly sweet natural flavor of scallops. These easy scallops are always a crowd pleaser!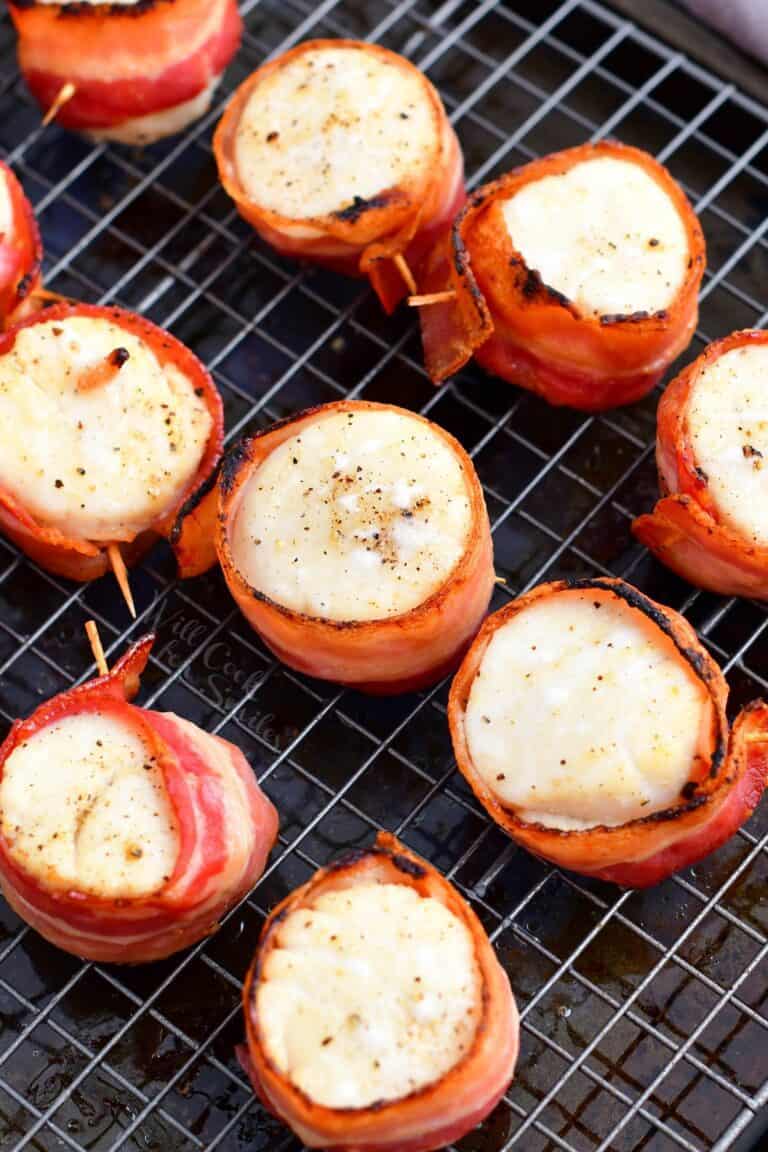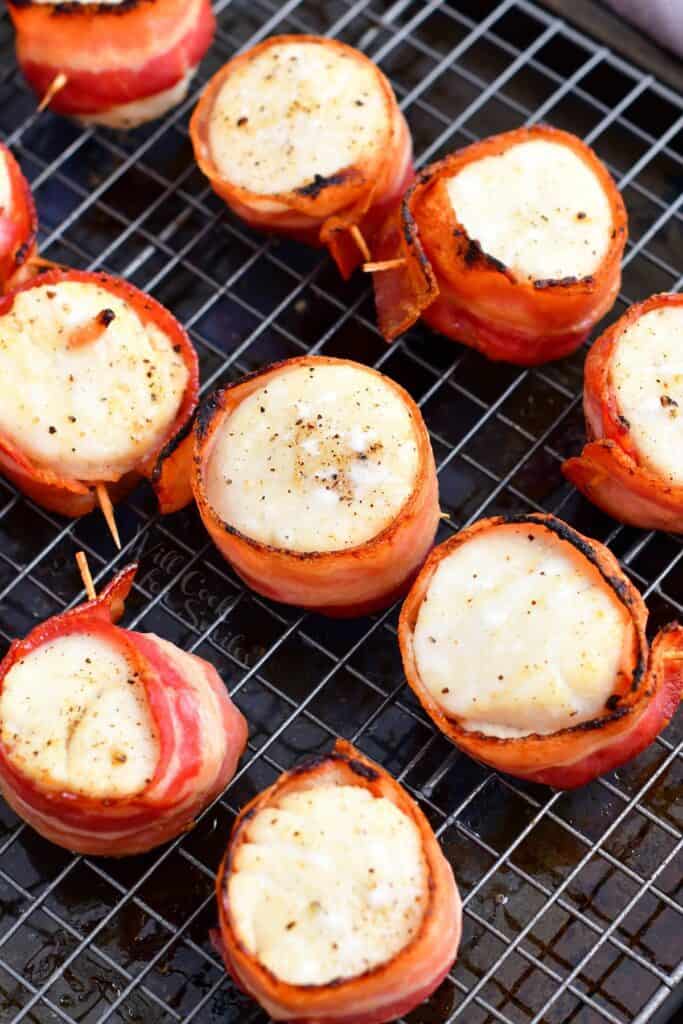 Bacon Wrapped Scallops
Whenever I have a perfectly cooked scallop, I'm always thoroughly impressed. They can be a bit tricky to master, but with this simple recipe, you'll feel like a chef in no time! Even a beginning home chef can gain confidence by making a batch of these bacon wrapped scallops.
These are the best appetizers to serve at parties because they always surprise and impress everyone in attendance. Biting into the salty, savory, crispy bacon wrapped around the tender, delicately sweet sea scallop is truly a remarkable experience.
Too often, scallops are over or undercooked. When undercooked, they have a cold center, and when overcooked, they're rubbery. While they do require a bit of attention while broiling, this recipe simplifies the act of cooking a perfect scallop, every time.
Ingredients for Bacon Wrapped Scallops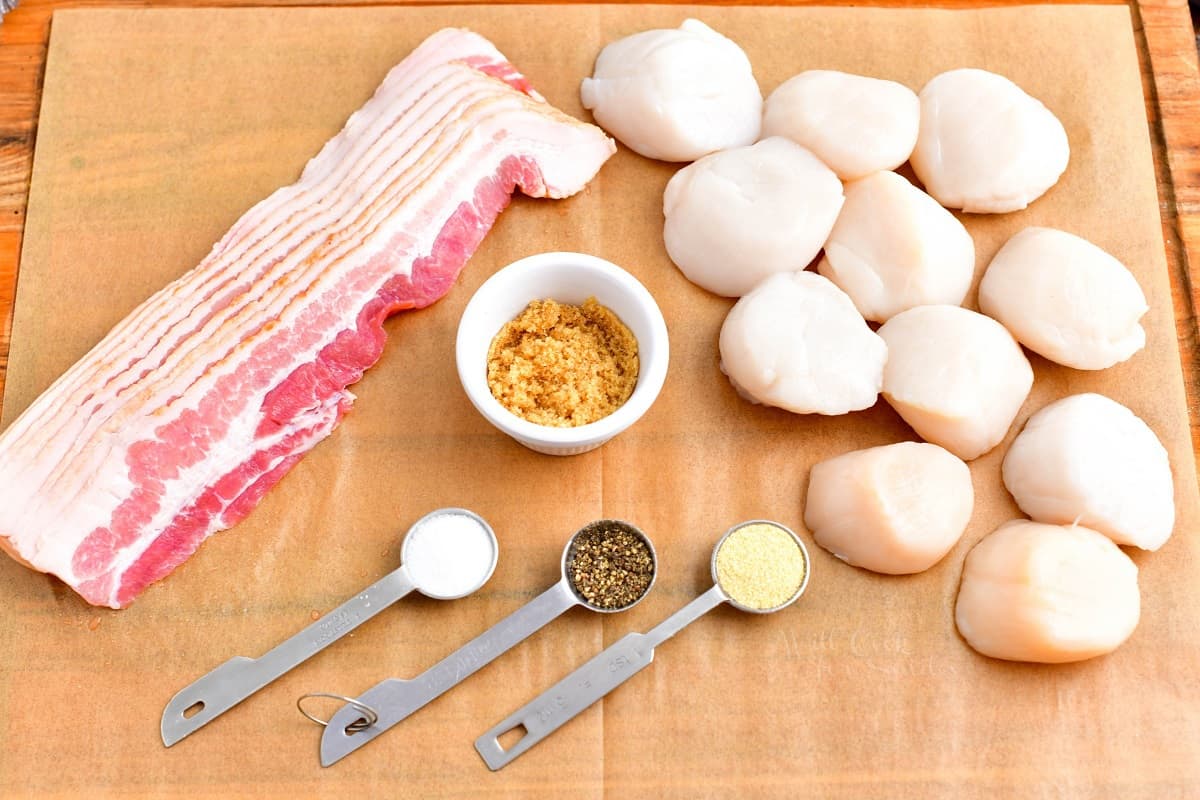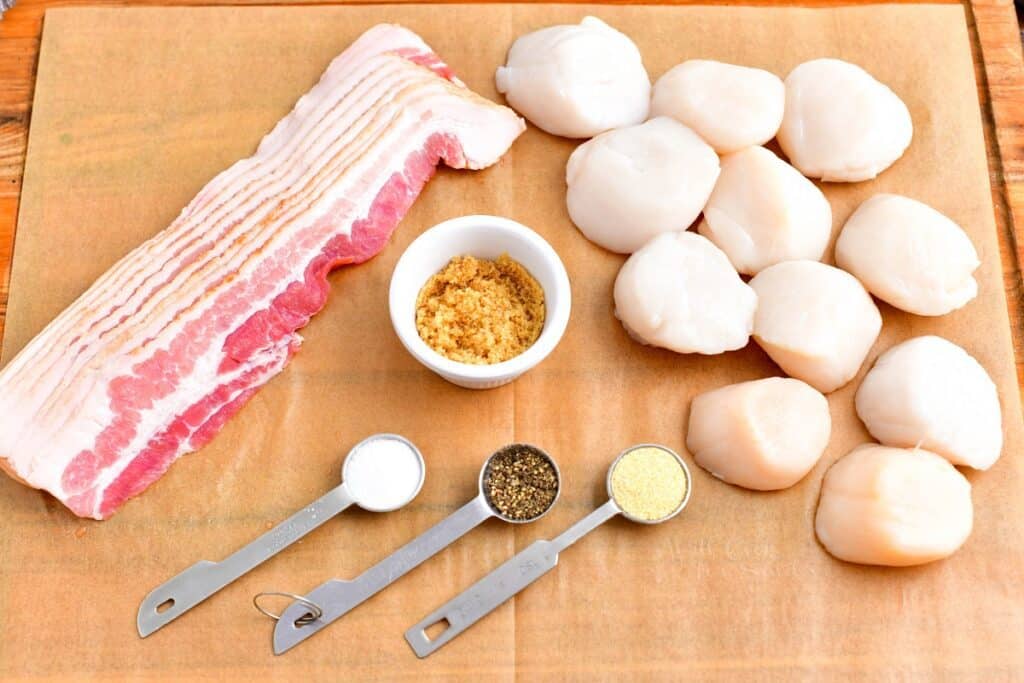 Sea Scallops – Buy sea scallops because they are bigger and make sure they are "dry." When possibly, get fresh scallops. Read more information about what scallops are best to get in my seared scallops post.
Bacon – For the best results, use thin sliced bacon, not thick cut. While thick cut bacon wrapped around a scallop may sounds good, but in practice, it won't come out as well.
Garlic Powder – Just a dash of garlic powder adds a level of savory depth to the sea scallops without being overpowering.
Brown Sugar – The brown sugar both enhances the natural hint of sweetness in the sea scallops, and balances wonderfully with the salty bacon. Light or dark brown sugar will both do the trick.
Black Pepper – Use freshly ground black pepper for the best flavor.
Salt – Just a pinch of salt will do! You don't want to add too much, especially because the bacon is so salty already.
Toothpicks – You can't make these scallops without toothpicks! They are what hold the bacon perfectly in place. I definitely recommend using long toothpicks if you can find them, as they're big enough to reach all the way through the scallops.
Can I use frozen scallops?
As preciously mentioned, I always recommend buying fresh seafood, and that includes scallops. However, if frozen scallops are all you can find near you, then here's how to make it work:
Simply let the scallops thaw at room temperature for at least an hour. Then, pat them dry as you would with fresh scallops. The main difference is that the frozen scallops will have much more liquid to pat dry. Once thoroughly dried, follow the rest of the recipe accordingly.
How to Make Bacon Wrapped Scallops
The secret to juicy and tender scallops with crispy bacon wrapped around is to pre-bake the bacon. Bacon takes a lot longer to cook than scallops so trying to cook them at the same time, will leave you with dry and rubbery scallops.
To pre-bake the bacon, bake it at 400°F on a prepared baking sheet for about 7-10 minutes, depending on the bacon. Bake the bacon until it's a little more than halfway done, but not quite crispy.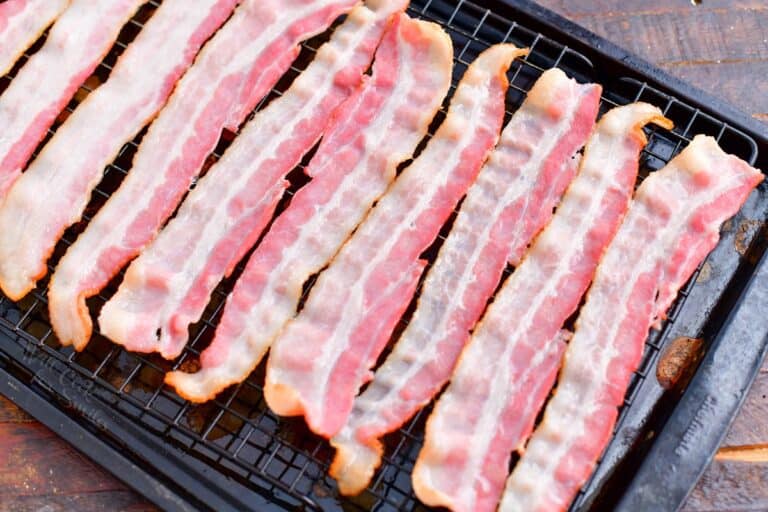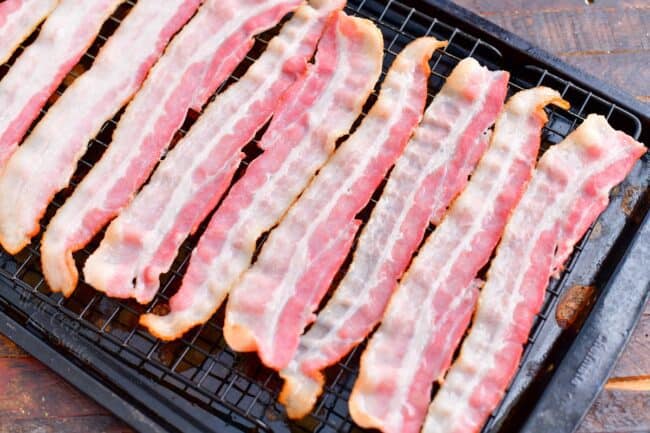 Allow the bacon to cool until it can be handled without burning your hands.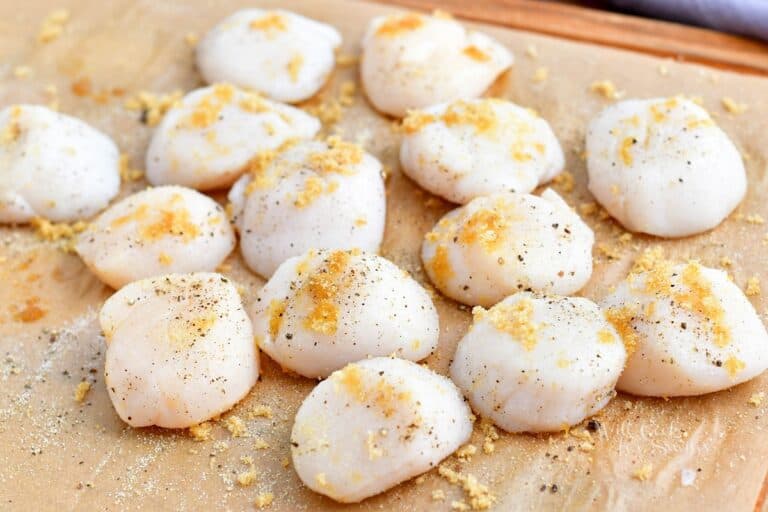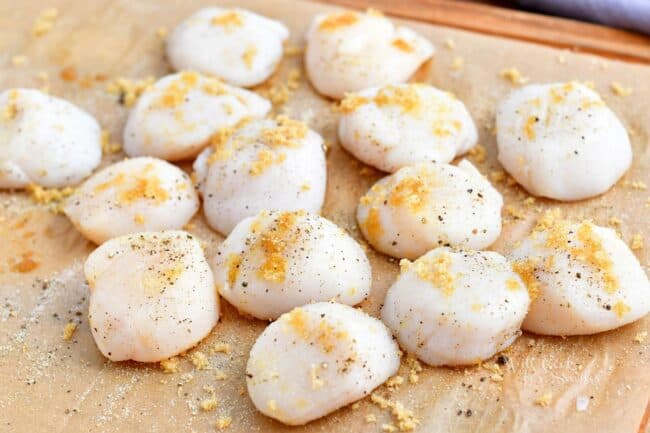 Once the bacon is cooled, it's time to prepare the scallops! Start by gently patting the scallops dry with a paper towel. Then, season them with salt, pepper, garlic powder, and brown sugar all over.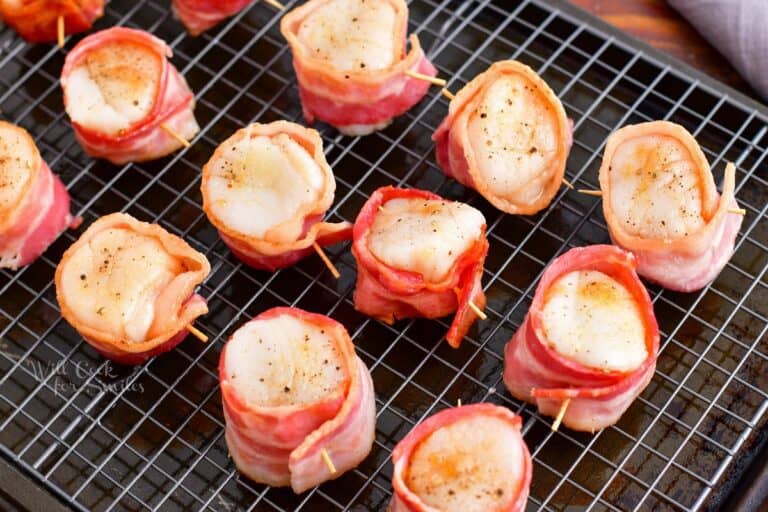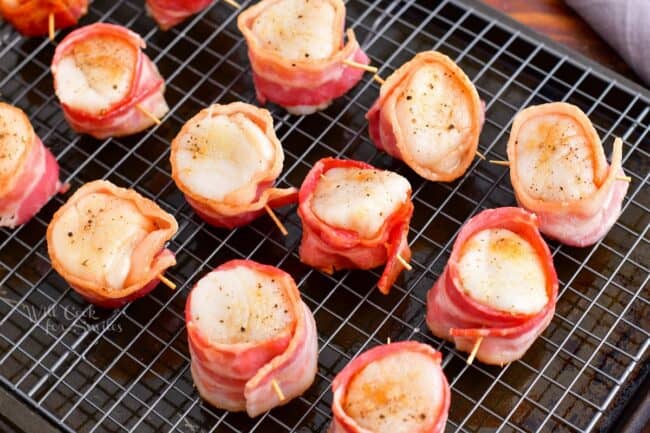 Wrap a slice of the half-cooked bacon around each scallop. Once wrapped, secure the bacon in place with a toothpick.
If there is a piece of bacon that is too long, simply cut off the excess length. (You can dice and sear the leftover bacon pieces and use it elsewhere as a garnish…or simply snack on it.)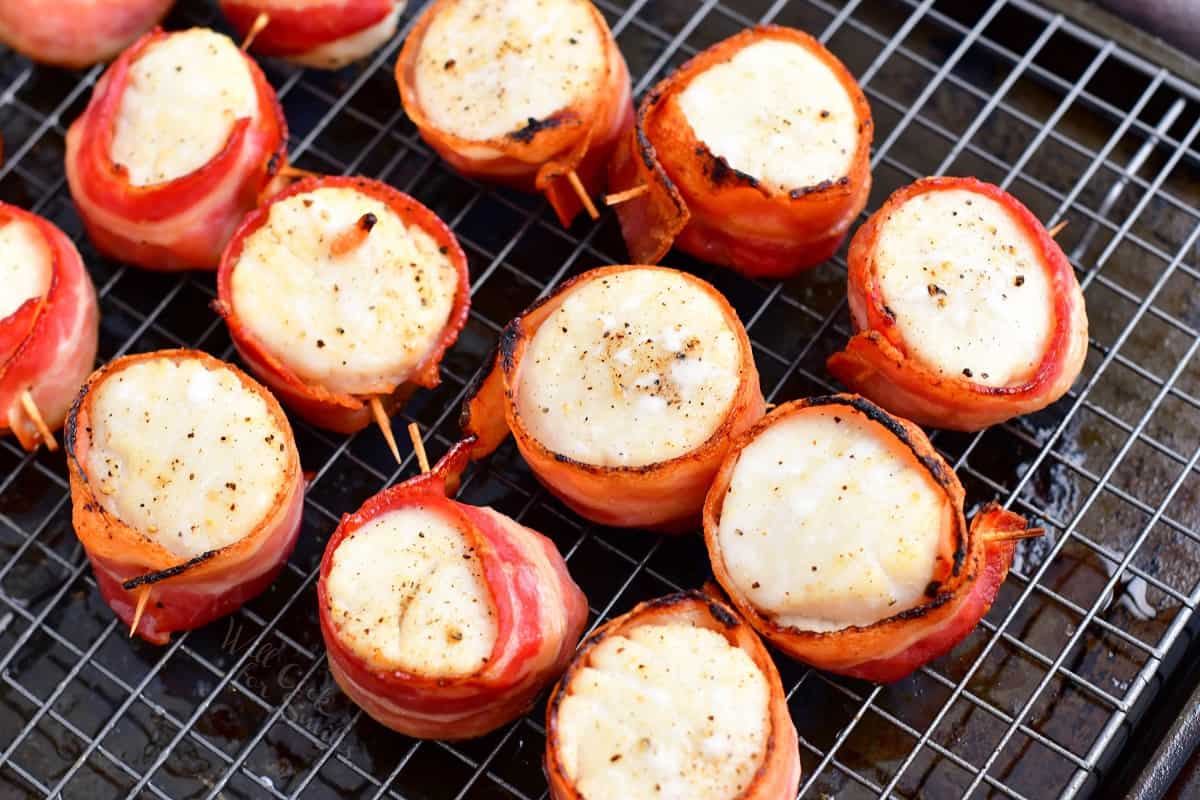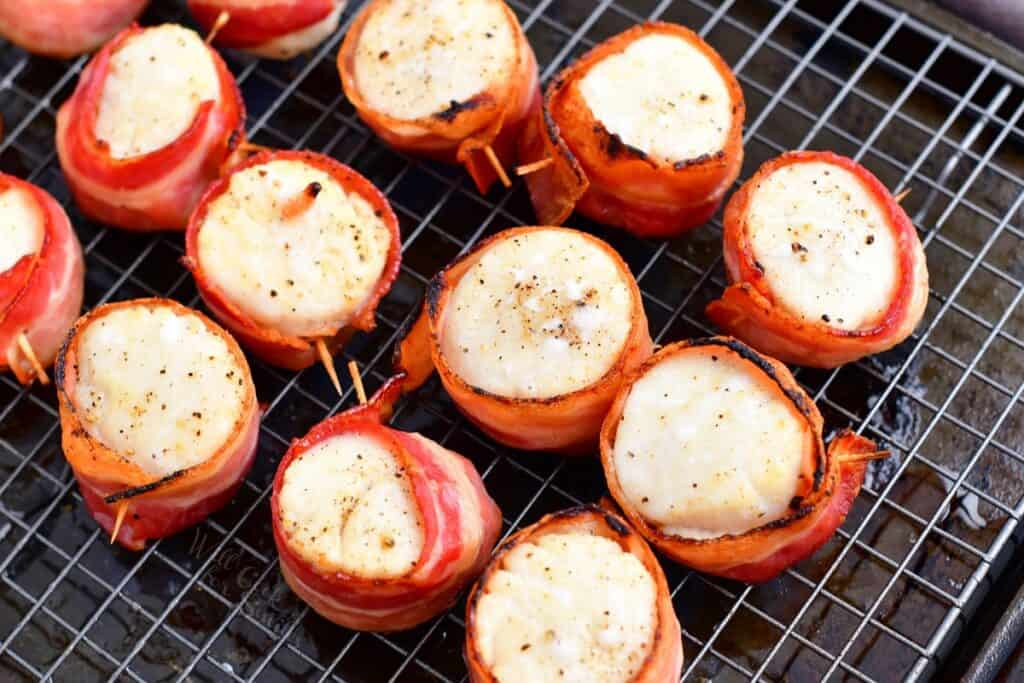 Turn on your broiler and make sure the rack is about 6 inches away from the top of the oven. I recommend using the low broil setting if you have one, especially if your scallops are large. This will help them cook through more evenly.
Cook the scallops for 6-8 minutes, flipping them with tongs halfway through cooking. You'll know the scallops are perfectly baked when the bacon is crispy and the scallops are opaque all the way through. Remember – you don't want a cool center in the scallop, but you also don't want them to be so cooked that they're rubbery.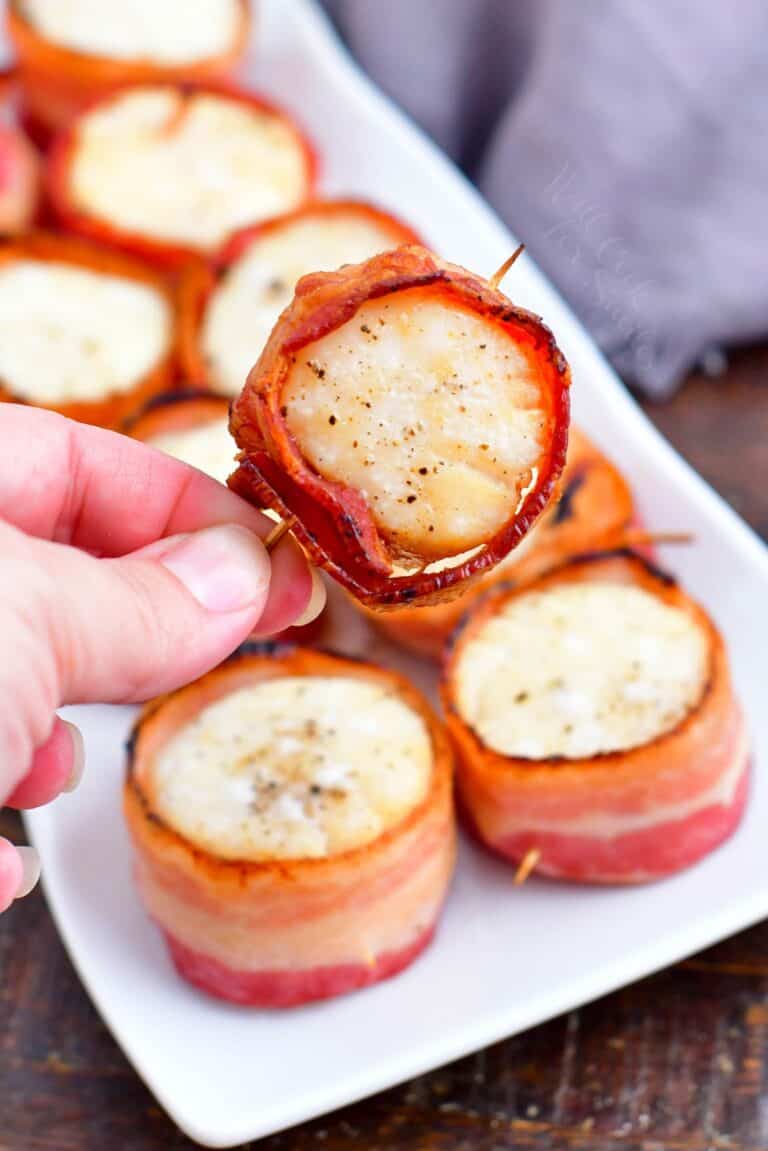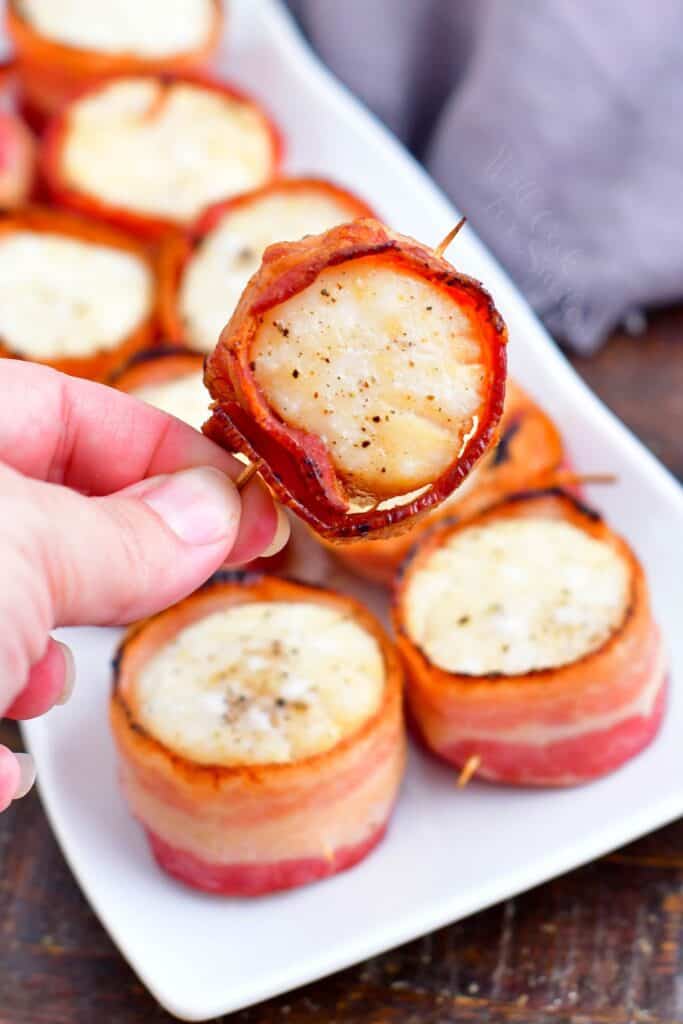 How do I reheat bacon wrapped scallops?
If you plan on serving these appetizers at a party, you should make them fresh and serve them within an hour of making. However, if you have any leftovers you'd like to enjoy the next day, you can certainly reheat them! They won't be quite as fresh as they were when you first made them, but they'll still be tasty.
To reheat the scallops, sear them in a warm, preheated skillet for a couple of minutes on each side until warmed through. I've found this to be the most effective way of reheating the scallops, as sometimes putting them back into the oven has lead to them drying out.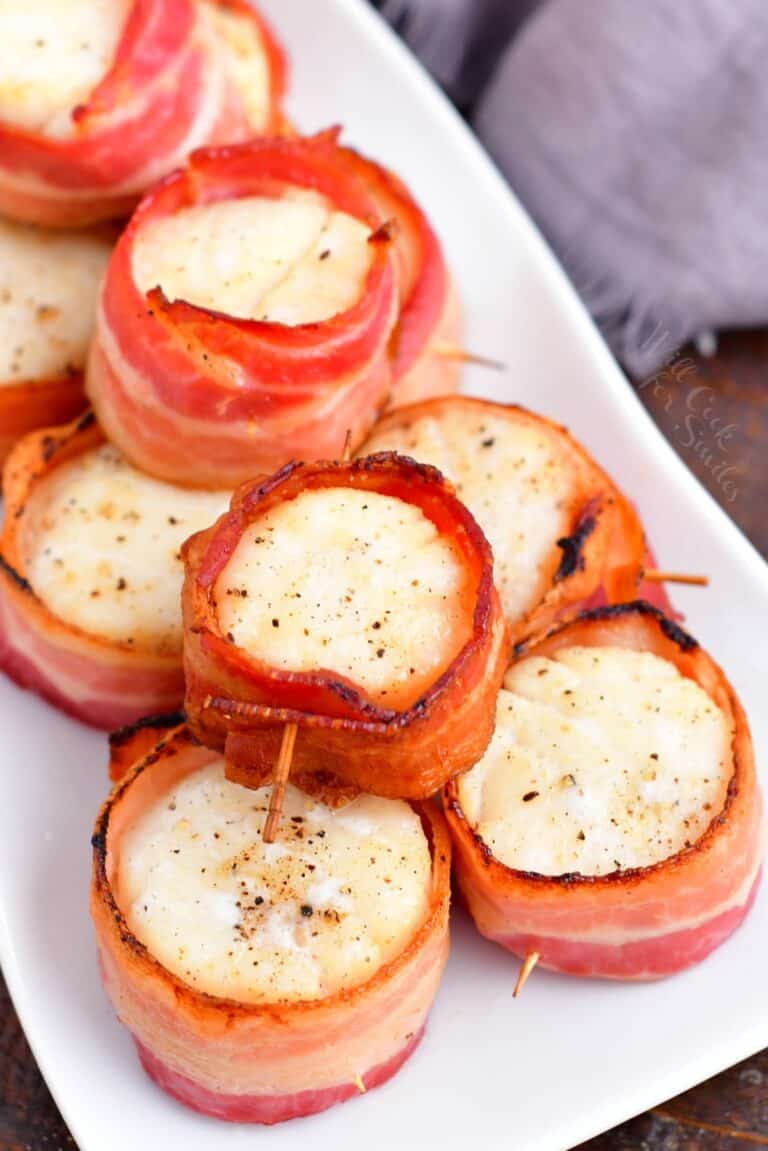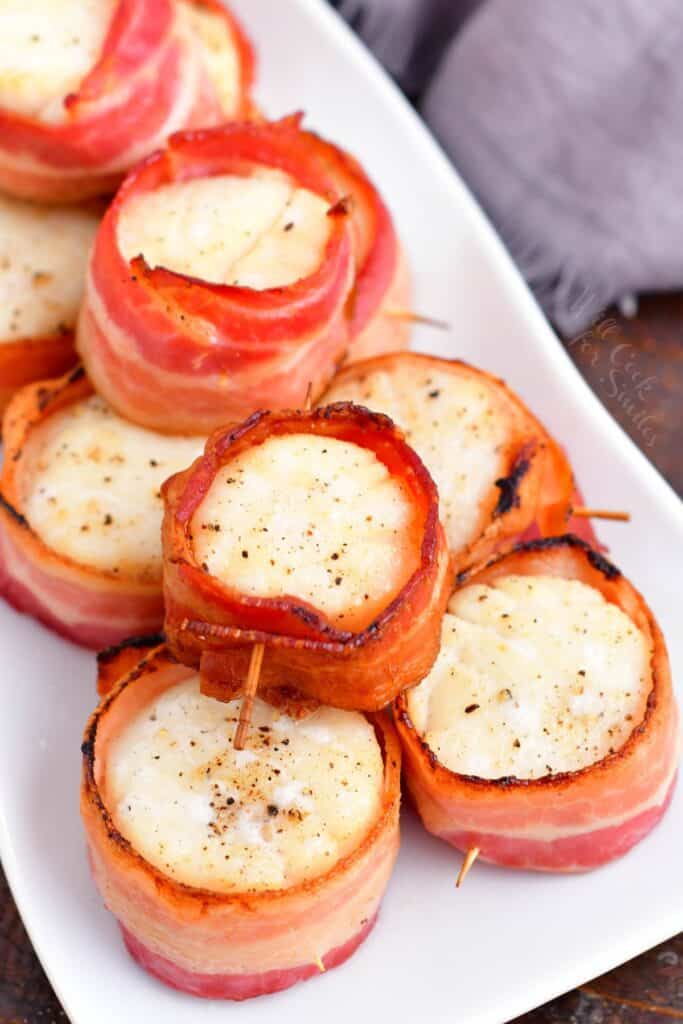 More crowd-pleasing appetizers!
Crab Cakes – These classic Maryland style crab cakes feature jumbo lump crab meat, lemon, parsley, a little filler to keep them together and a touch of spice from cayenne pepper.
Cocktail Meatballs – tender and juicy meatballs made with ground beef and ground pork, baked in the oven, and then, coated in outstanding sweet and spicy grape jelly sauce.
Crab Stuffed Mushrooms – stuffed mushrooms are a piece of food heaven with a perfect combination of cream cheese, herbs, crab meat, and grated Parmesan cheese.
Cheesy Corn Fritters – crispy, cheesy little bites with a pleasant pop of sweetness from corn that are so easy to make.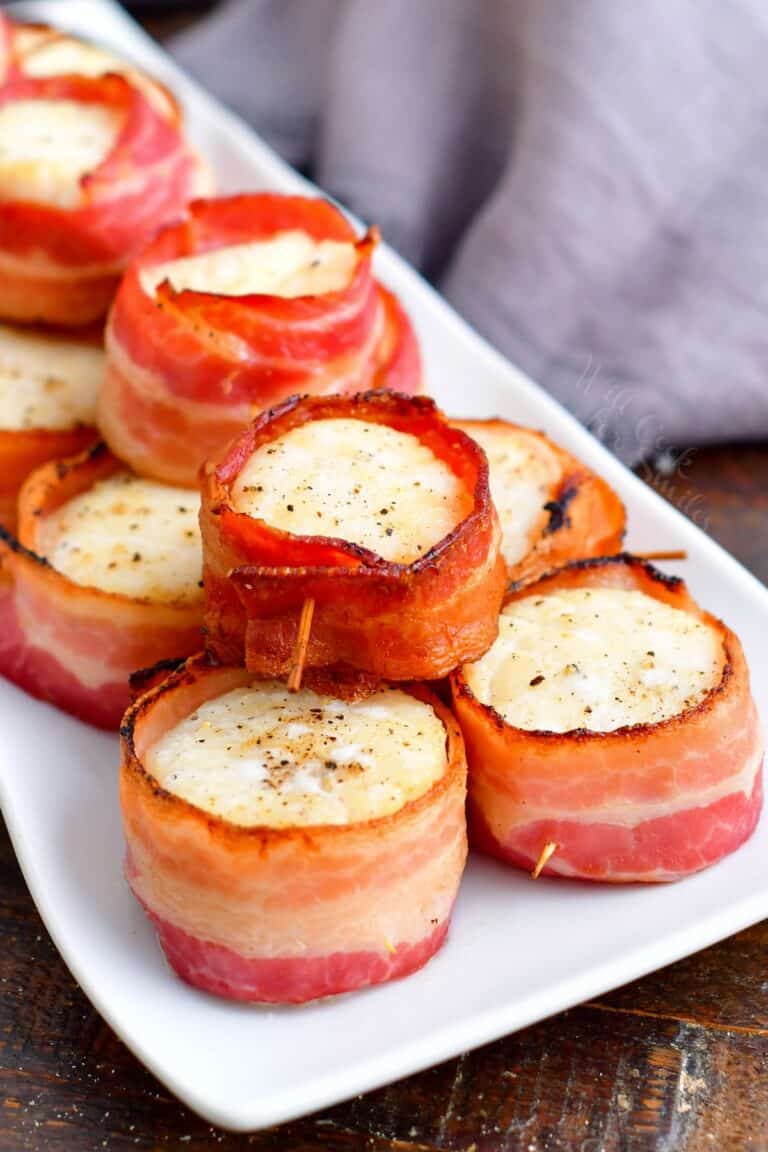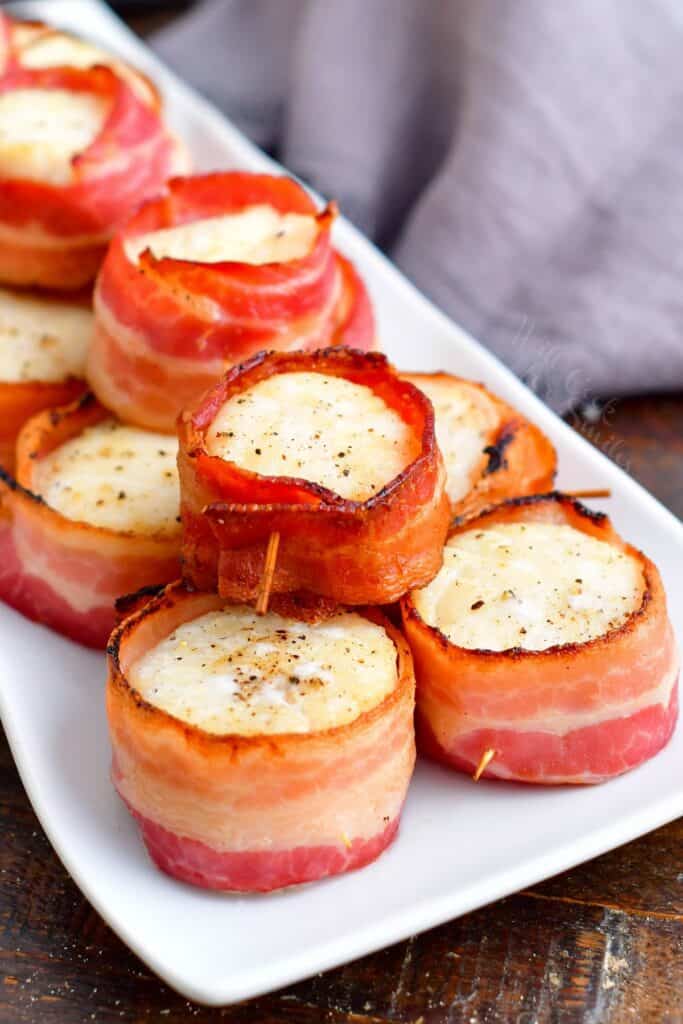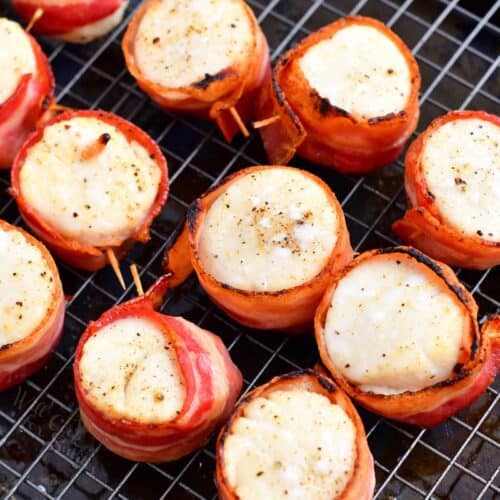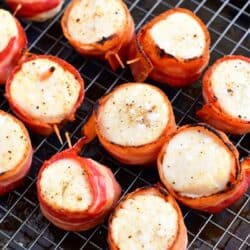 Bacon Wrapped Scallops
These scallops is a wonderful flavor combination between the salty bacon, the sweet and savory seasoning on the scallops, and slightly sweet natural flavor of scallops.
Print
Save
Saved!
Rate
Ingredients
1.5

lb

sea scallops

1

lb

thin sliced bacon

not thick cut

1

tsp

garlic powder

3

tbsp

brown sugar

1/2

tsp

black pepper

salt

wooden toothpicks
Instructions
Note: depending on the size and type of bacon you choose and the size of scallops, it would take 1/2-1 slice of bacon per sea scallop. It's impossible to tell exactly how much you will need because sizes of each scallop varies as well and bacon. It's best to err of the side of having some bacon leftover that you can use somewhere else than not have enough.
Prepare bacon:
Preheat the oven to 400°, line a rimmed baking sheet with aluminum foil for easy clean-up, and fit a wire rack inside the baking sheet.

Lightly grease the wire rack and place slices of bacon on it side by side.

Bake bacon until more than half way done but not crispy. Depending on the bacon, it will take 7-10 minutes.

Take the bacon out and let it cool a little until easy to handle.
Prepare scallops:
Pat scallops dry with a paper towel and season with salt, pepper, and garlic powder all over. Sprinkle each scallop with brown sugar on all the sides as well.

Wrap a slice of bacon around each scallop around the side and stick a toothpick through bacon and scallop to secure it. If there is a pretty long piece of bacon left sticking out, you can cut it off. (You can dice and sear cutoff pieces of bacon and use it as a garnish somewhere.)

Turn on the broiler and make sure that the rack is about 6 inches away from the top. If you have an option for high broil or low broil, it's best to use low if the scallops are large.

Place wrapped scallops onto the wire rack and cook them under the broiler for 6-8 minutes, flipping them half way through. You want the bacon to crisp up and scallops to be opaque throughout.
Nutrition
Calories:
628
kcal
|
Carbohydrates:
16
g
|
Protein:
35
g
|
Fat:
46
g
|
Saturated Fat:
15
g
|
Trans Fat:
1
g
|
Cholesterol:
116
mg
|
Sodium:
1420
mg
|
Potassium:
597
mg
|
Fiber:
1
g
|
Sugar:
9
g
|
Vitamin A:
48
IU
|
Vitamin C:
1
mg
|
Calcium:
25
mg
|
Iron:
1
mg
Tried this recipe?
Mention @willcookforsmiles and tag #willcookforsmiles