These Chicken Fajitas are so easy and flavorful made with homemade fajita marinade, peppers, and onions. This marinade is what makes the vegetables and chicken mouthwatering with flavors of fresh lime juice, fresh garlic, chili powder, and an array of other bold seasonings. If you're craving the sizzling satisfaction of restaurant style fajitas in the comfort of your own home, this is definitely the recipe for you!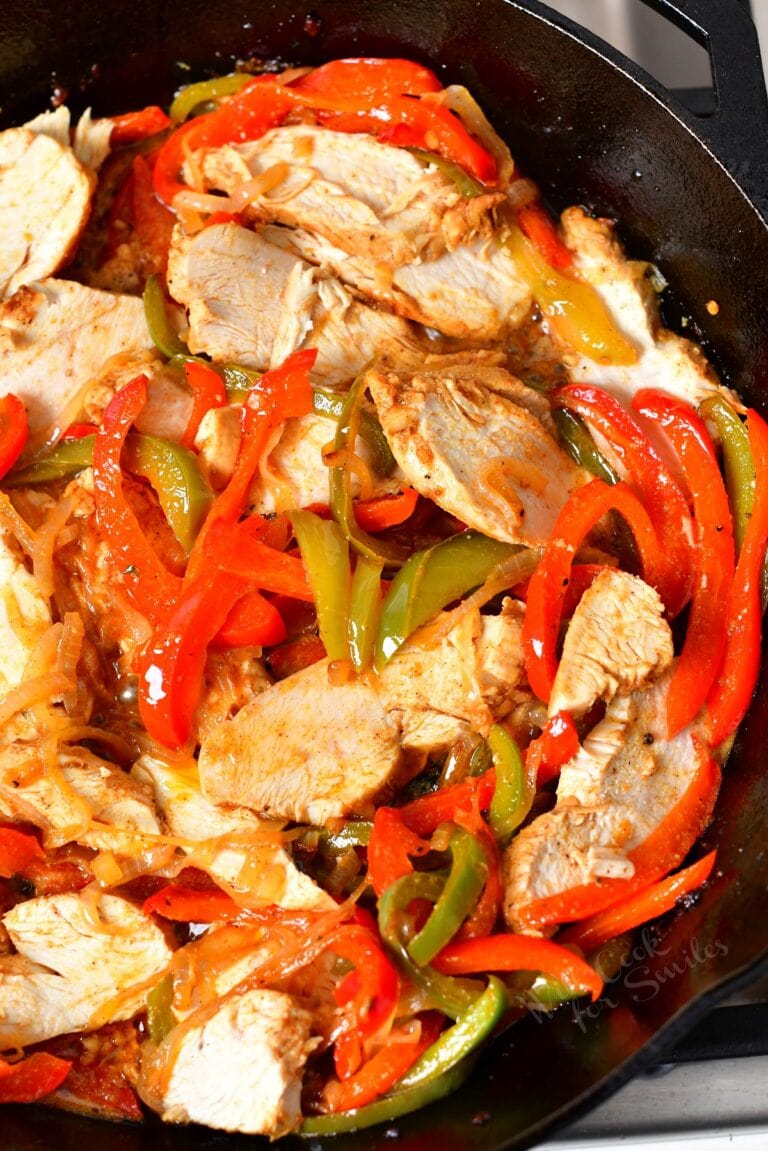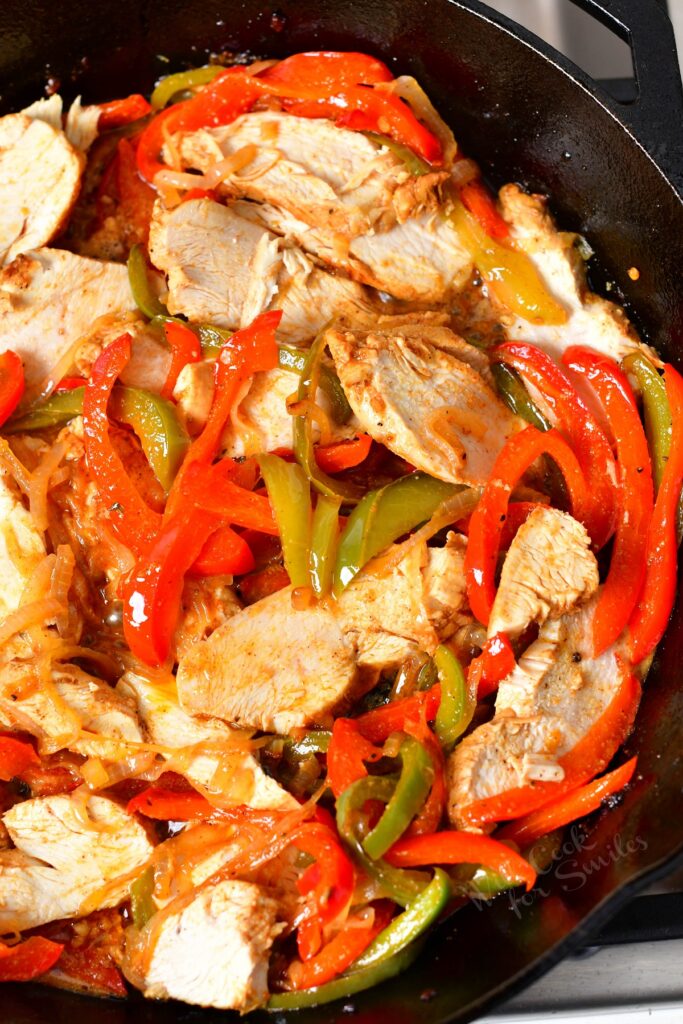 Chicken Fajitas
There is nothing like hearing that sizzle of the fajita marinade and smelling that aroma as soon as the marinade hits the hot cast iron pan! Every time I hear and smell that fantastic aroma in a restaurant, I hope that the plate is coming my way. It's a feeling I'm sure we're all too familiar with!
Well, guess what? You can make your very own chicken fajitas at home… and they will taste even better. The secret is the marinade! The marinade is used for two reasons – to marinate the chicken and to separately cook the vegetables. The irresistible flavor of the savory marinade will carry throughout the whole dish, and it's bursting with fresh citrus and spices.
If there's one big thing that 2020 taught us in regard to food, it's that learning how to make restaurant-worthy food at home is of the utmost importance. Now that we've all had to go without our favorite restaurant staples for an extended period of time, we know how vital it is to be our own home chef and whip up truly delicious meals that are even better than the overpriced restaurants – like these simple chicken fajitas!
Chicken Fajitas Ingredients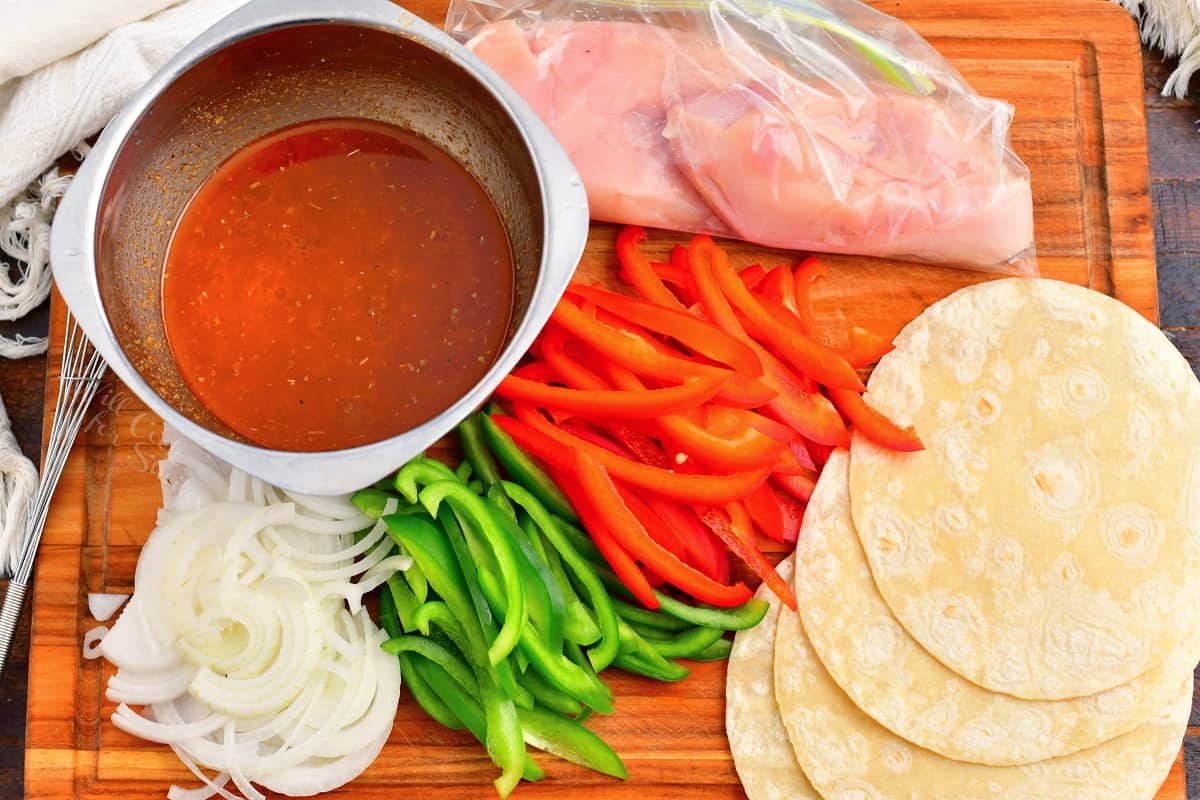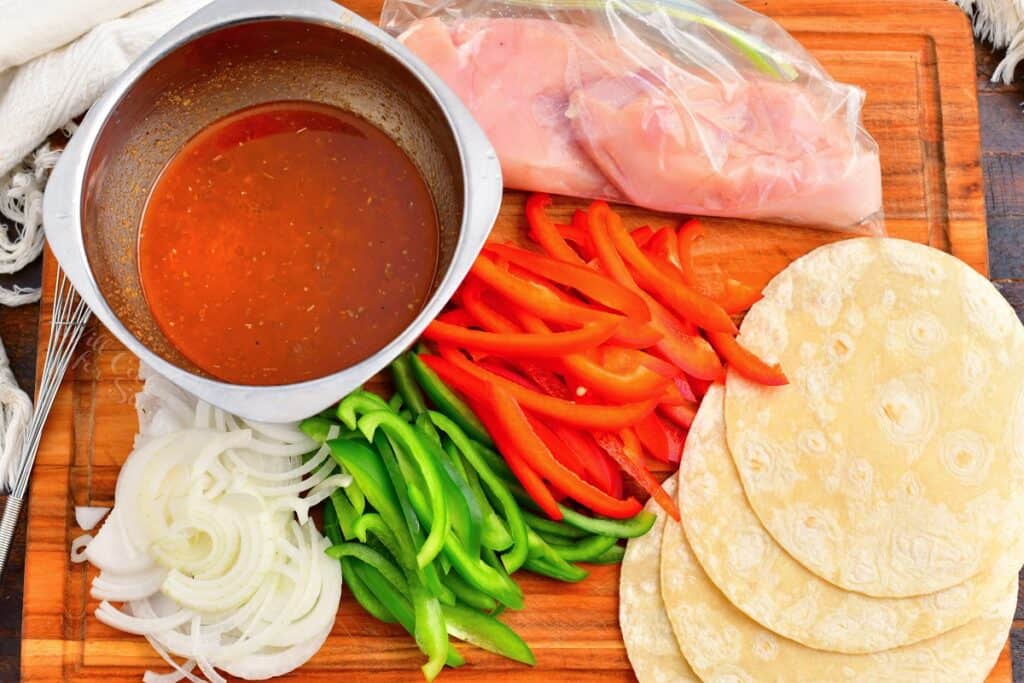 For the fajitas themselves, you'll need:
Chicken Breasts – Remember, your fajitas will only be as good as the chicken you use! When selecting the boneless, skinless breasts, double check the expiration date and make sure they're fresh and use the brand you love. Also, if there's any white fat, be sure to cut it off before cooking.
Bell Peppers – While I love using red and green bell peppers, really any colors will be delicious!
White Onion – In a pinch, a yellow onion will work as well.
Tortillas – Corn or flour tortillas will both be perfect for these chicken fajitas. Just pick your favorite! And if you need gluten free, make sure to use corn tortillas that are labeled "gluten free."
The fajita marinade is made with:
Oil – It can be any neutral flavored oil, like canola or vegetable.
Limes – You only need the juice, not the rest of the lime. If you plan on serving these fajitas alongside a Margarita, make sure to stock up on plenty of them!
Garlic Cloves – This ingredient provides a delicious level of depth and tang to the marinade, without being overpowering.
Chili Powder – Add this powder to your taste. Remember, adding too much chili powder can easily overpower the other ingredients and make it too spicy, so be careful with this one!
Ground Cumin – Cumin is a warm, earthy powder that will make these fajitas so satisfying.
Garlic Powder – Just a couple teaspoons will do the trick! With the garlic cloves already in the mix, just an extra hint of garlic is all that's needed to bring it all together.
Paprika – For a smokier flavor, you could opt for smoked paprika.
Dried Oregano – This herb is perfect for adding the slightest hint of bitterness that's incredibly tasty.
Salt – add this ingredient to taste as well.
Black Pepper – Always go for freshly cracked or chef's black pepper for best results.
How to Make Chicken Fajitas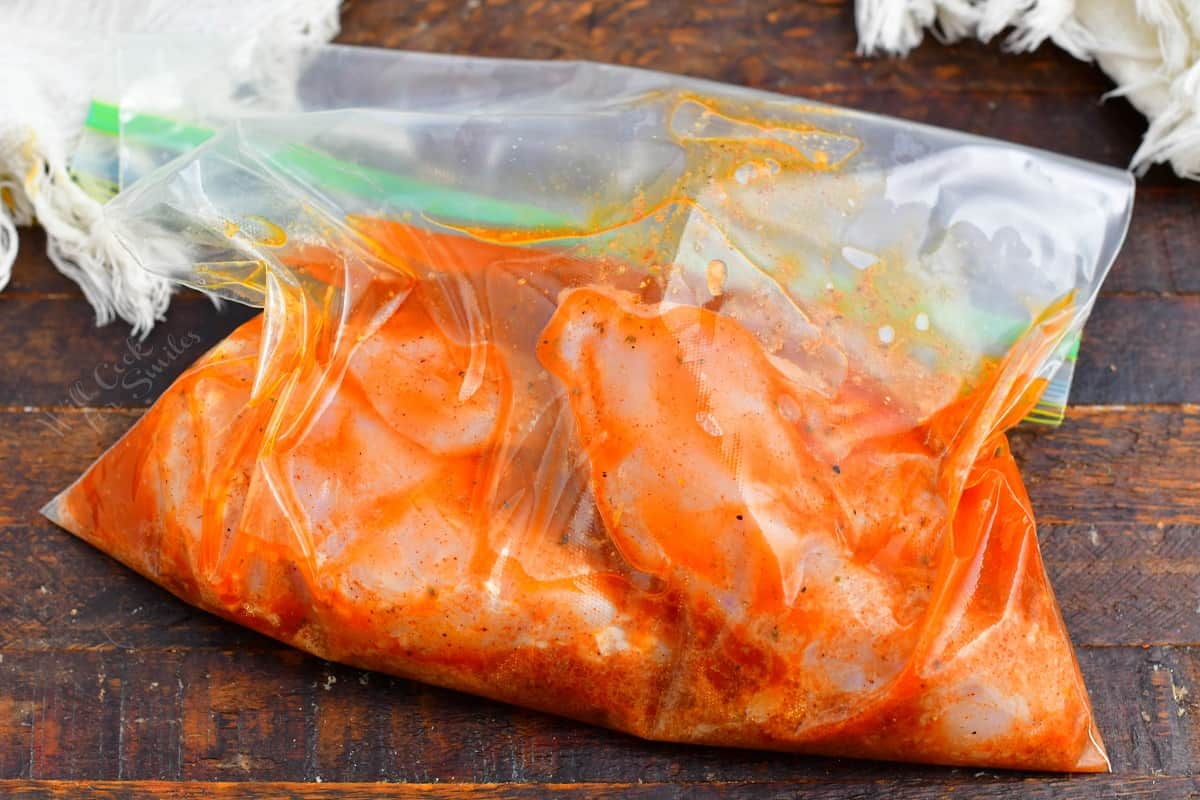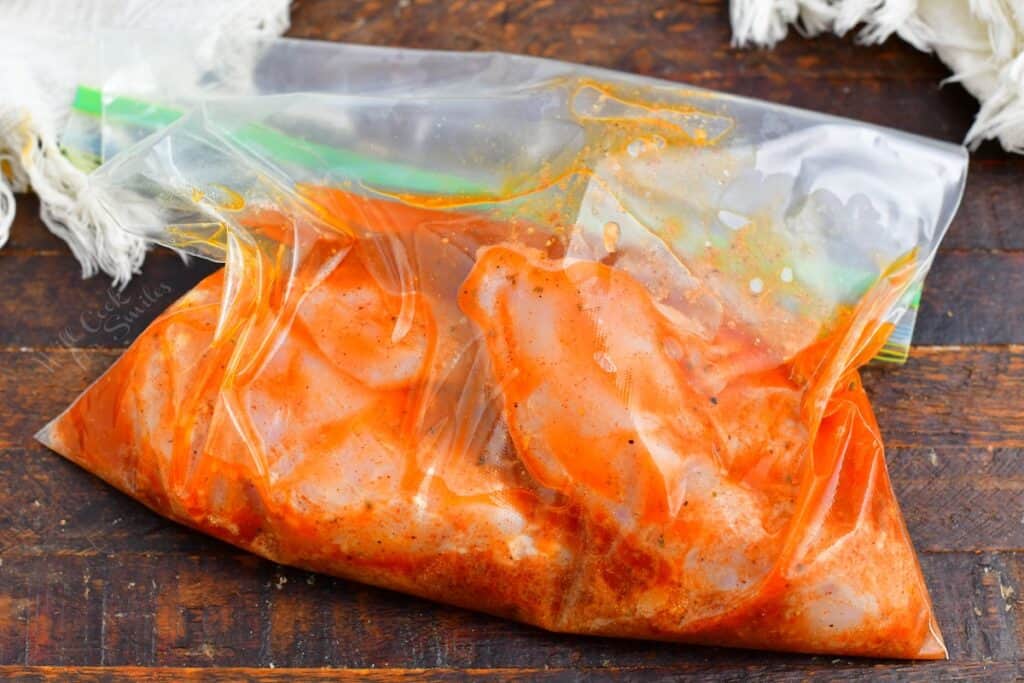 Start by combining all of the ingredients for the marinade in a small bowl. Whisk it well! (Or, save yourself some dish-washing and combine them all carefully in the zip-top bag.)
Reserve about 1/3 cup of marinade to use for the vegetables.
Place the uncooked chicken in a durable zip-top bag and douse it with the savory marinade. Shake it gently, ensuring that all of the chicken is evenly covered. Seal the bag, getting out as much air as you can, then place it in the refrigerator to marinate.
Allow the chicken to marinate for 2-4 hours.
For vegetables: Slice the veggies, then place them in a warm skillet that's been prepared with oil. Stir and cook the vegetables for just a few minutes with the oil.
Once the vegetables have softened, pour in most of the reserved marinade and mix well. Finish cooking the vegetables, take them out, and set them aside.
In the same skillet, add the marinated chicken and add a small amount of marinade from the bag to the cooking chicken. (Discard the rest of the marinade.)
Cook the chicken for 6-8 minutes on each side. You'll know the chicken is fully cooked and safe to eat once a meat thermometer is inserted into the chicken and reads 165°F.
Thinly slice the chicken. Place the pan back on the heat and mix together the veggies and sliced chicken. Add the remaining reserved marinade (not one from the bag with chicken!)
Cook for just a few more minutes, then serve on warm tortillas and enjoy!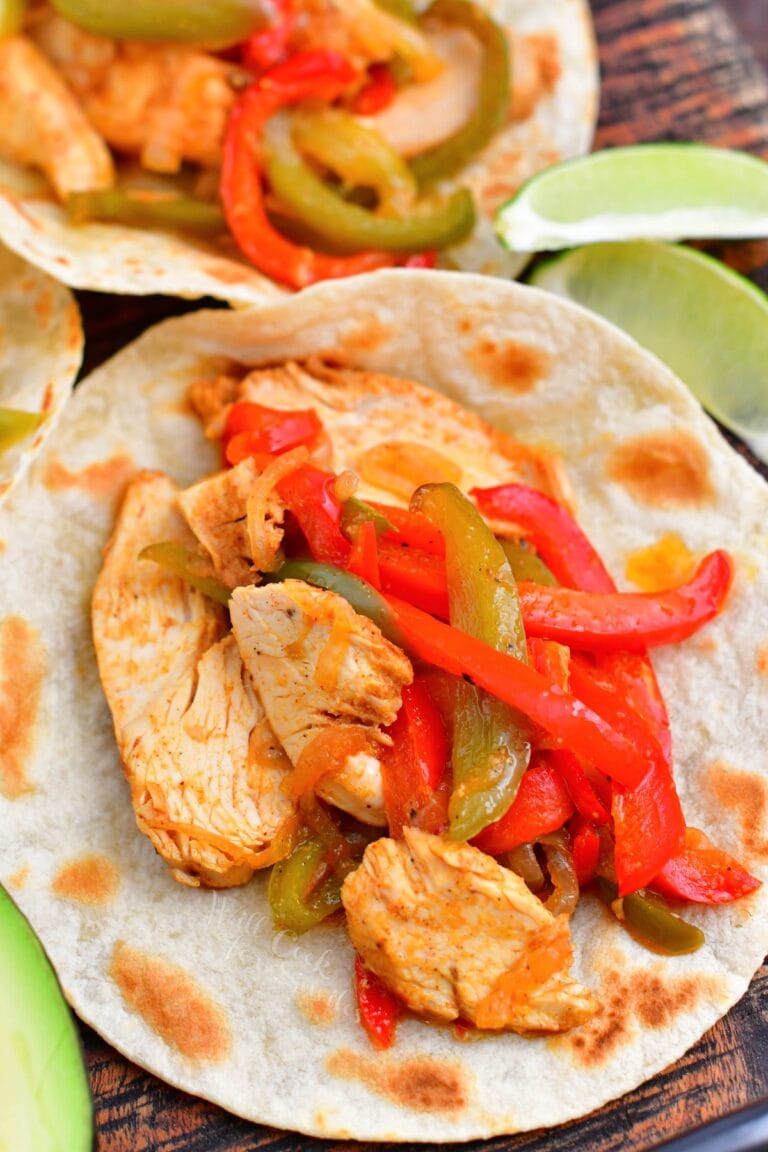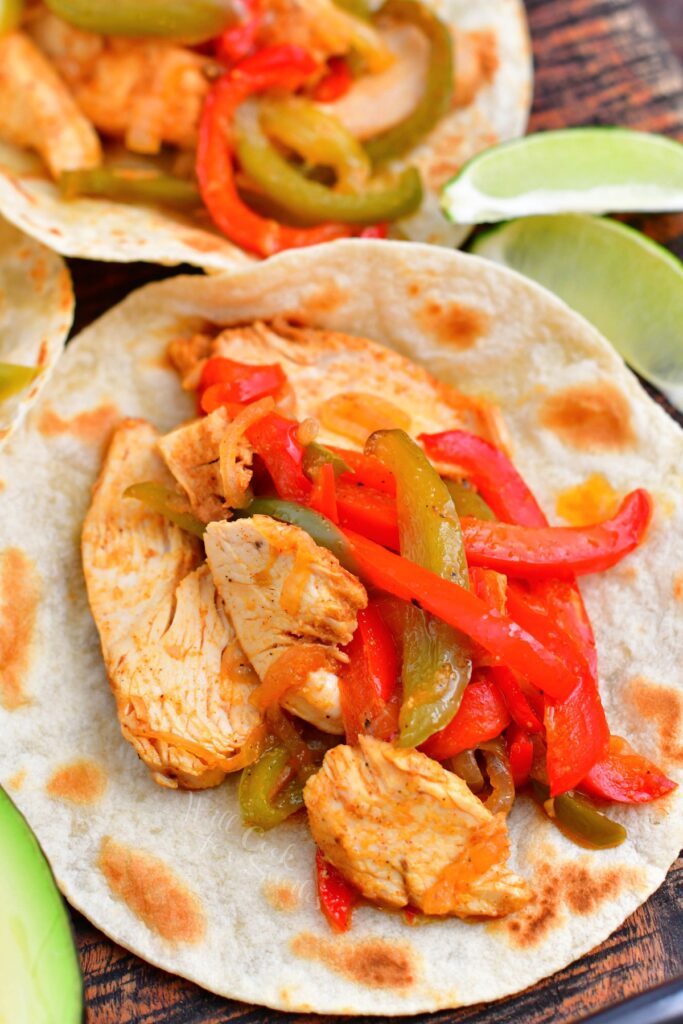 What's in the fajita seasoning?
It's the base set of spices for a lot of Mexican and Tex-Mex dishes and includes garlic powder, onion powder, chili powder, cumin, paprika, and oregano. After that, all you need is to add salt and pepper. Adjust the spice level by adding more or less chili powder. If you really want to heat things up, add a touch of cayenne powder!
All these spices included in the marinade for the best tasting chicken.
What can I add to fajitas besides onions and peppers?
Any toppings that you love on your tacos would be delicious on fajitas as well. Try some fresh avocados, jalapeño peppers, sour cream, guacamole, cheese, and so much more.
Can I make chicken fajitas on the grill?
Absolutely, grilled chicken fajitas would be amazing!
Marinate the chicken the same way as the recipe instructs. You'll want to create a two temperature zones on your grill, that way there is a hot side and a cooler side. Grill it on the hot side for about 4 minutes per side.
Then, move it over to the cooler side of the grill to finish cooking until the internal temperature of the chicken is 165°F. You can grill the onions and peppers in a cast iron skillet right on the grill while chicken is cooking as well. (Make sure to reserve some marinade to cook with the vegetables before adding it to the chicken.)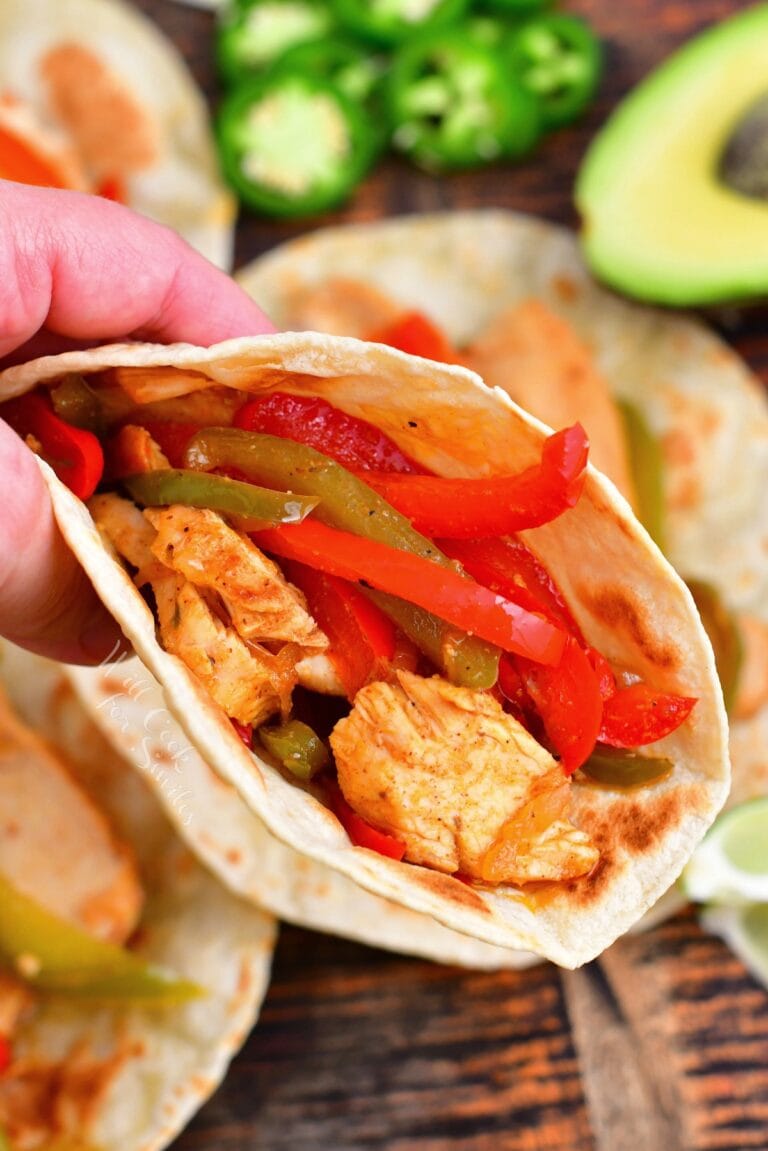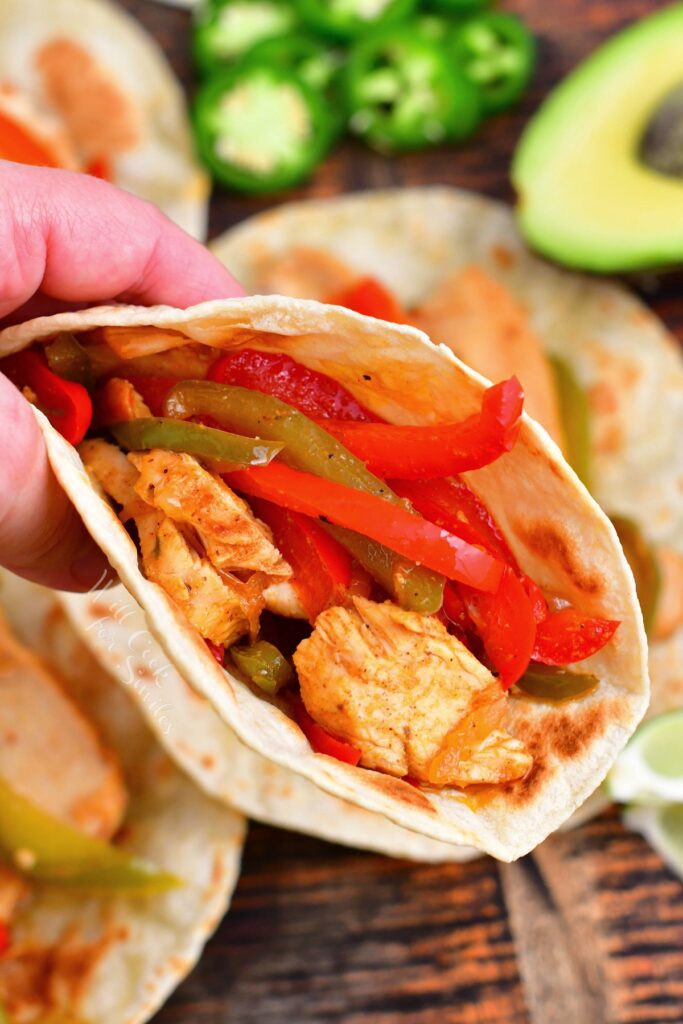 Try Some More Mexican Inspired Recipes!
Carne Asada Tacos – tacos are filled with steak marinated in an easy, flavorful marinade and topped with homemade pico de gallo and cilantro vinaigrette.
Mexican Street Corn Salad – grilled corn salad that's packing a little sweet, a little spicy, and all delicious flavors in it.
Queso Blanco Dip with Chorizo – this zesty and smooth queso blanco made with sauteed chorizo sausage, peppers, and onions.
Guacamole – this guacamole recipe features fresh avocados mashed and loaded with tomatoes, red onions, lime juice, and jalapeños.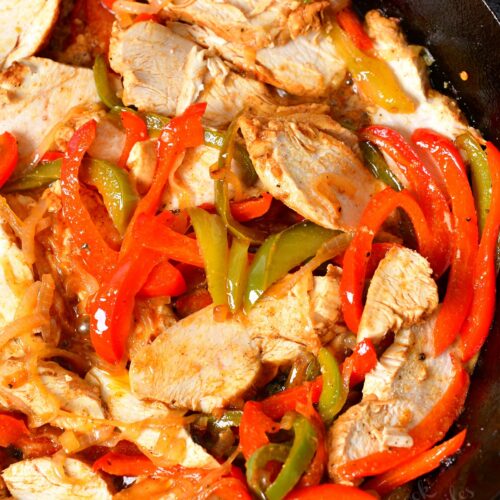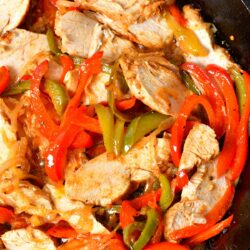 Chicken Fajitas
These Chicken Fajitas are so easy and flavorful made with homemade fajita marinade, peppers, and onions.
Print
Pin
Save
Saved!
Rate
Ingredients
2

chicken breasts 6-8 oz each

2

bell peppers

1

white onion

4-6

corn or flour tortillas
Marinade:
3/4

cup

canola or vegetable oil

3

limes – juice only

3

garlic cloves

1/2-1

tsp

chili powder

to taste

2 1/2

tsp

ground cumin

2

tsp

garlic powder

1

tsp

paprika

1/2

tsp

dried oregano

1

tsp

salt

more or less to taste

1/2

tsp

black pepper
Instructions
Marinating the chicken:
Combine all the ingredients for the marinade in a small mixing bowl and whisk well.

Take out about 1/3 cup of the marinade and set it aside to cook vegetables.

Place chicken breasts into a zip-top bag and add the marinade. Get as much air out of the bag as you can, seal well, and gently shake it up to coat the chicken. Place the bag in a bowl or on a plate and into the refrigerator to marinate.

Marinate it for 2-4 hours.
Cooking Chicken Fajitas:
Slice onions and peppers and preheat a large cast iron skillet over medium heat.

Add a couple tablespoons of oil to the pan and add the vegetables. Stir vegetables well and season with a little bit of salt and pepper. Cook them until softened.

When vegetables are softened, pour in most of the reserved marinade all over the vegetables and mix well. Leave a couple of tablespoons of the marinade to finish the dish.

Finish cooking the vegetables until completely soft and start to golden. Take everything out of the pan and set it aside.

Take the chicken out of the marinade and into the same skillet. Add a little bit of the marinade from the bag to the chicken and discard the rest. Cook chicken for 6-8 minutes on each side, until internal temperature reaches 165°.

Take chicken out of the pan and take the pan off heat until ready to return sliced chicken to it.

Slice chicken thinly. Place the pan back on the heat and add sliced chicken and vegetables. Mix everything well and pour in remaining reserved marinade.

Cook for just a couple more minutes and serve on warm tortillas.

Note: you can warm up the tortillas in another pan while chicken is cooking!
Nutrition
Calories:
649
kcal
|
Carbohydrates:
27
g
|
Protein:
28
g
|
Fat:
48
g
|
Saturated Fat:
4
g
|
Trans Fat:
1
g
|
Cholesterol:
72
mg
|
Sodium:
933
mg
|
Potassium:
761
mg
|
Fiber:
3
g
|
Sugar:
6
g
|
Vitamin A:
2274
IU
|
Vitamin C:
87
mg
|
Calcium:
92
mg
|
Iron:
4
mg
Tried this recipe?
Mention @willcookforsmiles and tag #willcookforsmiles