Beer batter onion rings are perfectly crispy, crunchy, and slightly sweet. It's a great snack for the game day or as a side dish for dinner instead of fries.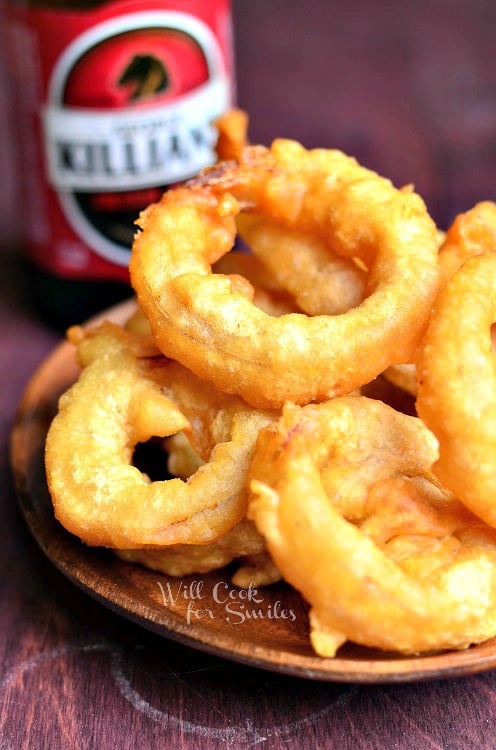 Do you love ordering a side of crispy, crunchy onion rings with your burger? Or maybe just an appetizer of these flavorful, beer batter coated slices of onions? I can practically hear that distinct crunch of biting into it, it's so satisfying!
It's even more satisfying knowing that you can easily make them at home. You can make this favorite hot and crunchy appetizer right in your own kitchen and all you need are a handful of ingredients and a pot of oil or deep fryer.
Ingredient Notes and Substitutions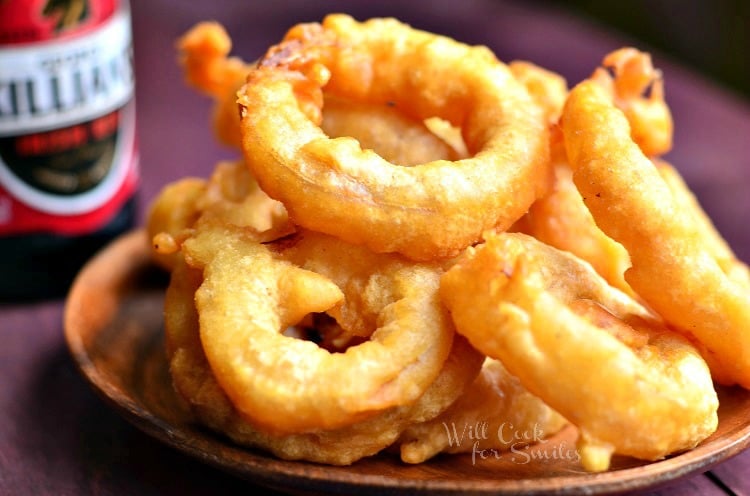 Onions – Sweet varieties are usually preferred, but regular yellow or white will work as well. Try to choose the onion that has more of a long or oval shape rather than round. It will make better rings.
Flour – all purpose flour will work just fine here.
Beer – I like to use red ale, but feel free to substitute your favorite instead. Stick with ales or lagers, as they have a bolder flavor than light beers like Bud or Coors. I recommend you stay away from stout and IPAs because they tend to have very strong and bitter taste.
Worcestershire sauce – this is a great flavor addition, don't skip it.
Seasoning – simple combination of salt and pepper.
How To Make Beer Batter Onion Rings
I highly recommend mixing up the batter first and give it about 30 minutes to stand on the counter. The flavors will have more time to combine and come to room temperature. Just whisk the ingredients together and set the bowl aside while you work on the onions.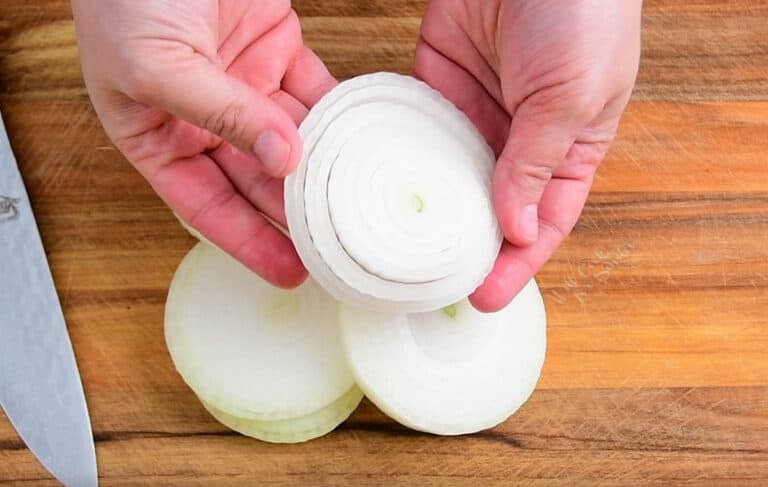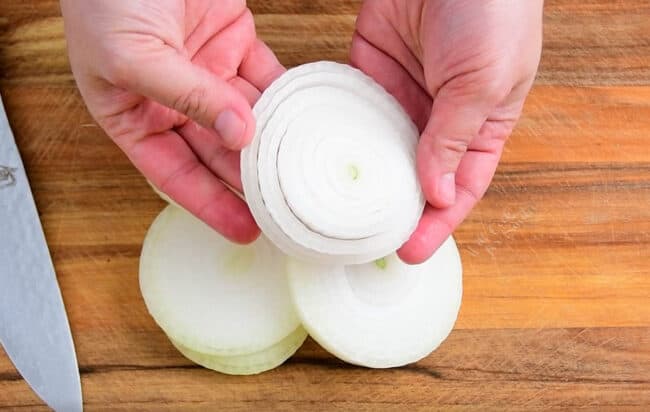 Prep the onions.
Cut off the tip but not the root end and remove the skin. Keeping the root on will help you not only hold on to the onion, it will keep the layers together to the end. Once you make all the slices, then discard the root.
Slice the onion into thick slices that are no thinner than 1/4- inch and no wider than 1/2-inch wide.
Separate each into individual rounds and pat dry with a paper towel. This will remove the juices and make it easier for the batter to stick to the surface.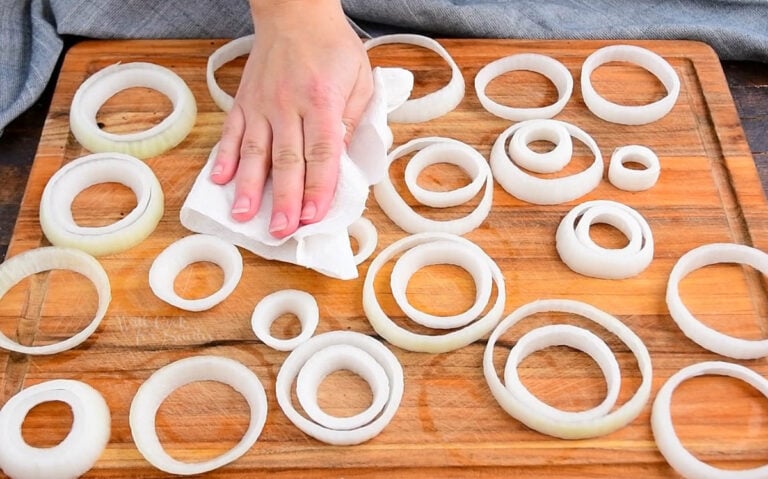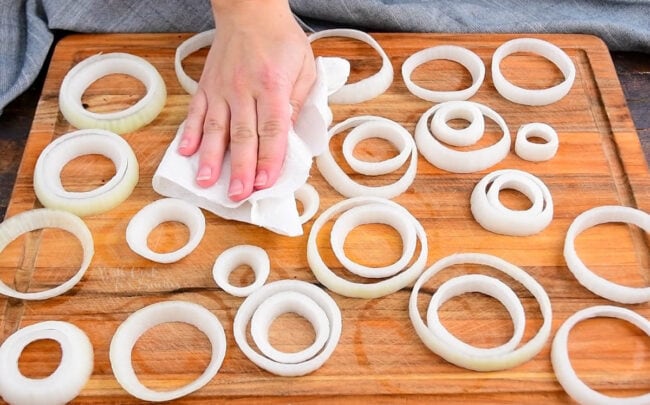 Coat the rings in batter.
Dip each piece of onion into the mixture, lightly shaking it after to remove any excess.
Transfer them straight to the pot as you dip them, or the coating will slide off while you work on the others.
Make sure the oil is hot and ready before adding onion rings. If oil is not hot enough, the batter will soak up excess oil while it's cooking longer.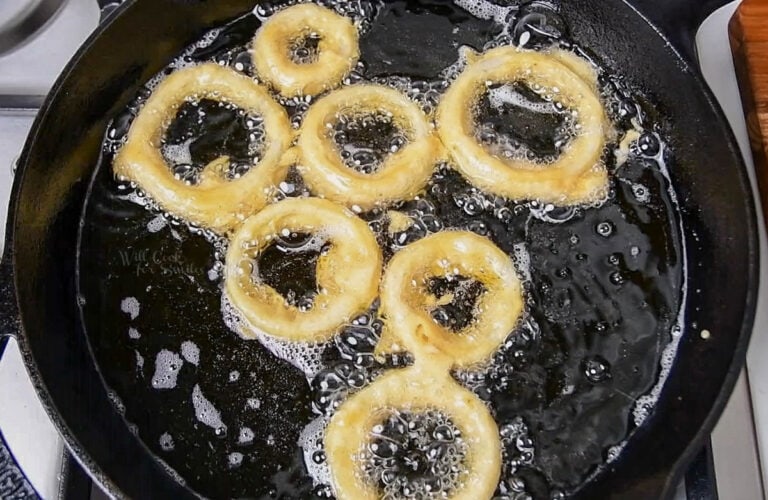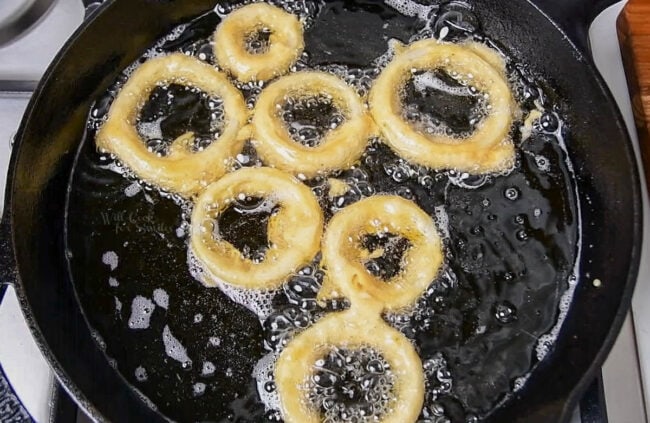 Fry until crispy.
Carefully add the rounds to the hot oil so it doesn't splatter onto your skin. Work in batches until all of the pieces are golden brown.
You may need to flip them once or twice so they are cooked evenly, but try to touch them as little as possible.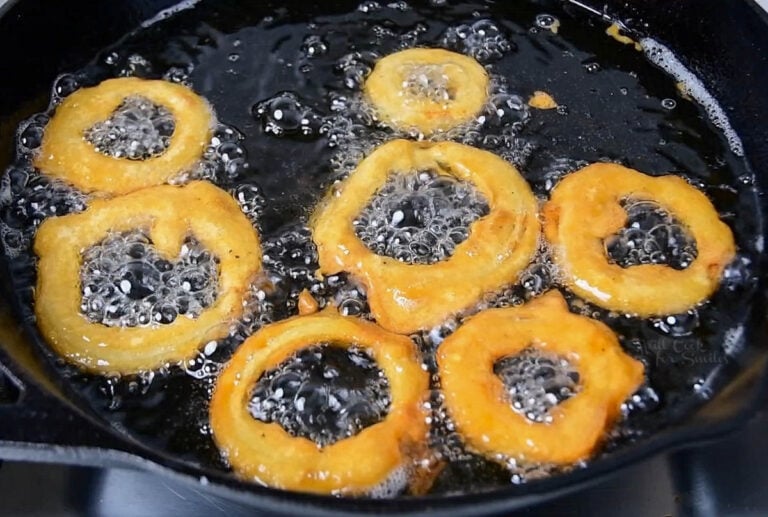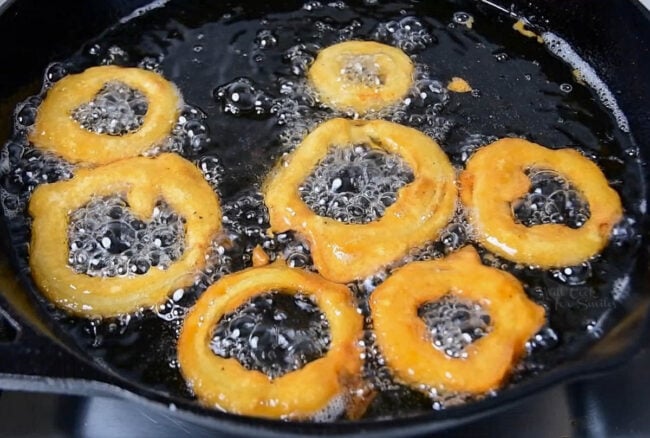 Plot excess oil and serve.
Use metal tongs or a slotted metal spoon to transfer the beer batter onion rings to a paper towel covered wire rack to soak excess oil. Let them cool down for a couple of minutes and serve!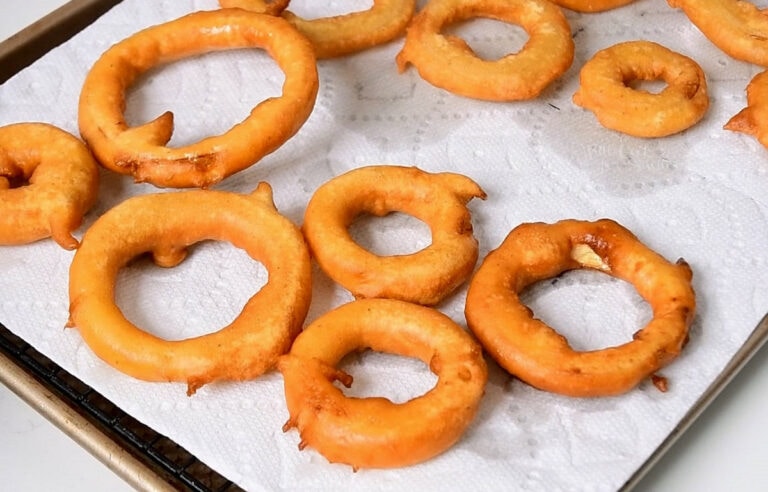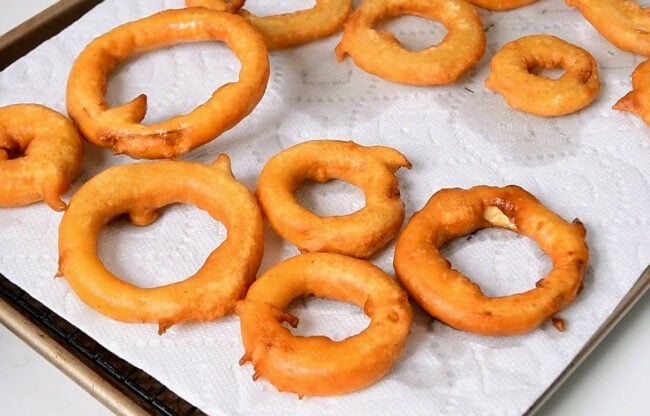 Recipe Notes + FAQ
Don't overcrowd the pot – fry in batches.
If you try to cook too many at one time, the temperature will drop and you'll end up with soggy onion rings.

Since the size of your pot or fryer will vary, be sure there is room for everything to move around freely without touching.

Want to keep them warm? Heat your oven to 225°F and place a baking sheet inside with a wire rack on top. You can keep the food warm in there as you cook the rest of the onion rings, and the airflow around the rack will keep things from getting soggy.

Add some heat. Mix a dash of cayenne pepper in with the flour if you like things to be a little spicier.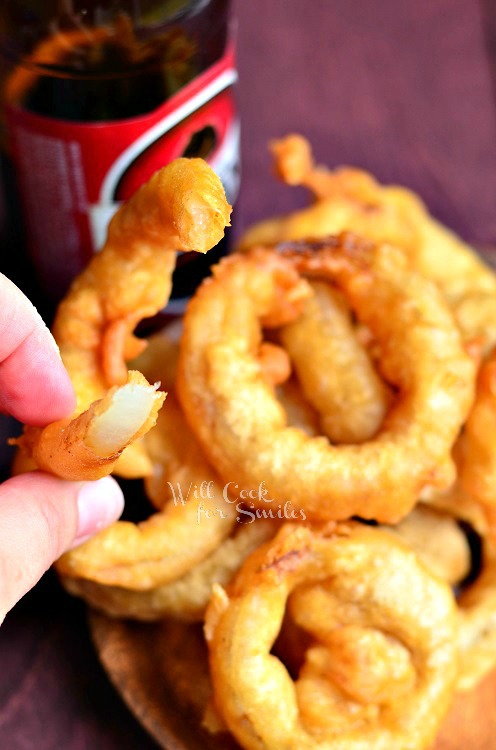 Which oil is best for frying onions?
Choose a neutral variety with a high smoke point like canola, vegetable, or safflower. These are able to reach higher temperatures without burning and won't affect the overall flavor of your food.
Can I make this recipe without alcohol?
If you substitute anything other than beer, it will just be regular batter. Most of the alcohol will cook out, but you can always use buttermilk if you are still concerned.
You could also use a non-alcoholic beer like O'Douls, but get the Amber or Premium version for better flavor.
What temperature should oil be for deep frying?
The best temperature for frying is between 350° and 365°. Don't let it get dip lower than 350°, if it does, give it some time to heat up before frying another batch.
If you don't have a thermometer, gently hold the end of a wooden spoon in the oil. If bubbles form around it and start to float to the surface, it's ready.
However, if it starts to look like it's boiling then the oil is too hot. Let it cool a bit, then test again.
What to Serve with Onion Rings?
While these are delicious all on their own, they are even better with my Beer Cheese Dip! You can make it with the same red ale to complement the flavor of the onion rings.
Tangy honey mustard is a good choice if you want something simpler, or whip up a batch of my homemade Ranch Dressing or Whiskey BBQ Sauce. Both can be made ahead of time and kept in the refrigerator until it's time to eat.
Need ideas for game day snacks? Check out my post with all of the best appetizers to please even the hungriest of crowds. Plus, there are plenty of tips for planning a menu and getting your table ready!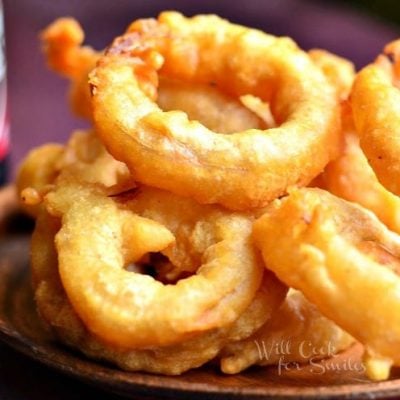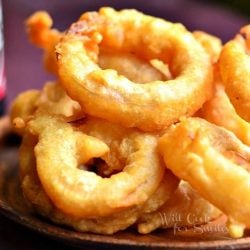 Beer Batter Onion Rings
Beer batter onion rings are perfectly crisp and crunchy, slightly sweet, and have a subtle kick of beer flavor.
Print
Save
Saved!
Rate
Ingredients
1 1/4

cup

all purpose flour

1

cup

red ale

can also use lager or ale

1

Tbsp

Worcestershire sauce

salt

black pepper

1

large onion

3-4

cups

canola or vegetable oil

for frying
Instructions
In a medium mixing bowl, whisk flour with salt and pepper and then pour in beer and Worcestershire sauce. Whisk it all together until smooth.

Taste the batter to make sure you have enough salt.

Cover and set aside for about 30 minutes (if you have the patience).

Slice the onions into thick rings that are between 1/4-inch and 1/2-inch thick. Pat them dry with a paper towel to soak up excess onion juice.

Preheat the oil in a large skillet, deep pan, or in a fryer, on medium-high heat. (Do not use a shallow pan so that you minimize the splatter.) Make sure to preheat to and maintain the oil at 350° and 365°.

Line a large wire rack with paper towels to soak up the excess oil after frying and place it on the counter nearby.

Dip the onion rings into the batter and carefully add them to the hot oil. Fry until they are golden brown and flip. Give them a couple more minutes to fry until golden brown on the other side.

Fry them in batches and don't overcrowd the pan/pot.

Use metal tongs of a metal slotted spoon to take out the fried onion rings and place them onto the prepared wire rack to soak up excess oil.

Give it a couple of minutes to cool down and serve.
Nutrition
Calories:
275
kcal
|
Carbohydrates:
35
g
|
Protein:
5
g
|
Fat:
11
g
|
Saturated Fat:
1
g
|
Trans Fat:
1
g
|
Sodium:
46
mg
|
Potassium:
132
mg
|
Fiber:
2
g
|
Sugar:
2
g
|
Vitamin A:
4
IU
|
Vitamin C:
3
mg
|
Calcium:
19
mg
|
Iron:
2
mg
Tried this recipe?
Mention @willcookforsmiles and tag #willcookforsmiles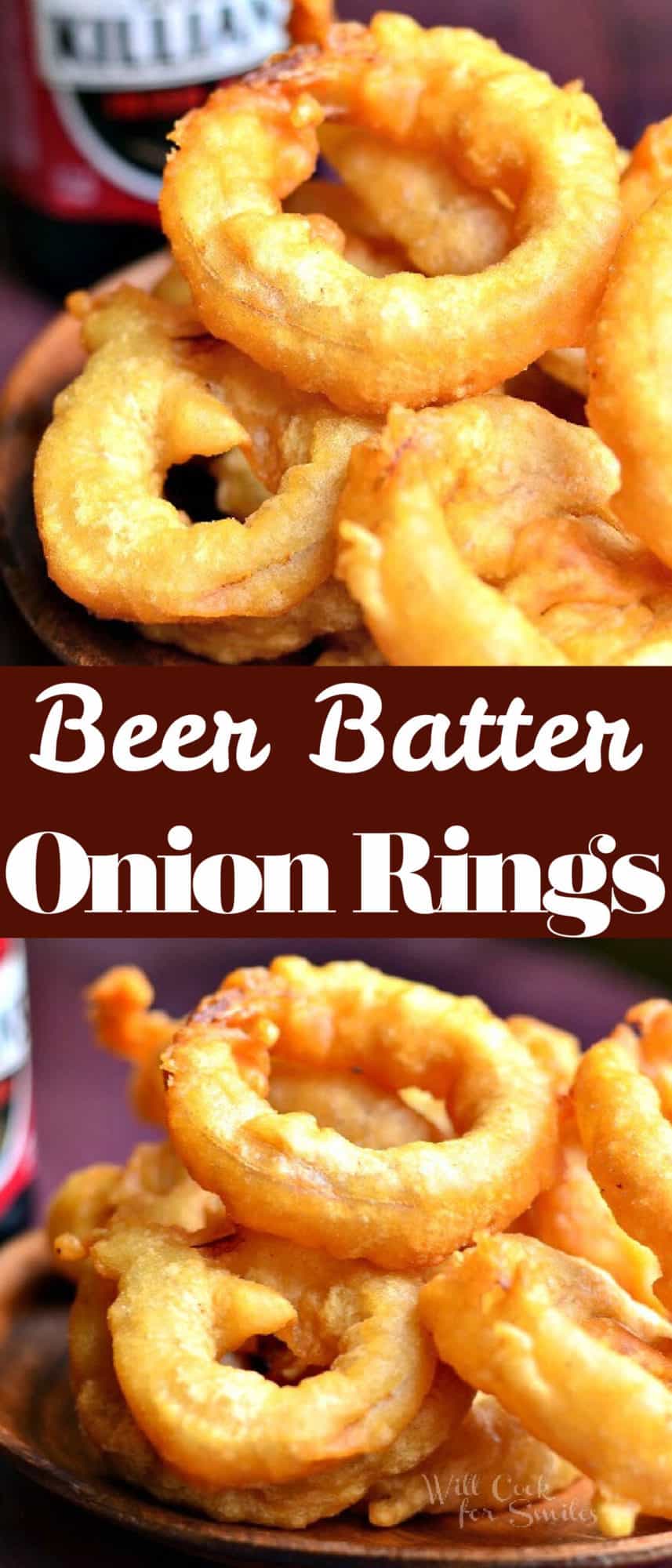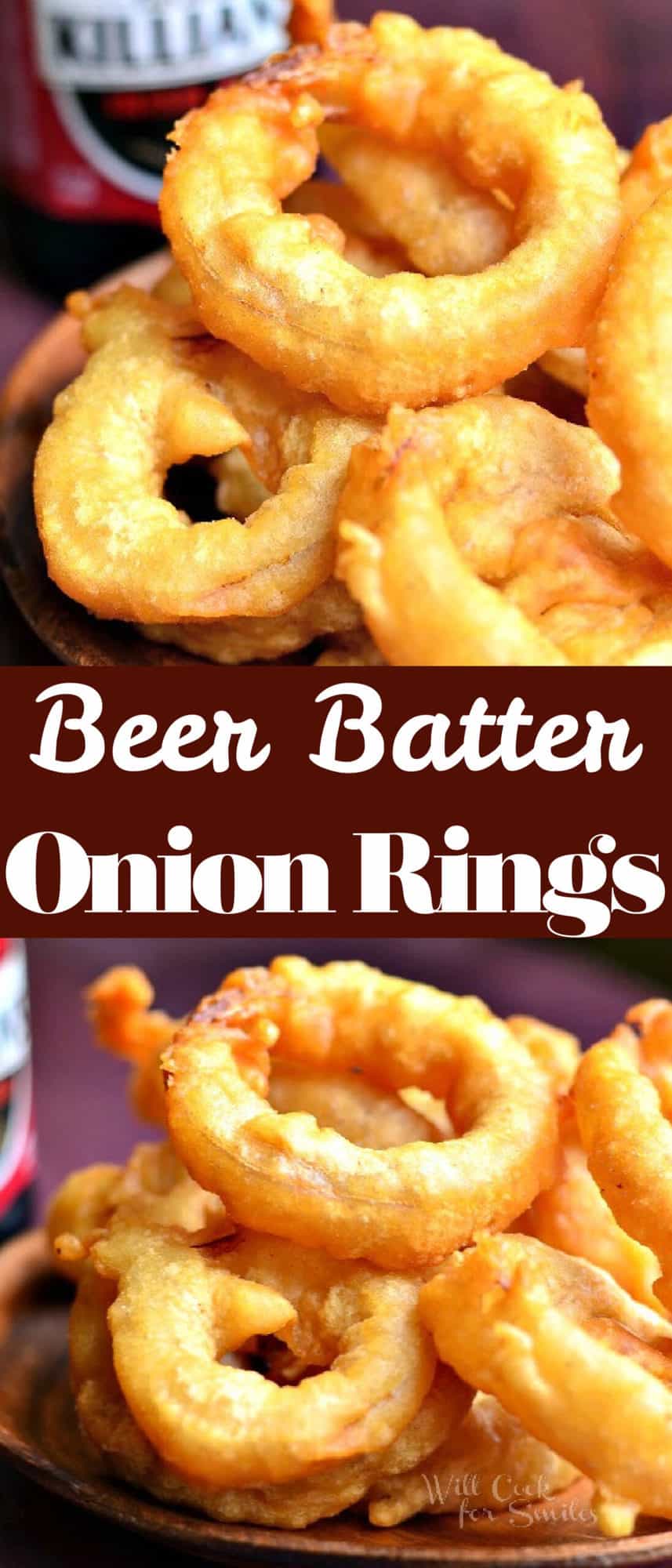 Originally published on Will Cook For Smiles in February, 2014. Updated January 27, 2021.