This homemade BBQ Sauce is a perfect combination of sweet, tangy, and spicy. It's so incredibly flavorful! Deep, rich flavor notes come from molasses, dark brown sugar, and bourbon. Once you make a bottle of this delicious homemade barbecue sauce, you'll never use a store-bought brand again.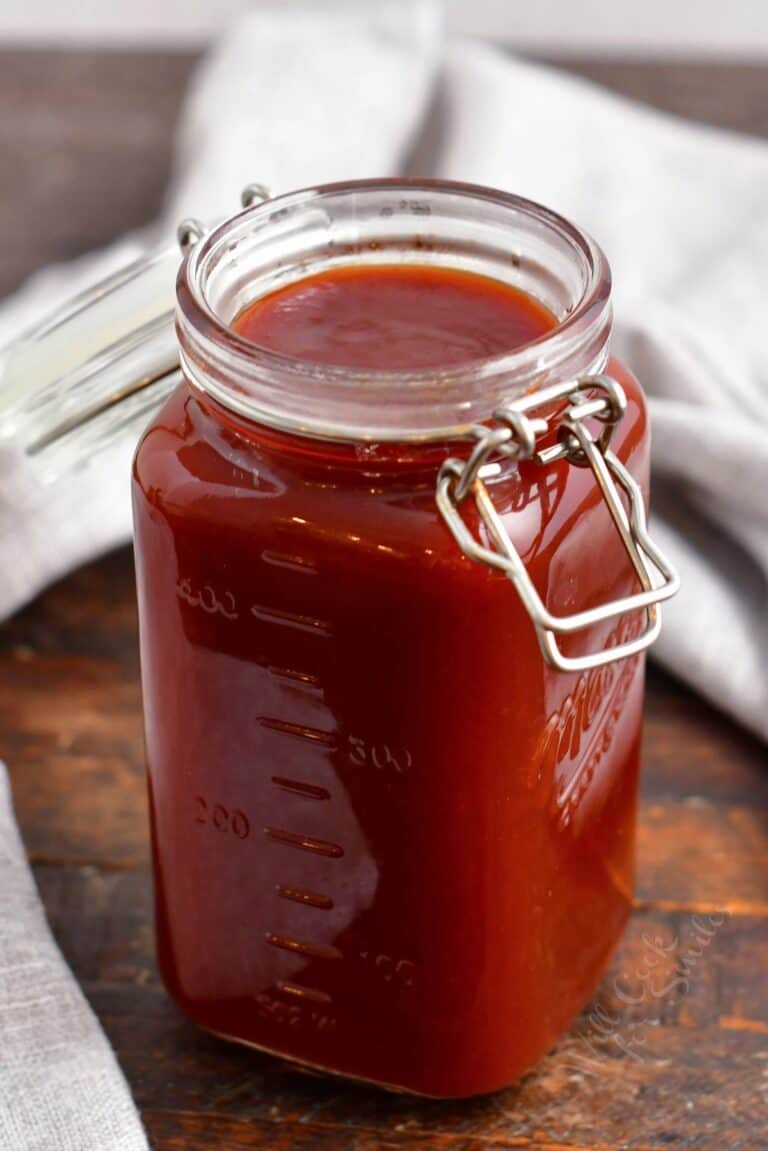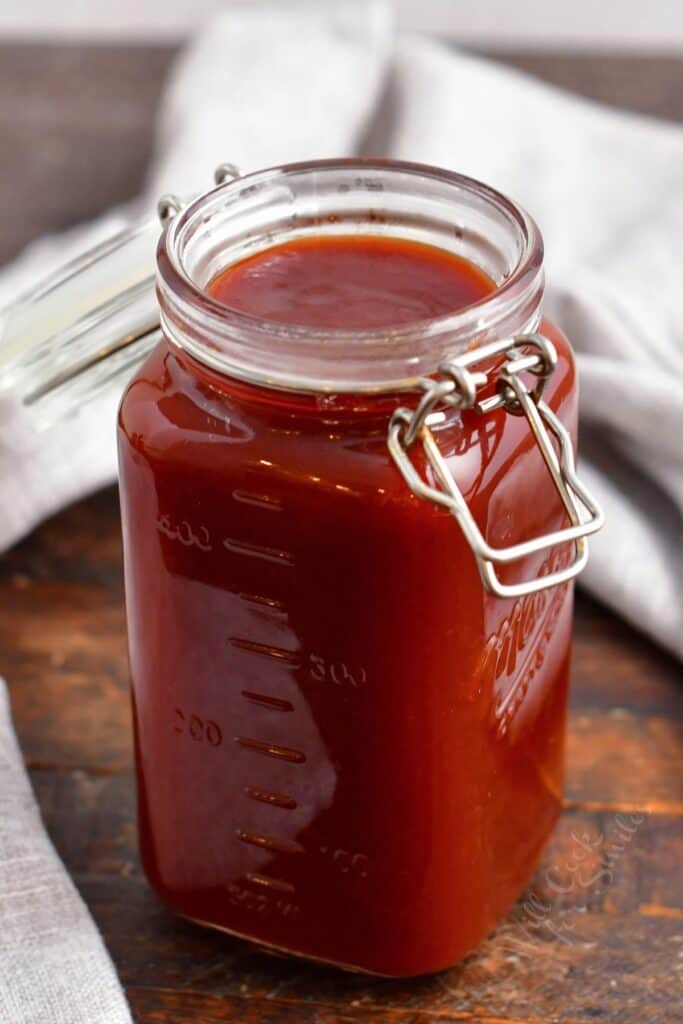 Barbecue Sauce
Through many years of making BBQ sauces and experimenting with my recipes, I finally found the best one! This is my family's favorite BBQ sauce recipe and one that I use for almost everything.
This recipe is the best for so many reasons. Through my trial and error attempts with BBQ sauce, I've found that many recipes are either too sweet or too tangy. This sauce balances both prominent flavors perfectly and adds a little touch of spice! (Of course, you can always adjust the spice to your personal taste.)
If you love rich, aromatic barbecue sauce that truly makes your mouth water, this is the recipe for you. I really can't even think about going back to a store-bought bottle again! My family and I are pleasantly spoiled by always having a jar of this homemade sauce handy.
Ingredients for Homemade BBQ Sauce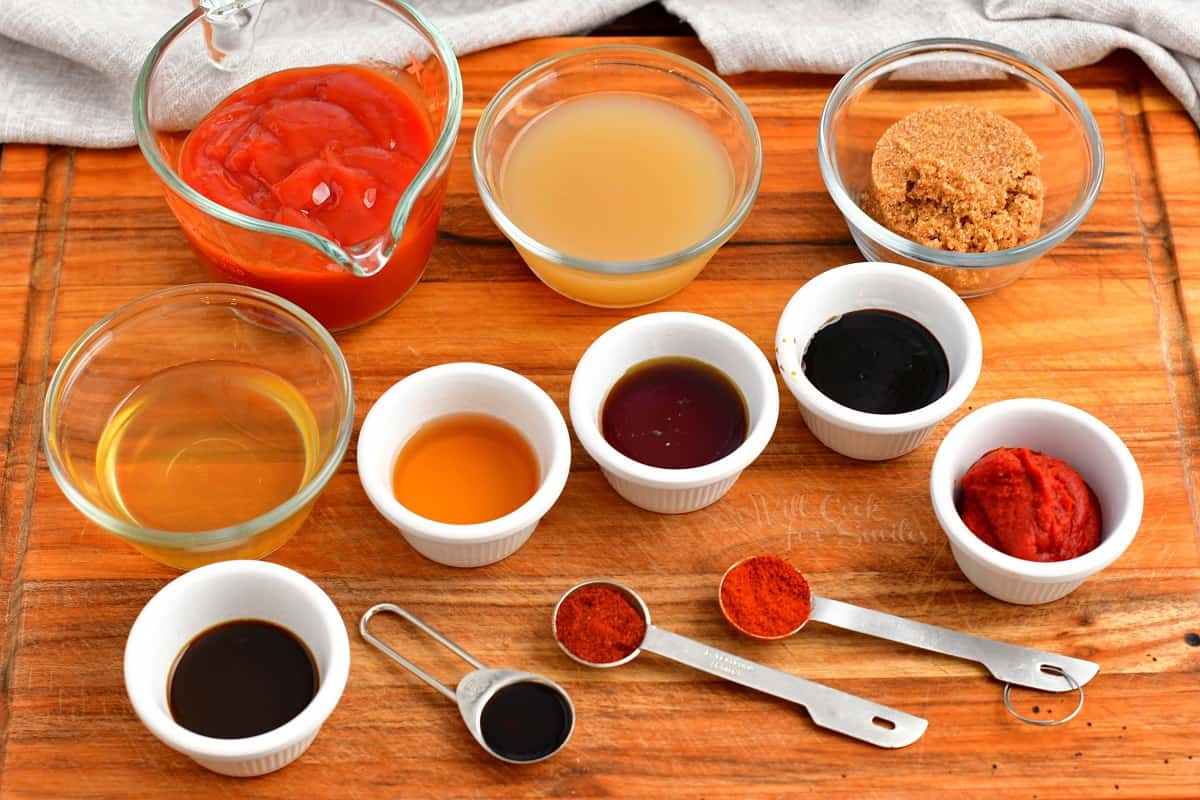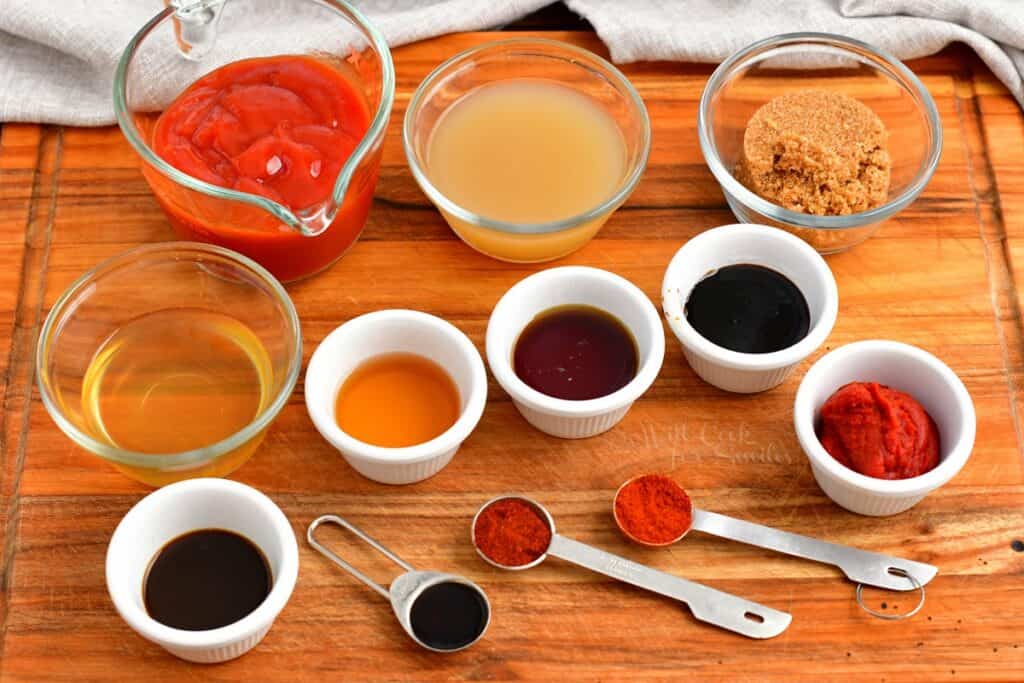 I've definitely played around with all of the ingredients, and every single one brings something special to the overall taste.
Ketchup – your favorite brand should work just fine with this easy recipe but I usually use Heinz. If you have any leftover ketchup, use it deliciously with recipes like Grape Jelly Meatballs and Bourbon Chicken!
Chicken Stock – Chicken stock has a richer flavor than broth. However, in a pinch, broth will also work.
Dark Brown Sugar – If you can only get your hands on light brown sugar, you can use it but increase the amount of molasses by about 1/2 tbsp.
Apple Cider Vinegar – This is the ingredient that gives the sauce its signature tanginess.
Molasses – I've found that molasses gives the a great deep flavor to the sauce.
Maple Syrup – After experimenting with both honey and maple syrup, I discovered that 100% pure maple syrup gave the sauce a richer taste and best addition of sweetness.
Bourbon – Make sure that your bourbon is good quality for best results. You can also use the rest of the bourbon to enjoy an Old Fashioned!
Worcestershire Sauce – Just a splash of this sauce provides a great tangy, deep flavor.
Tomato Paste – Don't worry – while this ingredient contributes to both the thick texture and tangy taste of the sauce, the BBQ sauce doesn't taste like tomatoes.
Chili Powder – You can add a little more if you want more spice but note that you will also add bitterness. The BEST way to increase heat is to add a pinch of cayenne instead of increasing chili powder.
Paprika – For an extra smoky flavor, use smoked paprika.
Liquid Smoke – Liquid smoke is a great ingredients if you are using the sauce on something that was baked or cooked on a stove or slow cooker. It adds a hint of smoky flavor without the grill. Be careful though, it is quite potent. If you're using the sauce on something smoked or grilled, you can omit the liquid smoke.
Can I Omit Alcohol?
I know that many of you who do not consume alcohol will ask me this question so I want to make sure and answer it right away. If you have to, yes, you can absolutely omit alcohol. Yes, it will take away a little something from the overall flavor but if you have you, do it.
Although, I you don't have to stay away from alcohol, I highly recommend that you try this BBQ sauce with bourbon.
How to Make Barbecue Sauce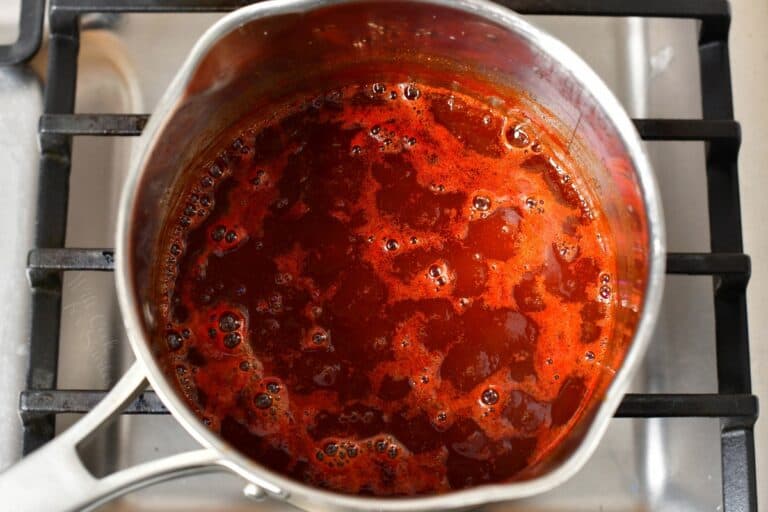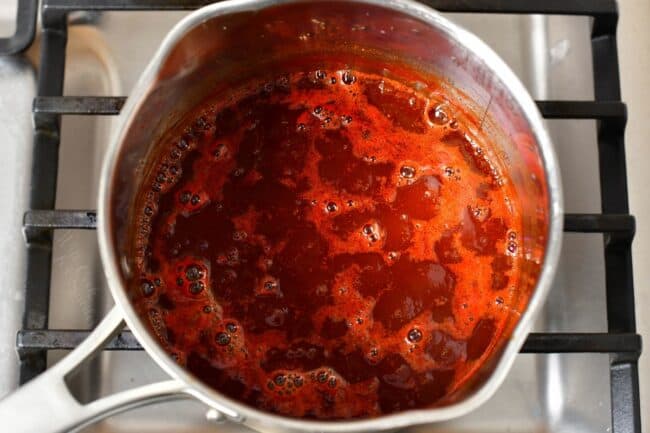 First, combine all of the ingredients in a mixing bowl until they're all completely mixed together.
Then, transfer the mixture to a saucepan and bring it to a simmer over medium heat. Don't let it boil hard, just a simmer. Be sure to stir the sauce every minute or so.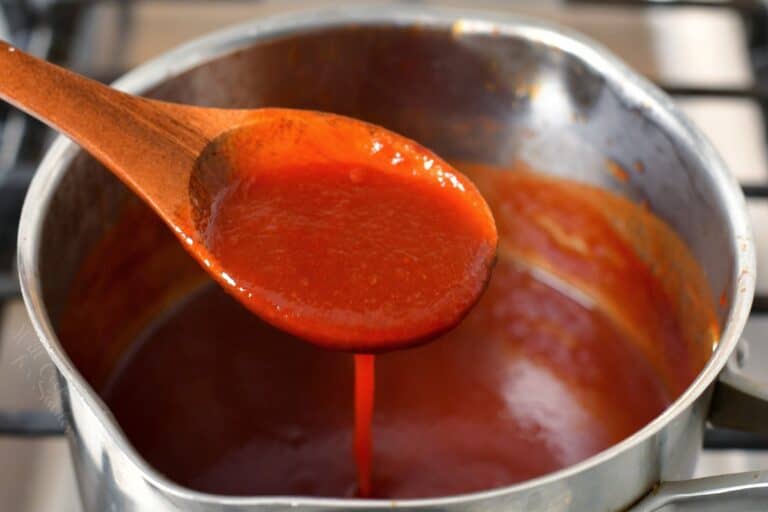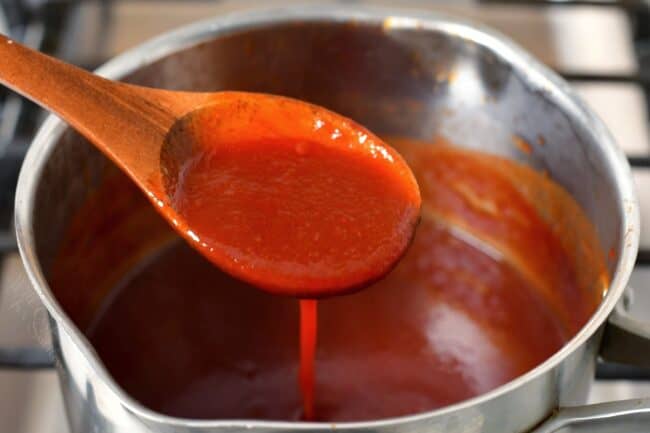 After allowing the sauce to simmer for a bit, lower the heat on the burner to medium-low.
Allow the sauce to gently simmer for approximately 10 minutes. Keep stirring!
After 10 minutes, take the sauce off of the heat and let it cool completely before serving or storing.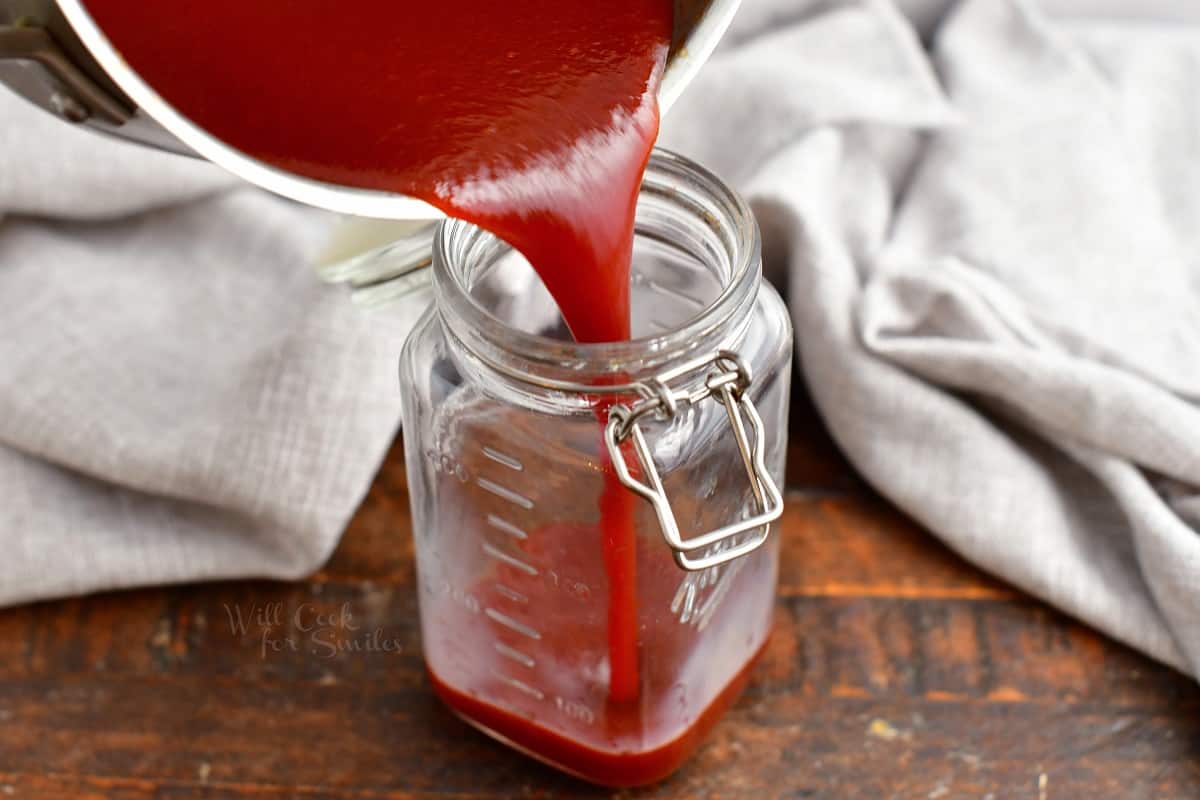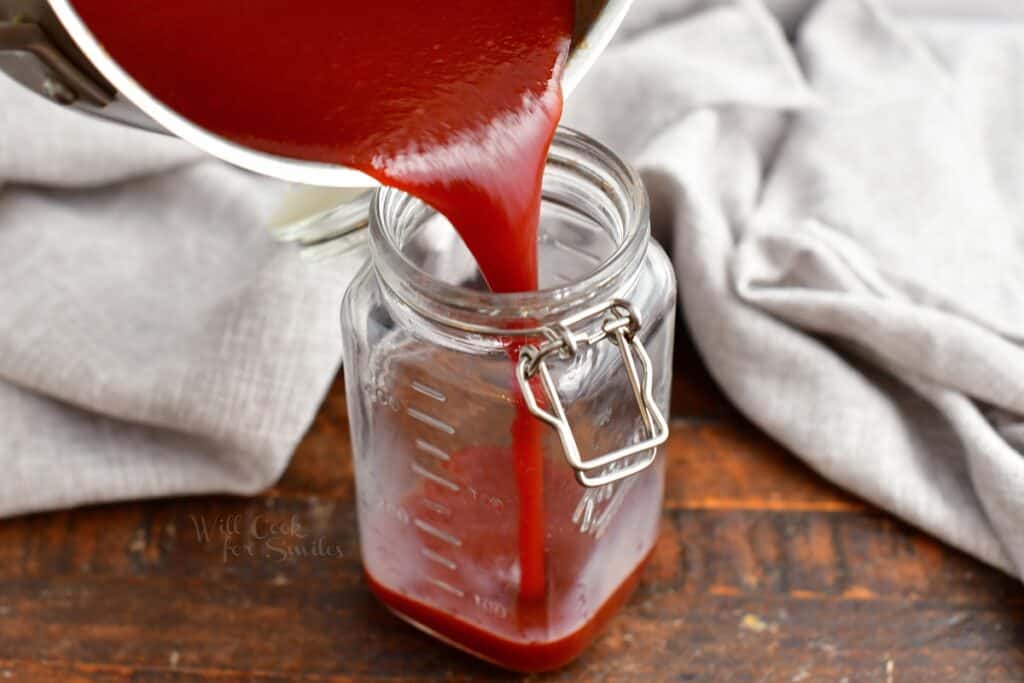 How to Store Homemade BBQ Sauce
The best containers to store barbecue sauce in are glass jars, like mason jars. Make sure the sauce is cooled and the lid on the jar is airtight and then place it in the refrigerator!
When stored in an airtight container in the refrigerator, your delicious sauce should be good for 7-10 days.
When you're ready to use your BBQ sauce, be sure to use a clean spoon to scoop out as much as you'd like. Or, even better, just gently pour the sauce from the jar instead of spooning it out.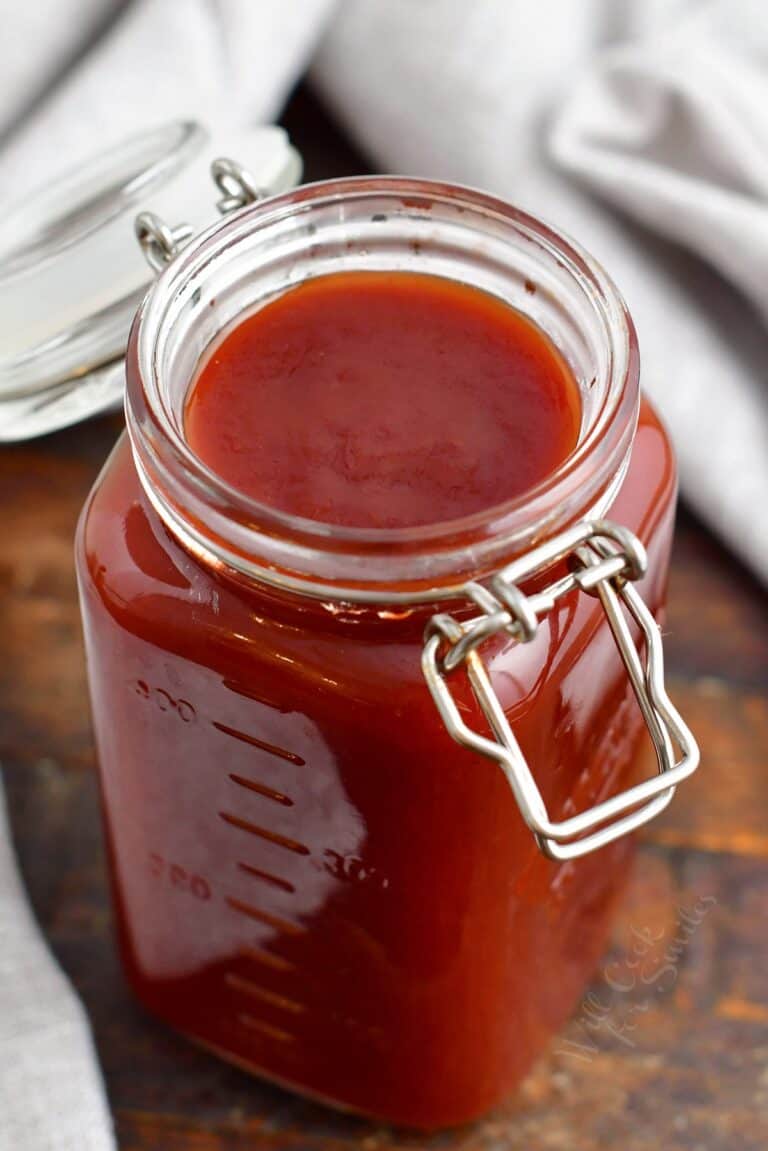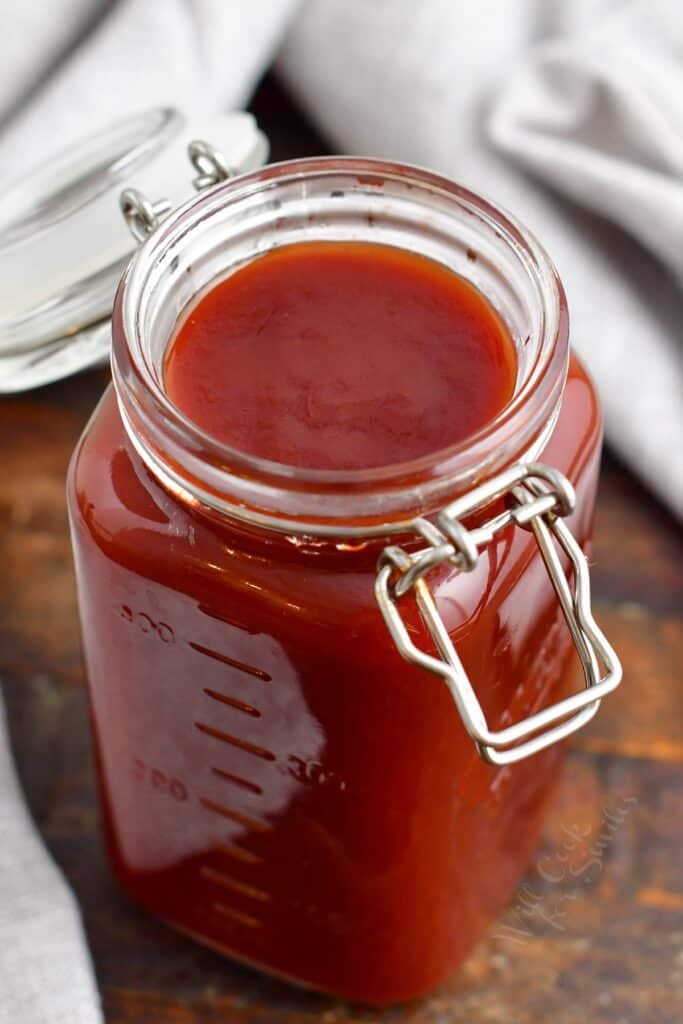 Can Barbecue Sauce be Frozen?
Yes, it definitely can be frozen!
As previously mentioned, your sauce needs to be fully cooled before storing – this includes freezing. Once it's room temperature, transfer the sauce to a durable freezer zip-top bag. You can even portion it into several freezer bags.
It's also important to make sure all of the air is out of the bag. Once the bag has been cleared of all air, seal it, and place it in the freezer.
In the freezer, BBQ sauce will stay fresh for up to 3 months. When you're ready to enjoy it, simply place the frozen sauce in the refrigerator and allow it to thaw for a few hours or overnight.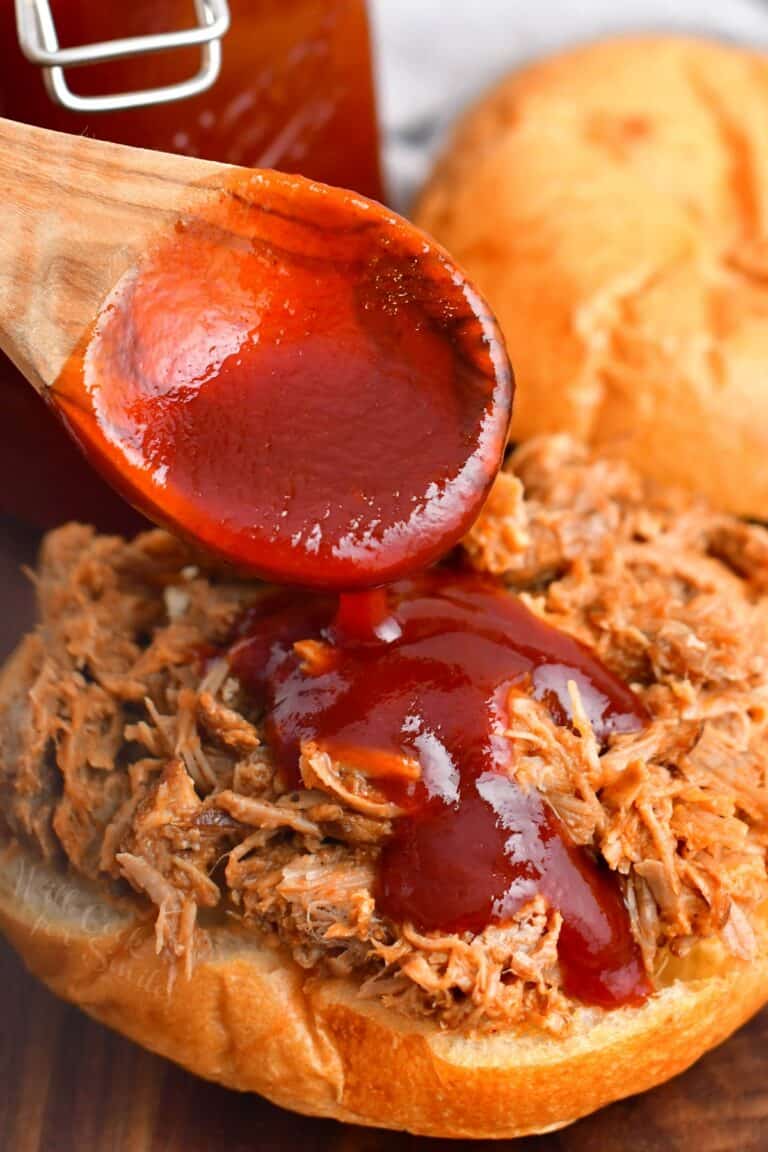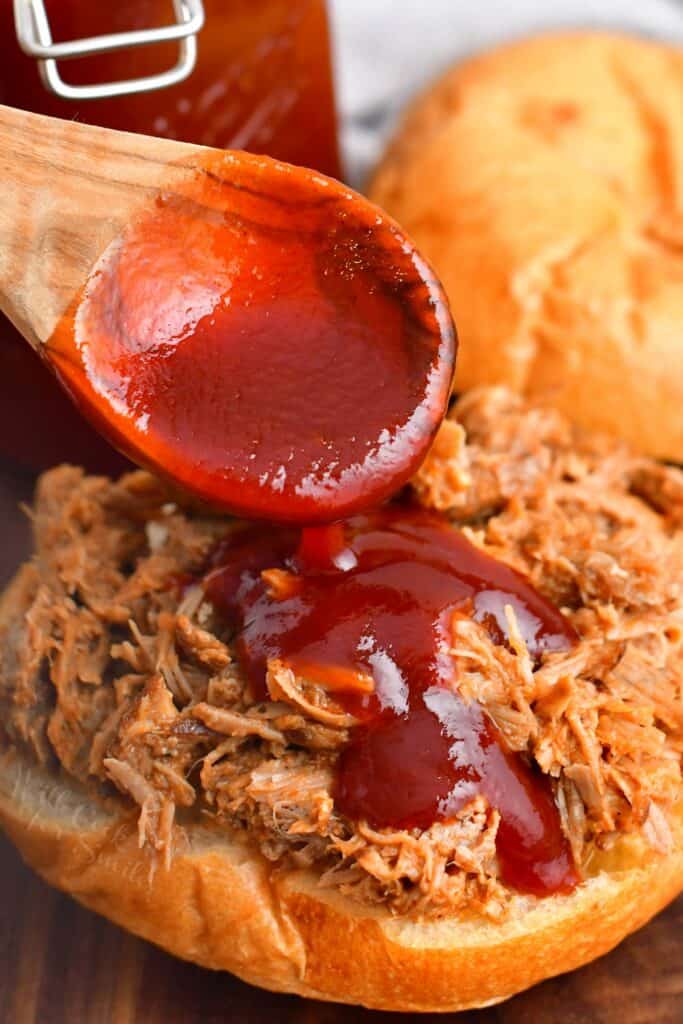 How to Serve Barbecue Sauce
I'm sure you already have a list of your favorite recipes that call for barbecue sauce! Pork ribs, pulled chicken, and so much more is classically served with this sauce. However, allow me to share with you some of my favorite ways to use this incredible sauce!
Besides just serving a dollop of sauce next to a piece of grilled chicken, why not make things even more fun with some Pineapple Grilled Chicken Kebabs?
Add some to any of your favorite sandwiches or dip kids' chicken tenders and nuggets into it.
And if you're a pulled pork fan, you simply MUST try this sauce with my favorite Instant Pot Pulled Pork. I can't think of a better barbecue pork sandwich. You can also try our smoked pulled pork with this sauce!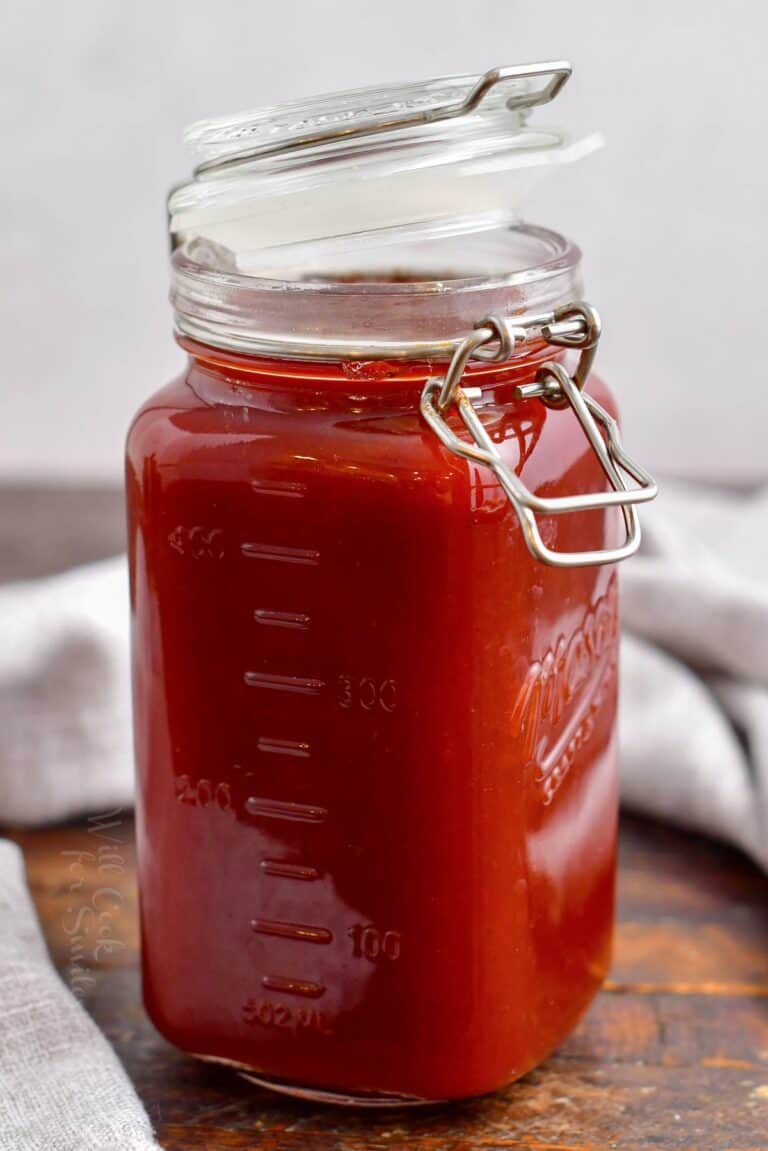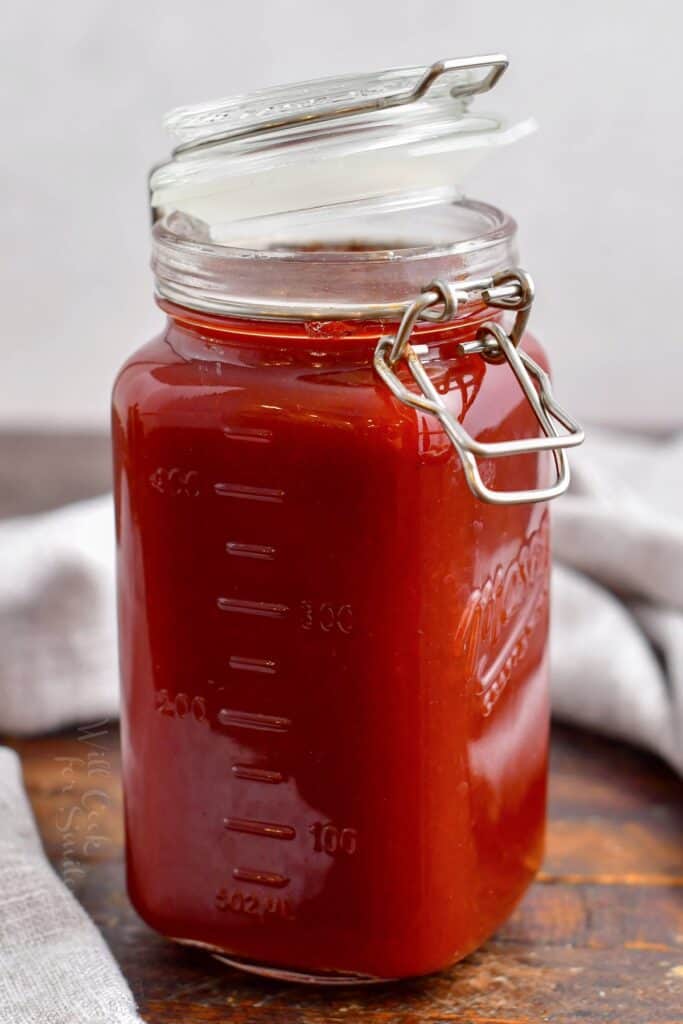 Feeling Saucy? Here are More Sauce Recipes to Try!
Homemade Pizza Sauce – is a simple to make robust sauce that tastes SO much better than store-bought!
Enchilada Sauce – a sauce that is so flavorful, it will take your enchiladas to a new level of deliciousness.
Alfredo Sauce – fast and easy creamy sauce made with a simple combination of heavy whipping cream, Parmesan cheese, butter, flour and garlic.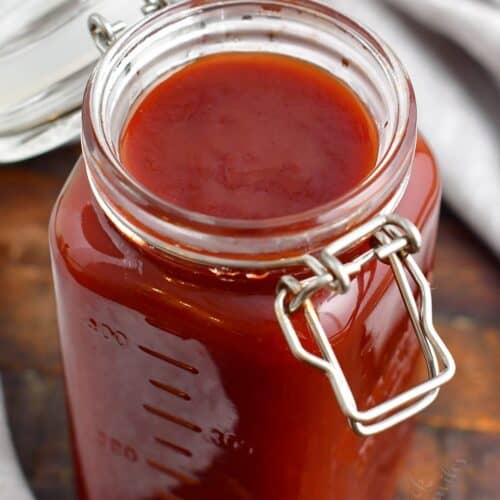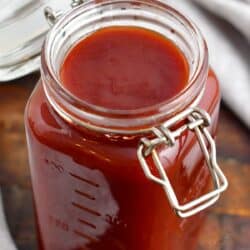 BBQ Sauce Recipe
This homemade BBQ Sauce is a perfect combination of sweet, tangy, and spicy. Deep, rich flavor notes come from molasses, dark brown sugar, and bourbon make this sauce incredibly delicious!
Print
Save
Saved!
Rate
Servings:
10
(makes about 2.5 cups)
Ingredients
1

cup

ketchup

1/2

cup

chicken broth or stock*

1/3

cup

dark brown sugar

1/4

cup

apple cider vinegar

2

tbsp

molasses

2

tbsp

maple syrup

2

tbsp

bourbon

1

tbsp

Worcestershire sauce

2

tbsp

tomato paste

1

tsp

chili powder

2

tsp

paprika

1/2-1

tsp

liquid smoke**
Instructions
Combine all of the ingredients for the sauce in a mixing bowl and whisk until completely incorporated.

Transfer the sauce into a sauce pot and bring it to simmer over medium heat. Make sure to slowly stir from time to time.

Lower the heat to medium-low and gently simmer the sauce for about 10 minutes. Remember to stir often.

Take the sauce off heat and let it cool before serving.
Storing BBQ Sauce:
Make sure to cool the sauce to room temperature before storing.

Transfer the sauce into a glass food storage container or a glass jar with an airtight lid and store it in the refrigerator. Homemade BBQ sauce should be good for 7-10 days when stored properly.

Always use a clean spoon when getting sauce out of a jar or, for best results, pour sauce out instead of spooning.

If you want to store it for longer, you can freeze homemade BBQ sauce. To freeze, make sure the sauce is cooled and transfer it info a freezer zip-top bag. Get the air-out of the bag, seal it, and freeze for up to 3 months.
Notes
*If you will be using the BBQ sauce on mostly chicken and pork, use chicken stock to make it. If you will be using it on brisket or other beef recipes, you can use beef stock in the sauce. 
**Use liquid smoke to infuse the sauce with smoky flavor. It's useful when adding it to the food that was cooked in the oven, slow cooker, Instant Pot, or stove. When you use the BBQ sauce on something that was grilled or smoked, you can omit the liquid smoke.
Nutrition
Calories:
92
kcal
|
Carbohydrates:
21
g
|
Protein:
1
g
|
Fat:
1
g
|
Saturated Fat:
1
g
|
Sodium:
311
mg
|
Potassium:
226
mg
|
Fiber:
1
g
|
Sugar:
18
g
|
Vitamin A:
430
IU
|
Vitamin C:
3
mg
|
Calcium:
28
mg
|
Iron:
1
mg
Tried this recipe?
Mention @willcookforsmiles and tag #willcookforsmiles